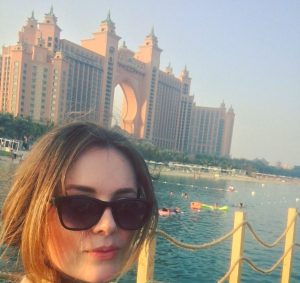 "THE BEST DUBAI BLOG" AS VOTED BY MY FRIENDS
I first moved to Dubai in the early autumn of 2013. I 'd left my job in London and gone to teach English in Japan but I wasn't happy. Speaking to a friend, who was living in Dubai, they said, "I think you'll love it here" and  helped me to get an interview. Before I knew it I was handing in my notice, packing my stuff and jumping on a plane. My friend wasn't wrong and this was one of the reasons why I wanted to create one of the best Dubai blogs.
MY FIRST TIME IN DUBAI
As the plane started to descend into Dubai, for the very first time I saw the Burj Khalifa sparkling in the sunlight and the dusty sands blowing across the new landscape. The excitement of being in a new city tingled through my body. My eyes lit up as the skyline came closer before me.
I grabbed my suitcase and jumped into a taxi, passing by in awe at all the tall skyscrapers. They were the highest I'd ever seen and shimmered in beautiful hues of blues, pinks and oranges from the dusk. I'll never forget this first journey through Dubai.
For the first couple of months, I was in awe. I loved everything about Dubai and blew through my savings wanting to try everything possible! If there was a new restaurant or new experience I was there! I spent way too much money in those first few months but I definitely had a thirst to discover the whole of the city.
After a while, people began asking me about the best places to go. Friends always wanted advice on the newest places opening, where to take their friends or visitors or what to do when they visited. One friend said, "Danni you always seem to know the best places to go." It was a huge compliment and I realised people wanted real, honest opinions about where to go.
So after being the friend 'in the know' for a couple of years, I finally decided to start my journey of creating one of the best Dubai blogs. Plus I was getting fed up of repeating the same advice over and over again!
DANNI B IN DUBAI WAS LAUNCHED LATE 2016
I post regular short updates on my Instagram and give more in depth information on my blog. I always keep my blog posts honest, as if I was still giving advice to my friends. I will always let you know if I received anything for free or if I was paid to write an article and regardless I will always give an open honest review. Simple as that. So welcome to my friendship circle and hope you enjoy my posts!
I always love to get feedback, so feel free to comment on my posts and tell me how I can improve to become the best Dubai blog!
For any enquiries contact me at missdannibtravels@gmail.com