Want to know what are the best healthy eating restaurants in Dubai? Or where you can find good healthy food? Possibly even vegan? Everything healthy food Dubai coming your way. *Updated March 2019
Dubai as a city tends to have two very different sides. There's the super healthy, into fitness, always on the beach looking perfectly toned side or the too many brunches, party lifestyle side. If you've somehow ended up in the latter side, like myself, then it's very easy to gain a few pounds! So whether you're in crowd two and perhaps shift a few pounds or whether you're from crowd one and just want to know some good places for you to go, then this is your list!
Also to note, I've created a list actual health food restaurants! Ones who use less oil, grill items or have lower calories overall. Not the ones who've listed themselves as healthy on Zomato because they serve a side salad as an option. Which annoyingly makes knowing where to get healthy food surprisingly difficult! So put down your shawarma and let's grab a smoothie!
My best healthy eating restaurants in Dubai and my favourite dishes

Circle Cafe – Various locations including Business Bay, Mirdif & Media City 
This is one of my favourites and their whole menu is amazing. Full of wholesome food that tastes amazing. I normally visit the one located in the super trendy, Bay Square but you can also get their food delivered but I recommend dining in for the best experience. The staff are always super friendly and they're also doing a discount in the Business Bay branch where if you eat after work (between 6pm & 8pm), you get 25% off your bill. Also if you order online for delivery they're doing 25% off your first order when you register. Visit their website for more locations (circle-cafe.com)
Recommended Meal: Super Bowl – 51 AED
Price Range: 30 AED to 80 AED


HEAT Healthy Eats and Treats – Umm Suqeim
I guarantee you that pretty much any time you go to this restaurant you will find someone in gym gear sitting at a table. This probably due to the fact they have sides like cauliflower rice and even low carb pizza! It's always a popular one and definitely a great regular go to place. There's lots of choice including vegan options plus the meals are affordable. They're even available on Zomato and Deliveroo too. This one is a good all round staple. For more information (heatcafe.ae)
Recommended Meal: Teriyaki Salad – 35 AED with tofu or 55 with salmon (I love Teriyaki!)
Price Range: 17 AED to 60 AED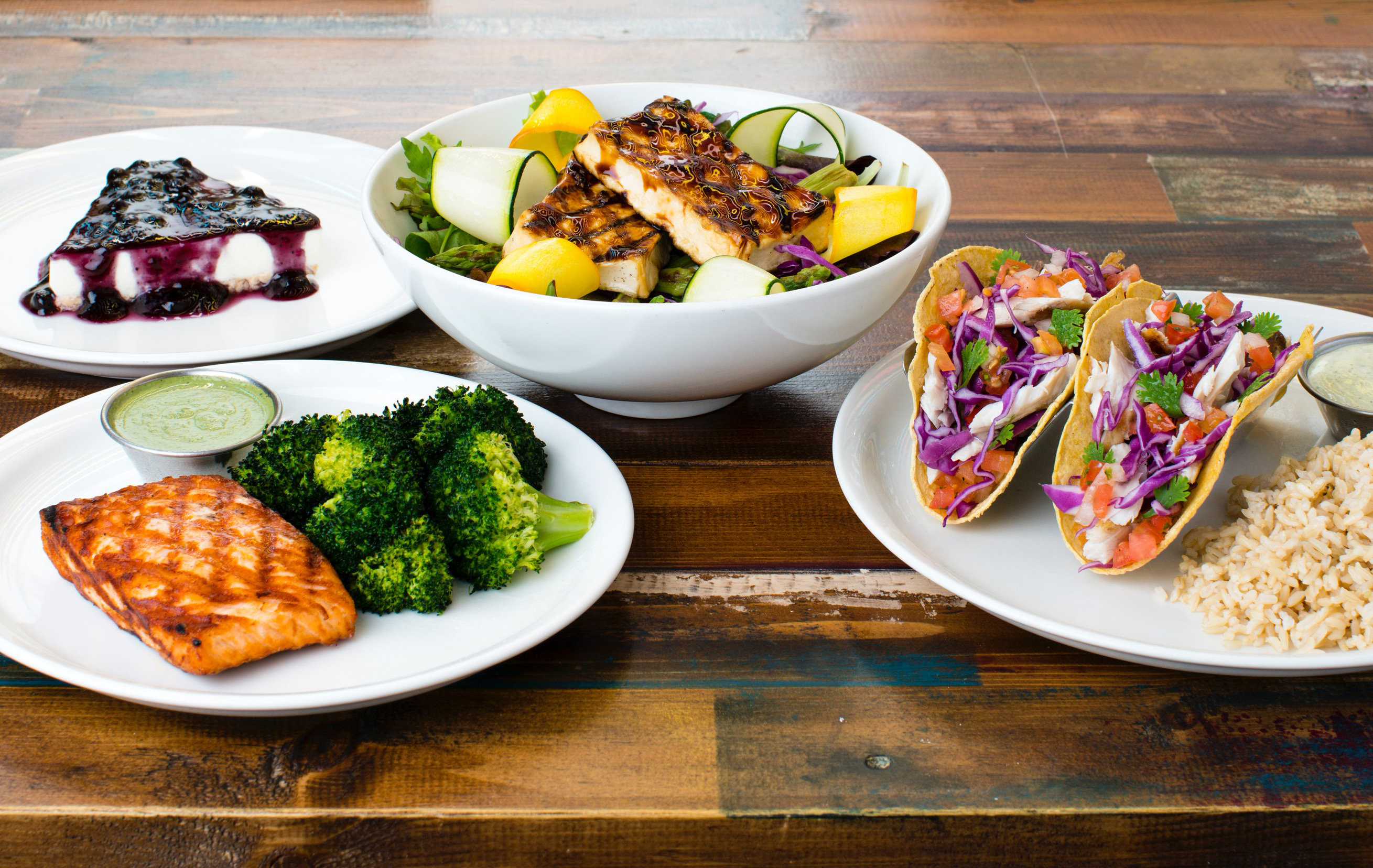 Super Natural Kitchen – Galeries Lafayette, Dubail Mall
This one is purely vegan but it literally some of the best tasting healthy food you will ever have. I've honestly never had a bad dish here and loved every single item every single time. As a bonus they give you free flavoured water (it was lemon and cucumber when I went last) and it's so nice to have somewhere where table water is actually a thing! For those of us who are European and feel it should be a given when at a restaurant. Even if you're not a vegan, this is definitely a restaurant you should try once. It's hidden at the top level of Galeries Lafayette in the food hall. (snkitchen.com)
Recommended Meal: Go for one of their daily specials
Price Range: 32 AED to 75 AED

Freshii – DIFC, Business Bay, Media City & Healthcare City
The best thing about Freshii is they have a wide range of choice and prepare everything very quickly. So if you're in a hurry and want something to healthy eat, this is the perfect quick lunch stop. They also do smoothies, breakfast bowls, wraps, soup… So you definitely won't be stuck for choice and all of it is really good. I really like their vegetable bowls and you can ask them to replace yoghurt with coconut milk in their smoothies. They also do meal plans and you can pick from various options depending on whether you want to eat clean, lose weight or bulk up. (freshiiuae.com)
*For some reason the Business Bay branch is missing from the website but it's located in Bay Square, Building No 2.
Recommended Meal: Buddha's Satay
Price Range: 14 AED to 50 AED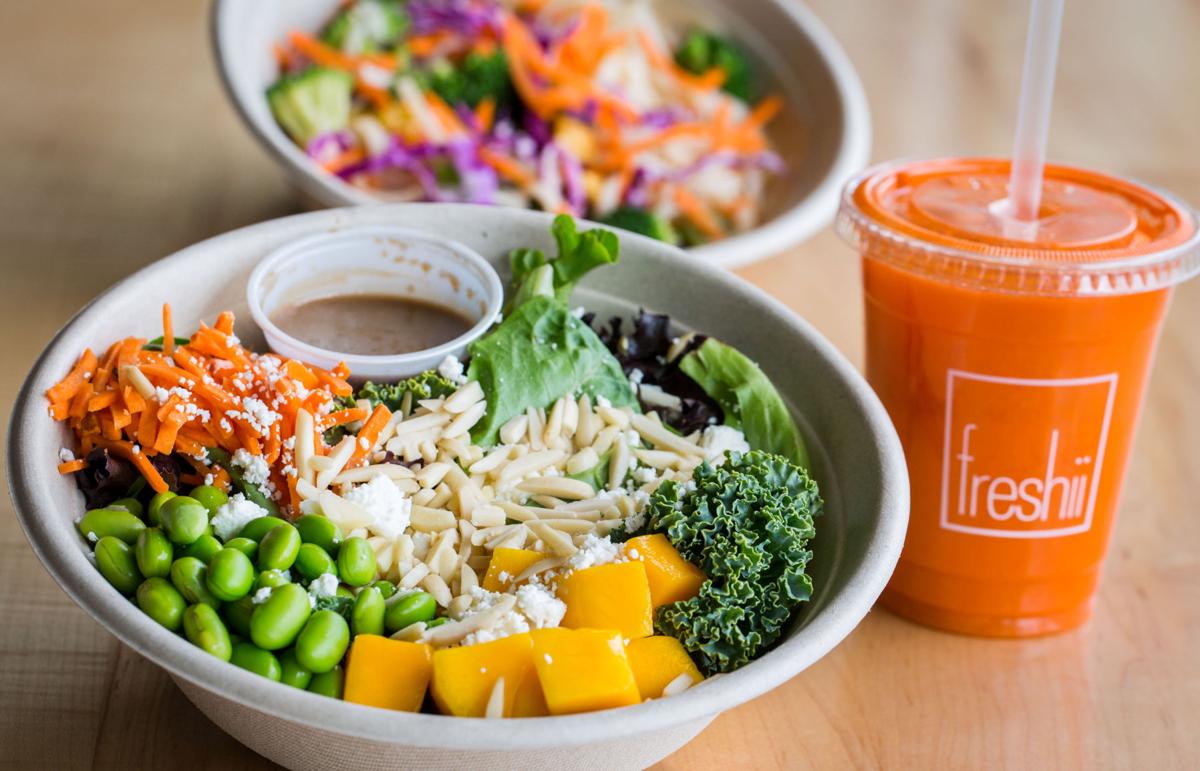 Poke Poke – Umm Suqeim
Simple concept in that they only do poke bowls but you can create loads of different options with this one since you can fully customise your base with a whole range of toppings. You'll honestly have trouble deciding! It's kind of like Subway for Poke bowls. So you can easily create low carb or vegan. This is another one which is really good for when you're in a rush since everything is already prepared and you just select the base and toppings of your choice. Nice and fresh. Also, the staff always seem to be super happy. My tip, go for the small bowl since I found there wasn't a huge amount of difference in the amount you get between the medium and the small. (Pokepoke.com)
Recommended Meal: Build your own
Price Range: 55 AED to 75 AED

Organic Foods & Cafe – Sheikh Zayed Road, Mirdif, Palm Jumeirah & The Greens
This one you can do your shopping and get a bite to eat plus everything is organic. Their café on Sheikh Zayed Road is a cool little hang out that will make you feel like you've taken a quick trip to Europe and they also regularly do healthy eating brunches for 99 AED per person at the SZR branch and Green branch. I really like how low key it feels here and it's nice sometimes to go somewhere more relaxed than the typical Dubai life. Plus it's generally just good wholesome food.  This is a great weekend chilled hangout for sure and more popular for breakfast or lunch in the day (organicfoodsandcafe.com)
Recommended Meal: Quiche or go for the brunch on the weekend since it includes fruit juices too
Price Range: 26 AED to 99 AED

Lifter Life – Jumeirah
This is a relatively new restaurant that has opened up and offers amazing value. The food is really good, balanced flavours and cooked well. They will honestly have you coming back again and again for the food. In fact it tastes so great you'll forget it's healthy. Also, the low carb broccoli pizza is probably best I've had in Dubai. They also do meal plans if you want home delivery (lifter-life.ae)
Recommended Meal: Sea Bass (comes with two sides)
Price Range: 16 AED to 50 AED
So those are my best healthy eating restaurants in Dubai. Are there any good places you'd recommend? I'll go check them out and add them to my list! Tell me in the comment section below.
Want to know more about Danni B? Check out my story here!