It was international women's day this month and what better way to support women than by supporting their businesses. The Gulf Region has many successful women entrepreneurs which may come as a surprise to those who are used to a western media image of female oppression in the Middle East. Our list of female entrepreneurs in UAE show this couldn't be any further from the truth
We've selected a wide range of businesses from women entrepreneurs in Dubai, from e-commerce, fashion to food. Make to sure to check them all out!
---
Make sure to check out some of my other helpful articles about Dubai here:
Why do women wear hijab? 10 reasons you haven't heard before
What is the traditional dress of the UAE?
12 fantastic restaurants with views of the Burj Khalifa and Dubai Fountains
What is the UAE famous for? Fun facts about the UAE
---
1. SALT
Salt's astronomical growth has been nothing short of meteoric. Starting off as a small idea, Amal Al Marri and Deem Al Bassam opened with a single location in 2014 at Kite Beach in Jumeirah. Serving gourmet sliders out of a food truck, which they had to label as a kiosk in order to get approval from Dubai Municipality, with a simple food menu.
SALT is now a huge brand with many locations across the gulf including pop up events. They've also branched out into other foods but still keep their values of high quality ingredients and simple menus. They have some amazing locations across the gulf including their one of a kind SALT camps and have led the way in terms of creating a completely different food brand.
None of their restaurants are listed on their website but you can check out their menu. SALT in Dubai is located at Dubai Mall, Kite Beach, Dubai Marina and La Mer.
2. Mumzworld
One of the largest e-commerce websites especially for mums was created by Mona Ataya and Leena Khalil in 2011. Mona originally came up with the idea due to being a mother of three boys and finding it difficult to source many of the products she needed. This combined perfectly with Leena's background in business strategy and Mona's existing entrepreneurial online business experience.
Mumzworld now features over 250,000 products for mothers, children and babies. Their website is home to many leading brands and offers free delivery to UAE and KSA. They are now the largest online shopping site in this sector within the region.
Check out their latest available products at Mumzworld.com, free delivery across the UAE on orders over 100 AED
3. Elbirg
Eliza Birg started by making sensory boxes for her own son, she realised having fun and educational sets combined with multiple sensory items would keep her son entertained for hours. Friend's children were also equally entertained by her sensory box creations.
"There was a lack of none toxic products for children available in the UAE" says Eliza, "So I saw there was a demand for these kinds of products here." Thus Elbirg was born!
Since launching in 2019, Elbirg has continued to grow in popularity. Elbirg.ae sells various sensory products to suit babies, toddlers and children up to 12 years old. They also do sensory play sessions, pop up events and birthday parties.
For more details, head over to Elbirg.ae, free delivery on orders over 300 AED within the UAE
4. Ripe
If you love supporting local organic farmers and artisans then Ripe is the perfect spot for you. Becky Balderstone started Ripe in 2011 when she realised it was difficult to get fresh organic and seasonal produce in the UAE. Starting off as a weekly farmers market in a garden centre before opening up a permanent location offering home delivery. Becky has grown Ripe to the well known brand that it is today.
Ripe now has several locations where they have regular Ripe Markets across Dubai along with their store in Al Manara. Ripe doesn't just offer produce anymore but also beauty, jewellery and other crafty items from local small businesses.
To order online or to visit one of the physical locations, visit Ripeme.com here
5. Farm2Table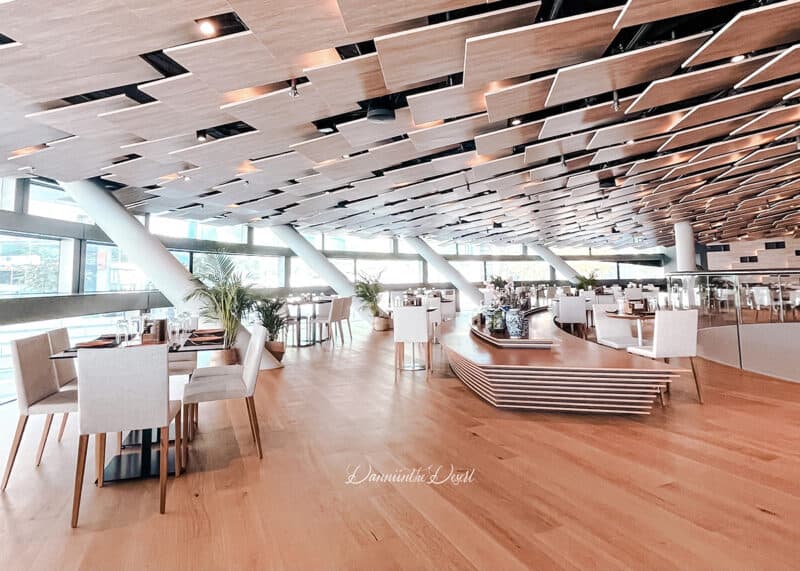 Another advocator of organic produce from local farms is Jessica Queitsch who with her husband has founded Farm2Table. Jessica has taken her prowess as a chef to help show case the UAE's agricultural talents while championing sustainable farming practices. Farm2Table offers catering, private chef services, local food sourcing and consulting services in the F&B sector.
You'll currently find their 'Alif Cafe' at Dubai Expo in the Alif Pavilion until the end of March, serving dishes inspired by the foods of the Silk Road. Their food is amazing! So if you haven't already had chance to go. I highly recommend it!
To find out more about Farm 2 Table, visit their website farm2table.ae
6. The Edit Dubai
A concept fashion and art store where you can also grab a coffee started in 2018. Rumana Nazim wanted to create a multi-dimensional space where you can find unique items but also chill out, like she'd seen in London. Leaving behind her career as a lawyer to delve into an area she had a passion for but no experience was a huge risk. Thankfully it paid off!
Set in the super cool Alserkal Avenue in Dubai, The Edit focuses on building community around the store. They also focus on highlighting other female founded businesses and stocks a range of products including fashion, beauty and jewellery.
You can check out their instagram here and keep up with events happening at the store
7. Tania's Tea House
Tania who's originally from the US but grew up in Dubai knew she wanted to created not only a tea focused cafe but also one where the aesthetic matched the menu. She was diagnosed with an autoimmune condition during university and found tea really helped. This inspired her to open Tania's Tea House.
This amazingly cute and girly teahouse is the perfect Instagram setting. Regularly voted as one of the most Instagramable cafes in the world! It is set across two stories on Jumeirah Beach Road. Here you'll find a mixture of brunch style food options along with cakes, biscuits and dessert. They also offer a wide array of teas along with your typical coffee options, matcha , bubble tea and other beverages.
They also have a second location called Sereni-tea, located inside Keyani Wellness Centre in Al Manara. Their flagship cafe is located in Umm Suqeim and you can find out more about it here on their website
8. Dollhouse Beauty Lounge
Owned and operated by Mona Kattan who is the sister of the very famous Huda Kattan of Huda Beauty, you'll find their products stocked on the salon wall. Mona has always wanted to launch her own salon, so when she met partner Basma Al Fahim everything fell into place. Mona wanted a salon that made you feel glamorous from the moment you walked in and its decadent interiors are part of that.
Dollhouse Beauty Lounge in situated inside Dubai Ladies Club, offering hair, nail and beauty services. Since opening their doors in 2012, the beauty lounge has a loyal set of customers who regularly rave about the salon. They're also focused on delivering the best customer experience along with specialising in nail art.
For the price list, drop into Dollhouse Beauty Lounge inside Dubai Ladies Club in Jumeirah
9. Tish Tash Talks
Natasha Hatherall-Shawe is the creator and owner of the digital marketing and public relations agency, 'Tish Tash Talks.' Operating since 2012, Natasha saw a lack of high quality communications companies in the region. They're now one of the leading agencies in the region for beauty, health and wellness. Branching out to 'Tish Tash Tots' in 2016, specialised in helping brands who are targeted for parents and families.
Tish Tash Talks offers consulting services, PR services, social media, influencer engagement, copywriting, content creation along with event planning. They've worked with many well known brands across the region.
For more information, check out Tish Tash Talks website
10. Drink Dry
As a none drinker herself, Erika Doyle was surprised by the lack of availability in the region of none alcoholic options. She'd moved over from the UK in 2019, where a much larger selection was available in nearly all supermarkets. There weren't any existing companies in the space and she knew the best option was to sell direct to consumers via an e-store. Thus Drink Dry was born.
Through their website you'll find a mixture of none alcoholic beers, aperitifs, spirits, cocktails, mixers, still and sparking wine. Imported from the UK, France, Belgium and Germany. The adults none alcoholic drinking sector has hugely grown in the last 5 years and Drink Dry brings those innovations to the UAE.
Drink Dry delivers across the UAE all via their website, with free delivery on orders over 330 AED
11. Mauzan
Mauzan is one of those brands where if you hang around any area known for Emirati women, you'll see their logo in gold sparkling on the back of their abayas. Rafia Helal Bin Drai Al Qubasi started the abaya brand in 1990 in Al Ain, where Rafia is from. Today the brand is known for it's high profile clientele and has even been seen worn by Queen Noor of Jordan. Mauzan in Arabic means 'rare pearl.'
Find out more about the traditional clothes of the UAE in our previous article here
The brand has three different collections; Mauzan, Mauzan Exclusive and Miss Mauzan. Traditionally an abaya and shayla brand. They also offer dresses, perfumes, hair mists and select accessories. In Dubai they have stores in Dubai Mall and Jumeirah. Along with multiple locations in Abu Dhabi and Al Ain.
To see their online store or visit one of their physical locations, check out their website Mauzan.com
12. Souq Almal
Souq Almal is a comparison website for insurance, bank accounts, credit cards and loans. Ambareen Musa started the website in 2012 and continues to operate the company as Chief Executive. Like many company founders, she noticed the lack of comparison websites to meet the financial needs of consumers in the region. Coming from a business and financial background, it took four years of planning before Souq Almal was launched.
Today it's the number 1 comparison website in the Middle East. Helping people in the MENA region to make the right financial choices by comparing multiple providers in one easy place. They also have a blog to help educate on money matters and provide financial education services.
To compare your car insurance or next credit card, visit Souqalmal.com
Conclusion
Reading what these women have achieved is truly aspiring and we hope it inspires a future generation of women entrepreneurs in Dubai and the UAE. Across a range of different sectors, these female owned businesses are truly leading the way.