Firstly, welcome to my blog! If you're on this page, chances are it's your first time visiting my blog so welcome! After living in Dubai for years! Loads of people kept asking me about Dubai. Where should I go in Dubai? Where is Dubai located? Is Dubai a country?
I realised so many of my friends have questions and trusted my advice. So I decided to create my blog in 2016. I first moved to Dubai in 2013, so I've definitely seen and done a lot over the years! So now you know a little more about me. Let's start answering all your questions!
I've created lots of different articles to help and organised them into categories. Such as what things to do in Dubai, where to stay, what tourist attractions to visit and more!

Beneath the articles links, you'll find answers to common questions about Dubai and the UAE. Including information about the climate, where it's situated, and other interesting facts about the UAE!
So firstly, exactly where is Dubai?
Dubai is located in the Middle East and comes under the continent of Asia. Other countries which border the UAE are Oman and Saudi Arabia. Forming part of the Arabian Peninsula. Dubai sits on a sea called the Arabian Gulf or the Persian Gulf as it is also known internationally.
The UAE is also part of the Gulf Cooperation Council (GCC), which I'll go more into below.
Is Dubai a country?
So you might be surprised but the answer is no! Dubai is not a country. It is a city and an Emirate. There are seven total Emirates within the United Arab Emirates.
Similar to the United States, each Emirate has its own governing body and laws while still being part of the UAE. Each Emirate can make decisions at a local level and have their own judicial systems and ministries. They also each have their own royal family!
You can check out my answer to this in more detail here
What is the capital of the United Arab Emirates
The capital of the UAE is Abu Dhabi, not Dubai! Although Abu Dhabi is a smaller city, the Emirate of Abu Dhabi is much larger! It even contains another city called Al Ain. Though Dubai has a larger population than Abu Dhabi thanks to the many expatriates that live there!
How the United Arab Emirates formed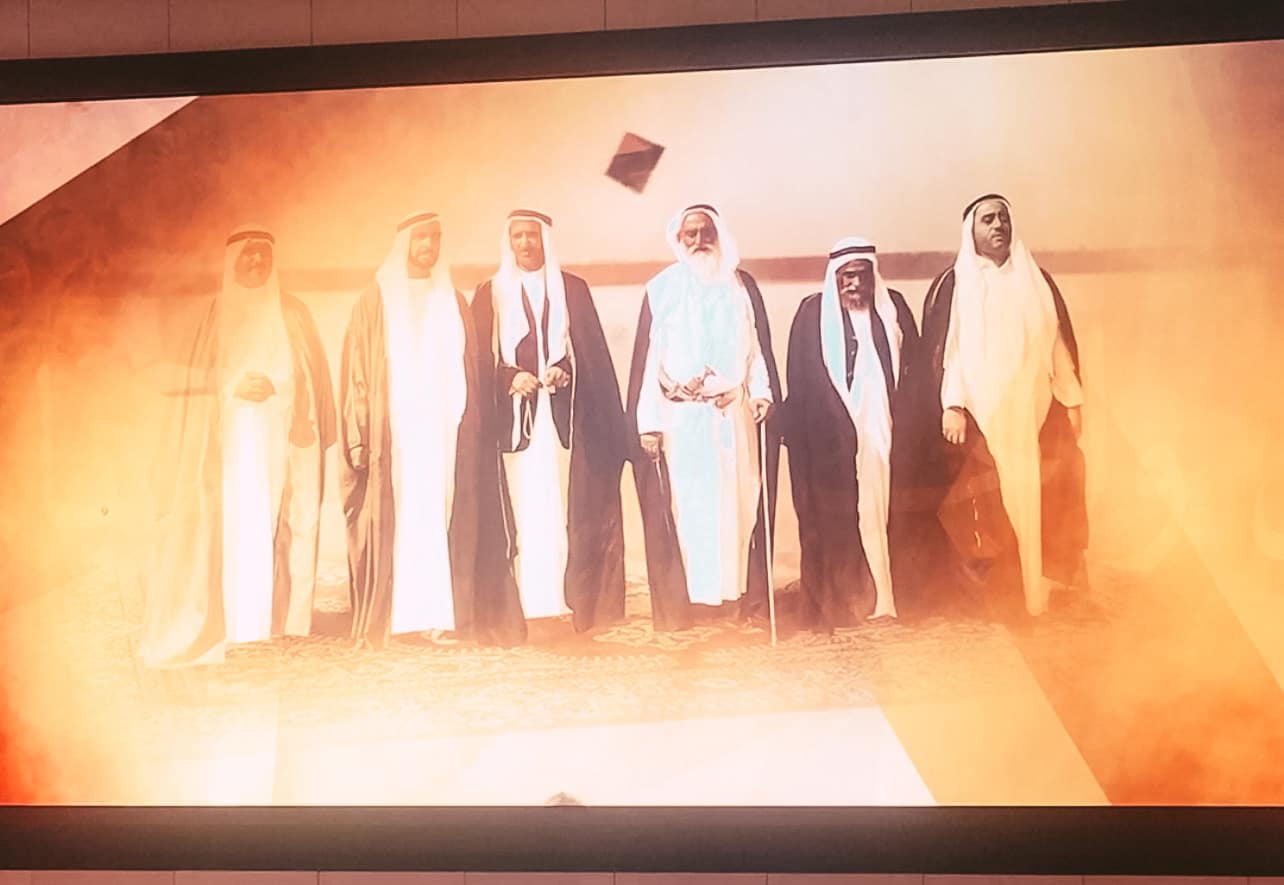 The United Arab Emirates was founded on 2nd December 1971 when Sheikh Zayed Bin Sultan Al Nayhan united the Emirates altogether and thus created the United Arab Emirates. Hence the name! Before this, it was part of the British Empire.

The United Arab Emirates is made up of seven Emirates in total. These are Abu Dhabi, Dubai, Sharjah, Ras Al Khaimah, Fujairah, Umm Al Quwain and Ajman.
You can find about more about how the UAE was founded by visiting the Founders Memorial in Abu Dhabi, check it out in my how to spend 48 hours in Abu Dhabi
What is a Sheikh? Who is the Dubai Sheikh?
So a Sheikh is a name of respect in Arabic meaning leader or elder. It is not only be used for the Royal family members in the Middle East but also for those who are respected teachers in the religion of Islam.
In the UAE, all of the members of the royal family have the title of Sheikh or Sheikha if they are female. In Dubai, the ruler is Sheikh Mohammed Bin Rashid Al Maktoum and in Abu Dhabi is Sheikh Khalifa bin Zayed Al Nahyan. However the Crown Prince Sheikh Mohammed Bin Zayed Al Nayhan is more active politically and publicly.
What is the GCC?
So several countries in the Arabian Gulf area decided to come together and create an economic and political zone in 1981. This was Saudi Arabia, UAE, Oman, Kuwait, Qatar and Bahrain. They agreed to allow freedom of movement for their citizens and set up trade agreements between these countries. Similar to how countries are part of the European Union (EU).
Although it originally included Qatar as a sixth country. In 2017, due to political reasons, Qatar was removed from being part of the GCC agreement. After negotiations in 2021, relations with Qatar were repaired allowing citizens movement between the countries again.
What does Khaleeji mean?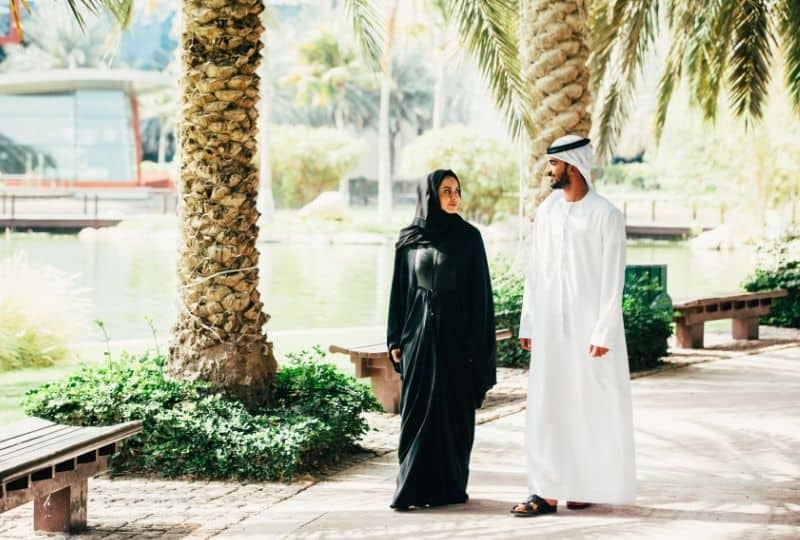 People from the GCC also may refer to themselves as Khaleejis due to the close cultural ties they have as countries. So you may see the word pop up from time to time. Khaleeji in Arabic means "of the Gulf."
To learn more about what Khaleeji's wear, check out my article all about the traditional clothes of the UAE
What is the UAE population?
The population of the UAE is just under 9.9 million people in total. Of which, approximately 3.3 million is the population of Dubai and 1.45 million is the population in Abu Dhabi.
To find out more about the UAE, check out my article here
Is Dubai Safe?
Yes! The UAE is extremely safe. In fact, it is safer than most Western countries and has very low rates of crime across the whole country. If you're not worried to visit London or New York, you definitely shouldn't be worried to visit Dubai or Abu Dhabi. The UAE is one of the safest countries in the world!
In 2021 Abu Dhabi was ranked the second lowest crime rate globally in the world while Dubai is ranked 6th lowest in the world. Sharjah, another emirate, is ranked 5th lowest!
Also any resident will tell you, we feel extremely safe here. Women can walk around on their own late at night and even we leave our handbags on the table while we go to the bathroom!
You can find out more information about safety and what Dubai is like for women here
What is the best way to get around Dubai and the UAE?
Dubai and the UAE is a city built for cars. The roads are wide, the city is laid out in a grid and multi-storey parking is a feature of almost every shopping mall. The majority of hotels and restaurants have valet parking, typically free when you spend a minimum amount
For that reason, I definitely recommend to hire a car. I personally like using Rentalcars.com as they compare all of the different car rental suppliers so you get the best price!
Dubai is just not well designed for pedestrians. Typically you drive to a place where you'll walk around like La Mer or City Walk for instance. Most hotels have very long driveways with no walk ways, meaning a taxi or a car is best. Unless you fancy being the only person walking up a long drive way! (Yes I have done this haha)
What is the weather in Dubai?
Dubai has a desert climate, making it mostly sunny and dry all year round! This also means it gets extremely hot during the summer months between July and August. Reaching temperatures close to 50 Celicuis (122 Fahrenheit.) The UAE climate is generally the same throughout the country as it is only a small country.
It is hugely popular as a destination during the winter months due to its warm climate! If you live somewhere cold, you might be surprised to know that during winter Dubai stays warm. Average temperatures even in its coldest month of January are 19 to 20 Celcius (66 to 67 Fahrenheit). So it's the perfect winter escape!
Dubai
Feels like: 44°C
Wind: 10km/h N
Humidity: 74%
Pressure: 1008.13mbar
UV index: 0
37/29°C
37/28°C
35/29°C
36/29°C
37/29°C

You can find out more about the Dubai climate here!
If you're planning to visit during the summer. One way to escape the heat is to take a trek up into the mountains. For more ideas, check out cool things to do during Dubai summer!
What is the currency of Dubai?
The currency of Dubai and the United Arab Emirates is the Dirham or AED.
Each Dirham is made up of 100 fils but since 1 Dhiram isn't a large amount of money (roughly 20p in UK or just under $0.30 in the US), it isn't that often you'll use fils. When you do, typically only 50 fil coins and 25 fil coins are used for change.
Extra info – Lots of places accept cards, even small businesses. So if you're planning to use your card more than cash, Dubai is very easy to do so!
What is the time in Dubai?
Dubai is GMT+4 / UTC+4 or GST (Gulf Standard Time).
If you're from a country that uses Daylight Savings Time (DST) during the Summer. Then you may not know that not all countries use DST. The UAE is one of those who do not! This means when the clocks go forward UAE does not change their clocks. For example, compared with the UK it becomes 3 hours ahead and then back to four hours ahead when the clocks go back.
Why is Dubai so rich?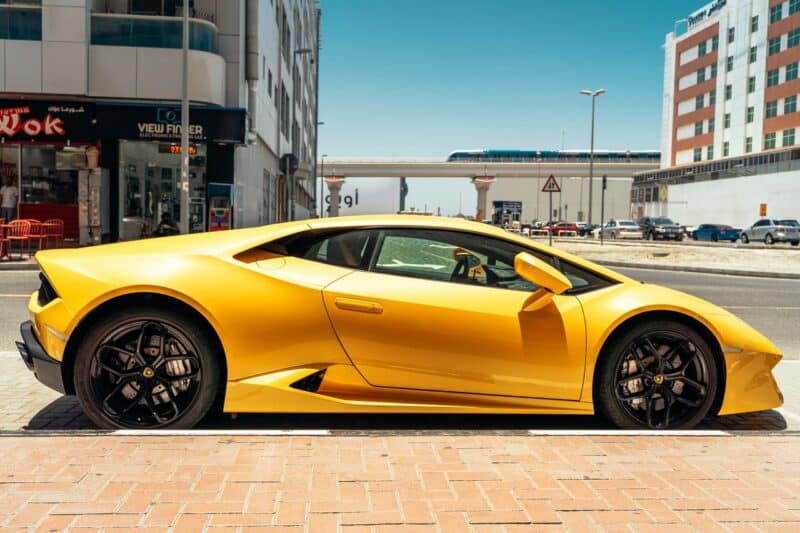 So it isn't just Dubai that is rich, the United Arab Emirates is wealthy as a country. Most falsely believe Dubai is rich due to oil but unlike Abu Dhabi which does have larger reserves of natural gas and oil, Dubai discovered they had smaller reserves than others surrounding them. This meant they needed to find other ways to build their economy! Sheikh Rashid bin Saeed Al Maktoum took this oil money and invested it to build other incomes.
In the early 1970s, it was seen as a huge risk when Sheikh Rashid built a large port in order to position itself as a trading hub. Some thought it was a crazy idea! After all, Dubai was this small fishing village in the gulf! Instead, it became one of the changing points in history for Dubai and the decision paid off! Marking the start of the modern city we see today.
As Dubai continued to grow, they heavily invested into tourism and decided to not only make Dubai a trading hub but also a new global tourist destination in the heart of the Middle East. All different nationalities came to live and work in the city despite dwarfing the local population. These key factors created the successful city we see today.
Today in Dubai, oil is less than 1% of its economy! The majority of Dubai's riches come from tourism, real estate, and trade.
When is the cheapest time to visit Dubai?
Dubai's off-peak season is during the summer due to how hot the climate gets. This is the cheapest time to visit! As often both flights and hotels are much cheaper during this period.

Though while this may be the cheapest time to visit, it might not be the best time to visit! Especially if you're looking to enjoy their beaches or love spending a lot of time outdoors.
For more information on what area to stay in and what hotels, check out my Dubai area guide
How much is the tourist visa for UAE?
For many nationalities, the UAE offers a free visa on arrival. Yes free!! Which you can easily get whenever you land at Dubai airport. This visa is valid for the whole of the UAE, no matter whether you land in Abu Dhabi Airport or Sharjah airport. You can use it for all the emirates and lasts between 30 to 90 days, depending on your nationality.
For some nationalities, you will need to buy a tourist visa such as those from India, Pakistan, and the Philippines. You can find out more information about the visa on arrival here and which countries this applies to here.
Are there any other things I should know?
Firstly the Middle East weekends are Friday and Saturday. The working week starts on Sunday, unlike North America or Europe. There are lots of things to learn about the culture of the UAE and I recommend checking out the articles above I have written to learn more! It's especially important to read this one before you go and be aware of the rules and the laws! Since they may be different from what you're used to in Europe or North America. Though don't worry, the UAE is an amazing country and millions of tourists visit every year without any trouble!
---
Before you go, make sure to check out some of these other helpful articles:
Where to stay in Dubai and the best Dubai hotels
The Dubai Dress Code; what to wear as a woman in Dubai
Is Dubai a country or a city? Improve your knowledge in only 5 minutes!
What is the traditional dress of the UAE?
Dubai for women, what should I know as a woman wanting to visit or live in Dubai?
---
I hope this has answered some of the basic questions you had about Dubai and the United Arab Emirates. Feel free to ask any more questions in the comments below and I'll do my best to answer all your Dubai inquiries! If you're planning to visit Dubai or the UAE, I hope you have an amazing trip and if you haven't been there yet. What are you waiting for? Yallah! (This means go in Arabic)
Enjoyed this article? Give it a share!