So whether you're a tourist or a new resident, getting a sim card for Dubai is the same initial process and thankfully very easy in the UAE. So don't worry, we'll guide you through the entire process of getting a sim card in Dubai!
Dubai has a huge 4G network, reliable connections and many public wifi spots. It is expensive for phone plans and data compared to other countries in the world. Though thankfully prices have come down in recent years, especially for tourists, where you now pay around $1-2 USD per GB of data. You can also take comfort that you'll rarely experience no signal in the UAE!
Insider tip – Some unique experiences such as the Dining in The Sky require you to call in advance and make a reservation after your purchase, so having a tourist sim with local minutes is really helpful!
Can a tourist get a SIM card in Dubai?
Yes, its very easy to get a sim card as a tourist in Dubai. There are 3 providers to choose from:
All three have branches in Dubai airport offering Dubai sim cards for tourists that you can easily pick up on your way out of the airport using your passport. You will also find branches inside all of the malls of Dubai, in case you're too tired from your flight and just want to get back to your hotel. Virgin and Du will even deliver to you!
You currently get a free 1GB sim card from passport control, provided by Du. So you can use this 1GB first and then switch to another provider or choose another plan from Du during your stay. You can also pay based on what you use but this is the most expensive option, so I highly recommend to sign up to a plan.
So you don't have to buy a tourist plan, however Virgin do have these set plans catered towards tourists. Tourist plans aren't renewable so you'll need to sign up to a 'Pay As You Go' plan after.
Valid for 7 Days
21 GB
(3GB per day)
30 local mins/sms
20 international mins/sms
Cost: 150 AED ($41 USD)
$1.95 per GB
Valid for 10 Days
40 GB
(4GB per day)
30 local mins/sms
20 international mins/sms
Cost: 200 AED ($54 USD)
$1.35 per GB
If you plan on mostly using the free Wi-Fi and just want a little bit of data for while you're out to order taxis etc. Then you can pick up a free Virgin sim card from the airport or order a sim card online. Then just build your own plan via the app.
If you order online, plans start from 83 AED ($23 USD) with 2GB of data (plus 2GB free when you use the code ONLINE) and 50 local mins/sms which last for 1 month. Building your own plan is better for those who wish to have more call time minutes.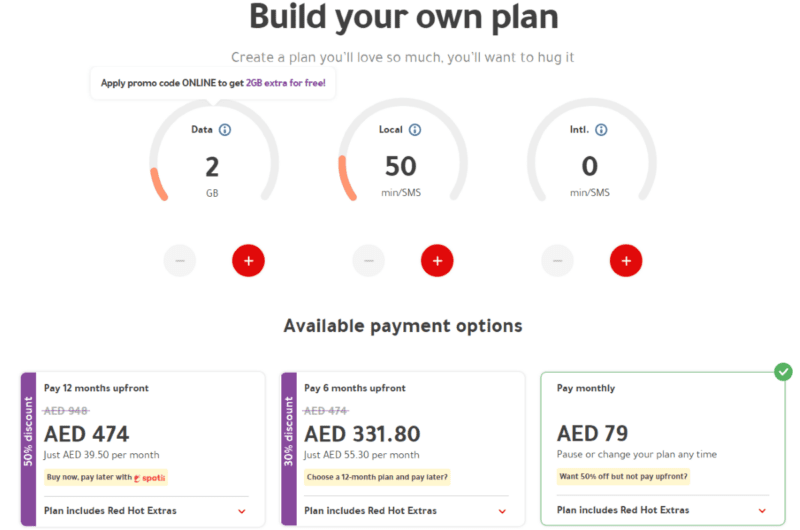 If you think you'll use more data, the 7 day tourist plan work out the best value compared to the 'Pay As You Go' plans! The local minutes are useful for booking activities and restaurants.
For instance if you were to pay for 22GB of data with 50 local minutes, this would cost 338 AED ($92 USD) as a 'Pay As You Go' plan while 75 GB would cost 847 AED ($231 USD).
So for me, Virgin is the best sim card in Dubai out of all the Dubai sim cards! This is because their plans are affordable, the app is very easy to use and they offer good customer service should you have an issues with your Dubai tourist sim card.
These plans cannot be renewed if you plan to stay longer than 28 days unless you get a new tourist sim, a maximum of 2 tourist sims are allowed per passport.
So this is something to keep in mind. As you'll have to change plans and most of the plans for those staying longer term aren't as generous on data prices.
So Etisalat has quite a few different options, I've selected the similar ones rather than including them all. The Social Media plan doesn't come up as a Visitor Plan but is an option you can also choose.
Valid for 28 Days
Social Media Only
(Whatsapp, Facebook, Facebook Messenger, Twitter LinkedIn, WeChat, Snapchat, Instagram, GoChat & Internet Calling eg BOTIM)
Cost: 30 AED ($8 USD)
Valid for 28 Days
2 GB
30 flexi mins/sms
(Can be used locally or international)
Cost: 79 AED ($22 USD)
$11 per GB
Valid for 28 Days
8 GB
120 flexi mins/sms
(Can be used locally or international)
Cost: 125 AED ($34 USD)
$4.25 per GB
Valid for 28 Days
22.5 GB
525 flexi mins/sms
(Can be used locally or international)
Cost: 200 AED ($54 USD)
$2.40 per GB
Valid for 10 Days
Unlimited data
100 flexi mins/sms
(Can be used locally or international)
Cost: 319 AED ($87 USD)
Insider tip – I find the social media only plans to be a little bit hit and miss for actually working. They sound great as an idea but anything you use outside of those apps will get charged at an expensive rate. Also I've had experiences where despite being unlimited social media, it seems to not work properly. So I wouldn't advise to take a social media plan only.
UAE phone coverage map
The majority of Dubai and even the rest of the UAE has 5G and 4G coverage. So it's very rare you'll find yourself without signal in the UAE! So whether you choose Etisalat, Du or Virgin Mobile. All of them pretty much have the same coverage!
Virgin Mobile actually uses the same network as Du.
If you want to choose your phone number for your Dubai sim card
If you're wanting to choose your own number for your sim in Dubai, then the process is slightly different. As you'll need to apply for a sim card online or visit a branch rather than picking up one for an airport.
Personally I recommend to use Virgin Mobile, as I find them easier to use and their plans cheaper. Also their app is super easy to use! You can select the phone number you want via their website or app. Then they'll deliver a sim card to you in 60 minutes. Yes 60 minutes! So you don't even need to leave your home or hotel!
For Etisalat, you'll need to go in branch and ask when numbers they have available while Du are also able to do an online service. All three providers have normal numbers and VIP numbers you can pay extra for.
Virgin requires you sign up to a VIP plan for a minimum of a year, however after that one year you can downgrade your package and still keep the VIP number. I haven't tried it with Du but they work in the same way but their VIP plans are more expensive and require you to pay for the VIP plan in advance.
What I also like about Virgin is you can get a VIP number without needing a postpaid plan.
Converting your tourist sim card to a resident's sim card
Once you receive your Emirates ID, it's very simple to change your sim card to a resident's sim card. This is done by visiting a store and allowing them to scan your Emirates ID into the system. This will now mean your sim card is valid for two years.
As long as you update your ID, your phone number will last as long as you have a valid Emirates ID but does require to be updated when it expires.
Can I buy SIM card without Emirates ID?
So as you can see above, there was plenty of options for those who do not have an Emirates ID however the numbers do expire if you aren't able to provide a new entry stamp from Dubai airport.
Should I switch to a postpaid sim as a resident?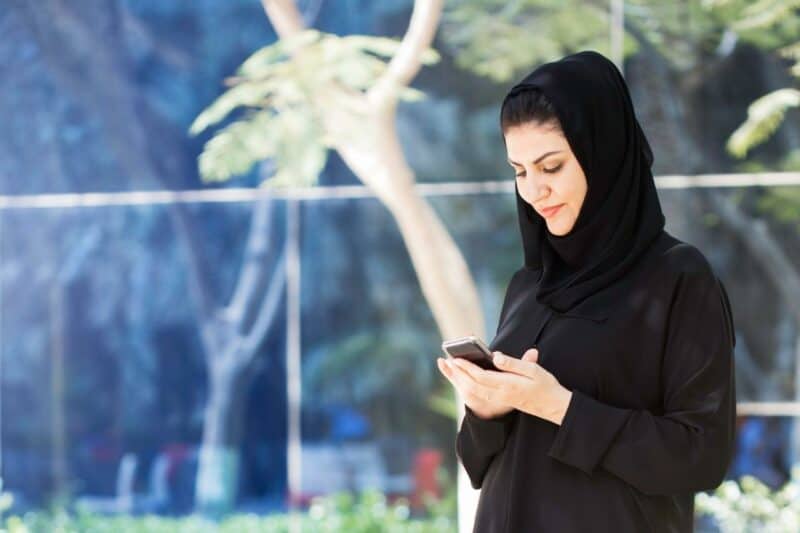 I would recommend to keep your Dubai sim as a prepaid sim card. This is because there isn't really any advantage to getting a postpaid sim card. It will still cost you the same amount each month and often there are hidden charges for cancelling your contract.
Frequently friends have deciding to leave Dubai and some random charge has been added or they find out the phone company didn't close the contract down. This can result in you being denied leaving from Dubai until you've paid the final balance. Yes that means getting stop at the airport!
On top of this, I've also known friends who have travelled abroad and come back to huge bills for internet usage abroad. This isn't possible with a prepaid sim card unless you put a large amount of credit on the phone. As you need to add the balance before you use it.
So my personal advice, save yourself a headache and stick with a prepaid sim card in Dubai!
Also with Virgin Mobile, if you pay in advance for your monthly amount. You can get a discount of either 30% or 50% depending on whether you pay 6 or 12 months in advance.
Du now also offer a 50% discount if you pay for 1 year in advance but their plans are less customizable than Virgin.
How much does a SIM card cost in Dubai?
The sim card price in Dubai is free. All of the companies, Du, Etisalat & Virgin Mobile offer free Dubai sim cards for all tourists entering. You only pay for the plan you want. You will now even be given a free sim card from Du when you get your passport stamped at immigration which gives you 1GB for 24 hours.
Which SIM card is best in Dubai?
The cheapest per gigabyte (GB) is Virgin Mobile in the UAE. for tourists. Their Dubai sim cards work out at between $1.09 to $1.95 USD per GB of data. They also offer a lot of flexibility to residents to design their own phone plans.
Can I buy SIM card at Dubai airport?
Yes, there are several offices where you can sign up for a Dubai sim card for tourists. Inside all of the terminals at Dubai airport you will find offices for Du, Etisalat & Virgin Mobile. You can even sign up for Dubai sim cards for tourists online before you travel and collect them from the airport too.
Can I use WhatsApp in Dubai?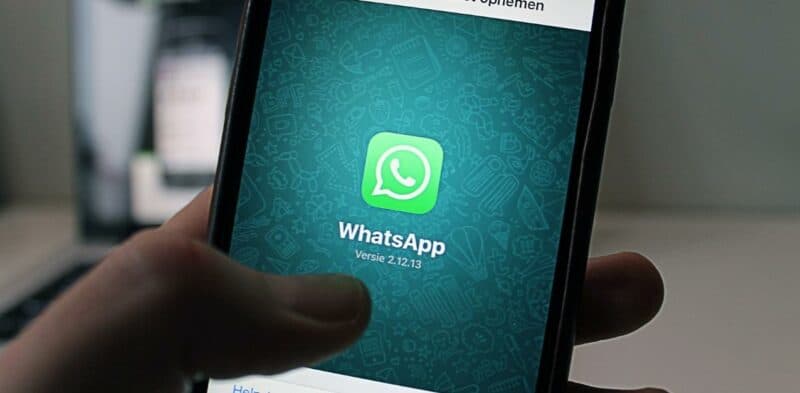 Yes, WhatsApp is a very popular messaging service in Dubai. However WhatsApp calls are not available unless you use a VPN to connect to the internet. Even then, it can sometimes be difficult to get a working connection. So it's best to use other services such as Zoom or Skype. Dubai also have their own app called Botim but to use it at home requires a monthly fee.
Skype typically only works in cafes and offices where Dubai allows the VOIP protocol to be used. So out of all the options, Zoom is generally the most reliable for being able to use it both at home, the office and in public spaces.
What is Dubai's dialing code?
Also known as a calling code, the number for Dubai and the UAE is +971 or 00971. So if you need to call any Dubai number, make sure to add that prefix before calling otherwise the call may not connect if you're using an international number or calling from abroad.
Conclusion
So as you can see, getting a Dubai tourist sim is very easy! You can even pick up a sim card at Dubai airport as soon as you've got your luggage. Out of all of the sim card UAE options, I recommend Virgin Mobile personally due to their affordability and great customer service! So there you have the best sim card Dubai guide!
---
Return to move to Dubai guides
*This article contains affiliate links, by clicking the link it doesn't cost you anything extra but it does help me to keep writing these awesome articles for you!