Dubai is one of the most popular cities in the world for buying gold and attracts millions of buyers from all around the world. There are many reasons why buying gold in Dubai is a great choice and we'll go through those many reasons below. We'll answer all your common questions about gold in Dubai along with which Dubai gold shops are the best.
I've also included the current gold price in Dubai and other little handy bits of information to make your gold shopping experience in Dubai as easy as possible!
---
Make sure to check out some of my other super helpful guides to Dubai:
The ultimate guide to shopping in Meena Bazaar, Dubai's Little India
Can I drink alcohol in Dubai? Everything you need to know
Visiting the Burj Khalifa and At The Top Alternatives
17 of the best hotels with views of the Burj Khalifa
---
Common Questions
Can a tourist buy gold in Dubai?
Yes indeed! People fly from all over the world to buy gold in Dubai and there isn't any kind of limit to what nationalities can buy gold. The fact Dubai is extremely safe and has very low crime rates also makes it a very popular destination for buying gold without the fear of being ripped off or having the gold stolen.
How much gold can I buy in Dubai?
So while there is no limit to the amount of gold you can buy in Dubai, you will need to check if there are limits for taking the gold back to your home country. Some countries have a weight limit while others have a value limit. Most countries will allow you to take more gold back but it will need to be declared to customs and can be subject to taxes.
US: You can take back $10,000 USD worth of gold without needing to declare it
UK: If the gold is for investment, values over £5000 must be declared while none investment gold must be declared if the value is over £10,000
India: 20 grams with value not exceeding 50,000 rs for male passengers and 40 grams with value not exceeding 100,000 rs
Saudi Arabia: Gold and other precious stones or metals over the value of 60,000 SAR must be declared
How much does gold cost in Dubai?
The price of gold in Dubai fluctuates based upon the current market rate of gold and is usually worked out per gram. You will also have to pay a fee on top that is called the "making charges."
Some vendors may add it automatically on the price per gram but you can work it out by deducting the current market price per gram.
Today's Dubai Gold Rate & History
Below is a helpful graph with the current 24k gold rate in Dubai and it's historical price. The 22k rate of gold in Dubai will be a little bit cheaper.
Which gold is the best to buy in Dubai?
The best type of gold to buy in Dubai is a piece that is solid gold as most pieces are sold based on weight. That means any other items added such as stones or if it's two types of gold mixed. This will likely cost the same or similar to a single solid gold piece.
When it comes to selling the gold, the sellers will take into account these factors and give you a cheaper price per gram but they don't always take this into account when selling the gold. So this is definitely something to be aware of!
Why is Dubai gold so yellow?
The main reason Dubai gold is so yellow is due to the popularity of 22 karat and 24 karat gold. In Western countries, typically gold is mixed with other metals to create an alloy and it is very uncommon to see 22k gold jewellery. It can also depend where the gold came from, as shades do vary slightly between countries.
Why buy gold in Dubai?
Also called the city of Gold, Dubai is one of the best places to purchase gold. The city even has a complete souq dedicated to buying and selling gold. So when in Dubai, here are a few good reasons to make an investment:
1. Dubai gold is diverse
Dubai is a land of cultural diversity and Emirati heritage. It is home to people from all corners of the world. Hence the gold market houses a huge variety of designs too.
Be it Asian or Western, intricate or bold: The Dubai gold shops have something in store for everyone. Also the market offers the latest designs and patterns from around the world.
2. Dubai has many gold shops concentrated in one area
Making it easier to shop, Dubai has two key larges areas which are popular for buying gold. The traditional area is Deira Gold Souq and the other is Gold & Diamond Park. Deira Gold Souq you'll find more traditional Asian and Middle Eastern designs.
For those wanting a newer experience inside a mall, Gold & Diamond Park offers air conditioned buildings where you wander between the different sellers. You'll also find typically more Western designs available here.
In both areas you'll also find other types of jewellery, precious stones and luxury watches. You can also get pieces repaired.
3. Dubai gold is pure
The government regulates the authenticity of gold in Dubai and has tough restrictions on sellers. This includes random checks from Dubai authorities and a centralised testing labroatory. For this reason, Dubai has one of the purest golds available on the market globally.
Sellers must carry a gold purity hallmark on their items which states the fineness of the gold. So make sure to check for the hallmark before you buy!
Fineness hallmark chart:
24K – 999 = 99.9% purity
22K – 916 = 91.7% purity
21K – 875 = 87.5% purity
18K – 750 = 75% purity
14K – 583 = 58.3% purity
4. Dubai Gold is Cheaper
So many people ask, is buying gold in Dubai cheaper?
Before 2018, the Dubai government applied no taxes on any types of gold. It is why the gold market flourished drastically and how it became to be known as the city of gold.
Since January 2018, Value Added Tax or VAT for short was added to many products within the UAE including gold jewellery. 5% is still very cheap compared to other countries and there are no other taxes such as sales tax, GST or duties for exporting.
However, gold for investment purposes such as bars, ingots and coins. Also known as bullion, are excluded from VAT, so the 5% doesn't apply.
Finally, if you are leaving Dubai as a tourist. You are now able to claim VAT back when you leave at the airport and this includes those visiting from other gulf countries. In order to qualify for a VAT refund on your gold, you must buy from a VAT refund approved store, exporting the gold and must be leaving the UAE within 90 days of purchase.
If you qualify, it is a minimum claim amount of 250 AED. You will be able to claim 85% of the VAT back minus an admin fee of 4.8 AED per form. Separate receipts have to go on separate forms.
3 of the best places to buy Gold in Dubai
If the reasons above have successfully convinced you to buy gold in Dubai then get ready because this section will guide you through the best gold places in Dubai to now actually buy it!
We have hand-picked the finest gold sellers in Dubai for you. These shops will leave you amazed by premium designs, best prices and hospitable behaviour.
Deira Gold Souk
The Gold Souk in Dubai is perhaps the oldest and largest place to buy gold. It is a traditional-style market located in the commercial district of Deira. There is a huge entrance that leads to more than 350 gold sellers.
You will find an assortment of jewelry designs, ranging from delicate bangles to heavy wedding sets. It is the perfect place to purchase bulk jewellery.
Most of the designs are in a more Middle Eastern or South Asian style here. You'll find large amounts of 22 karat yellow gold and many heavier pieces if you're wanting that style.
Opening Times:
10 am till 10pm
Fridays: 4pm till 10pm
*Shops times can very between sellers
Nearest Metro:
Al Ras Metro
Shops of interest:
Malabar Gold & Diamonds
One of the most well known names in Dubai for gold and precious stones, they have several branches through out Dubai. You can be assured here that you're getting high quality gold here. They also offer extras such as 1 year insurance and a 14 day return policy.
Gold and Diamond Park
The Gold and Diamond Park elevates your buying experience and takes you into an air-conditioned mall dedicated to jewellery. It is present on the popular Sheikh Zayed Road. So depending on what area you're staying it, reaching Gold & Diamond Park may be easier for you.
Once inside, you will come across more than a hundred gold and diamond sellers spread out across 7 different buildings. Not only that, but you will also find precious gems, stones, and high-end personal accessories such as Rolex and designer watches.
Many of the jewellers are able to also craft customized designs or make small changes to an existing piece that you like.
There's also a few small cafe restaurants located inside. Soho Cafe and Coffee Day are both located in Building 4 while Alma Cafe is in Building 5.
Opening Times:
Every day 10am till 9pm
Nearest Metro:
FGB Metro
*Please note, during Ramadan and public holidays in Dubai shop times change
As you may be able to tell, Gold & Diamond Park is a huge retail space so here is a handy map of the shops: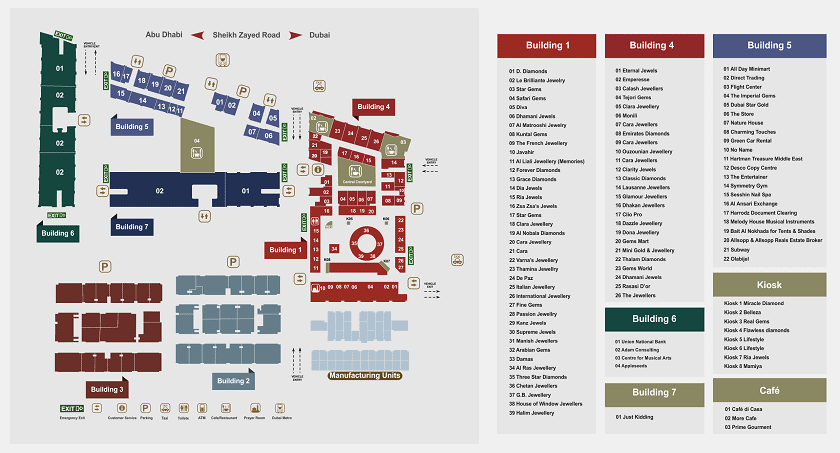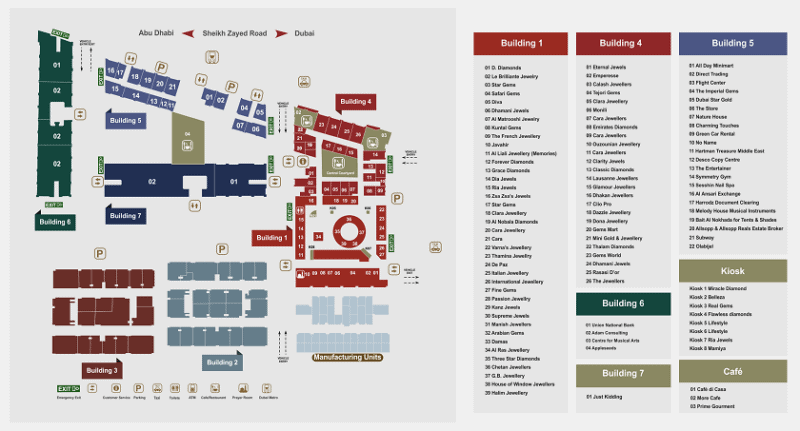 Shops of interest:
Monili Jewellers
Open since 2005, Monili prides itself on its customer service and high quality craftsmanship. The shop is still a family owned business despite its growth. The shop is more focused on gold pieces with precious stones, so perfect for those looking for an engagement ring in Dubai.
Damiani
Damiani is perfect for those people who seek finesse quality and exquisite designs. The premium Italian brand has several stores throughout Dubai including one at Gold and Diamond Park. They also have a larger store at the Dubai Mall, close to the Burj Khalifa.
At this store, you will get to explore unique gold and diamond sets along with breathtaking collections of valuable gems and stones. If you don't have budget limitations and choose to buy the absolute best, give this amazing brand a visit.
Damas
Another large brand with locations across Dubai, this store has more Middle Eastern and Asian with a modern twist if that's what you're looking for in this location. The company has a very long history starting from 1907 and was founded in the UAE.
How to buy gold jewellery in Dubai
Purchasing gold in Dubai is a simple process but, you should have the homework done such as checking the current gold market rate. Or else, you can end up paying more than necessary. 
Know the type of gold
There are three fundamental types of gold sold throughout the world. These are yellow gold, rose gold & white gold, based on the alloys they are mixed with.
The higher the number of karats, the higher the gold purity. So, 24K gold is the purest form available. This is as close to pure gold as you can get however it doesn't make great jewellery due to its soft nature. The most common karat for jewellery is 22k.
Manufacturers mix it with a small percentage of metals, like silver, copper, platinum, palladium, nickel and zinc to give it more strength and durability. You may find different colors and designs depending on the composition.
Pricing
The gold pricing system in Dubai is a little different than what you may be used to back home. First, the price is calculated based on the weight. Secondly, labor charges or making charges are added according to the design.
Usually, more intricate designs will have higher labor charges. However, you can still haggle to get lower costs (discussed in more detail below).
Commonly you'll see store assistant typing out the price on a calculator for you after weighing the piece you've chosen.
Take your time to choose
The gold market is huge and attractive in Dubai. If you make the mistake of shopping during busy hours, you will find the shops crammed with buyers and tourists. But, whatever happens, remember that you're there to shop too. Do not get under pressure or stress.
Take your time to choose and go through designs until you find a satisfying one. If you do not like something, walk out and explore other shops.
Investigate Authenticity
Previously, we mentioned that the government requires all gold sellers to keep a gold purity hallmark at all times. So as a buyer, you have to right to investigate gold purity and ask for the certificate. If something feels questionable, feel free to ask the vendors.
Master the Art of Bargaining
Although the gold price Dubai is free from taxes and relatively cheaper, some sellers add manufacturing costs to the total price. They do so knowing that the tourists are here to purchase and will buy one thing or another but do not give in to the said prices without bargaining. 
The art is simple. When you select the design, ask the seller to quote the price and then ask for a discount. Compare the prices to other sellers. Always keep the current gold prices in mind to counter the increased costs at the shop
Paying in cash can also help get you a better discount
Conclusion
So now that you've learnt everything there is to know about buying gold in Dubai! We hope you're feeling ready to go out there and secure your favourite piece. Not only is gold a great investment long term but jewellery is something you get to enjoy while also gaining value. It's a win win!