How should I dress for Ramadan? When is Eid in Dubai? What should I wear for Eid? So there are two Eid celebrated in Dubai and we'll explain more about them below! So not to worry! We'll answer all your questions about Eid and Ramadan along with all the dates for 2022 and not forgetting those Ramadan outfit and Eid outfit ideas!
Eid Al Fitr is the main Eid celebration which can be explained as 'like Christmas' for Muslims. Eid Al Fitr, celebrates the end of fasting during Ramadan and is a huge celebration across Muslim countries. If you live in Dubai, you'll be given time off for Eid even if you're not Muslim which is why it's also a hugely popular weekend for people to go on holiday or vacation!
So what do Muslims do during Eid?
Muslims celebrate with early morning prayers, buying gifts, sharing food with friends and family and giving sweets or money or both to children. Families will often gather together and in the gulf, it's very common for an animal to be slaughtered and cooked by a local restaurant to be delivered to the family home.
---
Check out some of my other super helpful articles about Dubai here:
Six amazing places to visit for Eid vacation from Dubai
Best Ramadan Iftars in Dubai including family and budget friendly
Everything you wanted to know about the traditional clothes of the UAE
What are traditional Emirati foods and dishes? Plus where you can try them in Dubai
---
When is Ramadan in Dubai 2022?
Every country is different as the start of Ramadan is based on the sighting of the moon. For Dubai Ramadan started on the evening of 1st April 2022 and the first day of fasting is 2nd April 2022. Ramadan will likely end on 1st May 2022 with the start of Eid celebrations on the 2nd May 2022, again based on the sighting of the moon
During this month, work is reduced by two hours for the majority of sectors.
When is Eid Al Fitr in Dubai 2022?
Eid in Dubai will begin with Eid prayers on the 2nd May 2022 subject to the new moon being sighted to announce the end of Ramadan. The UAE Moon Sighting Committee will meet to confirm.
The public sector holidays have already been announced by Gulf News and will start Saturday 30th April until Friday 6th May. The private sector will likely be a shorter holiday but still enjoy a long weekend. This will likely be from Saturday 30th April to Wednesday May 4th
When is Eid Al Adha in Dubai 2022?
The other Eid, Dubai will likely be celebrated on 9th July 2022 until 11th July 2022 and is again depends on the moon sightings since the Islamic calendar uses lunar months.
Eid Al Adha celebrates the end of Hajj season when Muslims make pilgrimage every year to Mecca during the beginning of the Islamic month of Dhu'l Hijjah.
What do you wear during Ramadan?
So while there are no set 'Ramadan clothes' per se, lots of people greatly enjoy getting dressed up for Iftars, whether it's with the family at home or enjoying a famous Ramadan tent. Also since it is an Islamic holy month, many choose to dress more modestly during this month out of respect for the UAE culture.
For more information on what to wear in Dubai, make sure to check out our previous article here
What should I wear for Eid?
A typical Eid outfit is brand new as it was recommended by Prophet Muhammad to wear your best and newest clothes for Eid. So most Muslims, as long as they can afford it, will buy new outfits especially for Eid.
Do you have to dress up for Eid?
So while it isn't a must for your Eid clothes to be very fancy, lots of Muslims love to dress up for the celebrations. For women this will be a new dress or kaftan that they'll wear under a new abaya while attending Eid prayers and for men a new khandura or thobe.
It's common after the Eid prayers to meet together to a breakfast so commonly women and men will wear their new clothes to the Eid prayers before heading off to gatherings.
Also many women will get henna painted on their hands a few days before along with other beauty treatments. It's also popular for women to have their hair done. So if you do plan to do any of these things, make sure to book early as salons get very busy around this time of year.
When meeting with family on Eid, it's traditional in Gulf culture for women to wear gold jewellery that has been bought for them over the years too.
Ramadan Dress
It can be hard choosing Ramadan outfits! So here's some inspiration for you below with the latest Ramadan fashion.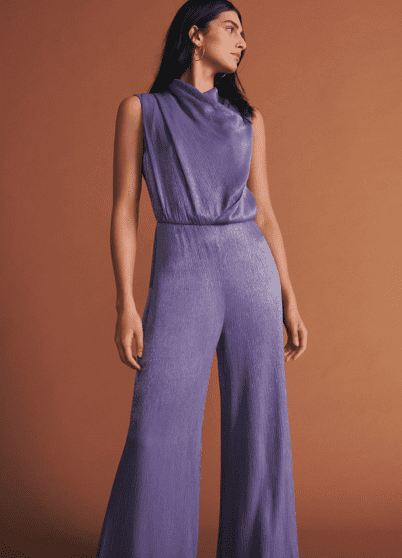 This purple jumpsuit from Mango with a slight shimmer is perfect for the Ramadan season and attending an iftar, add some gold accessories and it'll be wow! Mango has free delivery in the UAE when you spend 300 AED
Loving this bold colour with a satin finish dress and these earrings both from Asos are perfect to match!
Ramadan Kaftan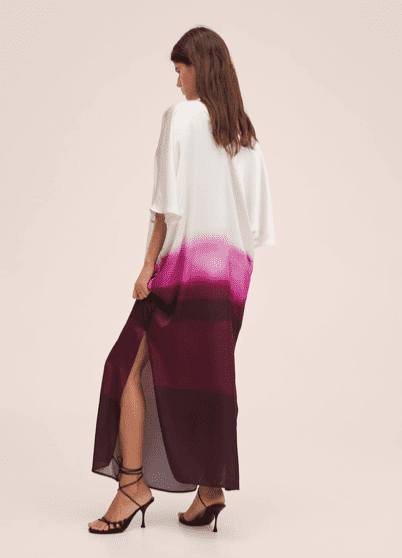 Want to keep it modern and contemporary but still have a little bit of Arabic flair? This two tone kaftan is perfect from Mango for whether you're having a Iftar with family at home or want to dress it up for a nice out.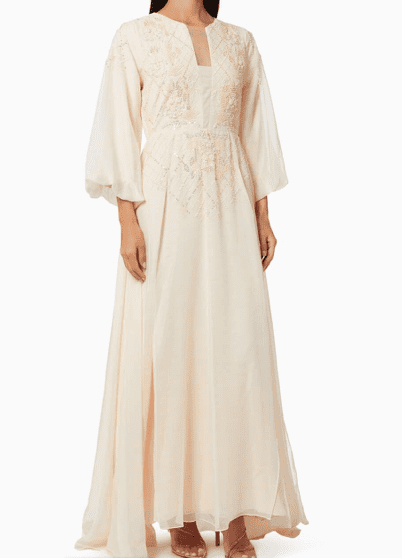 Keeping it classy and traditional Arabic flare, this stunning designer kaftan from Ounass offers the ideal Ramadan evening style.
Ramadan Abaya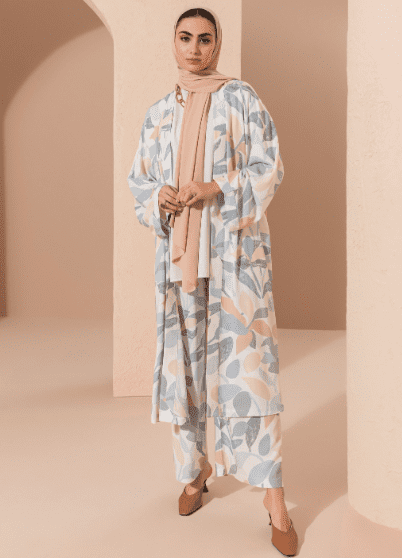 This fun print abaya from Modanisa is perfect for both Ramadan or Eid. It can also be combined with so many different looks or even used like a jacket for when you want a different look.
Eid Outfits for 2022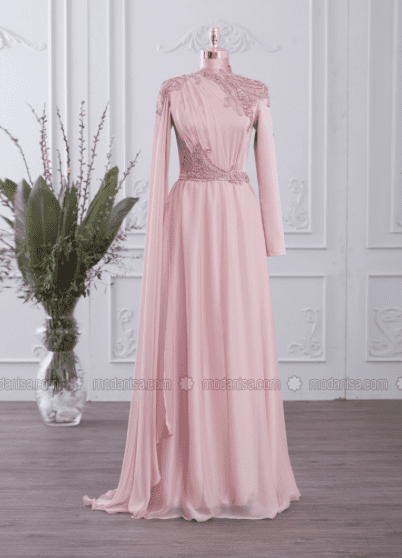 Absolutely in love with this modest dress with delicate floral beading from Modanisa! Available in 3 colours you'll look simply divine for your Eid celebrations!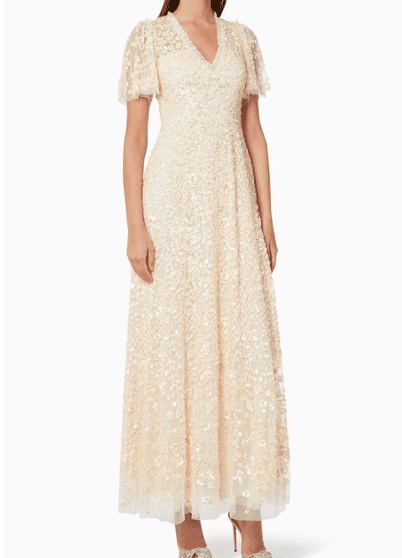 If money isn't an issue, this stunning designer option with incredible beading detail from Ounass is incredible! Certainly one
Abayas for Eid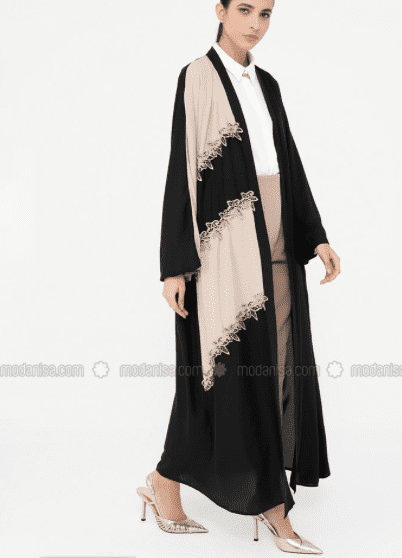 Want to keep it classic but still add a little bit of flare for Eid? This two tone abaya from Modanisa is perfect!
Eid dresses for girls
Need Eid dress for kids? Not to worry we've got you covered too!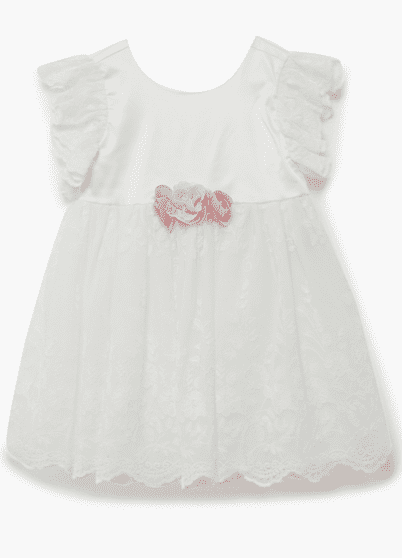 This super cute Eid dress for your little angel is so cute we can't get over it! What's even better is it's currently got 50% off at Bloomingdales too!
We hope you have a lovely Eid holiday! Dubai is the perfect place to celebrate! May you have a blessed time with all your loved ones!