It can be tough to know where to start when visiting the Burj Khalifa! There are so many different options. Whether you want to go at the top and see the view over Dubai. Dine in the famous Burj Khalifa or watch the fountains and laser show from below. There's lots of experiences to choose from!
I go through all the possible options in this post in order to help you decide. Based on your budget and what activities you prefer. Plus I've even given insider tips!
---
Want to learn more about Dubai?
Who rules Dubai? All your questions answered about Dubai and UAE!
What's the best area to stay in, in Dubai?
Which Dubai Mall is the best to go to?
How to spend all your money in 3 days in Dubai
The Dubai dresscode for women – What to wear in Dubai
---
Burj Khalifa activities cost comparison
I've gone through all the options and made it super easy to compare with this handy table! Click on each of the options to find out more about each activity.
In price order:
Burj Khalifa Options
Location
What the experience offers
Timing
Cost
Watching the lights & fountains or laser show from the ground
Outside of Dubai Mall & Souq Al Bahar
A pretty fountain and light show every 30 minutes with a laser show in between also every 30 minutes
5:30pm till 11pm
Free
The Dubai Fountain Boardwalk
On the lake of the Dubai fountains
A less crowded and up close experience of watching the fountains on the floating bridge
5:30pm till 11pm
20 AED per person
Water activities on the lake of the Dubai Fountains
On the lake of the Dubai Fountains
Various activities such as pedal boats, water bikes and kayaks
3pm till 10pm
From 45 AED – 80 AED per person
Ride an abra across the Dubai Fountains
On the lake of the Dubai Fountains
Take a traditional boat across the lake and watch the fountains
5:45pm till 11pm
80 AED per person
Coffee in the clouds
The At.Mosphere Lounge on the 122nd Floor
Beverages only
7am till 9am
Minimum spend of 100 AED
At The Top
Inside the Burj Khalifa
Self guided tour of Level 124 & 125
*10 am till 10pm
154 – 229 AED per adult
Al la Carte breakfast at At.Mosphere
The At.Mosphere Lounge or Restaurant on the 122nd Floor
Hot drinks, juices, beverages and various breakfast items
7am till 11am
Minimum spend of 200 AED per person
Al la Carte dinner at The Lounge At.Mosphere
On the 122nd Floor of the Burj Khalifa
Hot drinks, juices, beverages and various courses
5:30pm till 10:30pm
Minimum spend of 250 AED – 350 AED
Al la Carte lunch at At.Mosphere Restaurant
On the 122nd Floor of the Burj Khalifa
Hot drinks, juices, beverages and various courses
12pm till 4pm
Minimum spend of 300 AED per person
Decadence Breakfast at At.Mosphere
On the 122nd Floor of the Burj Khalifa
3 course breakfast including hot drinks and juices
7am till 11am
375 AED per adult
Afternoon high tea at At.Mosphere Lounge
On the 122nd floor of the Burj Khalifa
Sandwiches, a main course, desserts, pastries, scones plus hot beverages

Option of sparkling wine or champagne also
12pm till 4pm
328 AED – 664 AED per person
At The Top SKY
Inside the Burj Khalifa
Guided tour & access to Level 124, 125 & 148 + Skip the queue & Arabic coffee with dates
12pm till 10pm
379 AED – 533 AED per person
Al la carte dinner in the At.Mopshere Restaurant
On the 122nd floor of the Burj Khalifa
Choose from either a set menu or a la carte
5:30pm till 10:30pm
450 AED – 600 AED per person
At The Top VIP Lounges
Inside the Burj Khalifa
An afternoon tea or a sunset with bubbly and canapés on Levels 152, 153 & 154
2:30pm till 4:30pm or 5pm till 7pm
749 per adult
*Times changed due to Covid
Interesting facts about the Burj Khalifa
Do you know how the Burj Khalifa got its name? Originally the Burj Khalifa was going to be called Burj Dubai but was changed to the Burj Khalifa after the UAE ruler and announced when it opened.
Reportedly this was due to the large investment Abu Dhabi had made into Dubai after the 2008 global recession
The Burj Khalifa opened on 4th January 2010
Construction started in January 2004 for a total of 6 years
It is the World's Tallest freestanding structure at 828m (2,716 ft)
It also holds the title of the highest occupied floor, highest building, highest number of stories, elevator with the longest travel distance and tallest service elevator in the world
Along with the highest outdoor observation deck in the world
It cost $1.5 million USD to build
The building is multifunctional, containing a hotel, dining, offices and private residences.
The height of the tower was kept a secret until the building was finished
The very highest floors of the Burj Khalifa aren't usable
Bill Baker was the engineer behind the Burj Khalifa in order to create a building this tall that was not only structurally sound but could withstand the climate and sandstorms of Dubai
The architect who designed the building was Adrian Smith while working at Skidmore Owings & Merrill
The building is inspired by the 'Spider Lily' which is native to the desert
It is owned by Emaar Properties
Saudi Arabia has a tower planned called 'Jeddah Tower,' previously 'Kingdom Tower' in order to beat the height of the Burj Khalifa by 180m (591 ft) but currently construction is halted on this project. This would make it a total of 1008m (3,307 ft)
Dubai announced it's own plans to beat its own world record by building 'Dubai Creek Tower' but haven't released officially what it's height would be. This building is also currently on hold and has been since 2018
Guide to visiting the Burj Khalifa
Going up the Burj Khalifa is definitely one of those Dubai bucket list items! I go through every possible detail you can think of so you to make sure you visit the Burj Khalifa like a pro!
Jump to the part of the article you want:
What to expect when visiting 'At The Top' at the Burj Khalifa
All the 'At The Top' Ticket options
Burj Khalifa Timings; when is busiest & when is less crowded
When is At The Top less crowded?
Best time to visit At The Top
Combined experiences that save you money
Alternatives to At The Top
Options for those who want to experience Burj Khalifa but don't like heights
Ways to get to the Burj Khalifa
Where to stay close to the Burj Khalifa
What to expect at At The Top Burj Khalifa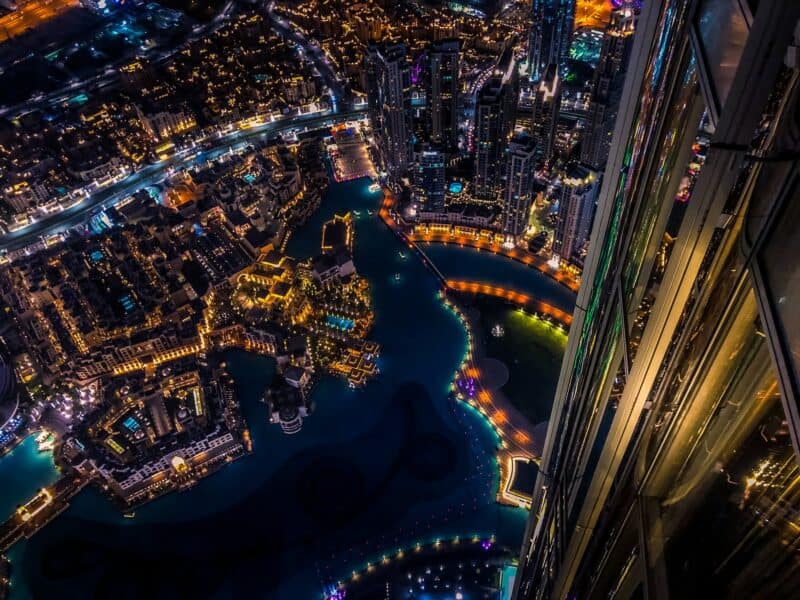 The queues for At The Top can be pretty long. It is one of the most popular tourist attractions in the whole of Dubai. Only so many people can fit in the lift at one time in order to go up, so this is a factor of why there's a queue.
So if you hate queues, not to worry! I will share some tips on how to avoid them, along with what tickets and experiences you can buy in order to skip the queue!
Visiting At The Top takes around one and half to two hours. It is possible to do it in a shorter time if you don't want to read all the displays and go outside of peak hours when queues are smaller.
Level 125 tends to be quieter than level 124, so make sure to get the full experience by heading up those stairs.
The same with watching the fountains below the Burj Khalifa, there is typically quite large crowds that gather to watch. So I'll give some tips for this also, on how to get the best spot further down!
What are the At The Top ticket options?
At The Top is the name of the experience and the public observation decks inside the Burj Khalifa. There are different options available depending on what you'd like to do and how much you'd like to spend.
To begin we'll just go through the observation deck only options and after explore if you wish to combine them with another experience.
Please note – if you buy tickets on the day at the attraction you pay a premium and cannot be guaranteed to get the time slot you want. If you're going as a family especially, I would recommend to book at least couple of days in advance to make sure.
At The Top – Access to level 124 and 125 of the Observation Deck
At The Top SKY – Access to level 124, 125 & 148 which includes a refreshment lounge
The VIP Lounges – Access to level 152, 153 & 154 along with either an afternoon tea or drinks with canapés
At The Top – Level 124 & 125
This is a self guided tour which includes access to the observation decks on levels 124 and 125. Level 125 is 456 meters (1496 ft) off the ground.
Level 124 is the initial floor you enter on and features high powered telescopes and the outdoor observation deck.
Up the stair case, on Level 125 features 360 degree views across Dubai. Also make sure to check out the viewfinders on the 125th level observation deck as well as they have images of old Dubai inside. Taking you back in time! There's also a virtual reality experience and a green screen if you'd like a souvenir photo.
Insider tip – If you're going to go for sunset, make sure to book 90 minutes before sunset and potentially 2 hours before during school holidays. The peak tickets between 5pm and 6:30pm will likely not catch the sunset (depending on the sunset timing when you visit) and therefore are not worth paying a premium for.
With this ticket you do have to queue which can be long
Cost
154 AED ($42 USD) per adult
4 to 12 years old – 119 AED ($32 USD) per child
Peak Time Cost: Between 4pm and 6:30pm – 229 AED ($62 USD) per adult
4 to 12 years old – 137 AED ($37 USD) for children
Children under 4 – Free

*All prices include VAT
I highly recommend buying through Get Your Guide as it's free to cancel up to 24 hours before. In case your plans in Dubai change! They're an authorised ticket seller who do not charge any extra.
At The Top SKY – Level 124, 125 & 148
This includes a guided tour and access not only to the same levels as At The Top but an even higher floor of 148. You also get some tasty Arabic coffee and dates!
Level 148 has an outdoor observation deck and is at an incredible 555 meters (1821 ft) above the ground! There's also a nice lounge here to get refreshments along with an interactive experience of Dubai's monuments.
The Level 148 lounge is a little similar to the VIP lounge and when at this height, a few floors actually doesn't make much difference. Though this lounge area is busier and has a different vibe to the VIP lounges.
Insider tip – Please note the time on level 148 is limited to 30 minutes, you can spend as much time as you like on Level 124 & 125. Also with this ticket you can SKIP THE QUEUE of those with At The Top tickets! And go straight to the express elevator.
Timings differ slightly for this experience, they are as follows:
Sunday to Saturday: 12pm till 10pm, 9pm last admission.
*Most timings have been altered due to Covid
Cost
379 AED ($103 USD) per person for adults and children over the age of four
Peak Time Cost: Between 12pm and 6pm – 533 AED ($145 USD) per person
Children under the age of 4 – Free

*All prices include VAT
You can buy your ticket here from Get Your Guide that gets you not only all those perks compared with a regular ticket but also you can cancel up to 24 hours before and receive a full refund!
The VIP Lounge – Level 152, 153 & 154
The experience is different depending on the time you visit. These three incredibly high floors have chairs and even some couches spread out perfect for lounging. Along with an outdoor terrace. The experience lasts for two hours.
There's also little private areas to sit, so if you're wanting an option that allows for more privacy. This option is perfect. It also really does have a different feel the other experiences.
If you visiting between 2:30pm and 4:30pm you'll experience tea in the clouds. This is where you'll eat a selection of desserts, cakes and pastries with a selection of teas and coffee.
If you visit between 5pm and 7pm then you'll enjoy a glass of bubbly and canapés to go with it. There's also live entertainment while watching the sun go down!
Though I must admit when you are this high up, the fountains are difficult to see. But it is truly a unique experience being in a building this high up!
Cost
749 AED ($204 USD) per person
*All prices include VAT
Buy the 'Tea in The Clouds' package from Get Your Guide or the 'Bubbly Sundowner' package and enjoy free cancellation up to 24 hours before at no extra cost!
Burj Khalifa Timings
The Burj Khalifa At The Top observation decks are open every daily at the following times below:
Sunday to Wednesday: 10am till 10pm
Last admission is 9pm
Thursdays & Fridays: 10am till Midnight
Last admission is 11pm

Other useful times to know:
Dubai fountain display times: 6pm till 11pm
Burj Khalifa laser show times: Tues to Sat – 7:45pm till 9:45pm
*Please note these are the current reduced times due to Covid, I will update the article if the times change back. Due to this, the sunrise tour that was available on weekends is currently not available.
When is the Burj Khalifa the busiest?
The busiest time is due to people wanting to catch the sunset and also that most people in the Middle East tend to be late risers. You'll even find malls in Dubai tend to get busier after 3pm.
It is also more expensive to access At The Top Burj Khalifa during these peak times.
If you're wanting to visit the Burj Khalifa during the sunset, it's best to book a time slot that is 90 minutes before sunset.
When is the Burj Khalifa less crowded?
Again due to a more late night lifestyle in Dubai, most attractions and especially the malls will be quieter in the mornings. So this is a great time to visit before the crowds.
At The Top does get quieter after the sunset as of course this is such a popular time to go.
These are the less busy times:
10am till 2pm
8pm till 10 pm
If I'm going more for the view than to take photos, I really love visiting the Burj Khalifa at night and seeing all the lights twinkle below.
What is the best time to visit At The Top?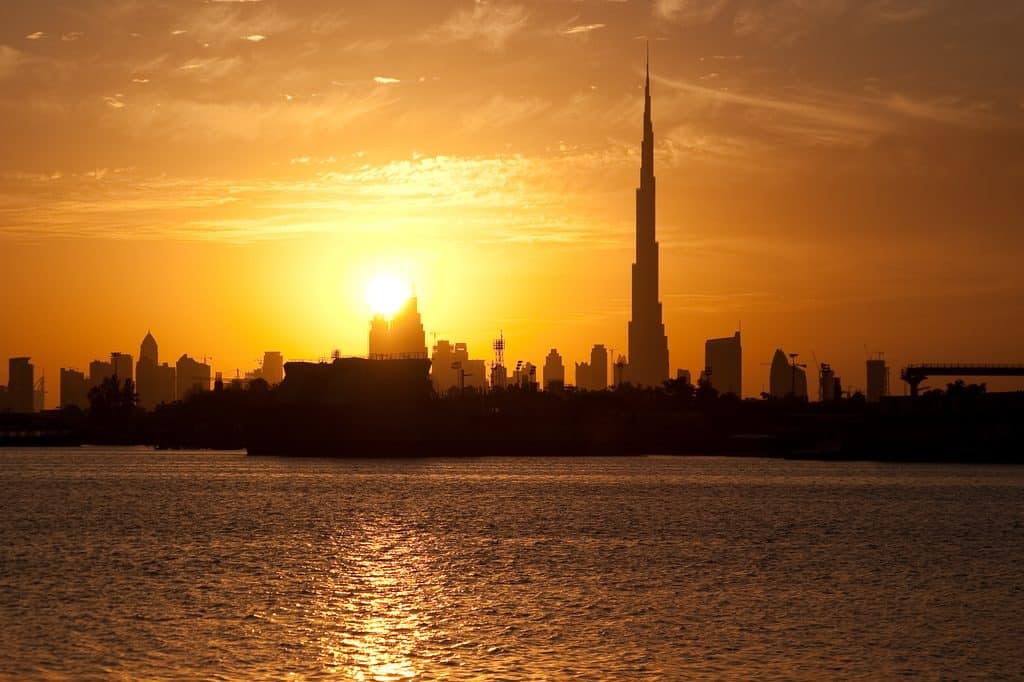 It really depends on your preferences. If you're planning to take lots of photos and want some really beautiful ones for your Instagram? Then getting up there early before sunset to catch the golden hour is amazing. Of course you can then stay there and wait for the sunset.
Dubai during winter time, the ground can be covered in fog some mornings. So if you love seeing the buildings peaking out from beneath it. This is truly magical. Though it does limit visibility too, so something to bear in mind.
Make sure to check the weather forecast a couple of days before hand. Equally a sandstorm can also mean having hazy pictures or a less desirable view over the city.
What about after sunset? The city does look amazing all lit up at night and this is personally one of my favourite times to go to the Burj Khalifa in terms of enjoying the view rather than photography.
Combined tourist attraction ticket offers with the Burj Khalifa
This is a great way to save money if you plan to visit other tourist attractions while in Dubai. These are some of the options:
You can also buy a multi-pass that allows you entry in multiple Dubai attractions over a set time in order to save money.
This gives you access to over 40 different Dubai attractions and can save you up to 60% off entry prices along with being able to skip the line at some attractions
The pass can be used for At The Top but you must book 48 hours in advance and it does not include peak price timings!
There are a few different options if you want the Burj Khalifa included with the pass:
Dubai Flexi Attractions Pass – For 3, 5 or 7 tickets & valid for 7 days
Dubai Select Attractions Pass – 3 attractions & valid for 7 days
Dubai Unlimited Pass – Unlimited attractions over 3 or 5 days
*Please note you can only enter an attraction once per person, for example you couldn't go to the Burj Khalifa twice if you had an unlimited pass
For more details about the pass and to purchase, check out iVenture.com here
Alternatives to At The Top at Burj Khalifa
If you're one of those people who prefers not to do the more touristy option, then here are some great alternatives to the queues.
There are quite a few to choose from, so I'll give you a run down of all of them. Including some for those who want to enjoy the Burj Khalifa but are not keen on heights!
Having drinks, breakfast, lunch or dinner at At.Mosphere
At.Mosphere offers a truly unique fine dining experience in Dubai, high in the sky! Atmosphere is on the 122nd floor so equally offers amazing views of Dubai.
The dress code for the lounge is smart casual and the restaurant is smart elegant. Plus in Dubai we love to get all dressed up, so make you put on your best clothes!
For more information on how to dress as a woman in Dubai, in case you're worried what you can and can't wear.
Insider tip – It can be difficult to get a great photo at At.Mosphere unless you pay a premium for a window table. So if you're budget is more restricted, this is one thing to bear in mind! As most of the window seats have a higher minimum spend.
At.Mosphere has lots of different options depending on your preference:
Coffee in the clouds in the At.Mosphere lounge
A la carte breakfast in the lounge or restaurant
The Decadence breakfast set menu
Afternoon tea & high tea
A la carte lunch in the lounge or restaurant
A la carte dinner in the lounge or restaurant
Here are some more details about each of those activities below.
Coffee in the clouds
This is one of the most reasonable on the list! So it's a great affordable way to experience the views from high up in the Burj Khalifa without spending too much money.
The Coffee in The Clouds is between 7am and 9am, served in the At.Mosphere lounge. It is mostly beverages but you are able to order a dessert platter.
The minimum spend is 100 AED ($27) per person and you just select what coffees and teas you would like. Check out the menu here
Breakfast at At.Mosphere
You have two choices for breakfast at Atmosphere:
The Decadence set menu breakfast served in the restaurant
A la carte is also served in the restaurant
The decadence breakfast is three courses of what can only be described as a luxury breakfast with options such as wagyu bacon and truffle scrambled eggs. You'll also get dessert and unlimited hot beverages.
Cost
Decadence – 375 AED ($102 USD) per person
A la carte – 200 AED ($54 USD) minimum spend per person
Key Information & Price
Lounge
All ages welcome for breakfast
Dress: Smart casual
Window seats & inner seats
300 AED minimum spend
Children under 5 free
Restaurant
All ages welcome for breakfast
Dress: Smart elegant
Window seat: 350 AED ($95 USD) minimum spend
Inner seat: 250 ($68 USD) AED minimum
Lunch at At.Mosphere
There are two options to choose from for lunch, either in the restaurant or the lounge. But both having amazing views and window seat options.
The a la carte lunch menus are the same in both the lounge and restaurant.

Key Information & Price
Lounge
Children must be over age 5
Dress: Smart casual
Window seats & inner seats
300 AED ($82 USD) minimum spend

Restaurant
Children must be over age 5
Dress: Smart elegant
Window seat: 350 AED ($95 USD) minimum spend
Inner seat: 250 ($68 USD) AED minimum
If you'd rather save money, the restaurant is 250 AED minimum spend for an inner seat but of course you don't get the incredible view while you dine.
Afternoon Tea at At.Mosphere
This is truly an experience and is more affordable to do it at At.Mosphere than it is in the At The Top VIP lounges.
Unlike most traditional Afternoon teas, this one also includes a main meal with the sandwiches, scones, desserts and hot drinks. So make sure you go hungry!
Key Information & Price
Lounge
Children over 5 year
12 till 4pm
Dress: Smart casual
Cost
Afternoon tea with hot beverages – 328 AED ($89 USD)
Afternoon high tea with sparkling wine none window table – 430 AED ($117 USD)
Afternoon high tea with sparkling wine window table – 503 AED ($137 USD)
Afternoon hight tea with champagne – 664 AED ($181 USD)
Dinner at At.Mosphere
Again like lunch you can choose from either the lounge or the restaurant, however the restaurant does have a much higher minimum spend. Both have an amazing view!
Key Information & Price
Lounge
Over 21s only from 5:30pm
Dress: Smart casual
Window seats & inner seats
300 AED ($82 USD) minimum spend
Restaurant
Children must be over age 7 for dinner
Dress: Smart elegant
Window seat: 600 AED ($163 USD) minimum spend
Inner seat: 450 AED ($123 USD) minimum
If you have connections who live in the Burj Khalifa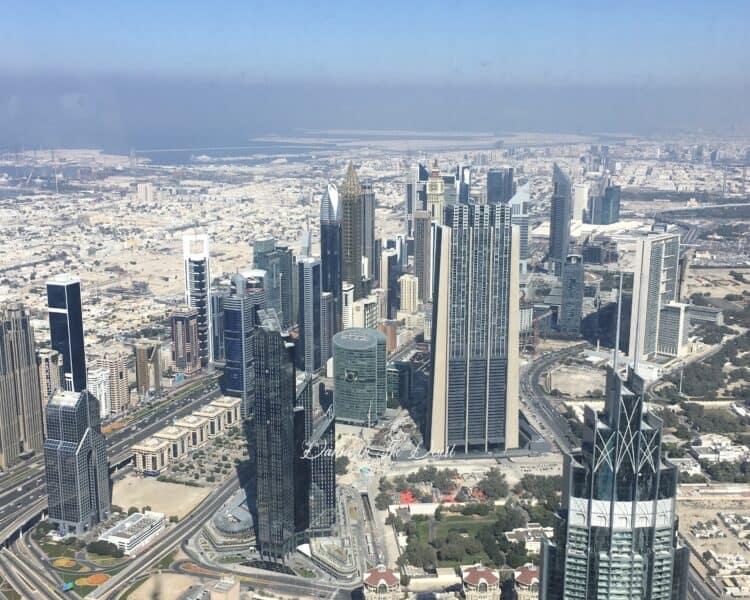 So this one, of course may only be applicable to a few people but I'll tell just in case! If you know someone who lives in the famous Burj Khalifa there is a private lounge that is the next to At The Top on the 124th Floor.
You also get to beat the queues as residents have priority over those waiting in the queue. There are juices, coffees and pastries in the lounge for residents. So it's a pretty cool 'free' experience if you know the right people!
Ways to experience the Burj Khalifa if you're not a fan of heights
So when my Grandma came to visit me, I found out she was afraid of heights! Even buildings that were 20 stories were way too high for her and I had to find alternative ways to show her Dubai. This isn't easy in Dubai with all it's tall buildings!
So if you're not a fan of heights or you're looking for a way to save money during your Dubai holiday. Here are some great alternatives!
Watch the fountains and Burj Khalifa laser show from the ground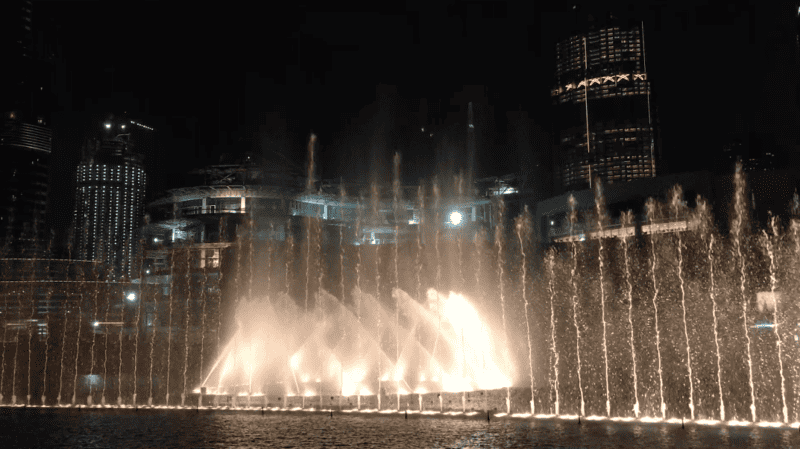 So if you head out of Dubai Mall, as if you are heading to Souq Al Bahar. You'll see the sign for Dubai Fountains. Just be careful as the signs also say Dubai Fountain for what is called The Falling Man fountain. So follow for Souq Al Bahar.
You'll see Five Guys burger place right by the exit. So if you get lost, which is easy in Dubai Mall! You can ask to direct you to Five Guys and you'll find the exit. Five Guys is also one of the most budget friendly places to sit and watch the fountains!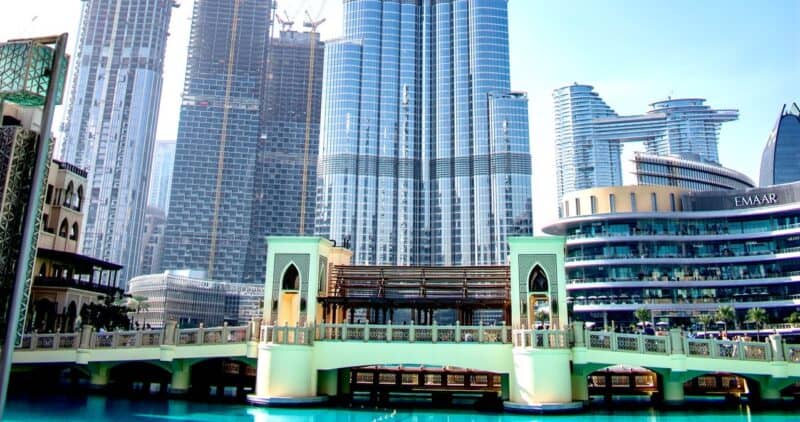 A popular place to stand close to the Fountains, which has a great view of the Burj Khalifa also, is the bridge to Souq Al Bahar. Here you can also get a souvenir photo of you with the Burj Khalifa.
It does get busy in the evenings, especially weekends, so make sure to get there early if you want to secure a place at the front.
The Dubai Fountain Boardwalk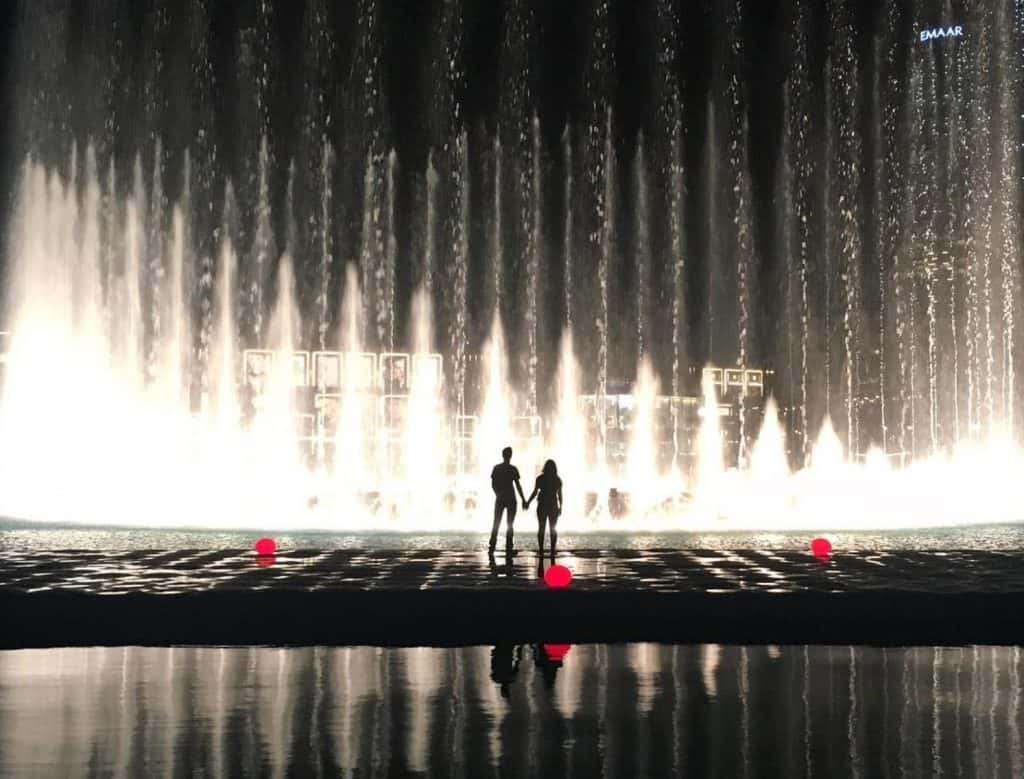 This is a very nice affordable experience that is definitely worth it as you get to have an unrestricted view of the fountains and experience being right in the middle of them!
Cost
20 AED ($5 USD) per person
Water activities on the lake of the Dubai Fountains
Again there are quite a few options:
Ride an Abra across the fountains
Take a pedal or electric swan boat
Flamingo or duck pedal boats for kids
Water bikes
Kayaking
So the more sporty water activities were added recently in December 2020. The timings for the water activities change based on the season due to the heat.
The Abra ride is a ride on a traditional wooden boat and starts later as they time with the dancing Dubai fountains. The ride lasts 30 minutes.
Pedal boats, water bikes and kayak timing timings:
Winter: 3pm till 10pm – Last tickets 9:30pm
Mid-April onwards: 8pm till 11pm – Last tickets 10:30pm

Costs
Swan boat: 50 AED ($14 USD) up to two adult
Children must over 12 for the paddle boat
Children over 3 for the electric

Water bikes: 50 AED ($14 USD) per bike
15 years and over

Kayaks: 75 ($20 USD) AED
15 years and over

Flamingo Boat
40 AED ($11 USD)
3 years and up
Duck Boat
45 AED ($12 USD)
3 years and up
Abra timings
5:45 pm till 11:15pm – Last ride at 10:45pm
Cost
80 AED ($22 USD) per person

Hashi, The Armani Hotel
The Armani hotel is stunning and there's a few restaurants and lounges to choose from. Hashi has amazing Japanese food and a wonderful view across the whole of the Dubai Fountains. So it is truly a magical experience.
The dishes are served in a tradtional Kaiseki way, where you order lots of different smaller dishes and share them. Similar to how you would with tapas.
The only one downside is the music for the fountains isn't very audible from here and the music definitely adds to the experience of watching the fountains! But it's still a beautiful experience with the panoramic view.
Key Information & Price
Classic & contemporary Japanese
Dinner only – 6:30pm till 11:30pm

Closed Mondays

Dress: Smart elegant

Starters from 40 AED ($11 USD)
Main dishes from 45 AED ($12 USD)
Set menu starting from 459 AED ($125 USD) per person
---
Ways to get to the Burj Khalifa
Via Taxi
So the area surrounding the Burj Khalifa is a pretty large area and there's lots of different entrances but your taxi driver will typically know which one to take to you.
If for any reason you do get a newer taxi driver. For At The Top, you need to access it via Dubai Mall and not directly below the Burj Khalifa.
One of the closest drop off points is Fashion Avenue. It can be quite far to walk inside Dubai Mall but there are buggy carts available if you need for 20-30 AED depending on the distance. In case you end up at the other end of Dubai Mall!
If you plan to visit The Armani hotel or At.Mosphere then you go directly to the Burj Khalifa but be aware that you will need to get another taxi to access At The Top as the connecting tunnel is for Burj Khalifa residents only requiring a special access card. Sorry guys!
Via Car
There is lots of parking in Dubai mall, again like the taxi. I recommend to park in the Fashion Avenue, section to be closest to At The Top. Then make your way to the lower ground floor and follow the signs!
Insider tip – The car parking floors have different numbers to the Mall so it can be a little confusing but if you look to the plastic sign around the buttons. It tells you which Mall floor corresponds to which car parking floor. The lower ground you normally have to get an escalator to as not all lifts go to the lower ground level.
If you're visiting The Armani Hotel, valet parking is available for free. As someone who is usually running late, I absolutely love this about Dubai. As you just pull up right to the doors and go straight in.
Via Metro
Getting to the At The Top at Burj Khalifa from The Metro is easy. You just take the red line to the stopped called 'Burj Khalifa / Dubai Mall.' Then an air conditioned tunnel with travelators connect directly to Dubai Mall. It is approx a 10 minute walk to Dubai Mall.
The Metro comes out on the upper level and you'll need to head down the escalators to the lower ground. Then just follow the signs or ask one of the customer service desks which way to At The Top.
The cost for the metro is pretty cheap but does depend how many zones you are going through. This is between 4 AED and 8.50 AED each and for gold class is between 6 AED and 15 AED.
You'll also have to pay a deposit for your Nol card if you don't have one already. I also recommend to go for the Silver Nol card as it's easier to use and doesn't have a limit of 10 single journeys like the red card.
---
Staying close to the Burj Khalifa
If it's a dream of yours to stay close to the Burj Khalifa or you just love staying in the centre of the action. Here are all the best hotels for a wide range of budgets!
Affordable option for staying close to the Burj Khalifa
There aren't the many budget options available as Downtown is the most expensive area for both real estate and staying in Dubai. There are more budget hotels located just outside of Downtown area.
These are super cool hotels that have a hipster remote work kind of feel with lots of shared areas, laundromats and a restaurant that feature long wooden benches.
Mid-range and Luxury Hotels
Have a look at the many options here:
Conclusion
For me personally, this is how I would visit the Burj Khalifa:
I would visit At The Top with the 124, 125 & 148 ticket when quiet during the day so I can take some incredible photos. Then I would go for dinner at At.Mosphere in the lounge for sunset at a window table. As actually what it would cost you to have dinner in the lounge is actually only a little bit more than what a peak time ticket would be.
That way I would truly feel I'd experienced everything the Burj Khalifa has to offer.
If you're looking for a package that is similar and takes care of everything for you, including pick up and drop off in a luxury vehicle. Check out this package with VIP access to the Burj Khalifa and a meal at At.Mosphere from Get Your Guide

Then finally I would go grab a coffee from one of the many restaurants with outdoor seating close to the fountains and sit outside to watch the dancing Dubai fountains and laser show while relaxing.
---