Curious about the weather in Dubai or what the climate of Dubai is like? We answer all your questions including temperatures, humidity, sea temperatures and more! With our article, you will gain a better understanding of what to expect weather-wise when visiting Dubai. So no matter what time of the year you visit, you'll know how to best prepare yourself for Dubai's climate. Make sure to read till the end where we'll cover some great activities that you can enjoy regardless of the season, so you can plan your perfect Dubai vacation!
With its sunny weather and sandy beaches, Dubai is a popular destination for Westerners looking to escape the cold winters at home. But what visitors may not know is that Dubai experiences extreme summer heat, with temperatures reaching over 40 °C. So if you're planning a trip to Dubai, find out which months are best and what to expect below.
Dubai climate overview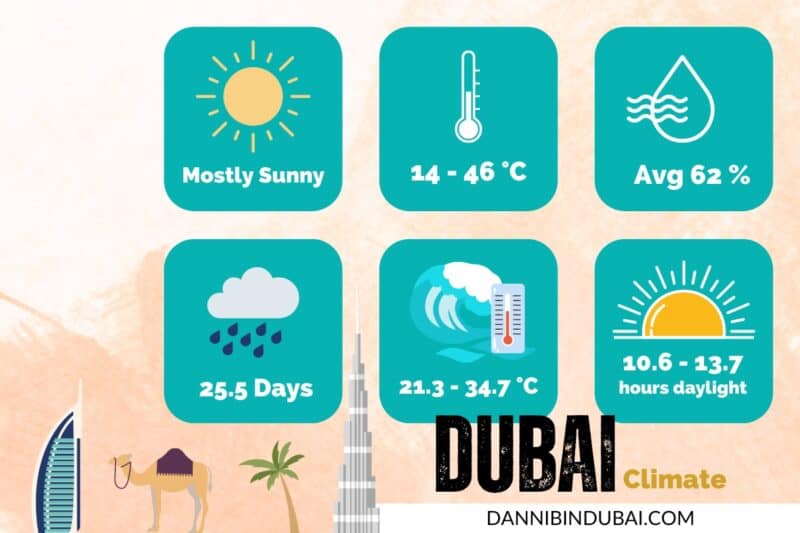 The United Arab Emirate's climate is affected largely by the line of the Tropic of Cancer that passes through the country. It experiences sunny, hot weather for most of the year. The UAE's climate is slightly varied, Dubai is warmer than the more mountainous regions of the UAE where it can be up to 10 °C cooler but on the whole, the UAE shares the same climate and similar weather.
The region also sees very little rainfall with some months having zero days of rainfall and an average of 25.5 days of total rainfall per year, compared to somewhere like rainy England which sees 135.21 days of rainfall on average per year.
Temperatures ranged in the last year from 14 °C up to 46 °C but there have been record highs of 49 °C before. The yearly average is 29 °C with a yearly average high of 33 °C.
---
Is Dubai dusty? What are sandstorms in Dubai like?
Can you drink tap water in Dubai? Will it make you sick?
Complete and total guide to visiting Dubai
---
Dubai temperature by month
Over the year, Dubai's climate is relatively temperate but falls in the subtropic area. The summer months are largely sunny, though it can get quite dusty. This is due to the Shamal wind blowing in from the Arabian Gulf and Iraq. Reaching its highest point in July. There is very little rainfall overall in Dubai, with January till March being the wettest months. Still only averaging 4-6 days of rain in these months. Though these are mostly short, heavy showers and not literal days of rain.
In the hottest months of August, the humidity starts to get higher which acts to make it warm. At 25 degrees Celsius air can absorb up to 23 grams of water per cubic metre whereas, at 20 °C, it can absorb only 17.3 grams. So as you can imagine, as it gets warmer the air absorbs a lot more water increasing the humidity! Plus due to Dubai's location by the sea, this also increases the humidity.
When the relative humidity reaches over 60%, the air becomes muggy and unpleasant for human beings. In Dubai, this limit is reached seven months out of the year! Though thankfully during the cooler months, the higher humidity doesn't usually get to the muggy stage.
| | | | |
| --- | --- | --- | --- |
| | Highs Range | Average High / Low | Lows Range |
| January | 29 °C to 19 °C | 24 °C / 19 °C | 22 °C to 14 °C |
| February | 34 °C to 22 °C | 25 °C / 20 °C | 23 °C to 15 °C |
| March | 36 °C to 26 °C | 28 °C / 22 °C | 25 °C to 19 °C |
| April | 37 °C to 25 °C | 32 °C / 26 °C | 28 °C to 18 °C |
| May | 42 °C to 31 °C | 36 °C / 29 °C | 31 °C to 24 °C |
| June | 45 °C to 37 °C | 38 °C / 31 °C | 34 °C to 29 °C |
| July | 44 °C to 36 °C | 39 °C / 33 °C | 36 °C to 29 °C |
| August | 46 °C to 39 °C | 39 °C / 33 °C | 36 °C to 31 °C |
| September | 44 °C to 37 °C | 38 °C / 31 °C | 32 °C to 28 °C |
| October | 40 °C to 34 °C | 35 °C / 28 °C | 30 °C to 24 °C |
| November | 37 °C to 30 °C | 30 °C / 24 °C | 26 °C to 20 °C |
| December | 32 °C to 22 °C | 26 °C / 21 °C | 23 °C to 16 °C |
Figures are taken from Dubai temperatures in 2022 & 2023 along with historic data
Dubai Weather in January
January is a great time to visit Dubai, the weather is ideal for some winter sun and it's a perfect time for both outdoor and indoor activities. The average high temperature is 24 °C, making it their coldest month but still very warm compared to other countries in the Northern Hemisphere. It is however one of the wettest months of the year in Dubai with an average of 5.5 days of rain.
Dubai Weather in February
Despite being one of the coldest months for Dubai, it's another great month to visit and it's also not as busy as some of the other winter months. Making it perfect for a more affordable Dubai holiday. The average high temperature is 25 °C and an average of 4.7 rainy days. Fog can be common this month in the mornings due to being the highest humidity month but the cooler temperatures mean you don't feel it as much.
Dubai Weather in March
It's starting to get warmer in Dubai but March is still an ideal time to visit Dubai, with its average high of 28 °C. This is one of my favourite months in terms of weather as it's the perfect amount of hotness. It can be a bit of a rainy month but rain usually doesn't last very long in Dubai with an average of 5.8 days. Making it one of the wettest months of the year.
Dubai Weather in April
It's starting to get warmer as we move to the middle of spring, the weather is still lovely and warm without being too hot. Also the best part of this side of summer is that the humidity is lower which means more comfort when out exploring and not ending up a clammy mess. April is the 2nd lowest month for humidity overall in Dubai. The average high temperature is 32 °C.
It's also a month of much lower rainfall with only 2.6 days average of rainfall for the entire month. Dubai tends to have short but heavy downpours, so they've often over very quickly if you do ever get caught out by one.
Dubai Weather in May
May is the lowest month of all the year in terms of humidity but it is starting to get warmer as we get closer to summer, limiting the number of outdoor activities you can enjoy in Dubai. It's best to go out on the evenings if you do want to enjoy none air-conditioned spaces. Rainfall is also low this month with the average days of rain being 0.3. Average highs are 36 °C.
Dubai Weather in June
Ideally, if you can avoid the summer months of Dubai then it's best as you may not be able to enjoy all the awesome activities available in the city. For example, some venues with large outdoor areas close over the summer and other tours close down too. The one benefit is due to the hot average temperature of 38 °C, you can pick yourself up a very affordable Dubai vacation.
Rain is very low during this month with below-zero average days of rainfall at 0.2 So at least you won't need to worry about the rain!
Dubai Weather in July
All the summer months in Dubai are very hot with an average of 39 °C however the high humidity often makes these months feel a lot hotter. Just like June, outdoor activities are limited and even nights are often too hot to enjoy anything outdoors. You may get a terrace cafe with an outdoor air con that can make it possible to sit outside. Rainfall is low at 0.5 average days.
Dubai Weather in August
Reaching the hottest month of the year for Dubai, August is a time when the majority of people avoid Dubai, Often residents will use the summer holidays to visit Europe or other more pleasurable summer locations. 0.5 days is the average rainfall for this month and humidity starts to creep back up. So if you enjoy being a hot sweaty mess, August is definitely for you!
Dubai Weather in September
Finally marking the start of Autumn, September does start to cool down but it is still very warm with an average high temperature of 38 °C. Also, the nights are still pretty warm too with an average of 31 °C. Septembers are pretty humid also which can make it feel warmer so you'll still likely need to avoid too many outdoor activities.
Dubai Weather in October
This is the month when Dubai really starts coming back to life after the summer period when people start doing more outdoor activities again and you can expect to enjoy an average temperature of 35 °C. It is still pretty warm and recently seems it doesn't seem to get as cool quickly during this month as it used to. Rainfall is low with an average of 0.2 days. Overall the weather in Dubai in October is very pleasant.
Dubai Weather in November
November is one of the peak months for tourism, with lots of events and the ideal weather. Many flock to Dubai to enjoy average highs of 30 °C where other places are freezing cold. Rainfall is also low this month at 1.3 which is another reason why Dubai is so popular during this time of year, as you can expect perfect sunny skies.
Learn more about the Weather in November
Dubai Weather in December
Another hugely popular month, of course, New Year's Eve is a huge event in Dubai and many expats choose to enjoy Christmas here too though it can be quieter in the lead-up to Christmas. The weather in December is ideal for both indoor and outdoors activities. The average temperature high is a lovely 26 °C and it definitely can feel strange lying on a beach after eating a Christmas dinner or seeing Christmas decorations.
Humidity can be a little higher in this month but the cooler temperatures mean it feels completely comfortable most of the time and the low amount of rainfall means you can spend lots of time topping up your tan.
Does it rain in Dubai?
Yes, it does! But don't expect days of rain. The rains are usually rapid showers that rarely last more than an hour or two. These mostly happen during the winter months. The rainiest months are January till March which range from 4.7 to 5.8 days of rain, where March is actually the historically rainiest month at 5.8 average days of rainfall.
There have been a few cases of intense rains and even some flooding in recent years. However, this is pretty rare and this has mostly in more remote areas of the UAE and not in Dubai usually. So no need to pack your wellies or umbrella.
Dubai temperature in Summer
Summers are the hottest time of the year in Dubai, with temperatures typically reaching up to 40 degrees Celcius. This desert climate close to the sea means that the air is often humid and thus it can actually feel much hotter than it really is.
The heat and humidity in some places can be so intense that it can feel more like it's 50 degrees Celsius. That's like an outdoor sauna! It's also a time when people try to find new and creative ways to cool off, such as taking a night swim! But no matter how extreme the weather gets, humanity perseveres – some might even jokingly dub this the season of survival of the hottest!
During these months, nights are also hot with an average of 32 Celcius. I've tried walking in July at night and due to the humidity, it really does feel a lot hotter than it is. You'll definitely need a shower afterwards! The humidity levels can even reach up to 95%.
It is also likely to experience sandstorms during the summer, they usually only last for a few hours but can sometimes last a few days.
However, you'll be pleased to know there is air conditioning everywhere in Dubai and as long as you make sure to drink lots of water. You shouldn't have any issues in Dubai during Summer. Or why not try a delicious lemon and mint iced drink which is hugely popular in the Middle East region? You won't regret it. So certainly visiting Dubai during the summer can be a memorable experience, albeit perhaps a more sweaty one!
Check out my previous article on things to do in Dubai in Summer. A little hot weather never hurt anyone, right?
Dubai winter temperature
Winter in Dubai is the coldest time of the year for the country as it is part of the Northern Hemisphere. However, it is still very warm compared to many other countries! So no need to hunker down in a mitten-filled cocoon when you live somewhere that enjoys sunny mild winters like Dubai. Average temperatures in the city hover around 25 °C for the whole of winter, so you can bask in moderate warmth and even get away with wearing flip flops.
Winter in Dubai is actually one of the best times to visit vs the summer. You may have occasional showers but these often are short-lived. The ground typically dries afterward and you may not even know it rained, especially if you were indoors! However, there has been an odd time when rain has caused flooding. As winter makes up 2 of the wettest months in Dubai.
The rainiest and coldest months are January and February but generally, temperatures don't go lower than 14 degrees Celsius. Most nights you'll find it's still warm. The humidity level is generally comfortable through all of winter and most days are sunny with averages of 51% to 56% humidity. Which is very normal for a city by the sea.
Why is Dubai so hot?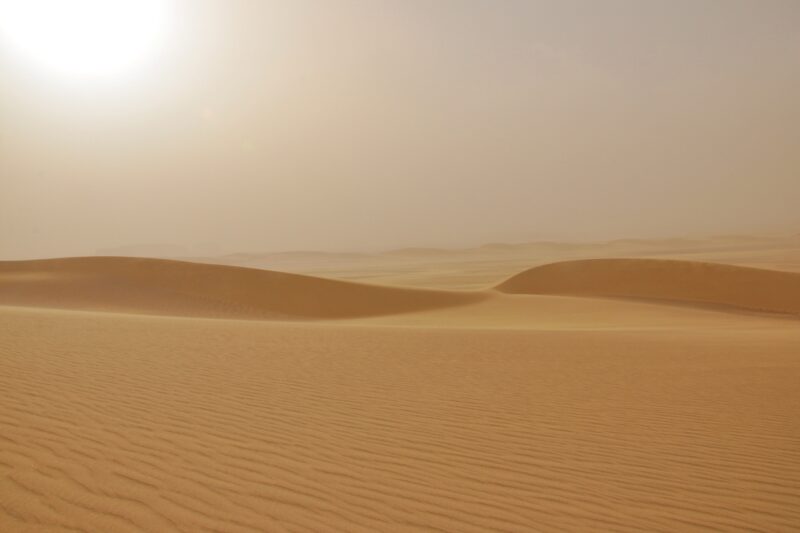 Well, it's because of the desert climate found in the United Arab Emirates. Dubai is located in the Arabian Desert and is surrounded by a vast area of sand. All this sand absorbs heat from the sun and reflects it back up into the atmosphere. This makes days in Dubai extremely hot as temperatures can reach well over 38°C (100 F) as it gets closer to summer and during summer.
With a maximum temperature of over 49°C (120 F) in the summer, Dubai is one of the hottest cities in the world. This is despite rumours that it often goes over 50°C, this is a pretty rare occurrence in Dubai! Though the humidity can make it feel hotter than it is.
Dubai's geolocation, close to the tropic of cancer, added to its low and flat elevation roughly at sea level. This means that there is not much relief from the sun's rays as they are not blocked by mountains.
Dubai average temperature
The average temperature in Dubai even in its coldest months is 24 to 25 degrees Celsius however the average is 40 to 41 degrees Celsius in the summer but due to the humidity, it feels hotter!
The best time to visit Dubai is November, March and April when you'll see averages between 31 and 33 Celsius. The weather conditions are perfect for those wanting some winter sun. Though January and February are also popular months if you like it a little cooler at an average of 25 Celsius.
During summer with such high average temperatures, it can feel too hot. Fortunately, the hotels, shopping malls, and indoor attractions in Dubai are air-conditioned. Although the summer months are the most popular in Europe, visitors prefer to visit Dubai during the winter months.
Dubai Daylight Hours
The Gulf and Middle East overall have relatively stable daylight hours throughout the year, meaning the days don't get as long in Summer as they do in Europe. The daylight hours range from the lowest of 10.6 hours in December to 13.7 hours in June.
Dubai average wind speed
The average hourly wind speed in Dubai varies slightly. It averages over 8 miles per hour (14 kph) during the windiest parts of the year, and is at its highest in March. The rest of the year is relatively calm, with an average hourly wind speed of 7 miles per hour (11 kph). The wind direction is also different throughout the year.
So for those of you who love wind based sports, Dubai offers a fairly relatively calm and predictable option. You can easily find places offering paragliding or other fun beach activities!
I highly recommend to book via a trusted company online for parasailing, this one here offers an amazing 1 hour experience right by Burj Al Arab
When in the best time to visit Dubai?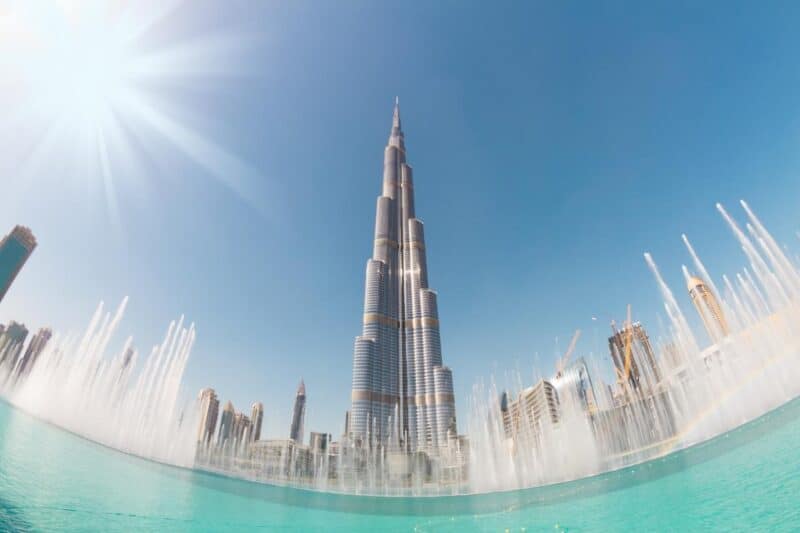 If you don't enjoy the heat, then you'll definitely want to avoid Dubai in the summer though it is entirely possible to avoid the heat and only stay in air conditioned spaces.
The best time to visit weather-wise is between November and March. During these months, temperatures drop to a comfortable level and there's even the occasional rainfall to break up the day. During these months you'll really be able to make the most of everything Dubai has to offer with a mixture of indoor and outdoor activities.
What should I wear in Dubai?
Dubai's climate is sub-tropical and dry. Due to the hot weather, you may be wondering, is it okay to wear summer clothes in Dubai? Such as strappy tops and bikinis. The answer is yes and you can find out more about how to dress in our Dubai Women Dress Code article.
It's also okay for men to wear shorts and shirts. The only exception to this is if you plan to visit one of the many beautiful mosques. Then it is needed to cover the whole body including a hijab.
Activities in Dubai
Regardless of the climate, you can enjoy something to do in Dubai. Whether it's the summer and you want to explore Dubai's air-conditioned theme parks or it's a lovely sunny December day so you want to explore outdoors. Dubai has a multitude of attractions for every type of traveller.
Here are some of the most popular activities in Dubai:
Explore the Burj Khalifa and its observation deck, it's fully air conditioned.
Have a Shopping Spree in Dubai Mall, also full air conditioned.
Take an Abra Ride over Dubai Creek, this one is outdoors so best in winter.
Go Skiing Indoors at Ski Dubai at Mall of Emirates, a perfect way to escape the summer heat.
Walk over glass floors at Dubai Frame, also fully air conditioned.
Experience a Desert Safari with BBQ Dinner and entertainment, an evening one can be in some of the warmer months and daytime desert safaris are best for the winter months.
Admire the Miracle Garden and Butterfly Garden, located next to each other but need individual tickets. Butterfly Gardem is temperature controlled and mostly indoors so this can be enjoyed all year round. Miracle Garden however is purely outside and closed over summer.
Relax on Jumeirah Beach or Kite Beach, a must do winter activity.
Enjoy a Luxury Yacht Cruise around Palm Island, best for winter as while most yachts have air conditioned cabins you'll definitely want to enjoy the view from the outside deck areas of the yacht.
Visit one of Dubai's waterparks such as Wild Wadi Waterpark, another one which is best enjoy in Winter in Dubai.
Conclusion
So now you know more about the climate of Dubai and what the weather is like depending on the season! We hope you have an amazing time in Dubai and enjoy the sunny desert climate. Dubai is definitely a city that has something to offer everyone. Whether you're looking for an outdoor adventure, some retail therapy, or just want to relax in the sun – Dubai can provide it all!
The climate of Dubai consists of hot and humid summers with temperatures reaching up to 50 degrees Celsius, while winters are milder at around 25 degrees Celsius. For the best experience when visiting Dubai, aim for between November and March when the weather is cooler but still enjoyably warm. So grab your sunscreen and get ready for an unforgettable time in this vibrant desert oasis!
---
*This article contains affiliate links, as an Amazon Associate and a member of other affiliate programs, I may earn a commission on purchases. Clicking the link doesn't cost you anything extra but it does help me to keep writing these awesome articles for you!