Meena Bazaar is a famous area in Bur Dubai, famous for its many ethnic clothes shops, tailors and tasty Indian street food. So whether you need a new outfit for an Indian wedding, celebrating Diwali or looking for an authentic experience while visiting Dubai! Meena Bazaar Dubai is the perfect spot to see the other side of Dubai, outside of the flashy hotels and typical tourist areas. I'll share with you all the tips I've learnt after being nearly a decade in the region.
Fun fact! Meena Bazaar was originally called Cosmos Lane after the road it's situated on and has served as Dubai's Little India since the early 1970s. This traditional-style shopping market is near Khalid bin Waleed Street in Bur Dubai.
The area is filled with rows and rows of stores. From raw silk clothing to gold jewellery shops. Dubai's Meena Bazaar has something to offer everyone. With so much variety, it is easy for any new visitor to get confused. This is why I've compiled this comprehensive shopping guide. Read more to unravel everything about Meena Bazaar Bur Dubai!
What is Meena Bazaar Dubai famous for?
Meena Bazaar specializes in textiles, especially South Asian fashions. You will find an assortment of Indian-style clothing and accessories here. It is why people refer to this place as Dubai's Little India.
You will also come across several vendors and eateries offering Indian street food. From freshly fried samosas to spicy chaat, the area provides some amazing snacks to fuel you up for your shopping spree.
When is Meena Bazaar open?
Meena Bazaar is open every day of the week, Monday to Sunday. Different shops have different opening times but most shops open from 9 am till 10 pm and later on weekends. On a Friday they don't open in the morning and instead will open at 4 pm.
Restaurants will usually stay open till 11 pm or Midnight and at weekends they will commonly stay open till the early hours of the morning but most of the markets and clothes shops close earlier.
Saturday to Thursday: 9 am till 10 pm. Some shops close daily during lunch hour.
Friday: 4 pm till Midnight
Another thing to note is during the Holy month of Ramadan, these hours may differ. Working hours get reduced by 2 hours during this time and due to people fasting the shops open at sunset and stay open very late.
---
Make sure to check out some of my other helpful articles about Dubai after this one:
Taste of India; How to make yummy karak chai (Masala Chai) at home
Buying Gold in Dubai; what you should know before you go
12 fantastic restaurants with Burj Khalifa and Dubai Fountain views
Luxury without the cost; The best 4 star hotels in Dubai
Best Kerala restaurants in Dubai for your South Indian food cravings
---
Getting to Meena Bazaar in Dubai
You have a choice of either driving, getting a Careem (Uber) or taking public transport via the metro or bus
The nearest metro is Al Ghubaiba Metro Station which will take you approximately 15 minutes to walk to Meena Bazaar. Depending on what area you travel from, it will cost you between 5 to 10 AED.
Buses: 15, 21, 29, 44, 8, C1, C18 & X13
Taxis are a great option, both Uber and a similar company that is popular in the Middle East called Careem are available. If you're staying further away in Dubai, getting a Metro and then a taxi can make the trip more affordable as a taxi from the other side of Dubai will be around 100 AED.
Driving to Meena Bazaar, public parking is available and you'll pay typically 2-3 AED per hour to park however it can be difficult to find a parking spot in the area as the street parking fills up fast.
Insider tip – For these areas, I highly recommend using the Metro and having a walk around the area as there is many places by foot available. Also the metro is clean, air conditioned, runs every 5 minutes and there's a women only carriage. As public transport can get crowded with male workers during peak hours.
What can you buy at Meena Bazaar Dubai?
At Meena Bazaar, you can find almost everything related to South Asian fashion as this is what the area is known for. There are three fundamental types of products/services to purchase. These include:
Textiles and Fabric shops in Meena Bazaar
I love seeing all the beautiful, colourful fabrics in the shop windows of Meena Bazaar. Covered in gold and silver embroidery.
What's more, the fabric types available in the market are limitless. Be it cotton or cashmere; you can find everything in premium quality and reasonable rates.
You'll also find what are called dress patterns, these are pieces of fabric that are cut already but require stitching to tailor them to you. Often these shops will offer tailor services but generally, I find they tend to be more expensive. So it's best to shop around a few different tailors.
Insider tip – Don't be afraid to haggle! Most of the store owners and employees know that buyers will haggle so they will typically give you a high price to begin with.
Jewellery and gold shops in Meena Bazaar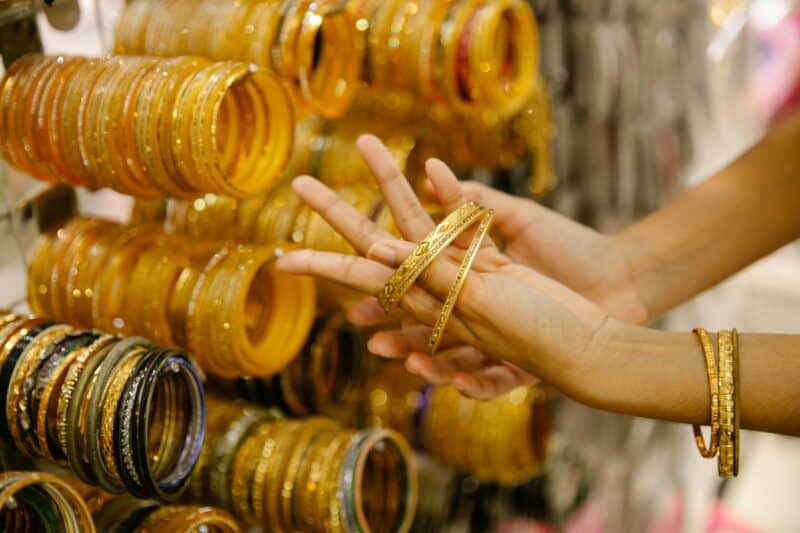 Do you want to buy some dazzling accessories or those heavy gold jewelry sets for an upcoming event? In any case, the Meena Bazaar Bur Dubai has got you covered!
You can find both authentic and fashion jewelry there. Some jewelry stores worth mentioning include Malabar Gold & Diamonds and Khushi Jewelry. Two famous brands in Dubai.
Insider tip – The gold is sold by weight but it's still possible to haggle the amount you are paying per gram of gold. Make sure to check what the current market rate is for gold in the morning before you go but don't expect to pay exactly market rate as you're paying a premium for the making of the jewellery on top of the price.
There isn't a huge amount of gold shops here compared to other parts of Dubai, if you're just wanting Jewellery than I recommend to go to either the Gold Souqs in Bur Dubai or Gold and Diamond Park. For a guide to buying gold in Dubai, check out my other article.
Tailors in Meena Bazaar Dubai
Once you've bought the fabric and materials, there is no need to go anywhere else to get the dress of your dreams stitched. Meena Bazaar is also home to many tailors offering tailoring services in Dubai.
There are multiple in this area, so I recommend wandering around and visiting a few different tailors. Ask for a quote and then just pick the one which gives you the best price.
Restaurants in Meena Bazaar Dubai
The vast majority of food offered here is very affordable compared to the rest of Dubai, so it's a great area to pick up a cheap lunch or dinner in Dubai! You'll find affordable sandwich shops, various Indian restaurants, tea places serving 1 dirham Karak, fruit juice shops and Indian street food.
Best street food options at Meena Bazaar Dubai
As mentioned above, the scrumptious and affordable street food is what Meena Bazaar Dubai is famous for. So while you're there, don't forget to give these lip-smacking delights a try! Also make to wash it down for a Karak Tea, called a Masalla Chai in India.
Disco Sandwich by Palace Restaurant
Huge & loaded – the Disco Sandwich will certainly have you up on your feet and dancing. It has a generous filling of omelet and tomatoes sandwiched between two buttered buns. And, let's not forget the blob of ketchup to complement the flavors.
Pani Puri by Rangoli
Rangoli serves the perfect plate of Pani Puri to satisfy your Indian food cravings. Each plate comprises six crisp Puris filled with moong, Chana, and sweet/spicy Pani.
Chips Sandwich by Al Halawa Cafeteria
If you want to try something exciting and fun, go ahead and order the famous Chips Sandwich at Al Halawa Cafeteria. The sandwich features a huge roll filled with samosas, vegetables, fries, and sauces. Yum!
Tips for shopping and getting to Meena Bazaar Dubai
Indeed shopping at Meena Bazaar for the first time can be challenging. If you have not been to traditional markets before, you may find it a little bit overwhelming with many shop employees calling you in or approaching you on the street. There's many shops to choose from and it can be difficult finding your way around.
To help make your visit the best, here are a few tips I've gathered from my years of experience.
Plan your trip and choose the timing wisely. If you prefer to visit when it's less crowded, it's best to go in the day. Around lunch time until late afternoon. Some shops might not be open in the day or early morning as business is slow.
Choose public transportation to avoid parking issues. Or, ask someone to drop and pick you up later. The area can be difficult to drive around and lack of parking is a real issue in the area.
Always pack a bottle of water and a few snacks. You may or may not like the Indian food options available.
Other tourist attractions and things to do in Dubai nearby
This is the old city centre of Dubai, so lots of the history and culture of Dubai is here. So you can definitely spend a whole day enjoying the other side to Dubai. There's also lots of museums in the area.
Ride an abra across Dubai creek
Visit the gold souls in Naif
Visit the spice souqs in Deira (close to Naif)
Visit the Museum of Illusions
Walk around the traditional style village on the creek Al Seef Dubai
Have dinner on a Dhow Cruise along Dubai Creek, Dhow's are large traditional wooden boats.
Hour a tour around Al Fahidi Historical District
Visit Dubai Museum
The Dubai Frame
Places to stay near Meena Bazaar
If you're planning to visit a lot of the historic areas in Dubai then getting a hotel close to Deira or Dubai Creek will make your stay super convenient and often this area is a lot more affordable than other areas of Dubai.
Here are some of my favourite hotels in the area!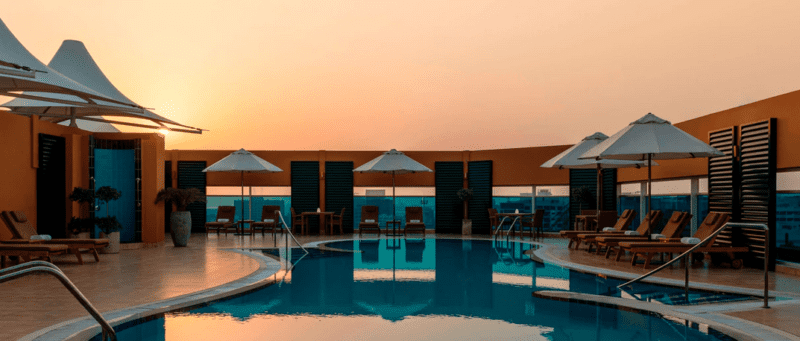 This hotel is located in between the historical district and The Dubai Frame. It's also a little bit closer to Downtown Dubai than some of the other options.
They have one by the same brand that is even closer to Meena Bazaar as well if you want to check it out, Four Points by Sheraton Bur Dubai. The rooms are slightly more modern, so both are a great option and both are similar prices per night
Rating: 4 star
– Gym
– Spa
– Sauna
– Outdoor swimming pool
– Free wifi
– Free valet parking
– Airport shuttle (extra charge)
– Bar & restaurants
– Room Service
Check-in is 3pm
Check-out is 12pm
Costs starting from per night in winter: 307 AED ($84 USD) per night plus taxes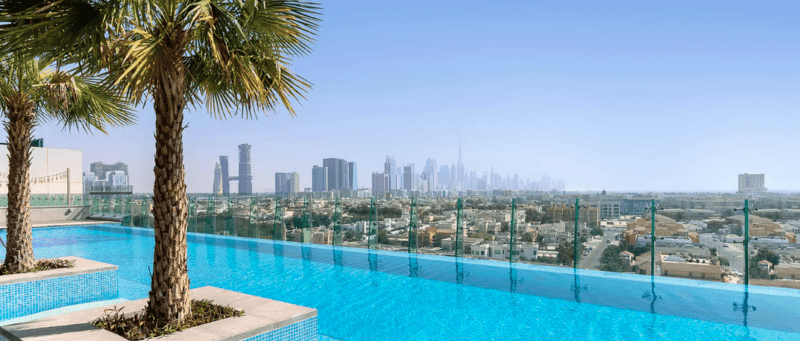 This is a stunning and modern hotel. It's a chain that I'm a huge fan on as they really think of all the details, such as international plugs and USB sockets in case you forgot your adapter! They also have really cool communal areas, perfect for freelance working, modern high end gyms and outdoor swimming pools
Rating: 4 star
– Gym
– Outdoor swimming pool
– Free wifi
– Free valet parking
– Airport shuttle (extra charge)
– Bar & restaurants
– Room Service
Check-in is 3pm
Check-out is 12pm
Costs starting from per night in winter: 368 AED ($100 USD) per night plus taxes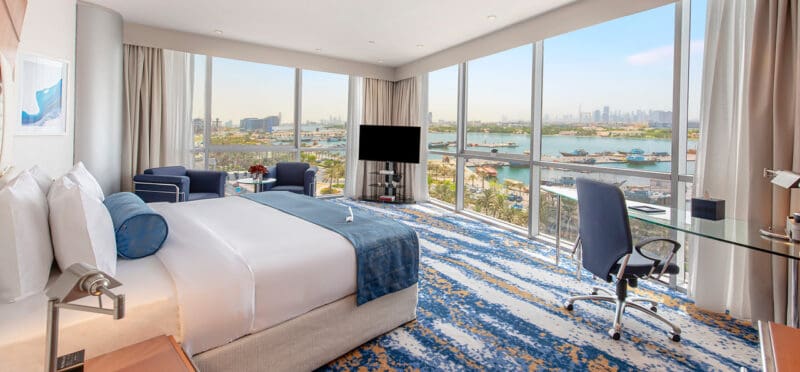 This modern boutique hotel is located close to Meena Bazaar and offers luxury at an affordable price, overlooking Dubai creek. They also have lovely large room, so if you love to spread out while on holiday. These are perfect!
Rating: 5 star
– Gym
– Spa
– Outdoor swimming pool
– Free wifi
– Free valet parking
– Airport shuttle (extra charge)
– Bar & restaurants
– Room Service
Check-in is 3pm
Check-out is 12pm
Costs starting from per night in winter: 543 AED ($148 USD) per night plus taxes
Final Words
All in all, the Meena Bazaar shops are the ultimate solution to purchasing clothes in Dubai. You would be simply amazed at the quality of things you can get at such reasonable prices.
Hopefully, this guide to shopping at Meena Bazaar Dubai has helped resolve all your queries. In case you still have any questions, let me know in the comments below!