We've nearly completed Ramadan but there's still time for you to experience Dubai's best iftars for 2019 in the next week. There are so many good Iftars to choose from that it can be difficult to make a decision with all the choices. Here is our personal selection of Dubai's best iftars. So whether you're wanting somewhere nice with the family to break your fast or just enjoying all the good food, we definitely have some good options for you.
Iftar is actually taken from the Arabic word aftar, meaning to break fast, however, the large buffets you see today are a more modern invention as classically an iftar is any meal where you break your fast after the sun starts to set. We've included a range of different iftars from different categories to make things easier while fitting a range of budgets.
Dubai's best iftars
The best classic Iftar
The Majlis – Dubai World Trade Centre
One of the best traditional options and decorated with all the Arabic flair of Ramadan. Offering good value for the number of food options and has award-winning chefs preparing your dishes. Parking is free for those attending until 8pm and you can also get a 10% discount if you buy online in advance.
Prices:
165 AED for adults
85 AED for kids 6 to 12
Free for kids under 6
Best family option
Emirates Bio Farm Iftar 
So technically this one is Abu Dhabi but the location is actually at the back of Dubai. It is only available on weekends but is a truly unique experience that is great for families and why it made it onto our Dubai's best iftars. The iftar is served in a greenhouse and you'll definitely be taking lots of photos inside. A farm tour is also included in the price of Iftar but you must do it before and it takes around an hour. It also has a good selection of vegetarian options to choose from. *Please note you need to buy your ticket online in advance.
Prices:
180 AED for adults
80 AED for kids 6 to 12
Free for kids under 6
Best healthy option
Rove Hotel – Various Locations
One of the widest selections of healthy dishes and is great for those wanting a nice down to earth iftar without breaking the bank. There are big long benches to sit and enjoy with your friends, so it's great for large groups. They also offer a good selection of vegetarian options.
Price:
99 AED per person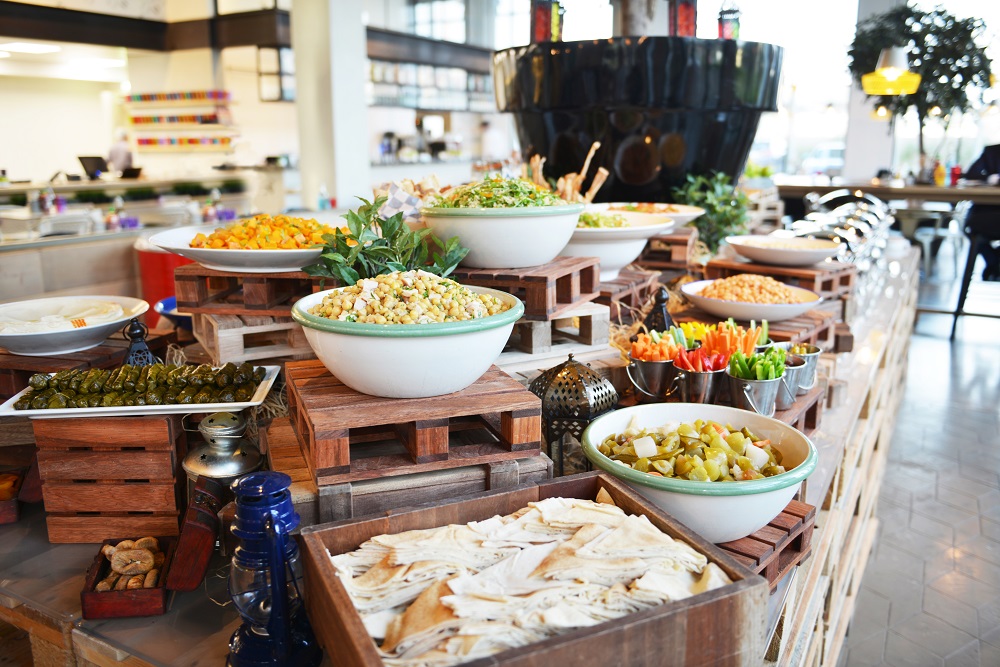 Most unique
Al Hadheerah, Bal Al Shams – Al Qudra Road
Sit under the stars in true Bedouin fashion surrounded by the natural beauty of the Arabian desert. This one is great to take any visitors or even if you're a tourist yourself and is definitely one of Dubai's best iftars. It might be far out but it is worth the drive. This unique iftar includes live entertainment for this truly different experience. Also you can buy at a slight discount from groupon here!
Price:
265  AED per person weekdays or 229 AED with groupon
295 AED per person weekends or 259 AED with groupon
The most affordable
Mama'esh – Various Locations
This Palestinian restaurant is a real hidden gem of Dubai. Their regular menu is good value and always tasty however their iftar is a great opportunity to try a few different dishes at a very affordable price with their set menu. *Needs to be booked one day in advance via the phone
Price Range:
49 AED per person
Foodie's choice
Le Petite Maison – DIFC
This is the perfect restaurant for when you need to wow a client and it doesn't let you down for it's iftar either. Of course it's a little more on the expensive side for the iftar but considering you'd usually pay this amount for a single main dish there. It's another option that gives you a great time to try different parts of their menu with this set course iftar.
Price Range:
240 AED per person
Best international iftar
Meydan Ramadan Tent – Meydan
If you're looking for more international foods and want a wide selection including even sushi and sashimi, Meydan is what you're looking for. They have everything from Arabic dishes to pasta.
Price Range:
199 AED per person
Best hotel iftar
Al Majlis, Madinat Jumeirah – Umm Suqeim
Set inside a stunning venue, Jumeriah hotels never let you down on service. This incredible iftar was definitely in with some tough competition from all the amazing hotels we have in Dubai. This iftar managed to beat the competition and inside it certainly feels magical.
Price Range:
220 AED per person
So this concludes our list of Dubai's best iftars for 2019 and we hope you are enjoying the spirit of Ramadan so far. If you missed last week's article, check out our quick guide to Ramadan.
Finally, in the spirit of Ramadan, you can also donate meals to workers through the charity Emirates Red Crescent by buying them on Groupon here.