Okay so you're planning your trip to Dubai and you're probably pretty excited, but what on earth do you pack? I cover everything from the basics about the weather you can expect and what activities there are. So depending on your plans you'll know exactly what you should pack!
Along with the secret dress code that every Dubai resident knows, so you can look like a local rather than a tourist! Welcome to the Dubai dress code
As I'm a woman so I'm going to mostly focus on what to wear as a woman in Dubai, but I'll add in a few tips in for guys too!
---
Want to know more about Dubai, check out my other articles:
All your Questions about Dubai answered
Which area should I stay in Dubai?
How to spend all your money in Dubai in 3 days
Getting between Dubai and Abu Dhabi
---
If you look online you might get many different answers about what to wear in Dubai as a woman. You might be worried about it being a muslim country?
Despite being a Muslim country, Dubai is extremely liberal and is a luxury global tourist destination. In pretty much all places and situations, what your would wear in any other warm tourist destination is perfectly acceptable in Dubai. That's bikinis on the beach, cute summer dresses when you go out and t-shirts with short sleeves for wandering around the city
I first moved to Dubai in 2013, so I've seen a lot of different situations over the years and lots of different fashion! So do not worry, I'll give you all the inside information and what is typical to be worn where
Rule number 1 when dressing and packing for Dubai
No this is not, you must dress modest. The number one rule for visiting Dubai is to dress up! Pack your best clothes, your bling-iest outfits and if you have any designer items pack them! Dubai is a city where more is more
Even when going the mall, you will see women with full make up as if they are going for a night out and lots of smart casual outfits. Dubai is very fashion focused and it seems like every single woman has a designer handbag matched with designer heels
A lot of restaurants have a smart casual dress-code, this means no t-shirts, no flip fops and no shorts. So if you're planning to spend all day out doing things, it's best to either dress up or take a change of clothes if you plan to stop by in a nice place for lunch
For instance if you plan to visit At.Mosphere in the Burj Khalifa, then you'll need to dress up! The lounge is smart casual and the restaurant is smart elegant
Is it compulsory to wear hijab in Dubai and dress modest?
Wearing a hijab or shayla as it's called in Dubai is not mandatory anywhere in Dubai. There is only one exception to this rule and this is if you visit a Mosque in Dubai or the Sheikh Zayed Grand Mosque in Abu Dhabi
What about dressing modestly? Officially the rules of the country is that in public places you should dress modestly. This means shoulders covered and skirts or shorts that reach to just below the knee
If you are a resident or a tourist renewing their tourist visa, when you visit government buildings you must wear shorts or skirts that go below the knee along with your shoulders fully covered
Outside of government offices. In reality, there are very few places where this is enforced. The malls do have this dress code on signs placed at every entrance but I've lost count how many times I've seen hot pants in the malls
So while you probably won't get into trouble for hot pants. I personally feel it's better to respect the culture of the country you are in. In recent years, Dubai has become a lot more liberal when it comes to clothing

Insider tip – If you want to take some modest outfits just in case, Shein has lots of fashionable low cost modest clothes and deliver worldwide

Can you wear a bikini in Dubai?
Do not worry! You do not need a Burkini or to buy modest swimwear! You can wear your bikini. Whether it's a public beach, a hotel beach or a private villa beach. Swimwear is acceptable in those areas.
However, if you walk towards the shops or towards the promenade then you need to put clothes on which cover your swimwear. This can be a t-shirt and shorts or a dress. Most hotel staff or workers on the local beaches will normally politely tell you to put something over your swimwear if you do walk into an area of shops or cafes close to the beach. This doesn't just apply to Dubai women, men will also be told to wear appropriate clothes.
Another thing to note is that depending on the style of swimwear you prefer but in hotel resorts, there is a bit more freedom. For instance, if you prefer wearing a smaller bikini to limit the tan lines! Hotel beaches and resorts are your best option.

If you want cute affordable swimwear and outfits for the beach, I really love Pretty Little Thing as they have lots of colours and styles to suit every shape
What to wear in Dubai in December and other seasons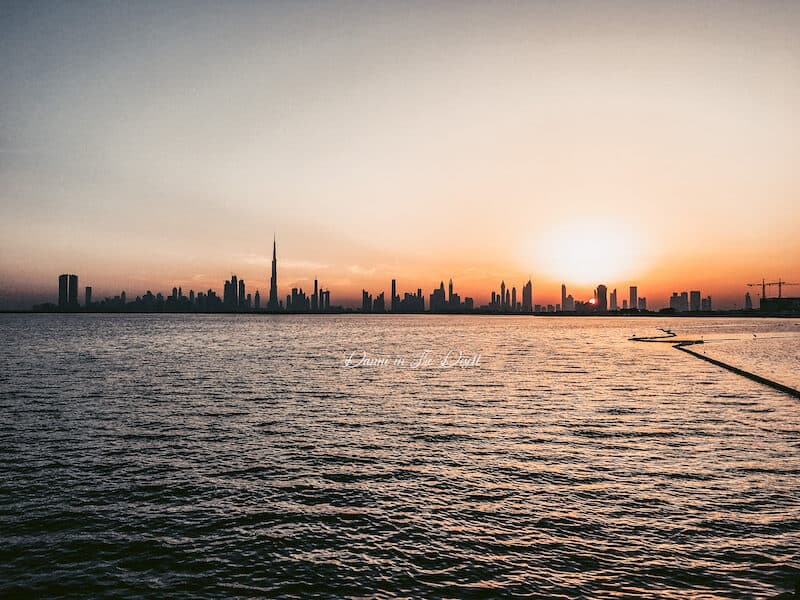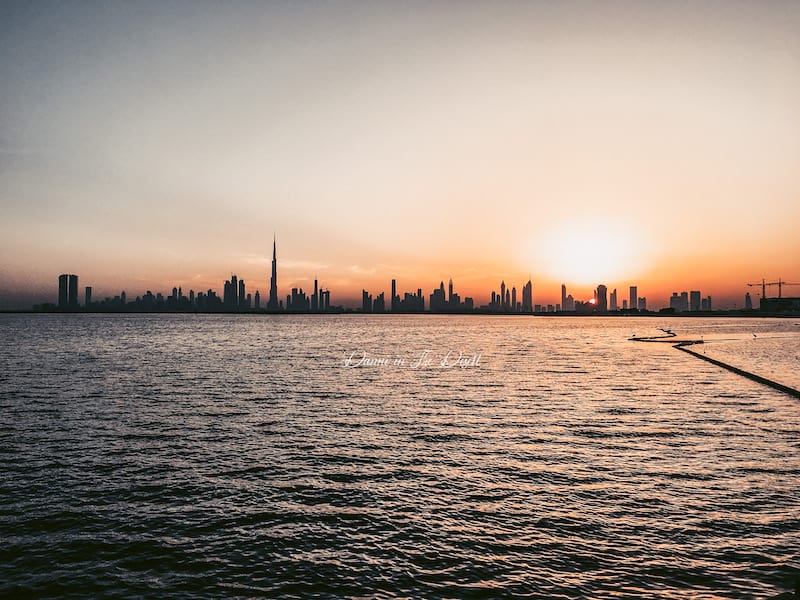 The typical climate in Dubai during winter is between 16 and 26 celsius. The coldest month is during February, so for most visiting this is a nice improvement from their home country!
It's best to pack a mixture of summer items with a few light jackets for the evening time. The temperature doesn't drop suddenly like you may have experienced in other countries
The summer is extremely hot but I still advise to pack a few light jackets as everywhere tends to have air conditioning. So often you'll need an extra layer due to the coldness of the malls
What do Emirati locals wear in Dubai?
Emirati men wear a long piece of white fabric that is called a Kandura with a white cloth on their heads held in place by a black band. This is called a ghutra and igal. This is the traditional dress of the UAE
Local women will wear a traditional outfit in black for Muslim women called an Abaya and a Shayla. This is actually like a thin outer coat that covers the woman
Is it okay for tourists to wear local dress? Yes, there isn't any issue with tourists wearing a kandura or abaya and Emirati locals love sharing part of their culture
Find out more about the local dress in my article below:
What is the traditional dress of the UAE?
This is me wearing an abaya and shayla below:
What to wear in different places in Dubai
What do I wear in a Dubai Mall?
Don't be afraid to get too dressed up for Dubai Mall. Air conditioning is everywhere in Dubai mall and it actually gets pretty cold due to the air conditioning. So always take a jacket or shawl with you!
In addition, this helps with keeping the rules since you will see signs that state shoulders must be covered and skirts or shorts must be past the knee. These rules are rarely enforced these days however!
You can always tell the tourists in Dubai Mall because they're walking round in tank tops or t-shirts with shorts and flip flops. Dubai Mall is located in the centre of the city and most residents wouldn't wear this in this metropolitan location
What do I wear in a Dubai hotel or resort?
Dubai hotels are very similar to what you should wear on the beach. The swimming pools and beaches are fine for bikinis or other types of swimwear to be worn. You will need to cover yourself when you head into the lobby and other parts of the hotel. Again a t-shirt and shorts are fine.
Also, you may find some beach clubs or places where after a certain time, typically as it gets to sunset. They request people to get dressed, typically by security even though it's a beach bar or club.
Most hotels in Dubai are giant complexes with bars, restaurants, entertainment and more! So here you'll find more liberal policies for what's acceptable to wear.
Years ago, Dubai women used to take a modest dress or even an Abaya to wear over their clubbing outfits. You'd then take it off once you got to the hotel resort. Though these days, a lot of women go out and get a taxi in their clubbing outfits.
I want to visit Sheikh Zayed Grand Mosque, what do I wear?
For men and women you both must dress modest to visit! For women this includes covering your hair and an outfit that covers your legs and arms fully. For men, this is a top which covers the shoulders and shorts that are to the knee or lower. It is a place of worship after all!
If for any reason you forget to take a modest outfit to Sheikh Zayed Mosque in Abu Dhabi, then you can get an abaya for free from the visitor office. You just give your ID and then return the abaya after you've finished visiting.
Insider tip – The Abayas you hire are not the most glamorous and if you want a fabulous Instagram photo, I highly recommend to buy an abaya and shayla set. Mondanisa offers high quality affordable Abayas made in Turkey and delivered globally! I love their styles plus the fact they're made in Turkey (yay human rights) and super affordable. Triple yay!


For more on Mosque (Masjid in Arabic) etiquette check out my previous article about visiting a mosque for the first time!
What do I wear for going out and for nightlife?
The majority of women going out to a bar or restaurant, wear exactly the same kind of outfits they would wear back home. There isn't really a dress code per se and you'll see women in dresses and skirts of all varieties.
Areas like Dubai Marina are the most touristy and again because most of the clubs, bars and nightlight are within hotel resorts. It's mostly tourists or other Dubai residents that want to party. So the dress code is a lot more liberal here for women.
What do I wear for Dubai Brunch?
So like the rest of Dubai, people get dressed up then it comes to going for a Friday Brunch. That's women typically in dresses and heels with men in smart casual attire. Again most of the restaurants have a smart casual door policy.
A cute summer dress with wedges is something I'd wear to a brunch where there is an outdoor element and if it's inside something more dressy but not as dressed up as you might go to a club
Are there any other dress code rules I should know as a woman?
In certain areas and attractions, it's more common for Emiratis and people from the Gulf to go to these areas. In these areas, it is better to be more respectful of the dress code. It is unlikely for you to get into trouble but I have before seen a woman being told what she is wearing is not appropriate and that she should respect the country she is in.
These areas are; Jumeirah Beach Walk (JBR), Jumeirah, Umm Suqeim, Deira, Mall of Emirates, Al Barsha, City Walk, La Mer, Downtown, Dubai Mall & Global Village.
Other areas where you will probably get stared at if you don't dress modestly:
Satwa, Garhoud, Gold & Spice Souqs, Naif, Jebal Ali & Deira
I'd definitely recommend if you're planning to visit the more historical places to dress modestly such as the Gold & Spice Souqs.
The most relaxed areas, in general, are Dubai Marina and Palm Jumeirah, although JBR and JBR The Walk are very popular for gulf nationals. It tends to be more Gulf nationals who are on holidays themselves along with expatriates. So while other parts of the Marina are pretty liberal, for JBR I always recommend being more modest due to the volume of Gulf nationals typically staying in the area. Though there are a lot of hotels here and you really will see a mix of fashion!
What happens if I don't dress modest?
In the unlikely event that someone approaches you about your outfit, the most likely would be someone from mall security. They will ask if you have any other type of clothes you could wear or request you to come back once you have more appropriate clothes.
The best thing to do is apologise and go back to your hotel to change your outfit. However this is really unlikely and I've never heard of it happening to anyone. As long as its not a mosque of course!
So I hope that cleared some things up for you and what to wear or not wear as a woman in Dubai! Many women visit Dubai every year and Dubai is such a safe city for women. It's amazing that you can walk around late at night on your own and not need to worry. Crime is very low in the United Arab Emirates.

To find out more about the United Arab Emirates check out this article!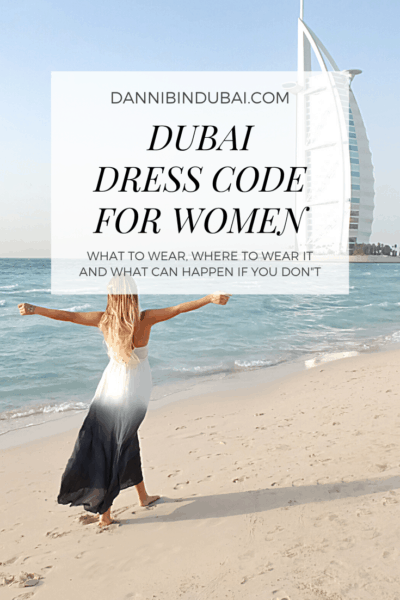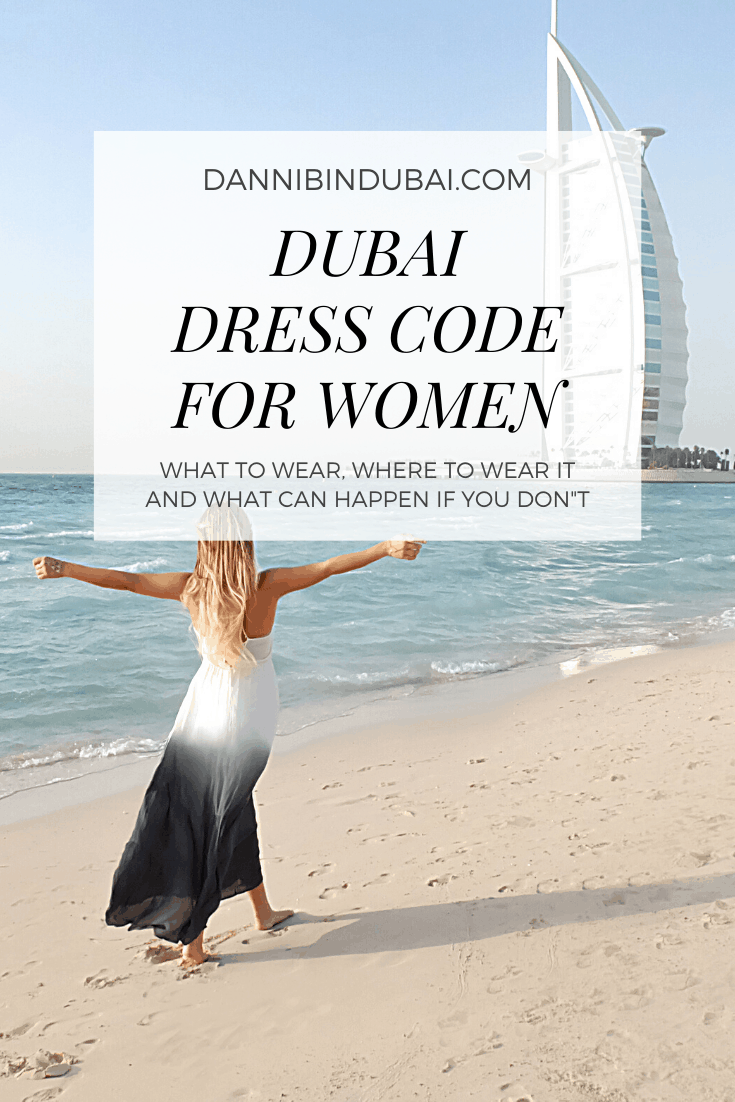 Enjoyed this article? Give it a share!