Planning a trip to Dubai? Exciting! But hold on, what do you wear in this city of extravagance and opulence? Fear not, I've got you covered with the basics of what to wear and what happens if you don't follow the rules. Let's get you prepped up for the ultimate desert adventure!
Plus the one golden rule of Dubai that no one else will tell you! So you'll know exactly what to wear and how to fit in with the locals, from someone who's just about gone everywhere and done everything in Dubai. I've seen Dubai change dramatically over the last 10 years! Including the dress code!
We'll mostly focus on the female dress code since this is where most people worry, but I've included information for both men and women! Also there seems to be a lot of confusion online about what women should wear in Dubai, especially with it being a Muslim country.
There's absolutely no need to feel uneasy about visiting a place like Dubai!
I've seen all kinds of situations over the years, worn lots of different outfits and seen lots of different fashions too! So fear not, I'll give accurate information you can trust, not the standard "dress modest" speech. So find out more below!
Dress code in Dubai summary:
Despite being a Muslim country, Dubai is very liberal and a global luxury tourist destination. In pretty much all places and situations, what you would wear in any other warm tourist destination is perfectly acceptable in Dubai. That's bikinis or shorts on the beach, cute summer dresses when you go out and t-shirts with short sleeves for wandering around the city.
Is there a dress code in Dubai?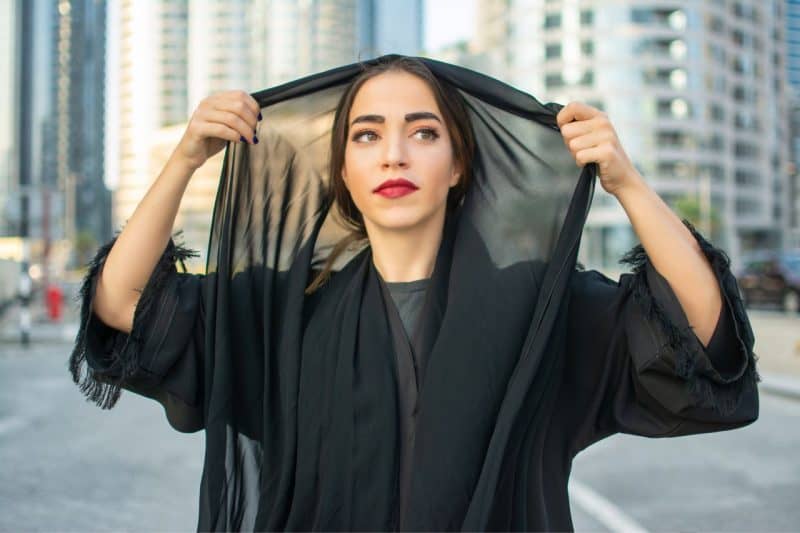 Officially the UAE has no legal dress code however there are rules in relation to public decency, which can cover how people dress. This applies to the whole of the UAE, not just Dubai. Many venues set their own dress code and have rules regarding what should be worn. Those with a modest dress code mean shoulders covered and skirts or shorts to below the knee. However, some places like Dubai's malls still have modest dress code signs yet these days those rules are rarely enforced.
Locations where a modest dress code is enforced:
Article 358 of the Penal Code states:
"Whoever openly commits an indecent and disgraceful act shall be punished by detention for a period of at least six months… Shall be punished by detention for at least a period of one year."
This was changed in 2020 to a punishment of a fine for a first-time offender rather than jail time.
So what does that actually mean in terms of the law?
Being indecent in terms of clothing refers to nudity and that is strictly forbidden anywhere in the UAE, so you should also be careful of any clothing that becomes see-through when getting wet.
Indecent can have a wide range of meanings and is anything that "damages the dignity or honour of another person." While it would be extremely rare for someone to complain to the police, someone can make a complaint if something a person wore or did something classed as indecent.
This could be extremely revealing clothing or can also include a t-shirt with an offensive saying on it for instance. So in Dubai, this law is more about being aware of where you are going and whether what you are wearing would be appropriate.
So what should I wear in Dubai?
The answer is really simple, just wear what you're comfortable in and is suitable for the activity you plan to do. Dubai's climate means it's mostly sunny warm weather all year round so it's best to pack loose-fitting and light clothes that allow your body to breathe.
Nearly everywhere has air-conditioned spaces, some places might even be a bit cold and you need to take a jacket with you but most places these days are pretty comfortable temperature-wise and you'll be fine in shorts and a t-shirt.
Guide to Dubai dress code meanings
Nearly every venue you go to will have a dress code guidance in Dubai, this is the venue's own dress code guide for what they allow in their venue. Security at the front of the door or hostesses at the front of restaurants will deny you entry if you don't meet the dress code.
Swimwear allowed: Designated areas will allow swimwear however be aware when you go further away from the pool area or beach, you'll need to cover up.
Casual: Vest tops, t-shirts and flip-flops are fine. Pretty much any dress is allowed but will typically exclude swimwear unless you have something to cover over your swimwear.
Smart Causal: Vests are not allowed but t-shirts and other tops that cover the shoulders are for men. For women, it's more liberal but flip flops aren't allowed. Typical smart casual would be jeans and a nice top or polo shirt for men. Smart sneakers or trainers are allowed also, sport shoes or running shoes may mean you get denied entry.
Smart Elegant: This mean you should be wearing a dinner jacket if you're a man and elegant dressy clothes as a woman with high heels and smart shoes.
Formal: It's rare you would see this except for an event but this means black tie, suit and tie, cocktail or long formal dresses for women. High heels for women and smart shoes for men.
No local dress: Certain venues, typically those serving alcohol or more party style venues do not allow the UAE local dress known as Emirati clothes. This is a khandora for men or a black abaya for women.
What happens if you dress inappropriately in Dubai?
In the event that someone approaches you about your outfit in Dubai, typically the security of a building or location, they will inform you what needs correcting about your outfit. This may result in either you being denied entry or asked to leave. There can be fines and penalties for breaking the law if deemed indecent but in terms of clothing it is extremely rare for someone to face legal consequences for their outfit.
The best thing to do is apologise and find somewhere to change your outfit. I repeat, it is extremely unlikely to ever happen in any public places with the exception being mosques, government buildings and police stations.
I have had to change my outfit at a Dubai visa office, this was where my office skirt was to the knee but not below it. The security guard denied me entry and pointed at my legs. Thankfully there was a cheap clothes shop nearby, where I quickly picked up a pair of leggings. I then went back 15 minutes later wearing the leggings and was allowed to enter.
The golden rule for dressing in Dubai & what to pack for Dubai
No this is not, dress modestly. Like many other travel bloggers tell you! The number one rule for visiting Dubai is to dress up! Pack your best clothes, your blingiest outfits and if you have any designer items. Pack them! Dubai is a city where more is more.
Even when going to the mall, you will see women with full make up as if they are going for a night out and lots of smart casual outfits. Dubai is very fashionable and it seems like almost every woman has a designer handbag matched with designer heels.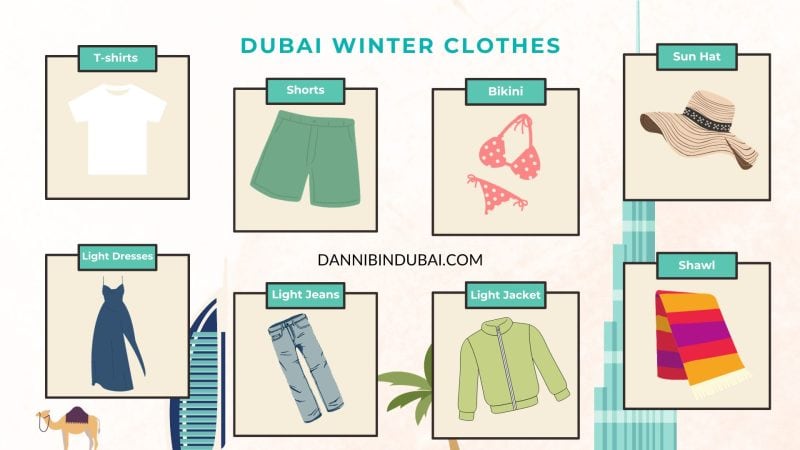 The typical climate in Dubai during winter is between 16 and 26 Celsius. The coldest month is January where it typically ranges between 14 to 24 degrees Celsius and February is similar to January. Making Dubai a nice warm destination for winter.
So based on these temperatures! What exactly should you wear in December in Dubai?
It's best to pack a mixture of summer clothes with a few light jackets for the evening time. The temperature doesn't drop suddenly at night, like you may have experienced in other countries. I also recommend taking swimwear, sun hats, sunglasses, sunscreen and some dressy outfits for the evening.
The light jackets also come in handy for malls where there is air conditioning. If you plan to go to the cinema, for example, it can sometimes be a little bit chilly!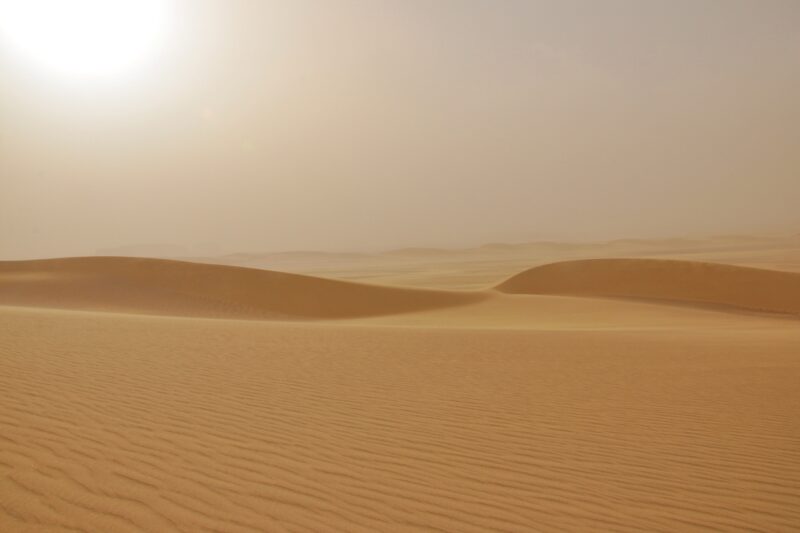 Similar to winter you'll need to pack similar clothes, light breathable clothes, comfortable shoes, swimwear, a sun hat, sunglasses and a few dressy outfits for the evening time. You will spend most of your time in air-conditioned spaces during the summer. So here you can wear whatever outfit you choose.
It is best to take a few wet wipes to freshen up, a little bit of make-up, a hairbrush and perfume. This is in the event of getting out of the car and to where you enter the air-conditioned area, you can still end up sweaty as it can be pretty hot and humid even in that short time. So you may want to freshen up after.
Years ago the malls used to be very cold thanks to air con but these days they're much more comfortable and you're unlikely to need a jacket but it's sometimes best to take a light jacket or shawl just in case you enter somewhere that is a little cooler thanks to the air con. Maybe I'm just oversensitive these days thanks to my many years of living in the warmth.
What to wear in different places in Dubai
What do I wear in a Dubai Mall?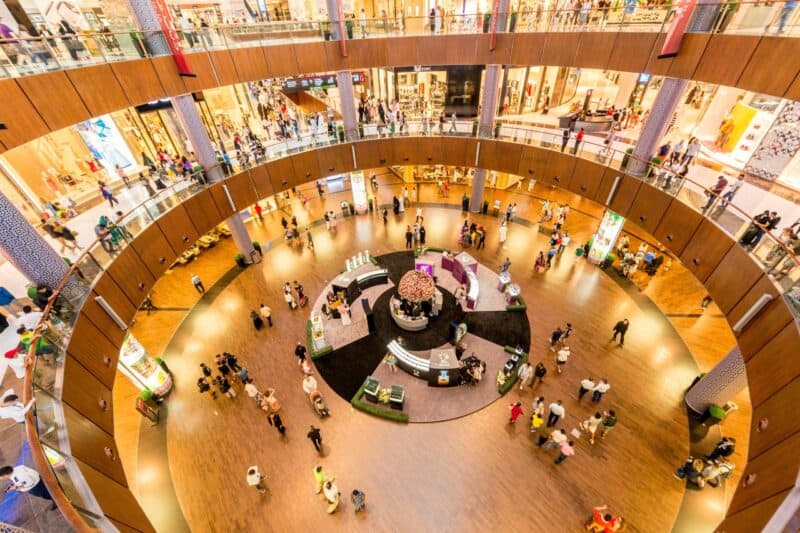 So while there are signs as you enter the mall saying you must dress modestly, I've lost count of the number of times I've seen hot pants or very short dresses in Dubai Mall! Gone are the days when security would come up to you and tell you off for not dressing modestly!
My main tip for Dubai Malls – Don't be afraid to get dressed up even for the mall! You will see locals and residents are always dressed nicely even to go to the mall. As malls are treated like a place to go out rather than just picking up a few bits of shopping. Also, it can get cold due to the air conditioning. So best to take a jacket or shawl with you!
What to wear when going out for dinner in a Dubai restaurant
Many of the restaurants in Dubai have a smart casual dress code. This means no vest tops, no flip-flops and no shorts! Which might surprise you for a beach holiday destination. So if you're planning to spend all day outside, it's best to either dress up or take a change of clothes just in case!
For example, if you plan to visit a nice restaurant close to the Burj Khalifa after walking around Downtown all day, then you'll need to dress up before going! Most places are smart casual dress code but higher end restaurants can be smart elegant which means dinner jackets and cocktail dresses.
What do I wear in a Dubai hotel or resort?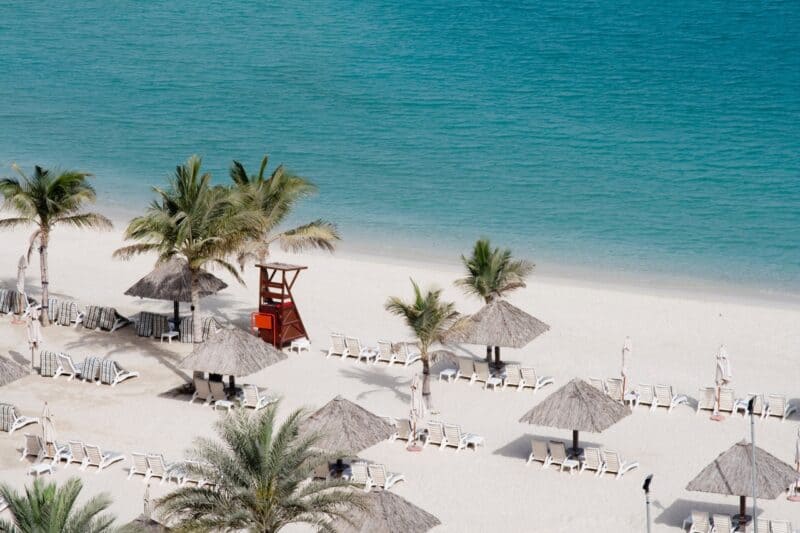 Dubai hotels are very similar to what you should wear on the beach. The swimming pools and beaches are fine for bikinis or other types of swimwear to be worn. You will need to cover yourself when you head into the lobby and other parts of the hotel. Again a T-shirt and shorts are fine to cover up with.
Also, you may find some beach clubs or places where after a certain time, typically at sunset, they request people to get dressed. So you may get approached by security even though it's a beach bar or club at this time.
Most hotels in Dubai are giant complexes with bars, restaurants, entertainment and more! So here you'll find more liberal policies for what's acceptable to wear. You may still see signs that state modest clothing but again it is rarely enforced.
Years ago, Dubai women used to take a modest dress or even an Abaya to wear over their clubbing outfits. You'd then take it off once you got to the hotel resort. Though these days, a lot of women go out and get a taxi in their clubbing outfits. You'll even see women in restaurants after the nightclubs close eating in their clubbing outfits.
I want to visit Sheikh Zayed Grand Mosque, what do I wear?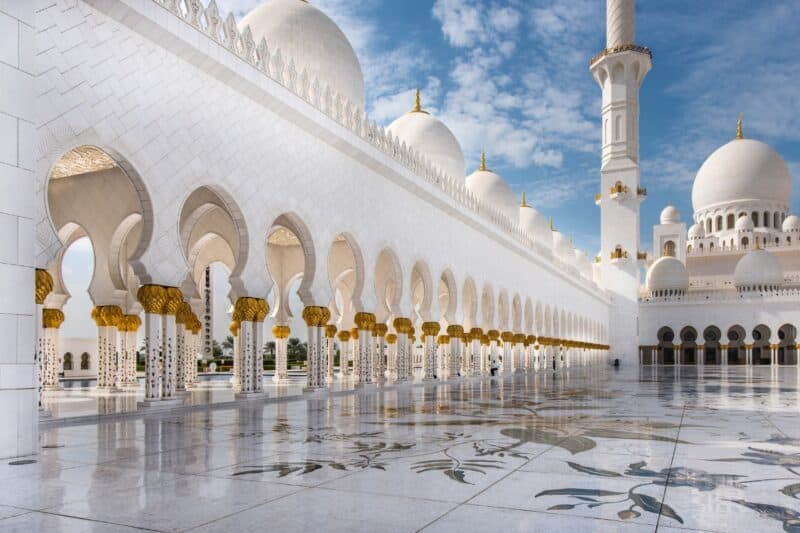 For men and women, you both must dress modestly to visit! For women, this includes covering your hair and an outfit that covers your legs and arms fully. For men, this is a top which covers the shoulders and shorts that are to the knee or lower. It is a place of worship after all!
If for any reason you forget to take a modest outfit to Sheikh Zayed Mosque in Abu Dhabi, then you can get an abaya for free from the visitor office. You just give your ID and then return the abaya after you've finished visiting.
Also if you plan to explore Abu Dhabi after, then it's important to note Abu Dhabi has a higher local population compared to Dubai and while overall the UAE is quite liberal. It's best to be more respectful of the dress code in Abu Dhabi.
Insider tip – The Abayas you hire are not the most glamorous and if you want a fabulous Instagram photo, I highly recommend to buy an abaya and shayla set. Mondanisa offers high quality affordable Abayas made in Turkey and delivered globally! I love their styles plus the fact they're made in Turkey (yay human rights) and affordable. Triple yay!

I've ordered from them many, many times!


For more on Mosque (Masjid in Arabic) etiquette check out my previous article about visiting a mosque for the first time!
What to wear when going to a Dubai government office or police station?
For all official Dubai buildings such as Government offices or police stations, you must dress modestly or you will be denied entry to the building. This is shoulders covered and skirts or shorts below the knee. This applies to men too.
I was personally denied entry when wearing an office dress that reached the knee but not below the knee. I had to quickly buy some leggings to put under the dress so I could gain entry.
You will need to visit government offices when you do your visa process as a Dubai resident. So that is why it's important to know the rules!
What do I wear for going out, clubbing and other nightlife?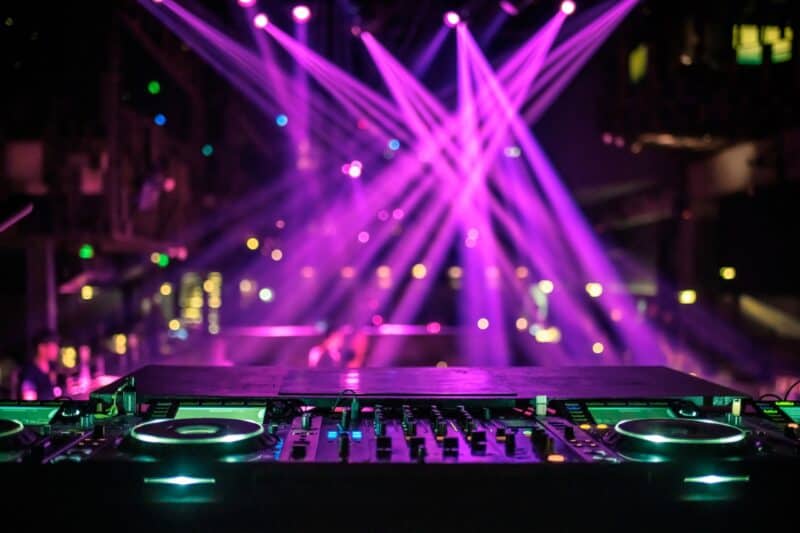 Most women go out to bars and restaurants wearing similar outfits to what they would wear at home. The dress code is determined by the venue, which usually means skirts and high heels for women. So you'll typically need to dress up.
Less formal venues tend to be more relaxed about women's dress codes. With higher-end clubs, they may even be selective if you're not clad in designer gear. So choose your location carefully!
When you do go out, you'll see cocktail dress, party dress, club wear and everything else that's typical in a nightclub or bar back home.
Dubai Marina is known for its beach scene and overall casual vibe. So typically here you'll fine venues have more casuals dress codes along with a more casually dressed crowd. Conversely, Downtown and Trade Center are the heart of the city and typically impose more strictly enforced dress codes.
What do I wear for Dubai Brunch?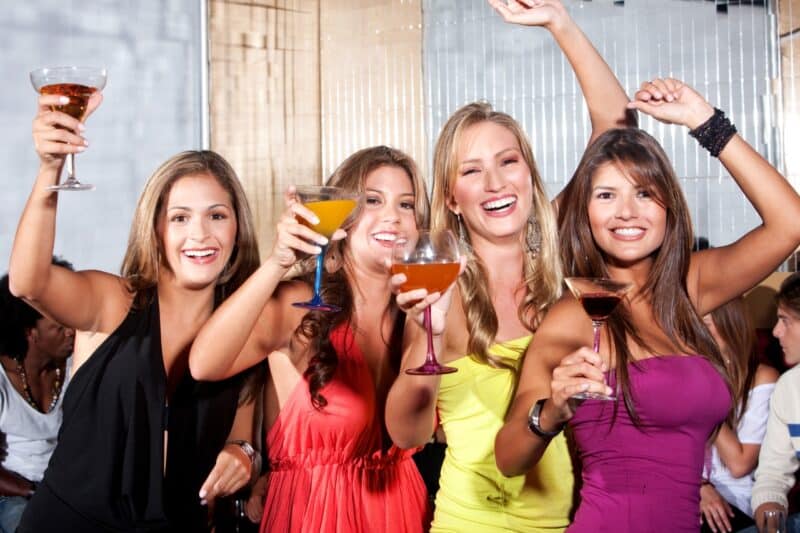 So like the rest of Dubai, people get dressed up when it comes to going for a Saturday Brunch. That's women typically in dresses and heels with men in smart casual attire. Again most of the restaurants have a smart casual door policy.
A cute summer dress with wedges is something I'd wear to a brunch where there is an outdoor element and if it's an indoor brunch something more dressy. Again it depends on the type of venue, somewhere like Lucky Voice is okay with jeans and heels. A brunch at St Regis, everyone is going to be a lot more dressed up. You could even wear a cocktail dress and fit right in.
What do I wear do a Dubai desert safari?
For a Dubai desert safari, dress comfortably and sensibly by choosing lightweight, breathable fabrics such as cotton. Opt for loose-fitting long sleeves and pants to protect your skin from the desert sun. Closed shoes like sneakers or hiking boots are advisable to shield your feet from the terrain, while a wide-brimmed hat and sunglasses offer additional protection. Don't forget to apply a high SPF sunscreen to exposed skin.
If your safari includes water activities, bring a swimsuit. For evening safaris, consider packing a light jacket or sweater. A scarf or shemagh can shield your face from blowing sand, and a small backpack is handy for essentials like water, sunscreen, and a camera.
With these choices, you'll not only stay comfortable in the desert heat but also be prepared for the diverse activities a desert safari may offer.
Are there any other dress code rules I should know as a woman?
In certain areas and attractions, it's more common for Emiratis and people from the Gulf to go. In these areas, it is better to be more respectful of the dress code. It is unlikely for you to get into trouble but I have before seen a woman being told what she is wearing is not appropriate (she was wearing a see-through dress in Dubai Mall) and that she should respect the country she is in.
These areas are; Jumeirah Beach Walk (JBR), Jumeirah, Umm Suqeim, Deira, Mall of Emirates, Al Barsha, City Walk, La Mer, Downtown, Dubai Mall & Global Village.
Other areas where you will probably get stared at if you don't dress modestly:
Satwa, Garhoud, Gold & Spice Souqs, Naif, Jebel Ali & Deira
I'd definitely recommend if you're planning to visit the more historical places to dress modestly such as the Gold & Spice Souqs. Not that you'll get into trouble, just that you may get a lot of stares and more attention than you thought!
The most relaxed areas, in general, are Dubai Marina and Palm Jumeirah, although JBR and JBR The Walk are very popular for Gulf nationals. It tends to be more Gulf nationals who are on holiday themselves along with expatriates. So while other parts of the Marina are pretty liberal, for JBR I always recommend being more modest due to the volume of Gulf nationals typically staying in the area. Though there are a lot of hotels here and you really will see a mix of fashion!
Commonly asked questions about the dress code in Dubai
Do tourists have to wear hijab in Dubai?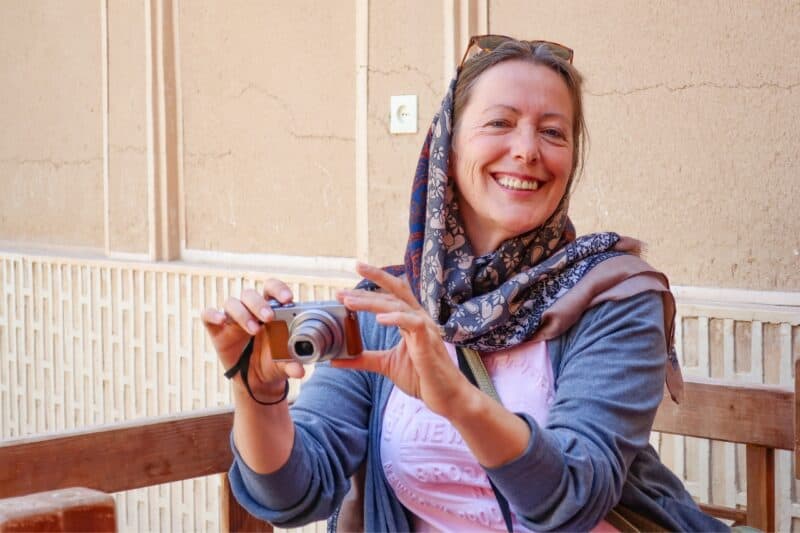 Wearing a hijab (or Shayla as it's called in Dubai) is not mandatory anywhere in Dubai. There is only one exception to this rule and this is if you visit a Mosque such as Sheikh Zayed Grand Mosque in Abu Dhabi. This is the only place where hijab MUST be worn.
For what to wear exactly depending on the location, check out my section below that covers what to wear in different places and what you need to be aware of too!

If you'd still like to take some modest outfits just in case, ASOS has a modest fashion section with a good mix of choice including low cost and affordable modest clothes plus they deliver worldwide!

Can you wear swimwear in Dubai?
The simple answer is yes! Do not worry, you do not need a burkini or modest swimwear! You can wear your bikini or swim shorts if you're a man. Whether it's a public beach, a hotel pool or a private villa beach. Swimwear is acceptable in those areas.
However, once you enter areas away from the beach or pool you must put on clothes over your swimwear.
For instance, if you are at Kite Beach, if you walk towards the shops or promenade then you will need to put clothes on that cover your swimwear. This can be a T-shirt and shorts or a dress.
Workers on the local beaches will normally politely tell you to put something over your swimwear if you do walk into an area of shops or cafes close to the beach.
Another thing to note, you'll usually find in hotel resorts there is a bit more freedom. For instance, if you prefer wearing a smaller bikini to limit the tan lines! Hotel beaches and resorts are your best option rather than public beaches. If you go into the hotel lobby, the same rule applies that you should put clothes over your swimwear.

If you want cute affordable swimwear and outfits for the beach, I love Pretty Little Thing as they have lots of colours and styles to suit every body shape
What do Emirati locals wear in Dubai?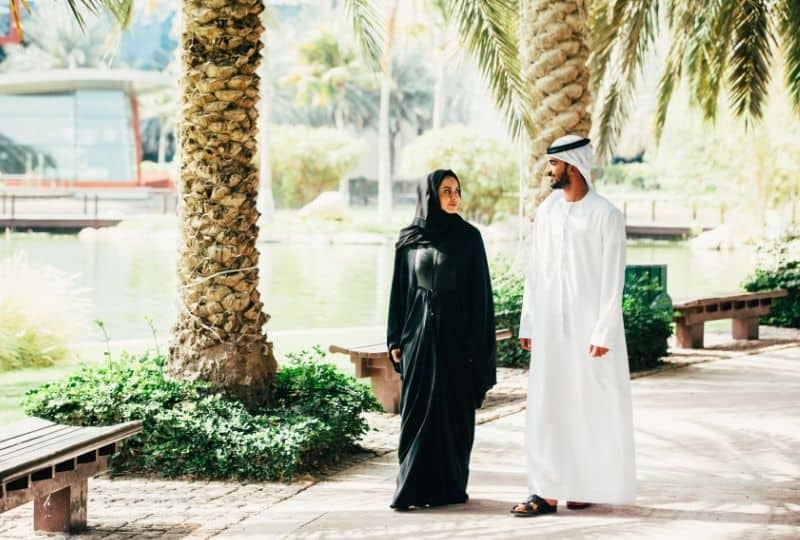 Emirati women, also known as "Locals" wear a traditional outfit, typically in black, called an Abaya. This is a thin outer coat, similar to a very long jacket that buttons up and covers the woman. The piece of fabric that covers the hair is called a Shayla.
Emirati men wear a long piece of white fabric called a Kandura with typically a white cloth on their heads held in place by a black band. This is called a Ghutra and the black band is an Igal. This is the traditional dress of the UAE, not just Dubai.
I've covered more about this in detail in my article "What is the traditional dress of the UAE?"
Is it okay for tourists to wear local dress?
Yes, there isn't any issue with tourists wearing a Kandura or Abaya. In fact, Emirati locals love sharing part of their culture and you will frequently see tourists wearing Emirati clothing after visiting a Khandura shop. Typically in Dubai Mall or around the Downtown area.
This is me wearing an Abaya and Shayla below:
Though be aware, there are some places you cannot wear the local dress! You will be denied entry from some bars and other party-style venues when wearing traditional dress. This is because the local dress should be respected.
I've had a personal experience of this where I was wearing a kaftan to a pool party and the venue didn't like that it was black as they felt it was too similar to local clothing. They wanted me to go to the family pool area instead but my friends were all in the adults-only pool.
---
Make sure to read these before you go!
What country in Dubai in? Plus other facts about Dubai you need to know before you go!
What is the climate of Dubai? Average temperatures, weather and more
What are the traditional clothes of the UAE? What do Emiratis wear?
The best restaurants with a view in Dubai you won't want to miss!
---
Conclusion
So I hope that cleared up the Dubai dress code for you and what to wear or not wear as a woman or man when visiting Dubai! Many tourists visit Dubai every year and Dubai is such a safe city for women so don't let it being a Muslim country or worrying about dressing modestly put you off! Despite what you read online, the modest dress code is rarely enforced in public places in Dubai. So you really can just enjoy the beach and the sunny all-year-round weather!
---
*This article contains affiliate links, as an Amazon Associate and a member of other affiliate programs, I earn a commission when you click a link and a qualifying purchase is made.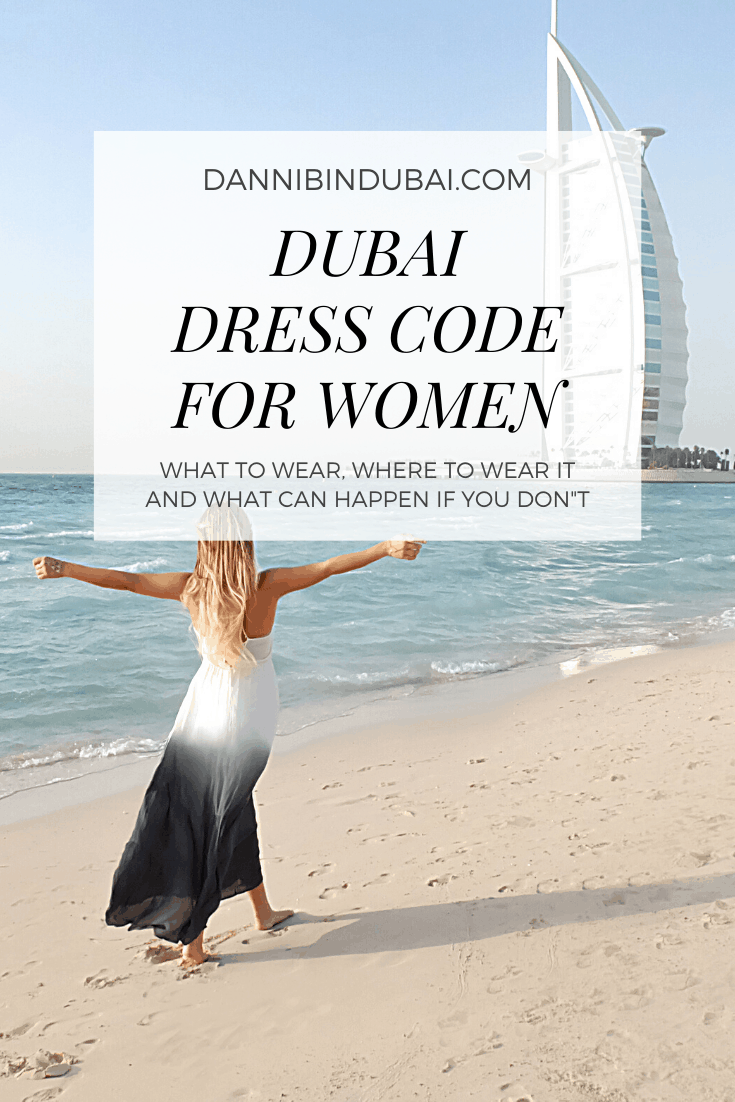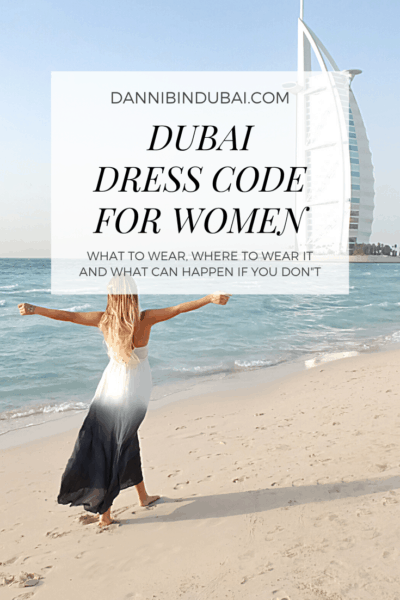 Enjoyed this article? Give it a share!