If you are living in Dubai, looking for a Friday Khutbah in English can be challenging. Even asking the locals, many people seem to not know where to go! So being a Muslim convert in Dubai with very little Arabic, I decided to make it my mission to find these.
It took a lot of legwork to find these mosques and I questioned many people in the Islamic community but I managed to find both traditional mosques and Islamic centres doing Juma Khutabas in English. I then attended to make sure indeed these were doing khutbahs in English.
In this list are some of my favourite places to attend a sermon in English and I'll give you some of the inside tips for which ones I think are the best below! As some are better for families and some you'll definitely need to get there early to park.
I've asked if any more services are being done in English in 2023 however I've been unable to find any other mosques to add to the list that are doing English sermons. If you do find any more or happen to come across one, please do let me know! Especially in the Mudon, Damac Hills or more East part of Dubai. As I haven't been able to find any!
Aisha Mosque / Masjid Aisha Umm Al Mu'ameneen
Jumeirah 3
The Friday sermon is delivered entirely in English and is very popular. The ladies' prayer hall was so busy some had to stand in the hallway. So definitely you need to get there early since the parking gets full. The ladies' room isn't that large so that is another reason why it gets full quickly.
This mosque is also not far from some of my favourite places for Emirati food in Dubai, so make sure to enjoy your Friday and grab some lunch on the way back from the masjid.
Saeed Mosque / Masjid Saeed Bin Youha
Jumeirah 3
This small mosque is easy to miss on Jumeirah Beach Road and all the signs are in Arabic so you may think you're in the wrong mosque for an English Friday sermon. This one despite being smaller wasn't as busy as the Aisha mosque and the entire sermon is done in English, not just a summary.
The ladies' section isn't that large but fewer people seem to attend. It is also easier to park since you can park on the street, making it one of my favourites. The Imam's English is very good.
You will have to pay for parking as parking is now free on Sundays rather than Fridays in Dubai.
Palm Jumeirah Mosque / Masjid Abdulrahman Al Siddiq
Palm Jumeirah
Sadly this one is no longer doing a khutbah in English, only Arabic.
Commonly referred to as the Palm Jumeirah mosque due to its location and is well known for its iconic modern architecture. This lovely mosque offers its Friday sermon in English and really has a whole mix of nationalities in attendance. The ladies' section is quite large also, so it's really a shame they aren't doing the khutbah in English anymore.
For the parking, I've found it's best to Park at The Pointe as their multi-storey car park is right next to the mosque. So you can easily park there where there is much more parking available and walk down to the mosque.
If you're staying in a hotel on Palm Jumeirah, then I highly recommend visiting this mosque since it's one of the most unique mosques in Dubai. There aren't any official tours but you can have a look around, just be careful of going in the male or female area if you're the opposite sex.
I'm not sure since The Pointe was announced to be closed down whether this parking is still available.
The Marina Mosque / Masjid Mohammed Bin Ahmed Almulla
Dubai Marina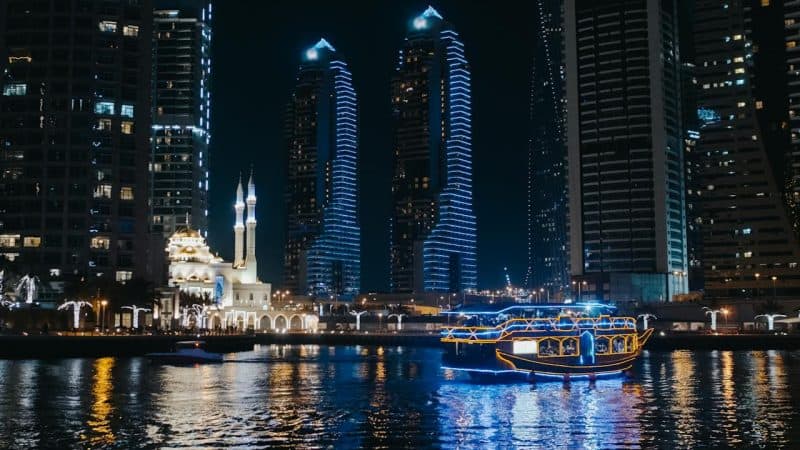 It's hard to miss this mosque at night with its shiny gold domes and blue uplights. It's definitely an iconic part of Dubai Marina. This pretty mosque delivers a sermon in Arabic and then does a five-minute summary in English at the end (not a full sermon).
Be warned though, this mosque is very popular and all the surrounding roads will be covered in parked cars. So get there early or park nearby and walk. The ladies' section is a really good size but a little bit of a maze when you go there for the first time.
In addition, this mosque is also open to the public and allows tours for those who are curious.
This mosque you can also do a tour of if you're not yet Muslim or have Muslim guests who are visiting and are curious what a mosque is like inside. Visit Dubai's Islamic Information Centre's website for more details.
Al Samad Mosque / Masjid Al Samad (Close to Meadows Souq)
Meadows
This mosque first completes the sermon in Arabic, including finishing the prayer and then they do a separate khutbah in English. The Imam is fluent in English and they deliver a full in-depth sermon. The women's section is pretty large so you'll easily find space to sit.
Like many of the others, the parking gets very busy so you definitely need to get there early to find parking. Also while the English sermon is done brilliantly, sadly due to it being after the Arabic sermon, it can be pretty noisy while everyone leaves and I've found it hard to hear the beginning of the sermon due to the noise.
Al Manar Centre / Al Manar Quran Study Centre
Al Quoz
I haven't yet had a chance to go personally but Sheikh Ayaz regularly taught at my Islamic centre and is very knowledgeable with amazing English! You can watch one of his sermons above. Al Manar has also had famous Islamic scholars such as Mufti Menk deliver the khutbah in the past.
The centre is very actively involved in the community delivering lessons and lectures in English. You'll find many famous names in the Muslim community coming here to speak from time to time, so it's definitely worth a visit.
When I briefly caught the end of a sermon, I could see a lot of families sat at the back. So I'd highly recommend this one if you have children.
You can keep up to date with Al Manar's events and find out more information on Al Manar's website
Masjid Tamim Ad-Dari
Muhaisnah 4
I recently asked a friend who lived nearby if they knew of any masjids doing services in English but she said no. So I still haven't had the chance to pop to this one to find out but a while ago I was told they deliver an English sermon after the Friday prayer. So the Arabic khutba is first, then prayer and then a second English sermon.
There are reviews for the Masjid from a year ago confirming the Friday prayer is in English and good reviews of the sermons.
Friday Khutba Commonly Asked Questions
How long is Jummah Khutbah?
The length of the Jummah Khutbah service varies slighty from mosque to mosque however in Dubai they are generally more uniform than in other countries. The Friday Khutbah itself is typically between 10 to 20 minutes plus the prayer time. So it will usually take around 30 minutes in total. You'll need to allow extra time to find parking and do wudhu if needed.
What time is Jummah in Dubai?
After the changes of the UAE weekend from Friday to Saturday to Saturday and Sunday, all Jummah prayers have been set to 1:15pm on a Friday.
Can I visit a mosque or attend the Juma khutbah if I'm not Muslim?
You are able to visit a mosque/masjid even if you're not a Muslim. You can simply take a seat at the back and listen to the sermon and watch the prayers. If you're curious and would like a formal tour; the mosque in Dubai Marina, as mentioned above, offers regular tours for those who are curious to learn.
However be aware if you are female, it's best not to sit in the mosque during your period as women do not pray during this time and it's advised by the majority of scholars to not attend during this time.
For more information about visiting a mosque for the first time and etiquette you should know.
What is the Friday sermon translation initiative?
Since 2018 The General Authority of Islamic Affairs and Endowments (GAIAE) began a mobile application initiative to provide translations of Friday sermons in UAE mosques into multiple languages; primarily English and Urdu. This ambitious project is aimed at making the content of Juma Khutba services more accessible to non-Arabic speakers and creating a better understanding of the teachings of Islam in UAE.
If none of the mosques above are close to you, you can also listen to Juma Khutbahs available online in English, Arabic and Urdu or you can read the English PDF also provided while you listen in Arabic. As sermons are standardised across the UAE. It might even help with your Arabic too!
---
Before you go, here are some other articles that may be useful if you're Muslim or curious about Islam in Dubai:
Tips for praying at work and how to fit in your salah
Why do women wear hijab? 10 reasons from Muslim women themselves
How to convert to Islam in Dubai; the process and paperwork
Spending Ramadan in Dubai and what it's like
---
So that are all the mosques/masjids that I've come across that do a sermon in English or have an explanation in English afterwards. If you know of any more then please let me know in the comments below.
Enjoyed this article? Give it a share!