Dubai is the kind of place where it's super easy to blow a small fortune. So this is the ultimate guide to the extravagant side of Dubai! The things to do and places to visit for the best 3 days or 72 hours of your life. So if you don't mind splashing the cash or that's the whole reason you're visiting Dubai! Get ready, wear your best clothes and let's go!
If you have 1 or 2 days (24 or 48 hours) in Dubai, simply select the day or days which have the most activities you like in. It's pretty difficult to fit everything Dubai has to offer in only 3 days but this would be my most recommended things to in Dubai in that time.
Dubai is really a place made for cars and I highly recommend to hire a car while staying in Dubai. All the places listed below have valet or car parking.
If you prefer doing a no hassle tour, check out some of awesome options these:
---
Make sure to check out some of my other helpful articles here:
Stunning hotels with views of the Burj Khalifa
Which area is the best to stay in and which Dubai hotels
24 hours in Dubai; perfect itinerary for your layover

---
Day 1 – Burj Al Arab and Classic Dubai
Breakfast – Brasserie 2.0
Welcome to the first day of your Dubai itinerary of 3 days! Breakfast is served between 7am and 11am and is set inside the hotel Le Meridien at Dubai Marina North. You can choose to sit outside or inside, both with lovely views. You'll find a typical breakfast buffet selection done to a high quality. I love the chic interiors and it's the perfect way to start your day. Costing 125 AED ($34 £26) per person.
Activity 1 – Burj Al Arab Pool Day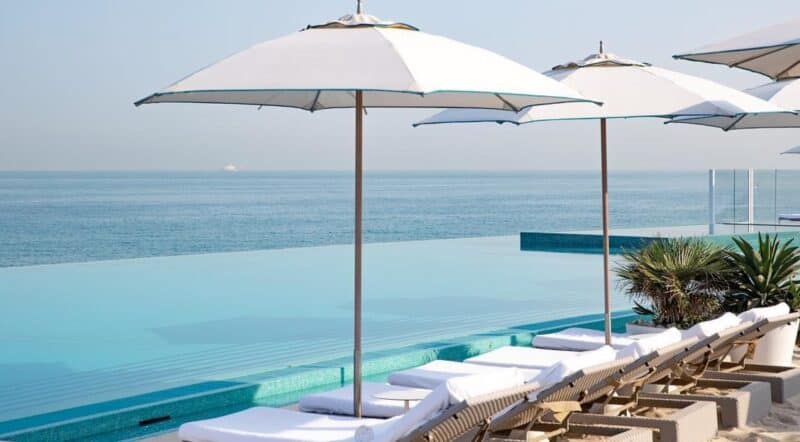 This was launched late last year rather quietly and requires you to call up quoting "a day at the terrace" on the phone. The Terrace is the Burj Al Arab's fabulous infinity pool and deck area. It also includes a meal at Scape, the Mediterranean contemporary restaurant situated outside at the back of the Burj Al Arab overlooking the sea.
If the offer isn't available, it requires booking a night at the Burj Al Arab in order to enjoy the Terrace. Due to its incredible spa and beautiful cabanas with butler service. It's definitely an experience worth splashing out for, for one night!
Staying there typically starts from 5000 AED ($1365 / £1000 per night) depending on the season. If you decide to treat yourself to the full experience, Cabanas start from 2000 AED ($545 / £400) for the day for stay-in guests.
Day at the terrace cost: 980 AED ($270 USD) + taxes
Staying at the Burj Al Arab: Rooms starting from 3600 AED ($980 USD) during summer and between 7000 to 8000 AED ($1906 to $2178 USD) typically in winter
*These offers are subject to change and may not be available all year round, if this offer isn't available you will need to book at stay at the Burj Al Arab in order to use The Terrace
Activity 1 Alternative – Helicopter Ride Across Dubai
If lounging by the pool isn't your thing and you want to experience as much of Dubai as possible within a short time. Taking a helicopter ride over Dubai is a perfect way to see all the main tourist attractions in a short space of time! Plus it's an incredible experience and one of the best ways to see all of Dubai. The bonus is all your incredible photos!
Select the best option for you from Get Your Guide here
Lunch – Burj Al Arab Afternoon Tea
This is a Dubai bucket list item and one which all the locals rave about for being amazing! It has incredible views and amazing service. It is pricey, costs 635 AED per person ($175 / £135) and is another 100 AED if you want a window seat ($28 / £20). It takes place in their Sky View restaurant with stunning views over Palm Jumeirah.
If you are not staying at the hotel, you must have a reservation in order to enter to access the bridge which takes you to Burj Al Arab. So many sure you call and book before hand.
Activity 2 – Skiing at Ski Dubai
Located inside Mall of Emirates, this is one of the longest indoor ski slopes in the world. It's pretty awesome to be able to say you skied in the desert! Prices start from 150 AED ($40 £30) and there's even a cafe serving hot chocolate as part of the indoor ski resort.
Buy a two hour access pass for Ski Dubai here
Dinner – Ossiano at Atlantis, Palm Jumeirah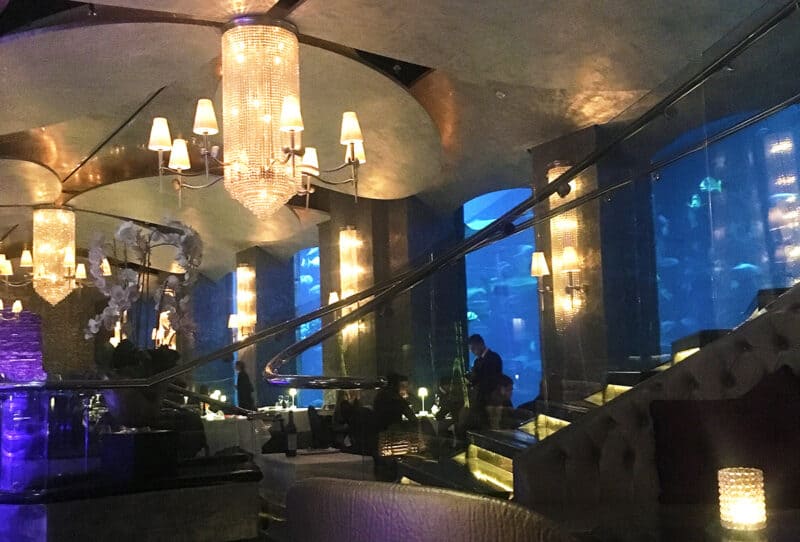 This is one of the best restaurants in Dubai and it's a wonderful experience that is inside Atlantis. As you dine, fish are swimming by. This makes it a stunning and unique experience where you feel like you've gone underwater. A must be done experience in Dubai!
The restaurant only offers set menus rather than a la carte, with half board starting from 200 AED ($55 USD / £40) with a selection of seafood tapas. They also offer caviar along with drinks pairings for the menus for those who want to spend more.
Alternative Dinner Option – Dinner in the sky
A truly unique option in Dubai and not for the faint hearted! This luxury dinner involves being hoisted up 50 meters into the air to enjoy views over Dubai Marina and Palm Jumeirah. You'll enjoy a 3 course meal with you feet dangling down. Just make sure not to drop your fork!
$199 USD per person
Places are limited, so make sure to book in advance!
Dinner in the Sky Experience with Get Your Guide
Day 2 – Burj Khalifa & Downtown Dubai
Breakfast – At.Mosphere at Burj Khalifa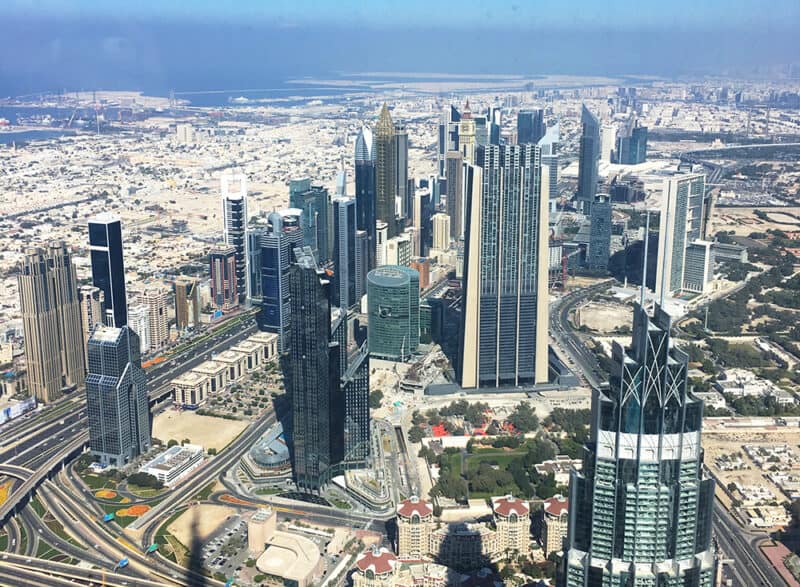 Doing the At The Top Tour is for the crowds, this is a much better option and totally worth the price just for the views. Atmosphere is situated on the 122nd floor inside the Burj Khalifa. The breakfast menu is called the Decadence Menu which gives you a clue, costing 345 AED per person ($94 / £70) for three courses. Offering cold cuts of wagyu, manuka honey and fried eggs with truffle.
Alternatively you can order from the A la carte menu starting from 70 AED ($19 £15). Window seats typically have a minimum spend, which can increase during the peak seasons.
Activity 1 – Armani Spa
If you took the helicopter tour option yesterday, after all that excitement, it's definitely worth taking some time for relaxing. You can easily spend all day here, so if you have more than three days or are happy to skip activity two. I definitely recommend to make full use of the facilities all day.
After you've used all the facilities finish off with a massage starting from 370 AED ($100 US £78) and enjoy yourself.
Pro tip: Have the massage last since they will use oils and you may not be able to use all the facilities after you've had a massage.

Once you've finished jump in a taxi or uber for a late lunch. Despite being close by, it's quite far to walk from Burj Khalifa to Address Boulevard. It is possible but Dubai just isn't really designed for walking or pedestrians.
*Some facilities may not be available due to Covid19*
Late Lunch – The Restaurant, Address Boulevard
There's so many places to choose from in Dubai Mall but this is definitely one of the best places for food. They also have a nice selection of dessert and coffees. There's an air bridge connecting you to The Address Boulevard so you can easily walk to Dubai Mall. If you prefer not to walk too much, you can easily get a taxi or uber to the hotel lobby. If you decided to hire a car, there is a valet service.
You're probably still full if you've decided to have the decadent breakfast but this cafe is great for coffee, desserts and food! If you are still hungry. If not, coffee and a dessert is perfect for refuelling after all the shopping! While in a beautiful setting with a lovely view of the Burj Khalifa from the terrace.
Activity 2 – Dubai Mall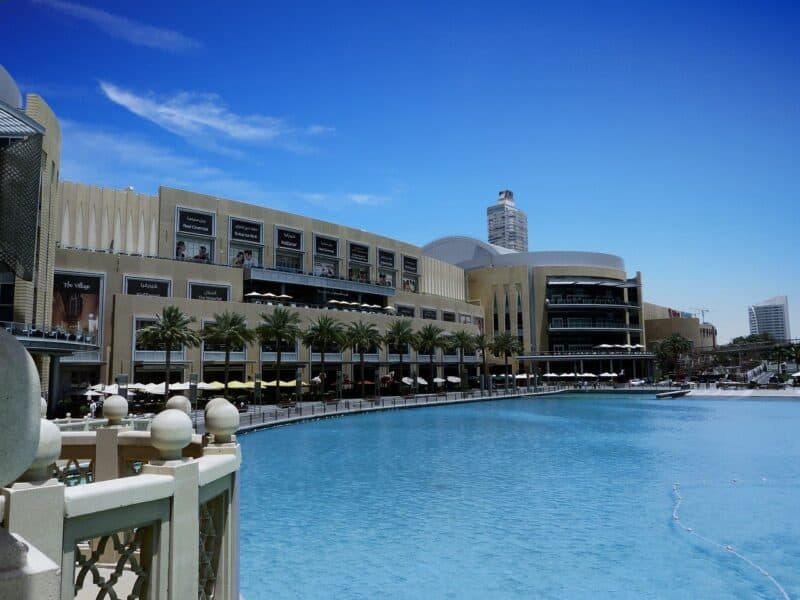 After enjoying your yummy luxurious breakfast, it's a must to have a wander around Dubai Mall. You can see the falling man fountains, the world's largest aquarium and other key attractions.
It's easy to spend a couple of days wandering around the shops, here you'll also find all your luxury designer shops. Including Louis Vuitton, Dior, Bloomingdales and more! Dubai can be great for getting items which might be harder to get in China, the US or Europe.
Dinner – Serafina, Souq Al Bahar
Watch the beautiful Dubai Fountains while enjoying your dinner. This is one of the few restaurants with good food and amazing views. Some have good views but the food is more of a standard level. Here they serve a scrumptious Italian fare including specialty steaks. Main meals start from 75 AED ($20 / £15) and go up to 725 AED ($200 / £150) for a wagyu sharing platter.
Getting the good tables often come with a minimum spend and it's best to book a few days in advance. There's only a few tables with the best views of the fountain views.
The downside of eating at the restaurants directly at the bottom of Burj Khalifa is while it has a wonderful view across all of the fountains you aren't able to hear the music to go with the fountains. So Hashi at Armani is another great option if you don't mind missing out on the music.
Day 3 – Dubai Desert
Breakfast – Versace Hotel
One of the most stunning hotels in Dubai with beautiful mosaic floors that were inspected by Donatella Versace herself to make sure they were up to standard. Served in the vibrant Giardino restaurant. The breakfast buffet costs 160 AED ($44 / £34) per person. The food is just as incredible as the surroundings.
Activity 1 – Desert Tour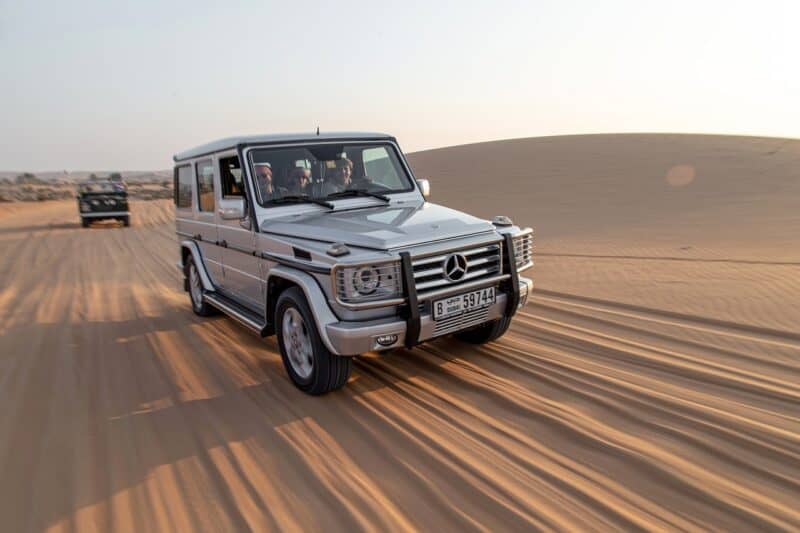 This is the best ways to see the desert and experience the true Emirati culture of Dubai. There are multiple options available with all different kinds of experiences. Depending on if you prefer adventure such as dune bashing or a more relaxing BBQ and fire pit on the sand. This experience will take up your whole day but is worth it on the last day of your 3 day Dubai itinerary!
Enjoy this luxury Dubai desert tour with breakfast in a 5 star resort from Get Your Guide
Dinner – Al Hadheerah, Bab Al Shams
If you decide to take a shorter experience that includes lunch but not dinner. This is the perfect place to finish your Arabian experience. The restaurant serves a delicious Arabian buffet, including entertainment. You also get to enjoy all these things while sitting beneath the stars in the middle of the desert. Cost for the buffet is 450 AED ($123 £95) per person excluding alcoholic drinks.
I hope you've enjoyed reading all the amazing things to do in Dubai with our extravagant Dubai itinerary for 3 days! Dubai is a truly magnificent city and I hope you enjoy everything it has to offer!
*Please note all prices are correct at the time of writing but are subject to change at any time. All exchange rates are approximate and also subject to change.
---
---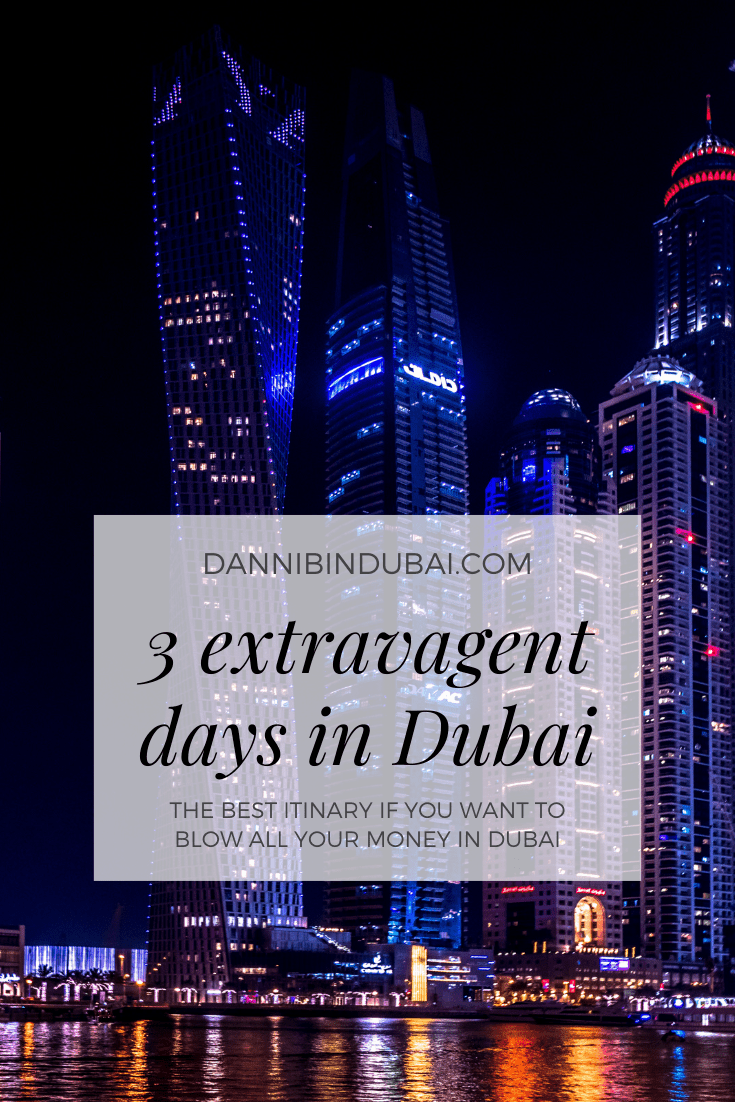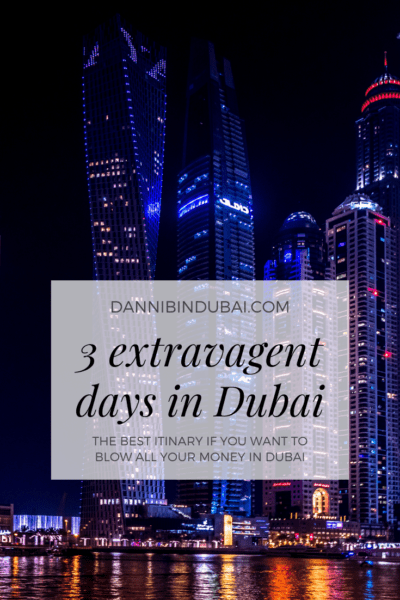 *This article contains affiliate links, by clicking the link it doesn't cost you any extra money but it does help me to keep writing these awesome articles for you by earning a small commission!
Enjoyed this article? Give it a share!