Been searching for an authentic Karak tea recipe? Today I'm going to help you with how to make Karak tea at home! Karak chai is a hugely popular drink across the Arabian Gulf, in particular those that had influence from India. So with many of us not being able to travel, here is the perfect Karak Chai recipe to bring a little bit of the Arabian Gulf into your home. The recipe is super simple and easy!
It can actually be hard to find good karak recipes and often those in the region keep their exact spice blend secret! But don't worry, after years of both drinking Karak tea and experimenting, here is my personal recipe!
For me, I like my Karak to be on the "spicier' side or more closely resembling Masala Chai from India. I've found it in places like Oman and the northern parts of the UAE, such as Ras Al Khaimah. Here it tends to have more spices.
Whereas Dubai and places like Jeddah in Saudi Arabia. The Karak tea tends to be lighter in spices and more like a sugary milky tea. Called a Disco Chai in India! So I've based my recipe on the spicer version!
Article Contents
Utensils needed
Karak recipe
Recipe alternatives
The history of Thareed / Saloona
More Arabian Gulf recipes
What kitchenware and utensils do I need?
Karak doesn't need many items at all, I use the following:
– A large saucepan
– Heat resistant spoon for stirring
– Spice grinder or pestle & mortar (optional)
It's a matter of preference, I personally just put my spices in whole but many people like to crush them when adding them
One of my favourite brands for saucepans and cookware is Le Creuset, as they are very high quality and come with a lifetime guarantee. Also their cast iron items don't have any nasty none stick chemicals!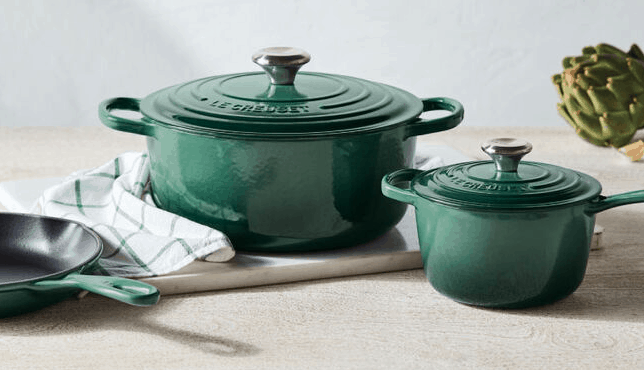 Karak Tea Recipe
4 Large Cups

Ingredients:
4 large cups of water water
1 large tin of evaporated milk
2 strong black tea bags or 2 scoops of high-quality loose leaf tea
1/2 tsp cinnamon
1/2 tsp cloves
1 piece star anise
10 cardamon pods
2 tbsp's of honey
Method (How to make Karak tea):
Take a large saucepan, pour in the water and milk into the pan.
Add all the spices into the liquid and heat on medium-high.
Keep stirring until the milk bubbles a little and then turn down the heart
Keep stirring until the spices aren't visible and the liquid turns to a light golden colour.
Turn off the heat.
The best result is to leave this mixture overnight however if you need it in a hurry then let it sit for 30-60 minutes so the spices can really infuse into the liquid.
Add the black tea bags and slowly re-heat on medium-high.
Once heated finally add the honey to sweeten
Once a little bit of steam starts comes off the tea, turn it down and keep stirring till it becomes a really nice dark golden brown colour. Now your Karak tea is ready!
Recipe alternatives:
There are so many ways you can experiment with your Karak tea recipe until you find the perfect blend for your tastes. You can add cardamom or cinnamon to the water and milk. With traditional Masala Chai they also typically add ginger.
It's very popular in the Middle East to add a pinch of saffron to the mixture and does make it look quite pretty when serving it to guests.
What is Karak tea and where did it come from?
The recipe is originally based from the popular street drink Masala Chai. It's a strong black tea with different spice mixes added to make a deliciously addictive drink.
In the United Arab Emirates, you'll find many Emirati houses serving this popular drink in the mornings and whenever guests come to visit. This also means different households have slightly different takes on what spices they add to the tea and keep their exact spice mix a closely guarded secret.
More Arabian Gulf recipes
---
What more popular Gulf recipes? (More coming soon! Subscribe to my e-mail list for updates)
Simple but yummy Mahalabia (Arabic Milk Pudding)
Easy Luqaimat recipe plus make your own Luqaimat machine!
Tasty and comforting Chicken Thareed (Saloona / Stew)
Want to learn more about Middle Eastern food?
What is the traditional food of the UAE?
9 tasty Arabic desserts you must try
---
Now you know how to make Karak tea at home! I really hope you enjoy the recipe and let me know how you get on with it in the comments. I'll be doing some more recipes over the next few weeks of different Middle Eastern dishes you can try.
I'll be going live on TikTok on Tuesdays and Fridays as I try them, for my live times check out my Instagram. Don't forget to tag me on Instagram if you try the recipe!
Enjoyed this article? Give it a share!