Often one of the most overlooked regions for travel or seen as somewhere for the overly adventurous. Middle East countries offer many hidden travel opportunities and tourist attractions which are not as explored compared to other global attractions! Here's my list of all the must visit places and things to do for a unique experience in the Middle East.
I personally recommend to fly into Dubai or Abu Dhabi to begin with, if you plan to explore more than one country in the Middle East. This is due to the amazing Emirates and Etihad airlines which make even long journeys in economy comfortable. They also cover a wide range of destinations and regularly do offers!
---
For some of my other Middle East guides:
New to Dubai? Start here!
How to spend 48 hours in Abu Dhabi
How to spend an extravagant 72 hours in Dubai
My top 10 tips for travelling to Oman
Everything you need to know about the Saudi tourist visa
---
Al Balad, Jeddah, Saudi Arabia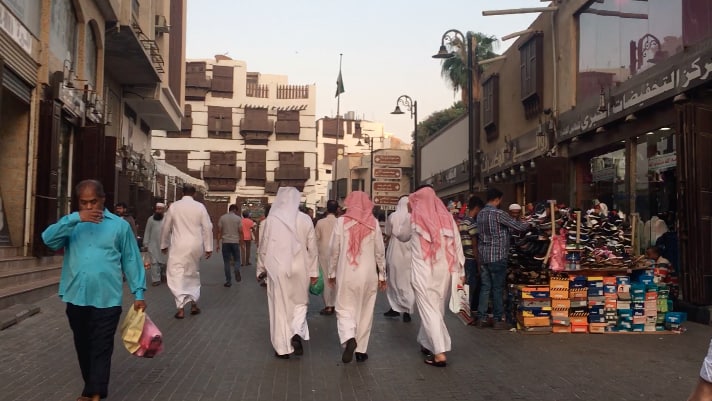 As somewhere that has only recently opened to tourism, it comes as no surprise that there are many hidden gems within Saudi to discover! Al Balad was declared a UNESCO World Heritage in 2014. It is one of Saudi's most historical districts with lots of architecture to explore and souqs. Known for selling everything from trinkets, electronics, spices to gold. It's easy to spend several hours just wandering around this district.

An absolute must is to check out is Bayt Al Hijaz! Historically, the house of an Aristocrat. This traditional Arabic coffee house is situated in what used to be the library. Places can be hard to find in Saudi, as it's still new to tourism and many locations are labelled only in Arabic. So either get someone to type it for you in Arabic into google maps or ask someone in the area to point you in the right direction. This cafe is in central Al Balad, tucked down a little side street.
You can also take a tour around Nassif House (Bayt Nassif), built in 1872. Here you can see traditional Hijazi architecture and decor. Hejaz is the historical name of this region as it was previously separate to Saudi called Najd. Some other cool things to check out are Saidi Bakery opposite Talat Al Aydarus street for some of the best bread in Jeddah or visit Masjid Shafi'i.

For more information check out:
Beginner's guide to visiting a mosque for the first time!
Madaba – Jordan
Jordan is a country filled with incredible sights. However, Madaba is one hidden gem that is often looked over by visitors to the country. The city of Madaba is located about 45 minutes from Amman and best known for its Byzantine mosaics and the holy sites that surround it. It can be easily reached by car, taxi or public transport.
The most prestigious mosaic in the area is known as "The Madaba Map". This incredible mosaic can be found laid out on the floor of the Greek Orthodox Church of St.George. It dates back to the sixth-century and details Jerusalem and the Holy Land. Making it the oldest surviving deception of its kind in the world.
The Madaba Archaeological Park is another interesting place to visit in Madaba. It contains the ruins of the Church of the Virgin Mary and its many beautiful mosaics. As well as a number of artifacts from the area dating back thousands of years.
The nearby Mount Nebo is one of the most religiously significant places to visit in the area. Many believe that it is where Moses was granted the first visit of the Promised Land. From the top of Mount Nebo you can see the Dead Sea and into Israel.
Contributed by sustainable travel bloggers Oksana & Max from Drink Tea & Travel
Jerash, Jordan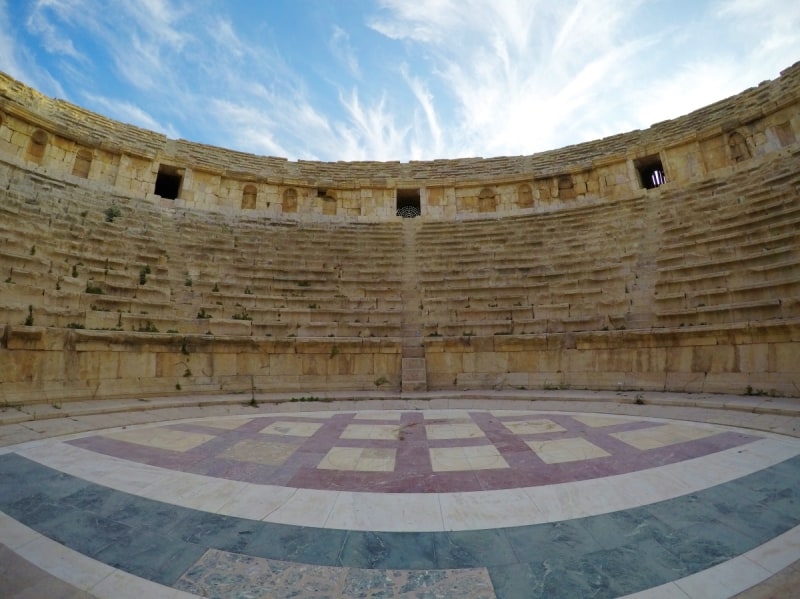 Jerash should be on everyone's Jordan itinerary as it is one of the most beautiful places in the country. Overshadowed by the famous Petra and adventure-offering Wadi Rum, it reminds of a different part of Jordan's history.
From the first century AD Jordan was part of the Roman empire and Jerash grew into one of the most important cities in the area. For centuries it was a rich trade centre which resulted in lots of big and beautiful monuments.
An earthquake in 749 AD destroyed most of the town, but what is left is still very impressive. You enter the area through the majestic Hadrian's Arch. The first highlight is the oval plaza, a unique square surrounded by hundreds of columns. The column lined main street leads to the nymphaeum, the temple of Artemis and one of the big Roman theatres, which are still used for summer festivals.
Make sure to leave the street and climb up some of the many stairs leading to the more hidden ruins up the hill. The views from here over new and old Jerash are breath-taking!
The best time to visit is in the late afternoon, when the sandstone glows orange in the light of the setting sun.
As it is only an hour's drive from Amman, you can easily visit Jerash as a day trip. You should plan at least 2-3 hours to visit the ruins as there really is so much to see.
Recommended by Eva from Not Scared of The Jetlag
Dana Biosphere Reserve, Jordan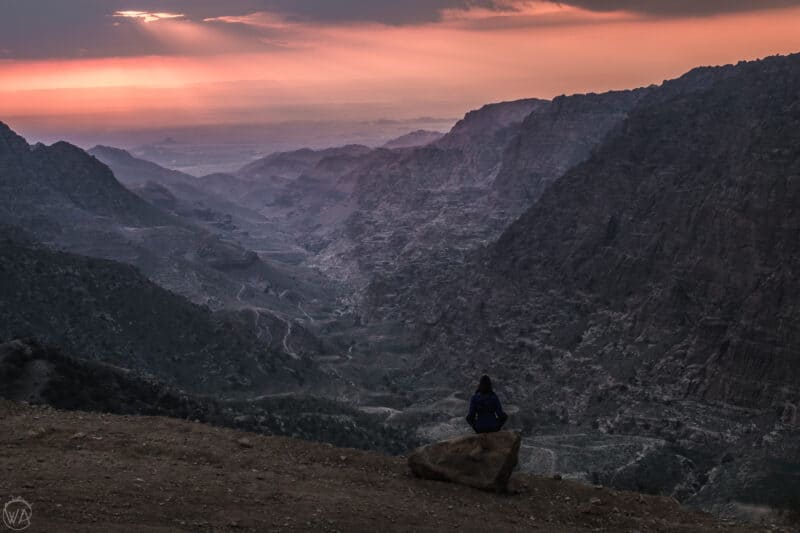 Dana Biosphere Reserve in Jordan, it's a well-kept secret. The biggest nature reserve in the country, covers the area of around 300 square kilometers, which is similar to the size of Malta. It's the only place in Jordan where you can encounter four different biogeographical zones, together with rare plants and animals such as sand cats or Syrian wolves.
Apart from the natural beauty, Dana is a great place for hiking with the treks ranging from short, few-hour hikes to multi-day adventures.
During your walks you will be able to explore the interesting systems of wadis and mountains extending from the top of the Rift Valley to the desert of Wadi Araba, with the elevation drop reaching 1600 meters.
Dana made it to the tentative list for the UNESCO Heritage site, due to its historical, natural, biological and geological importance. Apart from Petra, Dana is also the most important archeological complex in southern Jordan.
Sitting in a shadow of other Jordanian attractions, the area of rich biodiversity, history and natural beauty doesn't often make it to tourists' itineraries. Thanks to that, it offers peaceful time spent in nature as well as gives you the opportunity to explore the local way of living. Even though Dana Reserve is not very frequently visited by tourists, the main village – Dana Village is well equipped for travelers with guest houses, hotels and small restaurants.

Contributed by Aga from Worldering Around
Wadi Mujib, Jordan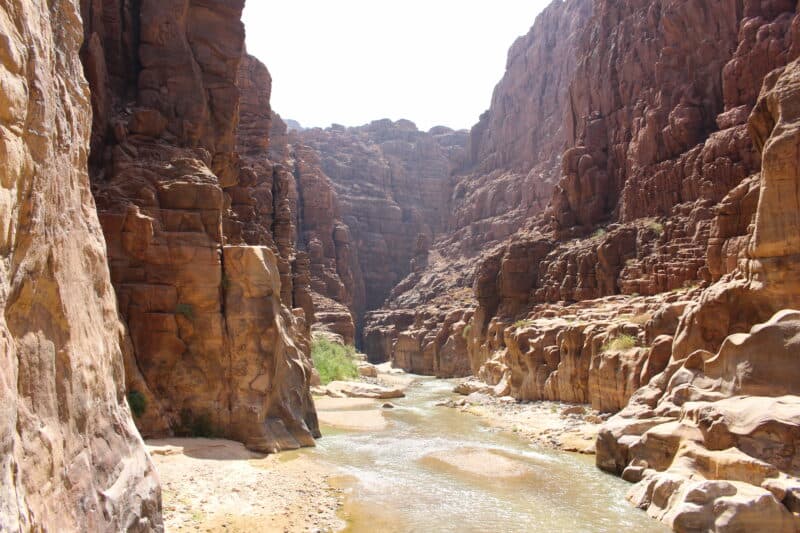 Wadi Mujib is one of the best hidden gems in Jordan. The country famous for the Dead Sea and rock temples of Petra has much more to offer, yet tourists rarely make it to the other sights.
Wadi Mujib is an attraction you can easily add to your Jordan itinerary, as it's right next to the Dead Sea. You can get there in 30 minutes from the Dead Sea resorts. Nearby towns are Madaba and Amman.
It is a must-do for adventure lovers. You can do the most beautiful hikes in this area, but make sure to check in advance if they're all open, as some of them are closed part of the year.
One of the best – and easiest – hikes in Wadi Mujib is canyoning down the Siq Trail. You'll be swimming and walking down a beautiful gorge, filled with waterfalls and rapids. Some of the other three hikes also include some waterfilled gorges, but they will mostly bring you to beautiful mountain areas.
You could hire a guide, but the Siq Trail is easy and safe enough to do it by yourself. The more difficult parts have ropes or even steps to use. Guides are mandatory for the other hikes though.
Contributed by Maartje & Sebastiaan from The Orange Backpack
Wadi Damm, Oman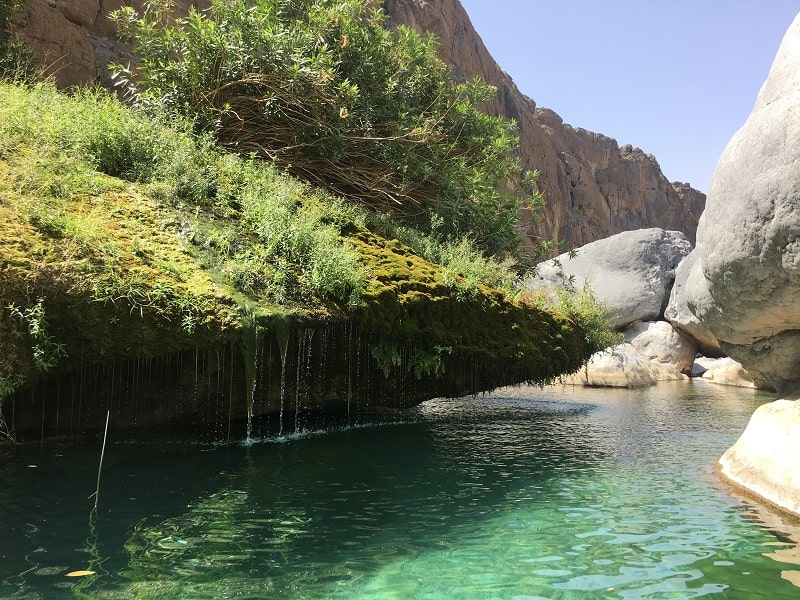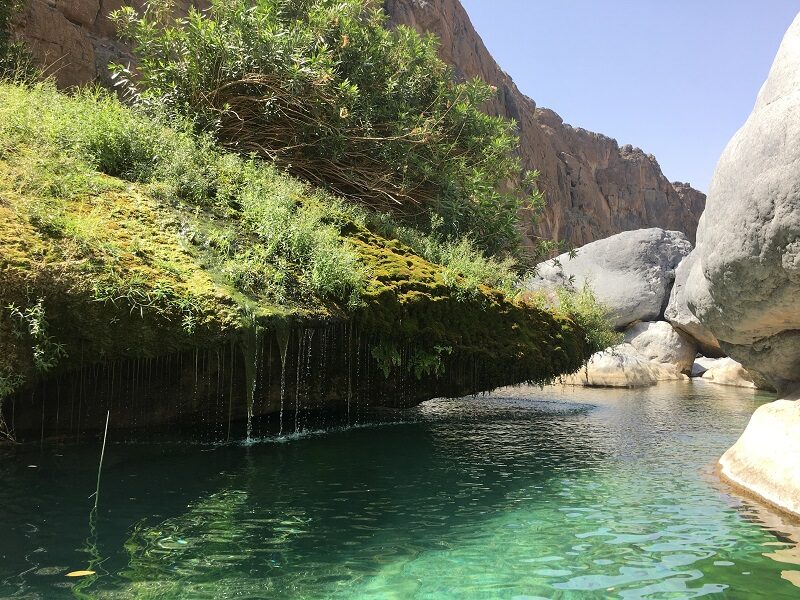 Wadi Damm is a hidden gem in Oman and one of the highlights of our Oman road trip. This little paradise can be found in the mountains near the Beehive Tombs Al Ayn. From the parking lot, it's about a 45-minute hike to reach Wadi Damm. The path to get here leads along the water and over large rocks.
Once you reach this secluded crystal-clear pool, you'll see a beautiful low waterfall with a mossy curtain. We went for a swim in the fresh water and had a little picnic on the rocks. It goes without saying but please make sure you pack out your trash to keep this place as pristine as it is now.
To reach the parking lot take the Wadi al Ayn Road from Ablah, past the Beehive Tombs to the tiny village Al Matabbah. There is a mosque on your right hand just before the roundabout. Continue on the same road (so straight ahead) until you see a small parking lot and a sign saying 'Rock Arts and Inscriptions'. This is where your hike starts!
As always, take care when hiking in a wadi. Flash floods can occur so check the weather forecast before setting out on this hike. Also, as this is Oman it can get very hot. Be sure to bring a large bottle of water, apply plenty of sun cream and wear a hat.

Contributed by Lotte from Phenomenal Globe
Nizwa Fort, Nizwa, Oman
Nizwa Fort in Oman is one of the most-visited and well-known landmarks and hidden gems in the Middle East. It is just over an hour and a half's drive from Muscat. The Fort of Nizwa took almost 12 years to complete in the 1650s by Imam Al Sult bin Malik Al Kharusi. Indeed, the historical fort features five different display spots, including Exhibition Halls, Date Store, Armoury, Ablution Room, and Courtyard. The most special thing about its attraction is the fortress, where the data engraved inside, sheds an engaging detail on the impact and significance of the fortification. Plus, on Fridays, there is one more unique sight to look as local people bring their crowds of sheep, goats, and camels to march there. The souq close by additionally gives a fantastic opportunity from a broad scope of souvenirs to choose from there.

However, make sure to visit the fort during its opening time (8 am to 6 pm), except closing between 11:30-1:30 on Fridays. Before visiting, it's important to dress modestly. Being a Muslim realm, men usually wear the Dishdasha, along with a muzzle, whereas the women wear a full-length abaya and hijab, covering their whole body.

One of the easiest ways to reach Nizwa Fort is Road 21, the main road going through Nizwa, where the fort is indicated. Additionally, the ONTC operates buses to-and-from Muscat daily twice. The route to Nizwa Fort generally takes around 1.5-2.5 hours drive. Besides that, you can hold at the traditional camps or the Star emirates apartments, a great place to stay near the Nizwa fort.

Contributed by Paulina from Paulina On The Road
Green Planet, Dubai, UAE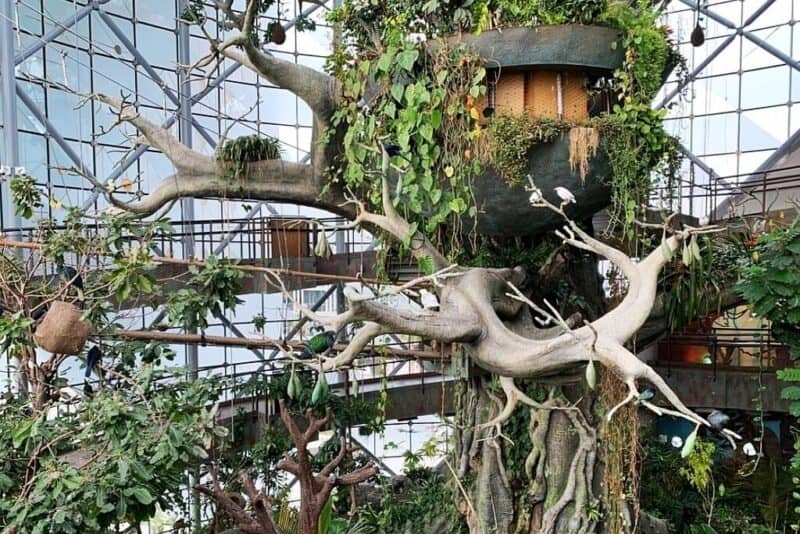 You've heard of doing a Dubai desert safari and have probably planned it in your Dubai itinerary too. But have you heard of the tropical rain forest in Dubai? Located in City Walk along the Al Wasl Road, is an attraction that'll amaze you! The Green Planet by Meraas. It is one of the most fun things to do in Dubai, that you have to experience while in the city!
The Green Planet is a one-of-a-kind biodome that artificially recreates a tropical rain forest ecosystem. This ecosystem along with several other conditions created inside the bio-dome ensures that the site feels like home to more than 3000 rare species of plants and animals.
A regular tour of the place costs 95 AED for an adult and 75 AED for a child. The tour is an immersive and interactive experience that'll keep you hooked for a couple of hours. From tree porcupines and sloths to exotic species of birds, reptiles, insects, and plants. The vertically designed rain forest is a real treat for wildlife lovers and kids.
In the tour, you get to explore 4 floors of the rain forest, each with distinct features of a Puerto Rico rainforest. For an extra amount, you can also have interactive personal experience with the animals, where you meet and feed the animals. One of the favourite interactive activitives at Green Planet is the sloth experience.
You can get to the Green Planet by car, it's a 10-15 minute drive from the centre of the city depending on traffic. By bus, numbers 12, 15, 28 or 81 drop you near the venue. By metro, M1 line drops you to the nearest Burj Khalifa Metro Station but it is quite a walk from the station! Alternatively you can get a short taxi from the metro.
An ideal place to stay nearby is Leva Hotel and Suites. Make sure you don't miss visiting the Green Planet, as it's a hidden gem in the Middle East!
Contributed by Vaibhav Mehta from The Wandering Vegetable
Ras Al Khor Animal Sanctuary, Dubai, UAE
Most visitors to Dubai come for the glittering skyscrapers, incredible shopping and general glitz and glamour. But there's a hidden gem attraction in the middle of the bustling city where you can find some peace and quiet in nature – and see some of Dubai's most elegant residents.
The Ras Al Khor Wildlife Sanctuary is only a few minutes' drive from Downtown Dubai and is home to nearly 70 different species of birds. The wetlands here are a natural habitat for Dubai's flamingos, and you'll find both resident birds here as well as birds who are passing through on their way to other habitats in Oman or Abu Dhabi.
There are a number of hides at Ras Al Khor where visitors can see the flamingos. It's free to visit, and the hides are equipped with binoculars. The best time to visit is feeding time, which is usually at around 9am and 3pm. There's no air conditioning in the hide, so during the summer it's best to visit first thing in the morning to avoid the searing heat.
To get to the flamingo hides at Ras Al Khor, it's best to drive or take a taxi from Downtown Dubai. The journey will take around 20 minutes. Be ready to give your driver directions though, as Ras Al Khor is relatively unknown even in Dubai. There's a car park just off the highway.

Contributed by Helen on Her Holidays
Qasr Al Watan, Abu Dhabi, UAE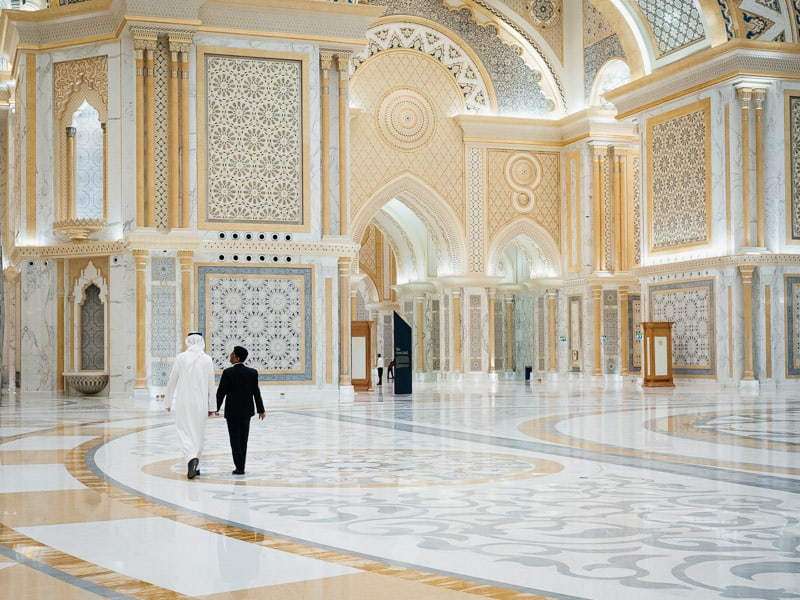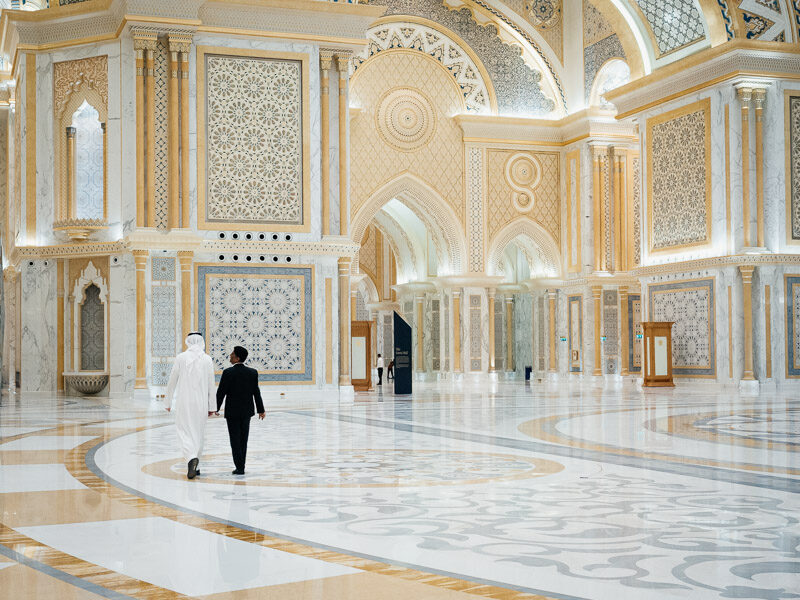 The opulent Presidential Palace and home to the President and ruler of the UAE has only been open to the public for short period of time. Since March 2019, the Qasr Al Watan Wing of the Presidential Palace and the surrounding gardens were opened to the public for the first time ever, allowing tourists to take a glimpse inside the palace walls and learn about modern Emirati and Arabian politics and culture.
For tourists visiting Abu Dhabi, The Presidential Palace tends to be overshadowed by the famous Sheikh Zayed Grand Mosque. But this is exactly what makes the Presidential Palace one of the best hidden gems in the Middle East! It also a must-do activity an anyone's Abu Dhabi itinerary.
Located next to the Emirates Palace Hotel, the Presidential Palace features an opulent Great Hall (see picture) finished with the intricate marble tiling and gold trim that is very familiar throughout the UAE. Some other rooms you can tour in the palace is the Qasr Al Watan Library, where you'll learn about the UAE rulers and the the different functions of the palace, as well as the Presidential Banquet Hall, which hosts state dinners and international diplomats on a regular basis. There is also an interactive light show held at the palace every evening.
The Qasr Al Watan Wing is open daily from 11 am to 10 pm. Entry to the palace and gardens is 60 AED for adults and 30 AED for children, or 25 AED for adults and 12 AED for children to see the gardens only. Paying the extra money to see inside the palace itself is absolutely worth the price

Recommended by Amanda from Fly Stay Luxe
Beehive Tombs, Al Ain, UAE
The United Arab Emirates is well-known for its glitz and glam. You're probably picturing ultra tall modern buildings, shopping and entertainment. Did you know that there's a UNESCO World Heritage site hidden away in the Arabian Desert?
Most tourists only venture into the desert to enjoy a commercialized 'Desert Safari' experience. Although, there's much more to explore!
The Jebel Hafeet Beehive Tombs are about an hours drive from Abu Dhabi. They're located in the Al Ain region that's known for the Al-Jahili Fort and the Jabel Hafeet Mountains.
You can get to this region by organized tour or car rental.
The Jabel Hafeet Beehive Tombs are a UNESCO World Heritage site. They date back to 3,000 BC! At Jabel Hafeet, you can explore the archaeological site and view these historic burial domes.
There are over 500 beehive tombs at this awesome site! Each tomb was designed for 2-5 people. Some of the tombs were even found to still contain skeletal remains. Interesting relics from the Bronze Age and Iron Age were also found here.
Visitors are able to come up to the tombs, and even enter them! This is certainly one of the most unique things to do in the United Arab Emirates and Middle East.

Contributed by Valentina from Valentina's Destinations
Byblos, Lebanon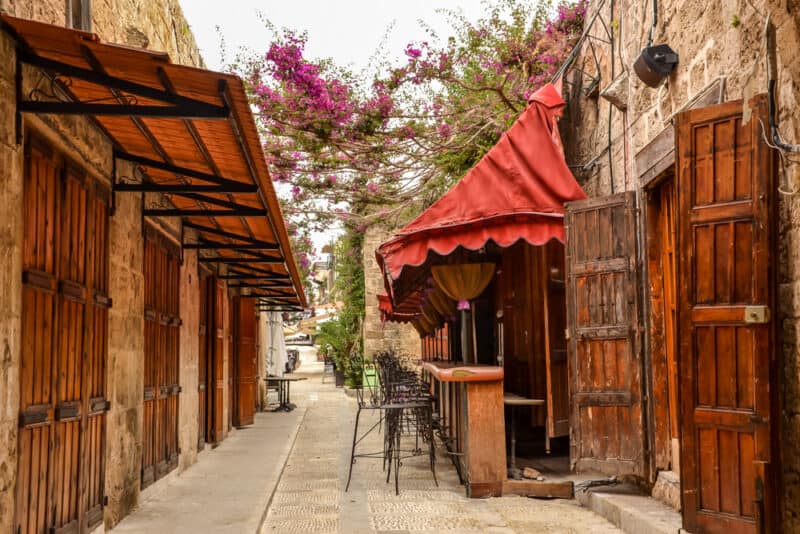 Byblos, located only 30 km away from Beirut, the capital of Lebanon, and is such a gem. The town is known as one of the oldest continuously inhabited cities in the world. The first settlers came here between 8000 BC and 5000 BC.
Today Byblos is a sleepy little town that is packed with attractions. Don't miss the 12th-century Crusaders Castle. It's mostly in ruins now but visiting it is like stepping back in history as the castle is surrounded by ancient ruins like King's Well, The Royal Tombs or The Roman Theatre. This is also one of the best viewpoints of Byblos and beyond, including the Mediterranean coast.
The souk in Byblos is one of the prettiest you will ever see! The charming lanes are full of souvenir shops, cafes, and restaurants that invite you to stop and relax. The area was recently renovated and is really charming with cobbled lanes, hidden corners and tree branches above. From there you should head over to the harbor. What used to be a busy ancient port is now a laid-back place, with fisherman's boats intermingled with fancy yachts and a few restaurants serving delicious food. Fortunately, getting to Byblos is really easy. From Beirut you can take one of the frequent minibuses heading towards Tripoli and after around one hour you will arrive at Byblos.
Recommended by Kami from My Wanderlust
Tripoli, Lebanon
Tripoli is the second-largest city in Lebanon after Beirut and is well-known for its Mamluk-style architecture, although there are also some buildings from the Ottoman and Crusader eras. You can get a taste of all three of these architectural styles at the imposing fortress known as the Citadel of Raymond de Saint-Gilles. Originally built by one of the leaders of the First Crusade, it was rebuilt and reused in subsequent eras and now boasts three gateways – one Crusader, one Mamluk and one Ottoman. The various souqs (markets) in Tripoli, each specializing in a different products. Gold, silver, soap and more, are fun to wander around!
Due to its large Sunni Muslim population, Tripoli doesn't have anything like the nightlife on offer in cosmopolitan Beirut. However, it does have some fantastic coffee shops and restaurants. Hummus and foul is a popular breakfast dish here, and a great option for vegetarians and vegans in Lebanon. Tripoli is also famous for its sweets, and families will often make the trip up here from Beirut on a Sunday just to enjoy the Middle Eastern sweets at the Rafaat Hallab confectionery.
Tripoli is about 80 kilometers north of Beirut. Buses leave when full from Charles Helou station in Beirut, or you can take a shared taxi.
Contributed by Wendy Werneth of The Nomadic Vegan
Balbeek, Lebanon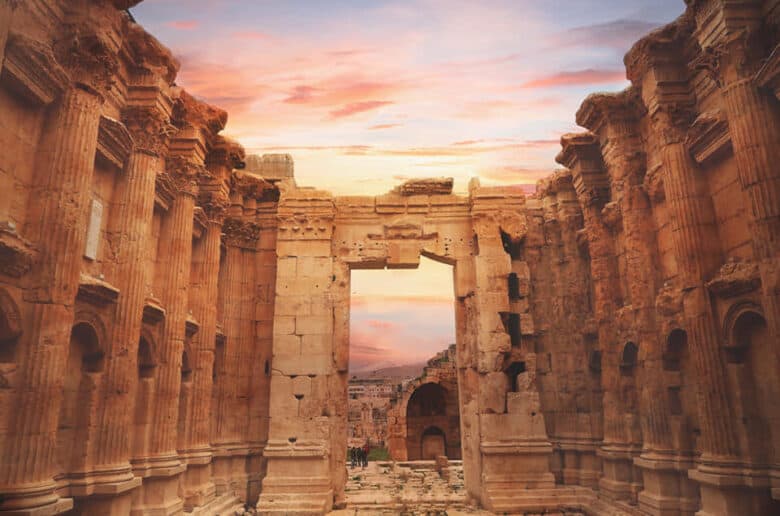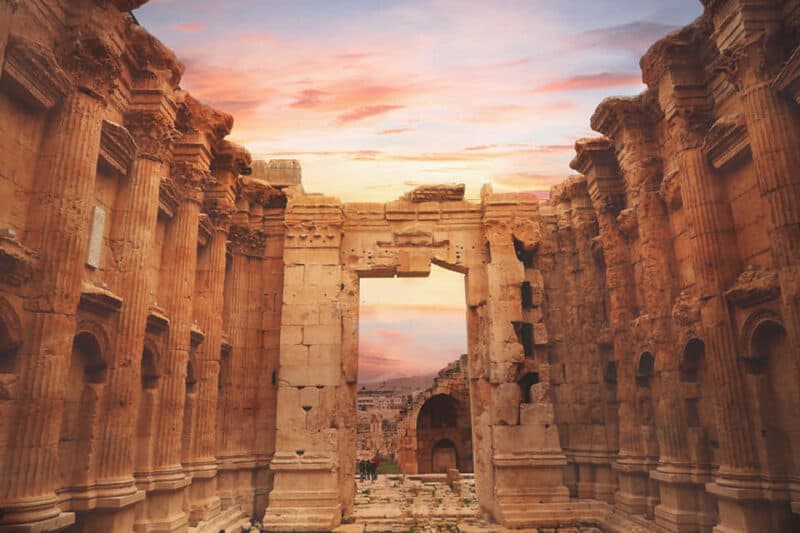 Baalbek is the hidden gem in the Middle East you have been looking for. Tucked away in the Bekaa Valley, Baalbek is an ancient city that once was the epicentre of trade and culture in the area. The archaeological site currently holds a few of the most beautiful temples in the region while more is currently being excavated. Highlight of a trip to Baalbek – also known as Heliopolis, has to be the Temple of Bacchus with its beautiful roman columns.
It's also interesting to have a look at the largest monolith made by man that is currently resting in the quarry just outside Baalbek. It was from this quarry stones were extracted in order to construct the temples and the city.
The best way to travel to Baalbek is via a tour. Baalbek is currently in a red zone as it is located in a Hezbollah controlled area. It is, however, incredibly safe to visit as long as you take a tour up to the Bekaa Valley. Most tours will also take you to Anjar, another ancient city close to the Syrian border, and a winery for some free wine tasting. Tours can be quite pricey but a visit to Baalbek is more than worth it! Especially since you will get a great tour throughout both Baalbek and Anjar.
Recommended by Josh & Lieze from Glitter Rebel
Shah Mosque, Isfahan, Iran
Shah Mosque is situated in Isfahan, Iran in general is one of the hidden gems of the Middle East. It's located on the south side of Naghsh-e Jahan Square, a UNESCO World Heritage Site, and was built under the order of Shah Abbas I of Persia during the famous Safavid dynasty with completion in 1629. It was renamed the Imam Mosque after the Revolution in Iran.
The Naqsh-e Jahan Square Mosque is considered to be one of the masterworks of Persian architecture from the Islamic era. Its splendour is easy to see for all those who visit it, with its famous seven-colour mosaic tiles that resemble stalactites and elegant calligraphic inscriptions.
While very much a hidden gem to those outside of Iran, within Iran it is somewhat more famous and even depicted on the Iranian 20,000 rials banknote. The architectural design emphasizes a Persian identity, with a distinct four-iwan style that gives the Mosque a square-shaped, central courtyard with grand entrances at each side, giving the supposition of being gateways to the holy world.
The scale of the Mosque is hard to fathom from its entranceway, but 18 million bricks and 475,000 tiles are used within. There are three domes, four minarets and countless moments that will take your breath away. One of the top things to see in Iran if you go early in the morning, you often can enjoy having the entire Shah Mosque to yourself. Plan to spend 1-2 hours walking around, taking pictures and experiencing this incredibly majestic and monumental work of art.
Contributed by Jordan from Inspired by Maps
Garmeh, Iran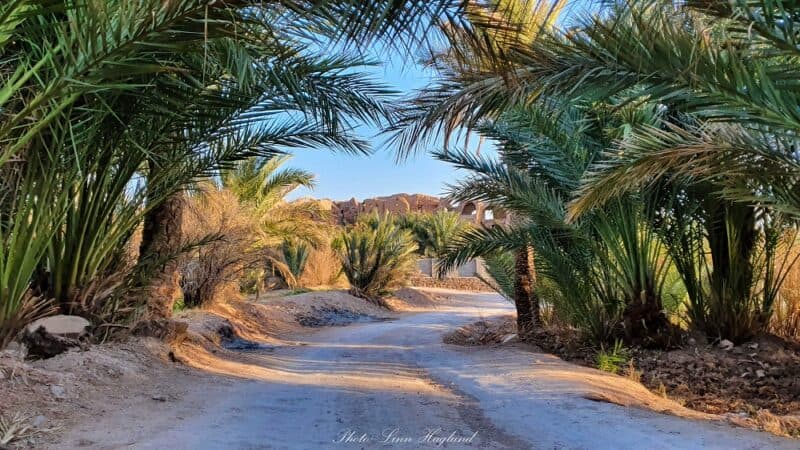 In the middle of the Dasht-eKavis desert in central Iran, there is a small desert oasis called Garmeh. There is only one guest house there, managed by a local and his wife. This once abandoned oasis was bought back to life again after they decided to go back to his village and create a business. This in turn created work for other locals. Now the little oasis is slowly growing into life.
You can still wander around date trees and old clay structures that are falling apart. There is a natural spring and beautiful views from the mountain behind Garmeh. This is definitely a gem worth adding to your Iran itinerary.
While in Garmeh, don't miss out on an authentic desert tour with the owner, Maziar. You can go on a day tour or an overnight tour. Either will be totally worth it! He will show you around different places in the desert, like a canyon and a salt river, cook amazing food over the fireplace and you can enjoy drinking tea around the fireplace under the stars after an unforgettable desert sunset.
Even for a country like Iran where not too many tourists choose to adventure, Garmeh is slightly off the regular tourist route and guaranteed to give you an authentic experience as long as you don't mind simplicity.

Contributed by Linn Haglund of Brainy Backpackers
I hope this list of amazing gems helps you discover more of the Middle East. There are so many amazing places, it's was difficult to mention them all! If you love these, make sure to subscribe to our newsletter or follow me on Instagram as I'll cover even more hidden gems in each of the individual countries!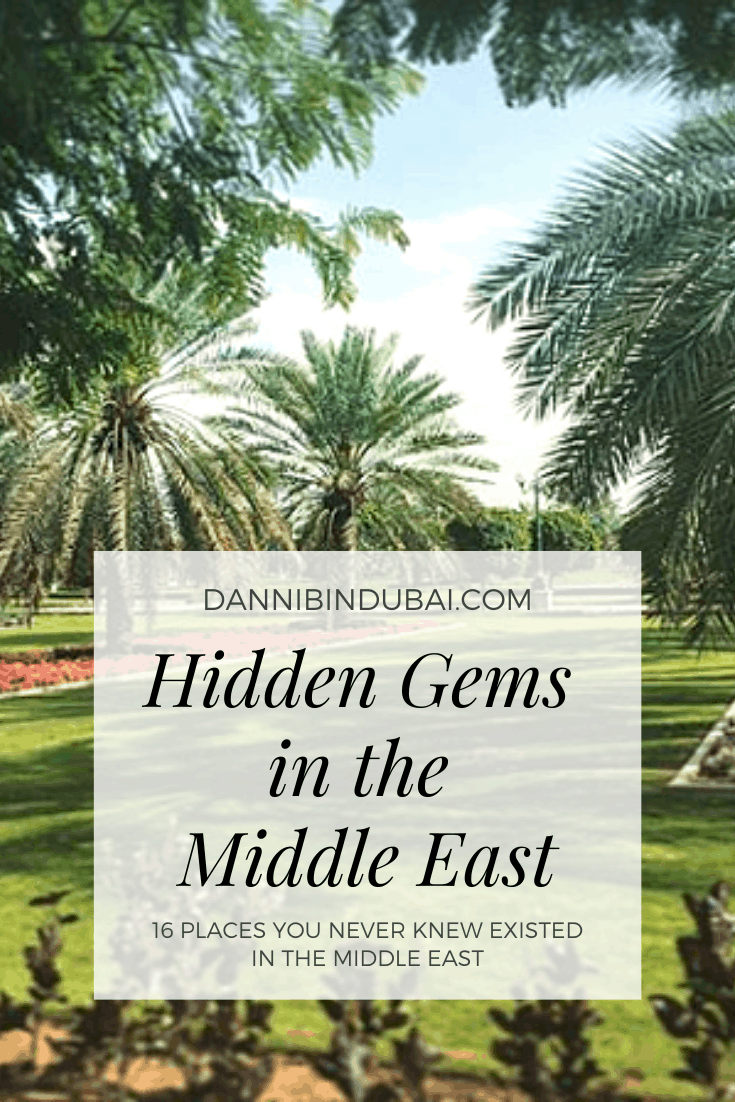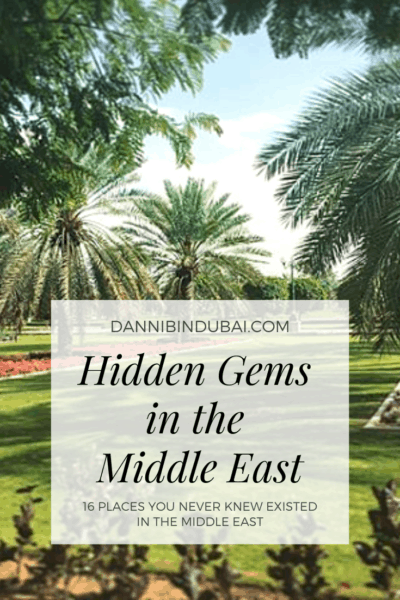 Enjoyed this article? Give it a share!