Wondering what's the difference, Emirates vs Etihad. Which airline is better and which one should you fly with? Emirates is one of the most known international airlines in the world and Etihad in recent years has also made a name for itself.
Both offer a stopover in the UAE and focus on delivering a luxury airline experience on long-haul flights, with their ideal location in the Middle East. Bridging Europe and Asia. You may also be wondering, which is a better airline in economy or business?
As a long-time UAE resident who's flown on both for the last 10 years. I'll share not only the facts so you can make an informed decision about who to fly with but also my experiences regularly flying with them both. So before you spend your hard earned money, I've got you covered on which airline will get you the most bang for your buck!
If you've never flown with Emirates or Etihad, you might be curious about what it's like to fly with them. Is it worth having a stopover in Dubai or in Abu Dhabi? If you've flown with one, then you might be wondering how the other compares. What are the differences? What are the pros and cons of each airline?
So let's begin with Etihad vs Emirates.
✈️ Check prices for flights to Dubai ✈️
What is the difference between Etihad and Emirates airlines?
Ok let's first start with, what are the differences between Etihad and Emirates airlines. Emirates and Etihad are both airlines based in the United Arab Emirates (UAE) but here are some key differences between the two:
Etihad operates from Abu Dhabi
Emirates operates from Dubai
Emirates fly to 135 different destinations
Etihad fly to 68 different destinations
Emirates currently operate Airbus A380 and Boeing 777, with the A350 plus 787 being added from 2024 & 2025.
Emirates operates a larger amount of A380s
If you're planning to buy business or first class to experience the legendary bar in the sky, which both airlines offer on their A380s, then you'll need to check the route. As Etihad covers a smaller amount of destinations with the A380 and it's currently unknown if they'll bring back the routes operated before 2020.
From Summer 2023, Etihad will be operating the A380 from Abu Dhabi to London and vice versa on selected flights. Currently this is their only route operating the A380 compare with Emirates 48 destinations.
Both airlines aim for exceptional customer service and pride themselves on being family focused. Etihad even offers an extra such as a flight nanny to give parents a break on long haul flights.
Emirates however has a larger fleet in service, with more destinations covered and the A380 is seen as one of the most luxurious planes to fly on.
Baggage allowances and Extras – Etihad vs Emirates
Baggage allowances can vary depending on the route and ticket class bought, below are the most common baggage allowances. Both airlines allow for multiple bags up to the weight but each bag must not exceed 32kg per bag, Americas & Africa however are based on pieces of luggage.
Emirates
Etihad
Economy
7 kg – 1 piece (Cabin)
20 kg (Special)
25 kg (Saver)
30 kg (Flex)
35 kg (Flex plus)
7 kg – 1 piece (Cabin)
20 kg (Sale)
23 kg (Value)
30 kg (Choice)
35 kg (Choice plus)
Economy (US, Americas & Africa)
7 kg – 1 piece (Cabin)
23 kg / 50 lbs – 1 piece (Special)
23 kg / 50 lbs – 2 pieces (Saver, Flex & Flex Plus)
7 kg – 1 piece (Cabin)
23 kg / 50 lbs – 2 pieces
Economy (US, Americas to Europe)
7 kg – 1 piece (Cabin)
23 kg / 50 lbs – 1 piece (Special & Saver)
23 kg / 50 lbs – 2 pieces (Flex & Flex Plus)
N/A
Cost of extra legroom
$55 to $205 USD
$30 to $180 USD
Preferred seat selection
$10 to $30 USD
$15 to $135 USD
Premium Economy
10 kg – 1 piece (Cabin)
35 kg
23 kg / 50 lbs – 2 pieces (US etc)
N/A
Business
7 kg – 2 pieces (Cabin)
40 kg
32 kg / 70 lbs – 2 pieces (US etc)
5 kg (Personal)
12 kg total – 2 pieces (Cabin)
40 kg
32 kg / 70 lbs – 2 pieces (US etc)
First
7 kg – 2 pieces (Cabin)
50 kg
32 kg / 70 lbs – 2 pieces (US etc)
5 kg (Personal)
12 kg total – 2 pieces (Cabin)
50 kg
32 kg / 70 lbs – 2 pieces (US etc)
Infants
10 kg
23 kg – 1 piece (US etc)
10 kg
23 kg – 1 piece (US etc)
Cost of extra weight or extra bag
$15 – $50 USD per kg
$100 to $250 USD per piece
$24 – $54 USD per kg
$270 to $396 USD per piece
Overweight charge
$75 USD
Not allowed
Oversize charge
$75 USD
$40 – $60 USD
Overweight & oversized
$150 USD
Not allowed
Overall, there isn't a huge difference between the two carriers and both provide a luxury airline experience. Emirates is more expensive for extra legroom while Etihad is more expensive for extra luggage or extra weight. Etihad does not accept overweight items, over 32kg, whereas Emirates will accept them for a charge of $75 USD.
Being so similar and in the same region, it's natural the two are seen as competition for each other. They pretty much match each other on almost everything, just don't go over your luggage weight. Both are pretty expensive to add a bag compared with other airlines since it's based on kg.
Winner: Draw
Stopping in Dubai vs Abu Dhabi
Both cities offer modern airports with plenty of lounges and facilities, including paid lounges for those flying economy who wish to make their stopover more comfortable. Both also have a decent amount of shops, restaurants and cafes to choose from.
Equally, both cities offer luxury hotels, unique experiences and fun days out. However, Dubai is a larger and busier city with more restaurants, events, cafes, attractions and shops. Abu Dhabi is better overall for families and has some great attractions that compete with Dubai.
Things to do in Dubai
Take a tour in Dubai
If you're limited on time, a tour can be the perfect way to see many sights all in one go. With an experienced guide, you won't waste the little time you have trying to find places and with Dubai being so huge, this can end up wasting an hour or more!
Dubai Airport
Dubai Airport features 3 terminals. When you are flying with Emirates in Dubai, you'll fly in and out of the largest and best terminal which is Terminal 3. It is one of the largest terminals in the world.
Useful information about Terminal 3 at Dubai airport:
Dubai airport is the 17th best airport in the world by Skytrax
Terminal 3 is 1,713,000 sqm
3 concourses with over 64 gates
160 check in counters
70 shops made up of 32 brands including a huge duty free
29 cafes featuring 9 different brands
22 restaurants and food outlets
Marhaba Lounge
Emirates Business Lounge
Emirates First Lounge
Jumeirah Airport Lounge (Arrivals)
If you travel a lot, it's definitely worth getting Priority Pass. This will give you access to airport lounges across the world and with the increases in prices of getting a coffee or a meal at the airport, it actually saves me money! Plus the comfy seats. Who invented airport seats, sitting for an hour on those is horrendous.
Even if you don't travel a lot, buying a day pass is worth it. Especially on long flights! I love having a refreshing shower before I get on a plane or when I land in London at the arrivals lounge. Plus enjoying a good breakfast before travelling for two hours to my family.
You can also buy Emirates Lounge access but it's expensive compared to other lounges at $150 USD for Skywards members and $175 USD for none Skywards members. First Class lounge access is $250 – 300 USD. All prices are plus taxes, so that's an extra 5% in the UAE.
You do get a much larger selection of food and alcohol but it honestly isn't that different to other lounges except being bigger. So unless you really must drink vintage champagne, then I personally wouldn't splurge for this but opt for one of the other lounges instead.
Emirates Business Lounge & First Class Lounge
If you are flying business or first, or decide to pay for lounge access in Dubai. These are the facilities offered in the Emirate's airport lounges.
Emirates Business Lounge
Middle Eastern & Western Buffet
Asian Buffet
Dessert Buffet
Healthy Food Buffet
Coffee Station
Costa Coffee Barista Bar
Main Bar
Champagne Bar
Shoe Shine
Showers
Prayer Room
Nap / Quiet Areas
Privacy Work Pods
Business Center
Smoking Lounge
Kids Play Area
Baby Change
Spa (Paid)
Emirates First Lounge
Gourmet International Buffet
Sushi Buffet
Al Carte Dining
Coffee Station
Bar with Champagne
Cigar Bar
Smoking Room
Shoe Shine
Showers
Prayer Room
Duty Free Shops
Nap / Quiet Areas
Privacy Work Pods
Business Center
Spa (15 minute treatment free)
Direct Boarding
Things to do in Abu Dhabi
Visit Lourve and admire the art
Wander around Sheikh Zayed Grand Mosque
Enjoy a coffee at Emirates Palace
Explore Qasr Al Watan
Take the kids to Warner Bros
Splash around in Yas Waterpark
Soak up the sun at Abu Dhabi Corniche
Want to know the ideal way to spend 48 hours in Abu Dhabi from a local, check out my previous article.
Take a tour of Abu Dhabi
The Abu Dhabi Grand Mosque is close to the airport however the other parts are further away in the Abu Dhabi main centre. So taking a tour saves you the cost of taxis or the hassle of trying to figure out public transport.
Abu Dhabi Airport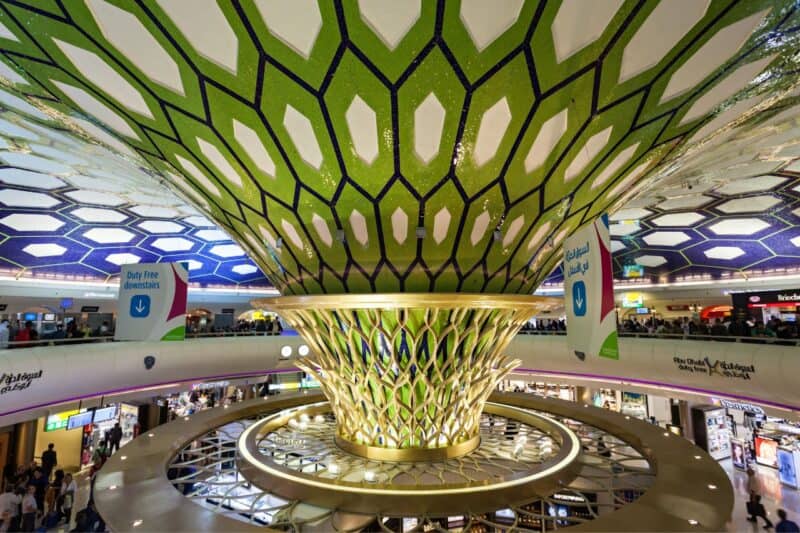 Abu Dhabi also features 3 terminals but the airport is quite a bit smaller than Dubai International. If you're flying with Etihad you'll fly into and out of terminal 3.
Useful information about Terminal 3 at Abu Dhabi airport:
Abu Dhabi airport is the 87th best airport in the world by Skytrax
Terminal 3 is 75,000 sqm
32 gates
15 different stores plus a good sized duty free
5 cafes
10 restaurants and food outlets
Etihad Premium Lounge
Etihad First Class Lounge
Etihad US Premium Lounge
Sadly there isn't a paid lounge option in Terminal 3 other than paying for Etihad which is $120 USD. Though it does seem you are able to go to Al Dhabi lounge in Terminal 1 and access this lounge if you have Priority Pass.
They used to allow those with Priority Pass access to the lounge in the VIP terminal which was a really cool experience if you didn't mind checking in your luggage and then venturing back out to the VIP terminal.
Staff would take your passport, get your immigration stamps and bring it back to you while you sat in the lounge. You even got a car that would drop you at your terminal. Sadly this isn't available anymore.
I don't think many people used it since it required you to know about it before going past security and staff seemed a little bit surprised when I turned up!
After some digging, I managed to find it. It's called the Abu Dhabi Diamond Lounge, sadly it isn't clear if it's open and there are many dodgy-looking sites selling access. So I wouldn't advise buying from these. If I manage to find anything else out, I'll update the article.
Etihad Business Lounge & First Class Lounge
Etihad Premium Lounge (Business)
International Buffet
Dessert Buffet
Bar with Champagne served
Coffee Station
Shoe Shine
Showers
Prayer Room
Privacy Work/TV Pods
Business Center
Smoking Lounge
Kids Play Area
Baby Change
Cigars (Paid)
Spa (Paid)
Etihad First Lounge
Gourmet International Buffet
Al la Carte Dining
Main Bar serving Champagne
Smaller Bar
Shoe shine
Clothes pressing service
Showers
Prayer Room
Relaxation area
Coffee station
Cigar Lounge and smoking room
Kids Play Area
Baby changing facilities
Spa
One benefit of Abu Dhabi Airport is that it's smaller, Dubai Airport can feel like an adventure just to get around it. Even the business class or first class lounge is so huge that you might get lost or miss parts. In Abu Dhabi, you won't have that problem and you can have a good look around everything before your flight.
In terms of picking a winner, it has to be Emirates. Stopping in Dubai and having so much choice, definitely makes you feel spoilt. On top of this, their business lounge is incredible and better than a lot of First Class lounges, maybe even their own!
Winner: Emirates
Entertainment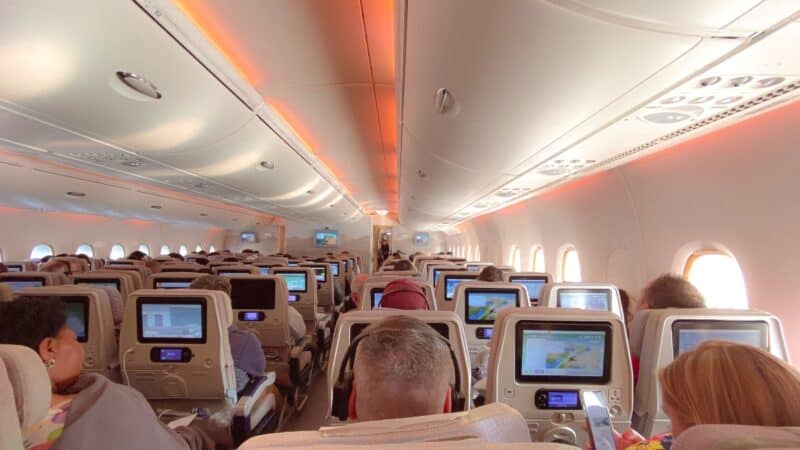 Both offer games, movies, television and music including live TV. Emirates however offers a much wider selection and many new movies, often winning the number 1 spot on Skytrax for it's Entertainment.
Emirates has one of the most generous scene sizes in the industry:
| | | |
| --- | --- | --- |
| | Emirates Screen Size | Etihad Screen Size |
| Economy | 13.3″ | 11.8″ |
| Premium Economy | 13.3″ | N/A |
| Business | 23″ | 18.5″ |
| First | 32″ | 24″ |
Both airlines have plug sockets and USB sockets, depending on the aircraft, so you can charge your devices while you're flying even if you're in economy which is great. Some of Etihad's aircraft are USB only.
In my experience when I've flown, Etihad had newer Entertainment systems. The touch screen worked really well. Whereas with Emirates I was on an older plane and the remotes were clunky and old.
Though since 2022 Emirates has started an ambitious refurbishment of their existing fleet. My most recent flight in late 2022 with Emirates was a more modern entertainment system that operated well.
Previously you were more likely to be on a newer plane with Etihad but now with Emirates' large overhaul, it's less likely you'll end up on a plane with an outdated entertainment system.
Both companies offer wifi and Etihad now matches what Emirates has to offer with a few small differences. Previously Etihad was very expensive for wifi.
| | | |
| --- | --- | --- |
| | Emirates Wifi | Etihad Wifi |
| Chat only | $2.99 – $5.99 USD* | $2.99 – $4.99** |
| Flight duration internet | $9.99 – $19.99 USD | $9.99 – $19.99 |
| Business & First | Free unlimited wifi | Free for first only |
*Free for Emirates Gold in economy **Free for all Etihad Guest members
When I used the Emirates chat-only wifi, be aware that audio notes and images or photos won't download. Also, only WhatsApp worked, other messaging apps didn't work for me.
The headphones from Etihad were really nice and felt more similar to the ones you get in business class, so this definitely was a really nice touch. Emirates over-the-ear headphones are also okay and better than earbuds, commonly given in economy, in my opinion. So overall, with its newer and increased range of movies plus recently upgraded systems. It's Emirates. Though Etihad's free chat wifi is a nice free extra.
Winner: Emirates
Food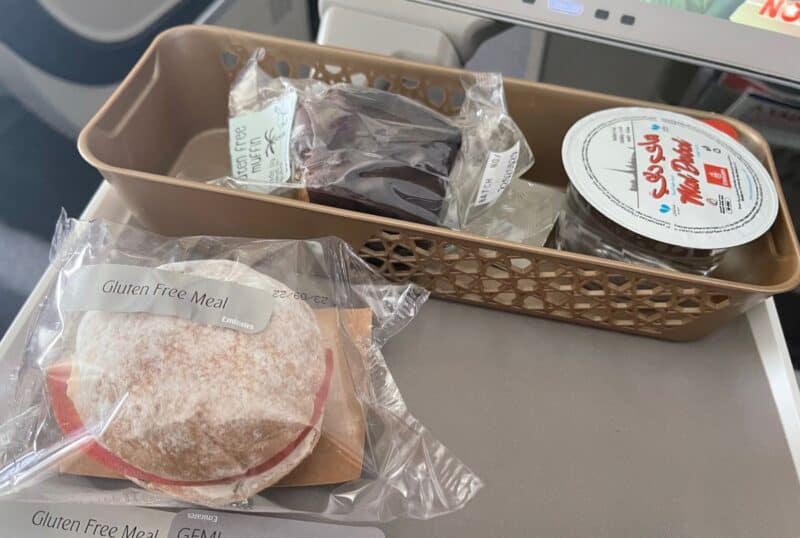 Again both are quite similar. In economy, you're provided with a menu and given two options to choose from. You also have the typical selection of both alcoholic and none alcoholic drinks available. On most flights you'll get a snack and on some you'll get another meal, depending on the duration. Both airlines include these in your ticket price.
My experience, the menu and food tasted better with Etihad. I had fish on both planes and Emirates fish was so dry I didn't bother finishing it! I've tried fish both in business class and economy with Emirates. Both times it was really dry!
Etihad's was perfectly done with nice flavouring. On the way back, I pre-orded a vegan meal and Emirates was actually slightly better than Etihad on the way back. Plus they had a lovely coconut chia pudding.
In the last few years, I've found out I'm celiac and Emirates provided a really nice gluten-free meal. For the snack, the dessert was from one of my favourite cafes in Dubai called Lime Tree Cafe. So it was wonderful to see that little touch of Dubai in their food service.
It's a close call but I think Etihad just about wins on this one, as the fish was a lot better on Etihad and despite Emirates vegan meal being really good. I don't think I can forgive them for the fish.
Winner: Etihad
Seats & Comfort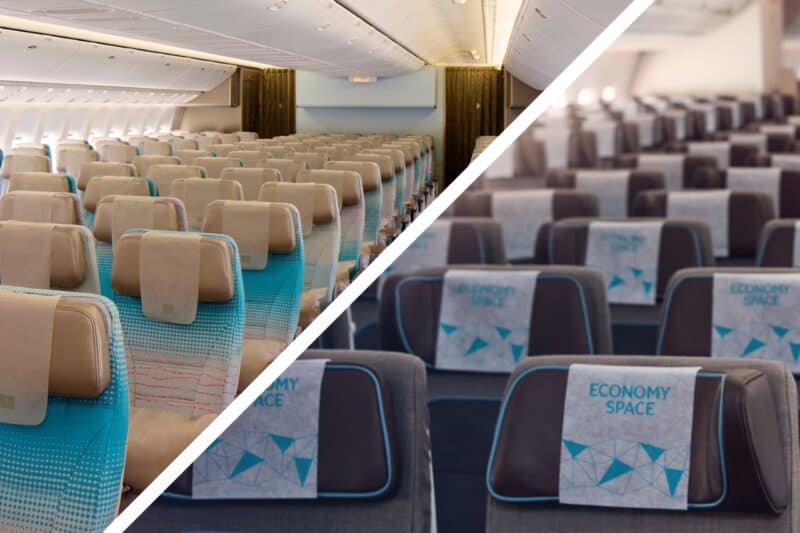 Depending on the configuration even with the same models of aircraft, you can end up with different amounts of legroom even on the same route. Emirates operates 3 kinds of A380 for instance.
For comparison of Emirates and Etihad the legroom or pitch available:
| | | |
| --- | --- | --- |
| | Emirates Legroom | Etihad Legroom |
| Economy | 81 cm – 86 cm (32 – 34″) | 79 cm – 84 cm (31 – 33″) |
| Premium Economy | 102 cm (40″) | 91 cm (36″) * |
| Business | 122 cm – 152 cm (48 – 60″) | 124 cm – 185 cm (49 – 73″) |
| First | 175 cm – 218 cm (69 – 86″) | 203 cm (80″) |
*Etihad doesn't offer Premium Economy but it has Etihad Space which is extra legroom
These are also the ranges of seat width:
| | | |
| --- | --- | --- |
| | Emirates Seat Width | Etihad Seat Width |
| Economy | 44 cm – 46 cm (17 – 18″) | 44 cm – 44.5 cm (17.2 – 17.5″) |
| Premium Economy | 50 cm (19.5″) | 44 cm – 44.5 cm (17.2 – 17.5″) * |
| Business | 47 cm – 52 cm (18.5 – 20.5″) | 51 cm – 56 cm (20 – 22″) |
| First | 52 cm – 58 cm (20.5 – 23″) | 66 cm – 76 cm (26 -30″) |
*Etihad doesn't offer Premium Economy but it has Etihad Space which is extra legroom
There are some flights that Etihad have an 18.1″ (46 cm) seat width when flying on an A320 but it would be rarer to get these wider seats than Emirates and are only used on regional flights within the Middle East.
Preferred seat or selecting your seat before check-in
Etihad has a more straightforward model, where it's between $15 to $30 USD depending on the route, to pre-select your seat in economy. It is free for those who hold silver status or above with Etihad.
If you want more legroom, called Etihad Space. This costs between $30 to $180 USD, again depending on the route.
For Emirates, if you wish to select a standard economy seat before departure. It will cost between $15 and $40 USD. They also have their "preferred seats" which are those at the front for quicker deboarding. This costs between $25 to $100, again depending on the route.
Finally, select aircraft have twin seats so you and your travel partner don't need to sit next to anyone else if you so choose. These cost between $35 and $135 USD to reserve.
Depending on the ticket you buy, some options may be free. For a Flex Plus ticket you can select a regular free or a preferred seat on the lower deck. Also Silver Skywards status can reserve a regular economy seat and Gold Skywards can reserve a preferred for free. Platinum members can reserve all four different types for free.
Emirates depending on your flight have two options for extra legroom. To choose an extra legroom seat you can pay between $55 and $250 USD or you can choose to upgrade to Premium Economy if it's available.
When I flew, it felt like there was more legroom with Etihad but as you can see from the table above, you're more likely to get more legroom with Emirates. Certain models of the 777 have 34 inches or 86 cm of pitch, which is an industry fancy word for legroom. This is one of the most generous available in economy.
I wasn't able to measure my legroom but I'm usually on an A380 to London. Etihad gave a neck pillow rather than the traditional rectangle pillow which was quite a nice touch. However, on the way back it was just a regular pillow. So perhaps this pillow isn't always given?
*On a side note in recent years on Emirates, I am always given an extra legroom seat in the emergency exit for free. I'm not sure what they put on my file but after politely asking if there was any free rows (so I could sleep) the kind ground staff gave me an extra leg room seat instead. Since then every flight I get put in the same place. So I guess it pays to be nice to the check in staff!
One thing which let Etihad down was the chairs seemed pretty worn, I'm not sure if it was the choice of fabric but they looked dated and old compared to the newer interiors of the aircraft.
Winner: Emirates
Customer Service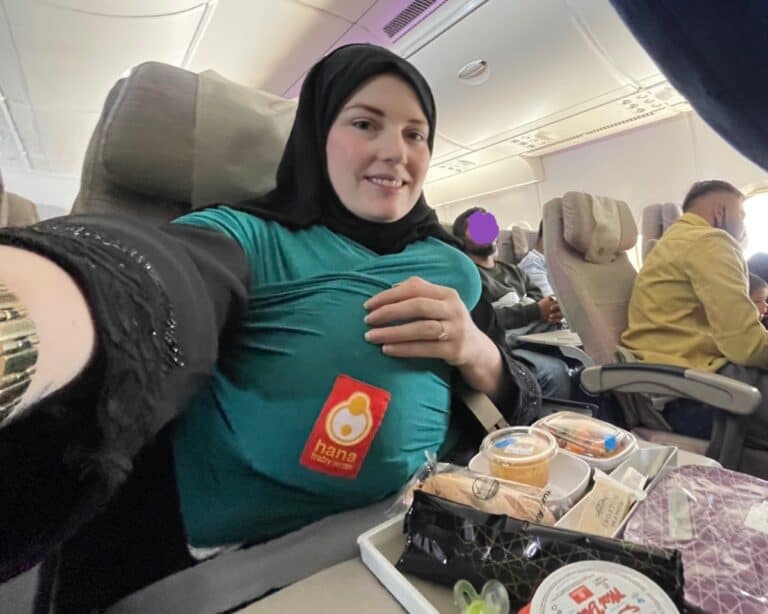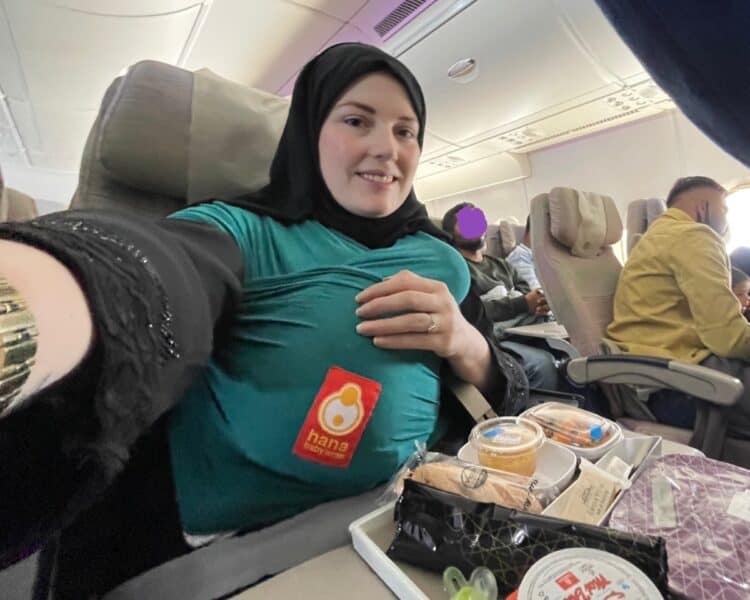 Emirates I've had mixed experiences with staff over the years but overall very positive. In recent years I would say generally Emirates staff don't seem as happy as they used to be. Even before 2020! I can't really blame anyone for being a bit grumpy post 2020 in the travel industry!
On my most recent Emirates flight in 2022, the cabin senior was a little bit grumpy with me at the beginning of my flight as I was worrying about the pram/car seat and whether the ground crew would take care of it.
However, once the flight began, she came over and made a fuss of me plus my baby. Including giving us extra toys since I'd lost the white noise penguin in the airport. She asked if it was my first time flying long-haul with a baby and made an effort to take care of us.
Emirates staff tend to be more chatty and casual, whereas Etihad staff tend to be a little more serious and professional. Usually, we'll chat quite a bit on an Emirates flight as I'm usually travelling alone. I've even had a crew member encouraging myself and the passenger next to me to add alcohol to our hot drinks. We were all laughing!
The Etihad staff, in general, seem happier and friendlier than those on Emirates but keep more of that professional guard up whenever I've flown. So it does depend on what type of staff interaction you prefer.
Overall the customer service experience is typically excellent with both airlines, though sadly there can be the odd experience that isn't so great with any airline. The drink service seemed a bit quicker on Etihad if I really had to pick something. So Etihad wins just about on this one.
Also, I just love Etihad's uniforms which look really professional and modern. Emirates' uniform is dated and definitely due to a revamp.
Winner: Etihad
Amenities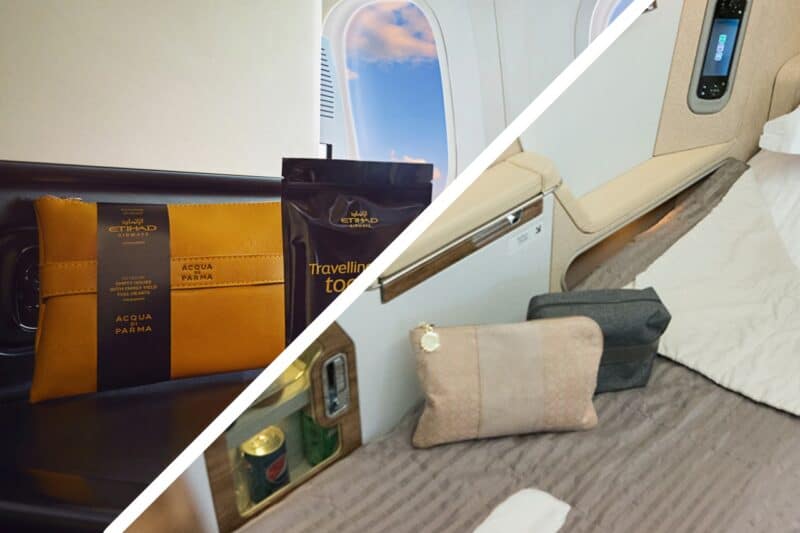 Emirates gives heated towels at the beginning of the journey on the plane which I really do like. The bathrooms are pretty similar but with Emirates there is a lovely-smelling hand cream which is more like business class than economy.
I would say overall Emirates planes feel more luxurious but it is that gaudy luxurious that not everyone likes. The finishing touches give Emirates a really nice feel that makes even economy feel high-end.
If you're flying Business or First, both are highly impressive for their amenities on board. Emirates features Bvlgari amenity kits while Etihad features Acqua Di Parma. Though Etihad First Class passengers may be a little disappointed as there isn't much difference from Business to First apart from a bigger perfume and a different bag.
Both also provide nice amenity kits if you're flying long haul and Emirates have just released a set of 4 different economy amenity kits to collect.
If you're flying with an infant they also give you a cute little pack with a tooth brush, tooth paste, an Emirates bib, baby spoon, baby wipes and baby cream. The wipes and cream were eco friendly too!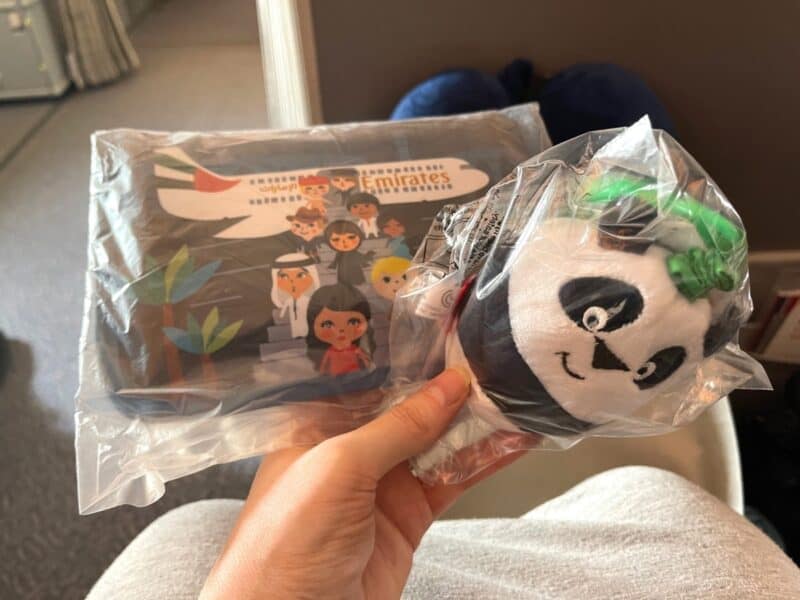 I love Etihad's uniforms which look super modern and now make Emirates uniforms look very dated. Emirates comes out on top on the Emirates vs Etihad for this one!
Winner: Emirates
Price
Although experience is important, we also have to look at value for money. Airline prices have increased a lot in the past year and fares seem to have doubled in price. When searching for flights, Emirates usually come up cheaper than Etihad. This is still the case even since the recent increases.
Gone are the days where I would regularly get an Emirates return flight for around £300 ($378 USD). Now it's more likely to be around £600. Though Etihad have been advertising some good sales recently if you buy within a specific time for specific dates. Offering fares as low as 695 AED ($189 USD) in economy one way.
Business Class is generally pretty similar price wise and I'd personally choose Emirates if the price was the same for business class however for First Class, I've seen flights for half the price of Emirates. So for only a little bit higher than business, you could potentially fly first class on Etihad.
The standard pricing for Etihad however does seem to be more expensive than Emirates. So in terms of value and price Emirates is definitely the winner.
Winner: Emirates
Extras
Etihad offer a bus service from Dubai to Abu Dhabi to ticket holders to be able to get to the airport which is a really nice extra if you're staying in Dubai or Al Ain.
Emirates offers a Dubai hotel if your layover is over 8 to 26 hours in Dubai subject to it being the shortest possible connecting flight. If your stopover meets the criteria, your booking will automatically show online as being eligible for 'Dubai Connect.'
Both airlines offer free chauffeurs for business and first-class passengers, excluding reward or upgraded booked flights. Emirates offers in Dubai unlimited km and for London is 112 km (70 miles). New York & Los Angeles is 50 miles. Other cities vary.
Etihad's chauffer services is only available in the UAE but there isn't a mileage limit, they will pick you up from anywhere in the UAE.
Finally, for families, Etihad provides a flight nanny for long-haul and ultra-long-haul flights. This is free regardless of your ticket class. So this could be a really nice extra if you're travelling alone with a baby. Though it also depends on how comfortable you feel hanging over your little one.
The coach or bus is more useful for Dubai residents, unless you're flying business of course, but a free hotel is an amazing extra for those transferring in Dubai if you qualify. Emirates vs Etihad, I have to go with Emirates on this one.
Winner: Emirates
Emirates vs Etihad which is better?
Overall I felt they are pretty close to each other in terms of standards when it came to economy. Both in terms of the comfort and the experience of the journey. They both go beyond your standard airline.
Emirates makes you feel a little bit more special when travelling in economy with their finishing touches but Etihad had some really nice practical touches. If you're on one of their newer refurbished jets with Emirates then you definitely will have a much better experience in terms of entertainment which really lets Emirates down on the older planes. Though it looks like soon this will no longer be a problem! As Emirates will finish refitting a large amount of their planes in 2024.
Emirates is normally better value for money and combined with all the destinations available, I'd have to say Emirates wins overall due to the value for money. Especially in economy. I wouldn't pay extra to fly with Etihad if Emirates is available for the same price or less.
Although Etihad has won awards in the past, in 2023 the airline has sadly slid back down in rankings. Meanwhile, Emirates is still one of the top airlines globally as voted for by passengers and in 2022 won the best for economy by Skytrax.
Sorry Etihad, Emirates is the winner.
✈️ Check prices for flights to Dubai ✈️
Commonly asked questions
Is Etihad the same as Emirates?
Emirates and Etihad are two different airlines but both are based in the United Arab Emirates. Emirates is based in Dubai while Etihad is t based in Abu Dhabi. Both airlines are known for their luxury service and amenities with the focus on long haul flights. Emirates is generally considered to be the superior of the two. However, Etihad has grown rapidly and has managed to bridge the gap in recent times.
In terms of cabin layout and design, Etihad's cabin layout and design are more modern than that of Emirates. While Emirates has a world-class airport base in Dubai, the base of Etihad at Abu Dhabi is not as good as Dubai International Airport.
Why are Etihad flights so expensive?
There are several factors that make Etihad flights more expensive. One of the reasons is that Etihad Airways is a luxury airline that offers high-end services and amenities to its passengers. Depending on what class you book. Etihad Airways offers a chauffeur service, high-end champagne and expensive caviar. Another reason is rising jet fuel prices which is a global factor in the higher price of flights.
Is Etihad economy space worth it?
The price for extra legroom in Etihad Economy Space is a typical rate to pay within the airline industry. The upgrade option can even be free if you have airline status with Etihad however it doesn't include any other extras such as priority boarding, upgraded meal or extra baggage. So if you're taller or just want more space to stretch your legs, the extra legroom is worth it, especially on long-haul flights.
Is Emirates economy comfortable?
Based on the legroom (or seat pitch) size, Emirates is one of the most generous in the airline industry which is a contributing factor to comfort. The seats also have ergonomic features, flexible side panels and headrests. Economy class seats on the A380 have a 3-4-3 configuration, so ending up in a middle aisle during a full flight can be one of the only downsides.
You'll also find a good range of films, over-ear headphones and other amenities to help make a long haul flight comfortable. Pillows and blankets are provided too, along with free refreshments for an enjoyable experience. Overall, both the Airbus 380 and Boeing 777 enormous size offer a comfortable journey in economy.
How is Etihad Airways economy class?
Etihad offers generous legroom compared to many other operators, newer air crafts and a luxurious experience with a range of amenities. The seats are designed with adjustable headrests and lumbar support. The cabin is also equipped with mood lighting to help passengers relax during their flight. Passengers can also enjoy a range of in-flight entertainment options, including movies, TV shows, and music. Free refreshments along with extras like a blanket or pillow also help to make the journey even in economy more comfortable.
Why is Etihad airways the best airline?
Etihad Airlines was ranked 3rd in the World's Safest Airlines in 2023 and has won prestigious awards such as World's Leading Airline in 2019. It is also certified as a 4 star airline, which is assessed based on the seats, catering, amenities, in-flight service, cleanliness and staff. This includes ground staff.
How many seats does an Etihad 787 have?
Etihad Airways has different types of aircraft with varying numbers of seats. The Boeing 787 family has a capacity of up to 336 seats. Depending on the configuration, the B787-9 has 8 first class seats, 28 business class seats and 190 economy seats for a total of 226. The B787-9 can also be arranged at 28 business class seats and 262 economy seats for 290 seats. Finally the B787-10 has 32 business class seats and 304 economy for a total of 336 passengers.
How many seats does the Etihad A380 have?
Etihad's A380 only has one configuration which is the A380-800 and has up to 486 seats. This is made up of The Residences with 2 seats, 9 first class seats, 70 business class seats and 405 economy for a total of 486 seats.
How many Emirates flights to London?
Emirates operate out London Heathrow (LHR), London Gatwick (LGW) and London Stansted Airport (STN). From Dubai to London Heathrow there are 40 weekly flights with 5-6 daily flights depending on the day. There are 2 daily flights into London Gatwick and another 2 flights from Dubai into London Stansted per day. For a total of 9 to 10 daily flights to London and 68 weekly flights from Dubai to London.
How much is Etihad Airways first class?
The price of first class greatly depends on the start and end destination and first class isn't offered on every single flight and Etihad only offers First on its long-haul destinations. You'll typically pay between $3000 to $8000 USD for an Etihad first-class ticket one way excluding The Residences which typically cost around $20,000 USD one way.
Conclusion
Were you surprised by the outcome of Emirates vs Etihad. Do you prefer Etihad over Emirates? Emirates has a more casual service and demeanour while Etihad are more formal. These airlines are so close in comparison that just personal preference on style could make one airline a better choice for you.
If flying on the A380 is a big factor for you, then Emirates will be the best option and overall Emirates has just pipped Emirates to the post by offering better value with typically larger seats, legroom and entertainment screens. The one part which often lets Emirates down the most is their overdone meat or fish, which regardless of flying class is a common issue I've experienced on almost every flight. Check prices for flights to Dubai.
Heard about the woman who got arrested after an Emirates flight the do's and don't of Dubai! So you don't make the same mistakes.
---
*This article contains affiliate links, as an Amazon Associate and a member of other affiliate programs, I may earn a commission on purchases. Clicking the link doesn't cost you anything extra but it does help me to keep writing these awesome articles for you!
Enjoyed this article? Give it a share!