If you've never visited a Mosque (or Masjid at it's called in Arabic) before, it might be scary visiting a mosque for the first time or to know what the mosque etiquette is! What do I do when I enter the mosque? What clothes should I wear? Is it okay for me as a none Muslim to go? Not to worry! We'll answer all your Mosque etiquette questions below! So you can visit a Mosque without worrying!

The mosque in Abu Dhabi called Sheikh Zayed Grand Mosque is now one of the most famous mosques in the world but you may be wondering what's appropriate. Or perhaps you're going to the blue mosque in Istanbul or mosque in Turkey? Whichever mosque you'll be visiting and where ever it is in the world. This guides for you! If you're planning to visit Abu Dhabi and Sheikh Zayed Grand Mosque, make sure to check out our full Abu Dhabi itinerary below!
Make sure to check out this super easy tour from Dubai that will take you straight to Sheikh Zayed Mosque
Or! If you're planning to stay in Dubai, check out this hop on and hop off tour bus where you can visit sights such as Jumeirah Mosque
Can I go as a none Muslim to a Mosque?
Yes! There are lots of Mosques in global destinations such as the Abu Dhabi Mosque and Blue Mosque in Turkey that offer tours for none Muslims. Even if it's a mosque that doesn't have a tour. It's still okay for you to enter. You just need to be respectful of the rules (which I'll go further into below) and keep in mind that it's a place of worship.
Most central mosques in different cities will also have an office or Islamic center as part of the mosque. Some even have areas to sit or when you can eat food.
If knock on the door of the office, often they're happy to have a chat about the mosque and help you find your way around. Check their website in case there is instructions for those who are not Muslim but would like to come see the Mosque.
What to wear when visiting a Mosque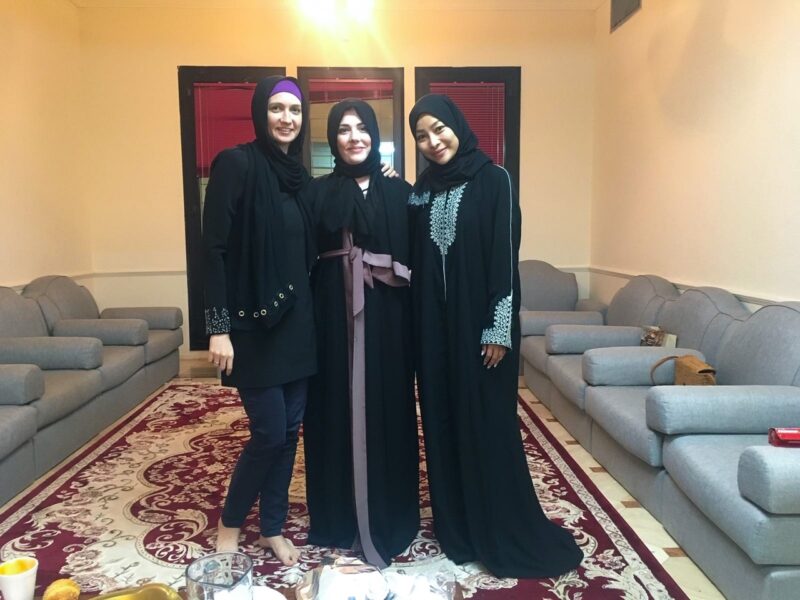 It depends on the mosque! For the mosques even for tours, many require women to wear hijab or to cover their hair. It's best practice to take a scarf with you, so you can wrap it to cover your hair just in case. Also you should wear long sleeves and long trousers. The mosques which are used to having tourists visit, tend to have robes available just in case!
For men, modesty is also required and you should wear trousers and a t-shirt with decent sized sleeves.
It's also a good idea to have a shower before you leave for the mosque and not to wear heavy perfumes. Prophet Muhammad (PBUH) took great pride in his clothes and smells should not distract worshipers from their prayers. It's not a must but if you want some extra brownie points!

Insider tip – The Mosque in Abu Dhabi has abayas which they provide. An Abaya is an Arabic garment made from fabric that clips over your outfit. The Abu Dhabi Mosque Abayas also have a hood. The hood must be kept up and covering your hair the entire time you are in Sheikh Zayed Grand Mosque.
If you'd like to buy some affordable abayas
---
Want to know more about Muslims, Dubai or UAE? Check out my other guides:
Where is Dubai? All your questions answered!
48 hours in Abu Dhabi; The best itinerary
Why do Muslim women wear hijab?
24 hours in Dubai; how to spend your layover
Visiting Dubai during Ramadan: what to expect
---
Pay attention to the entrances
Often the main entrance is only for men and is the main prayer hall. During a tour, they may allow you in this area but if it's during prayer times men will typically stop women from entering. If it's a local mosque that doesn't offer tours, either look for signs for women or if it's during prayer time. Look at where the women are heading.
Typically the women's sections in ordinary mosques aren't as beautiful as the main prayer halls. So it's better to visit a mosque that has tours so you can not only learn about the history and architecture of the mosque but also as a woman get to see the splendor of the main prayer hall!
For the mosque in Abu Dhabi, the security entrances are clearly labelled with men and women. Once you pass security it becomes mixed again. However the main prayer hall is for men only but women are able to see inside of it as part of the tour in between prayer times.
Entering the mosque
When entering the Mosque you will need to take off your shoes. You will usually find a shoe rack where you place your shoes. During prayer time its common for worshipers to line their shoes along the halls or even outside the mosque.
If you'd like to be like the Muslims and show off your knowledge, you should enter with your right foot. The is based on the practices of Prophet Muhammad, may peace and blessings be upon him.
In the Abu Dhabi Mosque, there used to be shoe racks at the entrances after security but most of these have been removed now and only in the areas just outside the prayer halls. You'll find people wear shoes in the areas outside of the prayer halls and others will walk bare foot. It's worth taking a large bag or spare bag for you to pop your shoes in.
What is the Muslim greeting?
It's common for other Muslims to greet you when you enter the mosque, they will normally say "Salam alaikum" which means "Peace be with you" in Arabic. The reply back is "Wa alaikum salum" which translates to "And peace be upon you." If you're a little worried to say it all, you can also just say "Salam" which means "Peace" but is used in the same way we say "Hello."
Prayer Times
If you're wanting to have a wander around, the best time is to go outside of the prayer times (use this website to check the times). Especially if it's a smaller mosque that doesn't have amenities set up for tourists.
There are five daily prayers. You will hear the Azan (call for prayer) to let you know when it's prayer time. These are just before sunrise, midday, mid afternoon, sunset and typically half an hour after sunset.
The prayers are lead by an Imam. It is a time when people are quiet and focused on their prayer. Even after the prayer has finished you may find people staying to do extra prayers or sitting on the floor. So make sure to be extra careful at these times and respectful of those coming to pray.
On a Friday, Khutbahs are held and these days are pretty busy! Often with whole families in attendance. It's not ideal to visit on these days and typically those involved or volunteering for the mosque will be very busy. So I wouldn't recommend to visit on a Friday.
If you're curious about the prayer, quietly sit at the back.
Rules & General Etiquette
You will notice either an arrow or a section of wall where there is a cut out section with a domed roof. This is the direction of Mecca. You will notice everyone stands to face that way or sits and faces that way. Typically the carpets will have lines so that people know which direction to stand.
When sat, don't point your feet at the direction of Meeca
Do not walk in front of people praying
Do not take photos of women without their permission
Be quiet in the prayer halls and rooms
Keep yourself dressed modestly in all areas of the mosque
Keep your phone on silent
Don't offer to shake hands with the opposite gender
Do not eat unless it's an area specified for eating
Keep the prayer rooms clean
Do not eat or drink close to or inside the Mosque during Ramadan
Leaving the mosque
There are no specific customs for leaving the mosque except to leave with your left foot. Place you shoes back on and enjoy the rest of your day!
Now that you're all clued up on Mosque etiquette! I really hope you enjoy your time in the Masjid. Whether you're visiting the mosque in Abu Dhabi or the Blue Mosque in Turkey. Or one of the many beautiful mosques around the world! For most of us, it's a truly unforgettable experience.
*This article contains affiliate links, by clicking the link it doesn't cost you anything extra but it does help me to keep writing these awesome articles for you!
Enjoyed this article? Give it a share!