Wondering what places to visit in Abu Dhabi? Or what things to do? Despite being the capital of the United Arab Emirates (UAE), it doesn't receive as much attention as Dubai but that doesn't mean it isn't worth visiting! You might be fooled into thinking there aren't that many tourist attractions there but this isn't the case at all! Abu Dhabi has lots of places to visit and things to do!

After visiting Abu Dhabi myself many times, this is the perfect itinerary for the best 48 hours in Abu Dhabi. Including some handy mini-guides and tips from a local to make sure you have the best time!
If you're planning to do several attractions from the list, I highly recommend this hop on and hop off bus drops you to all the main attractions along with buying the Dubai Explorer Pass as it includes Yas Water World, Warner Brothers Abu Dhabi & Ferrari World
Another option if you prefer to do a day trip, I highly recommend this tour which visits all the top attractions in Abu Dhabi and includes transport from Dubai
*This article was updated on April 2022. Abu Dhabi tends to change its entrance protocols quite frequently, so if you're travelling from Dubai make sure to check the current protocols via The National
---
Have some questions more questions about the UAE? Check out our other articles:
Which is the best way between Dubai and Abu Dhabi?
Beginner's guide to visiting a Mosque
Amazing hotels near Downtown Dubai with a Burj Khalifa view
Visiting the Burj Khalifa and At The Top alternatives
---
Here are all the attractions on a handy map:
Day 1
Breakfast – Meylas
If you're starting your day driving from Dubai, this a great place to arrive at just before you drive into central Abu Dhabi. It opens for breakfast at 9 am. In a beautiful location serving Emirati fusion food. As it's on the way from Dubai to Abu Dhabi, it's the perfect stop along the road trip. Here you can try some traditional food of UAE also.
Activity 1 – The Louvre
This sister museum of the famous museum in Paris, this is one of the world's most expensive art galleries ever built. Costing over $1 billion US dollars! This is mostly due to all the pieces which were rented from The Louvre in Paris.
The incredible architecture is a huge part of this iconic looking art gallery. Making it one of the most Instagram worthy places in Abu Dhabi.
Containing a mixture of permanent pieces and temporary exhibitions. It is definitely one of the best things to do in Abu Dhabi to tick off your list! For more details about the Louvre.
*You now have to pre-book your tickets for The Louvre before you arrive as part of Covid regulations
Lunch – Observation Deck at 300 at Etihad Towers
After wandering around the Louvre you're going to be pretty hungry. With stunning views of the city, this one of the best hotel's to enjoy Abu Dhabi. So it's definitely worth visiting!
It's also a lovely way to treat yourself after a long day and will create lasting memories long after you've left Abu Dhabi You can also book a ticket for the observation deck via Musement.com and don't forget this handy jump on jump off bus ticket to help you get to all the attractions
Price: 95 AED ($26 USD)
Book tickets here
Activity 2 – Sheikh Zayed Founder's Memorial
This is a newer attraction to Abu Dhabi and is dedicated to the founder of the United Arab Emirates, Sheikh Zayed bin Sultan Al Nahyan. They offer a guided tour and go through the history of the UAE along with interesting facts about the UAE and Sheikh Zayed.
It only takes around an hour to do the tour and it's definitely worth a visit. It is best to visit here at sunset or just after it gets dark due to the displays. Plus admission is free! You can then wander around and relax in the gardens after you've finished the tour.

*Due to Covid you must now book a time slot for when you plan to go, Sheikh Zayed Memorial reopened in October 2020
Dinner – Hakkasan, Emirates Palace
Hakkasan is a famous global restaurant brand! Combined with Emirates Palace, it makes it a stunning and one of a kind evening. They don't serve Arabic food, so if you're wanting to keep your trip more traditional. You can head to BBQ Al Qasr also at Emirates Palace which is also another good choice.
In terms of the food, Hakkasan is incredible! Offering fine dining Chinese food.
There are quite a few different restaurants, cafes, and lounges inside Emirates Palace. I highly recommend after you've finished dinner to wander around the hotel or relax in one of the lounges.
If you fancy a slightly unusual treat, end your dinner with a gold-topped or camel milk cappuccino at Le Cafe in the hotel lobby. You'll really feel as if you've experienced the luxury side of the UAE with Emirates Palace! A must for places to visit in Abu Dhabi.
Day 2
Activity 1 – Yas Waterworld
One of the best waterparks UAE, if not the best in the entire UAE. This waterpark is great if you have kids or if you've just a big kid at heart and love waterparks! There are 40 different attractions and rides. Including some of the scarier waterslides for the thrillseekers! It's just a really fun day out! And is definitely one of the things to do in Abu Dhabi.
Price: 270 AED ($75 USD) per person, age 4 + (Over 1.1m)
Children 3 and under are free
Book tickets here
Upgrade to a Quick pass here and the avoid queues (MUST BUY BOTH!)
*Yas Waterworld reopened in August 2020 after being closed for 4 months due to Covid. The Waterpark has many precautions in place to make sure everything is safe for visitors including limiting capacity, sanitation packs, mandatory mask, regular sterilization of areas and hand sanitation stations.
Alternative to Yas Waterworld – Warner Brothers Abu Dhabi
If you're not a fan of waterparks, this makes a great alternative. It's also great in the summer as Warner Brothers Abu Dhabi is an indoor theme park. Another billion-dollar attraction! Spotting a theme here?
This amazing theme park features six different lands for you to explore. Again great if you have children or just want a fun day out. It's especially popular with comic book fans due to their Batman and Superman-themed wings!
You can buy a Dubai Explore Pass that not only gets you access to key attractions in Dubai but also to Warner Brothers in Abu Dhabi. Yas Waterworld & Ferrari world are also included.
*Warner Brothers Abu Dhabi reopened in August 2020 after being closed for 4 months due to Covid. Like the rest of the UAE, there are many precautions in place to make sure visitors are safe including limiting capacity, social distancing, mandatory masks and hand sanitation stations
Activity 2 – Sheikh Zayed Grand Mosque
The best time to visit Sheikh Zayed Grand Mosque is an hour before sunset as you'll get the beautiful day time photos and the stunning sunset photos. You can visit the mosque for free and even the official tour is free too. Just pick up your ticket from the tourist office. You can pre-book them online to avoid the queues.
I highly recommend taking the tour as you'll learn about the construction and get to see inside the main prayer hall. The tour takes approximately 45 minutes. To book your visit, do it via the official website here
*Due to Covid you must now book a time slot for when you plan to go, Sheikh Zayed Mosque reopened in October 2020
If you prefer to take a tour from Dubai which includes a guided tour, I highly recommend this tour from Get Your Guide with best price guarantee
Dinner – Saudi Kitchen, Al Mushrif
There are two locations in Abu Dhabi, the one in Al Mushrif is closer to Sheikh Zayed Grand Mosque. This is technically a Saudi restaurant but Mandi is popular in Emirati culture too. You can choose to sit on the floor and eat in a true bedouin style. This particular restaurant is a nice experience since the restaurant is decorated in traditional Khaleeji decor. They also offer private booths to sit in. One mandi dish is suitable for two to share and makes a very affordable meal!
I hope you have an amazing time in Abu Dhabi and manage to see all the attractions. There are more things to do in Abu Dhabi but these are my personal favorites. These are definitely some of the best places to visit! Whenever I have visitors, this is usually the tour I give them personally. Enjoy your time in the UAE!
---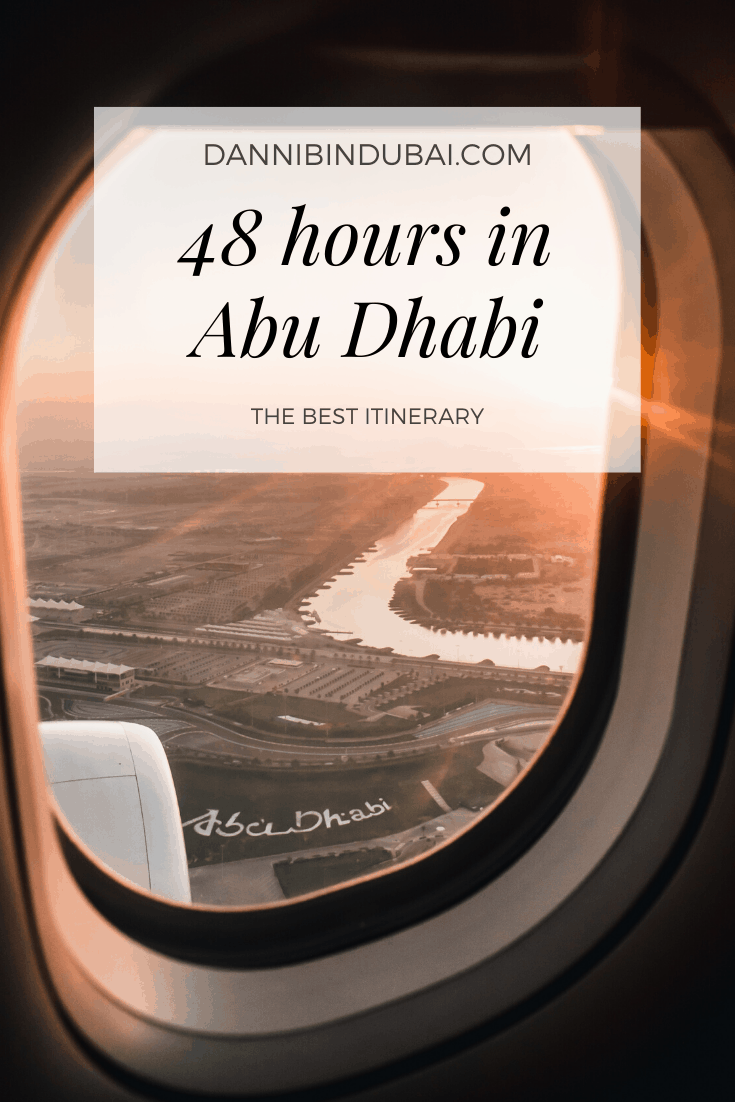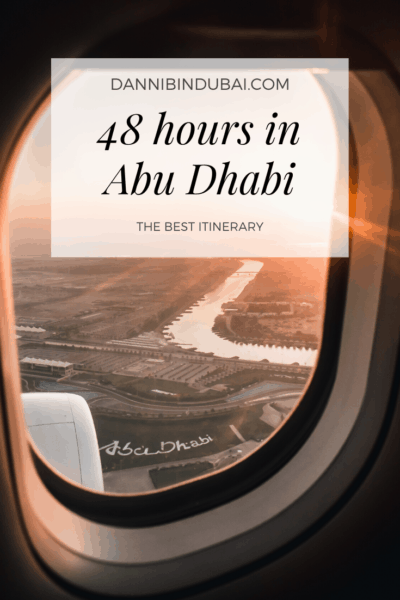 *This article contains affiliate links, by clicking the link it doesn't cost you anything extra but it does help me to keep writing these awesome articles for you!
Enjoyed this article? Give it a share!