Dubai is a diverse city with each area having its own unique charm and characteristics. So deciding which area is best for you to stay in can be quite the conundrum!
Not to worry! With over a decade of calling Dubai my home, I bring a unique perspective to unveil the city's hidden gems and guide you through the best areas to stay.
In this article, I'll share all of my experience after years of being in Dubai to help you navigate the neighbourhoods like a local and know exactly which area will match the type of vacation you're looking for! Choosing the right area to stay in is crucial for a truly memorable experience.
From the iconic landmarks of Downtown Dubai to the coastal elegance of Jumeirah, we'll embark on a journey together to ensure your stay in Dubai is not only comfortable but an authentic reflection of the city's rich tapestry.
So let's get into the important information on key areas along with positives, negatives and recommended hotels for each area in Dubai.
Best Areas of Dubai Summary
Here's a quick mini guide to give you a brief idea of the main popular tourist areas in Dubai and what type of traveller they're best suited for.
1. Downtown Dubai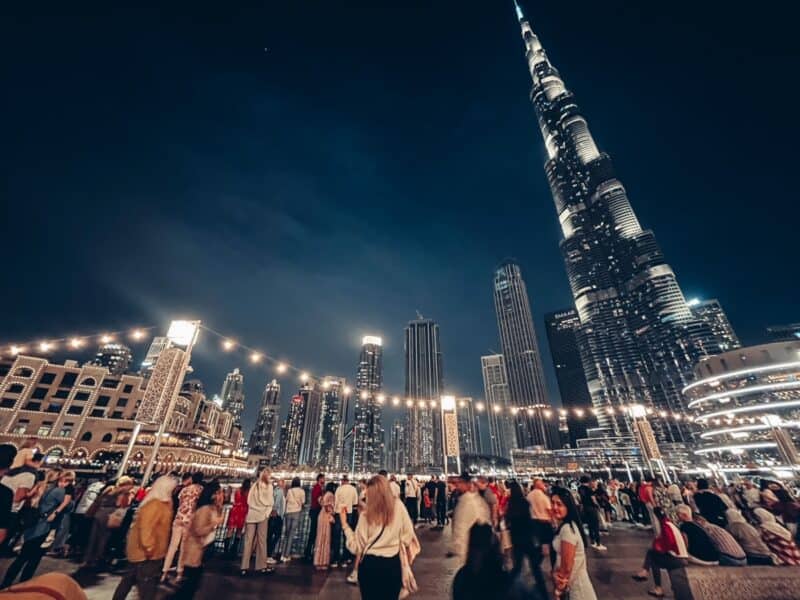 The city centre of Dubai, featuring the world-famous Burj Khalifa and Dubai Mall. This is one of the most popular areas for tourists visiting Dubai and features the iconic Dubai Fountain. If you love being in the centre of everything, this busy city location will be the perfect spot for you. It is however the most expensive.
Right next to Downtown Dubai is City Walk, DIFC and Business Bay. Often these hotels will also have Downtown in their name as their in close proximity to Dubai Mall and Burj Khalifa. The Financial District has mostly luxury hotels with Four Seasons, Waldrof Astoria and Ritz Carlton all having locations here, while Business Bay is typically slightly more affordable while still being very close to Dubai Mall.
2. Jumeirah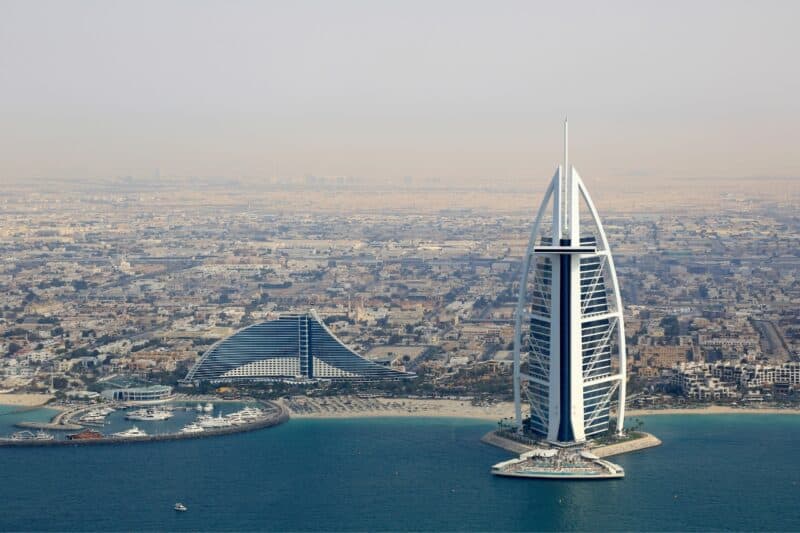 If you love to be by the sea but also don't want to be too far away from the centre of Dubai, Jumeirah is the perfect area for those wanting a luxury Dubai beach holiday. Many of the resorts here have private beaches for guests but this area isn't for those wanting a cost-friendly trip.
Hotel options are limited in this area but you'll find many luxury options such as Bvlgari, Four Seasons and of course the iconic Burj Al Arab.
3. Dubai Marina & JBR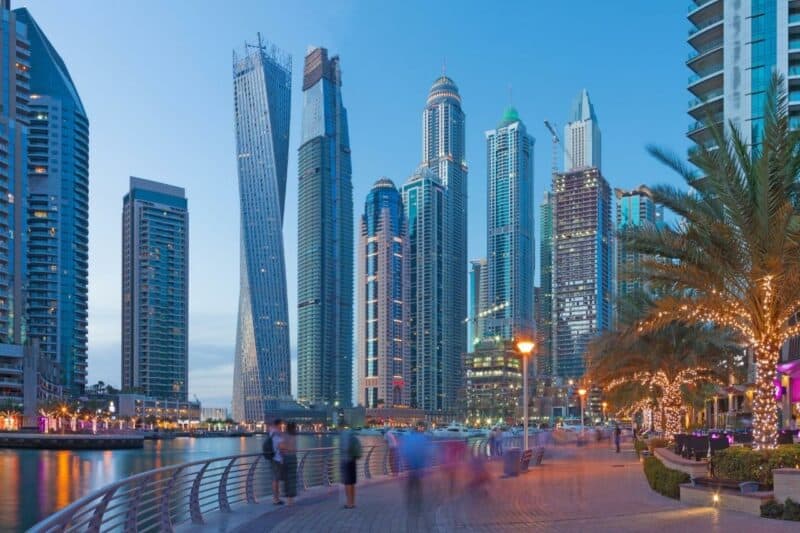 Dubai Marina is hugely popular with British and European holidaymakers, offering a good mix of both luxury and more affordable accommodation options. The tram and connecting metro make it easier to get around as a tourist.
JBR is part of Dubai Marina and is a hugely popular hang-out spot with beach side restaurants and lively nightlife dotted down the strip. The waterways of the Dubai Marina also make it very beautiful and it's the perfect area for those wanting a more laid-back vacation.
Blue waters is also just off the coast of Dubai Marina, where you'll find Ain Dubai.
4. Palm Jumeirah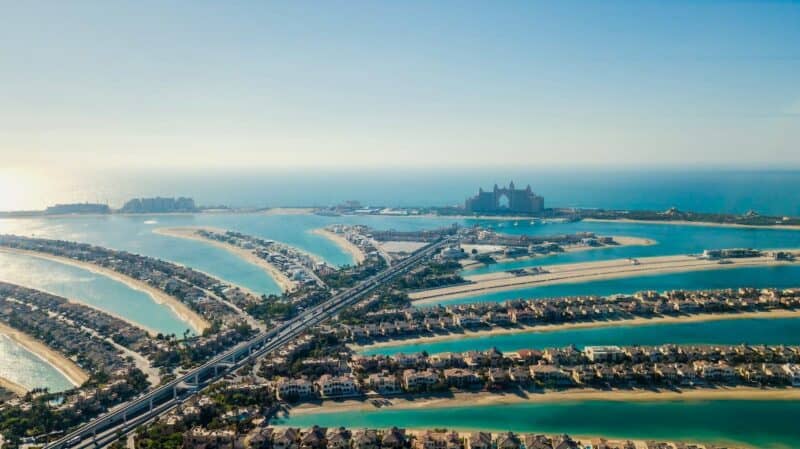 The iconic palm-shaped island is located off the maid land of central Dubai and has many luxury resorts along its fronds. These resorts are ideal for those who want a quieter escape that is away from the hustle and bustle. Though you can choose a more party-style hotel live FIVE Palm Jumeirah if you prefer an active nightlife.
If you choose one of the hotels on the end of the fronds, it can take quite a while to get back onto the main Dubai land. Both the iconic Atlantis and Royal Atlantis are further up on the Palm. However, these mega-resorts mean you needn't leave the resort with their water parks, shops and array of restaurants to keep you entertained for days.
Iconic Hotels of Dubai
Burj Al Arab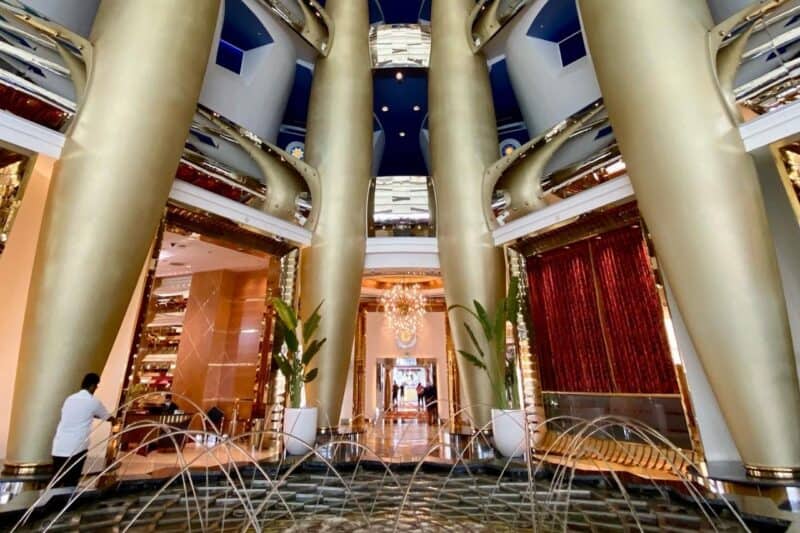 Atlantis Palm Jumeirah
Atlantis Royal
Armani Burj Khalifa
Address SkyView
Areas of Dubai
Below are the main areas of Dubai, the Burj Khalifa and Dubai Mall are located in the Northern part of Dubai along with Dubai Airport. The Arabian Sea runs along the west coast of Dubai and this west coast is where the most popular areas in Dubai are.
These areas really vary in terms of the lifestyle they offer, so while in many other cities, you may just want to be close to the city centre or downtown area. Dubai is more complex, as each of these areas acts as its own little hub of life.
For instance, if you live in Dubai Marina, you'll usually stick to doing things around the South area and rarely go to the Downtown area in the north. So this is something to bear in mind when visiting or moving to Dubai.
| | | |
| --- | --- | --- |
| North Dubai | Central Dubai | South Dubai |
| Downtown Dubai | Barsha Heights | Dubai Marina |
| DIFC | Al Barsha | Blue Waters |
| Business Bay | The Greens | Jumeirah Lake Towers |
| Jumeirah 1 & 2 | Umm Suqeim | Jumeirah Islands |
| City Walk | Jumeirah 3 | Jumeirah Park |
| Karama | Palm Jumeirah | The Springs |
| Meydan | Al Quoz | Jumeirah Village Triangle |
| Nad Al Sheba | Dubai Hills | The Gardens |
| Deira | Jumeirah Village Circle | Jebel Ali |
| Dubai Creek | Arjan | Jumeirah Golf Estates |
| Mirdif | Motor City | Dubai Investment Park |
| Silicone Oasis | Arabian Ranches | Emaar South |
| International City | Mudon | Damac Hills |
| Al Khawaneej | Sustainable City | |
There are other areas in addition to this but I've included mostly where there are hotels and buildings for expatriates. There are quite a few areas in the North that are mostly housing for Emirati locals.
Dubai Marina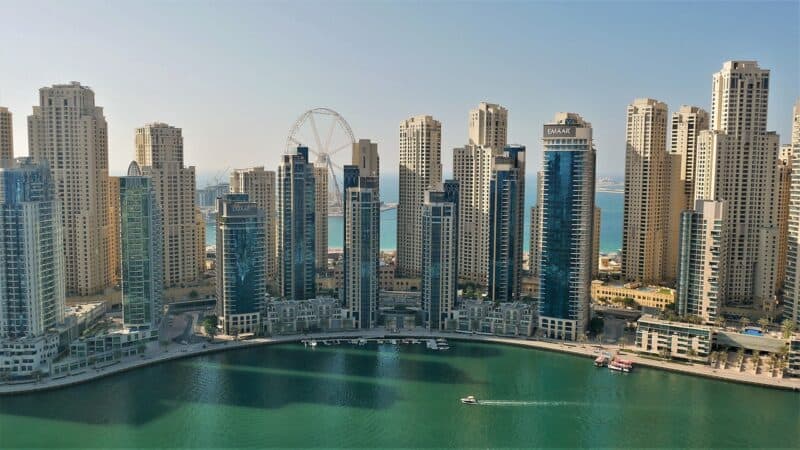 Known as being one of the most Westernised areas in the whole of Dubai, this is a very popular place to stay for tourists due to all the attractions! Plus the beach is close by!
Some of the key places include Jumeirah Beach Residence Walk (shortened to JBR Walk), Bluewaters and Marina Mall. There's also lots of restaurants, hotels and nightlife.

The marina itself is beautiful and you can enjoy a long walk along the water of the marina. There are lots of restaurants too overlooking the beautiful views. It's truly stunning at night time all lit up!

Dubai Marina is typically less expensive to stay on than Palm Jumeirah or Downtown. As there is a wide range of hotels to choose from, from hotel apartments to five-star beach resorts.
You are further away from Downtown so it's one thing to bear in mind if you want more of a city style break. Or if you will spend a lot of time going to the more historical parts. One downside of the area there tends to be quite a bit of traffic coming in and out of Marina during peak hours.
You're also close to Skydive Dubai if you want some adventure and you're also not too far from Mall of Emirates or Palm Jumeirah. Dubai Marina North is typically more expensive to stay in since you're closer to all the attractions and closer to central Dubai. So it can be worth paying the extra to by in Marina North since you'll save money on taxi fares.

Recommended Dubai Marina Hotels:
Affordable: Marina Byblos Hotel
Mid Level: Millennium Place Dubai Marina
Luxury: Rixos Premium Dubai JBR
Jumeirah Lake Towers
Situated opposite Dubai Marina, this makes a good location if you want to be close to Dubai Marina but have a luxury hotel at a more affordable price.
There are air conditioned bridges connecting both Dubai Marina and Jumeirah Lake Towers (or JLT for short) to the same metro stations as Dubai Marina. You're just the other side of the Sheikh Zayed Road! So it is possible to walk across the bridges and jump straight on the Dubai Tram.
Jumeirah Lake Towers has lots of restaurants, cafes and hotels. The one downside is, it's a little bit difficult to get in and out of with taxis or cars. This is due to the giant figure eight that runs around the buildings. However if you're in a holiday apartment or hotel close to the Metro and plan to use mostly the metro, it's really handy!
Similar to Dubai Marina. It is further away from Burj Khalifa, Dubai Mall and the Gold Souqs and Spice Souqs. So it really depends on what you want to do most days.

Recommended JLT Hotels
Mid Level: Movenpick Jumeirah Lake Towers
Luxury: Bonnington Jumeirah Lake Towers
The Palm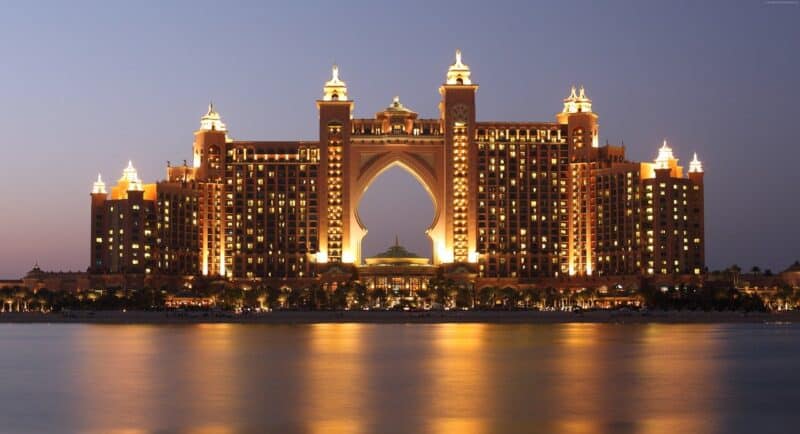 Palm Jumeirah is one of the most luxurious places to stay in Dubai with its iconic hotels such as Dubai Atlantis. It's an ideal location for families or couples wanting a more secluded vacation.
The one disadvantage of the palm can be accessibility. Each of the branches that make up the iconic palm are called 'fronds.' Some of the fronds are quite long and depending which hotel you stay at, it can be a 20-minute journey just to get onto the main Dubai land. This is why it's more ideal if you want a reclusive escape.
If you're going to be spending most of your time exploring Dubai or wanting to go out every night, then I'd recommend a more central location. For relaxing on the beach holiday, this is one of the best locations in Dubai. You have the new Nakheel Mall, The Pointe and Golden Mile for shops, restaurants and cafes without ever needing to leave The Palm.
For a more party style, Atlantis has bars, clubs and restaurants while Five, also on Palm Jumeirah, offers more party vibes. Including a cool bar called Penthouse with a swimming pool and they're well known for their pool party brunch.
Recommended Palm Jumeirah Hotels
Affordable: Aloft Palm Jumeirah
Mid Level: Five Palm Jumeirah (More of a party hotel)
Luxury: One & Only The Palm
Al Barsha
If you're planning to hire a car or keeping things on a budget. This can be a great area since you're in the middle of everywhere but you can have a much nicer hotel at an affordable price.
This area is pretty much in between Dubai Marina and Downtown Dubai. Although there isn't much for tourists in the actual area apart from Mall of Emirates, which is also home to Ski Dubai. It's easy to get to Dubai Marina and Downtown from this area since you're pretty much in the middle between the two.
There's also quite a few affordable restaurants here and you can get a hotel close to the metro. Making Dubai even more affordable!

Recommended Al Barsha Hotels
Affordable: Citymax Hotel Al Barsha
Mid Level: Doubletree by Hilton Al Barsha
Luxury: Kempinski Mall of Emirates
Jumeirah & Umm Suqeim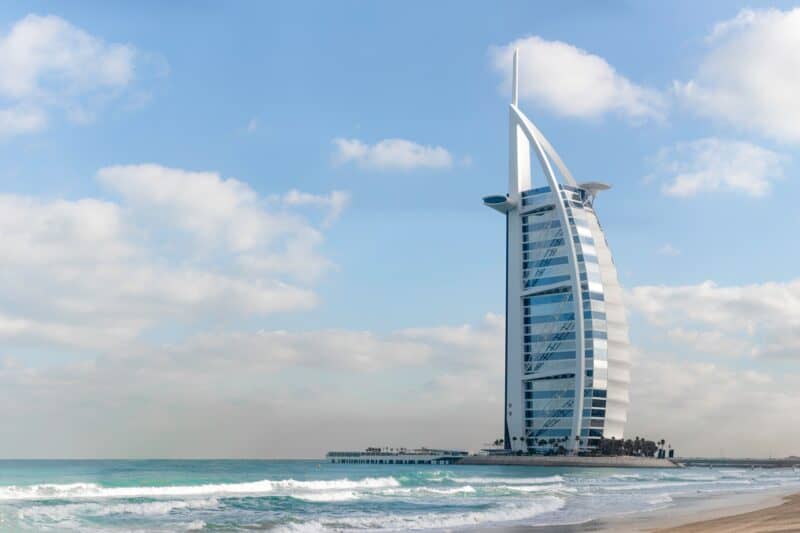 An area which is predominantly villas owned by locals, this luxurious area doesn't have a large number of hotels. When compared with Dubai Marina but does offer beautiful beaches. Both public and private beaches.
It's not as touristy as Dubai Marina or Downtown and the traffic is a lot less for getting in and out of the area. The famous Kite Beach is here and the Burj Al Arab. There are a few touristy places to visit such as Madinat Dubai and some stunning five star hotels. It's also centrally located so is a great location if you're wanting the best of both worlds.
Recommended Jumeriah Hotels
Mid level: Roda Beach Resort
Luxury: Mandarin Oriental Jumeirah
Trade Center
If you're a party person, Trade Center is ideal since it offers a range of hotels and is close to Dubai's thriving nightlife.
Close to Downtown and not too far from the historical parts of Dubai such as Al Fahidi Historical District. This area is a great area with a wide range of hotels, from city apartments to five star hotels. This is the opposite end of Dubai to Dubai Marina so again, this is another area where it depends on what activities you plan to do. The vast majority of bars and night clubs are here. You're also closer to the gold and spice souqs. Along with Dubai airport.
Recommended Trace Center Hotels
Affordable: Ibis One Central
Mid Level: Four Points by Sheraton
Luxury: Jumeirah Emirates Towers
Downtown & City Walk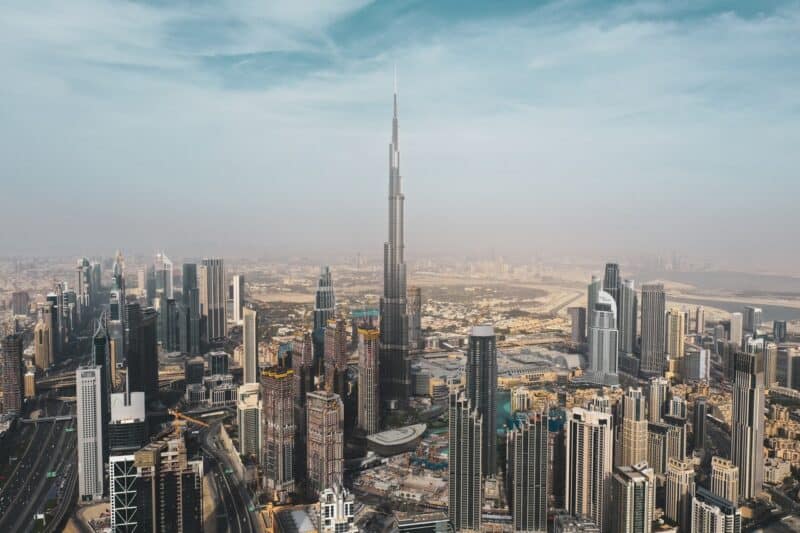 Perfect if you're wanting a city style vacation. Home to the Burj Khalifa and Dubai Mall. This area is perfect if you want to be in the heart of it all.
Due to being in the centre, it is also one of the most expensive areas to stay in. You're a short ride away to the souqs, not too far from the airport and close to all the main tourist attractions. Including the famous Dubai Fountains. You're also close to Dubai's nightlight scene. Plenty of restaurants to choose from and the world's largest mall.
One downside of being in the centre is traffic, especially during New Years Eve or when there are key holidays in the Middle East. This area also gets busy when there are holidays in other parts of the GCC. (Don't know what the GCC is? Check out this article)

You're also far from the Palm and Dubai Marina. Though you can walk to Dubai Mall and Burj Khalifa from most of the hotels or even stay in the iconic Burj Khalifa! So if you're looking for a city break and not so much the beach, Downtown Dubai is for you!
Recommended Hotels
Affordable: Rove Downtown
Mid Level: Manzil Downtown
Luxury: Armani Hotel (Inside Burj Khalifa)
Business Bay
Close to Downtown, this area is more affordable than Downtown so is great for those who want a city escape but on a more affordable budget!
This area has many of the same benefits of Downtown Dubai and is situated next door. You're just a short car journey or taxi from the Dubai Fountains, Burj Khalifa and Dubai Mall. There's a good selection of restaurants, nightlife and hotels. It's not as lively as Trade Center but it does have some cool restaurants and places to hang out.
Recommended Hotels
Affordable: Park Regis Business Bay
Mid Level: Radisson Blu Dubai Canal
Luxury: The Oberoi Dubai
DIFC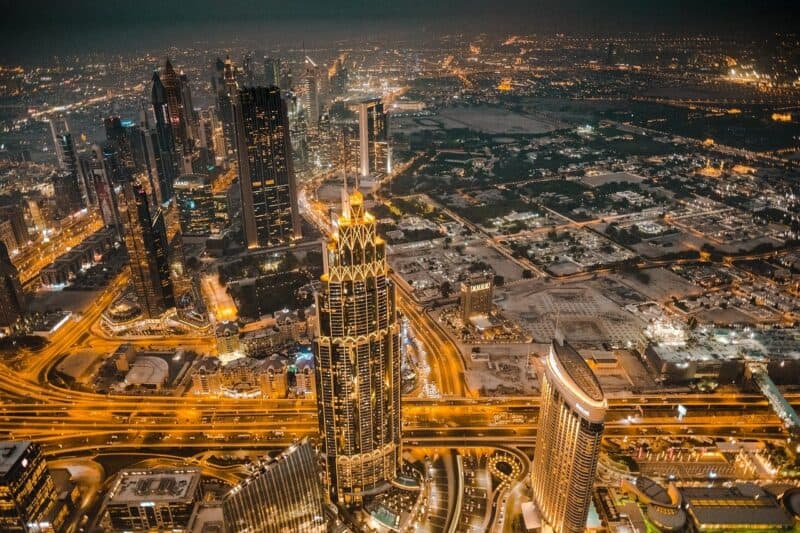 More popular with business travellers but also home to luxury hotels, such as The Four Seasons and Ritz Carlton. This is the swanky side of Dubai.
This area is next door to Downtown. In fact, DIFC has a similar feel to Downtown Dubai and offers the perfect city break. The hotels are to a beautiful standard here and due to the unique legal set up, it's technically UK legal law here. Though you are still bound by UAE criminal law! It is Dubai's Financial centre.
It will cost you the same price to stay here as Downtown but you're close to the best foodie scene in Dubai. DIFC is known for its fine dining such as Le Petite Maison and Zuma. There's also a lively nightlife scene here, popular with residents. So if you prefer the finer things in life, DIFC is the location for you!

Recommended Hotels
Mid Level: Gevora Hotel
Luxury: Waldorf Astoria DIFC
Deira & Garhoud
A more affordable area which is close to Dubai Airport and the historical district for those who love to explore a different culture.
This area is one of the most afforadable since it is the older area of Dubai and close to Dubai Airport. It is the opposite side of Dubai to Palm Jumeirah, Burj Al Arab and Dubai Marina. So if you're wanting to visit the beach frequently, this area probably isn't going to be ideal for you.
You're close to some really cool attractions here such as Dubai Frame, Queen Elizabeth II and Dubai Miracle Gardens. There are also some lovely hotels here but the area is more mixed than the others due to the souqs. So if you prefer full on luxury, this area will probably not be the Dubai you're expecting. However if you're wanting to see the other side of Dubai and a chance to explore the history or ride an abra across the creek. This area is for you!

Recommended Hotels
Affordable: Premier Inn Al Jaddaf
Mid Level: Al Bandar Rotana
Luxury: Palazzo Versace Dubai
Where's the best place to stay in Dubai?
I hope this article helps you to decide on which are you should stay in. I've even provided the search boxes so you can have a look at all the local hotels in each other areas. I hope you have an amazing time in Dubai and make sure you check out some of my other guides!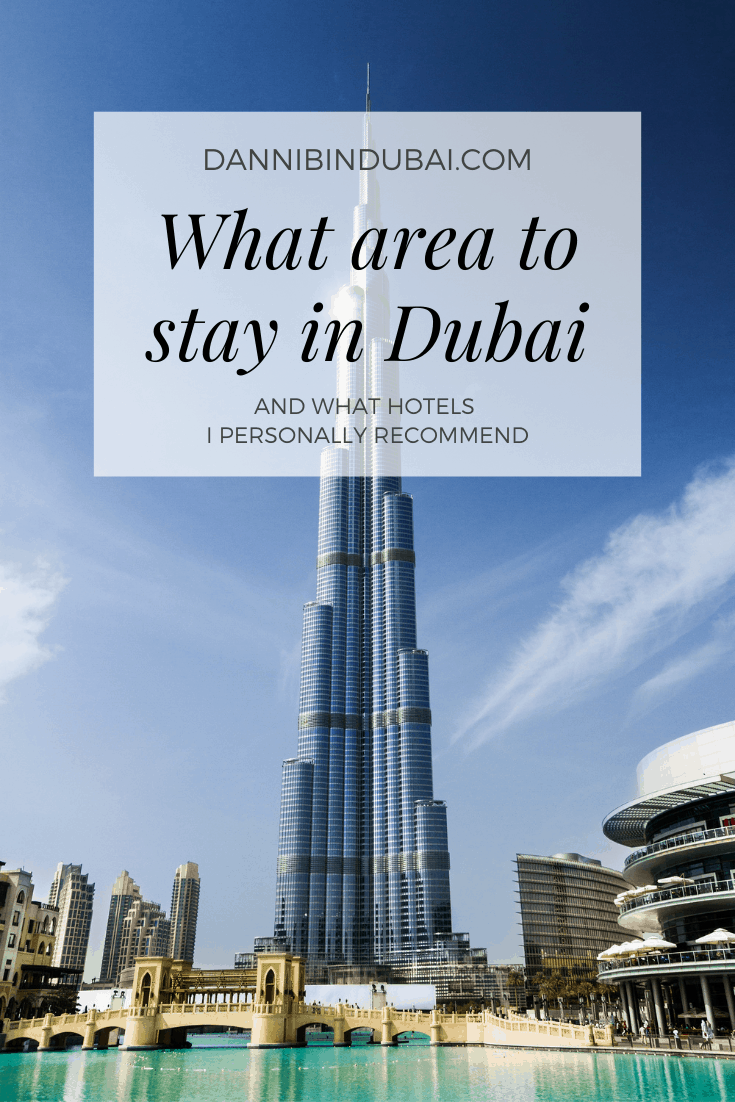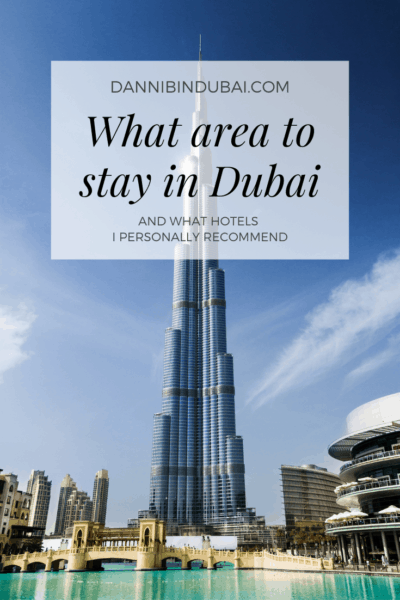 This blog post contains affiliate links, by using these affiliate links it doesn't cost you any extra but I do earn a small commission which helps me to keep writing these informative blog posts for you!
For more articles check out:
Visiting Dubai for the first time? This article covers all the basics
What to wear as a woman in Dubai
3 extravagant days in Dubai; blow the budget luxury itinerary
The best malls in Dubai
Enjoyed this article? Give it a share!