Just moved to Saudi Arabia and have no idea where to go for the best sites for online shopping KSA? Or perhaps been here for a while but what to check you're not missing out on some good sites? These are the best websites offering a wide range of products and great delivery times to Saudi. I'll give you all the details on what makes them great, delivery times and what products they offer!
When you first arrive, it can feel like you really need to relearn everything all over again. How did you take everything for granted in your home country? You know where to shop, where to get the best deals, what businesses to use! Now we're here trying to do online shopping in KSA and no idea where to even start!
Don't worry! I've got you! Here are all the websites you NEED to know about so that you can get your life back to normal ASAP!
Click each one below to jump straight to that shop, each contain a brief summary of what they offer, delivery times and some recently released items I personally love!
Best online shopping sites that deliver to KSA
---
Check out some of my other articles about Saudi here:
What is the writing on the Saudi Flag? How was KSA founded? Ultimate Q&A
9 must visit places in Hail, Saudi Arabia
Flying to Saudi Arabia during the era of Covid
Beginners guide to visiting a mosque for the first time
---
Noon is the Middle East version of Amazon. They offer various items and offer express delivery too. I actually recommend this website more than Amazon since the Saudi version of Amazon still lacks items and can be expensive due to the lack of sellers. In addition I've found many items on Amazon are coming from abroad and therefore take a longer time to deliver than Noon.
The express delivery time depends on where you're located in Saudi and is fastest for Riyadh. Though most locations with the express delivery can arrive in only a few days! Even for us in Mecca it took only a couple of days for the Express items.
I really love this electric Bakhoor burner, I call it the Bakhoor gun! My husband loves burning Bakhoor and making his clothes smell of it too. He even uses this in the car! It just makes burning bakhoor so much easier as it's fully electric, recharges and no messy charcoal!
A firm favourite amongst the expat community due to the wide range of health, food and beauty products they offer. The products come from the US but the delivery is affordable and they frequently do offers or discounts.
Any items which you are having difficulty to find either in shops or via online shopping in Saudi Arabia. Chances are if it's health, beauty or health food related. You'll find it on iHerb!
You have two delivery options with this one, the standard one will take up to two weeks where as the express can arrive between 4 to 7 days. Certain products give you a discount on express delivery too! So often it ends up only being 10-15 SAR more for the express!
If you've been watching any dermatologists or aestheticians then you've probably heard of CeraVe! Their great range of products have no nasty extras and active ingredients that are proven to work! Plus they're affordable!
Offering delivery to Saudi Arabia, The Outnet is ideal for those who love designer products at discounted prices! Everything from Dolce & Gabbana to Balenciaga. Their express delivery option means your order can be with you in as little as 3 to 6 days!
If you love a sale like I do, the Outnet is great! I often pick up designer items for the same price I would have paid for a none designer item. The higher quality is really worth it to me and I have t-shirts that have lasted for years. Still looking fresh and not colour faded!
Though you have to be quick when they do a clearance as sizes and styles sell out fast!
It definitely not easy finding up to date with the fashion and western style clothes in Saudi Arabia. Asos is great for that! Plus they offer free delivery and returns to Saudi Arabia. So if you love fashion, you'll soon find out why Asos is so hugely popular! That's if you aren't using them already!

Beauty products can be more expensive in the Middle East than they are back home. One way around this is by ordering from shops that offer delivery internationally (plus they remove the UK VAT when delivering outside of the EU).
Cult Beauty are based in the UK and offer free shipping over £40 to the Middle East including Saudi so perfect for online shopping in KSA! Yes you will typically pay customs for the good coming in but they often still work out cheaper than buying them here on most occasions!
If you have hazel eyes (like me) or green eyes, the purples in this palette will really make the green pop! It looks stunning! Even if you don't have hazel or green eyes, this pallette is still great for those more neutral looks or creating an amazing smokey eye!
If you're looking for designer items that are stocked locally or need something for a special event quickly! Ounass is perfect! Also some designers do special limited editions only available in Middle East stockists. They offer free delivery and returns. Along with Saudi based customer service.
If you live in Riyadh, you can even pay for three hour or same day delivery! Jeddah is 1 to 2 days and the rest of Saudi is 3 to 4 days.
This stunning crepe dress has Ramadan vibes all over it!
Shein has mostly clothes but there are a few other random items on there! They really have a wide range of fashion and is on trend! Though I must say, their sizing is a little small so I always recommend to go at least one size larger than you are and if you're more curvy (you know what I mean ladies) than better to go two sizes up!
Typically you will receive your order in about a week or just over, though weirdly it sometimes comes up with long estimated delivery times after you've ordered! I've always received mine the original date stated before buying rather than the weirdly long date after you've ordered. Returns are free for KSA.
I really love their selection of modest dresses, perfect for gatherings. For some reason, their Saudi website only comes up as a mobile version even on a laptop but you can order from either site. They've just released their Ramadan collection too!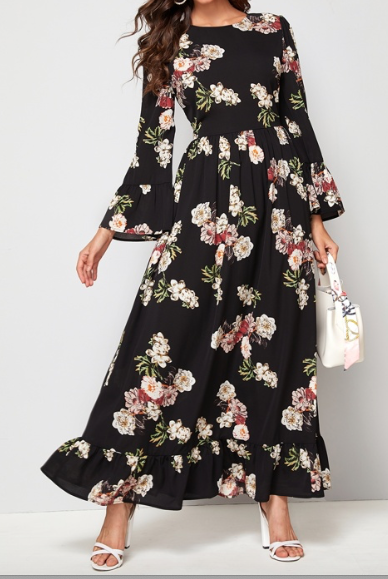 So those are my seven best online shopping in KSA websites that I simply cannot live without. Make sure to tag my Instagram in your purchases if you do buy something! Happy shopping!