Dubai is a city like no other; its beautiful skyline, vast desert landscapes and bustling urban centres make it the perfect destination for luxury shopping. It's home to some of the most iconic shopping malls in the world. From high-end luxury malls to traditional souks, this guide will give you all the information you need to find the best mall for your needs.
Whether you're looking for designer brands or local handicrafts, our list has all the best malls in Dubai to help you find exactly what you're looking for. So come along! Let's explore some of the best shopping destinations in Dubai.
Of course, deciding which is the best mall in Dubai is subjective but I'll tell you which one I personally love to go shopping at and which ones my friends enjoy the most too.
From the biggest shopping centres to the more unique independent stores, there's something for everyone in the malls of Dubai!
Resident tip – Unlike Europe, most malls in Dubai get very busy on evenings and are typically quiet in the mornings up until around 3 to 4 pm. So if you want to avoid the crowds, go to the malls in the morning!
Best Malls in Dubai
So after nearly a decade of living in Dubai and with many friends who live in Dubai? Which mall in Dubai do I think is the best of all the malls in Dubai? It's a tough one to choose out of all of the contenders. These would be my favourite malls in Dubai in order.
1. Mall of Emirates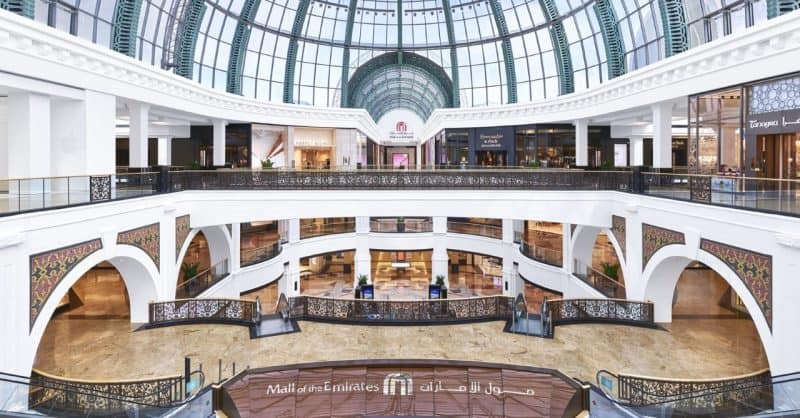 Mall of Emirates is the perfect-sized mall for all your shopping needs, has some really great restaurants, yummy cafes and a large number of entertainment options. The location is ideal for meeting most people in Dubai since it's in the middle and there's a good range of shops whether you want designer or high street stores.
It is very popular for these reasons and it isn't as hard to navigate as some of the larger malls in Dubai yet still with a amazing selection of shops. Its layout also makes shopping easy with two straight lines and interconnected passages across 3 floors. Plus large lifts at every entrance, making it easier for wheelchairs and families with prams.
You'll find here River Island, Zara, Pull & Bear and H&M along with Louis Vuitton, Dior, Hublot and more. There's also the luxurious British department store Harvey Nichols, as this is their only location in the UAE.
In terms of Entertainment, it is home to the famous indoor ski resort, Ski Dubai. There is also Magic Planet, Vox Cinemas and more!
The mall is also accessible via metro with a connecting air-conditioned tunnel going directly into the mall. If you are driving, be aware that Al Barsha does get quite congested on the evenings.
We asked in our Facebook deals group and this was the winner also! As voted for by our members.
We have an in-depth guide to Mall of the Emirates here.
Hours:
Weekdays – 10 am till 11 pm
Weekends – 10 am till 12 am
Location: Al Barsha
Stores: 650 stores
Parking: Free for 4 hours (longer if you validate at the cinema)
Nearest Hotels
Both of these hotels are connected directly to Mall of Emirates:
Sheraton Mall of Emirates
Kempinski Mall of Emirates
2. The Outlet Village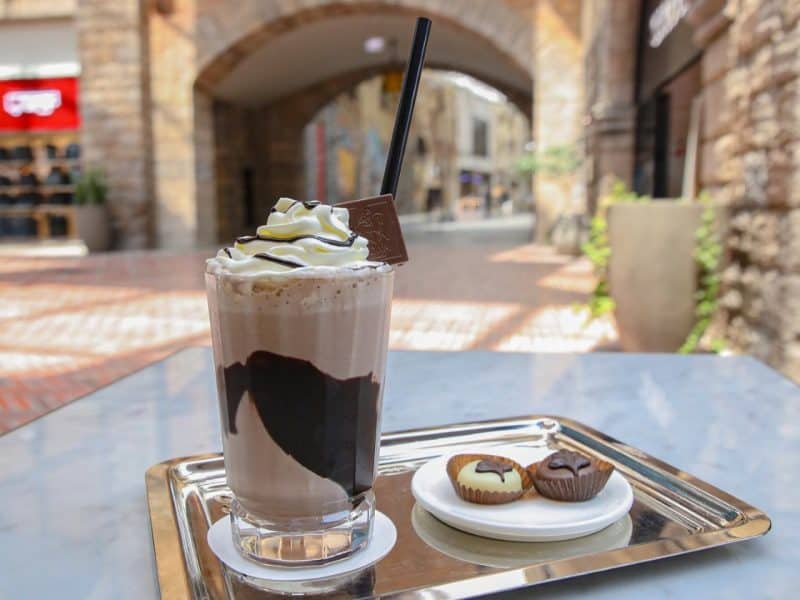 This is a beautiful shopping experience, feeling like you're walking the streets of a European city. The large skylights above you with the paved walkways make you feel like you're outside while still enjoying the air conditioning that is needed in the Dubai desert weather!
The majority of stores are designer, such as Dolce & Gabanna, Micheal Kors, Pandora & more, at discounted rates. Aldo and Nike plus a few other high street brands are available at Outlet Village but not many high street names. It's mostly focused on designer brands.
Be careful when you enter this mall on Google Maps because there is also an Outlet Mall which is at the opposite end of Dubai! This one is towards Abu Dhabi and is located in Dubai Parks and Resorts.
I really enjoy wandering around this mall and making a day of it while picking up a few bargains. The only downside is that it is further away! It's also a great option for Dubai summer when you want a change of scenery compared to the other malls.
It's really close to Last Exit too, so if you're not full from the amazing restaurants and cafes here, you can enjoy a nice coffee or grab a bite to eat on the way home.
There's also a free shuttle bus that goes here from select hotels.
Hours:
Weekdays – 10 am till 10 pm
Weekends – 10 am till 11 pm
Location: Dubai Parks and Resorts
Stores: 100 stores
Parking: Free
Nearest Hotels
These hotels are all located less than 1km away from The Outlet Village:
LEGOLAND Hotel Dubai
Lapita Dubai Parks and Resorts
Rove at The Park
3. Nakheel Mall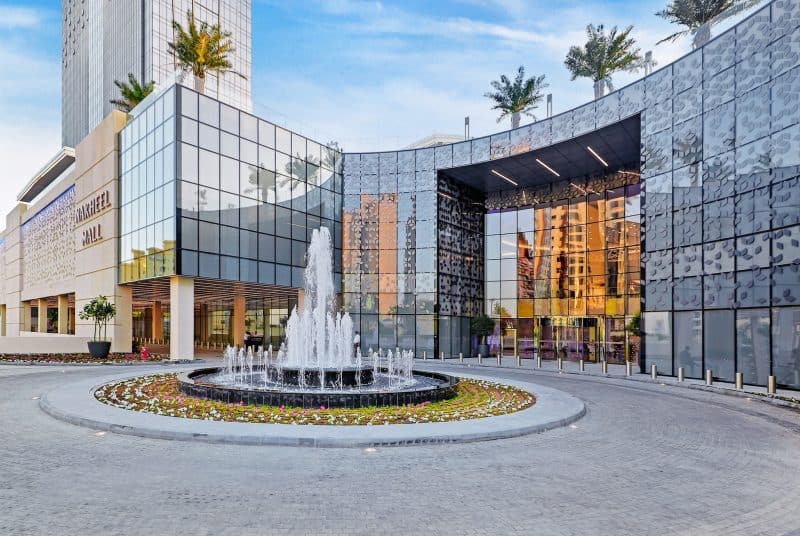 Discover the best of both worlds at this mall, it's a good size and has a diverse array of shops. It also has a unique food market for some gourmet food shopping. So whether you're a bargain hunter or want luxury fashion, you're sure to find it here.
Located on the iconic and luxurious destination of Palm Jumeirah, on the main trunk. You'll find a decent amount of parking or you can choose to also get here via the Palm Metro.
You'll also find The View here if you're looking for unique things to do in Dubai,
Not all of the shops are occupied here, however, there is still a decent selection. You'll find your high street brands such as Splash, H&M, Brands4Less and Forever 21. There aren't any super high-end shops but a few designers such as DKNY, Boss and Sam Edelman.
There's also a few cute independent boutiques selling summery clothes, I picked up a gorgeous large sunhat here. Aura SkyPool is above, you so can pick up a new outfit from the mall.
Hours:
Weekdays – 10 am till 10 pm
Weekends – 10 am till 12 am
Location: Palm Jumeirah
Stores: 350 stores
Parking: Free
Nearest Hotels
The St Regis is located in Palm Tower above Nakheel Mall and Cheval Maison is located within easy walking distance.
St Regis Dubal The Palm
Cheval Maison The Palm

4. Dubai Mall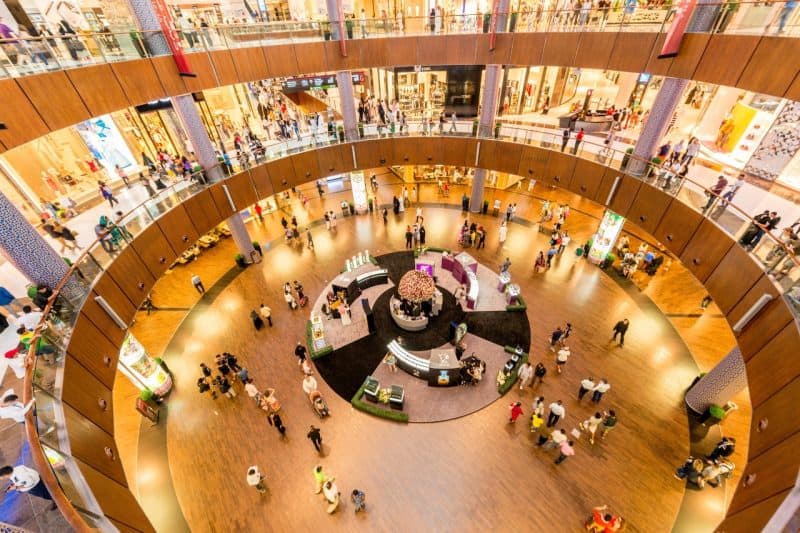 This is one that tends to divide opinions because it is so huge but it is one that must be visited as part of your trip to Dubai. If you live in Dubai, it's not one I recommend to go shopping all the time but it can be convenient if you know where you're going. Plus it has an amazing selection of restaurants and pretty much every possible shop that exists in Dubai.
The mall was extended in recent years to make it even bigger, the newer section is called Fashion Avenue and dedicated to designer shops. Similar shops are grouped together, fashion, home, electronics but it can be a large distance between different sections.
There's also a traditional-style souk selling mostly gold and jewellery inside Dubai Mall plus you can easily pop over to Souk Al Bahar if you want to grab some tourist souvenirs or even a Persian rug!
The famous Dubai fountains are here and you can visit the Burj Khalifa. In addition, Dubai Mall is a tourist attraction all by itself. So if you're looking to do many tourist attractions in one and spend a whole day exploring, Dubai Mall is for you. Though it will take you a few days to see everything!
Make sure to download their free app so you can navigate around the mall, alternatively, there are customer service desks dotted around. Even people who've lived in Dubai for years still get lost in this mall.
The one downside of this mall is, navigating to different floors if you have a wheelchair or pray (buggy) is difficult. It gets very busy with the small lifts into the mall and it's not very convenient to go back to the larger lifts in the car park.
Dubai Mall and Burj Khalifa metro directly connect into the mall but it is still a 10-15 minute walk from the metro to the mall. If you park here, make sure to grab a ticket from the machine or take a photo so you remember where you parked. As the parking is huge!
You can also enjoy a Dubai hop on and hop off bus to see all the other tourist attractions from here.
Hours:
Weekdays – 10 am till 11 pm
Weekends – 10 am till 12 am
Location: Downtown Dubai
Stores: 1200 stores
Parking: Free
Nearest Hotels
These are the hotels that connect to Dubai Mall:
Address Dubai Mall
Address Downtown
Address Boulevard
Address Fountain Views
Armani Hotel Dubai
There are many hotels close to Burj Khalifa, so if you really want to stay in Downtown Dubai. Make sure to check out this list with hotels close to Burj Khalifa.
5. Ibn Battuta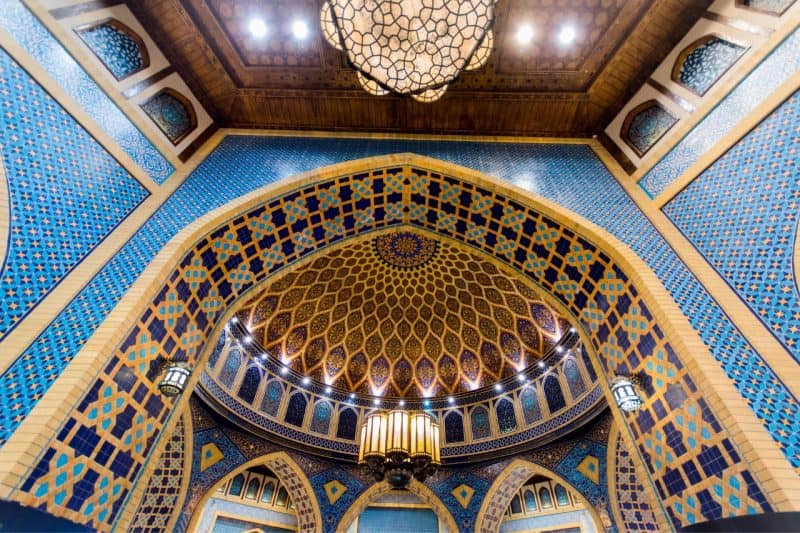 Ibn Battuta Mall is named after the famous explorer 'Ibn Battuta' and is popular shopping destination with over 270 stores and a wealth of attractions. If you're looking for a good deal, many of the shops in Ibn Battuta seem to always have a sale on. So it's perfect for those dirham savvy shoppers.
The mall is divided into six court areas inspired by the travels of Ibn Battuta, China, India, Persia, Egypt, Tunisia and Andalusia. Each section features unique architecture and design. So you'll definitely want to snap some picture as you wander around! The mall also has special events throughout the year to add to its allure.
This mall would be much higher on the list if it wasn't for its layout, the annoying part about this mall is that it's laid out in pretty much one long line. So by the time you make it one end, having to go all the way back is an adventure in itself! Though the beauty of the mall does somewhat make up for it and you can get an indoor taxi to take you back!
Depending on your location as well, this mall may be a bit too far for you. As it's located towards Jebel Ali, towards Abu Dhabi from Dubai. so that could be either a positive or negative. It's cinema tends to be less crowded than other cinemas due to its location, which is nice.
There is a planned extension for this mall too, so it'll be even bigger!
Hours:
Weekdays – 10 am till 10 pm
Weekends – 10 am till 12 am
Location: Jebel Ali Village
Stores: 250 stores
Parking: Free
Nearest Hotels
All of these hotels are on the same grounds as Ibn Battuta Mall:
Premier Inn Ibn Battuta
Avani Ibn Battuta
Oak Ibn Battuta Gate
6. Festival City Mall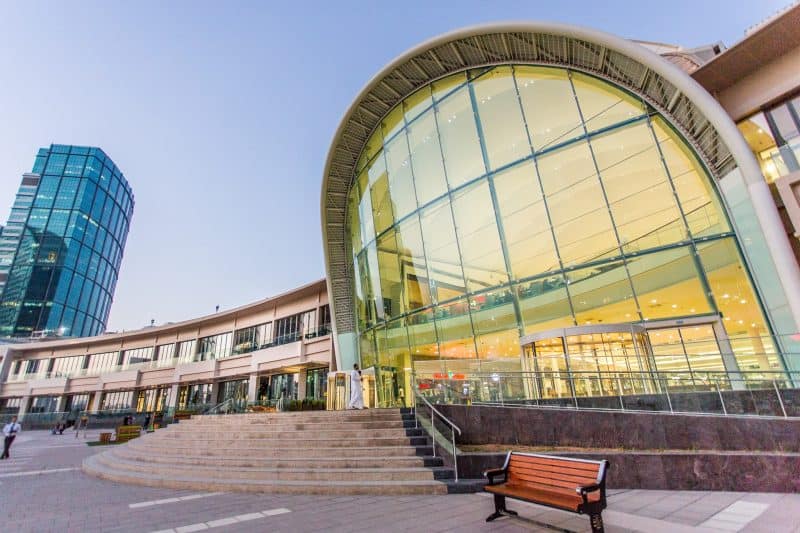 Taking an adventure to the other size of Dubai, close to Dubai Creek, you'll find the enjoyable Festival City Mall. Not only is the mall here but there are several large superstores such as Ace and Ikea surrounding the mall. It features a good range of shops and restaurants.
It lacks high-end designer stores since the large department store shut down and currently nothing has replaced it, otherwise, it might have been higher on the list. You'll find Massimo Dutti, Centrepoint, Max and more. The connected hotel InterContinetial has some nice cocktail bars and restaurants too.
You'll also find a unique fountain and laser shower here, if you're wanting a unique free experience that is less busy than the Dubai Mall Fountians! There's also a cinema, a trampoline park and an arcade, if you're looking for entertainment.
Make sure to check out the famous Emirati restaurant called Al Fanar inside here too, to taste authentic Emirati dishes.
You can easily get here by car with lots of underground parking. If you're wanting to get her in a more unique style then you can get a water taxi along Dubai Creek and get off at the Festival City Mall stop.
Hours:
Weekdays – 10 am till 10 pm
Weekends – 10 am till 1 am
Location: Festival City
Stores: 400 stores
Parking: Free
Nearest Hotels
These hotels are are within a few minutes of Festival City Mall:
Crowne Plaza Dubai Festival City
InterContinental Dubai Festival City
Holiday Inn & Suites Dubai Festival City Mall
7. Dubai Hills Mall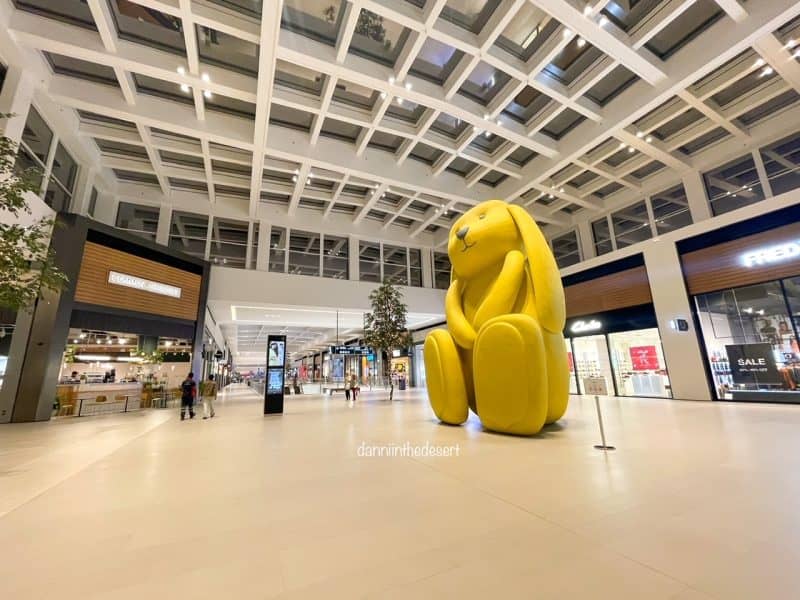 Dubai Hills Mall is the newest major shopping destination in Dubai, featuring an array of upscale fashion and dining experiences. Situated in the heart of one of the city's most vibrant communities built by Emaar, this shopping mall houses world-renowned designer labels, unique restaurants and cafes, and luxurious leisure facilities.
This impressive destination offers a variety of entertainment options for shoppers looking to relax and unwind. From innovative children's play areas to luxury cinemas, Dubai Hills Mall is the perfect place to enjoy a leisurely day out with family or friends.
Brands range from Berksha, Charles & Keith and Flying Tiger. To Calvin Klein, Chanel and Jo Malone. There's also a Geant supermarket if you need to grab some groceries before heading home.
The best thing about Dubai Hills Mall is how quiet it is compared to other malls in Dubai. The one downside compared to others, there is a good few eateries but not lots of choices compared to other malls. There are also no connecting hotels.
There are future plans for this mall to be connected to the metro but for now, you'll need to drive or take a taxi or bus. There is ample parking in the multi-storey car park.
Hours:
Weekdays – 10 am till 11 pm
Weekends – 10 am till 12 am
Location: Dubai Hills Estate
Stores: 650 stores
Parking: Free
Nearest Hotels
There is a lack of hotels close to this mall however there are a range of apartments available from Booking.com:
8. Mercato Mall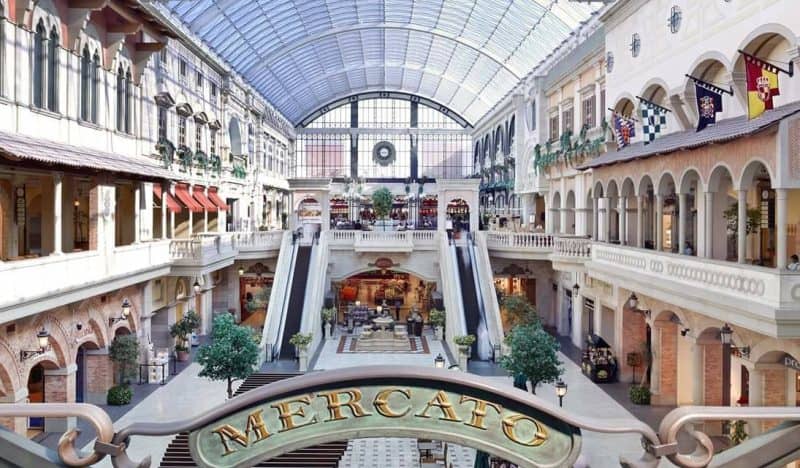 A surprising one for the list but one that is perfect for those who want a mall with a good variety and a little bit of everything without going to a huge mall that can be hours just to get in and out. You'll be surprised but this smaller sized small still has over 140 retailers inside.
The Mediterranean architecture gives you the feel of being somewhere in Europe, hence the Italian name for market! There are also some unique stores here and a few independent eateries. Plus there's even a cinema and a bowling alley.
Here you'll find high-street brands such as Pull&Bear, Mango and Gap but less of your luxury designers. There is however a luxury consignment store here. There's also a decent-sized Spinneys supermarket for food shopping. Mercato Mall has a unique charm and a decent amount of shops without feeling too huge.
There isn't a metro connecting here but you can take a bus or taxi from the nearest metro station (Burj Khalifa or Emirates Tower). I'd probably avoid the Burj Khalifa metro as it is not the easiest to get a taxi from the metro. The bus is easier and will take you directly. The mall has a decent-sized car park too.
Hours:
Weekdays – 10 am till 10 pm
Weekends – 10 am till 10 pm
Location: Jumeirah
Stores: 130 stores
Parking: Free
Nearest Hotels
There aren't many hotels close to this mall, as it's mostly a residential area but this hotel is opposite:
9. Dubai Marina Mall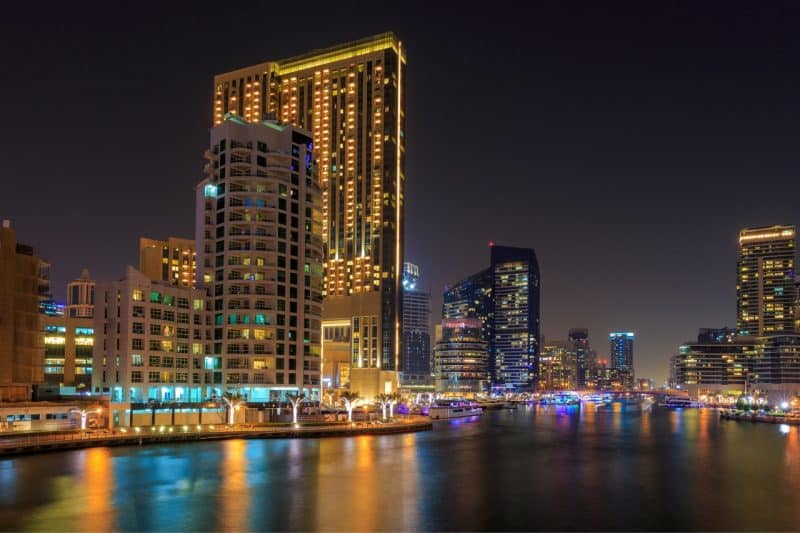 The main selling point of this mall is its beautiful location where you'll find many stunning restaurants with a Dubai Marina view. It is a small mall for Dubai standards but still has a decent selection of stores.
Carluccio's here is one of my favourite family friendly restaurants due to it's beautiful terrace right on the marina and was one of the first places I visited when I first moved to Dubai.
There's a mix of luxury and high-street brands with Ted Baker, Diesel, Koton and Lulu Lemon. Plus even a Daiso for those Dubai residents who love buying many items for only 5.75 AED ($1.60 USD).
The Address Hotel Dubai Marina and Pier 7 are connected to the mall, giving your even more options to dine or enjoy a drink.
It's not one which I would go out of my way for but if you live locally, it's a nice mall to spend an afternoon in or for picking up the bits and pieces you need. There's also a cinema and soft play areas for kids.
This mall is also accessible by Dubai Tram (named Dubai Marina Mall) there isn't a direct tunnel but the stop is pretty close by to the mall so is within easy walking distance.
Hours:
Weekdays – 10 am till 10 pm
Weekends – 10 am till 11 pm
Location: Dubai Marina
Stores: 140 stores
Parking: Free
Nearest Hotels
This hotel is connected to Dubai Marina Mall:
10. Arabian Center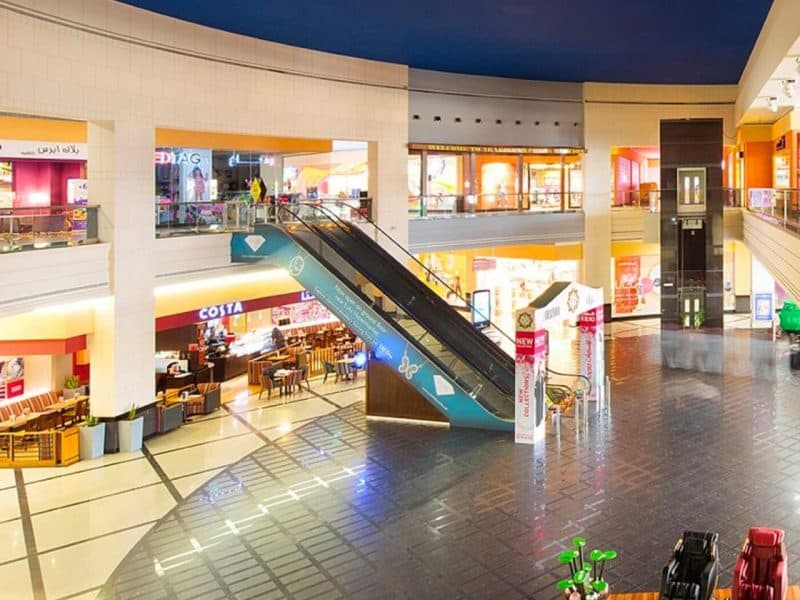 Arabain Center is a sprawling shopping oasis with over 200 stores offering everything from fashion brands to home goods and electronics. You'll also find a host of dining options, serving up everything from aromatic coffee to delectable cuisine.
It doesn't end there! For the ultimate fun, check out the cinema, bowling alley, and gaming arcade to have the time of your life!
Arabian Cente was built in 2009, so it is one of the older malls and you do get a sense of its age as you walk around. However, it has a good range of stores with mostly high-street brands rather than luxury designers. There's a decent selection of food outlets too. Along with a very large Lulu supermarket.
Ibn Battuta
The Outlet Village
Mercato Mall
Hours:
Weekdays – 10 am till 10 pm
Weekends – 10 am till 12 am
Location: Al Mizhar
Stores: 175 stores
Parking: Free
Nearest Hotels
There aren't any hotels within walking distance to Arabian Center Mall but this hotel is the closest:
11. Oasis Mall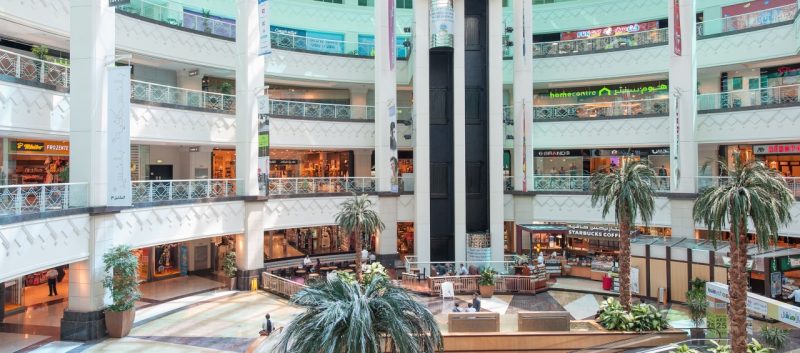 A one-stop destination, with its attractive blend of various products and top-notch services, Oasis Mall is a favourite hotspot for both locals and tourists. Featuring just under 100 different stores and brands.
The entertainment options are more limited compared to other malls in Dubai and is mostly focused on children's activities such as indoor go karting and a Fun City children's play area. They also host special events throughout the year, usually for children. As it's a family-focused mall.
Oasis Mall in Dubai is a perfect-sized mall with a select few large-sized shops while still offering a good variety for the discerning shopper. You'll find both a large Home Box and Home Center if you need to do some home shopping along with a large Centerpoint. Plus the Dubai favourite Daiso, along with a smaller-sized Carrefour supermarket.
The cylindrical shape of the main shopping foyer makes it a unique but well-laid-out mall, with a selection of cafes on the ground floor in the middle.
There is ample free parking and the nearest metro is Onpassive Metro, previously Al Safa Metro. However, it would be around a 30 minute walk, so you'll likely need to get a bus or a taxi from the metro if you plan to use public transport.
Hours:
Weekdays – 10 am till 10 pm
Weekends – 10 am till 12 am
Location: Al Quoz
Stores: 70 stores
Parking: Free
Nearest Hotels
There aren't any hotels close to this mall, the nearest is 1.3km away:
FAQs
Which is the best mall to visit in Dubai?
If you're visiting Dubai for a limited time and would like to see all of the tourist attractions in a short space of time, then Dubai Mall is the best mall for you. If you're wanting a nice shopping experience with good dining options and entertainment, Mall of Emirates is the most popular with residents and has a rating of 4.7 out of 5.
Which mall in Dubai is best for shopping?
Mall of Emirates is the best for shopping according to Dubai residents with a 4.7 stars out of 5 and is also voted for as their favourite mall for shopping. This is due to the good mixture of both luxury and high street brands, it's favourable layout and its great range of restaurants to enjoy when shopping.
What is the most famous mall in Dubai?
The most famous mall in Dubai and the world is the Dubai Mall. Located in the heart of Downtown Dubai, close to the Burj Khalifa. This iconic attraction has over 1,200 stores, 26 screen cinema, an indoor virtual theme park, an ice rink and many more entertainment spots.
What is the largest mall in Dubai?
The largest mall in Dubai is Dubai Mall, it is a whopping 13 million square feet (1.2 million square meters) and houses over 1200 retail outlets. It has a multiplex cinema featuring 26 screens and over 120 restaurants. Plus a large VR Park, an Olympic size ice rink and Kidzania.
Which places provide the best shopping malls in Dubai for groups?
The best shopping malls for groups in Dubai is:
– Mall of Emiraites
– Festival City Mall
– Nakheel Mall
– Dubai Hills Mall.
As they are a good size with a wide range of shops, entertainment and eateries. I wouldn't advise Dubai Mall unless you plan to stick together as a group since it's easy to get lost.
Which places provide the best shopping malls in Dubai for couples?
The best malls for couples due to their romantic and themed interiors are:
– Ibn Battuta
– Dubai Mall
– The Outlet Village
– Mercato Mall
Dubai Mall isn't themed but the Dubai Fountains and many romantic restaurants, make it the perfect place to enjoy as a couple.
Which places provide the best shopping malls in Dubai for kids and families?
The best malls in Dubai for kids and families are:
– Dubai Mall
– Ibn Battuta
– Mall of Emirates
– Mercato Mall
– Oasis Mall.
Depending on if you prefer a larger mall with lots of entertainment options or a smaller mall than can be enjoyed together. Dubai Mall, Oasis Mall and Mercato Mall both have regular events for kids too.
Which places provide the best shopping malls for travelers on a budget?
The best malls to find good deals are:
– Ibn Battuta
– Deira City Centre
– Arabian Center.
These malls are further out from central Dubai, less touristy and often have cheaper food along with regular sales.
Conclusion
The best thing about the malls in Dubai is that they're fully air-conditioned! So they're a perfect place for activities even during the summer months. You can literally spend hours just walking around.
Hope you've enjoyed a rundown of Dubai's top malls as voted for not just by myself, but also by fellow local residents. These are the places where people love nothing more than to shop until they drop. Personally, Mall of the Emirates is my all-time favourite. Whenever I'm in the mood for a marathon shopping session this is my go-to destination. For a little treat that doesn't break the bank, the Outlet Village is always a winner – bagging that special something, but still getting a bargain.
Dubai has more than enough large malls that are possible to spend an entire day just wandering around, grabbing bites to eat and having an enjoyable day out with the family. As you can tell from the list!
Due to the hot weather, malls have become the perfect hiding spots for residents to enjoy their time in the air conditioning. They are also popular places for everyone to meet up during the evening. Make sure to check out some of my other Dubai articles!
---
*This article contains affiliate links, clicking the link doesn't cost you anything extra but it does help me to keep writing these awesome articles for you!
Enjoyed this article? Give it a share!