Currently working remotely? Or planning to in the future? Have you asked yourself, can I work remotely in Dubai? Then not to worry. I'll go through ALL THE THINGS you need to know about the new Dubai remote work visa! Plus Dubai was recently voted as one of the best cities in the world for remote working in 2021. As they recently launched the Dubai remote work visa, making your dream to live and work in Dubai just got even easier!
Dubai has such an amazing lifestyle, so it's no wonder that so many people want to work in Dubai. It's beautiful desert climate means winter times are like a European summer with lovely sunny weather pretty much all year round.
You'll frequently see people posting photos sunning themselves on the beach, chilling on yachts or just generally living it up in one of the luxury capitals of the world! So no wonder people are curious about living there!
If you're going to live in Dubai I highly recommend to rent a car since tt's definitely a more car friendly city than a pedestrian friendly one! RentalCars.com searches for the best deals on the market from various suppliers!
If you're looking for work in Dubai rather than you are already employed and working remotely, check out my other article "Finding working in Dubai even in a tough market"
---
Want to learn more about Dubai and the UAE? Make sure to check out my other articles:
What currency does Dubai use? What is the UAE? Answering all your questions!
Which area in Dubai is the best to stay or live in?
What can I wear as a woman in Dubai? Do I need to cover my hair?
The cheapest and quickest way to get between Dubai and Abu Dhabi
---
So what makes Dubai a great city for remote working?
Aside from the beautiful weather and luxury lifestyle, what else makes Dubai one of the best cities in the world for remote working? Dubai was recently voted as one of the top 50 cities to work in remotely by Big Seven Travel. This was based on affordability, internet access, how easy it is to get a remote working visa, whether it's expatriate friendly and what co-working spaces there are available.
Dubai has lots of co-working space available! Even many hotels offer co-working spaces as well. Including even residential buildings designed for those who work from home or are part of the nomadic remote work community.
Internet is available for free in the vast majority of cafes, restaurants and hotels. Offering high speed internet and even places like the beach have wifi hot spots. Making it really possible to work from anywhere! On top of this it's easy for those visiting to get sim cards. You can literally pick up sim card right by the luggage carousel before you've even ventured into arrivals!
Dubai is a hugely expat friendly city and is in fact one of the few countries where the expatriate population outnumbers the local population. You'll find a whole host of different nationalities here and you'll be able to get many of the products that you like from your home country due to to this. It is probably one of the most expat friendly cities in the world!
Dubai is in the middle in terms of affordability, you are obviously not going to get the same value as your would in say South East Asia or South America where living costs are super cheap. Dubai is affordable considering it is such a global destination and the high end lifestyle it offers.
Studio prices have hugely come down in the city and it's definitely possible now to get a studio for around $1000 a month plus bills! For more on the cost of living in Dubai, check my other article here.
Another benefit of Dubai is that it is an extremely safe city to live in with very low levels of crime. This is one benefit of Dubai versus other cheaper countries where foreign expatriates may have their expensive laptops or photography equipment stolen! The UAE is an extremely safe country with very low levels of crime. People often leave handbags on the table when they go to the bathroom, read more about it here on commonly asked questions about Dubai here
The remote work visa is easy to get provided you meet the requirements, so we'll go more into the process!
Who is eligible for the Dubai remote work visa and what is the process?
Is the Dubai visa open to any nationality?
Yes! The Dubai remote work visa is open to any nationality but they may reject individuals on national security grounds.
You must either be employed or self employed and earning over $5000 a month, that's $60,000 a year. For both you will need to provide evidence of earnings along with bank statements.
For the actual process, you can apply online before you come to Dubai or once you enter Dubai. As many countries can get a free tourist visa on arrival in Dubai. You then just change it over to your work visa. You will also need to submit the necessary paperwork and pay the fee for the visa.
What paperwork will I need?
If you're employed; you will need to provide proof of employment with your employment contact. This must also show a minimum of one year validity. Along with 3 months payslips and 3 months bank statements to prove your income.
If you're self employed; you will need to provide proof of ownership and the company must have existed for a minimum of one year. Your average monthly income must be over $5000 (USD) or $60,000 a year and you will need to provide three months worth of bank statements for the preceding three months.
Also your passport must have a minimum a 6 months remaining on it.

Finally you will need medical insurance that covers you for the UAE and the duration of your visa.
Do I need to be in the country to apply for the remote working visa?
The official website says both are fine. Whether you apply online first or come to Dubai first to apply. All other residential visas for Dubai have to be put in your passport and typically with work visas this is done when you are in the country. It is possible to apply online before you leave for Dubai as well.
You can get a Dubai tourist visa for 30 or 90 days, depending on your passport, and then make the switch to the remote working visa. It may even be easier this way as you can enter and sort out the visa once you're in Dubai. Plus that will give you extra time and tourist visas for most countries are free on entry!
You can apply online for the visa, from the official website here
I've been trying to interview people who have already been through the process to check what is best but since it is a new visa. There wasn't many who had been through the process. I will update this article when I do manage to interview people!
How much does the Dubai remote work visa cost?
The visa costs $287 (USD) plus the cost of your health insurance for the UAE
This must be valid for the duration of your visa.
Please note that the fees are not refundable and do not guarantee approval. If you have another visa valid in the UAE or have a UAE visa pending, then you will not be eligible for the visa.
If you plan to travel in and out of Dubai or using Dubai as more of a hub. It's definitely best to go for a long term travel insurance like that from World Nomads. World Nomads is one of the most well known Insurance companies globally that specialise for long term travellers. It was also one of the first insurance companies to offer travel insurance to backpackers, remote workers and those enjoying a nomadic lifestyle.
You will need to need to prove you have this insurance as part of the approval process. Insurance companies in the UAE typically require that you are a resident already. Once you have your visa you will give a national ID called "Emirates ID." Most services in Dubai require this in order to process paperwork, open a bank about etc.

When you get an employment visa, first you get your work visa and then the company applies for your insurance. So you need travel insurance when you arrive in Dubai from your home country. So this leads me to believe that you will need a provider like World Nomads rather than a UAE based insured where they would require an Emirates ID first. However again will try to interview and confirm if it needs to be a UAE based insurer or travel insurance is equally acceptable as long as its long term.
Can I be self employed and still get the visa?
Yes! You can be self employed.
As long as you meet the financial requirements of an average income of $5000 a month and can show proof of ownership of the company. The company must have existed for at least a year and you will also need to provide bank statements of the most recent three months for proof of income.
How long is the remote working visa valid for in Dubai?
The visa lasts for one year and you can apply again once the visa expires.
Again because it's new we're not sure how likely it is to be renewed and whether it can renewed indefinitely or if there would be a limit to the amount of times.
If you don't plan to stay in Dubai and only want a short term visa, then another options is the Mission Visa which allows you to legally work in the country. This is valid of 90 days.
If you are definitely planning to stay for longer then there are quite a few different visas options and what's available can depend on you. There is the freelance visa for 2 or 3 years and even visas specifically for female entrepreneurs.
Can I travel out of Dubai on the visa?
Yes, the visa is a multiple entry visa and there isn't a limit for the amount of times you can exit or re-enter the UAE.
Please be aware if you are out of the UAE for more than six months, your visa will be automatically cancelled.
Can I bring my family?
The visa says yes this is possible and it's even possible to enrol your children in local schools. However there seems to be a lack of information on how exactly you sponsor your spouse or children with their own visas at this stage. The website states they are working on these details at the moment.
So for now, it's only realistically possible for single remote workers. As without being able to sponsor your family and have them on a formal visa, it means they would need to either do repeated visa runs if they have a 30 day tourist visa or if they have a 90 day visa. They would need to spend 90 days out of the UAE across 6 months. As different countries have different tourist visas.
We'll give you more details as soon as we are able to get them.
Can I rent a house or flat? What are the best hotels for remote workers in Dubai?
Yes! With your visa you are able to take a long term rental contract. Dubai has many rental options! Though most rental contracts will be for a minimum of one year. So it really depends on your requirements and whether you plan to stay in Dubai for the majority of your visa validity.
Dubai is one of the best cities in the world for hotels! You can even get a reduced rate if you stay on a monthly basis. These actually work out less than most Airbnbs and for some reason! Airbnb is actually pretty expensive in Dubai. So I actually recommend to take a long term hotel room instead.

If you plan to stay one or two months in Dubai, then travel to your home country or to another country for a month while keeping Dubai as a base. Then there are some amazing hotel options to rent month by month! So you don't need to waste your money.
Here are some of the options below in price order from the lowest to the highest:
Rove – Various Locations in Dubai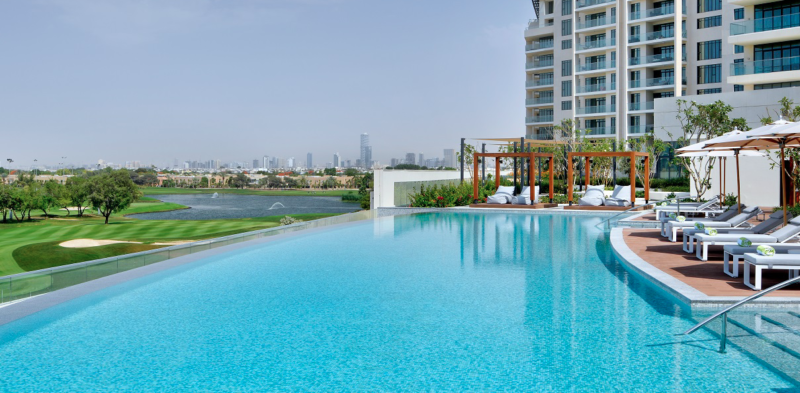 These hotels are really well designed for remote workers with communal chill out spaces, laundromats and even co-working spaces that offer hot drink packages for those who wish to regularly work on the work benches. These are a more basic hotel for Dubai but they still have facilities such as a gym and swimming pools with sun loungers. These hotels are all about Urban freelancer vibes along with lots of different meeting spaces available.
You can see their monthly packages here starting from 2,999 AED ($817 USD) per month.
Radisson Red – Silicon Oasis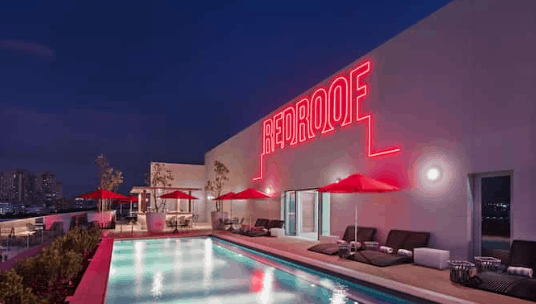 The Radisson based in Silicon Oasis is a little bit further out but offers really great value for long term travellers. I would definitely recommend to rent a car if you're going to stay in the location as it is a little further out.
Studios start from 4500 AED ($1225 USD) a month and you get beautiful facilities like these above! Check out the Radisson Red Silicon Oasis hotel here
Anantara – Abu Dhabi Mangroves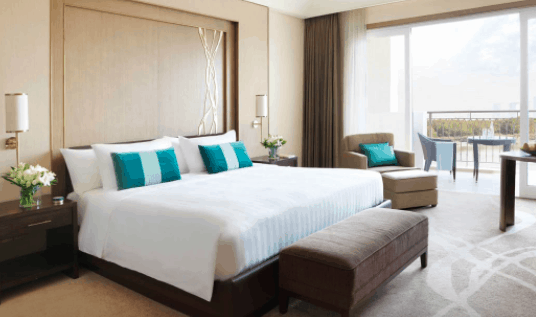 If you want a more luxury option, this luxury 5 star hotel in Abu Dhabi but you can stay in Abu Dhabi even with a Dubai visa. Anantara Mangroves is a stunning hotel to stay in with amazing spa facilities. They also offer a monthly deal!
Another great feature of this hotel is the location. Since it is isn't in central Abu Dhabi, meaning it is easier to get to Dubai from Abu Dhabi with this hotel. Though please bear in mind the current Covid regulations as these rules are subject to change and may require repeated PCR testing when travelling between the two cities.
Monthly stays start from 6599 AED ($1797 USD) per month that you can book that here
Vida – Emirates Hills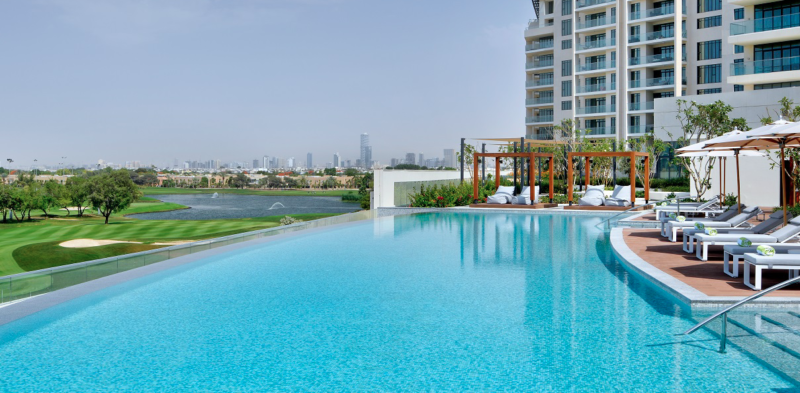 Another luxury 5 star hotel to the list, this monthly stay is actually tailored for those who are remote working. As it includes complimentary extras such as access to the cooking hub, the co-working space and to the social hub with PS4s. It's also great central location in between Downtown Dubai and Dubai Marina.
Prices start from 8,720 AED ($2,375 USD) per month including all taxes and can be booked here
How safe is it to stay in Dubai during the Covid pandemic?
Dubai is extremely safe during Covid. The government has actively taken steps to control the virus and keep both residents and tourists safe.
This includes all arrives needing to provide a PCR test, mask mandates when out and making sure businesses comply with "Covid Safe" policy. This includes businesses displaying badges or stickers to show they are Covid safe.
I've tried to include as much information as possible in order to help about the Dubai remote work visa! If you're planning to go to Dubai, I'm sure you will have an amazing time out there! If there's anything we've missed or you'd like answering, comment below and I'll do my best to answer it!