We recently needed to go to Hail, Saudi Arabia for my husband's job, so I decided to use this exciting opportunity to explore a new part of Saudi and share what I learnt along the way! I've tried include as much information as possible about Hail (also spelt Ha'il) along with tourist attractions to visit and things to do in Hail
Hail is located in the northwestern part of Saudi Arabia and has a population of over 600,000. Hail is the capital of the Hail Province, so you have both the city of Hail and the wider province also called Hail.
Historically Hail was a caravan route and also a city which many stopped by in when going for Hajj in Mecca from Iraq or Syria. Now Hail is mostly known for its agriculture.
---
Saudi is a huge country if you'd like to learn more about it, check out some of my other articles here:
Where is Saudi on a map? What is the writing on the Saudi Flag? Ultimate Q&A
Everything you need to know about the Saudi tourist visa
Flying to Saudi Arabia during the era of Covid
Beginners guide to visiting a mosque for the first time
---
Hail's History
Ha'il has a very old and rich history, being a key large city in the Arabian desert along the caravan and Hajj route. It is also where Hatim Al Tai, a famous poet and nobleman, came from. Whom became more famous for his generosity than his poetry. He was very generous even before the emergence of Islam, where generosity is a highly regarded trait.
In fact, Hatim Al Tai became so famous for his generosity that he even became a proverb by people saying "You are more generous than Hatim." The first street when you come out of Ha'il airport is also named after him.
Saudi Arabia used to be separated into many different states with Hail being one along with the Hijazi area where Mecca and Medina are and Najd where Riyadh is. You can learn more about the history of Saudi Arabia and how it was founded in my previous article here
Hail is also famous for the Hail International Rally which has been going on for over 15 years. A key sporting event in the Middle East where all different forms of transport drive through the harsh desert terrain on a long and tough circuit of nearly 1300km.
Hail's Climate
Hail is further north in Saudi Arabia so is actually colder than other cities like Jeddah. In the winter months, it can go as low as 4 Celcius with highs of 19 Celcius while summer months are still hot with a range of high 30s and low 20s. So like the rest of the gulf, it has a desert climate with very little rainfall.
Places to stay in Hail Saudi Arabia
Hail doesn't have a large selection of hotels and most are independently owned rather than chains. We stayed in Tramontane Apartment Hotel and were pretty satisfied overall with the hotel. Plus they had a cute cafe within the hotel with boards games to keep you entertained. We made the booking through Booking.com
The hotels overall are pretty affordable, we paid around 600 SAR for 3 nights and there were many similar priced hotels. The hotel was clean, well managed and we had a pleasant stay. The one downside of our hotel was it was pretty far away from the airport and was the other side of the city centre but there were lots of restaurants nearby.
For the latest deals on Booking:
Things to do in Hail
Here's a handy map with all the attractions as they can be hard to find, especially in English:
Al Turathi Restaurant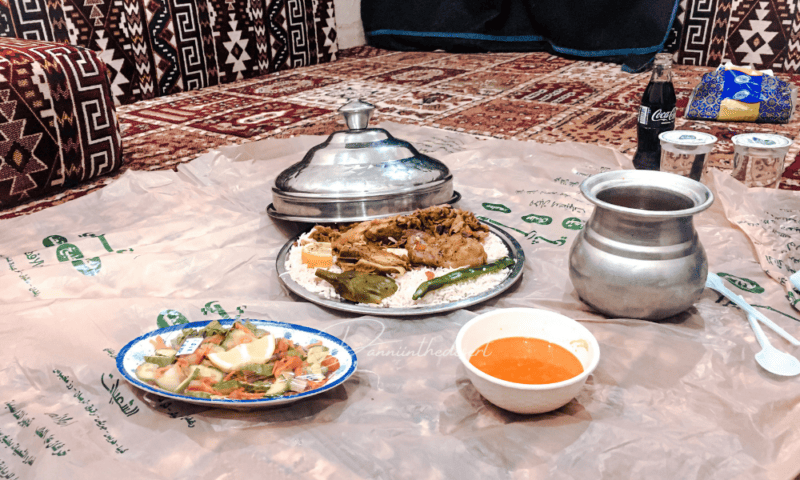 The food here is really good and serves traditional Saudi food for an authentic experience. You can sit on the floor in a private booth, very common in the gulf region. The family section is on the top floor and there is a men's section on the ground floor. Also located in the men's section at the back is a collection of relics and historical pieces for you to peruse.
The outside of the restaurant is also historical with the architecture being very typical for this region and in a Saudi style. This is very different to the architecture in the Hijazi area.
There's a real mix of artefacts, ranging from vintage radios to older agricultural artefacts. There are also various items hung over the walls as you walk to your seating area for your meal in the men's section.
Jebel Samra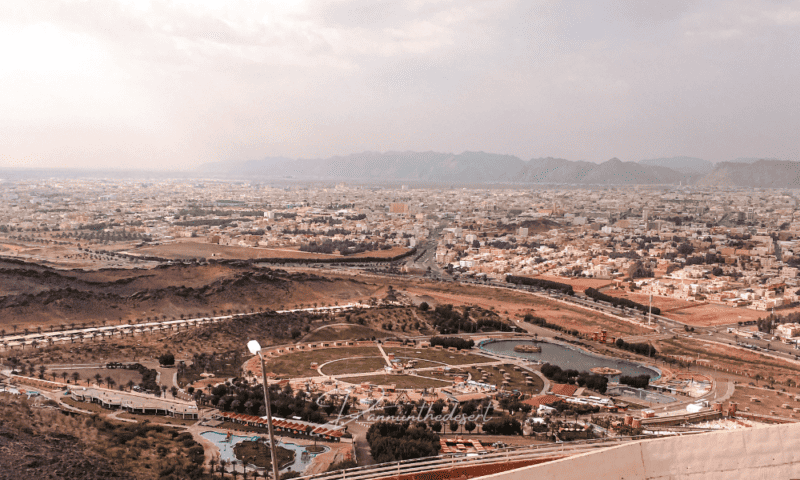 Jebel is Arabic for 'mountain' so in English this would simply be "Samra Mountain." The mountain isn't a huge mountain but still gives you a lovely view across Ha'il. I highly recommend going at night with the whole city beautifully lit up.
In the day time, it's a nice place for a picnic at the top; the Khaleeji way where you set up a blanket by the car. There isn't a large space to walk around at the top but there are other areas to explore in the surrounding park area
It costs 20 SAR (just over $5) per car to enter the whole area and the climb isn't too steep so it is possible to do it in a normal car rather than a 4×4
I recommend going at night, as if you have a family you can then head straight to the next attraction on the list.
Samra Amusement Park
If you've already visited the mountain top, you'll have already paid 20 SAR in order to access the area where the park is located. This area is ideal for those with families who want rides and attractions to entertain the kids.
There aren't a huge amount of rides but there's plenty of places to walk around, sit and have a picnic, a few food outlets and some smaller fairground rides for children. Picnics are a very popular activity in Saudi and you'll see many families sat as a family with blankets and hot drink canisters at popular spots.
This park isn't open during the day, yes Saudi's are night owls and even children's activities are more active on the nighttime!
A'arif Fort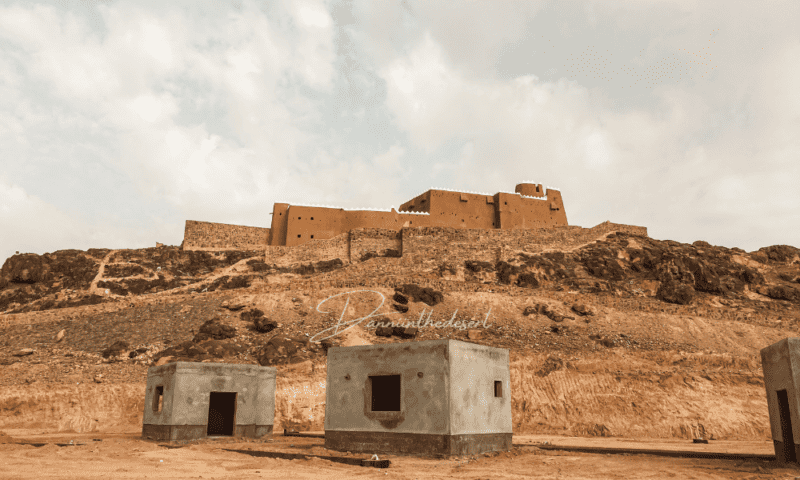 Currently closed for renovations, you are still able to view the fort from afar or walk up the path to be closer. Sadly it isn't possible to go inside. The Fort has been closed since 2019 from what I can see based on the reviews and it is unclear as to when it will open again.
The fort itself is built with mud and clay, designed to protect the Al Ali family and then later the Al Rasheed family from attacks. The very first construction is dated back to the 17th Century. Now it is used for sighting the Ramadan moon and for firing the iftar cannons.
Qishlah Palace
This also was sadly closed for renovations but we were informed by a local that is open during peak tourist seasons. However, I couldn't find any recent reviews where it seemed to be open. None the less, it's huge doors offer an opportunity for some cool photos and to see some interesting architecture from the outside.
The palace itself is huge with 142 bedrooms and was actually built more recently than Al Aarif Fort. It was originally built as a barracks in the 1930s to house King Abdul Aziz's troops, later becoming a prison. It also features an internal yard and a mosque, all inside this classic Najd architecture.
Al Nafud Desert
Famous for it's red sand, this is a must-visit since the region is very famous for the colour of its desert. You can also choose to do the classic gulf Arab experiences of dune bashing or camping in the desert. However, this is best done with a tour as not all places have suitable roads and a 4 by 4 is a must!
Some of the dunes have very large drops so you'll definitely need someone who knows what they are doing in order to navigate the harsh desert terrain. It's easy to get stuck and you'll need to the right equipment to get unstuck. Along with adjusting your tire pressure before entering and leaving the desert.
You can head to Jubbah City either before or after (listed below) as you'll be close by.
Rahji Mosque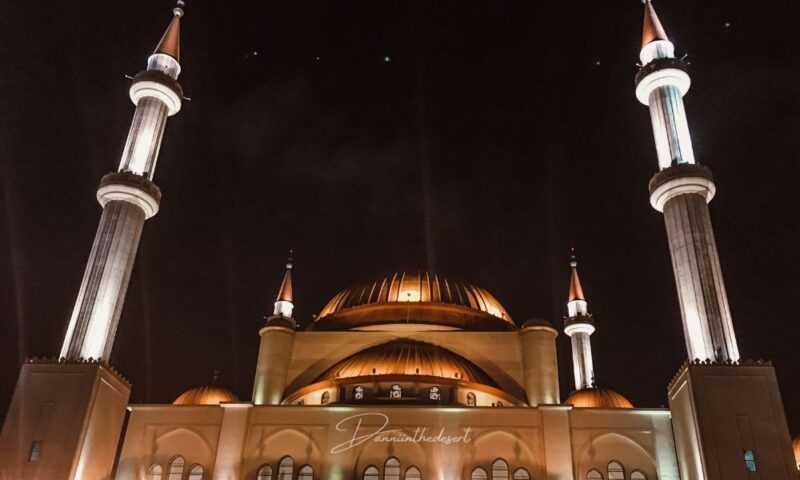 This mosque features very traditional Turkish style architecture and has become a key landmark of Ha'il. The interior decoration is equally lavish and looks as if it has recently been extended to accommodate more worshippers. As you can see, at night it's a beautiful place to come and see it all lit up!
Laget Museum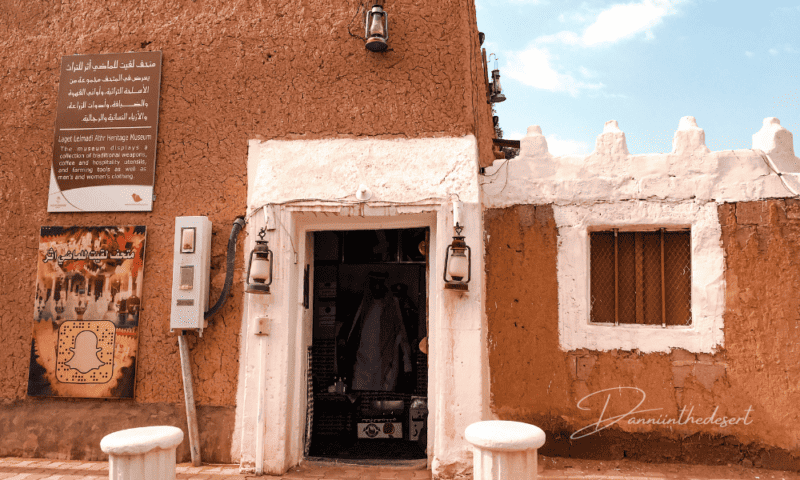 Located opposite to A'arif Fort, this treasure trove of relics is a must visit. Costing 20SAR (just over $5) per person. It's easy to spend a few hours in this traditional Najd style house with its beautiful inner courtyard. As it's absolutely packed with relics!
There isn't an official tour guide or anything, so you may not know what all the items are. So it's best if you can get someone who is Saudi to explain what all the different items are to you. With many relating to their agricultural heritage and what Saudi life was like before modernisation.
You can find more photos and videos of the inside of here on my Instagram
Jubbah City
This one is further out from the main centre of Ha'il but if you love history, it's definitely worth the 120km drive from Hail! It's also a UNESCO heritage site. As the site features some of the oldest human-inhabited areas known to man, with items such as hunting tools that date back to the stone age.
You'll also find carvings on rock surfaces in the nearby mountains and what are called "Thamudic" carvings. Depicting what life was like for humans in this region nearly 3000 years ago. Though you can also find here some carvings that are as old as 9000 years! These are to be found at Jibal Umm Sinman. Truly fascinating!
I hope this has helped you learn a little bit more about things to do in Hail and if you're planning to visit, I hope you have a wonderful time in Hail! Don't forget to tell us what you enjoyed in the comments!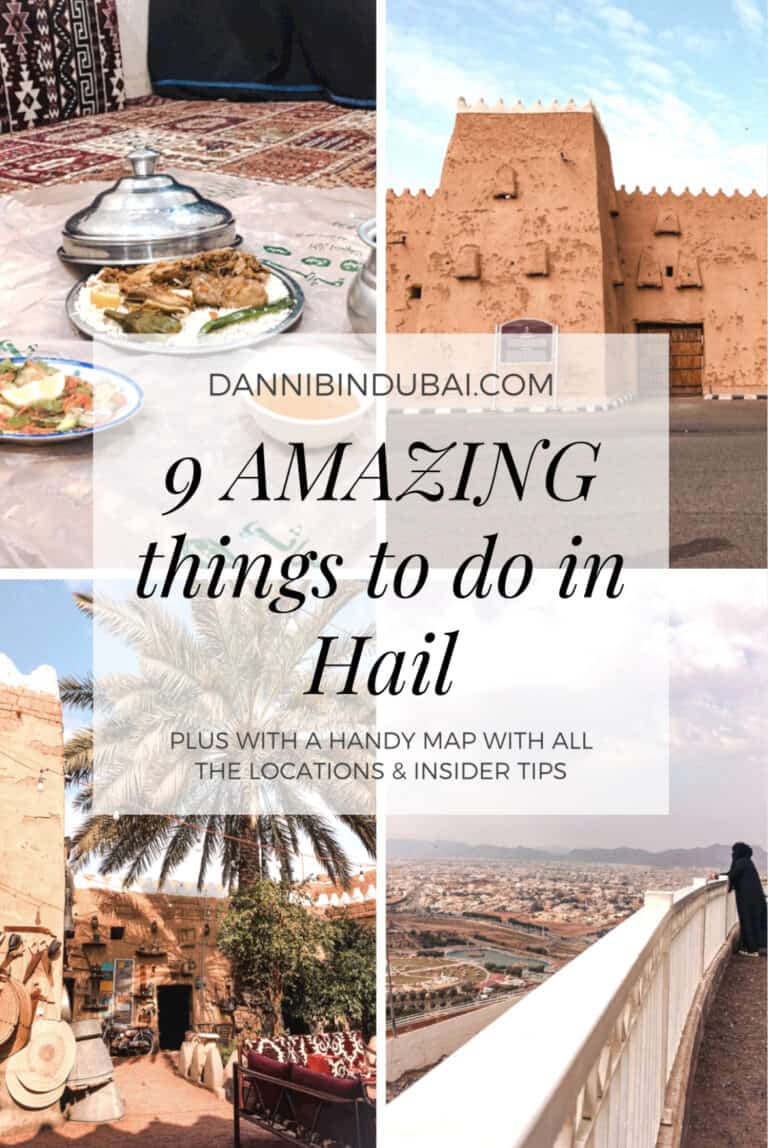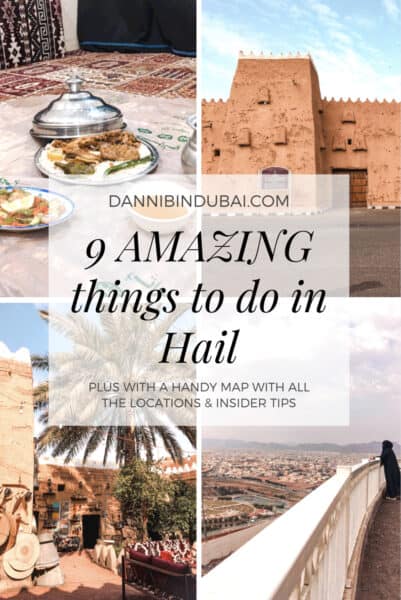 Enjoyed this article? Give it a share!