Thareed or tharid, also called Salona, is a tasty dish that is similar to a stew in Western countries. Consisting of meat, potatoes and vegetables. The dish has a rich Islamic history as it was the favourite meal of Prophet Muhammad and is especially popular to eat for Iftar during Ramadan
Although this is the Emirati style, many dishes are shared across the gulf but with slightly different variations in terms of the spices or ingredients used. You'll find thareed is also popular in Saudi Arabia and other countries in the Arabian Gulf
This food is such a good one for comfort food and is also a great meal for iftar, as it's light enough for a empty stomach while leaving you feeling full for a long time
Article Contents
Utensils needed
Chicken Thareed Recipe
Recipe alternatives
The history of Thareed / Saloona
---
What more Arabic recipes? (More coming soon! Subscribe to my e-mail list for updates)
Simple but yummy Mahalabia (Arabic Milk Pudding)
Easy Luqaimat recipe plus make your own Luqaimat machine!
How to make authentic Karak chai at home
Want to learn more about Middle Eastern and Arabic food?
What is the traditional food of the UAE?
9 tasty Arabic desserts you must try
---
What kitchenware and utensils do I need?
You really don't need many items to make thareed, just the following:
– A large pot
– Heat resistant spoon for stirring
– Knife
– Chopping board
– Food processor (if blending tomatoes yourself)

One of my favourite brands of pots and pans due to their high quality with a lifetime guarantee is Le Creuset. Their cast iron range doesn't use toxic none stick chemicals. Also due to their design you can easily transfer it to the oven when cooking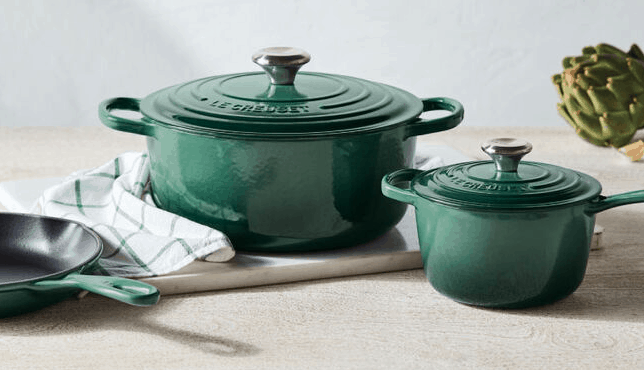 Chicken Thareed recipe
Serving: 4 small portions or 2 large portions
Time: 20 minutes prepping with 40 minutes cooking time
Total: 1 hour
For a larger portion, just double the amount
Ingredients
1/2 chicken or two chicken thighs
1 small red onion
3 cloves of garlic
1/4 inch of fresh ginger
1 large carrot
1 large potato
1 medium courgette (zucchini)
Half a small cauliflower
2 regular tomatoes blended (or half a tin of tomatoes)
1 tbsp tomato paste
Ghee (or olive oil if you want to be healthier)

Spices
1 tsp turmeric
1/2 tsp paprika
1/2 tsp cumin
1/2 tsp cinnamon
2 cardamon pods
1 black lemon
1 bay leaf
Salt & pepper
You can change the meat for any other meat you prefer but for items like lamb you will need to increase the cooking time. Along with any other vegetables you prefer such as okra or aubergine (eggplant)
Warm the pan on a medium heat and add the ghee
Once melted, fry the onion and the garlic until slightly soft
Add the chicken, sprinkle with salt and pepper
Allow to brown on one side before flipping it to the other side to brown
Once browned. Add the ginger, turmeric, paprika, cumin and cinnamon, giving it a stir. Allow to cook for a couple of minutes
Add the blended tomatoes and tomato paste
Add four cups of water, give it a stir and bring to the boil
Add the bay leaf, cardamon pods and black lemon
Allow to cook for 10 minutes on a medium low heat
Wash, chop and peel the potato and add to the stew
After another 10 minutes add the cauliflower, carrots and courgettes
Cover with a lid and let it cook for another 20 minutes
Remove the bay leaf, black lemon and cardamon pods
Pull the chicken off the bone and mix the meat into the broth
Serve in a bowl with Arabic bread
You can also use Arabic bread that has gone hard to line the bottom of your bowl and pour the stew over it, this is a traditional way to serve tharid
The Emirati version is traditionally served with regag, a very thin crispy bread. To learn more about regag and traditional Emirati food, you can read my article here
Alternative recipe ideas
Thareed is also really popular to cook with lamb instead of chicken, if you do want to do lamb instead just add a longer cooking time before you add the potatoes and vegetables. That way the lamb will come out really tender
Why not beef? Beef isn't that traditional here in the Gulf so it's more commonly done with lamb. You can do beef for a more western style if you prefer. Another popular meat in the region is goat
In terms of vegetables, you can really add any vegetables you like to this dish. Based on your own personal favourites or preferences. Some also choose to add chickpeas or chilli to make it spicy
The history of Thareed / Salona
So as I mentioned a little bit in the beginning the history of this dish but as you can tell, this is a dish that has been long enjoyed in the region. As far back as Prophet Muhammed (may peace and blessings be upon him) 1400 years ago
During the month of Ramadan, Prophet Muhammad (PBUH) used to enjoy thareed for many days. Sometimes spelt tharid. This is due to it being a meal that is light on the stomach after hours of fasting but not so light that it leaves you feeling hungry only a short while later!
The dish is popular across many parts of the Middle East and even in North Africa where it has evolved into other similar dishes. It is an especially popular Ramadan recipe for Iftar, when Muslims break their fast
For more information on what Ramadan is like in Dubai or what it was like fasting for the first time, check out my previous articles
I hope you've enjoyed this recipe and make sure to tag me on my Instagram if you decide to make this recipe!
*This article contains affiliate links, by clicking the link it doesn't cost you anything extra but it does help me to keep writing these awesome articles for you!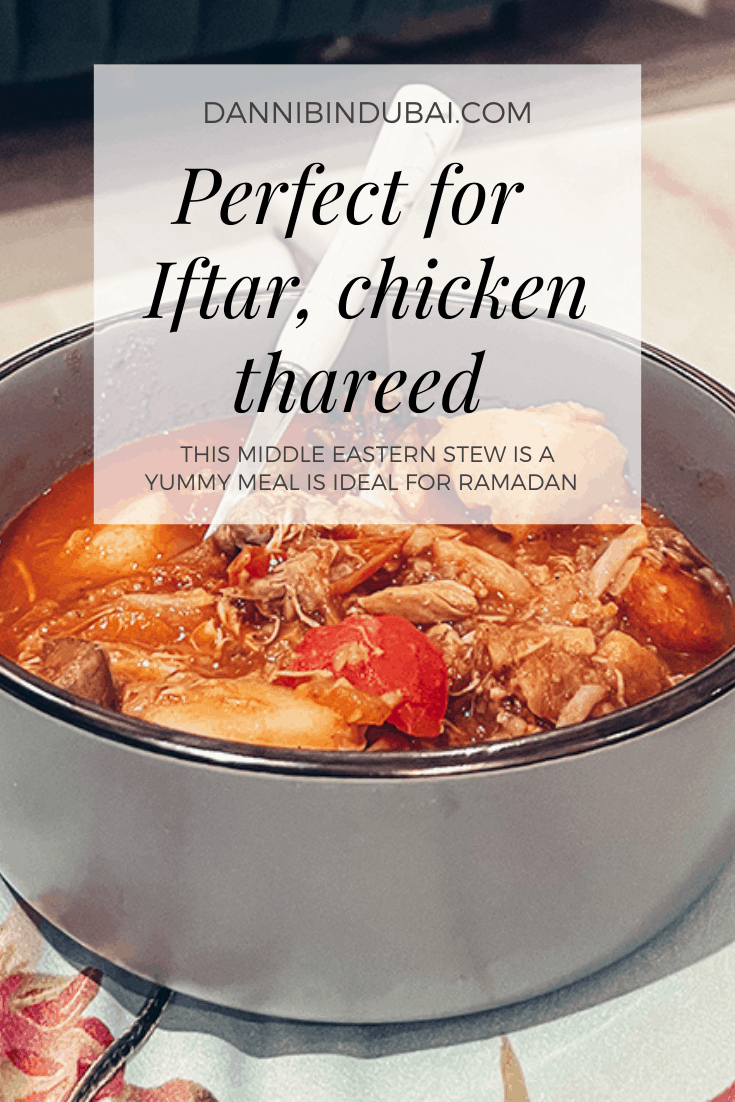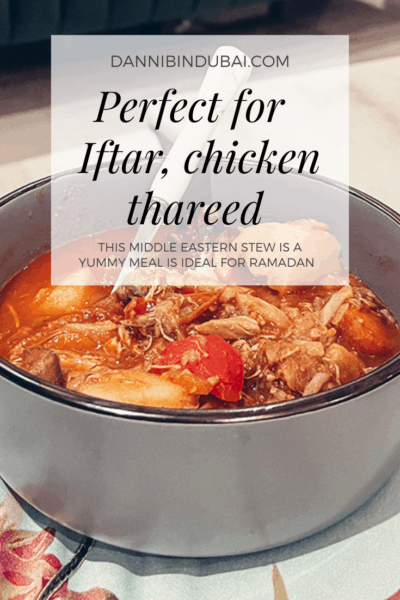 Enjoyed this article? Give it a share!