Thinking of visiting Saudi Arabia? Seen some of the super cool places on Instagram from your favourite travel bloggers? Or perhaps you'd just love to visit a country which isn't your typical tourist destination? This article will cover all the basics you need to know about Saudi Arabia before you go!
More articles will be added to this page soon, so make sure to subscribe for when they get published!
---
First time visiting Saudi guides:
Beginners guide to visiting a Mosque
Flying to Saudi during the era of Coronavirus
Everything you need to know about the Saudi tourist e-visa
Saudi Residents:
What it's like flying your pets into Saudi
Hidden gems in the Middle East
---
Where is Saudi Arabia on a world map?
Saudi Arabia is located within the Arabian Gulf. This is in the Middle East. Other countries that surround it are: to the south; Yemen, United Arab Emirates and Oman. To the north is Iraq, Kuwait and Jordan. To the east, attached is Qatar and there is a bridge called "King Fahd Causeway" which connects Bahrain to Saudi. It is also part of the Gulf Co-operation Council (GCC).
What is the capital of Saudi?
The capital of Saudi Arabia is Riyadh. As of 2019, it has a population of 7.6 million and is the largest city in Saudi. Up to 5 million tourists visit Riyadh every year.
What the is the Saudi Arabian flag?
The Saudi Arabian flag is a green flag with Arabic writing and a sword underneath. The sword is a part of Islamic and Saudi culture.

A common question is, what is written on the flag of Saudi Arabia? The Arabic writing underneath is the shahada, the phrase used for Muslims to enter Islam. It is also what Muslims declare to show their belief. It reads in English, "There is no God except Allah and Muhammed is His messenger."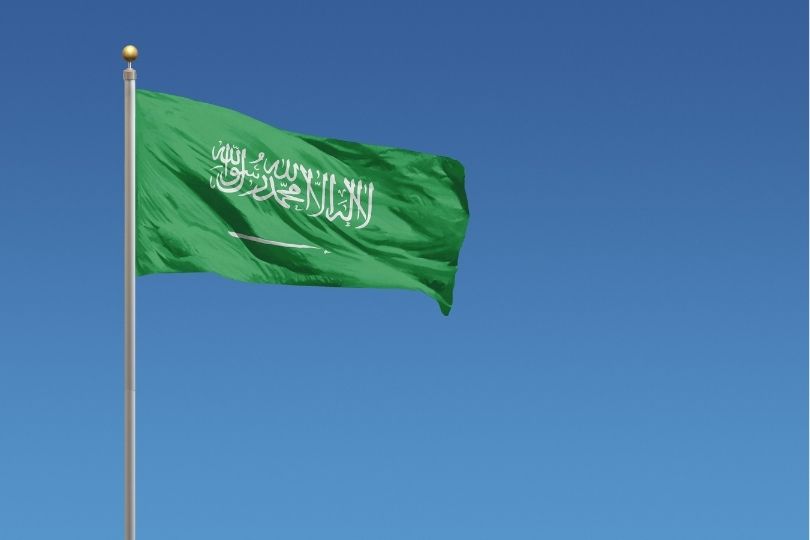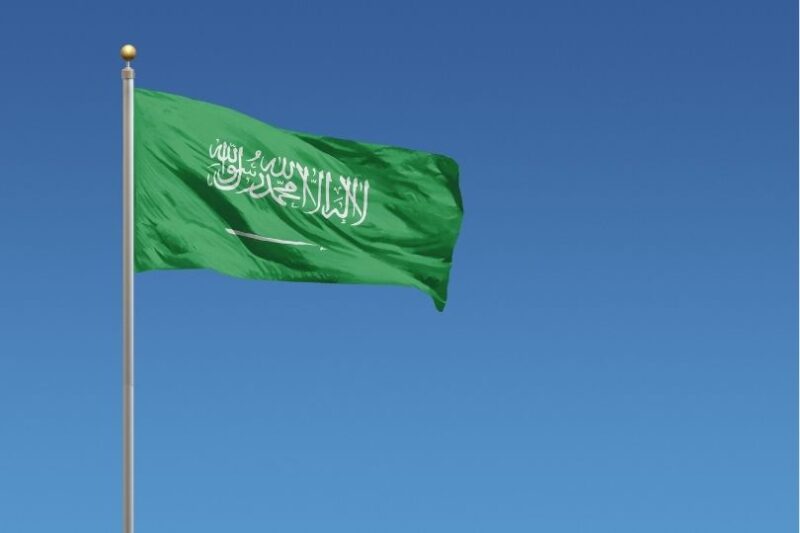 What is the Saudi Arabia time?
Saudi Arabia is three hours ahead of the United Kingdom or GMT + 3, it one hour behind the UAE.
Like the UAE, Saudi Arabia doesn't use daylight savings so if you live in the US or the UK. Then during the summer time, Saudi is only 2 hours ahead instead of 3. As they don't put their clocks back or forward.
What is the population of Saudi?
So Saudi is a huge country in terms of size and has a population of approximately 34.8 million. To put it into perspective, 16 United Kingdoms could fit inside Saudi Arabia and yet the United Kingdom has double the population of approx 68 million people.
What is the currency of Saudi Arabia?
The official currency of the Kingdom of Saudi Arabia is the Saudi Arabian Riyal. It has a similar rate to the United Arab Emirates Dihram and like the AED is tied to the US dollar.
Each Riyal is made up of 100 Halalas. It's quite rare to see these as they aren't worth very much and a lot of businesses tend to price things in whole riyals. In the case you do come across them, it is typically called a half Riyal or quarter Riyal. Rather than 50 or 25 Halalas.
How much is the Saudi tourist e-visa?
The Saudi tourist visa is valid for one year and allows you to stay for up to 3 months in Saudi spread across the year. The cost for this is 440 SAR + VAT. 300 SAR is the visa fee and 140 SAR is for health insurance that covers an emergency only. For more information on the Saudi tourist visa, check out my previous article.
Best way to travel within Saudi?
While there are trains connecting large parts of Saudi, once you reach a city. It is pretty difficult to get around without a car. Due to Saudi's size, I definitely recommend flying internally if you plan to see several parts of Saudi. I personally use Skyscanner to find all the best and most affordable flights.
Then once you land, I'd recommend to hire a car from the airport. It will definitely make getting around Saudi a lot easier and is more affordable than taxis. The driving style can take some getting used to and lanes definitely seem to be more of a guidance than a rule for most drivers!
Who rules Saudi Arabia?
Saudi Arabia is a monarchy and is ruled by the Al Saud family. In 2015, King Salman bin Abdulaziz Al Saud succeeded after the death of King Abdullah bin Abdulaziz Al Saud and is the current King of Saudi Arabia.
The Crown Prince, Mohammed bin Salman Al Saud; often shortened to MBS. He is the son of Salman and has a lot of prominence within Saudi. MBS is also Deputy Prime Minister, Minister of Defence, Chairman of the Council for Economic and Development Affairs and also Chairman of the Council of Political and Security Affairs.
How Saudi Arabia was created?
The name of Saudi comes from Muhammad Bin Saud who was the ruler of the town Diriyah. A Muslim scholar in the early 18th century Sheikh Muhammad bin Abdul Wahhab joined forces to create an Islamic country. Ruling over what was at the time called Najd.
By the late 18th Century, the growing success of the region was noticed by the Ottoman Empire and invaded Diriyah and took control of the region. However, it didn't stay like this for long and by 1824 the ruler Turki bin Abdullah Al Saud reconquered the lands back to Saudi control. During this time is also when Riyadh became capital of Najd.
Until the modern formation of Saudi Arabia and the fall of the Ottoman Empire. Saudi struggled against Turkish control and there were many warring tribes. Before 1932 Saudi was divided into many regions, the largest being Najd where Riyadh is and Hijaz where Mecca and Medina are.

In 1916, the Ottomans still had control of Makkah and Medina but the Banu Hashim helped lead a revolt against the Ottomans. The expelling of the Ottomans from the Arabian Peninsula is also known at The Great Arab Revolution.
My husband's tribe is actually known for being part of this battle and helping to bring Mecca back under Saudi control. They are called the warrior tribe due to this and their routes trace back to the time of Prophet Muhammad (Peace and blessings upon him)
Who founded Saudi Arabia?
The modern version of Saudi Arabia we see today was founded in 1932 when King Abdulaziz Al Saud also known as Ibn Saud unified the many regions into Saudi Arabia. This is referred to as the third kingdom of Saudi Arabia.
King Abdulaziz is seen as the one who started Saudi Arabia onto it's path today, building infrastructure such as roads and communication systems. Improving education, health and welfare for its citizens.
What is the difference between UAE and Saudi Arabia?
Often those who have not visited the region get confused between the United Arab Emirates and Saudi. They are in fact, completely separate countries with totally different laws and rules. (You can learn more about the UAE here)
So while they do have similar cultures in some aspects as they are all Khaleejis and part of the Arabian Peninsula, they are also very different. In fact, Saudi Arabia is such a huge country that it even differs between regions within Saudi. The capital of Riyadh has a very different feel to Jeddah in the West.
The United Arab Emirates has a huge expatriate population and many westerners, meanwhile Saudi only fully opened up to tourism in 2019. It is still illegal to drink alcohol in Saudi Arabia while the UAE there are lots of bars and night clubs.
What is the GCC?
In 1981, Saudi Arabia, UAE, Oman, Kuwait, Qatar and Bahrain came together to form a political and economic alliance. They agreed to allow for freedom of movement for citizens and trade agreements. That means someone from Saudi Arabia can live in the UAE or Oman without needing a visa.
This is similar to the European Union and how citizens of other EU countries can travel, work and live in these countries without needing to pay for a visa.
As you may have noticed, Qatar was part of the original agreement. This changed in 2017 when Qatar was removed from this political and economic agreement. Hence despite being in the Arabian Gulf they are no longer part of the GCC.
What is a Khaleeji?
A Khaleeji means a person from the gulf and literally translate into English from Arabic as "of the Gulf." Often people within the GCC region refer to themselves as Khaleejis and there are many cultural similarities between those in this region. In fact, many of the Arabian Tribes spread out across the entire region.
What is the weather or climate like in Saudi?
Or you may be wondering how often does it rain in Saudi? Due to the size of the country, it actually depends on the region. The capital Riyadh, gets colder during winter and can reach lows of 9 degrees. While Jeddah has lows of 19 degrees during winter.
The vast majority of Saudi has a desert climate, which is a lack of rainfall and a mostly dry climate. Warm winters and humidity during the summer are very typical for desert climates.
During summer it can reach up to the late 40s so it's definitely worth visiting Saudi Arabia in the winter if you can. Especially since there's so many outdoor wonders which have to be explored!
Today's weather in Riyadh is:
Riyadh
Feels like: 31°C
Wind: 0km/h NW
Humidity: 10%
Pressure: 1015.24mbar
UV index: 0
40/23°C
38/23°C
39/25°C
41/25°C
41/24°C

How often does it snow in Saudi Arabia?
So select places in Saudi do indeed snow but it is rare! In the Northern area of Saudi which is closer to Iraq and Jordan, it can get as low as minus 12 degrees. Turaif is one of the coldest regions in Saudi so if you head here in winter, this is where you're most likely to see snow!

Other cities in the North include Tabuk, Arar and Rafha where you are more likely to see snow!
Can you drink alcohol in Saudi?
Alcohol is illegal in Saudi Arabia and carries harsh penalities if you're found to possess alcohol or to have consumed alcohol. If you have consumed any form of alcohol you will be classed as drunk.
Saudi Arabia is strict on all drugs, so always make sure to check before you bring anything in Saudi Arabia even if it may be a legal pharmaceutical in your home country. For more information, visit the Saudi Food and Drug Authority

I hope these have answered many of your questions and let me know in the comments if you have more questions about Saudi Arabia! And I'll add them to my post!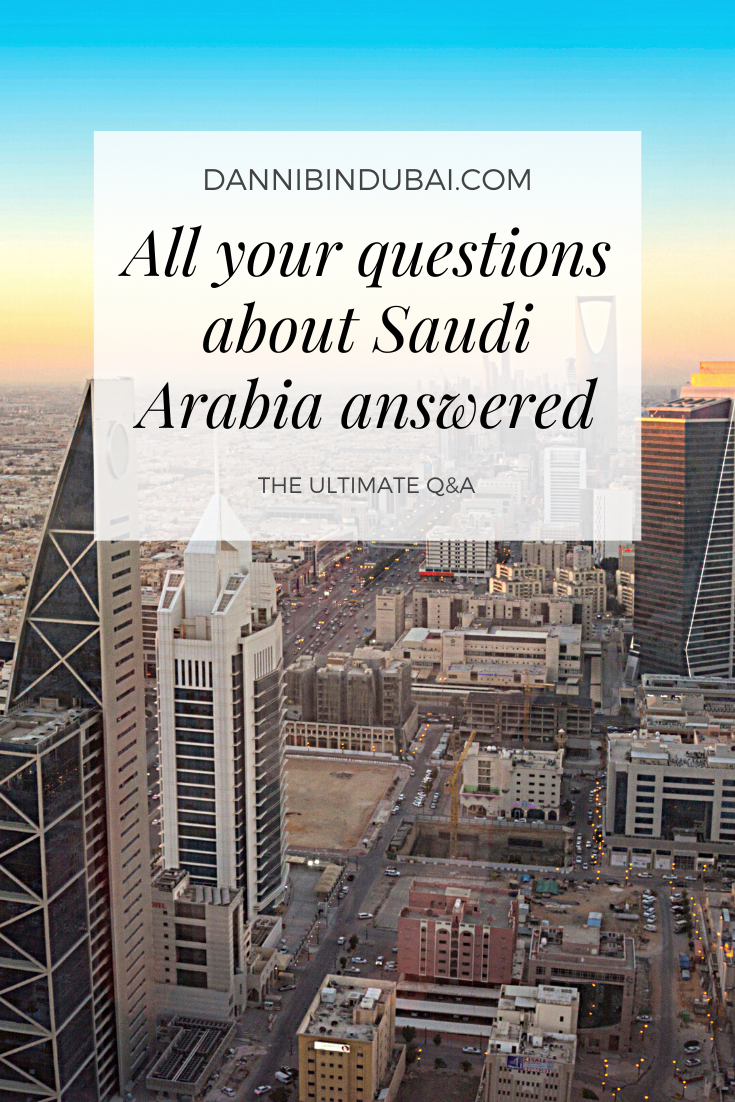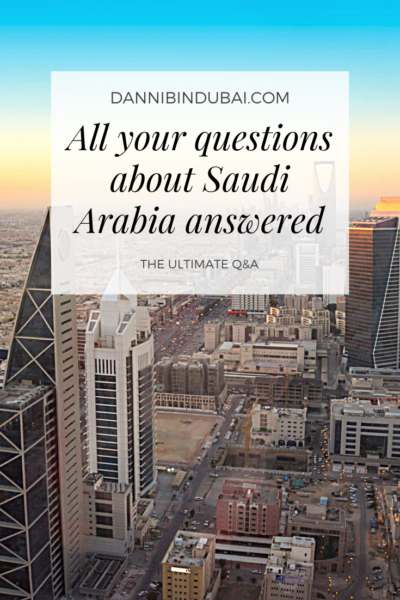 Enjoyed this article? Give it a share!