Are you looking for a truly unique experience while visiting the city of Dubai? If so, then why not check out the camel races that take place all over the emirate? This fascinating event is an example of a traditional activity that has been modernized to keep up with the times. Here's what you need to know about camel racing in Dubai.
What is Camel Racing?
Camel racing has been around for centuries and is still enjoyed today by many people in the Middle East and North Africa. The purpose of the race is simple – riders must race camels over a certain distance (usually between 4 to 10km) with a jockey riding each camel.
Though the jockey may not be what you'd expect as you'll find out below! It can be quite exhilarating to watch as these majestic animals compete against each other!
The history of Camel racing in Dubai
Camel racing has been a part of the Bedouin culture in Dubai for centuries and is still popular today. The races were traditionally an informal event held sporadically, but over time it has evolved into an exciting sporting event that attracts thousands of spectators each year and large cash prizes for the winners.
The first organized camel race took place in Saudi Arabia took place in 1964 and later in the UAE in the 1980s, with camels being raced at speeds of up to 40km/h! By the 1990s, the popularity of camel racing had hugely grown.
Since then, the sport has continued to evolve and become more sophisticated, with modern technology such as cameras and timers being used to ensure fairness. In recent years, camel racing has become a major tourist attraction in Dubai, with many visitors coming from all over the world to witness this unique Middle Eastern experience.
You can watch an interesting documentary about the history of camel racing in the UAE below!
Going to The Races in Dubai
If you're interested in experiencing camel racing firsthand, you'll be pleased to know that there are plenty of races taking place all year round in Dubai.
There are four main tracks in the UAE:
Al Marmoom Racetrack in Dubai (Also known as Dubai Royal Camel Racing Club)
Al Khawaneej Racetrack in Dubai
Al Wathba Racetrack in Abu Dhabi
Al Sawan in Ras Al Khaimah
The most famous racetrack is Al Marmoom Racetrack, located near Dubai Outlet Mall & Al Marmoom Heritage Village, where races take place on weekend mornings from 9:30am until 11am.
There are also occasional races at Al Wathba Racetrack, which is located near Abu Dhabi. You can find out more information about upcoming races on their website or by calling them directly.
Major Races in Dubai include:
Sheikh Hamdan Bin Mohammed Bin Rashid Al Maktoum Camel Race Festival
Al Marmoom Festival
How much does visiting camel racing cost?
You can watch the camel races for free if you don't mind standing, for seated tickets the cost of admission varies depending on the package you choose with VIP packages available for those wanting a luxury experience.
Prices start from 45 AED ($12 USD) for children and 90 AED ($25 USD) for adults.
What time are the camel races in Dubai?
Camel races in Dubai usually take place during the winter months, from October to May, on Saturday mornings from 9:30am until 11am. During the festivals, races take place every day.
The information on the official website is somewhat lacking except for updates about previous races however Al Marmoon Final Festival is starting 11th February 2023.
Camel welfare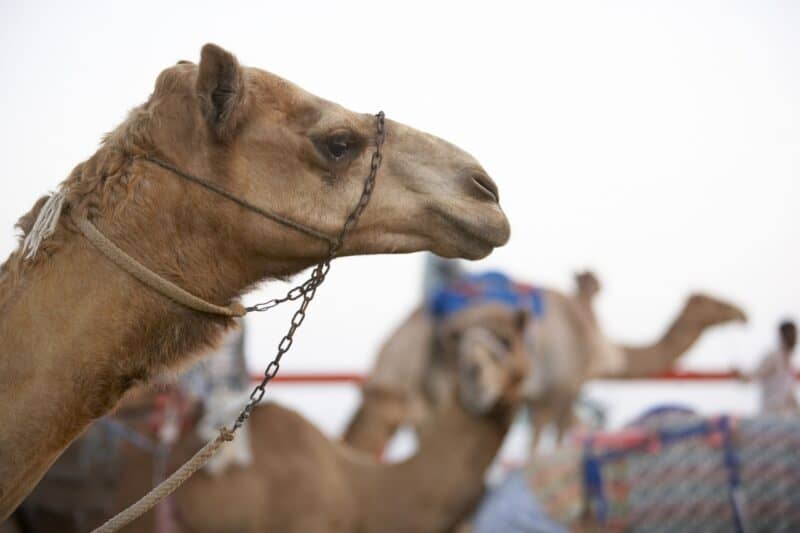 When it comes to camel racing in Dubai, the welfare of these majestic animals is always taken into consideration. The camels are well looked after and treated with respect, as they should be. All camels used for racing must pass a pre-race health check before being allowed to compete, and jockeys must wear protective gear while riding them.
After each race, the camels receive a thorough medical examination to ensure that they remain healthy and fit for competition. Furthermore, all races are closely monitored by veterinarians who make sure the camels are not overworked or mistreated in any way.
This ensures that only healthy and happy animals participate in each event which makes for an enjoyable experience for everyone involved.
FAQs
How much is a Dubai racing camel?
The cost of a racing camel can vary greatly depending on its age and line of breeding. Generally speaking, you can expect to pay from $55,000 USD which is over 200,000 AED.
Is camel jockeys banned in the UAE?
No the use of camel jockeys isn't banned in the UAE however the use of children as jockeys is banned. The law was passed in 2002 which stopped any under 18s from participating as camel jockeys.
Robotic jockeys are commonly used in camel racing instead of people. This is to keep children safe and vehicles follow along with the camels.
---
Before you go, make sure to check out some of my other articles:
Love lake and other lakes of Dubai are close by so make sure to check them out while you're there
How to spend 48 hours in Dubai, the perfect Dubai itinerary for those in a rush
---
Conclusion:
Camel racing may not be something that everyone immediately thinks of when they think of Dubai, but it's definitely worth checking out if you're looking for a unique experience while visiting the city! Whether it's your first time at the races or your hundredth, there's no doubt that it will be an unforgettable experience! So what are you waiting for? Get your tickets now and prepare yourself for an exciting morning filled with fast-paced fun!