The Burj Al Arab is one of the most iconic structures in the world, standing tall as a symbol of modern luxury and engineering prowess. It has been featured in countless films and television shows, and its unique design draws people from all around the globe to marvel at it.
So what do we really know about this magnificent structure? How was it built? What purpose does it serve? In this article, we will answer these questions and more as we explore some fascinating facts about the Burj Al Arab.
As a Dubai resident for 1 decade now, shush don't tell anyone I'm that old, I'll give you all the inside information about this spectacular building. Plus a few tips that only Dubai residents can tell you!
✨ Book your Burj Al Arab tour now✨
What is Burj Al Arab?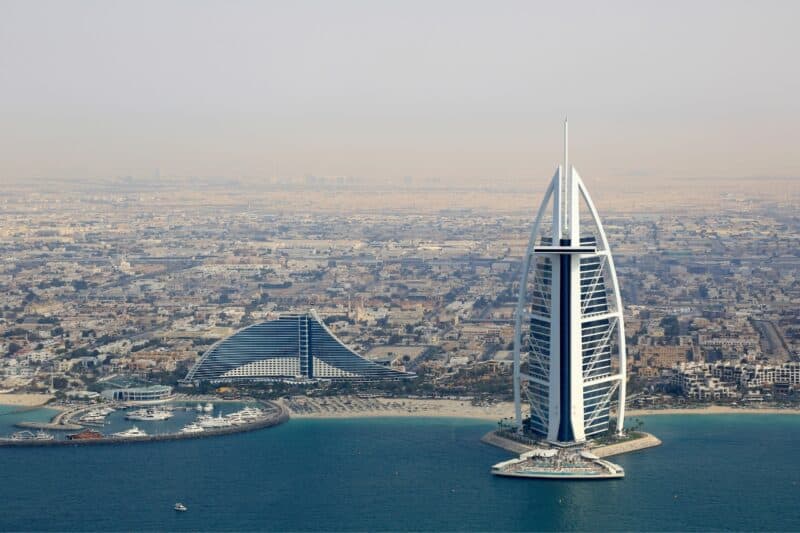 The Burj Al Arab is an iconic all-suite luxury hotel. The building's sail-shaped silhouette has made it one of the most recognizable structures in the world and a symbol for modern Dubai. Designed by Tom Wright, previously working for Atkins, Burj Al Arab stands at 321 meters (1053 ft) high and features 199 luxurious suites, Each with their own private jacuzzis, floor-to-ceiling windows and a minimum size of 169 sqm (1820 sqft).
Guests staying in the hotel are also given the opportunity to experience a world of highly personalized services and lavish amenities, including some of the city's top restaurants and bars. From its helipad to its exclusive temperature-controlled infinity saltwater pool, the Burj Al Arab offers a truly unique experience for those lucky enough to stay there. Earning it's reputation as the only '7 star' hotel in the world.
When was Burj Al Arab built?
The Burj Al Arab construction started in July 1994 and opened its doors to the public on the 1st of December 1999. The construction of the hotel came with a hefty price tag, costing an estimated $1 billion USD.
As one of the world's most luxurious hotels, it is no surprise that so much investment went into making it a reality. With its soaring height, intricate design, gold fixtures and extravagant facilities.
The Burj Al Arab has become an iconic landmark of Dubai. A symbol of luxury, hospitality and innovation, it is no wonder that this magnificent building continues to draw in visitors from around the world.
What is special about Burj Al Arab?
The Burj Al Arab is famous because of its unique sail shape design, luxurious amenities and impeccable service. The hotel was so luxurious it earnt the title of the first "seven-star" hotel in the world. with each suite being fitted out with the finest materials. Find out more about the truth of Burj Al Arab's seven stars below!
Guests staying in the hotel can enjoy a range of exciting activities such as private beach access, helicopter tours, and fine dining experiences. The hotel's iconic design and luxurious amenities have made it an ideal location for celebrities, politicians and high-profile guests from around the world. Everyone from royalty to prominent businessmen have stayed in the Burj Al Arab, making it a hotspot for the wealthy and famous.
Unique features of the hotel:
Salt water infinity pool
Roof top helicopter pad
Man made luxury beach on its 10,000 sqm terrace with sand imported from Saudi Arabia
24,000 sqm of Statuario marble
World's 4th tallest hotel
Located on its own artificial island
The hotel has approximately 1,790sqm of 24-carat gold leaf used in its interiors
Uses rare Eiderdown duvets from Icelandic Eider ducks
Pillow menu that features 17 different pillows
There is a staff ratio of 6 per 1 guest
Where is Burj Al Arab?
The Burj Al Arab is located in Dubai, United Arab Emirates. It can be found on the Jumeirah Beach Road in an area called Umm Suqeim, which is not far from Palm Jumeirah. It is next to Wild Wadi Water Park and Jumeirah Beach Hotel. Its iconic silhouette sit alone out a sea from the beach, making it easy to spot from miles away.
How to go to Burj Al Arab by metro
The closest metro station to Burj Al Arab is the Mall of the Emirates, which is approximately 4.5km away. From there, you will take the air conditioned tunnel to the side of AlSufouh 1. Then take a short taxi ride (costing approx 20-25 AED / $5 – $7 USD) or bus to get to Jumeirah Beach Hotel.
The bus from Mall of Emirates metro to Jumeirah Beach Hotel is number 81, takes approximately 25 minutes and costs 3 AED ($0.82 USD). You'll then need to walk the rest of the way to Burj Al Arab unless you are doing a tour.
The map above also includes a pin to show where the metro station is.
How to go to Burj Al Arab by bus
If you plan to visit Burj Al Arab via public transport, the bus is the best option. There are a number of buses that will take you close to the Burj Al Arab, including the 8, 81 and X28. These all run along Jumeirah Beach Road and drop you outside Wild Wadi and Jumeirah Beach Hotel (which is also built with an architectural sea theme).
If you're going to the Burj Al Arab tour then you will need to go to Jumeirah Beach Hotel rather than directly to Burj Al Arab.
From there you can walk to the gated entrance of Burj Al Arab or to Umm Suqeim public beach to get a nice photo of the Burj Al Arab. It's really nice to go just before sunset.
You can see on the map above the closest bus stops labelled "Wild Wadi 1 & 2."
How to go to Burj Al Arab by car or taxi
If you plan to drive to the Burj Al Arab, it is a relatively easy journey from most parts of Dubai. Simply follow the Jumeirah Beach Road and keep an eye out for the iconic hotel. You'll see a white gate with a small security office leading onto a bridge that accesses the Burj Al Arab. You can drive over the bridge and arrive directly outside the Burj Al Arab lobby where staff will be waiting to open your car door. Valet service is free for those visiting.
Who is the owner of Burj Al Arab?
The Burj Al Arab is owned by the Jumeirah Group, an international hospitality company and a subsidiary of Dubai Holding. The Jumeirah Group oversees a number of special hotels and resorts around the world, including the Burj Al Arab, located in Dubai.
How much is the Burj Al Arab worth?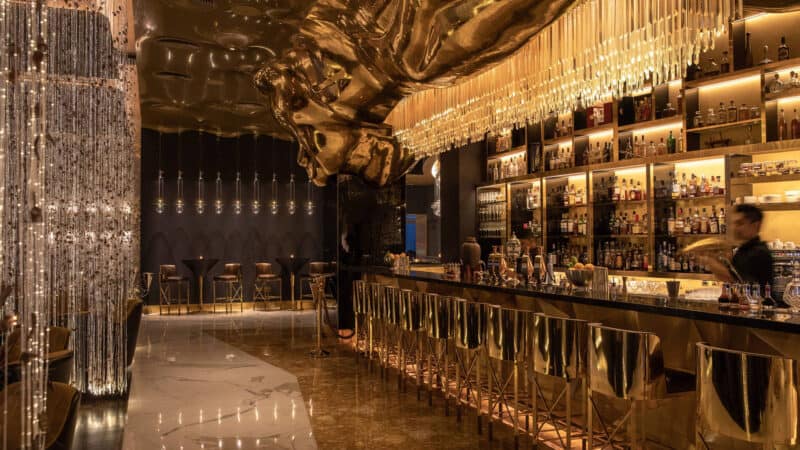 The Burj Al Arab's hotel group of Jumeirah has yearly profits of $1.72 billion (2019) and the Burj Al Arab is said to bring in $120 million of revenue each year. The hotel is estimated to be worth around $1.5 billion, making it one of the most expensive hotels in the world.
The incredible value is due to its unique design, gold leaf interiors, vast Italian marble and luxurious facilities. As well as its strategic location on the Dubai coastline on its own artificial island. It is a symbol of wealth and opulence not just for Dubai but for the entire region.
How many rooms in Burj Al Arab?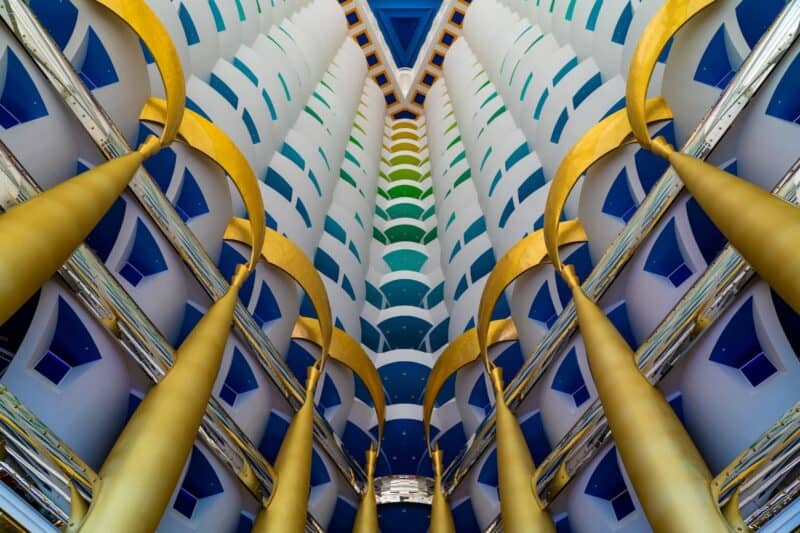 The Burj Al Arab has 199 rooms in total and all are suites. Each of these suites is luxuriously fitted out with luxury amenities, making it one of the most grandeur hotels in Dubai. The suites also come with stunning views either towards Dubai's skylines or out onto the Arabian Gulf Sea.
How much is Burj Al Arab per night?
The cost of staying at the Burj Al Arab depends on the type of room and time of year you are visiting. In summer, the lowest priced suite can start from around $1,055 USD (3877 AED) per night and can cost over $10,000 USD per night for an extravagant three-bedroom diplomatic suite during the winter months. For those who are looking for the ultimate luxury experience, booking a stay at the Burj Al Arab is definitely worth it.
How to visit Burj Al Arab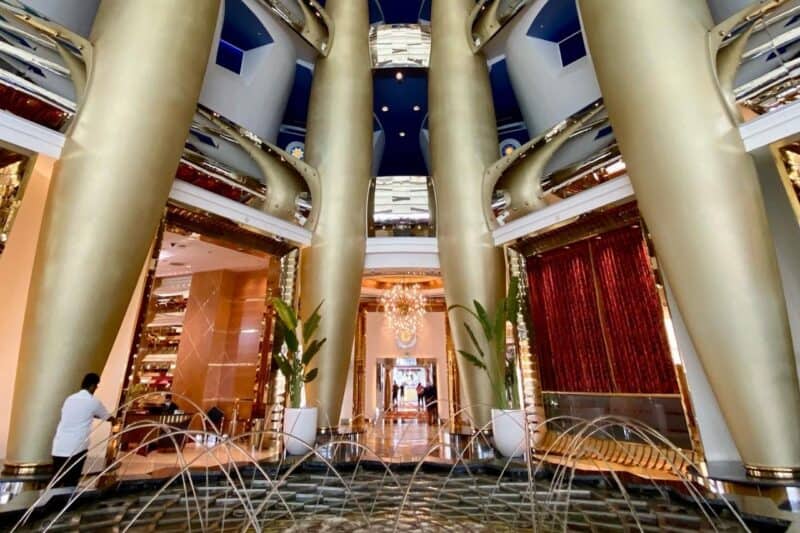 The most affordable way to visit the Burj Al Arab is to do a tour, you'll also get to see parts of the hotel that those dining at the hotel don't get to see. Along with learning about the history and construction.
The best way to visit the Burj Al Arab is by staying there and fully experiencing the hotel. As the world's most luxurious hotel, it offers an unforgettable experience with top-notch service and amenities.
Alternatively, you can also enjoy a meal at one of the many Burj Al Arab restaurants onsite. Most have a minimum spend of 200 AED which is around $54 USD.
If you just want to admire its magnificence from afar, you can always take a stroll along the nearby beachfront for stunning views of the hotel that are completely free!
Is Burj Al Arab the only 7 star hotel in the world?
While there is no such thing as an official 7-star rating, the Burj Al Arab has earned its reputation as one of the most luxurious hotels in the world and is widely considered to be a 7 star hotel due to its impeccable service.
In recent times, the Internationally agreed 5-star hotel rating has become somewhat problematic in the luxury travel industry as there can be a very wide range between a low-end five-star hotel and a much higher-end luxury 5 star.
So how did the Burj Al Arab get it's 7 star nickname? It was due to a British writer who when staying at the property published an article calling the Burj Al Arab a "7 star hotel" as she felt 5 stars weren't good enough to describe the experience and thus the accolade stuck despite there being no official certification of 7 stars existing anywhere in the hotel industry.
---
Before you go, check out some of these other articles you might be interested in:
Dining at Burj Al Arab all 9 restaurants in the Burj Al Arab
Guide to all 9 restaurants in the Burj Khalifa and how much they cost
See the Burj Al Arab from the sea by doing a Jet Ski tour in Dubai
Stay in luxury with the best hotels on Palm Jumeirah
Or check out some other 5 star luxury hotels in Dubai
---
Conclusion
✨ Book your Burj Al Arab tour now✨
Whether you are looking for a romantic getaway, or simply want to experience the ultimate in luxury, the Burj Al Arab is sure to exceed all expectations. Visitors can explore the hotel's incredible amenities by taking advantage of their unique range of experiences, from private helicopter guest arrivals to exclusive dining experiences.
The Burj Al Arab is truly a one-of-a-kind destination that's worth every penny. If you want just a taste of that luxury without spending a fortune then a Burj Al Arab tour is the perfect way to see inside! With various options available, depending on if you wish to also enjoy a drink or food with your tour.
---
*This article contains affiliate links, as an Amazon Associate and a member of other affiliate programs, I may earn a commission on purchases. Clicking the link doesn't cost you anything extra but it does help me to keep writing these awesome articles for you!