Dubai is a vibrant city that offers a wide variety of restaurants, but few rivals the delicious cuisine served in Dubai's best mandi restaurants which is a must-try for those visiting the region. These traditional eateries bring the flavour of Yemen and the Middle East to your doorstep with an array of succulent dishes that will make your taste buds dance with joy.
Mandi is hugely popular across the entire Gulf region, with each country having their own slight variations on spice mixes and how they are served. For example in Dubai, it's popular to serve mandi with a yoghurt raita and a spicy salsa sauce. In Riyadh you won't typically get the yoghurt raita but it's commonly served with noodles on top instead.
As someone married to a Saudi, of course, I have to know not only where to eat a good mandi, because they pretty much eat it every day, but how to cook a good one too! Dubai has some of the tastiest mandis I've ever tasted in the entire Arabian Gulf. The yoghurt and the spicy sauce together just make it perfect.
You can choose from slow-cooked lamb or chicken however both goat and camel can also be popular variations of meat mandi. The fragrant rice mandi dishes at these restaurants are sure to tantalize your palate and keep you coming back for more. So come explore the best mandi restaurants in Dubai and get ready for a taste adventure.
*Please note prices may change, so please check directly with the restaurant and delivery app prices may differ from dining in.
1 – Najd Palace Restaurant & Kitchen – Umm Suqeim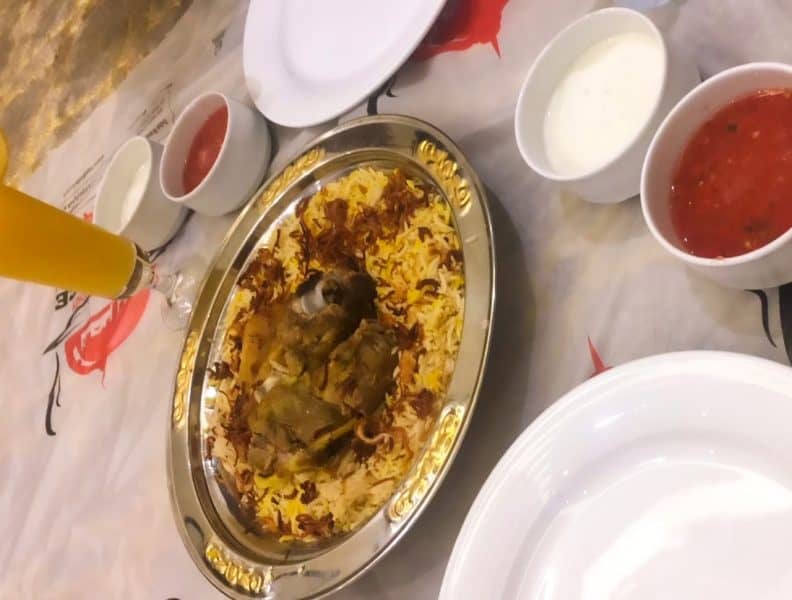 Najd Palace has been serving tasty mandi in the UAE since 2012 and takes pride in serving its authentic Khaleeji and Arabian cuisine, with a special focus on Saudi style mandi. They have one branch in Dubai and two in Abu Dhabi.
The menu at Najd Palace encompasses a wide variety of dishes that includes Mandi, Madfoon, Salona, and side dishes like Hummus. The restaurant is also popular for its Kunafa, where you can choose the classic version with cheese or cream or the less traditional version with Nutella.
The staff are known for being friendly and helpful, which I've also experienced myself. I also really like the modern decor, you can choose to sit on the floor in a private booth in true Khaleeji style. This is one of my favourites to go to in the whole of Umm Suqein and Jumeirah, which is no small feat!
They are on the pricier side compared to other options.
Location: 599 Jumeirah Street, Umm Suqeim 1
Timing: 12 pm till 12 am
Price: Chicken for 41 AED, Meat for 83 AED
Rating: 4.3 out of 5
2 – Maraheb – Al Safa & Other Locations
Maraheb, a series of Yemeni restaurants spread throughout Dubai, has built a strong reputation for prioritizing the preservation of Yemeni cuisine. The use of fresh, locally-sourced ingredients and traditionally crafted cooking techniques are complemented with warm, amiable service.
The restaurant has special offers for ordering a set meal, which includes salad, soup, red salsa sauce and a dessert. You can choose from the Arabic desserts of Kunafa or Basbusa.
They also serve different fish dishes which traditionally mandi restaurants just focus on mostly meat and rice dishes. So perfect for those who have a family member who'd prefer a less meaty option. They also have other popular Middle Eastern dishes such as Muttabal, Tabbouleh and Kibbeh.
Maraheb is a great place to try traditional Yemeni cuisine in a casual setting. The one downside, it does get incredibly busy so service can suffer as a result or longer delivery times.
There are not many restaurants in Dubai that really leave a mark in my memory but this place is one of them! Simple amazing food and a must-visit at least once if you live in Dubai. It really has an authentic style and taste. I've also tried their Dragon Mart location and that was really good too!
Other locations include Nadd Al Hamar, Dragon Mart, Trade Centre and Motor City. There is also a branch in Sharjah.
Location: Al Rostamani Business Center, Al Safa 2
Timing: 12 pm till 12 am
Price: Chicken for 36 AED, Meat for 65 AED
Rating: 4.4 out of 5
3 – Ahl Al Mandi – Al Nahda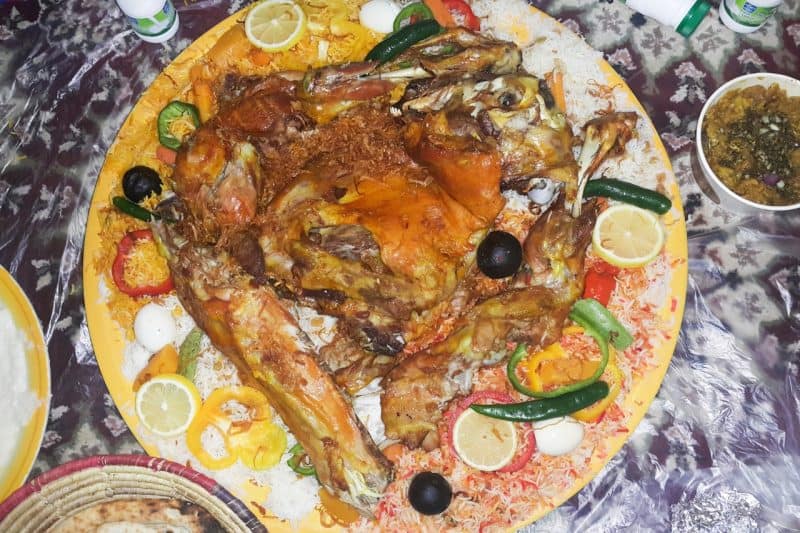 Ahl Almandi is an esteemed Middle Eastern restaurant, located Al Nahda, it's not too far from Dubai Airport and close to Al Mamzar Beach if you want to do some jet skiing before or after. Perhaps better to do it before!
If you're a fan of grilled-style mandi, then this is the spot for you! Their neon signs remind you of old Dubai.
Delight in the gratifying dish of grilled chicken and rice prepared to have a charcoaled exterior rather than the traditional tannur or tandoor oven. Amongst other regional treats that will amaze your tastes, they stick to the classics of a mandi kitchen and have a wide array of different flavoured kunafas.
They sometimes add a bit too much spice here, so it depends on your preference but personally, I like mine without the spice Khaleeji style. The waiters have limited English, so it's best if you speak Arabic, Urdu or Hindi but you can get away with just pointing at things on the menu.
Location: Ahli House, Al Nadha 2
Timing: 11 am till 12 am
Price: Chicken for 34 AED, Meat for 58 AED
Rating: 4.3 out of 5
4 – Zam Zam Mandi – Various Locations
Established in 2009, Zam Zam Mandi has quickly earned a reputation for its delicious and traditional mandi. Becoming popular with both locals and expats with their first branch in Karama. They are regularly noted as one of the best mandi restaurants in Dubai.
Their Jumeirah Branch opposite to La Mer has options on the menu that may surprise you for a mandi restaurant such as fish fingers and dynamite prawns. Meanwhile the Deira branch sticks to the classics. Both serve seafood as well as meat. They also have tasty Emirati foods like Lugaimat on the menu.
Deira and Jumeirah are their highest rated locations both with a 4.4 out of 5. Their Nad Al Hamar and Karama branches aren't far behind with a 4.3 and a 4.2 out of 5.
Location: Zeenah Building, Ground Floor, Deira
Timing: 10 am till 12 am
Price: Chicken for 36 AED, Meat for 78 AED
Rating: 4.4 out of 5
*Be aware the website says it has a Dubai Mall branch but this one has closed down.
5 – Halla Al Yamama Mandi – Dubai Marina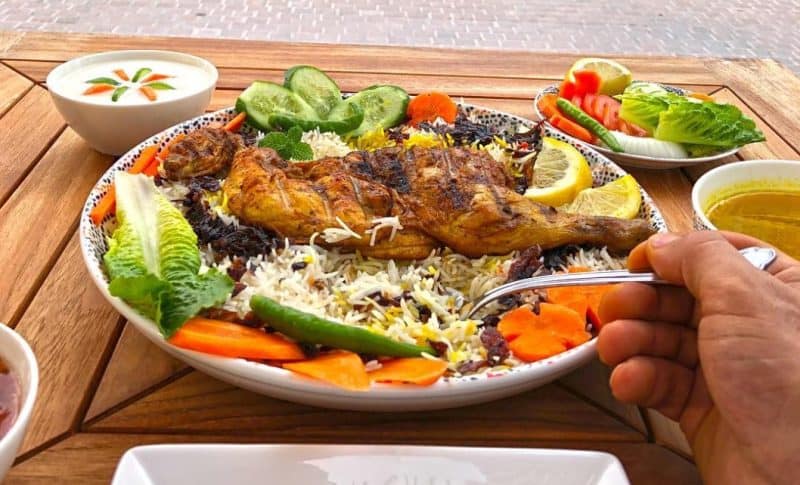 Halla Al Yamama, located in Dubai Marina, is a charming Arabic restaurant that delivers on taste and hospitality alike. With a menu that spotlights Middie Eastern and Yemeni cuisine, the dishes are authentic, flavourful and feature traditional favourites like mandi, madfoon, and Indian food like biriyani.
The warm and inviting atmosphere is created by an always-attentive and super friendly staff, who take great pleasure in guiding diners toward great choices. It's a great place to try traditional Yemeni cuisine and in the perfect location for tourists.
The food is absolutely delicious, and the atmosphere truly embodies authenticity. On top of that, they offer an outdoor seating experience usually unavailable in mandi restaurants. To top it all off, you can take in the stunning views of Dubai Marina right after your meal.
Location: Time Place Tower, Marina Walk, Dubai Marina
Timing: 11:30 am till 11:30 pm
Price: Chicken for 33.60 AED, Meat for 54.60 AED
Rating: 4.2 out of 5
6 – Rayyan Mandi – Al Barsha & Various Locations
Rayyan Mandi encompasses one of Dubai's most popular dining experiences, with several locations to choose from. Their culinary offerings present an array of mouthwatering, authentic Arabian delights, carefully crafted using the freshest ingredients that are sure to delight.
This restaurant is famed for its mandi, cooked to perfection in a traditional clay oven. Coupled with friendly service and reasonable prices, it's no wonder diners keep coming back for more.
This restaurant aims to please! With traditional mandi chicken and a range of seafood dishes from seabream to shrimp and calamari, there's something for everyone. The typical side dishes such as salads and soups are available plus kunafa of course and lugaimat too.
Their Al Barsha and Al Rigga branches are rated 4.4 and 4.5 out of 5, which isn't an easy task in Dubai. Their Deira restaurant also has 4.7 out of 5, however, it only has around 80 reviews.
They do get busy here, so service can be slow or you may need to wait to be seated, especially on weekends.
Location: Behind Mall of Emirates, Al Barsha 1
Timing: 11 am till 2 am
Price: Chicken for 26.25 AED, Meat for 52.50 AED
Rating: 4.4 out of 5
7- Raydan Al Mandi – Umm Suqeim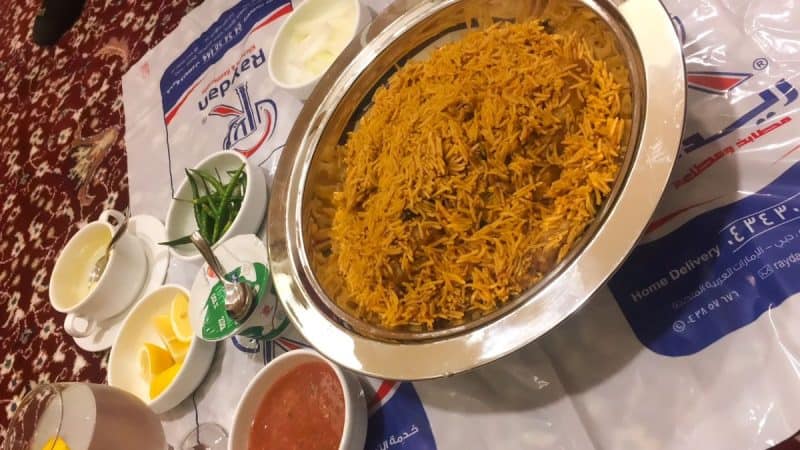 Raydan Mandi, close to the Burj Al Arab in Dubai, is a traditional Saudi restaurant that promises to transport you to a Saudi home with its authentic seating and interiors. Serving up delicious Gulf-style mandi and cuisine, it's a local favourite that's sure to tantalize your taste buds.
The eatery specializes in delicious house-made Mandi dishes as well as serving popular appetisers such as samosas or sambusa in Arabic. With its pleasant atmosphere and friendly service, the restaurant is popular with those wanting Saudi style mandi.
They are the most expensive on the list however and there are some really good options on this list that are less money. However overall, mandi due to its size and that one dish serves two people. It's still an affordable meal in Dubai.
Location: Jumeirah Street, Umm Suqeim 2
Timing: 12 pm till 1 am
Price: Chicken for 42 AED, Meat for 98 AED
Rating: 4.3 out of 5
Website (Arabic)
8 – Mandi Man – Al Jaddaf
Located in Al Jaddaf, Dubai, Mandi Man is a popular Yemeni restaurant celebrated for its signature dish and wallet-friendly prices. Cooked in a traditional style or you can choose the grilled chicken style if you prefer. Their lamb is equally a delicacy you won't easily forget. A must-visit for foodies in the area!
The menu is simple and sticks to the classics along with seafood options. Kunafa is only 15 AED for a portion which is also a really good price, which is a good job because it's the only dessert they offer.
The interiors are different compared to other mandi restaurants with open seating areas, divided into different sections with walls. This means you can semi-see other people as you sit on the floor and eat. There are table options too with dividers.
This is the most affordable option out of the list with many people commenting on how great the service and great presentation of the dishes along with a great price.
Location: Barajeel Residence, Al Khail Road, Al Jaddaf
Timing: 12 am till 12 pm
Price: Chicken for 29 AED, Meat for 54 AED
Rating: 4.8 out of 5
9 – Al Yemen Mandi – Various locations
Offering traditional Yemeni recipes, Al Yemen Mandi prides itself on always leaving happy and full customers. Their iconic red signs prominently feature a graphic of Yemen that is difficult to miss.
A hugely popular mandi restaurant in Dubai with various branches across the city. It is of course known for its signature dish, mandi, cooked in a traditional clay oven. The restaurant is also known for its friendly service and affordable prices.
Their Deira or Abu Hail branch and Al Qusais branch have an impressive 4.2 out of 5, while their Al Rigga Road Deira branch has 4.1 out of 5, and International city with 4.3 out of 5. So decent scores no matter which branch you choose to visit!
While the decor may not be anything extravagant, customers return time and again to indulge in the delicious food served. It's not a fine dining experience, but it's certainly worth visiting for a casual meal.
This restaurant caters to all your mandi cravings, whether you're an early bird or a night owl. With the earliest opening and latest closing time, you can enjoy their delicious food no matter the time of day or night!
Location: Bait Al Jabal Building, 38 24 Street, Abu Hail, Deira
Timing: 9 am till 3 am
Price: Chicken for 32 AED, Meat for 60 AED
Rating: 4.2 out of 5
10 – Makarem Mandi – Al Barsha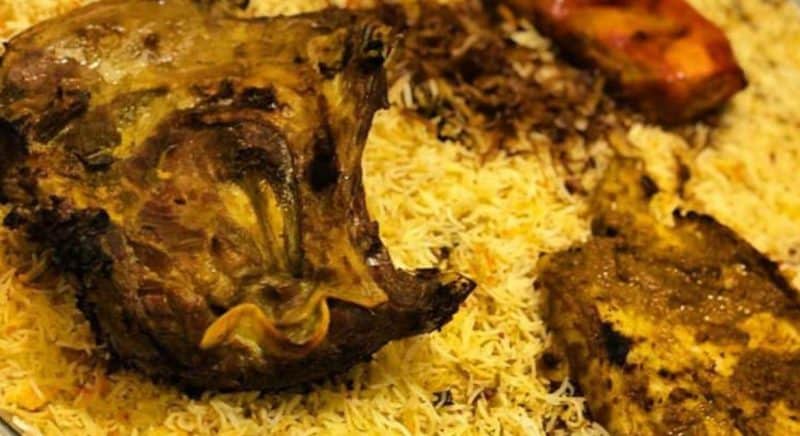 Makarem Mandi Restaurant in Dubai offers delicious and authentic Yemeni-style mandi. The staff are friendly and accommodating, ensuring that every customer has a pleasant dining experience.
While not the most budget-friendly option, they provide a great selection of dishes for those who prefer to enjoy mandi solo. The restaurant also provides different sizes of platters such as quarter, half or full chicken so there's something for everyone, no matter the occasion. Whether you're looking for a quick lunch or a more special dinner.
The interiors are traditional for a mandi restaurant with an Arabesque feel.
They have a wider variety on their menu compared to other restaurants, including various grills, seafood and sandwiches. Their lunch offer mandi meal includes sides for 1, with chicken for 30 AED and meat for 40 AED.
Location: Hessa Street, Al Barsha 3
Timing: 11 am till 12 am
Price: Chicken for 40 AED, Meat for 89 AED
Rating: 4.2 out of 5
11 – Tibba Restaurant for Mandi & Madhbi – Various locations
Tibba Mandi Restaurant in Dubai boasts four city-wide locations and is your go-to for authentic Yemeni cuisine. Their speciality mandi dish, cooked in a clay oven, features decadently roasted chicken or lamb. Experience the epitome of affordability and hospitality as you enjoy local favourites at this beloved eatery.
Every branch has 4.2 to 4.4 stars, with the Business Bay branch being their highest rated. They also serve a wide range of side dishes along with a small selection of sandwiches and seafood.
They do sometimes sell out of dishes, meat in particular. So it can be worth either pre-ordering or going for an earlier lunch if you want to make sure you get the dish you want.
Location: The Citadel Tower, Marasi Drive, Business Bay
Timing: 10:30 am till 12 am
Price: Chicken for 28 AED, Meat for 55 AED
Rating: 4.4 out of 5
---
Before you go, check out some of my other related articles:
Arabic desserts you must try and where you can get from in Dubai
Restaurants with a Burj Khalifa and Dubai fountain view you must visit
How to make yummy karak chai to enjoy at home
Check out our other Khaleeji recipes here to suit your cravings
---
Conclusion
Dubai is undoubtedly a gastronomic paradise if you're a fan of Mandi! Here are some handpicked spots we think are worth exploring. Expect a warm welcome and delightful flavours. You'll be spoilt for choices as you discover these popular gems, enjoyed by both the community and tourists alike. Don't miss out on the chance to savour some of the best the district has to offer.
My top 3 out of this list of the best Mandi restaurants in Dubai are; Mandi Man in Al Jaddaf, ZamZam Mandi and Maraheb. Even you may want to try a few different ones on the list to truly experience the different styles of mandi. Each of these restaurants offers excellent food, attentive service and a traditional Khaleeji way to eat, making your meal truly memorable.
No matter which restaurant you choose from this list, you won't be disappointed – all of them offer delicious mandi from the Arabian Gulf and will leave a lasting impression on your taste buds!
---
*This article contains affiliate links, clicking the link doesn't cost you anything extra but it does help me to keep writing these awesome articles for you!