Visiting Dubai in 2 days may be challenging but, it is certainly not impossible. This 48 hours in Dubai itinerary is perfect for you to try and get as many sights in as possible within the time!
If you follow this detailed itinerary from everything I've learnt over the last 10 years of my living in Dubai, you can manage to see all the best Dubai attractions in only 48 hours.
Day 1: Old Dubai
Many people online will tell you "Dubai is fake and only 5-star hotels." Heading over to Old Dubai will prove this all wrong!
The old quarters of Dubai are where you can explore the rich history and culture of Dubai. Yes, there aren't old fancy buildings like in Europe but the life of the locals surviving this harsh terrain is equally interesting!
In this area, you'll find traditional markets, historic sites, museums and authentic Arabic cuisine. So without further ado, let's start our thrilling trip to Old Dubai!
Insider Tip – For this area, I highly recommend to get the metro rather than driving as there is very limited parking spaces and traffic builds up quickly
Morning: Ride an Abra across Dubai Creek and enjoy a walking tour of Old Dubai
Dubai Creek historically was a thriving area of business for pearl divers and fishermen. After the modernization of Dubai, the creek is still an important part of the city but has vastly changed from its historical era including a large expansion of the creek. Despte this, to this day you'll still find merchants and fishermen carrying on their traditional trade on the waters.
For only 1 AED, you can take a ride across the waters of Dubai creek from one side to the other on an Abra. The small motorised wooden boats are part of Dubai's Public transport system and run every few minutes. It provides a scenic view of Old Dubai and also an experience of part of the history of the area.
Abra in Arabic means "to cross" hence why the boats are named this!
The best way to see this part of Dubai is by foot, so I highly recommend taking a tour and this one includes lunch along with some cool photos in a vintage Mercedes G glass. It also includes the Abra ride however you can do it more than one if you like!
If you decide not to take the tour then I highly recommend visiting Arabian Tea House for lunch! Which is also close to your second set of activities.
Afternoon: Visit Dubai Museum and Al Fahidi Fort
Once the ride is over, head straight towards the ancient Al Fahidi Historical Neighborhood on the banks of the creek. The restored coral and gypsum buildings offer a great insight into Arabic history and culture.
You will also find amazing places, like XVA Art Gallery, Sheikh Mohammed Centre for Cultural Understanding, and Al Fahidi Fort (constructed in 1781). However, my most recommended in this area is Dubai Museum and Al Fahidi Fort.
After exploration, have a delightful bite at the eateries in the neighbourhood. Then, head over to Al-Seef for a stroll and a picture-taking session.
Evening: Shop at the souqs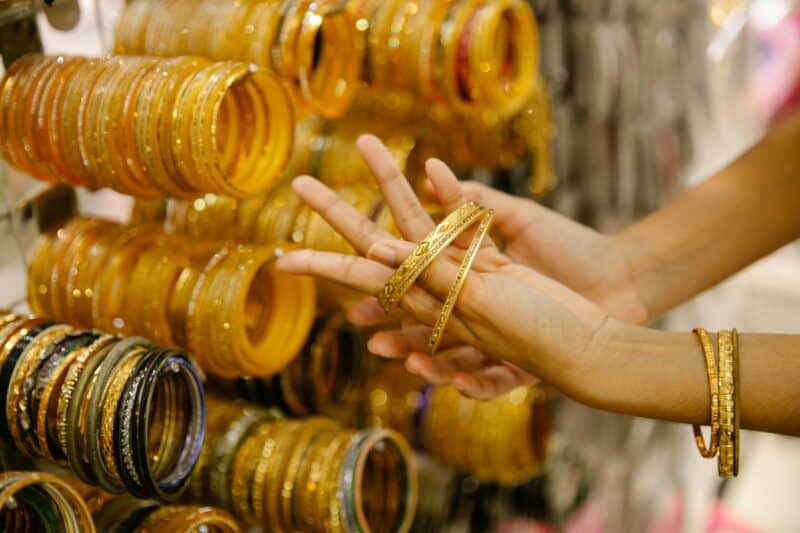 Going to the famous souqs is one of the top things to do in Dubai. These traditional-styled markets offer premium quality goods at the cheapest prices. Plus, there's a souk dedicated to each type of good.
Some of these include the Spice Souq, Gold Souq, and Perfume Souq. All these souqs are within walking range. So, you can explore one Dubai souk after another quickly.
It's best to enjoy the souks after sunsent as this is when they really come alive!
You can check out my in depth guide to buying gold in Dubai here if you decide to head over to Dubai Gold Souq.
Night: Head over to Downtown Dubai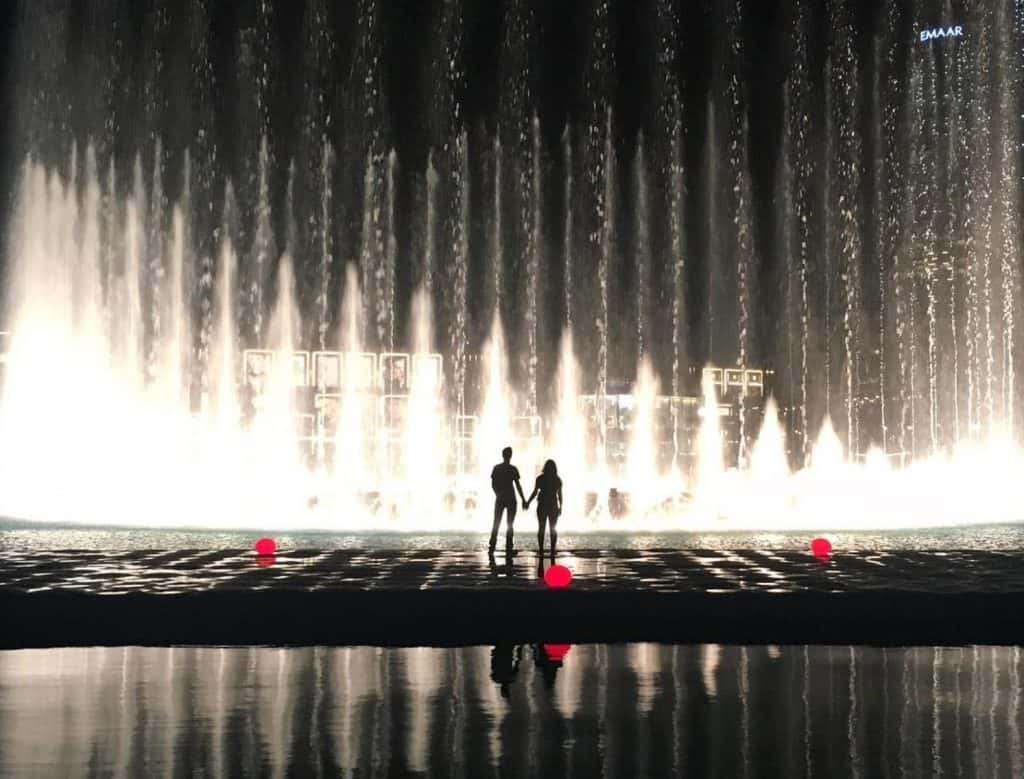 After shopping, hop onto the metro and travel directly to downtown Dubai. This particular area in New Dubai is the epitome of fun and entertainment. There's everything from tall skyscrapers to musical theatres.
Upon arrival, we recommend exploring the place and taking a few pictures. Then head towards the Dubai Opera for a wonderful show or enjoy the magical Dancing Water Fountain show.
There are several waterfront restaurants close to the fountains. So if you didn't get dinner while at the souqs, you can dine there while enjoying the illuminated water jets till the early hours of the morning. Once you're done, you can call it a day and head back to your nice hotel with a Burj Khalifa view!
You can pick from the many attractions here depending on which is your favourite and how much time you have left:
Dubai Fountains
Falling Man Dubai Mall Fountain
Dubai Mall
Dubai Opera
Souq Al Bahar
Dubai Ice Rink
Burj Park
Candylicious – One of the World's Largest Candy Shops
If it's a weekday, most things are open until 12 am and on weekends until 1 am.
---
If you're not keen on one day of these activities, check out my other guide to swap one of the days along with my other helpful guides:
24 Hours in Dubai; two fabulous experiences to choose from
Visiting the Burj Khalifa, ticket prices & alternatives to At The Top
The best hotels with a view of the Burj Khalifa for a magical stay in Dubai
---
Day 2: Explore New Dubai
As mentioned, New Dubai has uncountable entertainment places to visit and explore. So get up as soon as possible and head straight out!
Morning: Try SkyDive Dubai
What better way to start your morning than with a one of a kind experience!
SkyDive Dubai is located in Dubai Marina and as you fall you'll get to see stunning aerial views of Palm Jumeirah. It is one of the very few sky dives where you can be this close to a city. The exciting activity involves diving in the blue skies at 120-miles per hour or more!
Generally, SkyDive Dubai offers two dropzone options; Palm DZ and Desert DZ. The latter is present 35km outside Dubai, which makes Palm DZ a better choice. You can book your tickets in advance through their website. The cost of skydiving in Dubai can range from AED 1999 to AED 2299.
Check them out here. There's also indoor sky diving and other exciting activities!
Alternative: Stroll down JBR and enjoy the beach
If sky diving isn't your thing, which of course we understand it might not be then go for the more leisurely option of taking a stroll around Jumeirah Beach Residence.
The area is huge so there's really a lot to choose from! JBR The Walk is the more modern part with each access to the beach and also many restaurants and shops. So I highly recommend to head straight to this part on the more southern part of JBR.
Afternoon: Go to Palm Jumeirah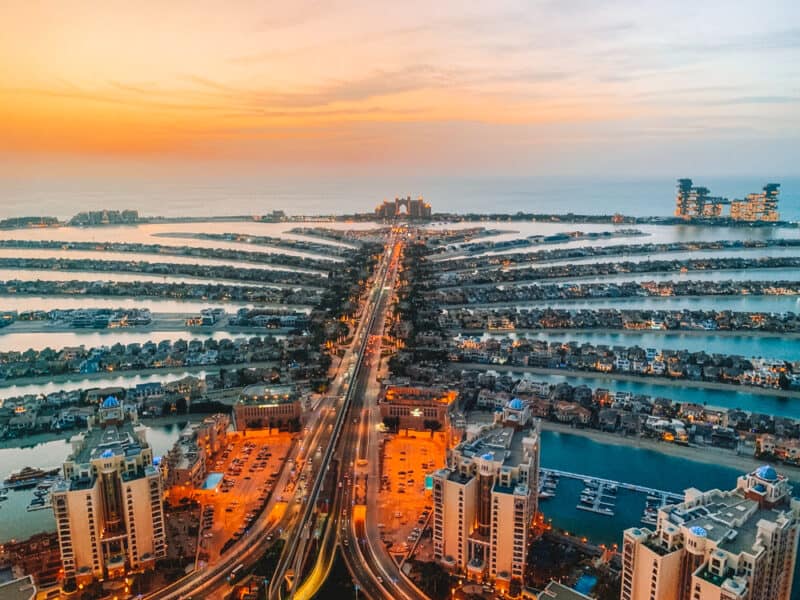 The palm-shaped island tops the Dubai must-see list for every tourist. There are plenty of good reasons behind it too!
Head over to The View for an amazing viewing deck which looks over Palm Jumeirah. You can enter from Nakheel Mall and head up.
Once you've finished there, you can head over to the five-star destination, Atlantis, with its amazing restaurants, shops, tourist attractions and more.
Here you'll find, the Lost Chambers Aquarium. Housing more than 60,000 marine species. You can enjoy the exhibits and even book a change to swim with some of them.
At the same location, you'll also find Aquaventure Park for some thrilling water activities. Before completing your afternoon at the Palm Jumeirah with a scrumptious meal in one of their celebrity chef restaurants.
Evening: Visit Jumeirah Beach
With the sun rising, head to the Jumeirah Public Beach and cool off in the beautiful blue waters. It is a white sand beach that offers the perfect retreat for both; residents and tourists.
You can take a dip in the water or enjoy water sports like surfing. There is also a 1.8km running track for those who love to start their day with some exercise. Also, since the famous Burj Al Arab stands in the background, it's the best spot to take Instagram-worthy photos.
Please note that Jumeirah Palm Beach opens by 7 am throughout the week. However, it opens at 11 am on Thursdays and Fridays.
Night: Cruise on Dubai Marina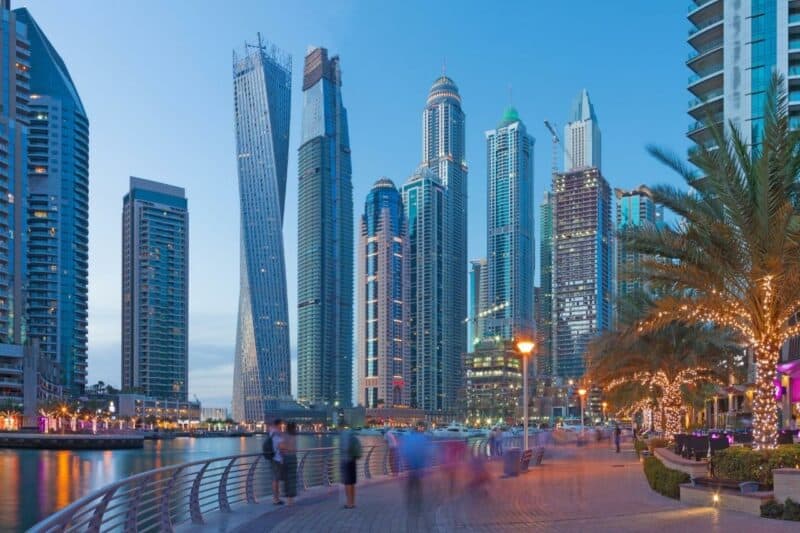 Dubai Marina lies is in close proximity to SkyDive Dubai. So, the travelling time won't be much (around 11 minutes). Head towards the luxurious neighbourhood right after the thrilling activity!
Here, you can shop at the famous Marina Mall or dine at the restaurants. If you crave something exciting, do not miss out on a cruise at the Dubai Marina. There are plentiful services available in the area. You can rent a yacht and explore the Gulf waters under the star-studded sky. How amazing!
If you really want to see how the other half lives, check out this superyacht experience with music and drinks
---
Staying in Dubai for longer or want to change one of the days? Check out my other helpful articles before you go!
Restaurants with Burj Khalifa views to enjoy the Dubai fountains
Buying gold in Dubai; what you must know when visiting Dubai's Gold Souks
---
Hope you enjoy this 48 hours in Dubai itinerary! Let me know what activity was your favourite in the comments below and make sure to check out some of my other articles about Dubai too!
---
*This article contains affiliate links, as an Amazon Associate and a member of other affiliate programs, I earn a commission when you click a link and a qualifying purchase is made.