Dubai is renowned for its water parks, and rightly so. From the world-class Aquaventure Waterpark at Atlantis to Legoland Dubai's Waterpark, choosing the right waterpark for your family vacation can be a daunting task with trying to keep every member of the family happy. As someone who has lived in Dubai for many years and experienced the city's waterparks multiple times, I can confidently say that Dubai is home to some of the best waterparks in the world. So whether you're an adrenaline junkie or just want to relax by the pool, here are some of the best Dubai water parks in that will make your visit unforgettable.
All Dubai water parks
Wild Wadi Waterpark: features 30 rides and attractions, a wave pool, multiple water slides and two artificial surfing machines.
Aquaventure Waterpark: offers river rides, tidal waves for surfing, shark safaris and slides with vertical drops of nearly 20 meters high, a private beach and more! (Best Dubai Water Park)
Laguna Waterpark: a smaller waterpark inside La Mer with thrilling slides, a wave machine for surfing and a large infinity pool.
Legoland Waterpark Dubai: made up of 20 slides and attractions inspired by the popular Lego toys, designed for kids aged 2 to 12.
Other popular waterparks that are worth the drive to Abu Dhabi or Umm Al Quwain:
Yas Waterworld Abu Dhabi: experience 45 exhilarating rides, slides & attractions in an Arabic-themed water park.
Dreamland Aqua Park UAQ: 30 rides and attractions and one of the only parks with alcoholic beverages
Wild Wadi Waterpark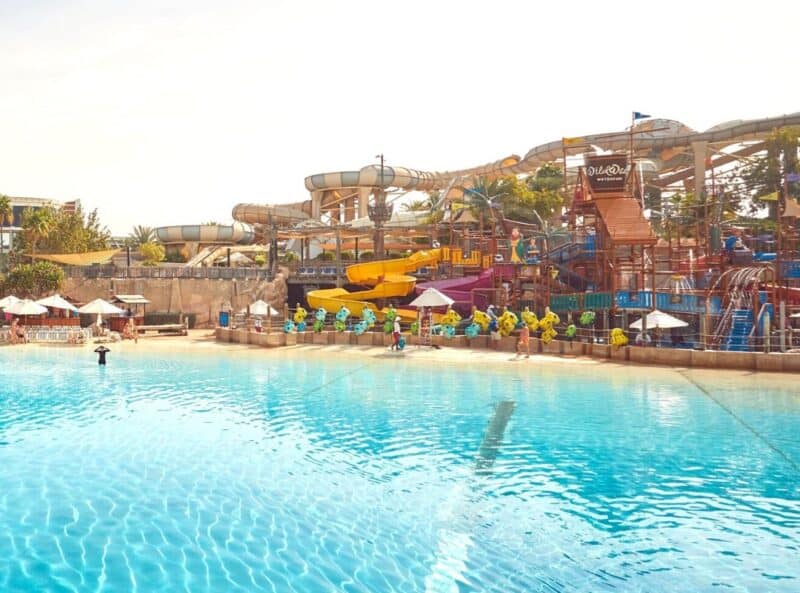 *Temporarily closed – Have been saying they will re-open soon but have been saying this for a few weeks and is currently still closed. Will update you when they re-open.
Wild Wadi Waterpark in Dubai is a world-class waterpark experience, located between the iconic Burj Al Arab and Jumeirah Beach Hotel. With 30 different rides and attractions, Wild Wadi is the perfect spot for a fun-filled day out with friends or family. This is also a much-enjoyed waterpark but personally, I would say it's the second best water park Dubai!
From thrilling water slides to wave pools and artificial surfing machines, you'll find something here for everyone. The park also has numerous recreational activities such as tubing, kayaking and aqua jogging. There's also a dedicated children's area with a variety of water activities designed especially for young ones.
How much do tickets cost for Wild Wadi?
Tickets for Wild Wadi Waterpark in Dubai cost anywhere from 199 – 269 AED per person (approx. $57 – $78 USD) depending on whether your child is over 1.1 meters tall or under. Tickets exclude extras such as towel rental and locker rental.
Standard adult tickets cost 269 AED (approx. $59 USD) and children's tickets (under 1.1m) are priced at 199 AED (approx. $57 USD).
You can get Wild Wadi ticket offers as a UAE resident but these don't run all throughout the year, they tend to be during the summer and September. They also do a birthday offer where you enter for free with two full paying friends.
Wild Wadi has a ladies' evening every 1st and 3rd Thursday night from 8 pm to 12 am, which includes female only life guards on duty during this time. Kids get in free so it's a great time to visit if you're a lady and to save money on admission tickets. It has since stopped since 2020 but we're hoping now Dubai is getting busier again, the offer will return!
Also if you stay in Jumeirah Beach Hotel or Burj Al Arab, you'll also get free entry as part of your stay!
How do I get to Wild Wadi?
Wild Wadi Waterpark in Dubai is located between the iconic Burj Al Arab and Jumeirah Beach Hotel. You can get to Wild Wadi by car or taxi, and there are also public buses that go to the park from other parts of Dubai.
If you are staying at the Jumeirah Beach Hotel or Burj Al Arab, you can get free entry as part of your stay! So you can use the internal golf buggy (cart to my American readers) system to conveniently drop you at the park (It's like a mini ride before you even start!)
What time is Wild Wadi open from and to?
Every day from 10 am till 6 pm (Last entry is at 5:30 pm but I recommend going for at least half a day)
Aquaventure Waterpark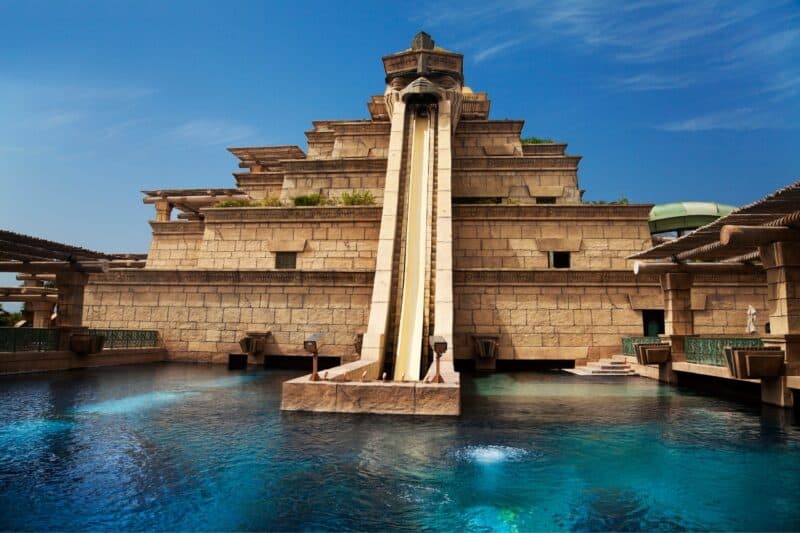 Aquaventure Waterpark is located within the luxurious Atlantis The Palm Resort and offers a unique and thrilling experience. With more than 22.5 hectares of rides, slides and attractions all centred around the theme of an ancient lost world, Aquaventure is a waterpark like no other! I would also say this is the best waterpark in Dubai.
The park features river rides, tidal waves for surfing and even shark safaris! There are also slides with vertical drops nearly 20 meters high, so if you're looking for an adrenaline rush, this is the place for you.
For calmer water rides, Atlantis Aquaventure also has a relaxing lazy river and a dedicated kids' water play area, making it perfect for all ages. Apart from water rides, Atlantis Aquaventure has its own beach, aquarium, and plenty of bars and restaurants. With its stunning location on the Palm Jumeirah, Atlantis Aquaventure has become a must-visit attraction in Dubai for all visitors.
It can take a couple of days to go on all the rides at Atlantis due to its size, especially with queues for the rides. It is the only large waterpark that has its own private beach so if you have a family member who isn't keen on rides, Aquaventure can be an ideal option for you.
It's also the world record holder of most waterslides in the world!
How much do tickets cost for Aquaventure?
Tickets for Aquaventure Waterpark at Atlantis The Palm Resort in Dubai can cost between AED 295 – 395 (approx. $68 – $132 USD) depending on whether you buy access for only the waterpark or the waterpark and Lost Chambers Aquarium.
Adult tickets cost 345 AED (approx. $70 USD), while children's tickets are priced at 295 AED (approx. $68 USD) for Aquaventure Waterpark access only.
You can get free access when it's your birthday with a valid ID. This is only valid for the week on either side of your birthday, (6 days days before or after) and you must pre-register. Two friends can get a 20% discount on entry with you.
Those staying in select hotels in Atlantis The Palm resort also get free entry as part of their stay!
USE CODE PLEID23 for 10% off ticket prices
How to get to Aquaventure?
Both parks are easily accessible by car or taxi and offer free entry as part of your stay if you stay in Atlantis! If you are staying in Atlantis, you can use one of the hotel golf carts or have a walk to the other part of the hotel.
You can also get the metro and then the Palm Monorail to Atlantis. The Monorail is like having a ride before you enter Aquaventure as you get to enjoy a leisurely journey and see out across the beautiful Palm Jumeirah.
What time is Aquaventure open from and to?
Every day from 9:30 am till 6:00pm
Legoland Dubai Waterpark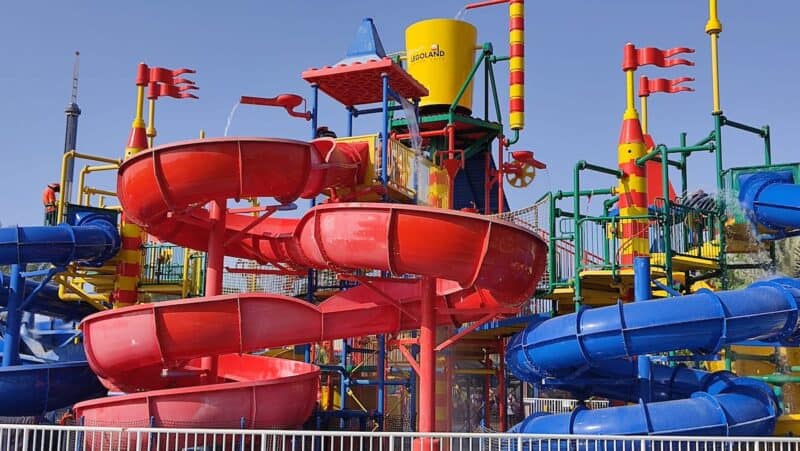 In the same location as Legoland Dubai, the Legoland Waterpark acts as a different attraction yet is still part of the same Legoland complex.
Legoland Dubai Waterpark is one of Dubai's most popular waterparks that offers an exciting experience for the entire family. This waterpark features over 20 slides and attractions, including the thrilling 'LEGO slide racers' and 'Splash Out'.
The waterpark also includes a wave pool, a lazy river, and a water play area for younger children. Designed with the iconic Lego theme, Legoland Dubai Waterpark aims to provide an educational and interactive experience, with ample opportunities to build and play with Lego blocks throughout the park.
Overall, Legoland Dubai Waterpark promises a fun and memorable experience that is perfect for families with children and is specifically designed for ages between 2 and 12 in mind, making it perfect for families with smaller children. From the giant tipping bucket and water slides, to bubble jets and splashing pools, there's something for everyone to enjoy!
Make sure to check out our recommended family friendly restaurants in Dubai after reading this article.
How much do tickets cost for Legoland Dubai Water park?
Tickets for Legoland Dubai water park cost 295 to 395 AED (approx. $41 – $55 USD) depending on whether you buy a ticket for Legoland Waterpark only or include Legoland Dubai.
Price for adults and children is 295 AED when bought online at least 1 day in advance for Legoland Dubai Waterpark access only. Children under 3 are free.
USE CODE PLEID23 for 10% off ticket prices
How to get to Legoland Waterpark in Dubai?
The park is accessible by car, taxi or shuttle bus, with parking options located nearby. You can also choose to stay in the Legoland Hotel.
Dubai Government have a free shuttle bus that heads to Dubai Park and Resorts, as it is located further out from the city towards Abu Dhabi. The bus runs from Ibn Battuta metro station.
What time is Legoland Water Park open from and to?
Daily from 10 am till 6 pm
Laguna Water Park

*It was announced on Friday 24th March 2023 that Laguna Waterpark will permanently close, La Mer is being redeveloped and at this stage, we aren't sure whether a waterpark will re-open in its place.
Located within La Mer, Laguna Water Park in Dubai is the perfect spot for a fun-filled day out with friends or family. With a small selection of rides, slides and attractions, this park is ideal for those wanting a smaller water park or to spend a half day rather than a full day!
From the towering aqua loops to the relaxing lazy river, there's no shortage of ways to have a fun experience. The park also features a wave pool, artificial surfing machine and children's area with special rides designed just for them. It also features a beach if you're looking for somewhere to relax while the kids explore the rides.
Plus, you can enjoy delicious food either inside or at one of the many restaurants at La Mer, just bear in mind the ticket doesn't give all day access sadly. Once you leave the park, you can't re-enter. Laguna Water Park is sure to provide hours of entertainment!
How much do tickets cost for Laguna Water Park in Dubai?
Tickets for Laguna Water Park in Dubai are 99 – 159 AED per person (approx. $27 – $63 USD) depending on whether you are a UAE resident or not. Children pay the same price as adults.
How to get to Laguna Water Park?
La Mer Waterpark in Dubai are easily accessible by car, taxi or bus. There is underground parking available, valet and on street parking. You park for La Mer and then walk to the central part of La Mer at the back, close to the drop off and valet.
Bus numbers 9 and 88 take you right to La Mer where you can walk to the entrance of Laguna Waterpark.
What time is Laguna Water Park open from and to?
Daily from 10 am till 6 pm
Water park FAQs
What is the most popular water park in Dubai?
Dubai is home to numerous world-renowned waterparks, each with its unique features and attractions.
The most popular waterpark in Dubai is the Atlantis Aquaventure Waterpark, attracting between 1.6 to 1.8 million visitors a year and is 22.5 hectares of rides and attractions. This waterpark offers an array of thrilling water slides, including the record-breaking 'Aquaconda' and the heart-pumping 'Leap of Faith'.
How much does it cost to go to a water park in Dubai?
Excluding the smaller parks and the now closed Laguna Waterpark (99-159 AED), the prices range from 269 to 299 AED, with Wild Wadi being the cheapest and Aquaventure at Atlantis being the most expensive. Though Legoland Dubai Waterpark is only 5 AED cheaper than Atlantis.
What should I pack for a Dubai water park?
When visiting a waterpark in Dubai, it's important to pack the right items to ensure a comfortable and enjoyable experience. Here are some essential items to pack for your trip to a Dubai waterpark:
Swimsuit: Make sure to pack a comfortable and appropriate swimsuit that is suitable for the water park.
Sunscreen: The sun in Dubai can be intense, so it's crucial to pack sunscreen with an SPF of 30 or higher. Apply sunscreen generously and r eapply after every few hours.
Towel: Bring your own towel to the waterpark, otherwise you'll have to pay a towel rental fee.
Flip flops or water shoes: These are essential for walking around the park, as the ground can get hot in the sun.
Water-resistant phone case: Protect your phone from water damage by bringing a water-resistant phone case.
Hat or cap: Protect your face and scalp from the sun by bringing a hat or cap.
Cash or credit card: Bring some cash or a credit card to pay for food, drinks, and any additional activities or services. Some parks have rechargeable wristbands to make paying for food and drinks easier.
Extra clothes: If you plan to spend time outside the waterpark after your visit, bring a change of clothes, especially with children!
Don't pack water & snacks: Waterparks do not allow any outside food or drink except food for babies and other specialist foods.
---
Before you go, check out some of these other articles you might be interested in:
Dining at Burj Al Arab all 9 restaurants in the Burj Al Arab
Guide to visiting the Burj Khalifa and Burj Khalifa ticket costs
See the Burj Al Arab from the sea by doing a Jet Ski tour in Dubai
Stay in luxury with the best hotels on Palm Jumeirah
Best child friendly eateries in Dubai for you to take the family
---
Conclusion
With thrilling slides, wave pools and lazy rivers to explore, these amazing water parks offer something for everyone, from young children to adults alike! Atlantis is the Dubai best water park I would say, Wild Wadi is fun but is in need of a bit of refurbishment and Lugana is a small water park. So get ready to have a splashing good time with friends and family at one (or more!) of Dubai's top rated water parks today!
---
*This article contains affiliate links, as an Amazon Associate and a member of other affiliate programs, I may earn a commission on purchases. Clicking the link doesn't cost you anything extra but it does help me to keep writing these awesome articles for you!