How did they even get a lake in the desert? Well you might be surprised to know that nearly all of these lakes in Dubai are man made. That's probably not surprising for the heart shaped lake in Dubai or the Expo 2020 lake. They're still super cool to visit though and you'll find plenty of animals and nature around them. I'll cover some of the most famous lakes in Dubai for a unique romantic, family or just fun day out
If you love to take a tour, I love this really unique experience from Get Your Guide that includes a tour around Al Qudra and a traditional Bedouin dinner!
---
Make sure to check out these other helpful articles after you've finished this one!
15 restaurants with incredible views in Dubai
9 amazing Arabic desserts you must try!
Which area should I stay or live in Dubai?
20 things to keep the kids entertained at Dubai Expo 2020
---
I've also included the Dubai locations on a map so it's easy for you to find! Some of the more hidden ones in Al Qudra desert do need a 4 by 4 to get to but not to worry, all the information you need is below!
Here are all the key lakes Dubai has to offer on a handy map!
Insider tip – Please note that in the whole of Dubai you need a permit to operate a drone along with a special drone license. So while it may be tempting to film the Dubai lakes from above, make sure you have the right permissions otherwise you might get into trouble!
Al Qudra Desert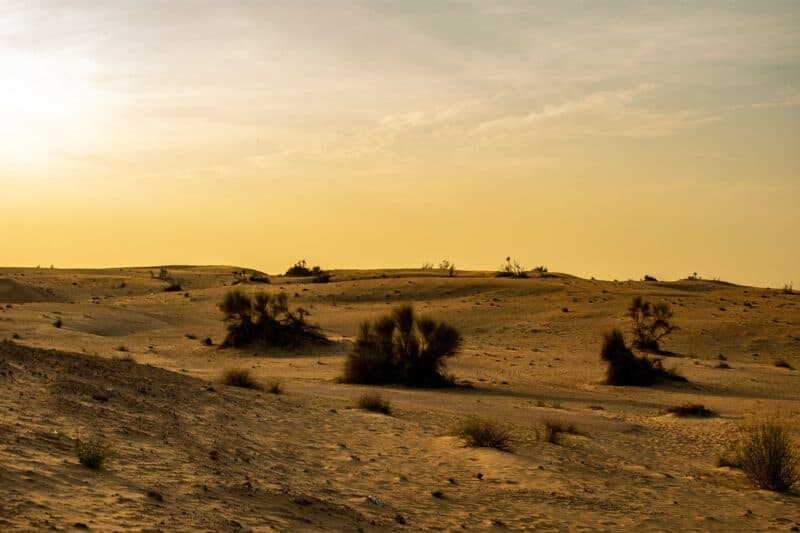 The Al Qudra desert is very large and has several lakes within it it including Expo Lake and Love Lakes. I will go through all the different lakes Dubai has to offer within Al Qudra! Then after I'll go into other beautiful lakes in Dubai that you can visit and finally places to stay in near by!
The following list is grouped together with what else is near by it.
Jump to the lake you want:

Al Qudra Lake
Love Lakes Dubai
Al Qudra Desert Lake
Al Qudra Lakes East
Al Qudra Lakes
Crescent Moon Lake
Flamingo Lake
Finian's Lake
Lake Salah
Falcon Oasis
Lake Sallum
Al Marmoom Heritage Camp
Last Exit

Expo Lake
Bab Al Shams

Dubai Lake
Al Marmoom Heritage Village
Al Maha Luxury Resort

Burj Khalifa Lake

The Lakes

Hatta Lake
Hatta Wadi Hub
Hatta Hotels

Tour Options
Al Qudra Lake Dubai
So this is one of the main lakes and the easiest to get too since it has parking, toilet facilities and even a bike hire shop! This one is also labelled as "Al Qudra Main Lake" on the map.
Make sure to walk up to the viewing deck and have a look over the lake too while you're there for a lovely view.
I was probably one of the first people to visit this lake when it opened and it quickly became one of the most popular things to do in Dubai. Especially since it's the perfect picnic spot in Dubai!
They allowed BBQs initially and then BBQs became banned in the area since sadly too many people were leaving trash around in the nature. However later Dubai government clarified they are allowed, as long as you do not damage the nature and don't leave trash!
This includes using a BBQ that is lifted off the ground with a legs, as BBQing directly on the ground damages the nature. This also includes those BBQ disposable trays you buy, they must be placed on rack like below:
Al Qudra Dubai entry fee: Free
4×4 needed : No
Travel time from Al Barsha: 34 mins
Love Lakes Dubai
Made famous and revealed by Sheikh Hamdan, this lake is named the Al Qudra Love Lake. This heart shaped lake features the word love written underneath it's two intertwined love heart lakes.
Also if you're looking for a unique date spoke this is definitely in the Top 10 of Dubai romantic places! It's the perfect spot to pack a picnic and watch the sunset.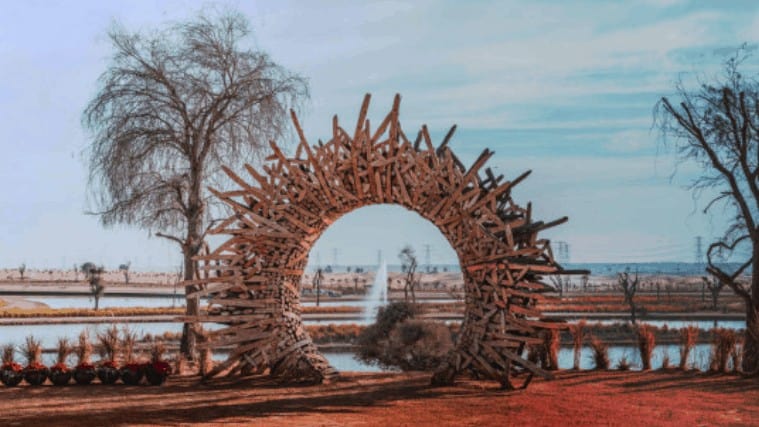 There's also many amazing instagram spots like this one below at the Heart Lakes. So if you go, make sure to take lots of photos of this famous heart shaped lake Dubai has made famous!
Love lake Dubai entry fee: Free
4×4 needed : No
Travel time from Al Barsha: 55 mins
Al Qudra Desert Lake
Close to Al Qudra Love Lake, Dubai has yet another beautiful lake for you to enjoy! It's also very close to Flamingo lake too, so make sure to check them both out while you're there!
Al Qudra Desert Lake Dubai entry fee: Free
4×4 needed : No
Travel time from Al Barsha: 40 mins
Al Qudra Lakes East
If you drive further east from Lake Salah and Lake Finian, you'll find Al Qudra Lakes East which is very close to Flamingo Lake. This one is great to visit if you love wild life and want to see flamingoes along the way!
If you're looking to do as many lakes as possible in the shortest time. It's best to start of Lake Finians lake (if you have a 4×4), then Lake Salah, Al Qudra Lakes East, Flamingo lake and then finally heading to Love Lake.
Al Qudra Lakes East Dubai entry fee: Free
4×4 needed : No
Travel time from Al Barsha: 37 mins
Al Qudra Lakes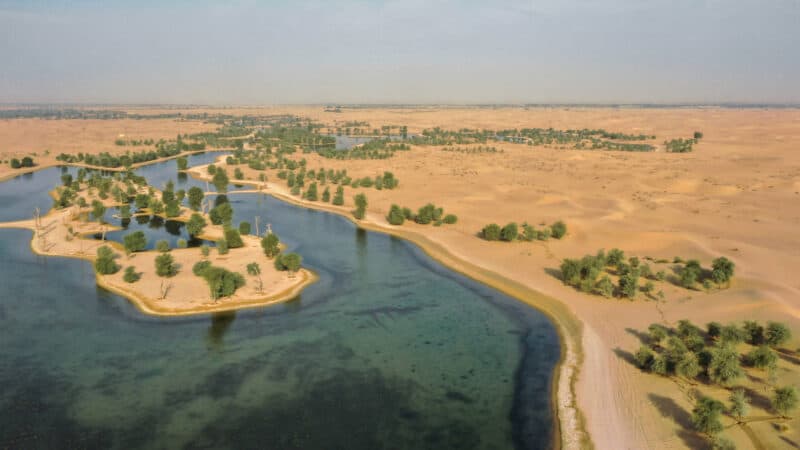 So if you head south from Al Qudra lake and the bicycle track, you'll find lots of lakes connected together. All with different names! These are:
Alludes Lakes
Kudra Lake
Lake Ahuja
There are also a few different viewing points and a BBQ spot called "Halissa BBQ spot" so if you're looking for somewhere specific to have a Dubai picnic and want that grilled meat taste. This is the best spot to go in the area!
Insider tip – While you don't need a 4 by 4 to get to some of these, they aren't official roads. It's just there are well trodden tire tracks, making it easier for cars to drive since the ground has been compressed. So if you do have access to a more off-road friendly car, this is your best option! Especially if you plan to go out to the further connected lakes!
Al Qudra Lakes Dubai entry fee: Free
4×4 needed : No
Travel time from Al Barsha: 36 mins
Crescent Moon Lake
A new lake since 2021 and more of a secluded Dubai picnic spot, you'll need a 4 by 4 to reach this lake. It's another super interesting addition to Dubai's lakes!
Crescent moon lake Dubai entry fee: Free
4×4 needed : Yes
Travel time from Al Barsha: 49 mins
Flamingo Lake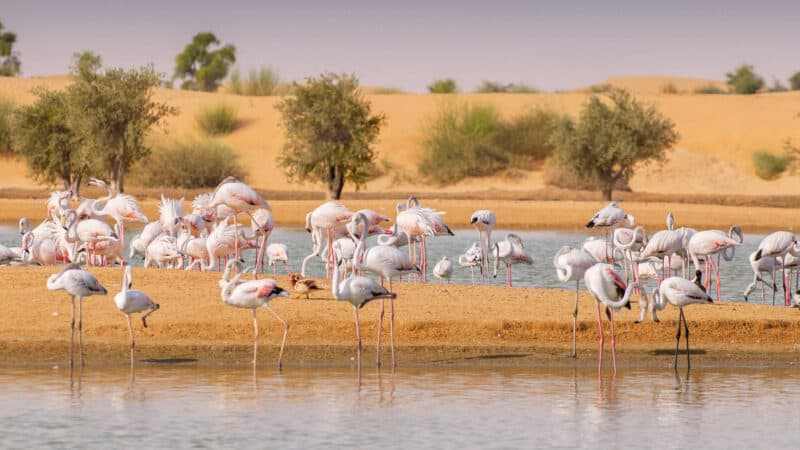 One of the unique Dubai sightseeing places! Who'd expect to see flamingos just hanging around in the desert in Dubai? This is close to Al Qudra Lakes East and Qudra Desert Lake. They're popular lakes so the roads are better established if don't have a 4 by 4.
Flamingo lake Dubai entry fee: Free
4×4 needed : No
Travel time from Al Barsha: 34 mins
Finian's Lake
Finian's lake and lake Salah are close to each other and have a different entrance to Qudra Lake but is still part of the Al Qudra Desert. They're not far from Flamingo Lake and Al Qudra East Lakes but you will need a 4 x 4 to access these!
Finian's lake Dubai entry fee: Free
4×4 needed : Yes
Travel time from Al Barsha: 34 mins + off road time
Lake Salah
Just east of Finian's Lake is Salah's lake, so if you have a 4 by 4. It makes sense to check out both of these before heading to Flamingo Lake. If you plan to try and do all the lakes, you could actually start off at Al Qudra Main Lake and then off road it these lakes without needed to go all the way back up to the main road.
Lake Salah Dubai entry fee: Free
4×4 needed : Yes
Travel time from Al Barsha: 34 mins +off road time
Falcon's Oasis / Paolo's Lake
A lesser well known lake, this one is in the middle of Lake Salah and Lake Finian's so again you'll need a 4 by 4 if you plan to visit these. There is an observation deck labelled "Falcon's Oasis Observation Deck" (check it out on my map). So if you're looking to avoid the crowds, this is a great spot!
Paolo's Lake Dubai entry fee: Free
4×4 needed : Yes
Travel time from Al Barsha: 34 mins + off road time
Lake Sallum
If you're really wanting a lake which requires a 4 by 4 and going on an extra journey, this lake only labelled in Arabic is the perfect lake for the more adventurous. It's further away from the main road than Lake Salah and Falcon's Oasis. You'll definitely get a quiet spot if you head here!
Lake Sallum Dubai entry fee: Free
4×4 needed : Yes
Travel time from Al Barsha: 34 mins + off road time
Al Marmoom Heritage Desert Camp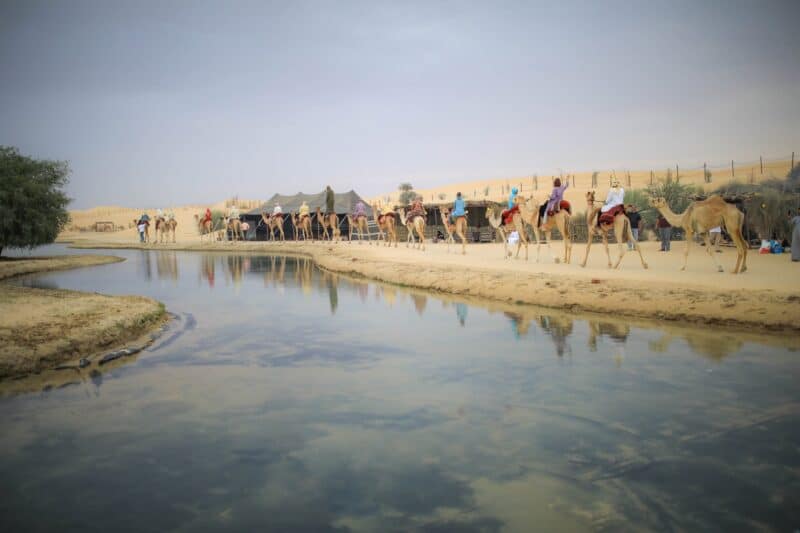 So this isn't a lake but it's a super fun activity located not too far from Al Qudra Lake. Created by Dubai Government this Dubai heritage camp gives you a journey into bedouin life. You'll find women making local crafts, arabic coffee heated on an open fire pit and even enjoy a camel ride
Al Marmoom Heritage Camp Dubai entry fee: Unknown
4×4 needed : Yes
Travel time from Al Barsha: 35 mins + off road time
Insider tip – Don't have a 4×4? Not to worry! Take this Guided tour of Al Qudra including a visit to this camp with a Bedouin Style Dinner instead!
Last Exit Al Qudra
This is one of the only places to get food and coffee in the area. If you didn't bring food with you. It's such a cool place to visit and features different drive throughs with different types of food. The Al Qudra Last Exit is a little bit smaller compared to the other Last Exits and only features a burger place.
If you prefer to sit outside rather than in the car, they also have benches dotted around and even a drive through cafe for the coffee lovers!
Last exit Al Qudra is located close to Al Qudra Cycling and a short drive from Al Qudra lake
Last exit entry fee: Free
4×4 needed : No
Travel time from Al Barsha: 41 mins
Expo Lake, Dubai
So another super interesting lake like the Dubai love lake, except this one is not dedicated to love but instead the Expo 2020 (well it ended up being 2021 but the lake is still cool!)
This one is a little bit further away from the other lakes as you drive towards Bab Al Shams Resort but it is easy to get to like Al Qudra Lake since it has roads and parking.
Expo lake Dubai entry fee: Free
4×4 needed : No
Travel time from Al Barsha: 52 mins
Bab Al Shams Desert Resort, Dubai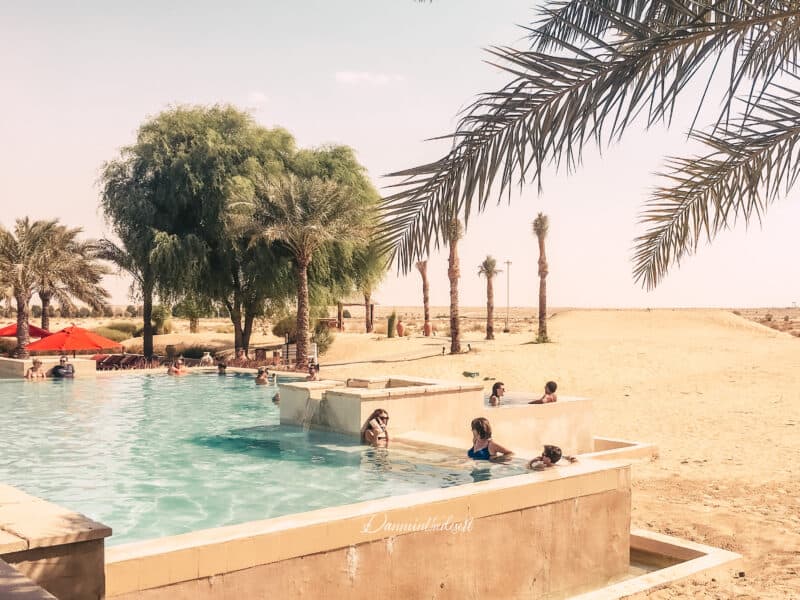 If you've visiting Dubai Expo Lake, then Bab Al Shams is the perfect place to visit for a desert themed dinner! Offering a traditional Arabic restaurant in an open air setting with entertainment.
You can also stay here at Bab Al Shams resort for the night if you plan to spend a couple of days exploring all the different lakes! Giving you access to their amazing swimming pool looking out into the desert.
Bab Al Shams entry fee: Free for restaurants, pool access is payable per person or free for hotel guests
4×4 needed : No
Travel time from Al Barsha: 43 mins
Dubai Lake
Located in the Dubai Desert conservation area, this lake is just off the E66. This Dubai lake in the desert is another super cool addition to the man made lakes of Dubai. Featuring Dubai spelled out in big large letters in the middle of it!
Dubai Lake entry fee: Free
4×4 needed : No
Travel time from Al Barsha: 44 mins
Al Marmoom Heritage Village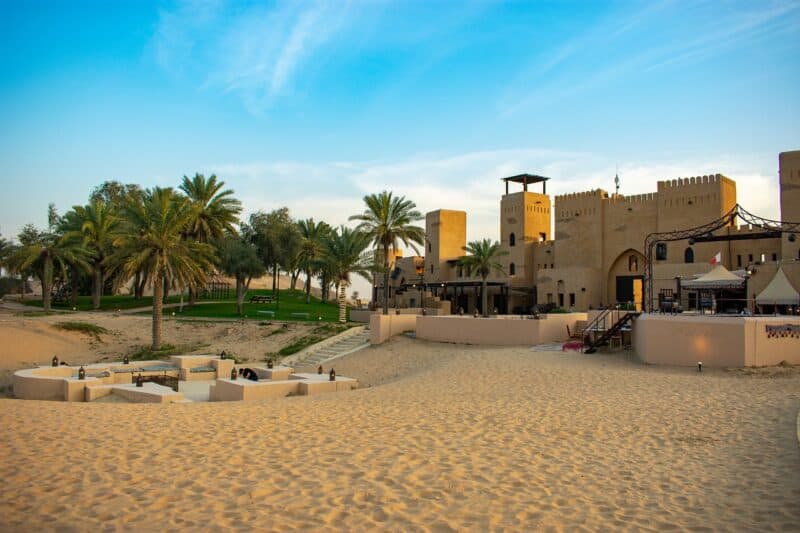 This Dubai tourist attraction is located close to Dubai Lake and is located in the Dubai conversation area. So if you're wanting a fun packed day out, it's definitely worth visiting here either before or after your trip to Dubai lake.
It's also close to Dubai camel racing and offers a chance to learn more about Emirati culture. They also have various events through out the year, you can check out their official website here
Insider tip – The heritage festival is run from March till April each year, for the rest of the year it's closed.
If you're visiting out of this time, another great option is this 5 hour tour to Dubai's Desert Conservation with breakfast that is very close to this location.
Or perhaps you've dreamt of riding a camel through the Dubai desert? You also have this Breakfast option in Al Marmoom that includes exactly that!
Al Marmoom Heritage Village entry fee: Free
4×4 needed : No
Travel time from Al Barsha: 34 mins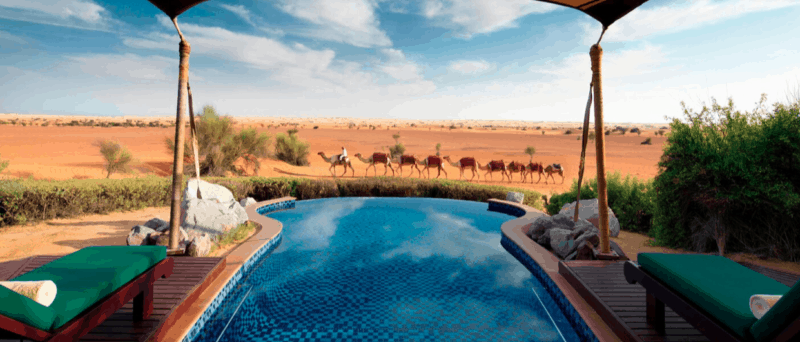 Owned by Marriott group this resort is a stunning place to stay close to the Dubai Lake and a truly unique. I actually love Marriott as a hotel group and always book direct, as they offer member exclusive discounts that are always cheaper than Booking.com and currently includes a free breakfast!
You can also enjoy a 5 hour tour of Dubai Desert Conservation Area with breakfast at Al Maha included
Burj Khalifa Lake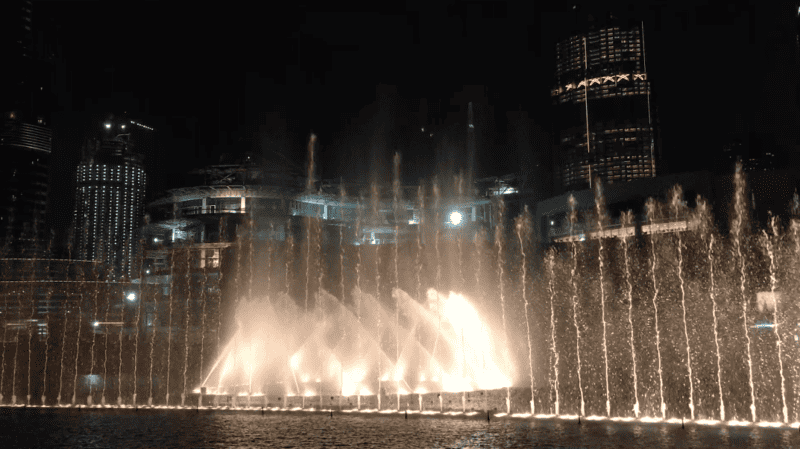 Another man made lake in Dubai is the lake surrounded the Burj Khalifa and has different activities available. Including peddle boats and floating bicycles!
It's also where the famous dancing fountains are! To find out more about this lake and how much all the activities cost, check out my previous article all about visiting the Burj Khalifa here!
Burj Khalifa Lake entry fee: Free, activities are charged separate
4×4 needed : No
The Lakes Dubai
This is both a residential area and has commercial businesses. If you want to visit a restaurant located right on the lake. Reform Social Bar & Grill is a British themed pub and restaurant. They regularly have events and I throughly enjoyed their BBQ!
Unlike this rest of the lakes, this isn't somewhere where you go to have a picnic or walk around the lake looking for Dubai wildlife. As it's mostly residential.
In Dubai, The Lakes is one of the many areas where man made lakes have been created in order to create beautiful surroundings for residents in the area. Great for jogging, walking pets and relaxing on the weekend.
Hatta Lake, Dubai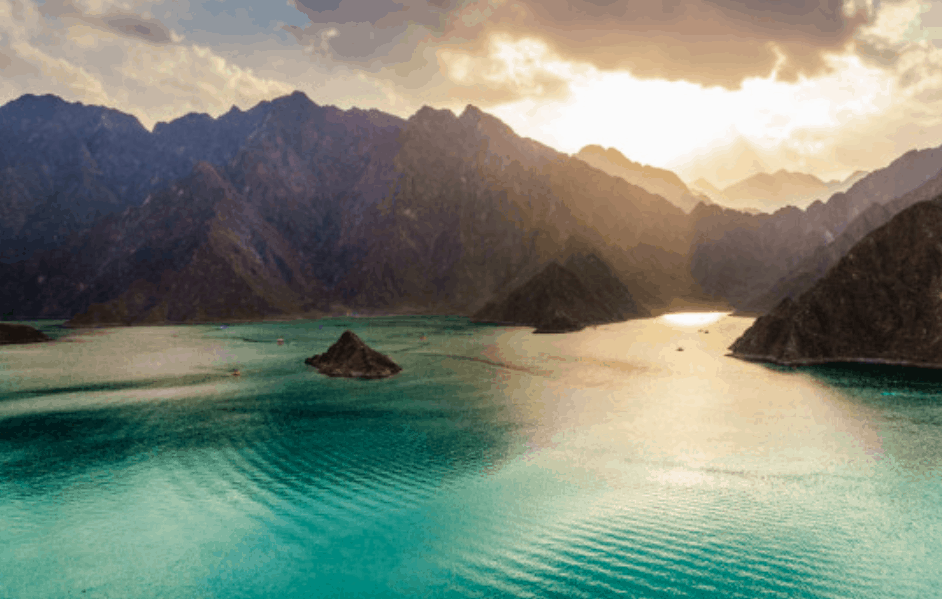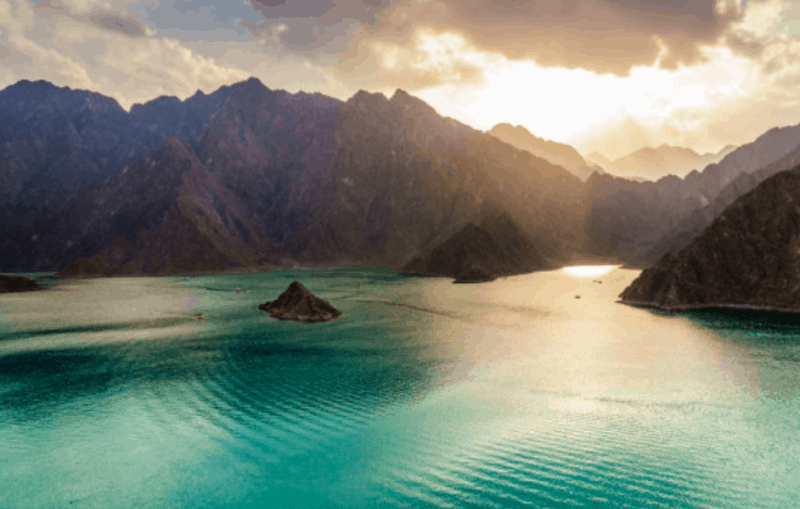 If you fancy driving a little bit further out, there are two lakes in Hatta. One is located next to Hatta Dam Dubai and the other is closer to Hatta Heritage Village. Yes it still comes under the Emirate of Dubai! Hatta is absolutely stunning! The lake is a beautiful blue colour. Also called Wadi Hatta.
The Hatta border is also close to Oman. So perfect if you're wanting to do a Dubai visa run at the same time! Now's your chance.
Hatta is definitely one of the must visit places in Dubai and I highly recommend if you can to spend a weekend there rather than just going for the day. As there's many Hatta activities you have to do on your Dubai bucket list! Including kayaking, hiking and cycling.
If you prefer a Dubai sightseeing tour and one that includes a Hatta tour, check out this one from Get Your Guide
One must do while visiting the lakes is renting a Hatta Dam kayak as the Hatta kayak experience is definitely one for the Dubai bucket list! Plus you're photos will be absolutely stunning and just plain cool!
Another must while in the area is to do a Hatta Mountain safari! To be honest there's just so many things to do in Hatta, that it's really worth spending an entire weekend or long weekend if you can!
The Hatta mountains are absolutely stunning! So it's no wonder that in Hatta hiking is another activity that is extremely popular. So no matter what type of adventurous activity you enjoy, Hatta has it all!
Hatta dam entry fee: Free excluding activities
Hatta Kayak price:
4×4 needed : Depending on the parts you visit
Travel time from Al Barsha: 1hr 43 mins (148 km)
Hatta Wadi Hub
The Hatta hub is located further away from the lakes but is made up of 30 different buildings. There's also many activities here too and even places to stay! So it's definitely somewhere to check out while in the area.
There is also Hatta Heritage village closer to the lakes, as another thing to visit and learn more about Emirati history. Hatta Dubai has so much to offer!
Due to the hot summer climate, most of Hatta's activities and even the Hub itself close over the summer time. Starting from early May. So just be aware if you're going out of the popular tourist times, less will be available during your visit.
Hatta restaurants
Hatta doesn't have loads of restaurants to choose from and in fact, for many years Hatta was mostly just natural beauty with very little built there. However due it's popularity, more has been built in the last few years.
A traditional Emirati restaurant is located within the Heritage village, while you'll find a cafe available at Hatta Wadi. For more details about what's available, check out Hatta's official website here.
Looking for a Hatta hotel? Choose from these Hotels in Hatta
Dubai of course built one near to this beautiful area called JA Fort Hotel Hatta and is one of the most well known in the area. The JA resort Hatta has all the luxuries you'd expect from a Dubai hotel, including a gym and spa.
This Hatta resort is even dog friendly for those who wish to take their pets with them!
If you're more of a wilderness adventure junkie then you can save the money on a hotel and enjoy Hatta camping instead!
If you prefer a Hatta or Al Qudra tour with a local
You can easily find all the best spots when you're on a guided tour with a local. Here are amazing experiences available from Get Your Guide:
---
For more Dubai places to visit, check out some of my other articles here:
An insider's guide to visiting the Burj Khalifa
15 impressive restaurants with an incredible view
Cool things to do during Dubai summer
How to blow all your money in Dubai in 3 days
---
Make sure to share your Hatta adventures and photos of the Love Lakes by tagging me on my Instagram! My favourite lake is probably Hatta followed closely by the Love Lake in Dubai!
*This article contains affiliate links, by clicking the link it doesn't cost you any extra money but it does help me to keep writing these awesome articles for you by earning a small commission!