This isn't your typical Dubai bucket list, as in just ticking off the usual tourist sights of Dubai that everyone does. This is the unique things to do in Dubai bucket list. The ultimate adventurous side of Dubai for the thrill seeker and those wanting an incredible experience that they won't experience anywhere else in the world. So are you ready? Let's go!
Insider tip – If you're planning to go to several attractions, then I highly recommend using the iVenture 7 Day Flexi Pass. Just make sure to check if an attraction needs to be booked in advance, as some do require this for entry.
Another super useful ticket to buy is Dubai's hop on and hop off bus (you know, those big double decker ones you see in every city) and enjoy some sunshine on their open top roof while getting around the city! I recommend the 5 day pass as they currently have 20% off and includes some awesome freebies such as entry to Lost Chambers Aquarium at Atlantis. So it's cheaper AND you get some free entry tickets. Talk about win win!
---
Make sure to check out some of my other super helpful articles about Dubai:
How to spend 24 hours in Dubai; classic Dubai or desert adventure
Things to do at Kite Beach in Umm Suqeim
19 of the best hotels near the Burj Khalifa
15 amazing restaurants with incredible views of Dubai
---
Dubai Bucket list of Unique things to do in Dubai
This list will be the kind of things you'll be telling your kids and grandkids about how cool you were back in the day and will be sure to impress even the most adventurous of friends!
1) Snorkel with piranhas at Dubai's Indoor Rainforest
So not only is The Green Planet, Dubai's indoor rainforest one of the coolest things do in Dubai but you can make your experience even more unique by snorkeling with piranhas! Yes, PIRANHAS!
You'll be provided with a wetsuit and snorkeling gear in order to make your way into their Piranha River Tank with over 1000 of the carnivorous fish. Guided by trained experts, you'll get to watch their feeding frenzy and enjoy swimming for this hour long experience.
The experience also includes a full day admission ticket! So you'll get to wander around the rest of the super cool indoor rainforest both before and after.
They also have The Green Planet Cafe too for when you need a bite to eat. Hopefully the piranhas had something before you dive in! I recommend to get something light to eat if you haven't dived yet as it's not ideal diving on a full stomach!
Details:
Time
4pm till 5pm
Duration
1 hour swimming time (plus however long you wish to explore the rainforest)
Maximum 4 people per day to snorkel
1 session per day
6 years and over
Must be able to swim

Cost: 350 AED per person ($95 USD)
For more details or to book online
2) Dune bashing over the desert on a Dubai desert safari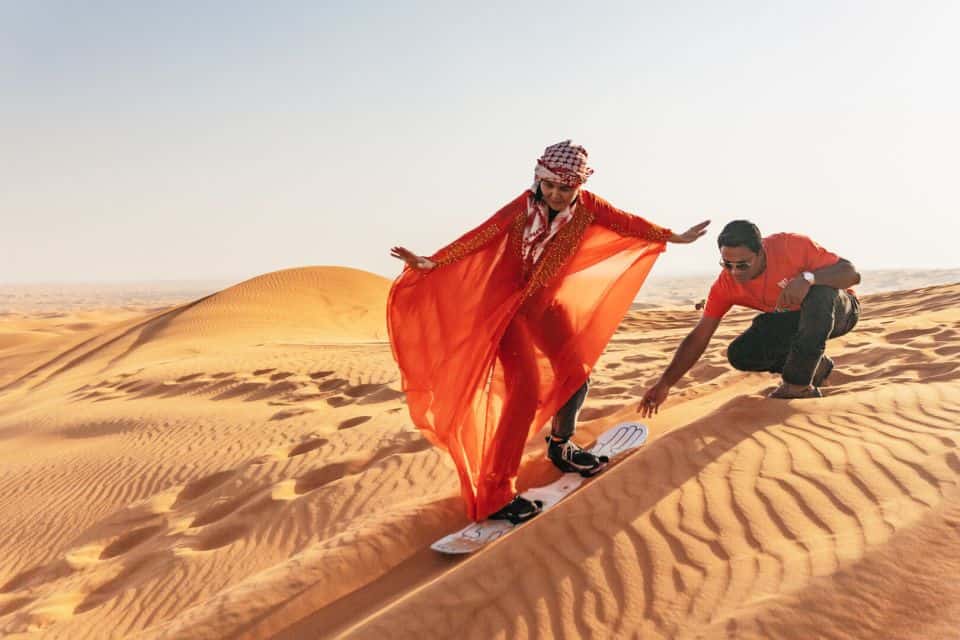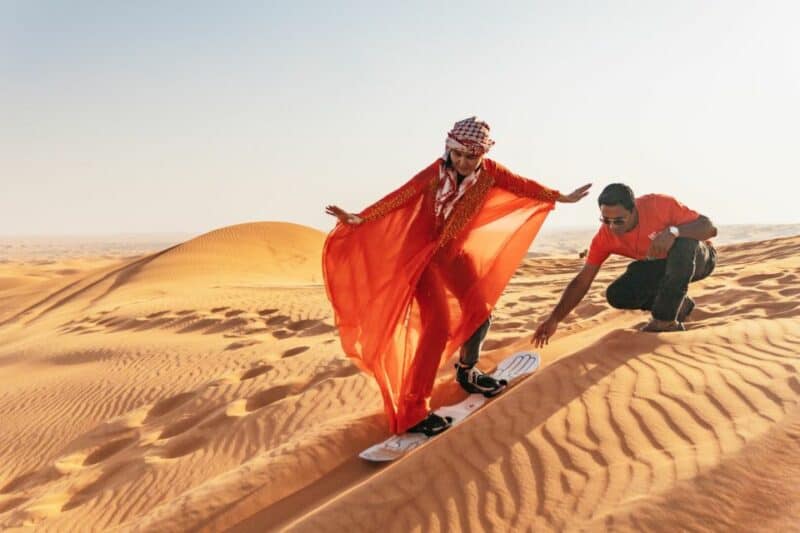 One of the Dubai things to do that should definitely not be missed, is an excursion to the untouched deserts surrounding the city. There is no other experience as memorable as a desert safari, where you'll embark on a thrilling Arabian adventure.
Start by setting off in a Land Cruiser or Jeep, you'll enjoy an exciting ride in the middle of the sandy desert. This activity is referred to as dune bashing, which is like a roller coaster journey over the huge sand dunes of the desert.
You can also enjoy, riding a quad bike or sandboarding over these dramatic dunes as part of the experience. The fabulous panoramic views and orange hues of the desert will enchant you.
Once you've completed dune bashing, you'll head over to a wonderful camp where you can participate in interesting activities such as camel riding, learning about traditional Emirati dress, tasting Arabic delicacies, henna painting and enjoy a photo with a falcon.
To finish, you can also relax under the stars and enjoy a delicious BBQ buffet dinner along with Tanoura dance and belly dancing to entertain you with their fantastic moves.
Details:
Time
Pick up is between 4:30pm and 3:15pm
Duration
7 hours
Book for 1 to 6 people
1 tour per day
3 years and over

Make sure to take sports shoes for sandboarding
Avoid eating or a heavy meal for 2-3 hours before dune bashing
*It can get cold in the evenings in the desert during winter so take a jacket during these months

Cost: From 312 AED per person ($85 USD) *Currently 30% off
For more details or to book online
This bucket list item was contributed by Anjali from Cheerful Trails
3) Shred the slopes skiing or snowboarding in Dubai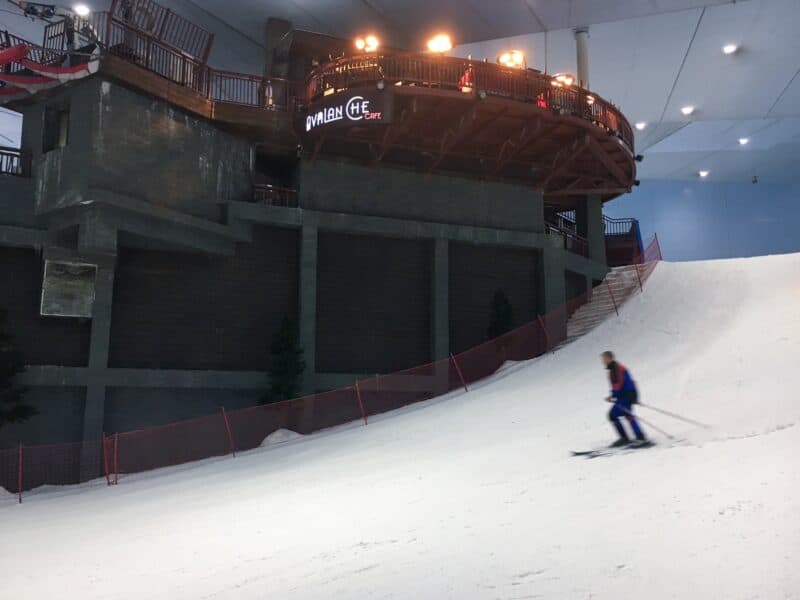 Snow is not the first thought of any person traveling to the Gulf but Ski Dubai certainly gives you an experience of it in this despite being in a desert. The park features five mostly varying degrees of the same slope depending on your skill level.
There is a mid-point station on the lift that takes you part of the way up the lift (and with a cafe as well) and then two runs on either side of the lift if you head all the way to the top. Surprisingly the terrain does give you the ability to get a decent number of turns which is impressive for an indoor ski area.
Opened in 2005, Ski Dubai has ski runs, snow tubing, giant balls, penguins, and ability to play a bit in the snow, which for those who haven't seen snow is quite the experience.
Prices start at 220 AED ($59.90 USD) for two hours of skiing or snowboarding, which also includes equipment and clothing rental. There are monthly passes for folks who live locally and plan to ski or practice regularly. You'll find some of the local regulars with their own equipment on the runs as well.
Access to the snow park, rides and tubing is also available if you don't want to ski but still want some adventure. Including being able to Zorb (rolling down in a giant inflatable ball) down the slopes!
Details:
Time
10 am till 10pm
Duration
2 hours to a full day

3 years and over for skiing and snowboarding
*2 years plus can use the Snow Penguins
Winter clothes and sports gear are provided
*2 hour ticket excludes gloves

Cost: From 220 AED per person ($59.90 USD)
For more details or to book via Get Your Guide
This bucket list item was contributed by Anwar from Beyond My Door
4) Complete a Yoga class 240 meters in the sky at The View on The Palm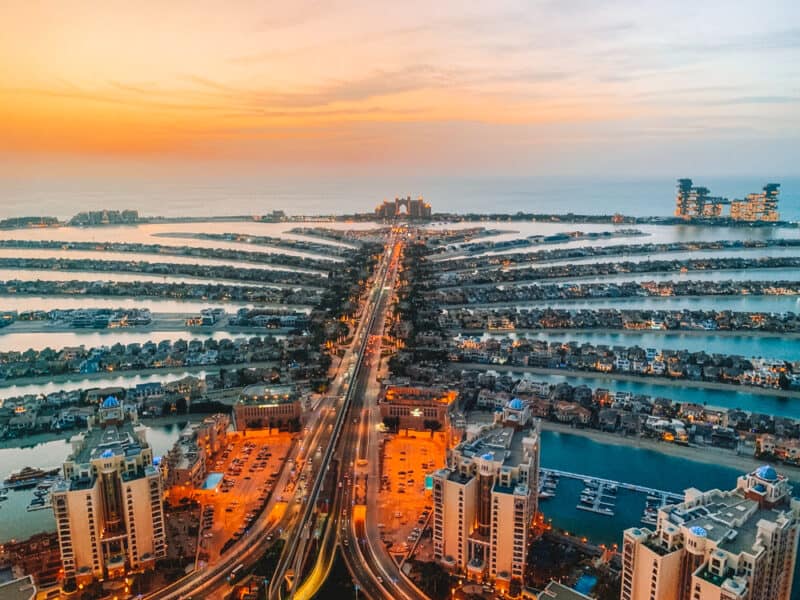 If you're looking for the best things to do in Dubai, checking out The View at The Palm should definitely feature on your Dubai bucket list. Opened in April 2021, The View at The Palm is one of the latest viewpoints in Dubai and is quickly becoming one of the most popular.
At 240 metres high, the viewing deck allows you to enjoy 360 views over Palm Jumeirah, Dubai Marina and JBR on one side. While Burj al Arab and Burj Khalifa are on the other. Personally I found it to be the most interesting viewpoint in Dubai, as it really allows you to see everything this incredible city has to offer.
Yoga classes cost 149 AED ($41 USD) per person and runs twice a week on Saturday and Tuesday mornings. A truly one of a kind experience in Dubai!
You can also pay to enter and go to the viewing deck, entrance costs from 100 AED ($27 USD) for adults and 70 AED ($19 USD) for children.
If you plan to visit at sunset, which I highly recommend as it's spectacular, it will be a bit more pricey. Costing 158 AED ($43 USD) for adults and 111 AED ($30 USD) for children. Admission runs from 9AM to 9PM every day.
Before going up to the viewing deck you will be shown a video about the vision and construction of Palm Jumeirah, as well as being taken through a visual timeline with photos of the construction. Seeing the ideas and process behind this incredible feat of human engineering is almost as breathtaking as the view itself.
The best time to visit is 45 – 60 minutes before sunset, so that you can take into account queueing, showing tickets, the video and timeline section before the lifts. You'll reach the viewing deck as the golden light washes over the iconic skyscrapers of Dubai Marina and Burj Al Arab. Watching the sun go down over Palm Jumeirah, as the iconic Dubai hotel Atlantis and all the villas light up is a unique experience you'll never forget.
If you're not ready to go back down, there's also a cafe to enjoy a coffee before you do. Other options here include a pool day on their pool deck called AURA Sky Lounge and dining at the newly opened Sushi Samba
Details:
Timings
Saturday Yoga: 8am till 9am
Tuesday Yoga: 7am till 8am
Viewing Deck: 9am till 9pm
Duration
Yoga class lasts 1 hour
Viewing deck ticket is valid for 1 day (2 – 3 hours is usually enough time)
No minimum age for viewing deck
Children must be accompanied by an adult
*Not wheelchair accessible
Must arrive 15 minutes prior to booking time
No re-entry after exiting

Cost: From 100 AED per adult ($27 USD) and 70 AED ($19 USD) per child (4 to 11)
For more details on the viewing deck or to book online
This bucket list item was contributed by Greta from Greta Travels
5) Test your fears in the world's highest building by visiting the Burj Khalifa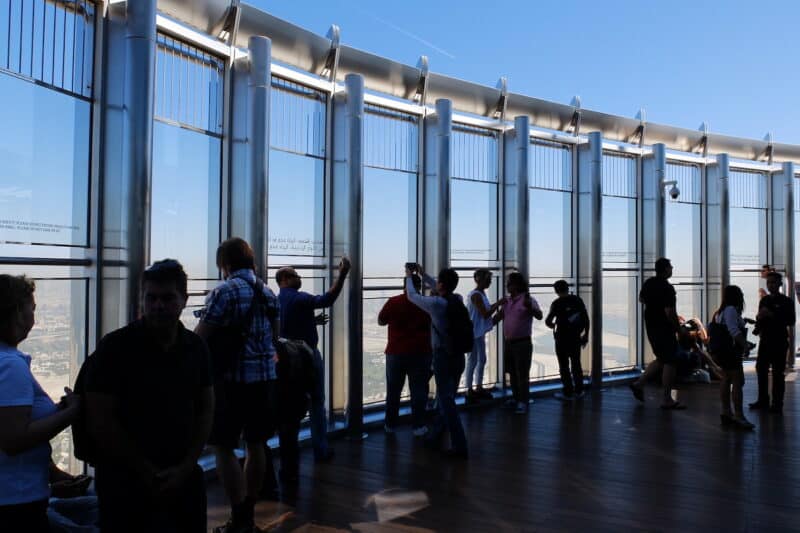 The Burj Khalifa is the tallest building in the world, and it's in Dubai.
In fact, it's probably one of the most popular tourist sights in Dubai and most likely you will want to add it to your Dubai itinerary as well. The skyscraper is very centrally located, right next to Dubai Mall, and you can easily get there by metro.
Due to its location, you can easily visit it also on a layover in Dubai. Just don't forget to do a bit of planning in advance and book your tickets online, so you don't have to stand in line once you arrive. The same stands true, whenever you are visiting the place on a busy day.
There are several ticket options you can choose from. You can visit a viewing platform, have a meal or you can also stay in the hotel located right inside the Burj Khalifa called Armani.
It can be tough choosing which activity to do, so make sure to check out our full guide:
Details:
Time
8am till Midnight
Duration
Viewing deck takes 2-3 hours typically but certain levels have no time limit if you wish to stay longer
No age limit for the viewing deck
Accessible for wheelchair users
At.mosphere has different dress codes for the lounge and restaurant along with different age requirements (Read more)

Cost: From 164 AED per adult ($44 USD) and from 129 AED ($35 USD) per child (4 – 12 years old)
For more details or to book online
This bucket list item was contributed by Kaspars from Make Adventure Happen
6) Explore Dubai in a completely different way with a speed boat tour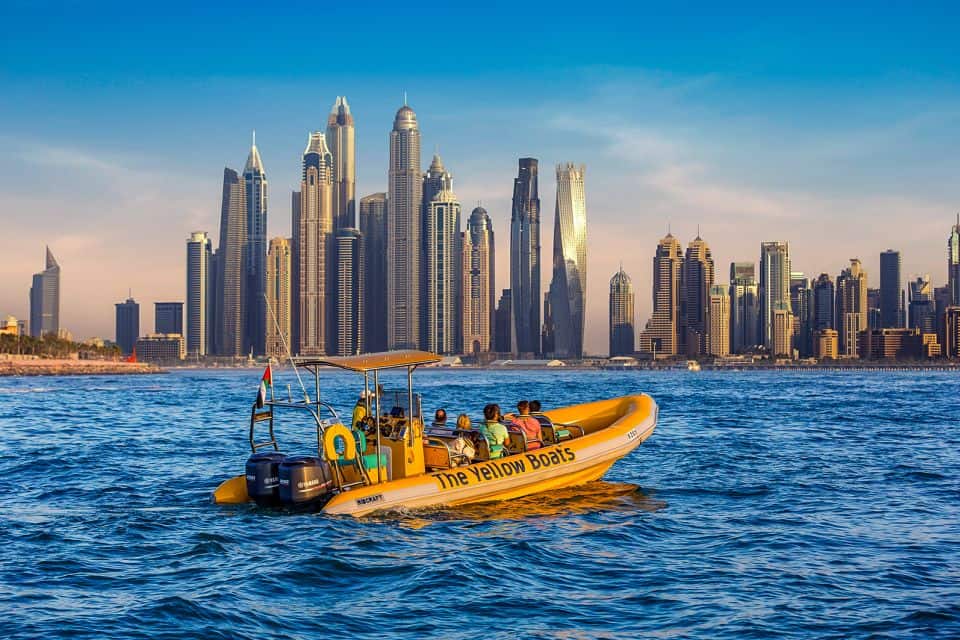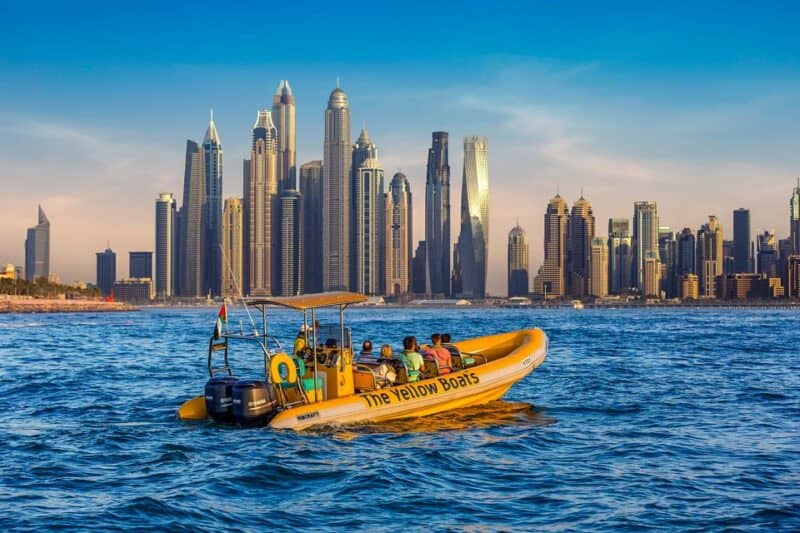 One of the most amazing activities in Dubai which must be part of your Dubai itinerary is participating in a guided speedboat tour to see Dubai's major highlights all by speedboat.
The sightseeing speedboat itself is a superfast inflatable boat. It is incredibly exciting to ride this boat, especially if you sit at the front.
On the speedboat, you can have literally the best view of some of the magnificent landmarks of Dubai. Namely the Dubai Marina, Ain Dubai Ferris wheel (aka Dubai Eye), Yacht Club, Dubai Skyline, Jumeirah Beach Resort (JBR), Bluewater Island along with stunning luxury hotels such as the iconic Atlantis The Palm Hotel and Burj Al Arab.
One of the best things about this activity is that they stop at two of the most spectacular landmarks during the journey for you to take photos, Atlantis & Burj Al Arab. The guide can also take photos of you in front of these amazing buildings for a truly iconic photo. Overall the skippers and guides were super friendly plus they took awesome photos!
I highly recommend to take the longer 99-minute tour because it is the only one where you get to see all the above-mentioned beautiful landmarks of Dubai.
I recommended the same speedboat tour company I did which is by The Yellow Boats, their reviews are exceptional!
Details:
Time
9am till 8pm (depending on the tour you pick)
Duration
45 minutes to 99 minutes
Book for 1 to 6 people
2 tours per day
5 years and over (must weigh over 15kg)

Life jacket provided
Weather can effect this activity being available
Best to wear sports shoes or boating shoes

Cost: From 154 AED per person ($42 USD)
For more details or to book online
This bucket list item was contributed by Diana from Globe Trotting Detective
7) Feel the air rush around you by Sky Diving in Dubai
Not for the faint hearted, this experience is a true adrenaline junkies dream!
You can choose from the Desert Drop Zone (currently closed over summer) or to sky dive over the iconic Palm Jumeirah with the Palm Drop Zone. Of course I highly recommend the second one as it's truly unique and not many cities offer an opportunity to sky dive in a location so close to skyscrapers and the city!
Plus the view you'll get to experience a one of a kind view of The Palm which is absolutely breathtaking!
To begin, you'll be given a 30 minute safety and educational talk before boarding a plane ready for your jump. The freefall lasts around 60 seconds, where you'll travel to speeds of up to 120 miles per hour! Before deploying your parachute and spending another 5 to 7 minutes floating back down to earth.
If you're an experienced sky diver, it is possible to dive without an instructor. You will need to show proof of how many jumps you've done previously or have a history of using Sky Dive Dubai.
Details:
Time
7am till 11am
July & August – 5am till 9am
Duration
3 – 4 hours
4 jumps per day
12 years and over (Must be accompanied by an adult)
Must wear a t-shirt with sleeves and sports shoes (no buckles or studs)
Weather can effect this activity being available
Maximum weight for women is 90kg (198lbs) and a BMI lower than 27.5
Maximum weight for men is 100kg (220lbs) and a BMI lower than 30

Cost: From 1599 AED per person for a tandem jump ($435 USD) *Premiums are charged for jumps not booked in advance
For more details or to book online
8) Take your food to new heights by dining in the sky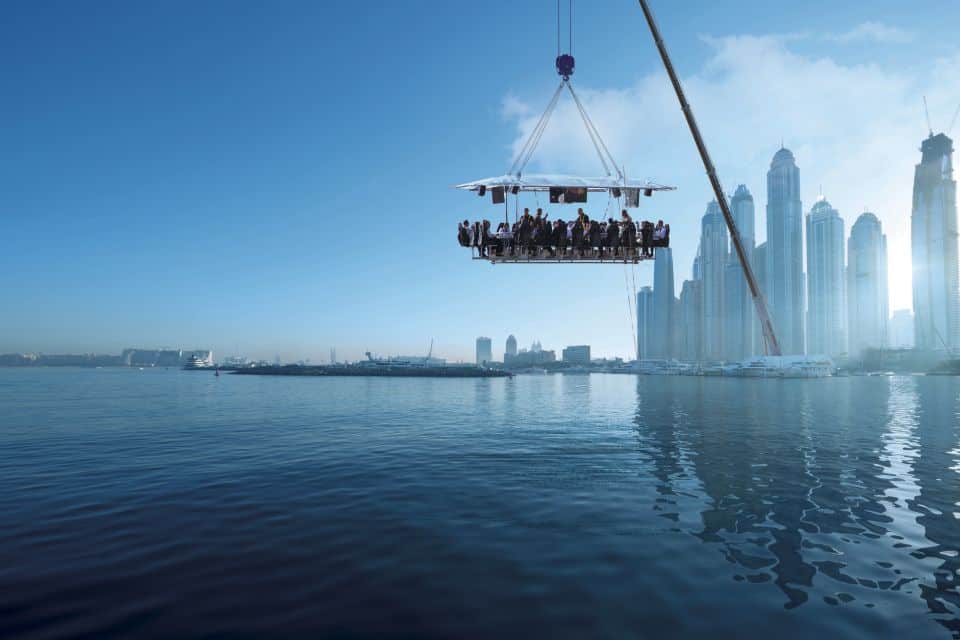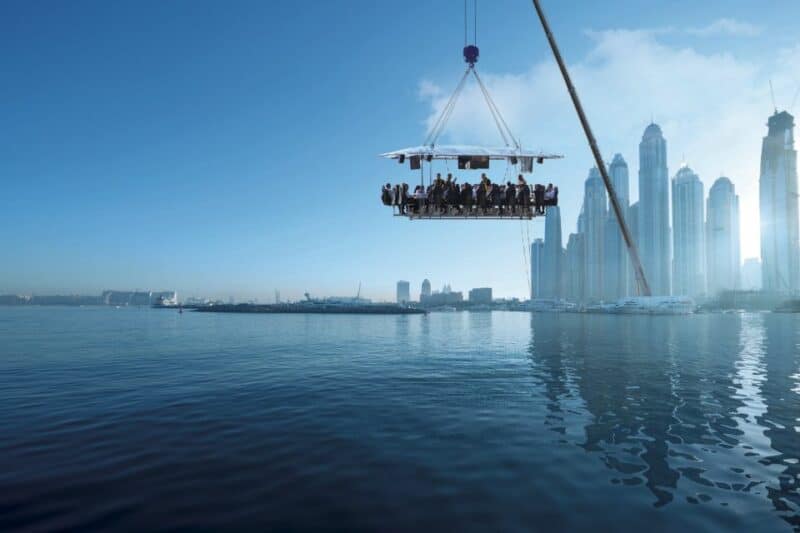 Yet another one of a kind experience in Dubai is "Dinner in the Sky." Not content with just eating on ground level, Dinner in the Sky hoists guests up using a crane so you can enjoy an open air 360 degree view of Dubai.
Once you're up, you'll get to enjoy a three course meal with a choice of beef, chicken, fish or vegetarian dishes along with a starter and dessert. You'll also get a welcome drink (none alcoholic) on arrival.
Since you'll be 50 meters up in the air, it's highly recommended to go to the bathroom before you take your trip. In case of emergency, they are able to lower the platform down but it will result in the early ending of your session and very likely to annoy other diners!
Details:
Time
6:30pm till 9:30pm
Duration
90 minutes
Maximum of 22 people
3 seatings per day
8 years and over (Minimum height of 110cm)
*Wheelchair accessible but must notify Dinner in the Sky in advance

Must arrive at least 30 minutes before the booked time
Maximum weight of 150kg
Weather can effect this activity being available

Cost: 731 AED per person ($199 USD)
For more details or to book online
9) Feel like superman flying past buildings on Xline zip line
The world's longest urban zipline is set across Dubai Marina, where you'll get to travel along the zip line at speeds of up to 80km an hour! The zip line is done head first lying on your stomach, hence why you'll get to feel like superman!
Starting at 170 meters high, you'll get to experience beautiful views of Dubai Marina before making your way down on the 1km wire. Xline features a double wire, meaning you can share this experience with a special someone.
From start to finish, the whole experience takes roughly 90 minutes with 20 minutes of this riding down the zip line. You can also rent an option Go Pro to record your flight footage. Phones aren't allowed on the actual zip line but you are able to use it on the platform before you go.
Details:
Time
Weds to Mon
9:20am to 11:20am & 3:20pm until 6:20pm
Duration
90 minutes
2 people can go at the same time
Multiple 20 minute intervals per day
12 years and over (Minimum height of 130cm)
Between 45kg to 100kg

Hair needs to be tied up, clothes should be modest but not loose
Sports shoes are recommended (No sandals, flip flops or loose shoes)

Cost: From 815 AED per person ($222 USD)
For more details or to book online
10) Dine or stay at the world's first 7 star hotel, Burj Al Arab
There are not that many countries in the world that can boast a 7 star hotel and Dubai's Burj Al Arab was the first of it's kind in the world. Even just dining here is a magical experience however if you have the money, it's definitely worth spending the extra to experience a 7 star hotel for one night or more!
Set out at sea, this incredible hotel has views across the stunning Arabian Gulf sea. They offer everything from lounge drinks, afternoon tea to four course fine dining. The service is just impeccable here, so it's definitely something you need to experience at least once in your life.
If you choose to stay, my most recommended spot the check out is their indulgent spa and indoor pool. There is also an outdoor pool for those wanting to get a tan however frequently this beautiful spa is empty or has very few people in it. So it feels like an almost fully private VIP experience.
Details:
Time:
Restaurants from 7am till 11:30pm *The majority are open evening only
Hotel check is 3pm
Check out at 12pm
Duration
3 hours to overnight
Different restaurants have different age requirements
Sahn Eddar, Bab Al Yam & Al Ewan are family friendly

Reservations for the restaurants are a must to gain access to Burj Al Arab

Cost: Minimum spend of 200 AED per person ($54 USD) for restaurants
Prices start from 3922 AED per night ($1068 USD)
Check prices for your dates
So that's our ultimate Dubai bucket list, let us know how many you've done or how many you plan to do in the comments! Also make sure to bookmark this page and come back, as we'll adding even more fun things to do in Dubai to the list!
---
This article contains affiliate links, by clicking the link it doesn't cost you anything extra but it does help me to keep writing these awesome articles for you!