What is it like going the bus from Dubai to Muscat? Is it possible to get a bus from Dubai to Oman or vice versa? The answer is yes and here is the 100% honest guide to getting to Oman and back again by bus by someone who has actually done it.
So you'll know what it's really like going to Oman by bus and how to do it. Whether you're wanting to visit Oman or need to do a visa run with a trip, your detailed guide is below!
Oman has recently announced big tourist visa changes so some of the previous bus services may start running again. I'll update the article accordingly if they do.
If you're looking purely for how to do a Dubai visa run, check out my Ultimate Dubai visa run guide here! However, if you want to actually make use of your Omani visa and travel by bus, check out my guide below!
So there was previously a mixture of private companies and the Omani government running buses between Dubai and Oman before 2020. The Omani government service called Mwasalat Route 201 is currently not operating so you'll need to go with a private company instead. Currently, the main private provider is Al Khanjry Transport.
Before you travel to Oman
Do you need to buy a ticket for the bus in advance?
No, you do not need to buy a bus ticket in advance. You can simply turn up to the office and buy before your journey. Sadly it is not possible to buy online.
However, if the bus is fully booked you'll have to wait till the next available bus. Since fewer operators are now doing the Dubai to Muscat route, the buses do get fuller. So it's advisable to either get there early before the journey or to visit the office to buy your bus ticket in advance.
If you have any questions it's best to WhatsApp them on their Omani number +968 9 255 0199
There are quite a few complaints online that they aren't great at responding and like many companies in the Middle East, they don't seem to like answering the phone.
How do I get to the Dubai ticket office?
Head to Al Rigga or Deira Centre metro and walk to Al Khanjry Dubai office. It's about a 10/15 minute walk.
For an RTA bus, you'll need to get off at the Ministry of Environment bus stop which is less than a 5 minute walk away.
On both journeys, there were spare seats and I chose to buy a return ticket. You can use the return at any time. So it's really simple.
How much is the bus from Dubai to Muscat?
The bus is 100 AED (10 OMR) each way.
When I travelled in 2018, Masawalat was still operating, it was 55 AED (5.5 OMR) one way or 90 AED for a return as it was run by the Omani government. The return was an open return and valid for any time.
As of now, this journey is still not back in operation. Though the private companies do seem to have nicer buses so it can be worth paying extra.
This is by far the biggest advantage of travelling by bus. It's most definitely the cheapest way to go from Dubai to Oman!
Where does the Dubai bus to Oman leave from?
The bus leaves from the same location as the ticket office, they recommend getting there 30 minutes before your journey in case of any delays. If you need to buy your ticket, it's best to get there at the recommended time or earlier. If you already have a ticket and only a small amount of luggage, then you can leave it closer to the departure time.
What times are the buses?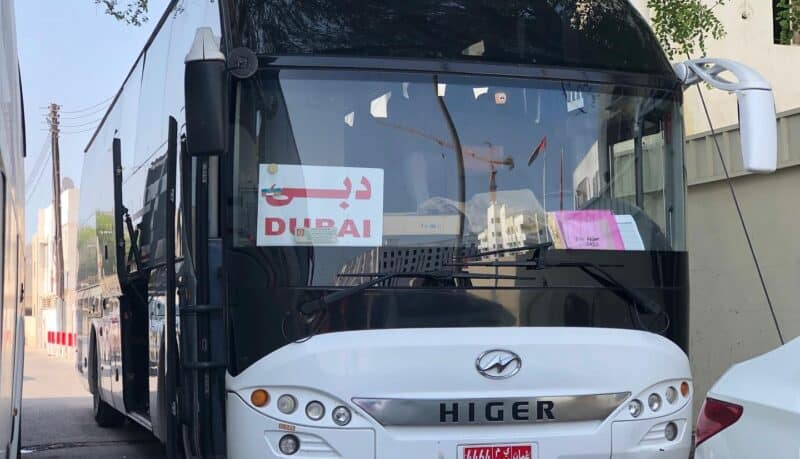 There are 3 buses a day at the following times:
| | | | |
| --- | --- | --- | --- |
| Al Khanjry Dubai | Departure Time | Departure Time | Departure Time |
| Dubai to Muscat (via Sohar) | 7:00 am | 3:00 pm | 9:00 pm |
| Muscat to Dubai (via Sohar) | 6:00 am | 3:00 pm | 9:00 pm |
| Muscat to Sohar only | 6:00 am | 11:00 am | 3:00 pm |
You are advised to get there half an hour before the bus departs. Once in Muscat, you can either get off at Al Seeb by the airport or closer to the centre at the final stop. Depending on where you are staying.
If you're one of those people who can sleep on a bus, I would recommend the 9 pm bus from Dubai to Muscat. You'll save money on a hotel and get into Muscat in the early hours of the morning. This will give you a whole day to explore the beauty of Muscat.
Do I need a visa for Oman?
Yes, you need a visa however the good news is, you can get the visa on arrival for the majority of countries.
You can apply online via the Omani government website if you choose, but in all honesty, this may actually complicate things. I have in the past, paid for a visa and then at the airport had trouble with accessing the visa as they seem to be more used to people doing it on arrival.
How much does the Oman tourist visa cost?
Over 100 nationalities can now get a tourist visa on arrival for stays up to 14 days free of charge and you can pay for longer if you choose. You will need to have your return ticket, accommodation and funds ready before arriving in Oman. However, these are not always checked but are best to have in case you do need to prove them.
If you require a longer visa; you can pay 20 OMR (200 AED) for a month-long visa. There are also year-long multiple entry visas available.
If you are a UAE or GCC resident; it costs 5 OMR (50 AED). This is a 28 day visa. Check eligibility here.
Is Oman safe?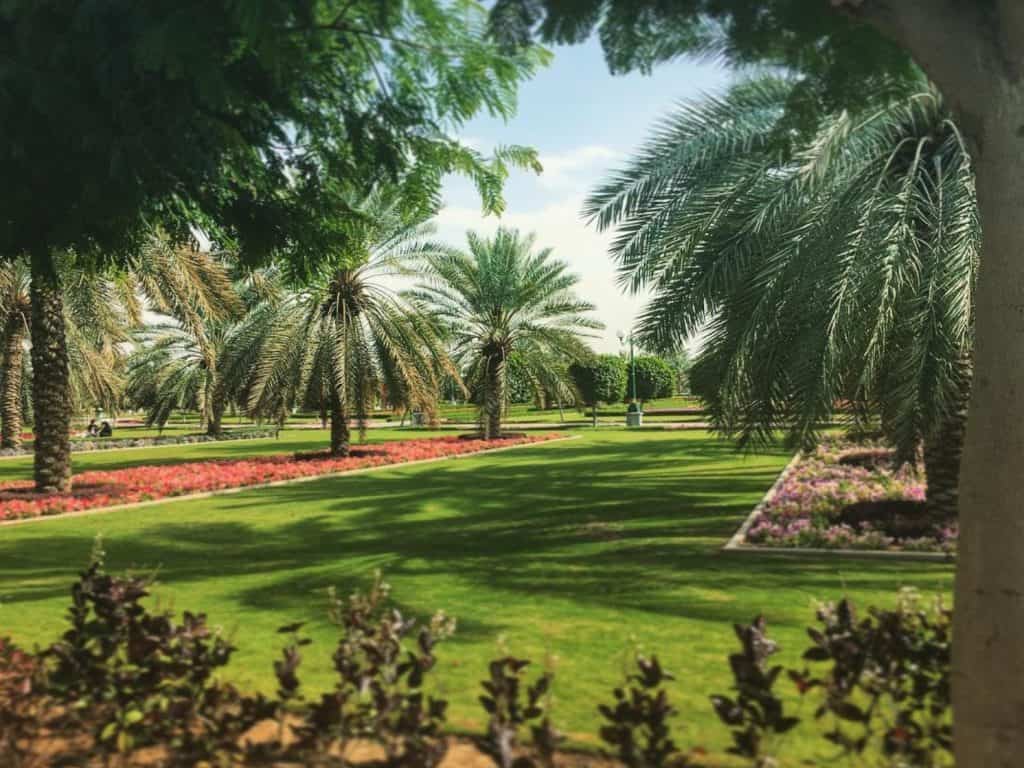 Whether you're a family or a female solo traveller. Oman is incredibly safe and has very similar safety to the United Arab Emirates. Omanis are very helpful and crime rates are very low for the country as a whole. I've travelled a lot in Oman as a solo female traveller and not once felt in danger.
The Journey from Dubai to Muscat by Bus and back again
Where does the bus stop?
The first main stop from Dubai is at the border, you have to walk into the passport office and get your exit stamp from Dubai. Then they'll drive you further down and you'll get your visa for Oman from the Omani passport office. Finally, everyone is made to get off the bus and all luggage is checked before exiting the border control area. For more details about this process see below.
After the border, there are three main stops in Oman however it does stop at quite a few others places in between. The three main stops on the bus from Dubai to Muscat are Sohar, Seeb and Muscat. Sohar bus station involves a short break.
As a quick guide, Sohar is a lovely seaside town that is perfect for relaxing plus it is close to the border to Dubai. Seeb is just outside of Muscat with some popular places near including the trendy hangout "The Wave" and Muscat airport.
If you want somewhere to stay in Muscat, Seeb is great for less expensive hotels while still being close to Muscat.
The final stop is close to central Muscat. However, the key Muscat tourist sites are pretty spread out so you'll either need a car to enjoy what Muscat has to offer or to take a tour as the government-run public buses are a little patchy. They do also have the big hop-on, hop-off tourist buses now which has made getting around Muscat easier!
What is the journey like by bus from Dubai to Muscat?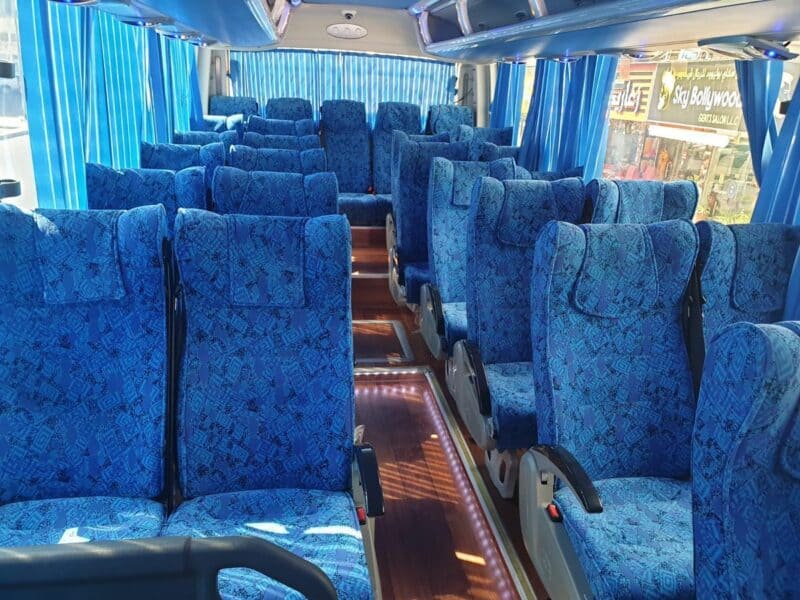 It is long! On the way there it took 7 hours and 8 hours on the way back but it can take longer if the bus is full. This is due to all the passengers needing to go through passport control. The bus is advertised as 6 hours but it is very unlikely to take this time.
The bus itself is relatively comfortable, there is wifi available but I've found it isn't always working. Also charging points and USB points aren't usually working either. So it's best to take a power bank with you just in case to charge any devices.
On the way there, the bus air con was left on and got too cold during the night part of the journey. On the way back, the heating was turned on during the night portion and it was like being in a Dubai summer. Despite taking my jacket off it was still sweltering! However, the journey in the day was comfortable with the air conditioning on. So I advise sticking to the daytime if you're travelling in the winter months.
If you take the 9 pm bus, you arrive in the early hours of the morning in Dubai or Muscat. So you'll need to keep this in mind in terms of cost, as you may need to pay for a taxi to get to your final destination unless you're happy to wait for when the metro or buses start.
On both journeys, I found there were spare seats. Also, one thing to note, it's common on buses in the gulf for the front section to be dedicated to women and children. Especially if the bus is busy.
Leaving Dubai & entering Oman
You pay an exit fee of 35 AED no matter where you exit Dubai via a land crossing. You can pay by cash or card. A small fee is added for using card payment. This involves queuing and then entering an office to pay any fines plus getting your passport stamped. You then come back out, get back onto the bus and drive to a point where they check your luggage.
Once this section is completed you board back onto the bus and drive to the Oman checkpoint. This involves once again disembarking from the bus, going into the office and queueing for your Omani tourist visa. Oman has now released free tourist visas for over 100 countries.
To gain the visa you simply present your passport and fill out a small form. If you're from a country that still needs to pay, card machines are available and I wasn't charged a fee for using my card previously.
*Flying you do not pay a Dubai exit fee
Leaving Oman & entering Dubai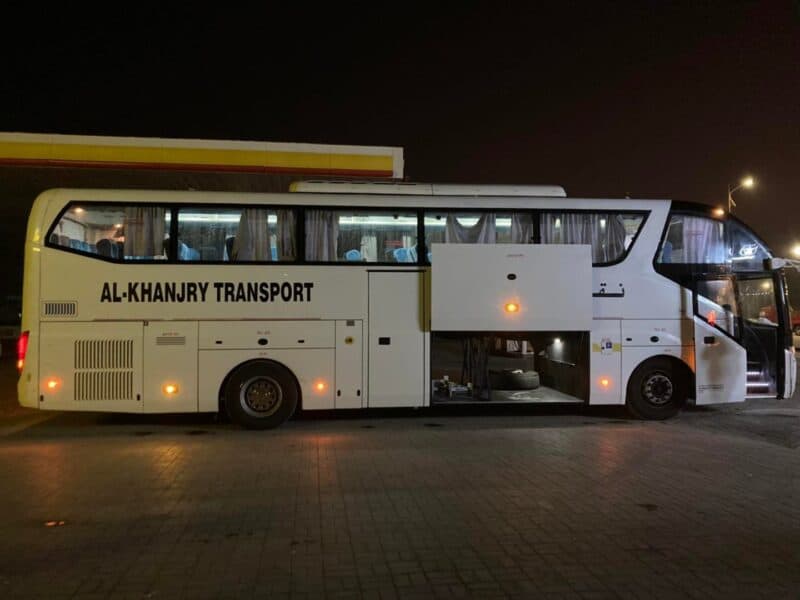 The process is exactly the same, just in reverse. Everyone on the coach must get off and get their exit stamp. Then you will get back on and drive a bit further to the Dubai passport office. The final step is the luggage being inspected before they let you leave the border control area.
For Oman there is no exit fee, just requiring the exit stamp in the passport.
Do I advise you to go by bus from Dubai to Muscat?
If you're going to Sohar and plan to hire a car when you get there, the bus is an amazing and affordable option.
If you're going to Muscat, then it really depends on what is your priority. If you're looking for comfort or you need to save time, I would advise paying extra to fly. It is a long time to be sat on a bus with no bathrooms and flying can take as little as 3 hours in total from the airport to leaving with your luggage.
If saving money is your main priority and you don't mind sacrificing a little bit of comfort along with quite a lot of time. Then the bus is definitely the best option for you.
If you drove instead of a bus, the journey is roughly 5 hours by car in comparison to the bus, where it took me around 8 to go by bus from Muscat to Dubai. Dubai to Muscat is usually a little bit shorter and took me 7 hours.
Other tips and information for taking the Bus to Oman
Taking alcohol from Dubai to Oman via the land crossing is illegal
Regardless of which mode of transport you take, you can only take alcohol to Muscat via the airport and not via the land borders. They do check luggage at the border, so it isn't worth the risk.
What to pack for the Dubai to Oman bus
Make sure to take a jacket, snacks and water for the journey! It will save you a lot of money. There is a shop at the border when you cross and a duty free but prices seemed to be increased compared to getting items from a supermarket or corner shop.
Bathroom and food breaks
There are bathrooms at the border controls which are part way through the journey, this is where I would highly recommend going the bathroom as they are cleaner and better maintained. There is also a cafe in the Omani passport control building if you want some warm food.
Sohar has public bathrooms close by and the bus does stay here a little longer to enable you to go the bathroom if you need it. Otherwise, for the rest of the journey, the stops are very short and do not allow passengers to go to the toilet and the buses do not have a toilet onboard. Sohar is also best for you to have a small walk and stretch your legs before continuing the journey.
Dubai Duty Free from Oman to Dubai
There is a small shop on the Dubai side where you can pick up duty free items on your way back to Dubai from Oman with sweets typically found at the airport and of course alcohol.
If you're visiting the Omani Peninsula or trying to do a visa run from Dubai
If you decide to drive, use the Dubai bus visa run services or take a tour through the Ras Al Khaimah border into the Omani peninsula, this is done in a single office for exiting the UAE. Also at the Ras Al Khaimah crossing you can walk between the Oman and Dubai offices.
This is different to the Hatta crossing, where you will need to drive between the two in addition to having your luggage checked which takes time. So if you're planning a visa run, driving to RAK although it adds approximately 30 to 40 minutes to your journey compared to Hatta, it's likely you'll save this time not waiting at the border and having to drive between the two crossings. It also saves you the hassle of car insurance for Oman.
Time wise, it's likely the journey will take you between 7 to 8 hours. Plus any additional journeys you need to make to home or a hotel either side. Oman is far less developed when it comes to public transport. If you're able to, I'd advise to hire a car or take a tour. The bus is an affordable and convenient option.
If you're a family or there's a group of you, it would most likely work out better to hire a car. As most of the amazing things to do in Oman will involve you needing to drive quite far distances.
---
Before you go, check out some of my other helpful articles:
Two unforgettable ways to spend 48 hours in Dubai
The hidden gems in the Middle East you won't want to miss
Thinking to visit Saudi? How much is the Saudi tourist visa?
Can I go to Oman as a female on my own? Is Oman Safe?
---
Conclusion
My 100% honest opinion. If you're looking to save money, then you really can't beat going via bus. It isn't as cheap as it used to be but flight prices have increased a lot. It now costs around 1000 AED (100 OMR) to go between Dubai and Muscat, compared to 250-300 AED (25-30 OMR) only a few years ago. If you manage to get the bus when there's less people travelling, 7 hours is only a couple more hours than the airport may take you. Yes you are sacrificing comfort, sitting on a bus for this long isn't easy! But it is worth the 800 AED (80 OMR) saving which can go towards a much nicer hotel or even a luxury tour.
Have a safe trip and don't forget your passport! Also check out my article here about safety in Oman which also includes tips for travelling in Oman.
---
*This article contains affiliate links, as an Amazon Associate and a member of other affiliate programs, I earn a commission when you click a link and a qualifying purchase is made.