Ah, the famous Dubai visa run or border run! As a resident for nearly a decade now, I've done many many visa runs over my life. From changing visas, yes before you had to leave and come back, to periods where I didn't have a job or I was looking for work in Dubai. So had to go back and forth to avoid fines.
I've done every possible type of visa run imaginable.
So regardless of your reason for needing to do a visa run, don't worry! This long-time visa run expert has got all the details for you. So you don't have to go through what I went through and not have a clue what it's like or how to do a visa run! Plus all the secret sauce I've learnt along the way!
So what's the process? What is the best or cheapest method? And how do you exit via Oman for the Dubai visa run? I will answer all your questions below! Let's get to all the valuable information.
If by the end of the article, you found this information helpful. You can buy me a virtual coffee as a thank you!
What is a Dubai visa run? Why do you need to do one?
A visa run is when you are coming to the expiry of your tourist visa in the United Arab Emirates and decide to visit the border or travel to a nearby country and come back again to get a new tourist visa. You may also need to do this when changing your tourist visa to a work visa or when cancelling a work visa but wishing to remain in the UAE.
PLEASE NOTE – This process is not possible for all visa types. It will depend on what type of visa you are on. For example, with a British passport, you currently still get a 30-day tourist visa on arrival. So the below information will apply to British tourists.

If your nationality also gets a 30 or 60 day extendable tourist visa (check what visa you get on based on your nationality here) then this guide will also be helpful for you.

Some nationalities get a 3 month non extendable visa which is usable over 6 months. So this process won't be applicable.

*It has been proposed the visa on arrival will change for British nationals but as of yet, it hasn't been changed.
These rules are subject to change and while I try to keep this information as up-to-date as possible. It's possible that I am not aware of every new change. Make sure to check with an immigration official or at the airport when arriving just in case or use this link to check what visa you are on and how many days you have left.
Is a Dubai visa run possible in 2023?
Yes, the visa run for a while wasn't able to be possible due to the period of recent history we'd rather forget! However, thanks to recent changes with the Omani entry requirements and tourist visa. It's now not only possible to do a visa run but even cheaper than it was before. So find out more below!
If you're interested to visit Oman rather than just a visa run and want to know the process of going to Sohar or Muscat by bus from Dubai, check out my other article!
What are the options for a Dubai visa run?
You have a few options if you want to do a Dubai visa run. that is crossing the border and coming straight back. I won't go into travel options because there are loads if you prefer a trip.
Option 1 – Drive yourself to the border
Driving to the border of Oman by car either to Hatta or Al Dara crossing. An Omani tourist visa is needed but you can usually get one on arrival at the border depending on your nationality.
Cost: Petrol, Oman car insurance & rental car hire (if needed)
Option 2 – Use a shared bus service
Taking a specialist service by bus to the border of Oman. An Omani tourist visa is also needed. If there are four of you or you're a family, then it may be more cost-effective to hire a private vehicle.
The buses typically go to Hatta but I have heard of buses going to the Al Dara crossing too.
Cost: 220 AED per person for a bus or 750 AED for a private vehicle.
Option 3 – Fly to a nearby country
Taking a flight to either Muscat, Oman or another cheap destination. Bahrain sometimes comes up as the cheapest, you can use a flight search tool but typically the cheapest is Muscat, Oman. No need to pay for a tourist visa unless you're exiting the airport.
Cost: 500 AED to 1000 AED depending on the choice of flight and location.
If you don't mind flying from Abu Dhabi, I've found tickets with Wizz Air for very cheap. One way starts from 58 AED, if you're part of their discount club, and was 99 AED without a membership. The flying back was slightly cheaper at 89 AED without being part of the discount club. So between 116 AED and 188 AED for a return.
Option 4 – Pay to extend your visa online
This is the newest option that is now available, you can simply visit your nearest immigration centre or do it online. You pay a fee to extend it without needing to leave Dubai.
This is available from the UAE government website here, or you can pay a visa-run provider also.
Cost: 610 AED
How do I do a Dubai visa run driving myself?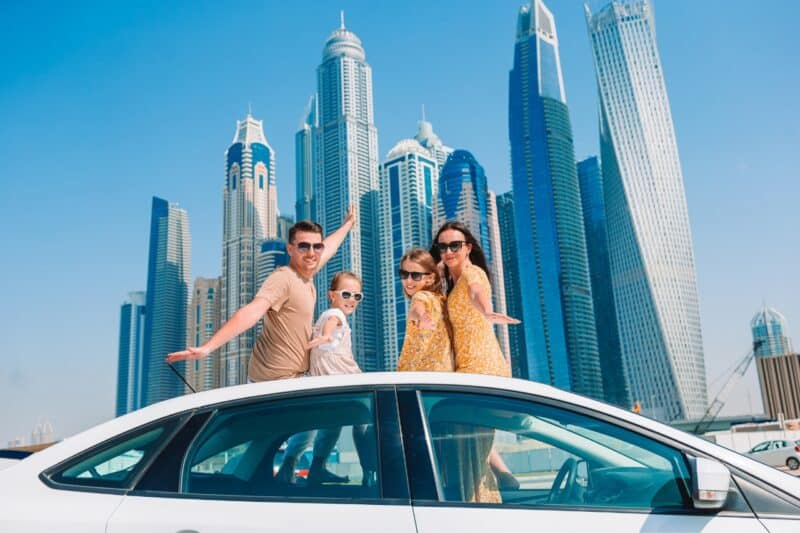 If you already have a car and don't mind driving for 3 to 4 hours (in total), possibly longer with traffic but it is possible to avoid peak traffic by choosing a good time.
Then this will be the cheapest and fastest option since you will only pay for petrol plus your visa costs (find out more about Oman visa costs below).
You have two main route options from Dubai:
Hatta Border Crossing
Al Dara Border Crossing via Ras Al Khaimah
There are others which make sense for Abu Dhabi and other smaller crossings but they don't really make sense for you do them. As in some are GCC-only nationals, some aren't open all the time etc.
I'm not going into the details of the Abu Dhabi crossings but just in case you want the names they are below. They are all pretty close to each other and you would need to head to Al Ain. Al Ain is also a nice experience if you want a day out and to do a border run at the same time.
Abu Dhabi crossings:
Hamasa Border Crossing
Buraimi Border Crossing
Mezyad Border Crossing
Hatta Route
The Hatta route is the most popular and is the same route as if you were driving to Sohar or Muscat in Oman.
The pros of the Hatta route are that it is a slightly shorter distance to the crossing. There is a small duty free shop, the amenities are new (aka the toilets are nicer) and you are dealing with Dubai immigration as an authority.
The cons of this location are, it is a lot busier than Al Dara Crossing and there is a large distance between the two visa offices.
This means you may need to buy car insurance for Oman and the distance isn't walkable. Also, the distance between the two adds to your journey time even though the border is closer to Dubai.
You will also need all your car documentation and an NOC (No Objection Certificate) if it's a rental car. Not all rental companies allow for the car to be driven out of UAE.
It's possible you don't get asked for these documents but you will need to take them in case you are asked. No one wants to drive for 3-4 hours and not achieve anything, right?!
Al Dara Route
The second option is Al Dara Crossing which is part of Ras Al Khaimah, as there is a small peninsula to the north of Ras Al Khaimah that belongs to Oman.
The pros of this route are that it is a lot less busy than the Hatta Crossing and the immigration offices are a lot closer together. So it's possible to walk between the offices and the drive between the two offices adds very little time if you drive rather than walk. It's a two-minute walk.
The cons of this crossing are that it is a little bit longer distances from Dubai, by 20 minutes. Also that you can hit the Sharjah traffic if you go during peak commute hours.
Also, the facilities are older (toilets etc) and you're dealing with Ras Al Khaimah immigration.
Why is who deals with your immigration a potential issue?
If you have any issue to do with your entry or exit stamp and your last entry or exit stamp was in Ras Al Khaimah. You will have to go back to Ras Al Khaimah to sort the issue out. Yes, that means driving all the way back to Ras Al Khaimah and dealing with their immigration offices.
However, if your work visa is being processed in Dubai or you are based in Dubai and you crossed the Hatta border last. Then any issues you will deal with will be the Dubai authorities. So it is easier plus closer to sort out. As you'll go to a Dubai immigration office.
Each Emirate has its own authorities and some use different computer systems. From my own personal experience, I had one stamp showing up on the system in Ras Al Khaimah but wasn't showing up on the Dubai system. So it can cause some issues and this ended up with me doing a lot of back and forth between Ras Al Khaimah.
So it's definitely worth checking if you book a bus, which route they will take and better to go to the Dubai Hatta border if it's for a work-related visa change.
How long does each route take?
Hatta Route
The drive is roughly 1 hour and 30 minutes from Dubai to the Hatta border crossing (via the E102) without traffic. It is then another 15 to 20 minutes drive between the passport control offices.
It is one of the key crossings for those driving to Muscat. So the border itself can be busy with queues. You will also see buses and tour buses.
Al Dara Ras Al Khaimah Route
The drive is roughly 1 hour and 50 minutes from Dubai to Al Dara and is a much quieter crossing. It is rare to see any buses here. So the extra driving time can be saved at the border crossing. Plus you save time since the passport control offices are closer to each other and do not require driving.
The one downside is the Sharjah traffic with this route. If you plan outside of peak traffic hours, you can actually complete this route quicker than Hatta despite the longer driving distance. Sharjah traffic is usually bad in the direction of Dubai for the morning commute traffic 8 am till 10 am and the opposite direction heading back to Sharjah between 4 pm and 6 pm. Leading up to these times it gets busier too.
For both, the total process can take anything from 3.5 hours to 5 hours. Depending on traffic and queues. Realistically, by the time you have stopped to have a quick bite to eat or a drink. It will likely be closer to 5 hours to complete your Dubai visa run.
My personal preference is the Al Dara route. It is a nice drive along the coast and there are quite a few interesting places along the way. For those of you who like to buy your alcohol in bulk, you pass by quite a few famous shops for alcohol runs from Dubai. It is definitely easier this route if you are going on a weekend or UAE or Omani holiday as the Hatta crossing gets very busy during these times.
Hatta also has some beautiful places to visit and is very nature orientated so both can make a lovely day out. I would do this one if it's in the week and you are happy to buy Oman car insurance or add it to your existing policy. If you have a rental car, you'll need their permission and to take car registration copies with you.
If you do need to do the Hatta crossing on a weekend, it's best to do it in the early morning.
Doing the Dubai visa run by bus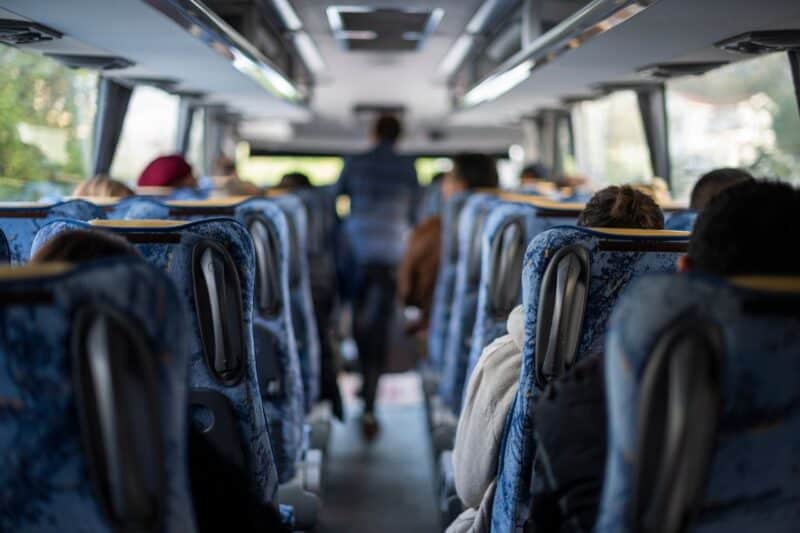 If you do not want to drive, don't have a car or simply want some company. The bus is a good affordable solution. It is slower typically than going by car since there are more people and the bus drives slower. Allow for 5 hours, though it can be longer.
The exit process and passport process are exactly the same as the visa run by car; which I will go into more detail about below.
There are a few companies which offer the service by bus and all the companies I have seen leave from Dubai Marina Mall. You can book online for 220 AED. A private transfer is 750 AED.
They have AC and are comfortable enough. Also, it's likely you'll meet other people and get chatting on the journey. It's fun to find out why other people are doing a visa run too and their Dubai stories.
Typically buses go the Hatta route however a friend took a service which went the Ras Al Khaimah route instead. So it's worth checking which way they'll go if you have a preference.
If you're a family or there are four of you who need to go together. You can hire a private car for 750 AED. This works out to around 187.5 AED per person.
Hatta Route process
Before we begin, with this route, you may be asked for car insurance which covers Oman. This will cost you extra if you do not already have it. More details are below.
Also note: None GCC nationals are not able to take the E44 directly to Hatta. So make sure the navigation is set correctly. You will have to come off the E44 to the E102 and then later rejoin the E44. Typically this route comes up as default on Google Maps but always best to check.
First, you will arrive at a small kiosk where you need to pay your exit fee (35 AED). You can pay with cash or card. The Hatta crossing charges a small fee for paying by card. You are given a small card which you need to keep hold of.
Always check that your passport has been stamped! Also, keep your receipt in case of any issues.
With this, you walk into passport control to get your passport stamped. Here you will also need to pay any fines if you have overstayed. They will also take your Emirates ID if you are cancelling a resident visa.
*I recommend going to the bathroom here rather than the Oman border control as the bathrooms are nicer – Pro tip!
Once complete, time to get back in your car or bus and drive to another area. Here you have your car and luggage checked. This can take time especially if it's a weekend. Once complete, you drive around 15/20 minutes to the Oman crossing.
Here you park and go into the Omani office to pay for your Omani tourist visa. They will stamp your passport at the same time. Again there can be a queue for the Omani visa. It can also be quite hectic since there isn't a set queuing system. You are now halfway through your Dubai visa run!
Make sure to explain you will be coming straight back and they will give you an exit stamp at the same time. (Yes the officials know and understand what a visa run is). Also here you can stop for tea or coffee and snacks. As the Omani office has a little cafe and shop.
Once finished, time to drive to the other side and start heading back to Dubai. You must have your Omani visa and exit stamp to re-enter Dubai. So sadly no, you cannot save yourself 50 AED by not getting an Omani visa.
The same process is repeated going back. You go into the office again on the other side and get your new tourist visa. The only real difference going back into Dubai is the security checks are more rigorous.
Female officers lead women into a small room where they're patted down. They also check your luggage. Once you finish this final process, they will lift the barrier and your Dubai visa run is complete. Hurrah!
Also, there is a small Duty-Free shop in the Dubai office leaving Oman. Here you can buy snacks for the remainder of the trip. There are also some gifts and other items you would typically find in the Duty-Free.
Al Dara, Ras Al Khaimah Route process
Oman car insurance is not required. This is due to the short distance between the border crossings. Also, I would advise avoiding peak traffic hours since Sharjah can be very congested. The process is similar to the Hatta, Dubai visa run. This is the best route to do an Oman / Dubai visa run in my opinion.
First, you park to the right and walk into the border control office. Here you pay your exit fee (35 AED). Again it is possible to pay by cash or credit card. Here I have never been charged a credit card fee, unlike Hatta.
If you plan to drive through to the Omani office (either it's hot or you don't like walking), you also need to give your car plate number. You're given a small card and your passport stamped.
If you choose to drive through the barrier, you can park very close to the Oman office. It is approximately 200 meters between the two offices so it is easy to walk should you wish.
You go into the Omani passport control and pay 50 AED (5 OMR) for your Omani visa. Same as Hatta, you must get your Omani visa and exit stamp in order to re-enter Dubai. Just tell the officer you will be heading straight back and they will do both stamps at the same time. They are used to seeing visa run people.
Always check that your passport has been stamped and keep your receipt in case of any issues.
At this crossing, it seems to be rarer for none GCC people to use it or perhaps rare for lone white females? It definitely seems fewer people come here for a Dubai visa run. I've found the officials are a lot more chatty, especially the Omanis compared with Hatta where they are dealing with so many people so they just don't have time.
Often they ask where I've visited in Oman or tell me where to visit. The most common question is, "Have you visited Salalah?" The Emiratis are typically more serious. The Omani's will often laugh and chat in Arabic to each other as they stamp your passport.
Finally, simply drive or walk straight back to the border. You are now at the back of the border control office. There are a few parking spaces, so simply park your car and walk towards the barriers.
Just before the barriers, you will see a door to your left. It isn't that well signposted but it's just before the barriers. Enter here and get your new visa on arrival. You are given a new small piece of card to show to security when exiting so keep hold of it. You also need to give your car number plate.
Once finished, simply get back into your car and drive or walk through the barriers. Show them your card and next you go to customs.
Customs will once again check your exit card and then also check your car. You get out of the vehicle and open your boot. Once finished your Dubai visa run is now complete! Well apart from driving home of course.
As you drive away from the crossing you will see little cafes along the way since there aren't any cafes inside the border crossing. It's easy to stop and beep your horn for some Karak or to order a sandwich outside. They'll even bring it to your car. Though they don't always speak English here so you might need to point at pictures if you don't know Arabic!
Also, this peninsula of Oman called Musandam is really beautiful and it's definitely worth checking out if you have time. You can also choose to do a tour of Musandam or the city of Khasab rather than doing a visa run.
Doing the Dubai visa run by plane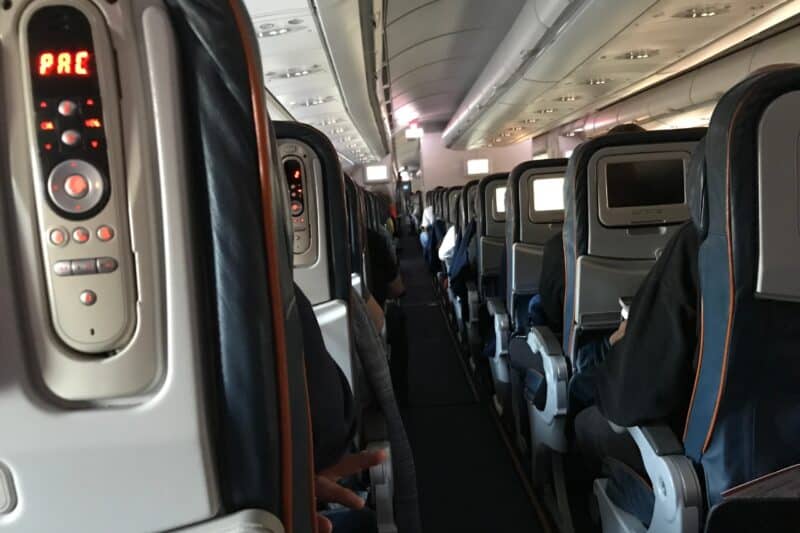 So typically this is the most expensive option but is probably more comfortable than the other two apart from the online option. It also depends on what cheap flights you can get but typically Muscat is the cheapest. Previously flights were available for around 250 AED. In the past two years, I haven't seen anything for less than 500 AED.
The process is the same as you would taking a normal flight. The only key difference is that when you get to the airport. Rather than queuing and paying for your visa. You simply follow the signs for connecting flights. You do not need an Oman visa or an exit stamp like when doing a land border crossing. So you save around 85 AED by doing it this way.
Once you've landed. You go through security and into the departures area of the airport. Often you will have only a short time in the airport before you're back on the same plane. Once you land back in Dubai, simply head to passport control. Once you are through immigration, you have completed your Dubai visa run once again. Simple.
In all honesty, I just wouldn't recommend this option anymore. The online extension costs around 610 AED and can be renewed twice. So unless you've used up your online visa renewals and really don't want to do a road trip, then this is the most expensive and inconvenient option.
Commonly asked questions about Dubai Visa Runs
How many times can I do a visa run in Dubai?
The amount of times you can do a physical visa run is unlimited, regardless of whether you do it by car, bus or plane. It also doesn't matter which border crossing you choose to use. All are unlimited. The only one which is limited is doing an online visa extension which has a maximum amount of two times.
How much is a border run in Dubai?
It depends on the option you take, here are the approximate costs for a Dubai border run (excluding visa costs, food & drinks):
Car: 50-150 AED for petrol (depending on your car)
Bus: 250 AED per person
Plane: 500 to 1000 AED
Online extension: 610 aed
When do I need to do my visa run?
UPDATE – As of 1st June 2023, you no longer get a 10 day grace period. You must exit before the expiry otherwise you will pay a fine.
If you have checked and your passport is part of the 30-day visa on arrival program, previously you got 30 days plus 10 days grace. However, after years of warning it would potentially be removed, the UAE government ditched the 10 day grace period in 2023.
Be aware, the way your visa is calculated means the day you land until midnight is classed as day 1! For most people, you'll need to do your visa run on day 29 at the latest.
For example, if you land at 11 pm that 1 hour is your day 1 and after midnight is day 2. It's not a 24-hour period from when you land.
It is best not to risk it, otherwise, you'll be fined for overstaying. Overstaying is a 125 AED initial fine plus 50 AED per day. There is also an admin fee. From day one is approximately 175 AED plus the admin fee.
You can also check how long your visa is and when it expires here! It currently includes the grace period on the portal as the expiry date.
What if I go before my visa expires?
Currently, if you exit during your 30-day visa. You are given a new 30-day visa since it is a single-entry visa.
This changed back in January 2018 after a brief period of changing it to a multiple entry visa and thankfully haven't changed it again since. As this created a huge amount of confusion.
It is always best to check when you arrive with the official issuing your visa, just ask how many days you have. As they typically don't inform you when they stamp your passport.
With the multi-entry system, you had to leave during your grace period otherwise you didn't get a new visa. Or wait until after midnight to re-enter after the last day. This caused quite a bit of confusion and fines. It also meant serious date planning to stay long term and travel in the region. Thankfully! It's been back to the single entry system for over a year now! So let's hope it stays this way.
How much does the Omani visa cost?
The Omani visa is now free for over 100 nationalities with a tourist visa on arrival that allows you to stay for up to 14 days. You can also pay for a longer multiple entry visa if needed. This was released in March 2023.
You previously had to pay 50 AED (5 OMR) and was valid for 10 days. The 10 day visa was reintroduced in July 2018. Previously, only a one month visa for 200 AED (20 OMR) was available. Though some nationalities do still have to pay for a visa. So you can check what visa you are eligible for here.
There is a choice of applying online beforehand or applying on arrival at the border. The Oman government have stated they have no plans to make it mandatory to apply online before you reach the border. Personally, I choose to do it at the border.
Many bus visa-run operators still have the old visa information on their websites and haven't yet updated it.
How do I get Omani car insurance?
You may be asked to prove you have car insurance for Oman when doing the Hatta crossing. As you exit, you can pay a fee to gain cover however this costs around 100 AED for one week. It is likely to be cheaper through your own insurance company.
If it is a rental car, you will need to call your rental company and ask if the car has Oman insurance. This may have an additional cost depending on your rental company.
I wouldn't recommend hiring a car only for a Dubai visa run since the cost for a single day can be quite expensive. Added with your petrol costs, it is likely it will be more expensive than the bus. If there is two or more of you however, then hiring a car for the Dubai visa run can make sense.
Also, you will need your car registration ID in addition to the paper proof of your car insurance. Some car rental companies may not wish to give the registration ID. Therefore if you have a rental car, it may be easier to go the Al Dara route.
So which is the best or cheapest visa run method?
The cheapest and best method will be your own car if you have one or currently hiring one but petrol prices have gone up in recent months. Though the petrol cost is still less than a bus ticket. So check your miles per gallon and how much your car would use if you're trying to save money or find someone in the same situation who's happy to put towards petrol.
It's also quicker typically and you'll have a lot more freedom to visit other places while you're there. Both Ras Al Khaimah and Hatta have some amazing things to do and see nearby.
The second cheapest method is the bus and is great if you don't want to drive. The best thing about the bus is meeting new people. It also takes all the stress out if you're doing it for the first time and means you will be more familiar if you decide to do it by car afterwards.
My least recommended is by plane. Yes, it's more comfortable sitting in an airport and on a plane but it's expensive and takes a long time. By the time you go to the airport, sit in departures and do the flight. You haven't saved any time compared with driving. You also have to consider taxi costs based on your location to the airport.
The bus leaves from an easier location for most expats. Some people prefer this method but as a visa run, I personally like the car the best. Mostly because I can choose whether to make a day of it and visit some of the awesome places along the way.
Conclusion
So there you have it! The ultimate guide to the Dubai visa run via Oman! I see questions about this process weekly and sometimes daily in the Dubai expat groups and I've tried to cover it as much as I can. I would recommend taking your own car if you already have one but if not, the bus is actually a really great option and you may even make some new friends on the journey! If you've found this article helpful, feel free to share it with anyone asking about visa runs or buy me a coffee!
---
*This article contains affiliate links, as an Amazon Associate and a member of other affiliate programs, I earn a commission when you click a link and a qualifying purchase is made.
Enjoyed this article? Give it a share!