As an experienced traveller with extensive knowledge of many cities around the world, I know how to spot unique attractions in any destination. That is why I am excited to share my expertise and guide you through some of the most different and luxurious experiences that you'll find only in Dubai. From iconic skyscrapers and mesmerizing dancing fountains, this vibrant emirate truly has something for everyone. In this guide, you'll discover amazing places that are guaranteed to make your trip unforgettable! So get ready for a magical journey as we explore the wonders of Dubai together! Here are 11 things only in Dubai!
Ride the world's largest observation wheel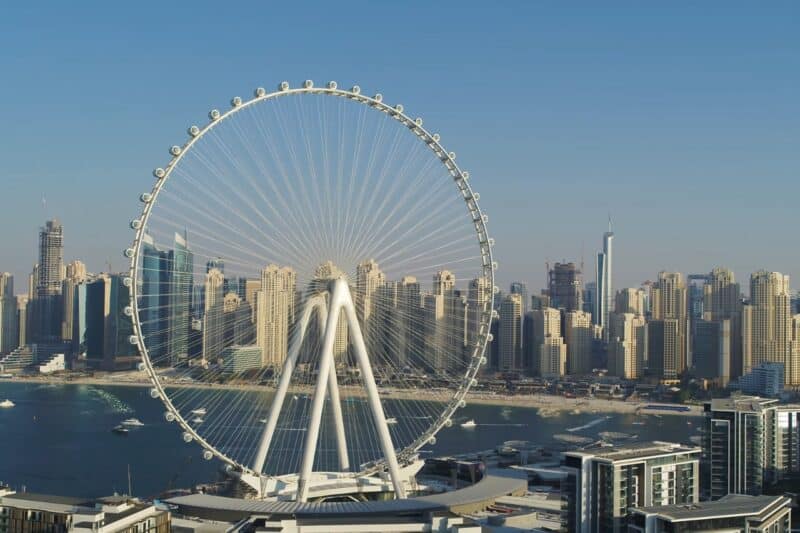 Ain Dubai is the world's largest observation wheel, with a height of 250 meters and 48 pods that can host 1750 passengers at once. Enjoy breathtaking views as you take a ride in one of these luxurious capsules and discover some of Dubai's most iconic sights from up in the sky!
It takes 38 minutes for the wheel to fully rotate and you can pick various from various tickets, from a shared observation cabin to a fully private catered cabin with leather seats for a special occasion. All cabins are fully air-conditioned and all ages are welcome!
Open times
Tues to Weds – 10 am till 9 pm
Thurs to Mon – 12pm till 9pm
See police driving a supercar
The Dubai Police Force is one of the most advanced in the world and they have some of the most impressive cars too. From Ferraris to Lamborghinis, you can see police officers driving these supercars along Sheikh Zayed Road or parked at Dubai Mall in Downtown Dubai.
They are most commonly seen at special events, such as Dubai Marathon or during car shows. Similarly at yacht shows you'll see Dubai police speed yachts! They really do have a very unique collection of vehicles. Just don't try to get arrested in Dubai to try and get a ride in one!
Bounce on the world's largest inflatable aqua park
With its own Guinness World Record, Aqua Fun is officially the world's largest inflatable aqua park. Located on Jumeirah Beach Residences, this fun-filled attraction offers over 110 different obstacles including climbing walls, slides and swings.
It is perfect for both adults and kids alike. It is very physical so be prepared for some good exercise while finishing the course! You can have a great time bouncing around the inflatable playground while taking in views of Dubai's spectacular coastline.
So if you are looking for a unique activity in Dubai, make sure to add Aqua Fun Park to your must-do list. It's open all year round and kids must be a minimum of 110cm high.
Open times
Every day
9 am till 6:30 pm
Get groceries delivered to your yacht from a floating supermarket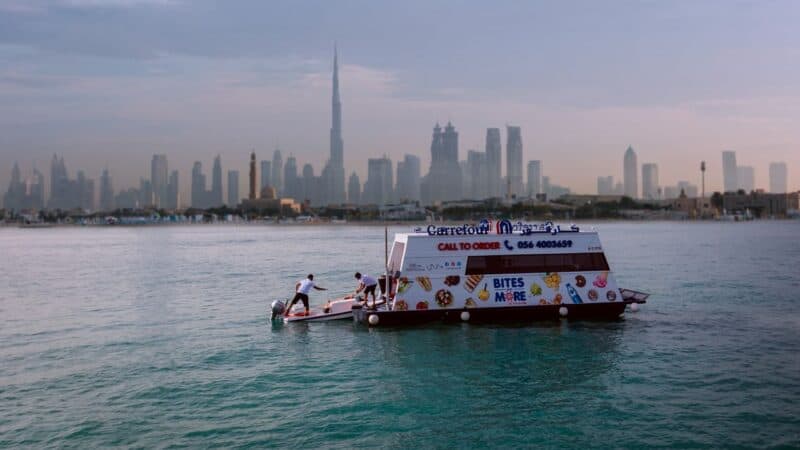 If you are lucky enough to own a yacht in Dubai, then why not take advantage of the city's unique floating supermarket? The Sea Supermarket called 'Bites and More on The Shore' by Carrefour is an actual store located on a unique boat. It is stocked with all the things you might need for your voyage, from fresh fruits and vegetables to ice creams and other provisions.
You can also visit the supermarket with over 300 products via jet ski, just call ahead and request the items you desire. You'll get your products within a 45 minute window. The boat is also eco friendly as it has battery powered motors and even sucks in bits of rubbish from the sea!
The supermarket operates from 10 am until 6pm subject to weather conditions.
Watch the world's largest synchronised dancing fountain
No not Dubai Fountain at Dubai Mall but called 'Dubai Palm Jumeirah Fountain' is located at The Pointe on Palm Jumeirah. This is the world's largest LED-illuminated choreographed and synchronised fountain, with jets of water shooting up to 105 meters in height and covers 14,000 sq meters of sea water.
The show is like something out of a dream and features an array of colours accompanied by colourful lights and music. The show runs daily from sunset at 6:30 pm till midnight, with performances every 30 minutes. Don't forget to bring your camera and have some fun taking pictures of this incredible show!
Swim in the world's highest infinity pool
Staying on Palm Jumeirah, we're off to Aura on Palm Jumeirah, which has the highest infinity pool in the world! Located on level 50 of the St Regis, it's a stunningly beautiful place from up high. The pool is equipped with underwater speakers that play music and is also heated to perfection for those chilly days.
The 50th floor gives you a 360-degree view of Dubai Marina, Palm Jumeirah, Sheikh Zayed Road and the city skyline. Plus you can also sip on some delicious cocktails from the poolside bar. Don't worry you don't need to stay at the St Regis to go here, you can buy tickets for access.
Fly down the world's longest urban zipline only in Dubai Marina
If you're looking for a thrilling adventure, then why not try the world's longest urban zipline at Dubai Marina. The Zip Line Tour takes you on an epic 1 km journey over the water at Dubai Marina in a flying forward 'superman' position. You'll be flying at speeds up to 80 km per hour with stunning views of the south of the city.
It is a truly unique experience and one that you won't forget anytime soon! The rides takes place from 10 am to 5 pm every day, showing up 15 minutes before your ride time. Just make sure you book in advance as it gets quite busy during peak season, especially during the mornings. Must be over 12 years of age to zipline and over 130 cm in height.
Open times
Weds to Mon
9:00 am till 5:30 pm (Rides 10 am till 5 pm)
Dine in the World's tallest building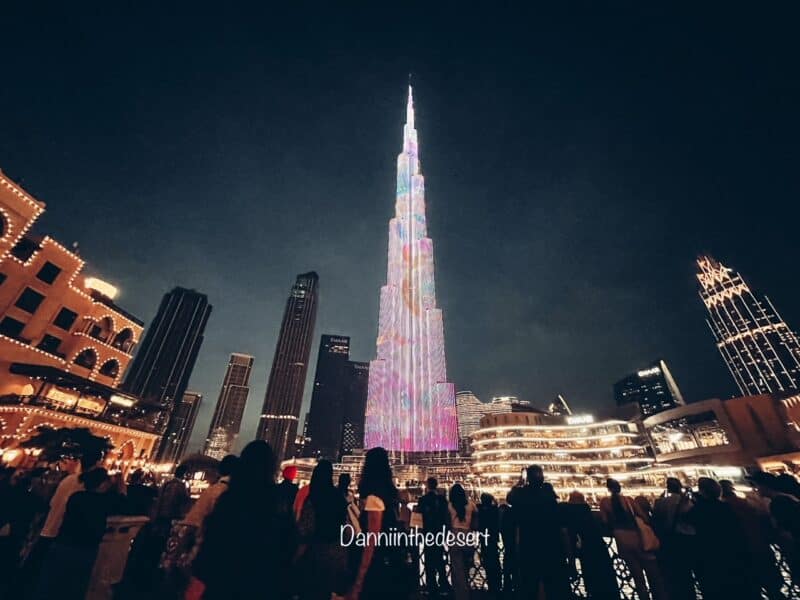 The Burj Khalifa is the tallest building in the world and home to the highest restaurant. At.mosphere is located on level 122 and offers spectacular views of Dubai. The restaurant serves classic French cuisine with a modern twist, making it a great dinner spot for special occasions or romantic evenings out. It's also had a recent renovation making it even more luxurious!
If you're looking for something more casual but still want to dine in the world's tallest building, check out the other 9 restaurants in the Burj Khalifa for your dining pleasure! The Burj Khalifa also recently won the number one bucket list item for people across the globe!
Stay in the World's tallest hotel
So of course the World's Tallest Hotel is also in Dubai but no it's not Burj Khalifa as it has a mix of residential and offices. It's Gevora in Dubai, beating the previous title holder JW Marquis also in Dubai. Gevora stands 356 meters tall (or 75 storeys) and features an array of restaurants, 5-star luxury suites, a gym and a swimming pool.
It also has the tallest elevator in the world that takes you to each floor in no time at all! So if you're looking for something extra special during your stay in Dubai then Gevora is the place to be. If you don't want to stay at the hotel, you can also enjoy afternoon tea on its open-air roof top lounge.
Travel around the world in one evening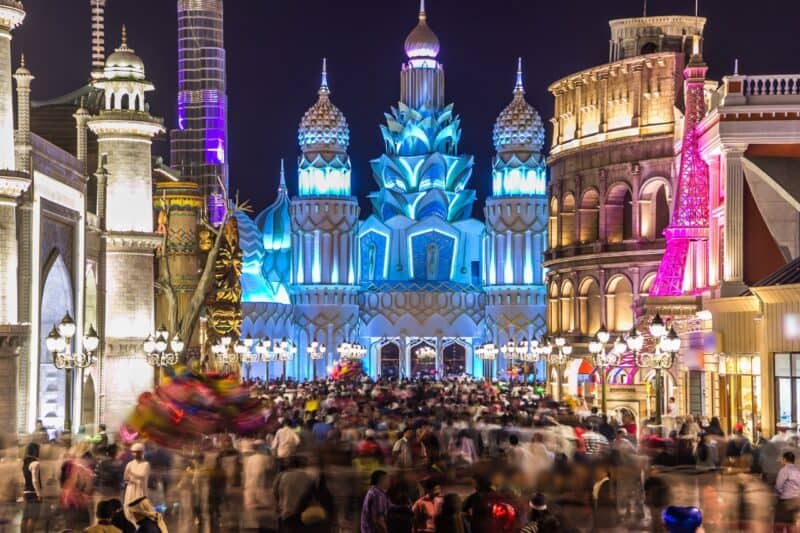 Where else in the world could you travel the world in one evening? Of course Dubai! No we're not talking a private jet, we're talking about Global Village in Dubai. The outdoor entertainment park is home to shops and restaurants from over 75 different countries, serving up food from all around the world.
The Global Village also has a range of activities such as concerts, parades, rides and much more. There's something for everyone here so if you want to experience the cultures of the world in one place then this is the place to go! It's open from October through April each year so make sure you plan your visit during this time.
I personally recommend the evening time, the way it lights up is really beautiful with the entrance in rainbow lights. Though it does get very busy, especially on weekends!
Open times
Sun to Thurs
4 pm till 12 am
Fri & Sat
4 pm till 1 am
Eat a multitude of food and drinks covered in gold
Want to eat like royalty? Then make sure you visit one of the many restaurants in Dubai that offer food and drinks covered in gold! From burgers to sushi and even ice cream – if it's edible then it can be served with real 24k gold. In some places, even the drinks are adorned with a covering of gold flakes or dust.
Here are a few of the more unique ones:
Hampstead Bakery & Cafe in Downtown Dubai serves gold covered French Toast
Punjab Grill in Business Bay has oysters topped with 24 karal gold leaf
Marae in DIFC has gold covered Burratta for you cheese lovers!
Trophy Room at Fairmont Trade Center has gold covered chicken nuggets and chips!
---
Before you go, check out some of my other helpful Dubai articles:
All restaurants inside the Burj Khalifa for you to try
Best hotels near Burj Khalifa in Downtown Dubai
Your ultimate guide to visiting the Burj Khalifa & At The Top
The best restaurants with a view in Dubai for your dining pleasure
What to wear as a female tourist in Dubai
---
From the world's tallest skyscraper, to its longest urban zipline and highest restaurant, Dubai is an amazing city that offers experiences you won't find anywhere else in the world. Whether it's staying in the World's Tallest Hotel or eating a multitude of food and drinks covered in gold, there is something for everyone to enjoy here. Out of all these unique activities my favourites would have to be flying down the World's Longest Urban Zipline, dining at At.mosphere Restaurant within Burj Khalifa and travelling around the world with Global Village!
---
*This article contains affiliate links, as an Amazon Associate and a member of other affiliate programs, I earn a commission when you click a link and a qualifying purchase is made.