Dubai's electric nightlife scene is second to none, and its bars are the beating heart of it all! From sophisticated rooftop lounges to quirky speakeasies, there's something for everyone seeking a great night out. Want to share an intimate lounge experience with your special someone, or dance the night away at a legendary party spot. The possibilities are endless in Dubai!
Here we will explore some of the most popular bars in Dubai that offer amazing views, delicious cocktails and a great atmosphere – so get ready to discover why these places stand out from the rest!
I used to live in London, which is one of the best cities in the world for cocktails. So I'm a tough crowd to please! Purl in Marylebone was one of my favourites in London if you're ever visiting. In London generally, you get what you pay for as most expensive cocktail bars are very good at cocktails however in Dubai it's more complicated than visiting an expensive cocktail bar and getting a well-made cocktail.
In Dubai, just because a place is expensive does not mean it's good!
I've found many places have good reviews due to the venue more than the actual drinks which makes finding good places difficult!
So that's why having someone who lives in Dubai to help you is the best solution. You know you can trust Danni, your online best friend, to point you in the right direction! Or you could try to visit every bar while on holiday here but it's going to be difficult. Good luck to you though!
So if this is your first time to my blog, you may not know that I'm a Muslim convert. I converted in Dubai. So of course, before I became Muslim, I loved a good cocktail and visited many Dubai venues. I still enjoy a nice mocktail. So I update this list regularly thanks to friends who still enjoy a drink along with places where I've really enjoyed a nice non-alcoholic cocktail too.
So regardless of whether you drink or don't drink. There'll be an amazing option for you here! Let's get to the actual best bars in Dubai!
Best bars in Dubai
1. Zuma – DIFC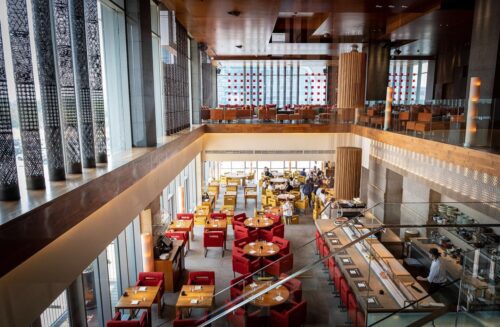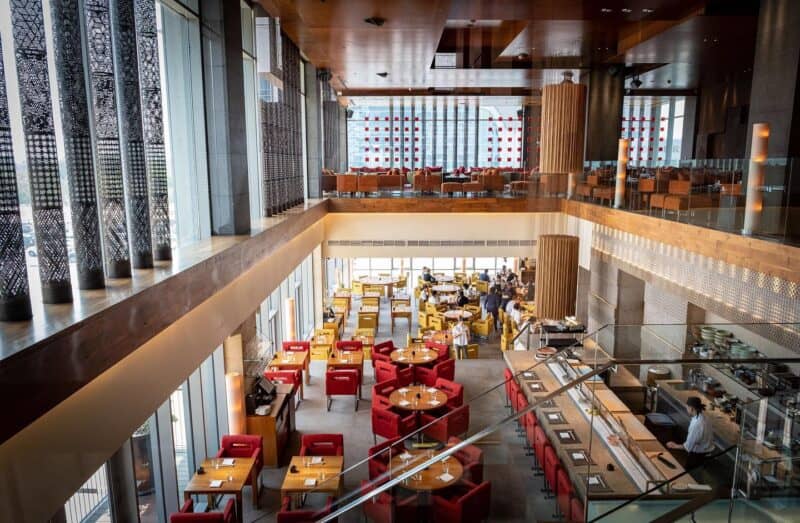 Voted one of the world's best bars in the world, Zuma is 38 out of 50. It was here on my list before it won its award so you know Danni in The Desert only gives you the best recommendations!
Now a classic of the Dubai scene and still one of the hottest places to go on a Saturday night. The bar area really does get crowded on weekend nights and you'll be lucky to get a table unless you get there early. If you don't mind ordering food, then the restaurant section on the lower level is a more relaxed experience.
Zuma creates their own infusions and takes their cocktail-making very seriously. The atmosphere is great and the bartenders really know what they're talking about when it comes to cocktails. You can watch the staff making their iconic ice cubes and definitely some of the most interesting cocktails you'll find in Dubai. Plus the atmosphere on the weekend is second to none!
This is definitely my top voted best bar in Dubai. They also have some interesting and yummy none alcoholic cocktails too.
Style: High end lively bar & lounge
Prices: Mid to high range
Rating: 4.4 out of 5
Website
2. Trader Vics – Madinat Jumeirah plus other Dubai locations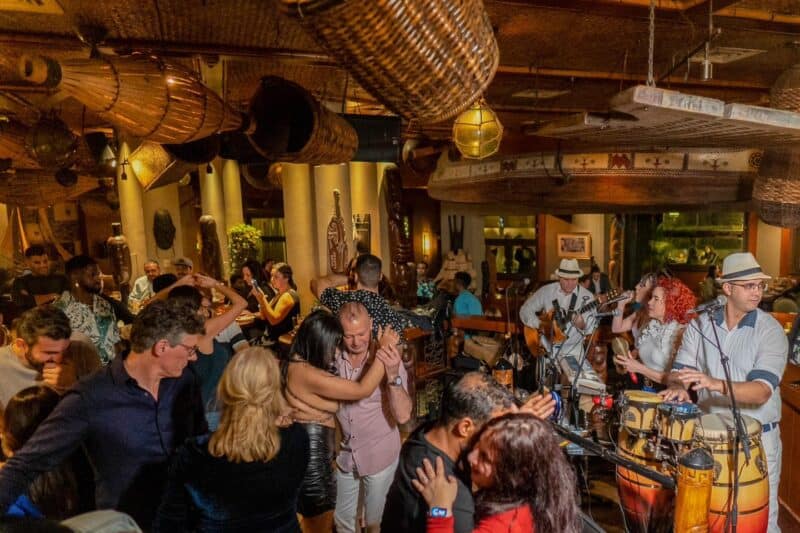 If you're looking for a more relaxed outing, consider giving Trader Vics a go. It's trendy and enjoyable, and casual attire is perfectly acceptable too! Plus if you head down for happy hour, you'll find yourself having a good time at a reasonable price too.
The Tiki-styled interiors make the place fun and there are even the occasional themed performances while you're here too. It's got a very lively atmosphere so you can enjoy the party atmosphere without needing to be all dressed up. Which is actually rare in Dubai! Most places like to be fancy.
From the terrace at Madinat, you have an awesome view of the Burj Al Arab too. Their other locations are JBR, Palm Jumeirah and Trade Center.
Style: Casual but fun
Prices: Mid range
Rating: 4.4 out of 5
Website
3. Grapeskin – City Walk
This place is a little bit tucked away from the hustle and bustle of City Walk and you'll soon find yourself relaxing here in their casual decor. If you're more of a wine person, the venue has an incredible selection of wines.
Along with a nice selection of cocktails including interesting mocktails too. They also have guest wines for those who want variety without keep changing venues.
I've been here with a group of friends, their long wood tables are perfect for groups who want somewhere casual and easy to chat with each other while enjoying a nice drink.
The staff really go out of their way to make sure you enjoy your evening and the cocktails are absolutely delicious. It is part of the beautiful La Ville Hotel in City Walk and is one of Dubai's best-kept secrets!
Style: Casual wine bar with class
Prices: Mid range
Rating: 4.5 out of 5
Website
4. Pure Sky Lounge – Hilton at JBR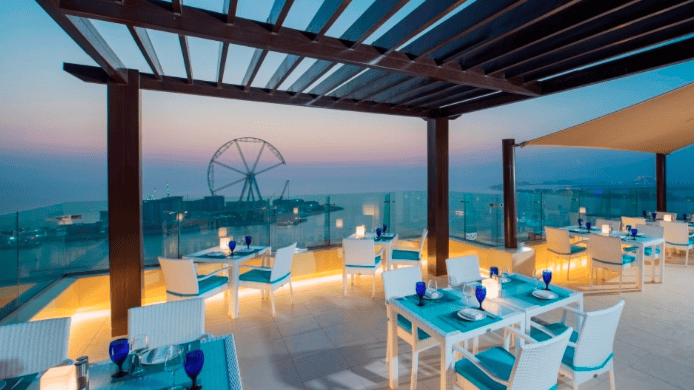 So not only is the view amazing as you can see but the cocktails are good too! On the ladies' night it's always busy but you really should go another evening when you can try their proper cocktails in a less rushed atmosphere! Since they are definitely worth spending your dirhams on.
Pretty much all venues water down their ladies' night cocktail drinks so you can't really judge a place based on it's ladies night drinks. Plus we're a lot less fussy when it's free! You can get three free cocktails on ladies night but you're better off sticking to wine or bubbles usually. Though it can depend on how bad the wine is!
This is the best bar in Dubai for its view of Dubai Eye and Palm Jumeirah, a perfect one for wowing visitors.
Style: Relaxed lounge
Prices: Mid to high range
Rating: 4.8 out of 5
Website
5. Galaxy Bar – DIFC
Galaxy Bar Dubai is more than your average cocktail lounge. Offering a wide selection of exciting cocktails, fine wines and beers, as well as delectable small plates. Located in the heart of Dubai International Financial Center (DIFC), the venue has a stylish and sophisticated atmosphere. Creating the perfect backdrop for an elegant night out.
Galaxy has joined the ranks of the world's premier bars as one of the top 50 in the world, claiming the 45th spot. Yet another award-winning addition to the Dubai scene, Galaxy is perfect for the cocktail aficionado.
This bar is an absolute stunner, boasting a star-themed ceiling hence its name – Galaxy! The cocktails served here are unparalleled; from their unique recipes to their elegant presentation, each drink is a work of art.
Style: High end party style lounge
Prices: Mid to high range
Rating: 4.2 out of 5
Website
6. Bar Du Port – Dubai Marina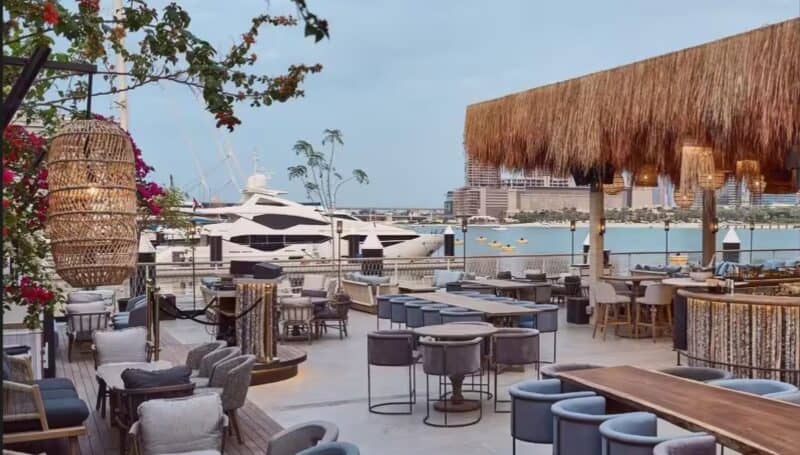 One of the newer bars on the scene of Dubai, this bar is one of the hottest places to go in Dubai right now! You'll feel like you've been transported to the French Rivera with this beautiful location at Dubai Marina. Dubai really was missing this kind of venue which is a high end outdoor beach style.
It's also recently won an award for best outdoor bar in Dubai by Timeout.
Style: High end outdoor bar
Prices: Mid to high range
Rating: 4.1 out of 5
Website
7. Bla Bla Dubai – JBR
This large venue has multiple bars, restaurants and even a beach club with a swimming pool. It turns into a nightclub and you can party here till the early hours of the morning if you choose to.
This all-day venue spans a whopping 100,000 sqft and provides a range of unforgettable experiences. Highlights include a stunning Ibiza-style beach club, three restaurants offering Japanese, Italian and Texas-style smokehouse food along with 21 unique bars. Also on offer? Shisha and live music, all served up under one roof.
The 21 bars are divided into four different areas, The Rooftop, The Tent, The Backroom and The Beach Bar. Each with a different feel and theme. So no matter what you're in the mood for, you'll find something here.
Bla Bla Dubai has no strict dress codes and is perfect for those wanting somewhere more casual but still with a great atmosphere. Despite its size, it still gets pretty busy in here!
Style: Casual mixed and party
Prices: Mid range
Rating: 4.2 out of 5
Website
8. Mercury Lounge – Four Seasons at Jumeirah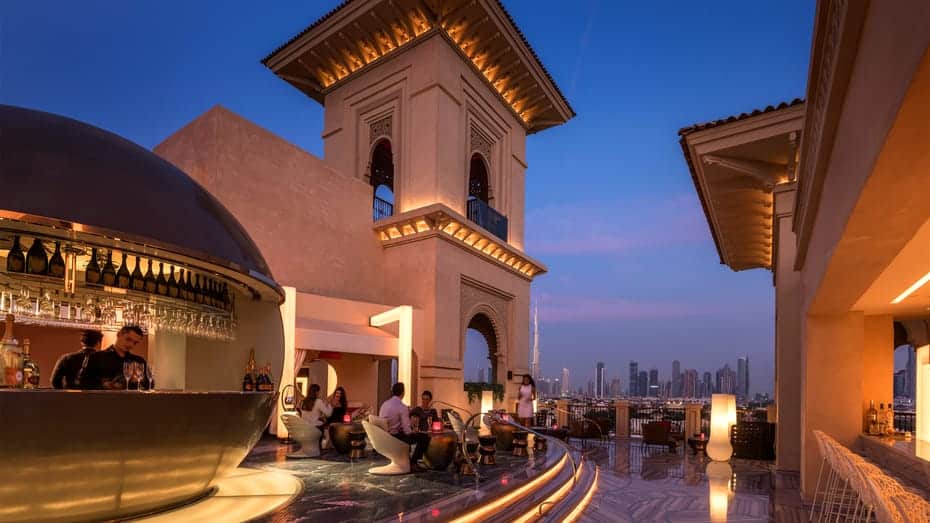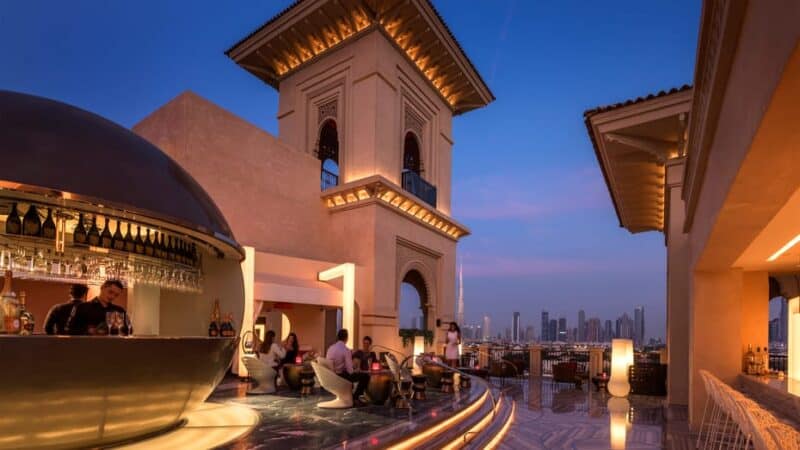 Mercury Lounge is closed during the summer since it's an outside lounge but outside of Summer, it's one the places to be! Despite being in Dubai for many years, it still hugely popular and you may struggle to get a table on weekends. So it's best to book a table (a minimum spend does apply) but the cocktails and atmosphere are worth it.
You can take your chances on one of the bars if not where there are a small amount of bar stools. It's a pretty large space and also has a really nice for view of the city towards Burj Khalifa. This is the best bar in Dubai for a relaxed atmosphere but fun drinking place.
You've also got an amazing view of the Burj Khalifa from here, if you're wanting somewhere to eat or drink while enjoying a nice view.
Style: Fun, relaxed with high end style
Prices: High
Rating: 4.6 out of 5
Website
9. Il Bar / The Bulgari Bar – Bulgari Hotel at Jumeirah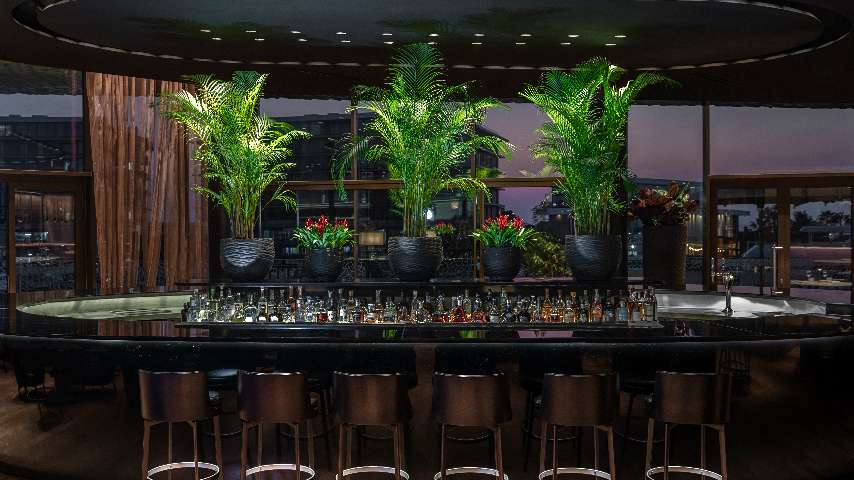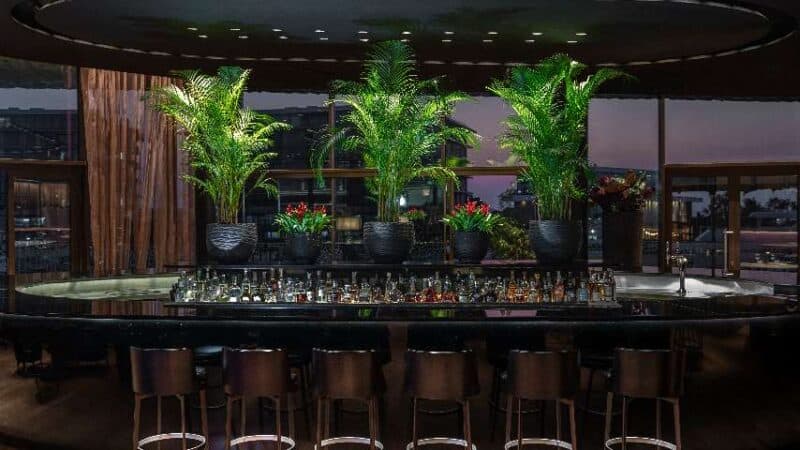 Dubai's got not one, not two, but three bars in the World's 50 top bars, and guess what? Bulgari just clinched the 50th spot. If you love low lit bars, this is the perfect place where you can hide away in a booth with your date or friends. So don't miss out!
Located inside Il Ristorante, the bar is actually the bar in the restaurant. However, you can order the cocktails to your table as well enjoy them perched on a chair by the bar. So you don't only have to sit at the bar if you want to enjoy their extremely well made drinks.
At this lovely spot, the friendly staff – mostly Italian – will make you feel right at home. If, like me, you're a fan of Italian culture, they'll be delighted to chat with you about the beautiful parts of Italy you've visited. Plus, it's a relaxing spot that's never too crowded, making it perfect for sitting back and enjoying your cocktail.
They also have some great mocktail options including none alcoholic wines. So you won't feel like you're missing out!
Style: High end bar and restaurant
Prices: High
Rating: 4.5 out of 5
Website
10. Buhayra Lounge – Palace Hotel at Downtown Dubai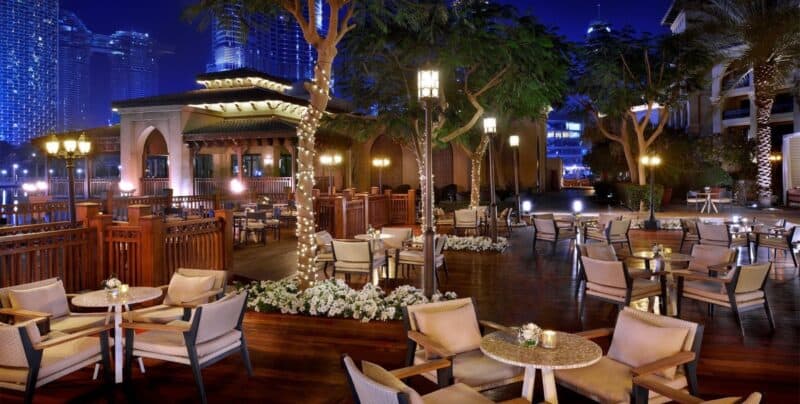 Nestled in the breathtaking Palace Downtown hotel, the sophisticated Buhayra Lounge awaits. Sip on a refreshing drink as you take in the jaw-dropping views of the iconic Burj Khalifa and the stunning Dubai Fountain. It's the perfect spot to unwind.
The lounge exudes a relaxed and inviting vibe, ideal for anyone seeking respite and rejuvenation after a long day of work or sightseeing in the Burj Khalifa or Dubai Mall. Sip on a variety of cocktails, wines and beers, and savour the eclectic selection of light bites and desserts served if you want a bite to eat with your drink. Inccluding some tasty Arabic dessert options.
Sadly there isn't a large amount of mocktail options here but the alcohol drink prices are reasonable for the location.
Style: High end bar and restaurant
Prices: Mid
Rating: 4.4 out of 5
Website
11. Buddha Bar – Dubai Marina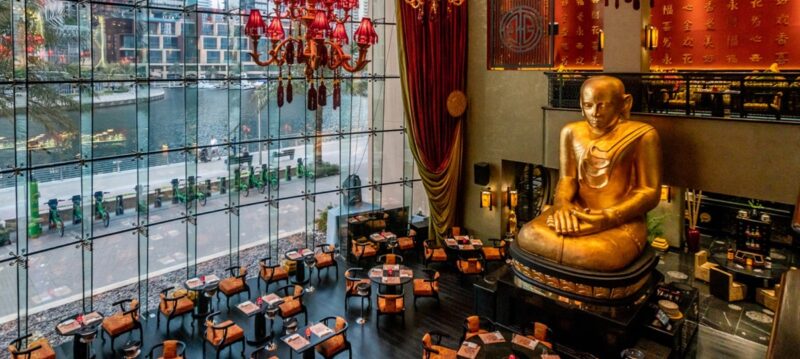 Buddha-Bar Dubai is a must-visit hotspot that attracts both residents and tourists. Maintaining popularity in Dubai's competitive bar scene is no easy feat and Buddha bar has done that for over 10 years. Some of the most popular cocktails on the menu include The Maha Bodi, and The Far East Julep.
Buddha-Bar is also a Pan-Asian restaurant located in Grosvenor House, Dubai Marina. The restaurant is also known for its signature dishes, such as the Buddha-Bar salad, the lobster dumplings, and the black cod with miso.
Its elegant ambience, scrumptious cuisine, and tempting beverages are all part of the package. You'll find a lively evening atmosphere with a live DJ setting the tone or you can grab a table to catch up with friends and chill with a drink.
The bar offers a wide selection of cocktails, wines, and beers.
Style: High end bar and restaurant
Prices: Mid to High Range
Rating: 4.6 out of 5
Website
So those are my selection of cocktail bars in Dubai! Are there any you think I missed out? What's do you think is the best bar in Dubai and what's your favourite cocktail?
Been drinking too much and wanting something more healthy? Check out my article here for the best healthy eating places in Dubai!
---
*This article contains affiliate links, as an Amazon Associate and a member of other affiliate programs, I earn a commission when you click a link and a qualifying purchase is made.