The culinary culture of Dubai and United Arab Emirates is a vibrant, diverse blend of traditional flavours that showcase the country's unique identity. You may have visited Dubai before or even lived in Dubai for many years but never tried Emirati food! So with this article, I want to change that!
Emirati cuisine is something that must be experienced to discover its tantalizing recipes with lots of exotic spices. After living in the region for nearly 10 years, I'll also give you my favourite restaurants in Dubai to eat the traditional food of UAE! For some truly tasty eateries and restaurants that specialise in traditional Dubai food. So let's go on a journey for the taste buds!
People seem to get confused between Arabic food and Emirati food, although there are many shared dishes across Middle Eastern nations. Only certain dishes are Emirati. Shawarma, Falafel etc is not Emirati, Manakeesh is also not Emirati and a camel meat burger is not a traditional Emirati food. Kunafa is also not a traditional Emirati dessert.
Yes they are Arabic foods and you even may find them served at an Emirati restaurant but they are not Emirati dishes!
So here is a guide to the actual authentic Emirati dishes and the traditional food of the UAE. Plus which restaurants in Dubai are the best for trying each dish! The breakfast items are usually washed down with a tasty cup of Karak chai (you can try my recipe at home), so don't forget to try that too while you're here!
Article contents
Emirati Foods
You may also be wondering, why is it that many expats have not tried UAE traditional food? It's due to mostly two factors. One Dubai has a huge expatriate population that is larger than the local population. So there are more options for international food than for Emirati food.
For a long time, there actually weren't many Emirati restaurants for expatriates or tourists. Arabian Tea House was one of the first to open in 1997. It was located closer to what is called "Old Dubai" and therefore not in the more touristy areas of Downtown Dubai or Dubai Marina.
The second is that Emirati food is mostly either homemade or delivered from small kitchens that you might pass by without a second glance for many years in Dubai. Thankfully now more Emirati restaurants have opened up serving traditional UAE food.
In 2011 Al Fanar opened. Followed by Seven Sands in 2015, located in JBR, finally moving into more expat territory but has sadly since closed down. These were some of the first Emirati sit down restaurants to open.
Al Shandagha however has delivered traditional Emirati food since 1988.
The traditional food of UAE
We'll go through some of the key dishes that make up the traditional food of the UAE along with the restaurants I recommend in Dubai to try each of these.
1. Regag
Also called Reqaq. This is a traditional Emirati food that is popular with breakfast or as a snack. The word raga means thin in Arabic and this is because it's a very thin crispy bread. Similar to a crepe but more crunchy!
The traditional recipe is with cheese and fish sauce spread onto the bread and folded up. Other popular fillings include egg or Chips Oman (another snack popular in the Arabian gulf). You can have all four in one wrap if you like! Or if you like it sweet, have it with Nutella instead.
It's best eaten fresh off the griddle pan. So make sure to drive and eat it hot! Al Labeeb doesn't have any chairs as typically people will take it back to their car and sit there to eat it.
It's also a great cheap meal, costing between 4 and 6 AED depending on what filling you have. Cheese and egg with a dash of chilli sauce is another popular choice. The fish sauce is unique to the UAE where a similar bread in Oman is usually served with cheese and honey for breakfast.
Where to eat it in Dubai
Al Labeeb Grocery – Jumeirah
This small open kitchen in the front part of a grocery store is the most famous in Dubai for its Regag. You might not expect it looking from the outside but we definitely recommend to visit this one for Regag. The only downside is parking can be difficult and there's sometimes a queue of cars waiting for the regag.

Price: 4 – 6 AED ($2 USD)
2. Lugaimat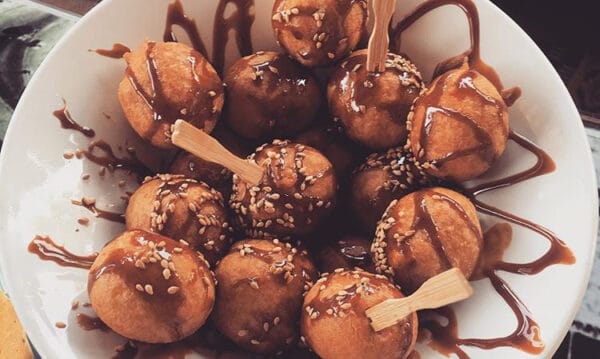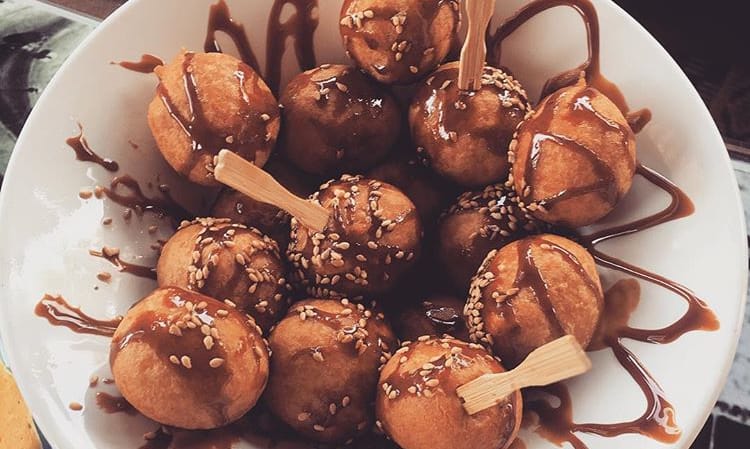 These are little fried balls, similar to mini doughnuts but with a hint of cardamom. They're crispy on the outside and spongey in the middle! They're a popular Arabic dessert across the Middle East. If you ever visit an Emirati home, they will usually always serve these for guests.
It's traditional to pour date syrup all over them and sprinkle sesame seeds. They're sometimes served with toothpicks to pick them up one by one or you can just enjoy them with your hands.
You can also have honey if you're not a fan of date syrup. You'll even sometimes find a more savoury version with cheese in the middle. Though traditionally they're served as a dessert but can also be also be a breakfast food.
Lugaimat is very popular during Ramadan in Dubai. Perfect as a quick energy burst after you've been fasting all day. You can get a savoury kind with cheese inside but personally I love the traditional style with date syrup. They're very addictive and you can easily end up eating a whole bowl!
(If you want to try making these tasty little balls check out my Luqaimat recipe here!)
Also in Arabic it's actually spelt Luqaimat but Emiraiti and other Gulf Nations pronounce the Arabic "qaf" or ق as a g.
Where to eat it in Dubai
Logma – Dubai Mall
If you're wanting somewhere relaxed to enjoy a casual meal, Logma is the ideal spot and it's located in Dubai Mall. Perfect for those wanting to enjoy the tourist sights and stop for a spot of Emirati food along the way.
Price: 35 AED ($10 USD)
Website
Arabian Tea House – Al Bastikiya, Umm Sueqim & Jumeirah
These cafes are so cute and are a must visit then in Dubai! You'll be taking photos for the Gram due to their beautiful blue and white interiors. I've always had a good experience with both the food and service when visiting here.
Cost: 28 AED ($8 USD)
3. Balaleet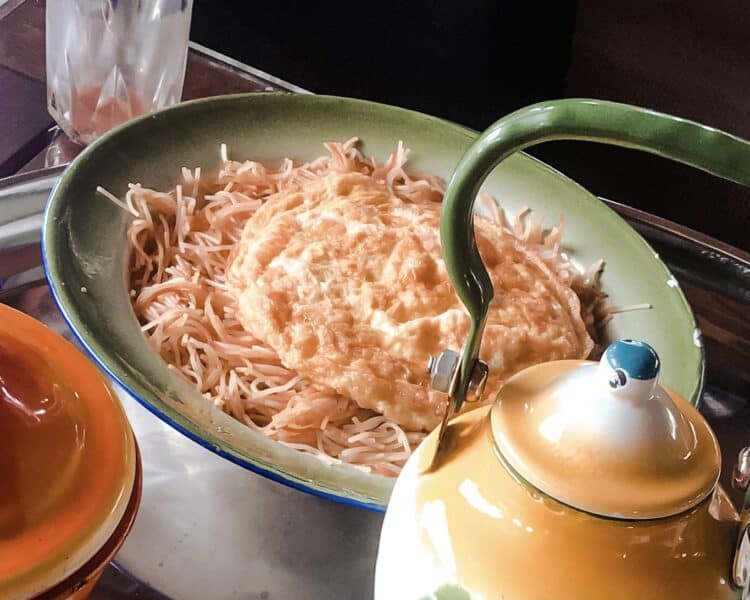 This is slightly more unusual breakfast food. The bottom is sweet vermicelli noodles flavoured with cardamon and saffron. With an omelette placed on top.
This mixture of savoury and sweet is quite different when you try it for the first time. It's definitely a dish that slowly grows on you. Then it becomes a weird Emirati food craving that you'll have to explain to your friends!
Where to eat it in Dubai
Sikka Cafe – La Mer (Temporarily Closed)
I'm not sure if this restaurant will reopen as La Mer is being redeveloped. This is a shame because it was a really great spot and sadly their other branches seemed to have closed down too. Many of the options below also sell Balaleet.
The restaurant is a nice casual restaurant serving a mix of Emirati, Arabic, Indian and Persian street food. They offer a selection of different breakfast items including Balaleet.
Cost: 26 AED ($7 USD)
4. Chebab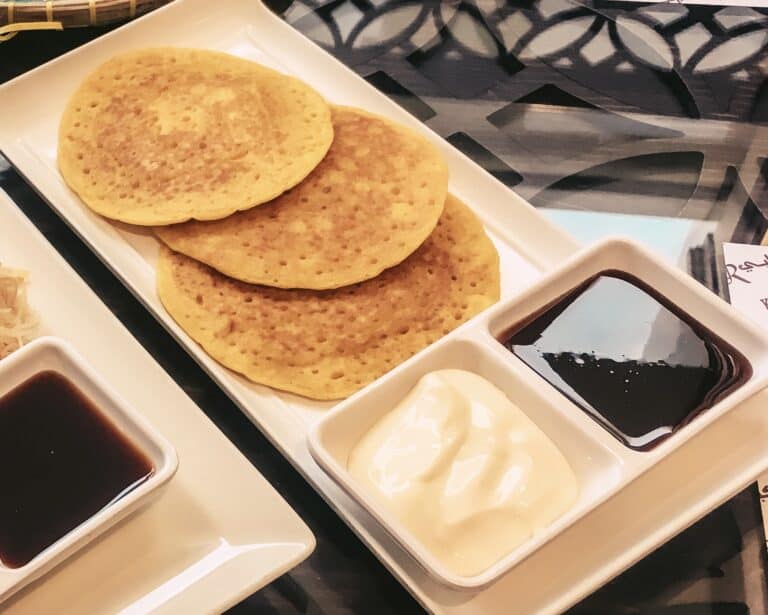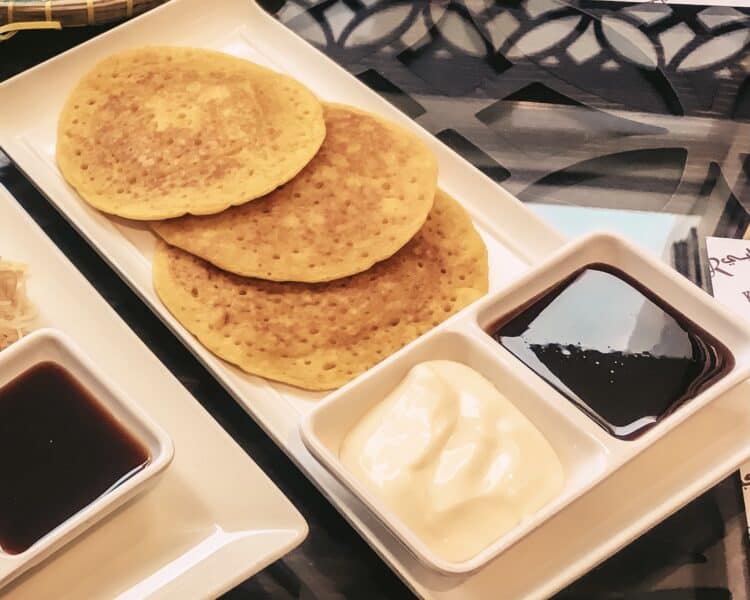 These are really tasty pancakes with little air bubbles that make them softer. Like Luqaimat they're flavoured with cardamon and sometimes saffron.
They're commonly eaten for breakfast with honey, cheese or date syrup drizzled over them. These are honestly one of my favourites and a must-try!
Where to eat it in Dubai
The Tent – Jumeirah in Umm Suqeim
This restaurant is a nice casual restaurant at an amazing location, looking directly out onto Umm Suqiem Beach. It used to be a much larger restaurant but sadly has been downsized to a food cabin but it is right by the beach. Making it an amazing location. It's my favourite for breakfast with the sea and sand plus a fresh cup of Karak! Chebbab and the Emirati breakfast is only served until 12, so start your day early and then go enjoy the beach!
Cost: 10 AED ($3 USD)
5. Khameer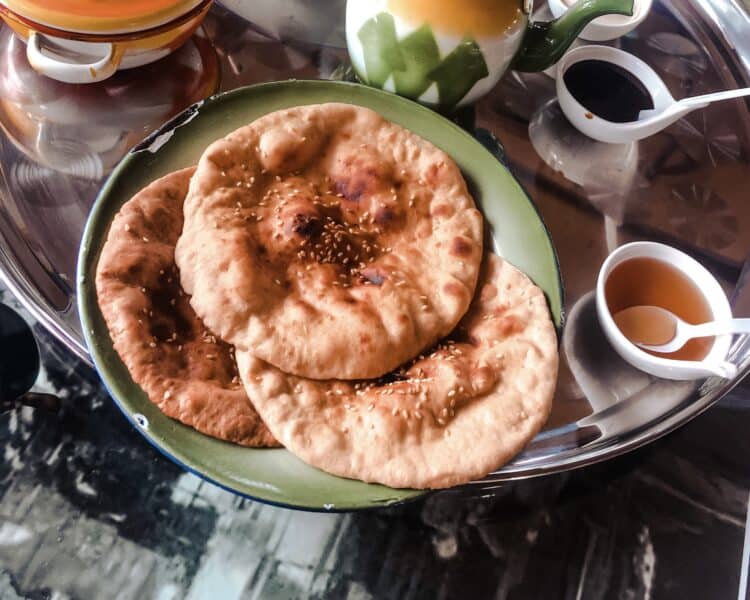 You may not be familiar with this delicious treat, but it sure is worth a taste. It can be served in different ways and the flavour is something that has to be experienced. This Emirati delicacy has been enjoyed in the UAE for centuries. It's sweet, spongy, and oh so satisfying.
This is honestly some of the tastiest bread I have ever tasted and when it's fresh it's so good! It has a soft spongey consistency and puffs up as it cooks similar to a naan but with a sweet taste instead. The topping of sesame seeds really just finishes it off. Mwah! It's often served with cheese or honey or date syrup but can be enjoyed as is.
Where to eat it in Dubai
Al Fanar Restaurant – Festival City, Al Seef & Jumeirah
Now a Dubai classic, each restaurant is like travelling back in time. Festival city is its most unique venue, featuring a large tree in the middle of the dining area. This restaurant is a must for those wanting to try Emirati food. You'll also find plenty of other dishes off the list there if you want one place to try them all!
Cost: 32 AED ($9 USD)
Website
6. Machboos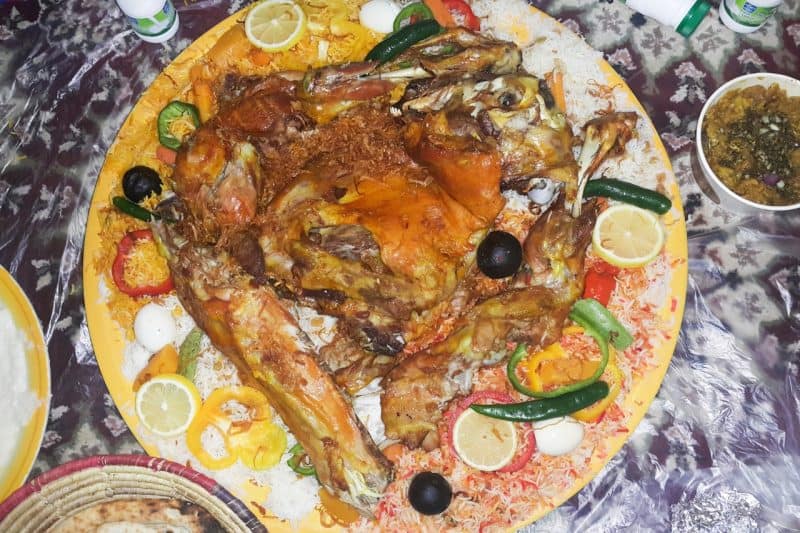 A popular and classic dish in the Arabian gulf. Each gulf country has different spice mixes for this dish so you'll find it sometimes labelled as "Emirati Machboos" or "Kuwaiti Machboos."
Traditionally it is made with chicken or lamb and served on a bed of rice. Machboos can also be made with fish. It is typically served on a large plate for everyone to share which is very common as part of the culture in UAE and across the gulf. This is a must for any person wanting to try the traditional food of the UAE and is classed as one of the National dishes.
Where to eat it in Dubai
Aseelah – Deira
Another fusion restaurant, this one is perfect if you're looking for that higher-end Arabic restaurant. The interiors are very pretty and the reviews are great too! You can choose from al a carte dining or the buffet.
Cost: 76 AED ($21) or 179 AED (49 USD) for the buffet including soft drinks
7. Jesheed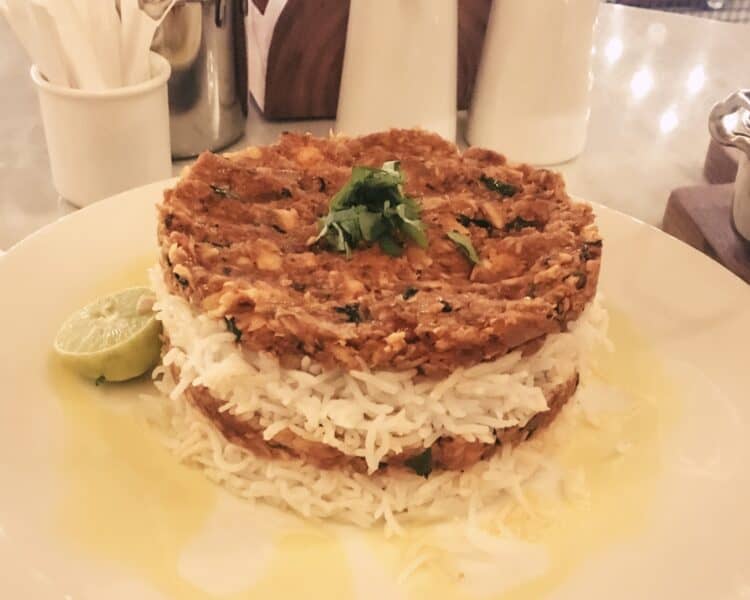 If you like to eat on the more adventurous side, this Emirati food is for you! This lunch or dinner dish is made from crumbled or minced shark layered on top of rice. Sometimes they style it with alternating layers of shark and rice creating a pretty tower.
Again like the other dishes, you'll find a very interesting and flavoursome meal due to the spice mixes. Emirati food is traditionally shared so you'll commonly find restaurants serving portions that are big enough for two. So make sure you take your other adventurous friend with you!
Where to eat it in Dubai
Al Jalboot Restaurant, Umm Suqeim
Of course, right by the fishing harbour is the best place to eat seafood. Not only will you get a lovely view of the Arabian Gulf sea and enjoy the sea breeze but you'll also know the food is extremely fresh. The restaurant is also reasonably priced.
Cost: 58 AED ($16)
8. Harees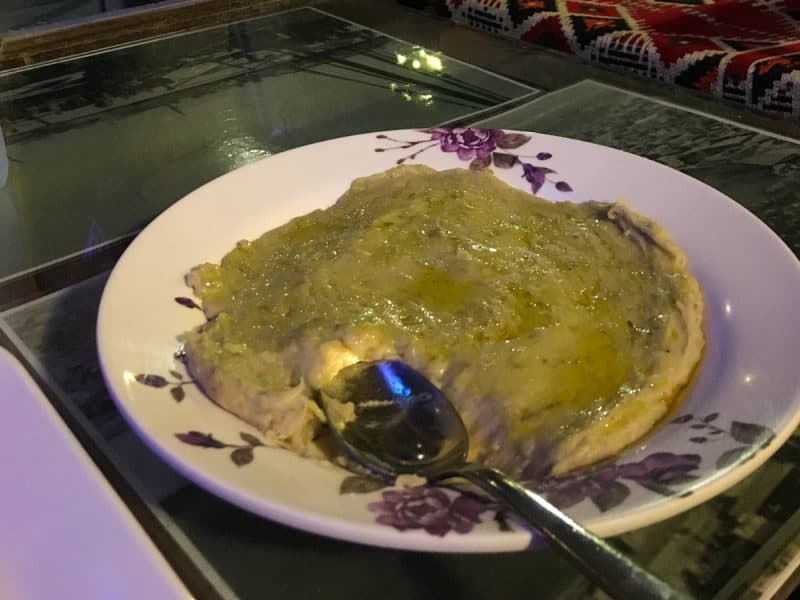 This is one of my personal favourites and is an ideal lunch or dinner for the winter. Though not everyone loves this dish due to its meat porridge-like nature. It is a very traditional food of UAE and one loved by many Emiratis.
The dish is made from slowly cooking meat, usually mutton, with barley for a long period until it becomes a gelatinous consistency with the meat distributed throughout. They then serve it with a big spoon of ghee added on top and sometimes crispy onions.
It isn't the most beautiful looking of meals, as you can see above, but it really is delicious!
Where to eat it in Dubai
Al Shandagha Restaurant & Kitchen – Umm Suqeim, Al Quoz & Al Hudaiba
If you want somewhere really low-key, as in plastic tables and chairs or to order to take home, Al Shandagha is one of the best. A favourite among locals! Once you try their food you'll know why. If you're really wanting something authentic and affordable. It doesn't get better than here. My absolute favourite place to eat Harees from.
Cost: 22 AED ($6 USD) for a small which I found was two portions for me
9. Thareed / Saloona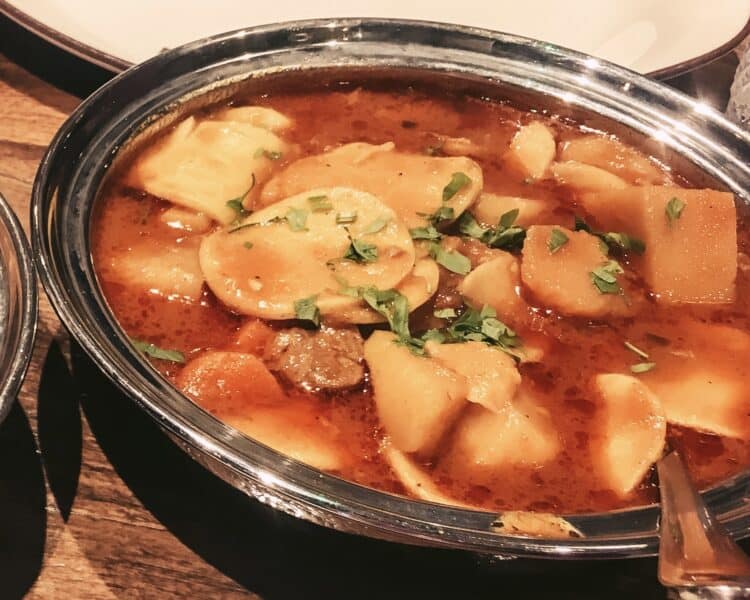 This is a yummy meat stew, it's perfect if you're wanting something a little bit different to typical Emirati food. It has a tomato based sauce mixed with lots of vegetables and Arabic spices. For fully authentic Emirati style Thareed, it must be served with regag!
This one also has a religious and historical relevance, as it was Prophet Muhammad's (peace be upon him) favourite dish. It's recommended as a meal for breaking your fast during Ramadan as it's light but filling.
If you want to try making it, check out my Thareed recipe.
Where to eat it in Dubai
Al Khayma Heritage Restaurant & Cafe – Meena Bazaar
I wouldn't recommend all of the dishes here for Emirati food since some of them have a more Indian influence here than a traditional Emirati style but they do offer lots of varieties of Thareed (with regag) and Salona, including lamb, chicken or vegetarian. So it's a great spot to try this yummy stew and you can go shopping for Indian clothes in Dubai's Little India after!
Price: 76 AED ($21)
10. Shuwaa / Ouzi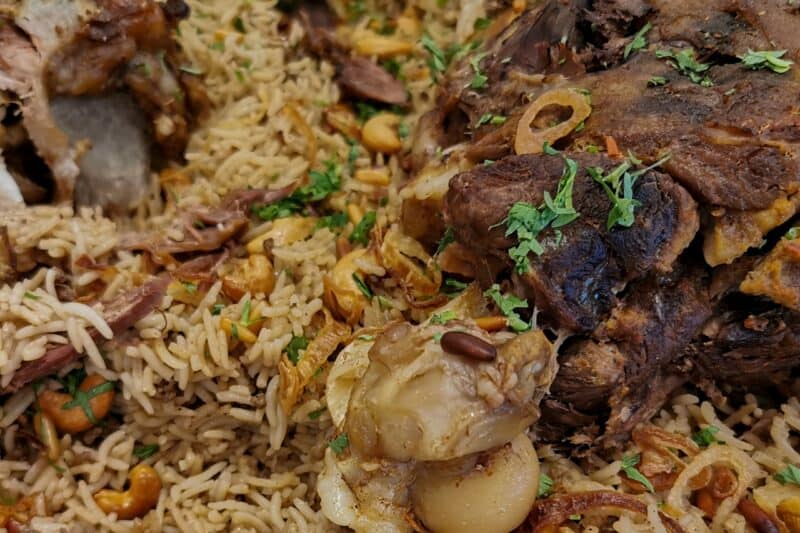 Some call this the national dish of the UAE but it's actually not that commonly served in the UAE and you'll only typically see it served at Ramadan or very special occasions such as weddings.
This is meat, typically lamb served on a large bed of rice. The meat is wrapped in palm leaves and cooked slowly so the meat comes out really tender. It's then sprinkled with nuts and served with legumes.
It really looks incredible if you go to a Ramadan buffet as you'll see these huge pots with a lid and the Ouzi inside!
Where to eat Ouzi in Dubai
Siraj – Souq Al Bahar, Downtown
So this one is actually a fusion restaurant, serving Emirati, Lebanese and Syrian dishes. The inside looks like you've been transported to a European cellar which is pretty cool! It is a little bit more on the pricey side due to its prime location in Downtown Dubai! They serve Ouzi all year round.
Price: 81 AED ($22 USD)
11. Margoga
Also sometimes spelt Marguga. This is a traditional Emirati stew type dish, made with either lamb or chicken. It's called Margoga as it is served with Margoga bread. The dish is similar to Thareed.
It is typically saved for special occasions such as Eid or UAE National Day.
Where to eat Margoga in Dubai
If you want to experience Emirati cuisine in an upscale restaurant and area, Neem Tree Lounge is the place for you. Serving a mix of Middle Eastern cuisine they also have Emirati dishes on the menu including this classic Emirati dish.
Neem Tree Lounge – DIFC
Price: 68 AED for chicken or 92 AED for lamb
Commonly asked questions about Emirati Food
What is the national dish of UAE?
So the UAE doesn't have an officially declared dish but two are often given as the national dish of UAE and that is Lamb Ouzi and Machboos. Lamb Ouzi is saved for special occasions whereas Machboos is commonly cooked and eaten in Emirati homes. There is also a traditional spice mix called "Bzar" which is a key ingredient in giving dishes a traditional Emirati taste.
Bzar is traditionally a mix of cumin, coriander seeds, fenugreek, fennel, cinnamon, black pepper and turmeric but different Emirati houses will have mixes of their own. Some even regard their mixes as 'top secret' and won't share the exact mix they use! For fish or Bzar Samak, they'll have a similar but slightly different spice blend where ginger is added. Also, the fennel and fenugreek are removed.
What is the traditional food of UAE like?
The breakfast items tend to be quite sweet while the dinner dishes tend to be mostly meat and rice or grains. Fish is also popular due to the closeness of the sea.
Without modern farming techniques and the harsh weather of the desert, most dishes were based on meat, dairy and seafood. As many vegetables or fruits required too much water to survive.
Emirati food had to keep people going for a long time due to their Bedouin lifestyle. So lots of protein and fat was essential. Despite the stereotypes of Arabs eating camels, Camel was rarely eaten due to how expensive the meat was and still to this day it is saved for special occasions. The most common meat was goat and is still popular today.
What influences are there are on Emirati food?
Emirati food was heavily influenced by trade with India and Iran, so there is a mixture of elements from Iranian and Indian food in the traditional food of the UAE. Helping create many of the dishes enjoyed to this day.
While there is an influence from India and they use a lot of spice mixes in the food, this is often without chilli or spices that make it hot. It is very common for a small bottle of chilli to be served with the meal and can be added based on your own personal taste. This makes it far less spicy than traditional Indian food but still full of flavour.
How do you eat the traditional food of UAE?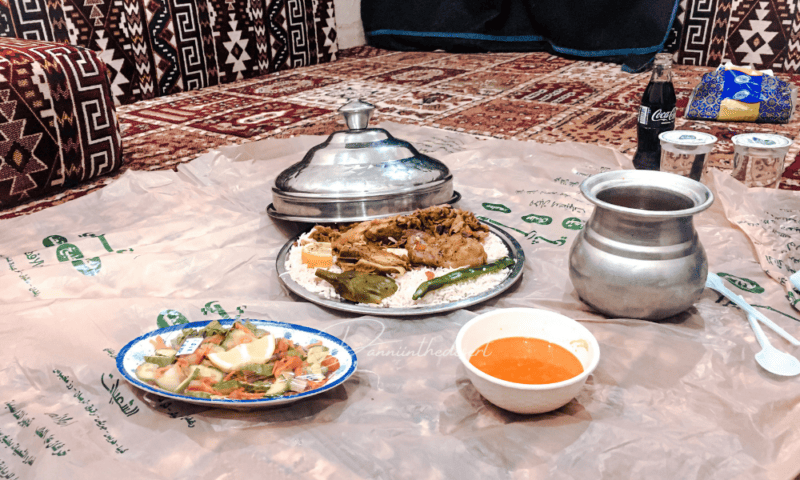 The traditional way is to eat sitting on the floor with cushions and a plastic covering on the floor. The floor covering is called a sufra.
A range of dishes will be spread out across the floor and everyone shares the dishes. Typically with one large central plate of rice and meat as the main course.
In Khaleeji culture, people eat with their hands rather than using a knife and fork. They take a little bit of meat, some rice and sometimes vegetables and create a ball in their hands. They then use their thumb to kind of 'fire' it into their mouths. It definitely takes practice!
Lots of Khaleeji restaurants in Dubai are closed off where you can sit on the floor in private. You take off your shoes before you enter and everyone sits together.
Dubai Food Tours
What better way to experience Dubai's food and Emirati cuisine than doing a food tour? Check out some of these amazing options from Get Your Guide
---
Other articles you might like:

9 yummy Arabic desserts you must try if you have a sweet tooth
Try my tasty karak tea recipe at home here
Easy luqaimat recipe & how you can make your own machine for perfect balls every time
Mahalabia, the easy to make but satisfying Arabic milk pudding
What is the traditional dress of the UAE? Emirati clothes
---
Thanks for visiting and reading
I hope you've learnt some more about Emirati food and are excited to try some of the traditional foods of UAE. Whether you're living in Dubai or just visiting, I hope you have an amazing time and enjoy the food!
If you have already tried some of the dishes off this list, then let me know what you thought of them in the comments. Which are your personal favourites?
---
*This article contains affiliate links, as an Amazon Associate and a member of other affiliate programs, I may earn a commission on purchases. Clicking the link doesn't cost you anything extra but it does help me to keep writing these awesome articles for you!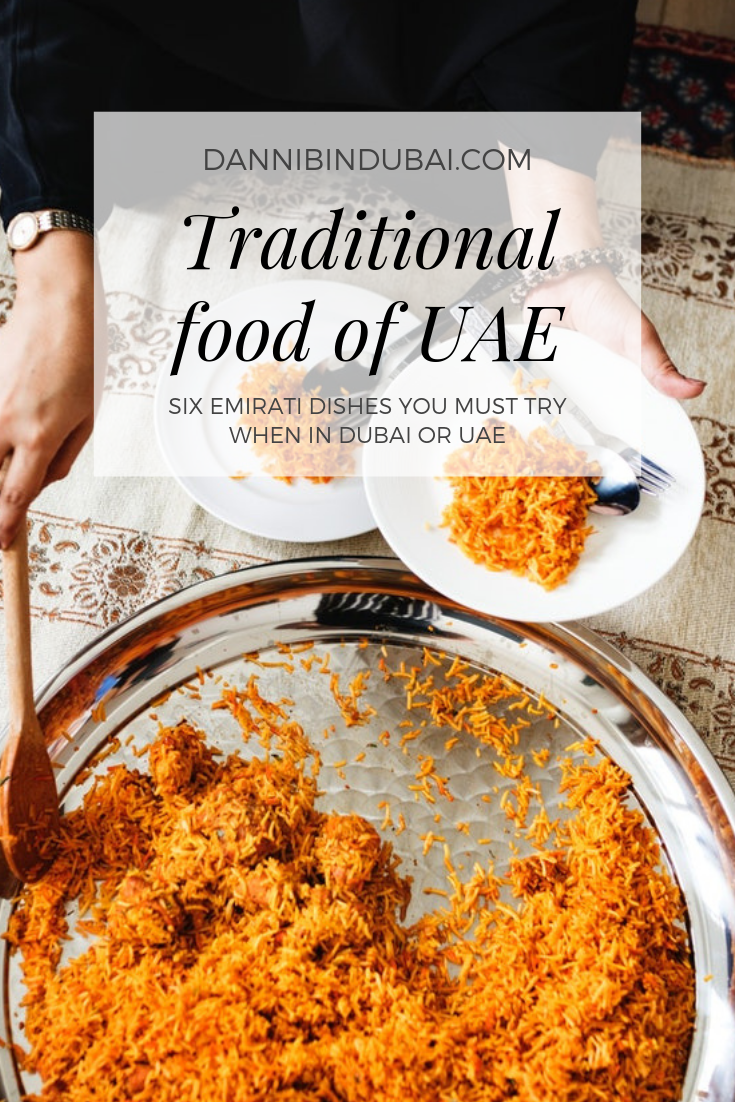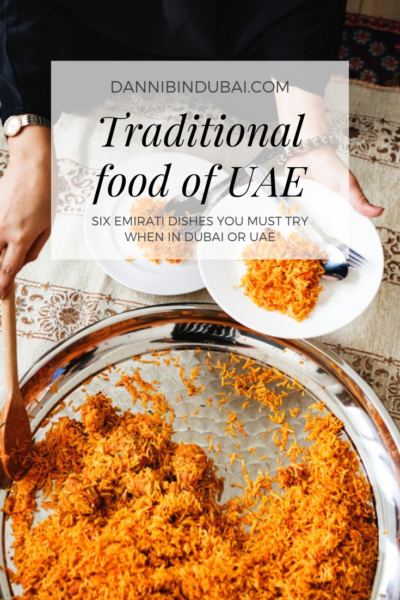 Enjoyed this article? Give it a share!