Is there a long weekend coming up? Or perhaps you just feel like going somewhere for the weekend and want only a short trip from Dubai? I've selected 15 amazing places that are perfect for a short vacation from Dubai. If you don't have that much time or it's a little bit last minute, not to worry! As a resident of nearly 10 years, I've explored many parts of the region so I've included something for everyone. All within an easy distance from Dubai.
Driving
1. Fujairah, UAE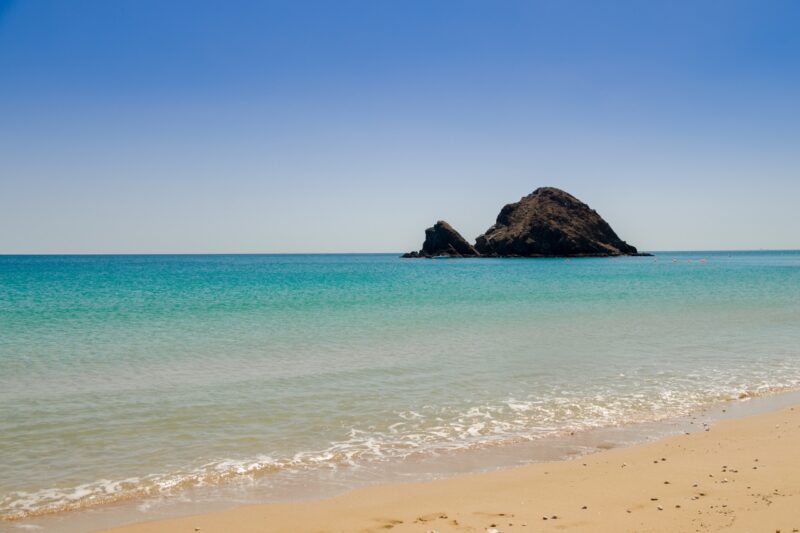 Known for its natural beauty and stunning clear blue sea water. This is the perfect spot for sea lovers where you can enjoy yacht trips, snorkelling and scuba diving. In particular, Snoopy Island is popular with visitors. It's close enough to the shore to swim or kayak to the island.
Fujairah is still part of the UAE but a different Emirate so you won't need to take your passport, just your Emirates ID for the hotel.
It is also home to one of the oldest mosques in the UAE, Al Badiyah Mosque, which was built around 1446 and is a lovely example of the humble architecture of the region at the time.
Distance: 122.7 km
Driving time: 1 hour 15 minutes
2. Hatta, UAE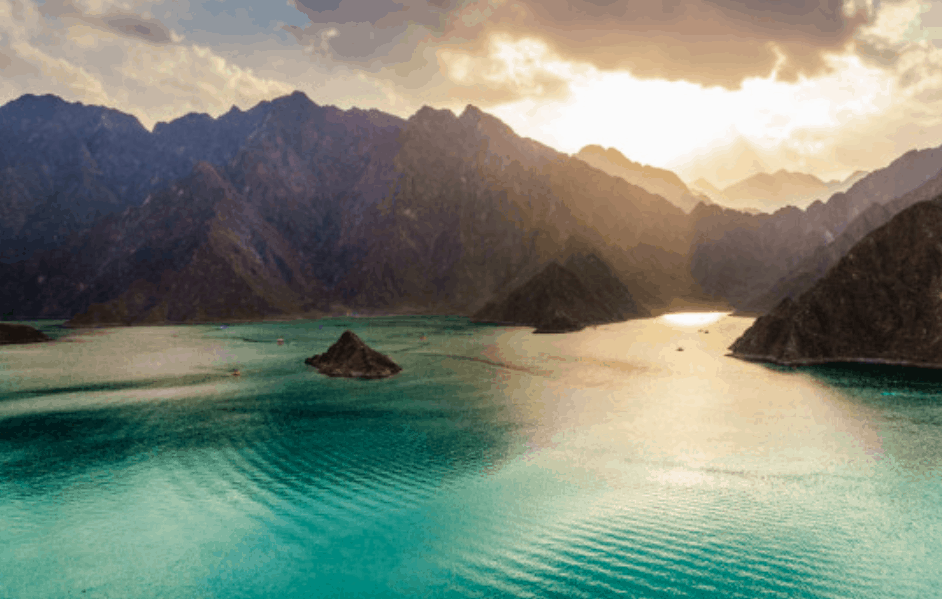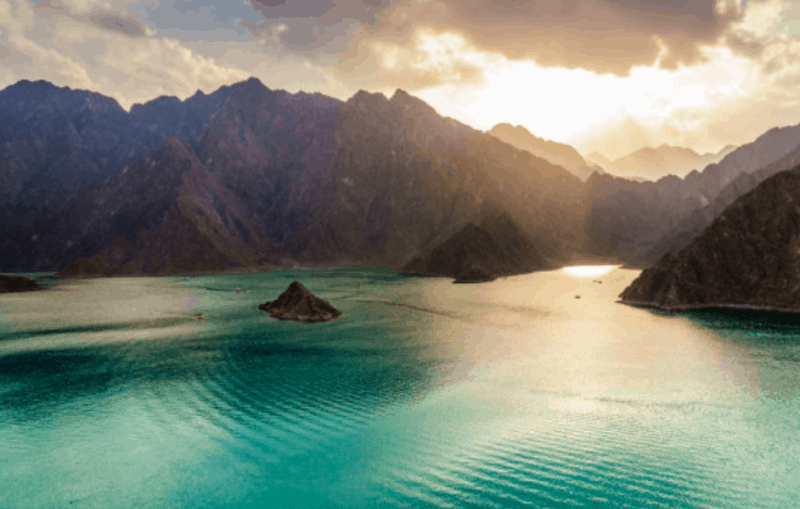 If you live in Dubai or the UAE and you haven't yet been to Hatta, you're missing out! This beautiful lake and surrounding mountains offer an ideal spot of natural beauty without ever leaving the Emirate of Dubai.
There are all sorts of outdoor activities here, from kayaking on the lake to hiking up the mountains. There are even bicycle hire shops and various different paths to bike based on your ability. It's an ideal family-friendly location.
It's best to visit during Dubai winter, my favourite month weather-wise is November for Dubai. Be aware that most of the places are closed during the summer months, such as the Hatta Wadi hub and that most activities are outdoors.
There aren't that many hotels to choose from but Hatta Fort is a really popular choice in the area.
Distance: 134.7 km
Driving time: 1 hour 22 minutes
3. Bateen Liwa, UAE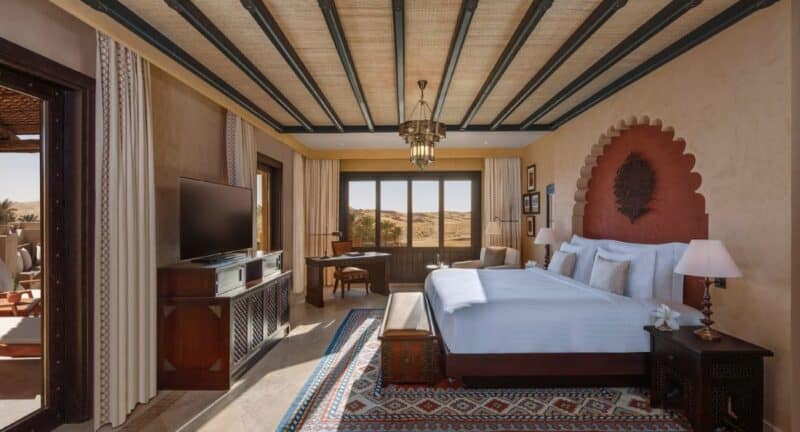 Yet another destination within the UAE. You'll be surprised by the lush oases contrasting the golden desert sand dunes, this part of Abu Dhabi offers the best of both worlds. Whether you want to do a desert safari or explore farmlands with date palms.
Bordering Saudi Arabia, the more remote location is perfect for those wanting to get away from city life and experience Bedouin culture. Though in true UAE style, you need not give up any of your luxury comforts by staying at Anantara's 5 star Qasr Al Sarab.
Distance: 335 km
Driving time: 3 hours 36 minutes
4. Khasab, Oman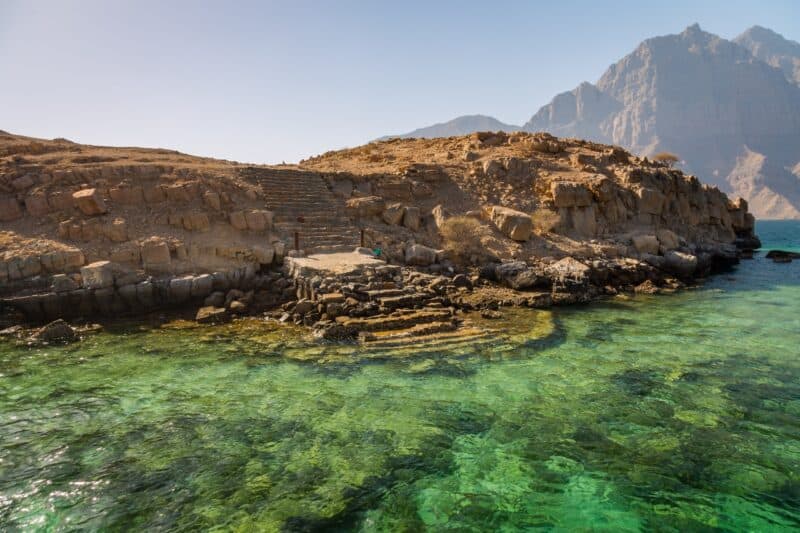 This gem is located on the peninsula at the very north of the UAE, heading through Ras Al Khaimah. You might have come close to here if you went the Al Dara route for a Dubai Visa Run.
Khasab is the capital of Musandam and here you can experience peaceful natural wadis or experience a traditional Dhow boat at sea. It's even possible to take a ferry over to the main part of Oman if you're wanting an extended adventure.
Regardless of what type of holiday you like, here you can get a chance to see dolphins swimming or experience authentic bedouin culture. If you want to do more adventurous mountain hikes it's possible here too or you can enjoy a leisurely fishing trip. You'll find fully authentic dhows here too, like the ones used to cross the Ocean for hundreds of years.
Distance: 197.2 km
Driving time: 2 hours 30 minutes
5. Sir Bani Yas Island, UAE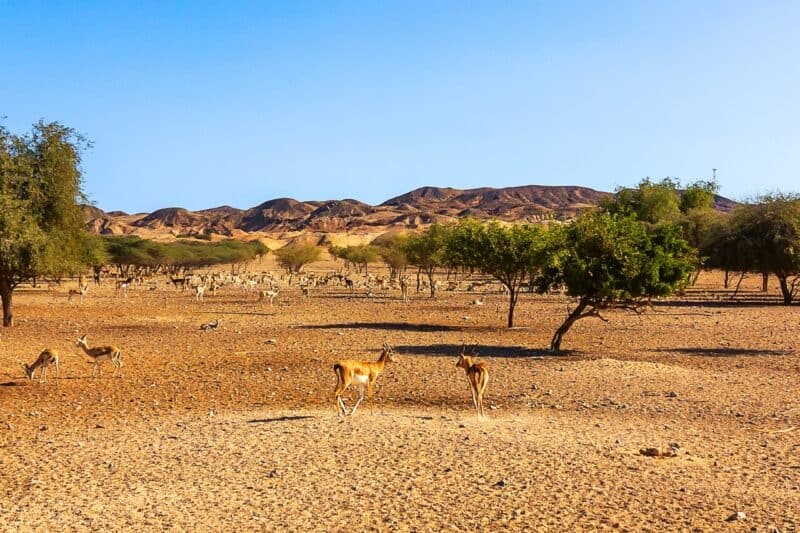 If you're really looking for a unique experience, Sir Bani Yas Island is truly a bucket list item. Enjoy an animal safari on the island, watch the roaming Arabian Oryx, Giraffes knawing on leaves and cheetahs roaming the landscape.
Located around 2 hours away from Abu Dhabi, this is another option that isn't too far away but will really make you feel like you've been transported to another land without needing your passport.
If you wish to actually stay on the island, the only resorts are both owned by Anantara. Alternatively, you can stay at more affordable nearby hotels on the mainland and take an excursion to Sir Bani Yas. The choice is yours!
Distance: 362 km
Driving time: 3 hours 23 mins
6. Nurai Island, UAE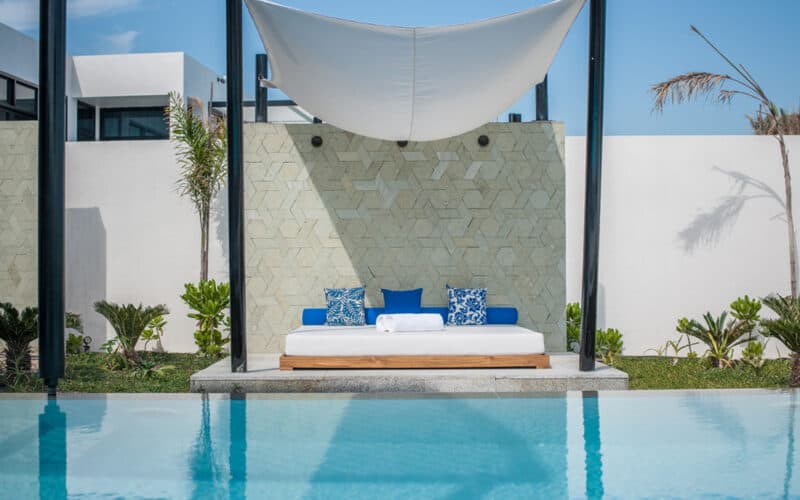 Another island option is the fabulous Nurei Island, also off the coast of Abu Dhabi. You'll be greeted with a glass of champagne or a none alcoholic drink if you choose, while waiting for the speed boat to take you to the island.
Villas have their own private pools and you'll find a wide range of luxury accommodations. It is on the more expensive end for a weekend away but you'll feel like you've been transported to your own tropical island getaway.
It's located just off the coast of Abu Dhabi, so you won't even need to travel that far. Perfect for those who don't want to do a lot of driving but feel like they've travelled somewhere with a very different feel. It was also featured on The Real Housewives of Dubai.
You can also buy a day pass to the Island if you're not wanting to fully splurge for a villa.
Distance: 129 km
Driving time: 1 hour 8 minutes
7. Nizwa & Jebal Al Akhdar, Oman
This destination takes around 5 hours to drive to Jebel Akhdar from Dubai, so it's perfect for those wanting a low-cost vacation for the whole family. Along with being a short road trip from Dubai. There are different styles of hotels to suit your budget including bedouin style tents.
There are even camping spots if you have your own camping gear. Just make sure to take warm sleeping bags and a heater or buy wood for a campfire. As it does get pretty cold in the night time, especially in the winter months. It can be up to 10 degrees colder than sea level.
There are two stunning luxury five-star hotels to choose from, Anantara and Alia, on the very top of the mountain. There are also affordable camp style hotels. The camping spots have incredible views of the stunning valleys of Oman. The most incredible part about this destination is the view from the top of the mountains.
When you've had enough of hiking or camping, the city of Nizwa is close by. Here you can explore Nizwa Souq, one of the oldest souqs in Oman, and the historic Nizwa Fort. Everything is very family-friendly for taking the kids.
If you're camping, you can return to your campsite and do like that Omanis do and have a BBQ. If you've decided on a more luxurious trip and splashed out on one of the fabulous hotels, then winding down in the spa after exploring all day.
Distance: 417.9 km
Driving time: 4 hours 30 minutes
8. Sohar, Oman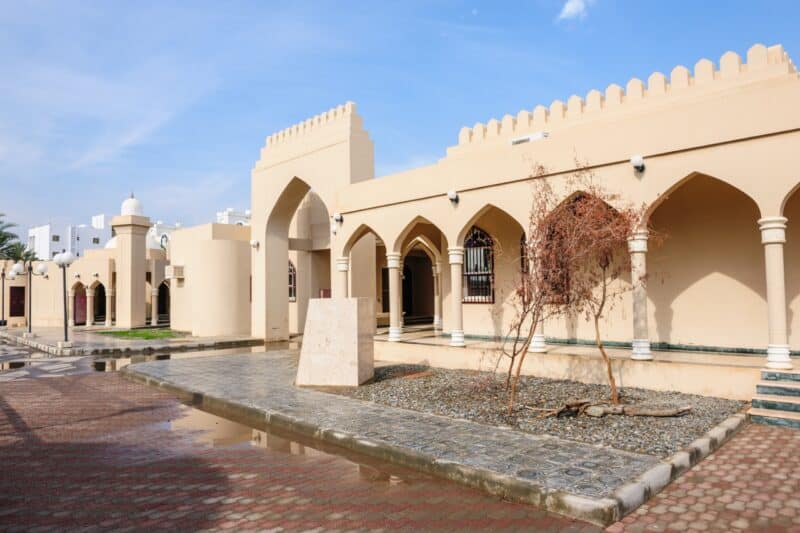 If you're looking for a shorter drive than Nizwa, Sohar is closer to the border of Dubai in Oman and is a lovely seaside town. Taking approximately 2 and a half hours to drive. Sohar has a rich history and a fort similar to Nizwa but on a smaller scale. It also has beautiful mosques and souks similar to other other parts of Oman.
Sohar is a great destination for a relaxing vacation. It's perfect for families wanting a low-key holiday and is rumoured to be the birthplace of mythical Sinbad the Sailor. So why not spend some time enjoying the beach or sea?
If you don't drive, you can also take a bus to Sohar from Dubai. Making a really affordable destination for those wanting to travel without spending a fortune.
Distance: 222 km
Driving time: 2 hours 30 minutes
9. Khobar, Saudi Arabia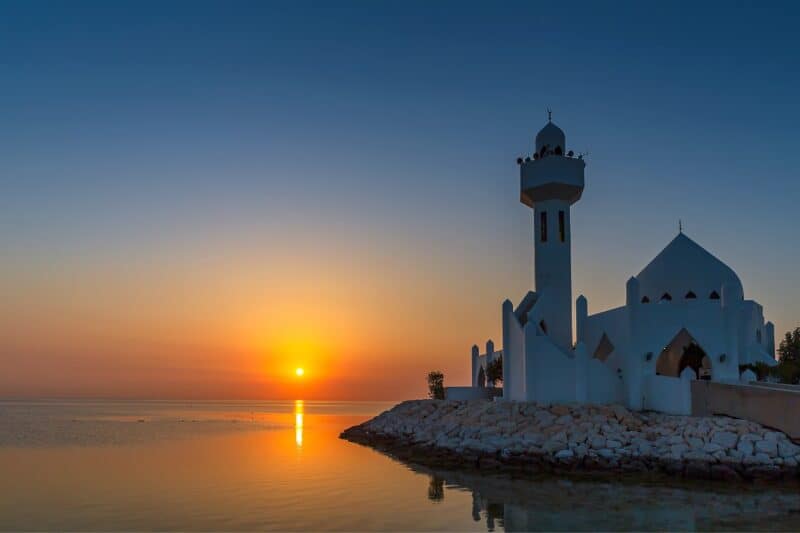 Since starting the Saudi tourist visa, Saudi has started to become a unique destination for those wanting to go the route less travelled. Khobar has stunning blue waters and quiet beach resorts, such as Half Moon Bay.
If you're planning an epic road trip, it's possible to do a stop or two in Abu Dhabi, a stop at Khobar and then finally hopping over to Bahrain.
This destination is further than the others and does require a confident driver, as you'll be going through some of the more lonely quarters of the desert. Hence why it's called "The Empty Quarter." So you'll need to pack some supplies with you in case of any emergencies.
It's also possible to fly if you prefer, though you will likely need to hire a car once you reach the other side, as Saudi doesn't have a huge public transport infrastructure for getting around the city. Also, different attractions can be quite far apart.
Distance: 798 km
Driving time: 8 hours 24 minutes
10. Riyadh, Saudi Arabia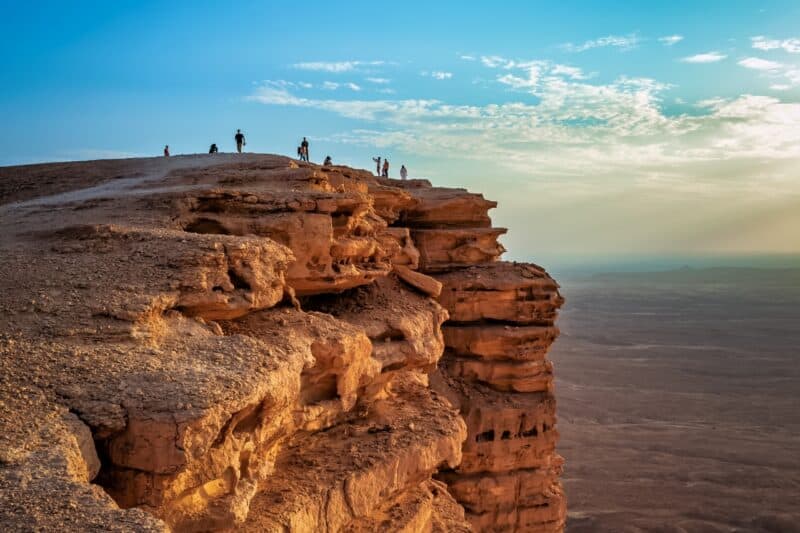 In the last few years, it's incredible the amount of change that has happened in Riyadh. Riyadh has some really amazing sights not far from the city and has combined its bedouin roots into a unique artistic culture that exists within Saudi. It has a certain ruggedness around the edges. So if you're one of those people who think the UAE is over-polished, Riyadh could be the perfect spot for you.
Some of the unique things to do are, driving to Edge of The World, visiting the historical area of Diriyah or exploring Heet Cave in the middle of the desert.
Again you'll need to make sure you're fully prepared for this drive as you'll pass through some rather desolate areas and flights are also available taking around 2 hours from Dubai.
Distance: 1056 km
Driving time: 10 hours 46 minutes
Flying time: 2 hours
11. Manama, Bahrain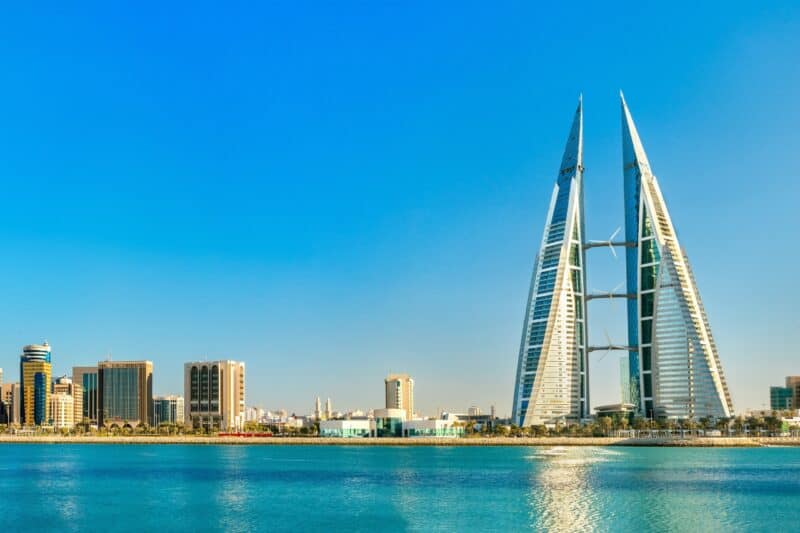 Actually, this one you can choose to drive or fly but you do need either a Saudi tourist visa or a Saudi transit visa if you plan to drive here. You can really make a road trip of it and stop by some places in Abu Dhabi along the way.
Staying within the GCC, Bahrain is famous for its foodie scene and there are even some restaurants by famous chefs that aren't in Dubai. Such as Cut by Wolfgang Puck. It's only a one hour flight away, making it another great choice for a short trip from Dubai.
Manama, of course, is quite similar to Dubai in terms of culture and lifestyle. There are so many beautiful hotels to choose from and the Four Seasons here is probably one of the most stunning in the Arabian Gulf with its lobby of artificial silk trees.
In terms of attractions in Manama, Bahrain has lots to offer with its history. You can wander around Manama Souq, visit the Bahrain National Museum, Al Fateh Grand Mosque or the famous Tree of Life. Manama is a great vacation if you're wanting to travel somewhere without giving up the lifestyle we become accustomed to in Dubai.
Distance: 840.9 km
Driving time: 9 hours 13 minutes
12. Muscat, Oman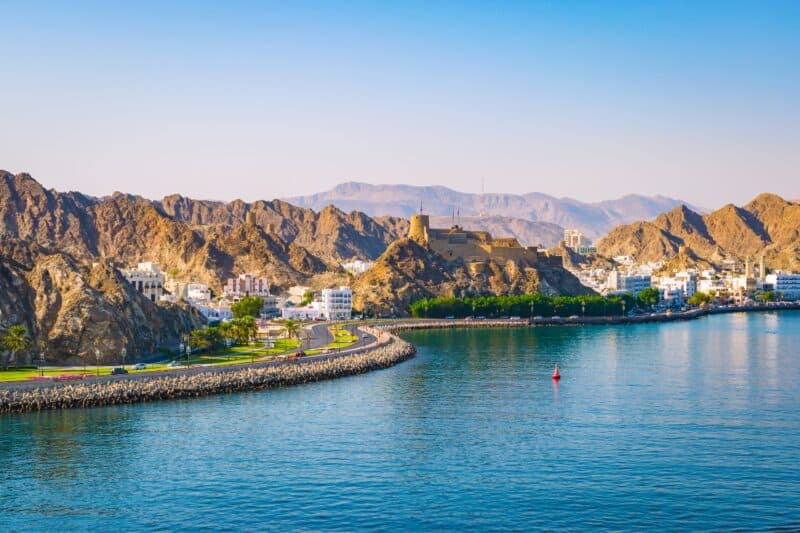 The capital city of Oman is another gem of the Gulf region where you can enjoy the similarities to the UAE while also enjoying the differences. You'll see Omanis walking around with their colourful hats and traditional dress. The National Museum of Oman will take you through time, back to the golden age of Islam and the rich history of trade that Oman has with the East African nations.
Other activities are its beautiful mosques, traditional souqs and the lovely corniche by the sea. You'll also see street sellers dotted everywhere selling grilled meats and fish. The best part about Muscat is you really can choose what type of vacation or holiday you want, whether it's relaxed high end luxury or a very down to earth cultural experience.
Distance: 452.8 km
Driving time: 4 hours 35 minutes
Short flights from Dubai
13. Baku, Azerbaijan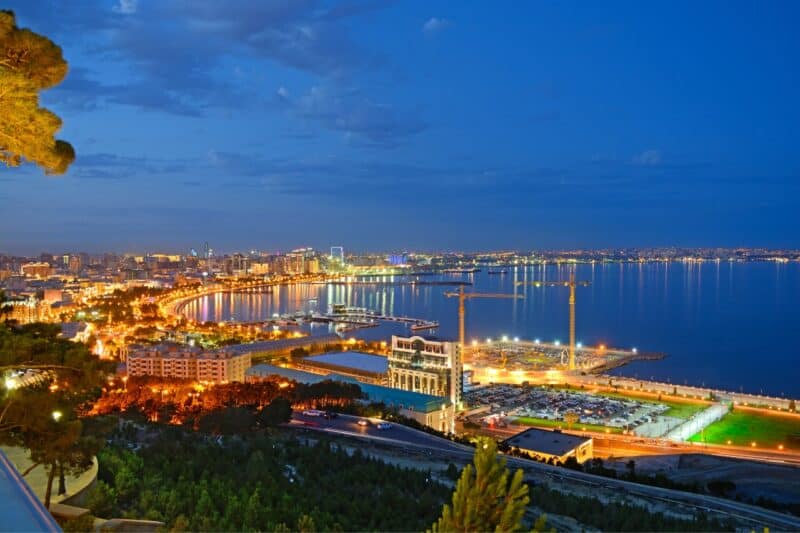 The capital city of Azerbaijan, a vibrant city that is popular with UAE residents due to its closeness to Dubai. Taking only three hours by plane. Ideal for a short trip. It's also an ideal break if you're wanting something that feels completely different to Dubai. There's plenty of history and culture in this city located by the sea.
Key places to visit include The Palace of Shirvanshahs, Central Botanical Gardens, Bibiheybat mosque or you can wander around the historic Old Town and visit the many attractions.
Azerbaijani food is similar in many aspects to Middle Eastern food due to its influence from Persia and the Ottoman Empire. Perfect for those who enjoy their Arabic food home comforts like my husband.
The country also has many nature reserves you can drive to from Baku. One of the closest to Baku is Absheron National Park which is one hour drive. Gobustan National Park is another popular one and is also only one hour drive away from Baku.
Distance: 2940.5 km
Flight time: 2 hours 55 minutes
14. Tbilisi, Georgia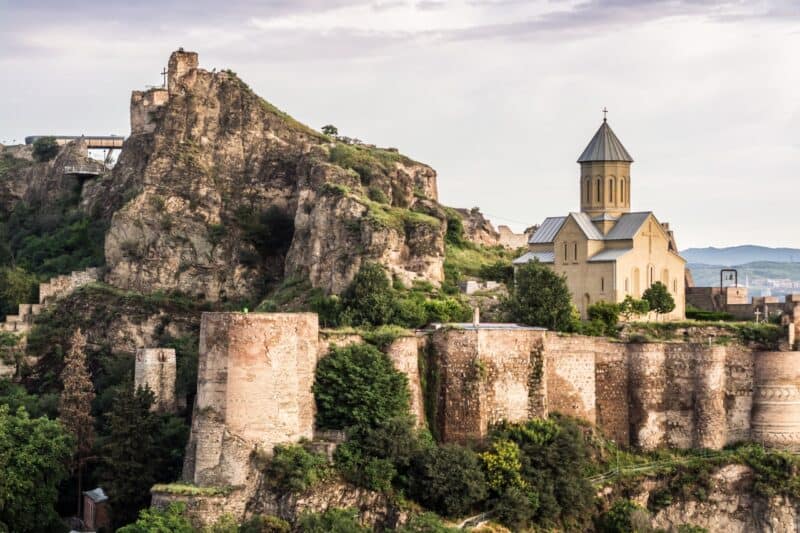 What you'll spend on flights, you'll certainly save on accommodation and going out by visiting Georgia. This country is hugely popular to travel to from the UAE and is not as well known for those outside the Gulf region. It also has many free activities.
Narikala Fortress is a must-visit and you'll experience some of the Arab history in Europe. There's also a 1500 meter trail around the fortress, taking you to some of Tbilisi's most famous sights and into the old town. Along with beautiful views over the city.
Distance: 3395.7 km
Flight time: 3 hours 30 minutes
15. Colombo, Sri Lanka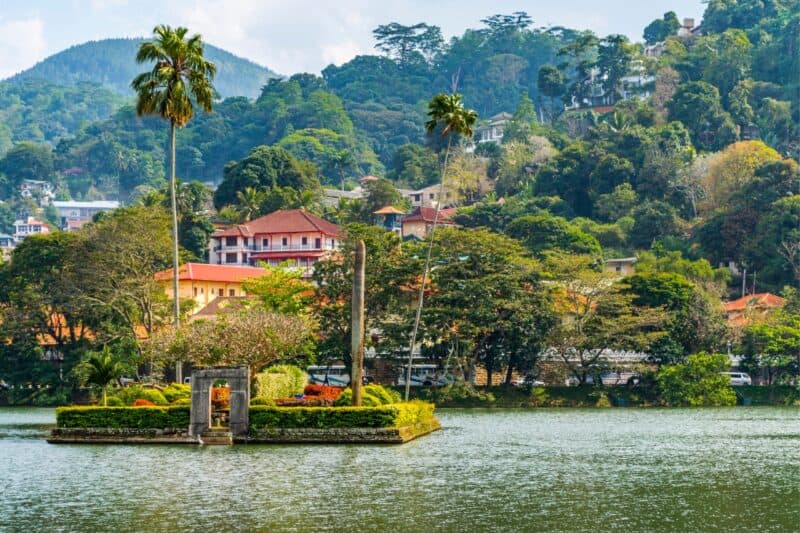 Sri Lanka is full of natural beauty and is an ideal affordable vacation destination. The island is great for those wanting a break from the busy and metropolitan lifestyle of Dubai. Its naturally stunning beaches and breathtaking nature is very different from the UAE.
It is an often-overlooked tourist destination but is a wonderful gem that offers a variety of activities including safaris, whale spotting and natural beaches. Though to really take all of its beauty in, you'll need a couple of weeks.
Many dishes have a lovely flavour mix of coconut and spices. Definitely one of the most enjoyable things for me about Sri Lanka is the food!
I recommend staying in the capital of Colombo trip for one night before heading to other parts of the Island. There's really so much to choose from depending on what you'd like to do. Kandy offers lots of culture, Sigiriya is home to the famous rock citadel and Mirissa offers beautiful beaches with the chance to go whale spotting. So you can truly customise your stay based on what you'd love to do.
Distance: 3307 km
Flight time: 4 hours 30 minutes
One of the best parts about living in Dubai is all the amazing destinations you can easily travel to. We hope this list of inspiration for a short trip from Dubai helps give you a few different travel ideas or even several destinations to add to your must visit list. If you think there's more we should add or o ne of the above was one of your favourite destinations. Let us know below in the comments!
---
*This article contains affiliate links, clicking the link doesn't cost you anything extra but it does help me to keep writing these awesome articles for you!
Enjoyed this article? Give it a share!