Kite Beach in Dubai is part of the larger Umm Suqeim Beach and comes under the area of Umm Suqeim. Each of the sub-sections of the beach have names based on what's there. Kite Beach got it's nickname, as you may have guessed, due to having kite surfing and being popular to fly kites.
Kite beach's food and entertain facilities are operated by Meeras Holdings which are the same as City Walk, so you'll find restaurants, benches, beds to rent and activities to keep the kids entertained!
---
Make sure to check out some of my other helpful articles about Dubai here:
Visiting Meena Bazaar: You're guide to shopping in Little India
What should I wear to the beach in Dubai and other locations? Your Dubai dress code!
Everything you need to know about buying gold in Dubai
24 hours in Dubai; two classic options for an amazing experience
---
Where is Kite beach in Dubai?
Kite Beach is located in Umm Sequim 1 in Dubai, see our handy map below to help:
Why is Kite Beach Dubai Popular? 
Kite Beach, situated in Umm Suqeim, is not only a beautiful beach in Dubai but it has loads of activities to keep yourself and the kids entertained. It has huge strips of pristine white sand and a magnificent shoreline. The calm, blue waters sway peacefully all year round.
There is also a stunning Burj Khalifa view in the distance on a clear day! You can indulge in the beauty of the architectural masterpieces while staying beside the cool waters. It's a golden opportunity for photographers too!
Plus, the beach remains quiet and serene. Such a public place is impossible to find in a crowded, bustling city like Dubai. You can always find a silent corner for yourself to enjoy.
That said, the kite beach is an entertainment hub. From skating to outdoor training, the beach has something in the house for everyone. You will never feel bored at this exciting, fun beach.
Lastly, the Kite Beach gets most of its popularity for the kites-filled sky. It's a famous spot for kite surfing activities. Thus, an assortment of colorful kites fills the sky all the time. It's why the beach gets called the Kite Beach too.
7 best Kite Beach Dubai activities
Kite Beach is the best beach in Dubai to spend quality time with friends and family. It houses several exciting and entertaining activities to do. Here are the 7 best Kite Beach Dubai activities:
Kite Surfing
As the name explains, Kite Surfing is an extreme yet popular water sport at the Kite Beach. In it, there is a kite attached to your waist by the harness. Then, you use the control bar to alter the kite's direction.
The sport involves a lot of advanced techniques. Thus, professionals with certificates only receive the rental equipment to do it themselves. Others can take lessons and brief training at the beach before trying.
Jet Skiing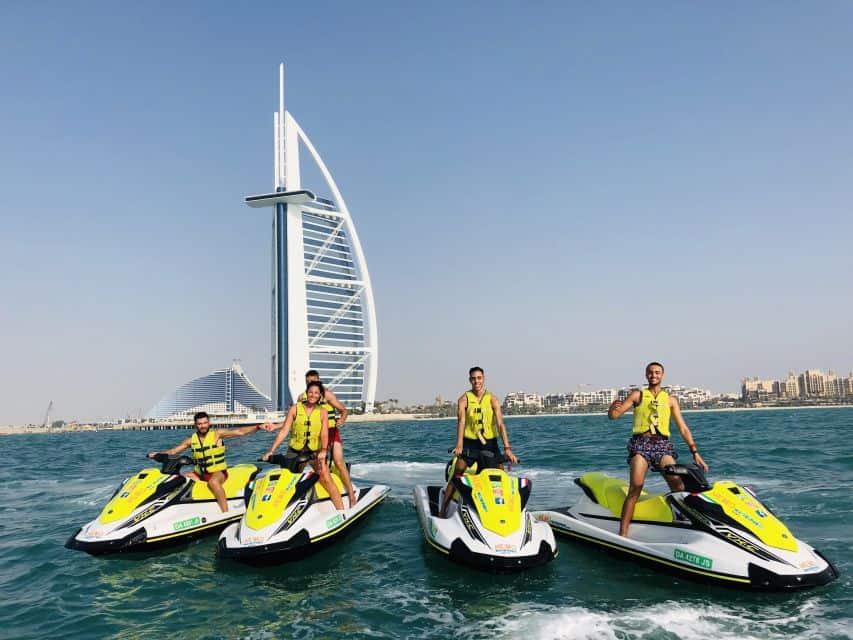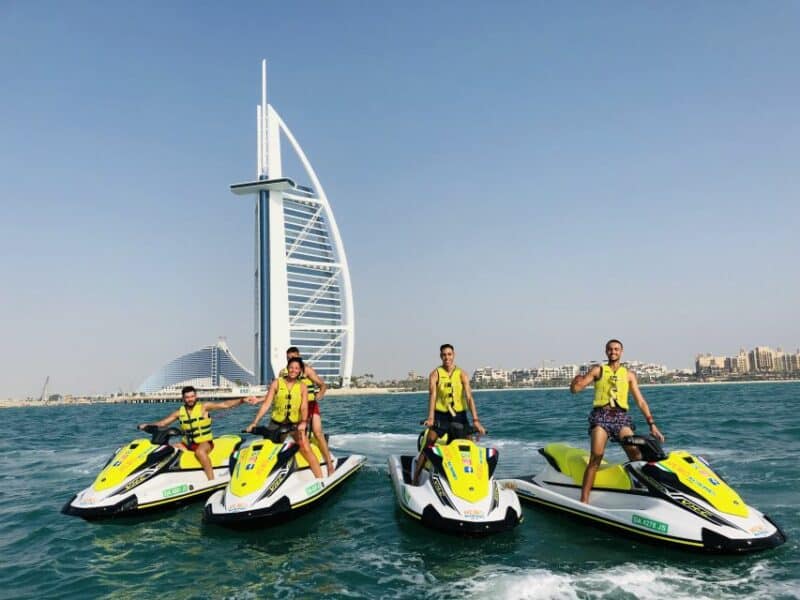 There's no way you should miss the thrilling jet skiing experience at the beach. The small, jet-propelled vehicles skim across the water surface. You have to steer them using the control bars.
Don't worry if you do not have prior experience. There are guides available who assist you throughout the process and offer safety gear.
You can head to Umm Suqeim Harbour 2 at the top of Kite Beach, to rent a Jet Ski and enjoy Kite Beach from the sea
If you're a family but still want the thrill of a Jet Ski then check out these awesome Sea Karts which are also available from Kite Beach
Kayaking
If you prefer not to do something as adventurous like kite surfing or jet skiing, then try out the kayaking experience. It is a relatively peaceful water sport that requires you to sit in the kayak and enjoy the ride.
At the Kite beach, you can get both single and double seat kayaks. So, you can go kayaking solo or with a significant other. The charges differ accordingly.
Skating
The XDubai Skatepark is a heaven for all skate-loving people. It is a massive park spread over 3100-square meters of the beach. You will find unique obstacles designed for novice and expert skaters, respectively.
Although the park is open to all, children aged 4 to 9 should have an adult with them. These supervisors can sit and enjoy watching their little ones skate.
Reading Books
Have you ever heard of libraries on the beach? Well, Kite Beach has a library too! So even if you've forgotten to bring a book, problem solved!
The small library offers a diversity of good reads for both children and adults. You can find the books in English as well as Arabic. Now, it's possible to cherish your love for reading with a beautiful view ahead.
Outdoor Training
Who said you will have to pause your training routine for a day out at the beach? The Kite Beach offers you a well-equipped outdoor gym to work out. At this fitness center, you can burn those calories and tone your muscles. All this while enjoying the cool, breezy winds.
You can also enroll in self-defense classes to spend your day productively. Or, take the aqua workout session for something fun.
Delicious Food & Drinks
The amazing variety of Kite Beach restaurants forms one activity on its own. If you have a food-passionate soul, then you will love trying out the scrumptious food and drink options available. There is something delicious to eat at every vendor, ranging from gourmet burgers to hot dogs!
FAQS about Kite Beach Dubai
Is Kite Beach free?
Yes, Kite Beach is free. It has no entrance charges like any other beach in Dubai. But, you will have to pay for the facilities and services availed.
Can you swim in Kite Beach?
Yes, you can swim in Kite Beach. The waters are accessible to the public at all times. You will find the lifeguards available between 8 am to 6 pm.
Just make sure when you head back over to the restaurant or promenade area that you have something to cover yourself back up again!
For more details on what to wear in Dubai, check out our handy guide here!
How long is Kite Beach Walk?
The Kite Beach Walk is around 5.1 miles with no elevation. So it's perfect for an easy, relaxing walk with dedicated walk ways designed for jogging, cycling and walking.
But, if you're looking for slightly challenging or longer tracks, then head over to the Jumeirah public beach. It has an 8.6-mile-long walk.
Can I bring food to Kite Beach?
Yes! Kite Beach has public benches and other areas where you can bring your own food to enjoy. There are also lots of restaurant and food truck options dotted along the beach.
So now that you've learnt more about Kite Beach, we hope you have an amazing day with your loved ones there! Make sure to comment below which activity you did and what was your favourite thing about Kite Beach!
---
*This article contains affiliate links, by clicking the link it doesn't cost you anything extra but it does help me to keep writing these awesome articles for you!