So perhaps you have a layover in Dubai. You're limited on time but still want to explore as much of Dubai as possible plus get those awesome photos and videos for your social media. Is it even possible to do Dubai in a day? Not to worry! Below are two completely different options but both give you a unforgettable Dubai holiday experience! Choose between the classic Dubai tourist attractions or the ultimate adventure in Dubai desert and have an amazing time in only 24 hours in Dubai
---
Make sure to check out some of my other helpful articles about Dubai here:
The Dubai dress code: how to dress when visiting Dubai
17 of the best hotels close to Burj Khalifa and Dubai Fountain
Visiting the Burj Khalifa, an insider's guide & At The Top alternatives
Can you drink alcohol in Dubai? All you need to know about Dubai's alcohol laws
---
Option 1: The Classic Tourist Sights of Dubai
Downtown Dubai is the epitome of fun and entertainment. Dubai Mall is a multi-use complex built in the centre of the city and close to the Burj Khalifa. You will find the most famous buildings, restaurants and shopping places all in one area.
Tourist attractions in Downtown Dubai:
Dubai Fountains
Falling Man Dubai Mall Fountain
Dubai Mall
Dubai Opera
Souq Al Bahar
Dubai Ice Rink
Burj Park
Candylicious – One of the World's Largest Candy Shops
KidZania
VR Park (Previously SEGA Republic)
Because there is so much to do in a small area, I highly recommend staying in Downtown Dubai (check out our Burj Khalifa hotel guide here) to see most of the main tourist attractions in Dubai in a short time!
I also highly recommend doing a tour if you're limited on time, so they can quickly take you to all the key sights and learn more about Dubai. This magical tour from GetYourGuide manages to show you all the main tourist attractions across Dubai in only 8 hours!
So let's get to my detailed Dubai 24-hours itinerary to have an exciting day!
Morning: Visit Dubai Mall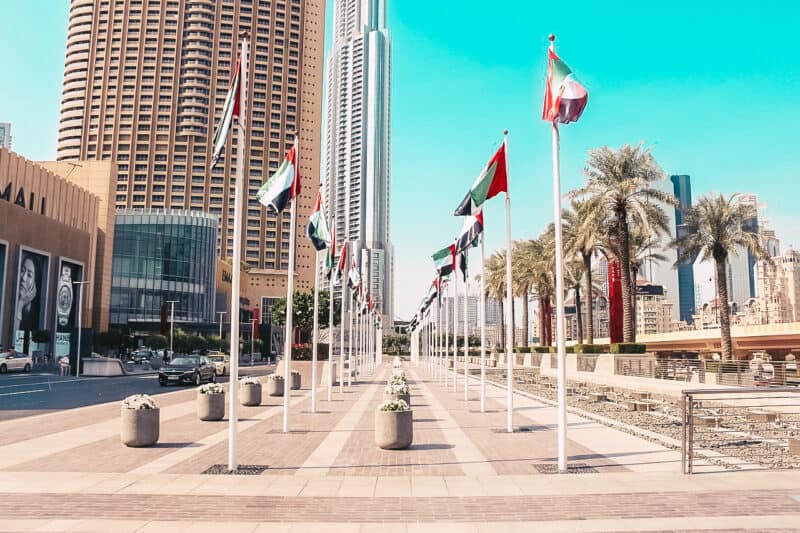 Dubai Mall is the largest and the most-visited shopping center of the city. It houses more than 1300-retail outlets and 200-food places. So what's better than starting your morning with a shopping spree?
You can enjoy visiting world-famous brand stores like Galeries Lafayette and Bloomingdales. The mall normally starts to get busier from 3pm onwards. So going early is a great way to avoid the crowds.
You'll also find lots of famous sights to see inside the mall, including the world's largest suspended aquarium and the falling man fountain. The Aquarium is part of Dubai Aquarium and Underwater Zoo. There's also a large ice skating rink. Perfect for a family day out in Dubai.
For other ways to entertain yourself and the kids, Dubai Mall features a multi-screen cinema and VR Park. Once you're done exploring, wrap up your Dubai Mall experience with a splendid lunch at one of their various restaurants or food courts
Lunch recommendation: Social House Dubai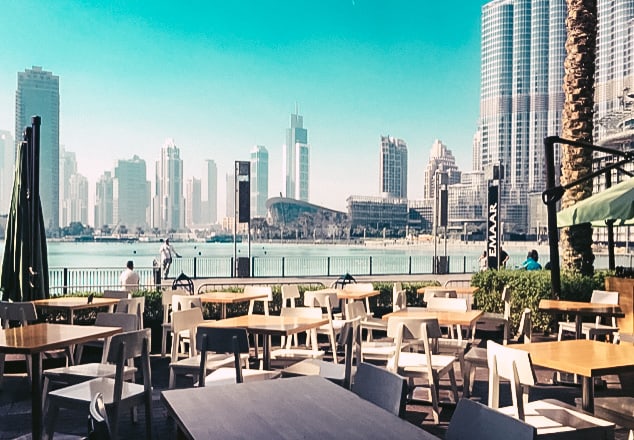 One of my favourite lunch spots, close to Dubai fountains and with a lovely outside area directly in front of them. The outside area is a first come first serve basis, so you may need to wait for a table at peak times.
Offering fresh healthy food, it's great for brunch and casual eating. I've always enjoyed a healthy and tasty meal here!
Key information & prices:
Meals starting from 57 AED ($15 USD)
Outside dining is not reservable
*Minimum spend 75 AED ($20 USD) per person for the outside area

Indoor Reservations: +971 4 339 8640
Afternoon: Head over to Burj Al-Khalifa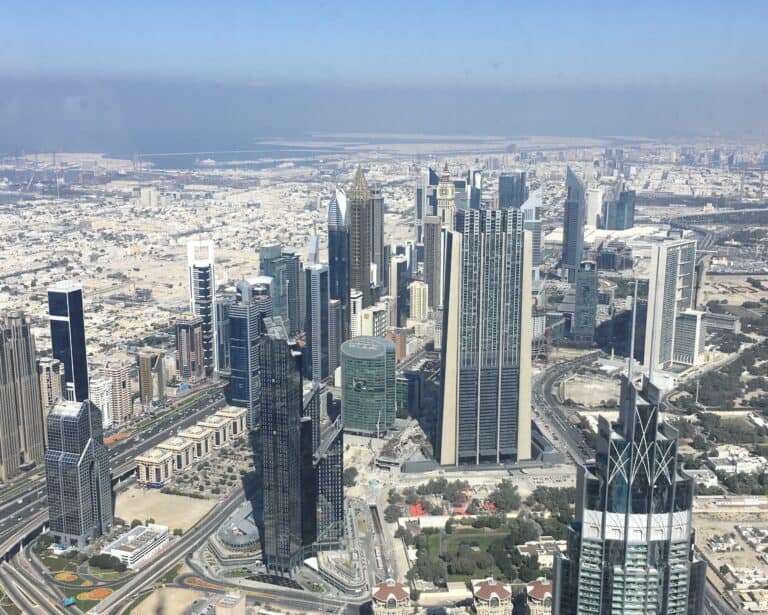 Next to the Dubai Mall, you will find the tallest structure in Dubai and the world; the Burj Al Khalifa. This stellar 830-metres tall building remains one of the most thrilling Dubai attractions to date. If you're heading to 'At The Top,' the entrance is inside Dubai Mall, close to the lower ground food court.
The building offers a breathtaking view across the city that one should surely not miss. You can capture mesmerising pictures and it's certainly surreal being this high up in a building.
'At The Top' is the name of the viewing deck inside Burj Khalifa and is one of the most popular activities inside of Burj Khalifa. I highly recommend to visit at sunset where you'll get to experience the stunning golden hour over Dubai. I recommend to give yourself 1 and half to 2 hours before sunset in order to make sure you queue and get to the top in time.
I also recommend to book the tickets in advance as popular times such as sunset can sell out. Especially for the VIP floors where numbers are more limited. Since it is one of the top Dubai tourist attractions!
Ticket Options
124th & 125th Floor $45 USD
124th, 125th & 148th Floor $145 USD
Another option for the day is to explore Burj Khalifa's amenities. There is a luxurious gym, swimming pool and spa located in Burj Club. Groupon.ae currently has an offer for access to Burj Club swimming pool for only 109 AED ($30 USD) per person
As an alternative to At The Top, you can also head to Atmosphere which is a restaurant inside the Burj Khalifa and allows you to enjoy the view along with a meal. They have several options, including breakfast, afternoon tea or dinner. You can find more details in our full Burj Khalifa guide.
Dinner recommendation: Burj Club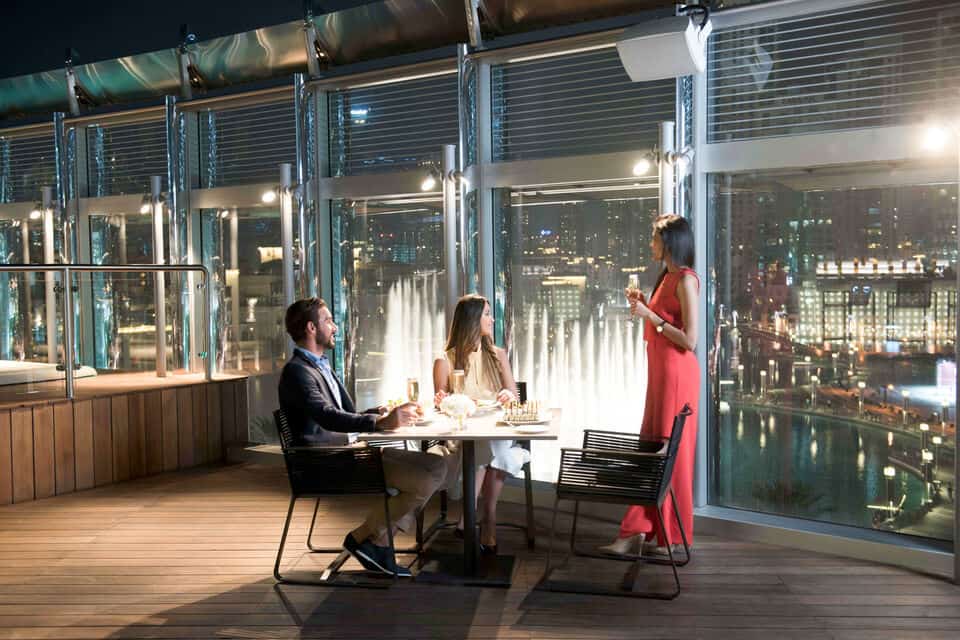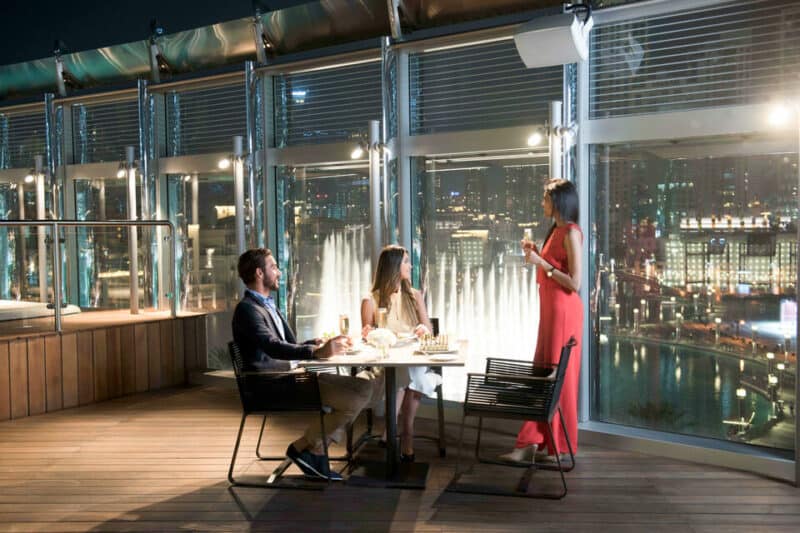 This unique experience is truly one of a kind and allows you to dine beneath the Burj Khalifa and look over the stunning Dubai Fountains. Perfect for a special occasion or romantic dinner. This wonderful experience is sure to leave you with lasting memories from your trip
Set on the 3rd floor of the Burj Khalifa, this 3 course menu offers great value for money with its combined Burj Khalifa access ticket
Key information & prices:
Includes Burj Khalifa 'At The Top' ticket to 124th & 125th floor
284 AED ($77 USD) per adult
Evening: Enjoy a show at Dubai Opera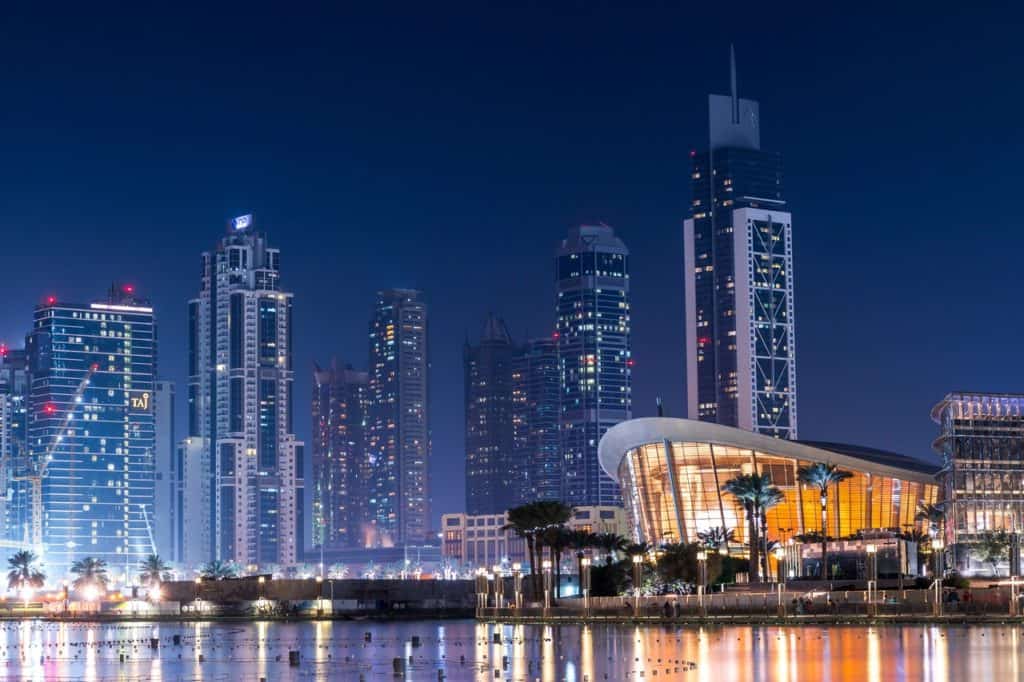 There's a good reason why downtown is the best place to visit in Dubai. It simply has something for everyone!
Next door to the Burj Khalifa, you have the amazing Dubai Opera only a short walk away. The artistic architecture is enough to take away any onlookers breath. Plus the building boasts intriguing performances by world-renowned artists and acts all year round.
Insider tip – If you're coming out from At The Top, then you can take the nearest exit outside to the Burj Khalifa lake and fountains. From here you can walk alongside the lake to Dubai Opera. If you've taken the Atmosphere option, then I recommend to get a taxi as despite being a short distance, the Burj Khalifa has a very long drive that isn't ideal for pedestrians.
You can spend an unforgettable time there, watching a musical, enjoying a meal or listening to a classical music concert. The rooftop restaurant offers pre and post-show refreshments including a pre-theatre dinner option.
To check out their current shows and events:
Dubai Opera Website
Night: Watch the Dancing Fountain and Burj Khalifa laser show
A typical show at Dubai Opera will last around 2 hours including the intermission, giving you enough time to watch the final fountain shows of the evening in Downtown Dubai. The Dancing fountain is every 30 minutes on the hour while the laser show is every 30 minutes at quarter past and quarter to.
Insider tip – The easiest way to get to the fountains from Dubai Opera is to exit on the lower ground of Dubai Opera to Burj Park. From here you can have a lovely walk around the Burj Khalifa's lake and back towards Dubai Mall.
Here you will find yourself stunned by the magical dancing Dubai Fountain that shoots jets of water in the sky, as the lights illuminate and melodies fill the air. It is the world's second-largest choreographed fountain, as Dubai has now built an even bigger version at The Pointe on Palm Jumeirah.
Plus, it's one of the best free activities in Dubai. Yes, you heard that right! Free!
There are no charges to enjoy the dancing fountain show. Every day, it comes to life after 6 pm and continues till 11:30pm on the evening. If you're wanting to get even closer to the fountains, you can enjoy Dubai Fountain Boardwalk for only 15 AED ($4 USD) per person from Groupon.
If you're still not ready to go home, you can end your 24-hours in Dubai by having a coffee or Moroccan tea at one of the waterfront restaurants while gazing at the final fountain and laser shows of the evening! There's different songs and shows, challenge yourself to watch them all!
Option 2: The 'Instagram worthy' desert safari
While the itinerary above is fantastic for first-timers, this one focuses on people who are already familiar with the main tourist sites of Dubai or want a taste of the other side of Dubai. This particular 24-hour guide option unravels the raw and adventurous side to the city!
Morning: Fly High in the Hot Air Balloon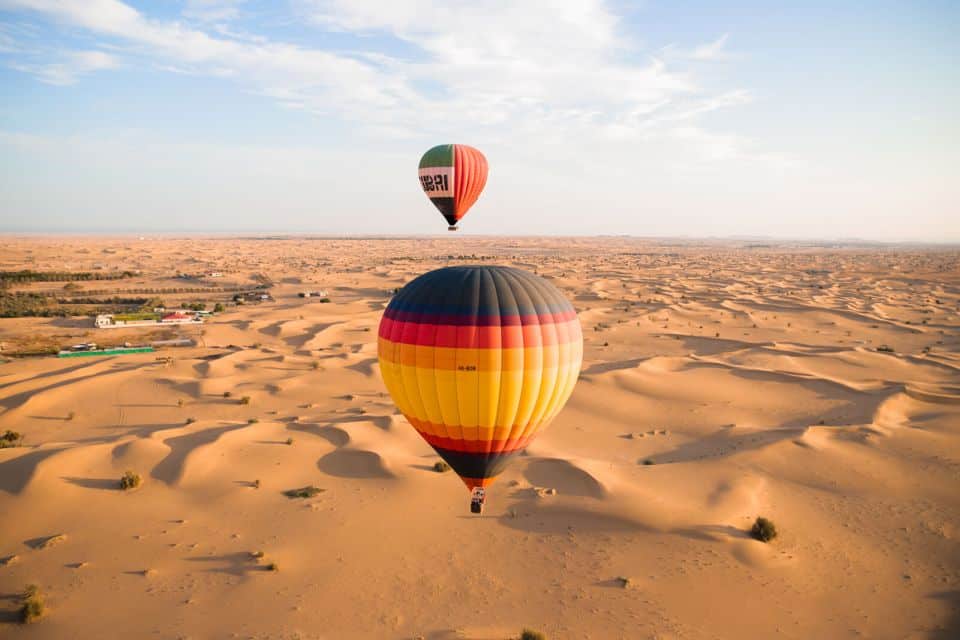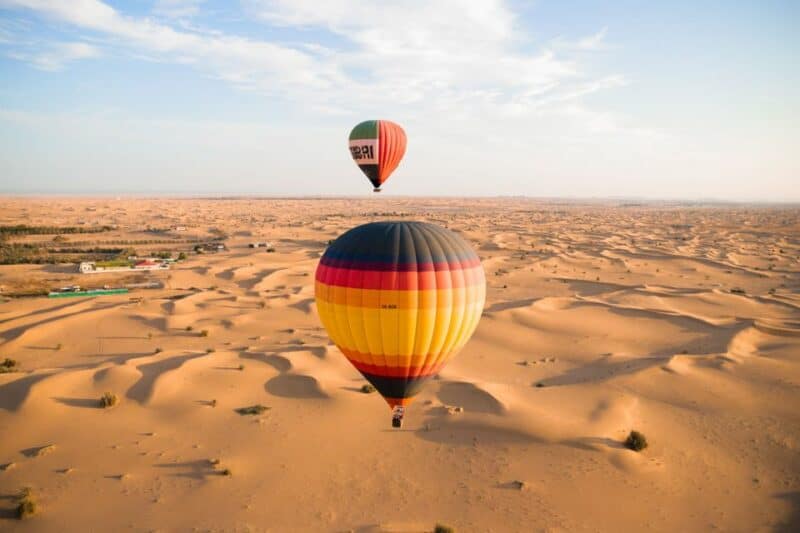 A hot air balloon ride is an amazing way to explore the desert city. These rides begin early in the morning and allow you to experience a beautiful sunrise from the sky!
You can capture stunning views across the vast landscape of the dunes below. Although the location of travel depends on the package, most hot air balloon rides stay in the desert. So you can explore the massive sandy lands quickly. Make sure to take a jacket as it can sometimes get cold as you reach higher up!
I highly recommend this balloon ride by by Get Your Guide which offers incredible views across the desert and a once in a lifetime experience! Make sure to book early to avoid disappointment!
Lunch recommendation: Al Diwaan at Maha Luxury Resort
Continuing with our Arabian adventure, this restaurant will make you feel like you've gone back in time to a traditional Arabic palace. The surroundings and food is fit for a Sheikh or Sheikha.
You've also got stunning views out onto Dubai Desert Conservation Reserve and an Arabian Oryx may even join you for lunch if you choose to sit outside.
Key information & prices:
A meal for two is approx 300 AED ($82 USD)
Outside dining is available
Dress code: Smart casual

Reservations: +971 4 832 9900
Afternoon: Try Sandboarding, Dune Bashing or a Camel Ride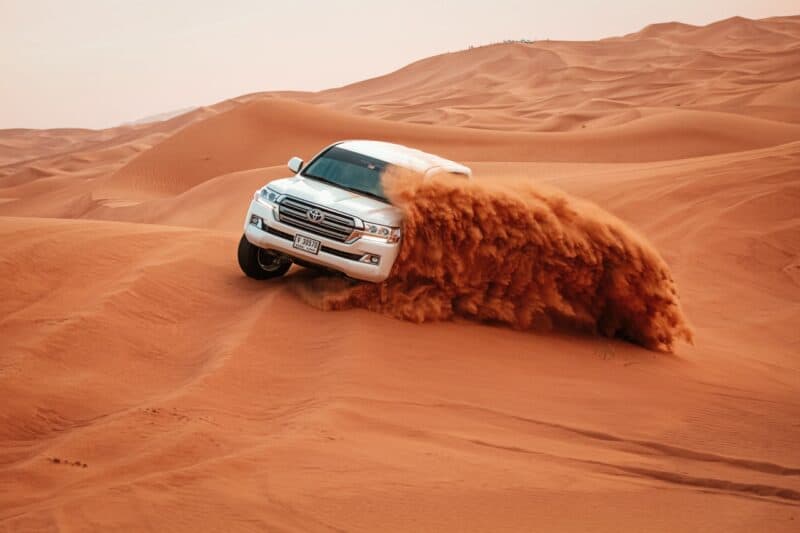 There are plenty of fun things to do in the Dubai desert, but nothing compares to the thrill of sandboarding or dune bashing. Sandboarding involves sliding down the huge dunes on a board similar to a snowboard. While dune bashing involves riding over huge sand mounds in a 4×4.
If you prefer something a little less adventurous, then hop onto one of the many desert camels and enjoy a unique ride. These camels will take you to the lengths of the desert and provide a true bedouin experience. You can also visit a camel farm in the desert to explore the traditional Emirati ways.
To make life easier; Get Your Guide has this package which includes a hot air balloon ride, camel ride, photo with a falcon and a traditional Emirati breakfast at a bedouin camp
Evening: See wildlife, watch the sunset and enjoy a tasty BBQ
As the evening comes it's time to enjoy some of the more calmer activities in the desert. You'll find tour options such as enjoying a wildlife safari and desert stargazing. Watching the sunset over the natural beauty of the desert is a truly magical experience.
In addition, nothing's better than ending an adventure-filled day in Dubai with warm, scrumptious meal of local cuisine. Options include Arabic belly dancers to entertain you while you dine and activities in a traditional bedouin camp.
The tours of the bedouin camps are difficult to access without a 4×4 so you'll need a tour like this desert trip with camel ride and BBQ from Get Your Guide. I recommend Get Your Guide as they're the most affordable compared with other websites offering tours.
Dinner recommendation: Al Hadheerah at Bab Al Shams Resort
If you don't fancy the bedouin camp and BBQ in the desert, then my other dinner recommendation would by to visit Al Hadheerah restaurant which is part of the beautiful Bab Al Shams resort.
This traditional Arabic buffet restaurant is only open on evenings and includes entertainment. This one of a kind dining is set in open air setting where you can gaze at stars while you dine.
Key information & prices:
Weekday Buffet: 395 AED ($108 USD) per adult
Weekend Buffet: 450 AED ($123 USD) per adult
*Children get a 50% discount (4 to 11 years old)
Reservations: +971 4 809 6194
Whatsapp: +971 56 549 4440
Accommodation: Al Maha Luxury Resort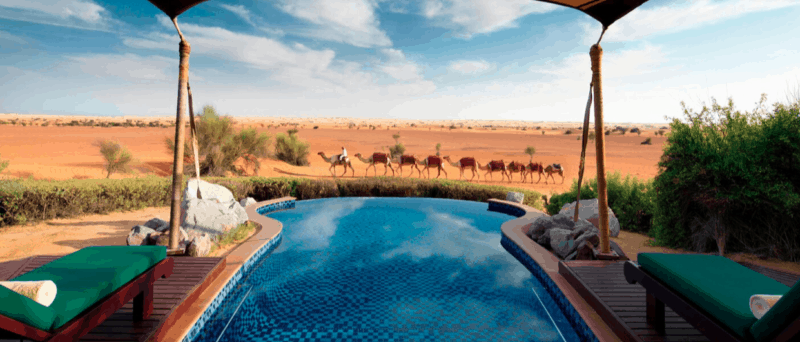 If you're looking to stay in the desert and have a luxury bedouin experience, then look no further than Al Maha Resort & Spa! Each room has it's own private pool and you'll find wildlife wandering around the resort. A truly exceptional experience and Dubai bucket list item!
Rooms start from 3355 AED per night during summer and will typically cost around 5500 AED per night in winter
Conclusion
Dubai is a truly incredible city with many different sides to explore, we hope this Dubai in 24 hours guide and itinerary helps you see a small part of what Dubai has to offer. Hopefully you'll come back for a little bit longer next time!
---
*This article contains affiliate links, by clicking the link it doesn't cost you anything extra but it does help me to keep writing these awesome articles for you!