Dubai to Abu Dhabi? Dubai from Abu Dhabi? Not sure how to get back and forth and you don't have a car. Not to worry! We're going to give you all the possible ways to get between Abu Dhabi and Dubai and back again. From the quickest to the cheapest, so you can make the best decision for your journey.
I've done this journey many many times as I had a best friend living in Abu Dhabi while I was living in Dubai. I've personally tried every type of public and private transport between the two cities. So I can give you all the best tips for getting between the two depending on whether you'd save money or save time.
You might be surprised but Abu Dhabi is the capital of the United Arab Emirates, not Dubai! There are some really stunning things to see in the city so I'm happy to help you with the first important part of planning your visit! Getting to Abu Dhabi.
All restrictions in Abu Dhabi have been removed such as needing the Al Hosn app to enter places including the previous entry requirements from Dubai
📷 Book a tour to Abu Dhabi from Dubai 📷
What are the options for getting from Dubai to Abu Dhabi?
So you actually have quite a few options:
Using a hire car (quickest)
Using a sharable hire car
Hiring a taxi
Taking a tour that includes transport from Dubai
Sharing a taxi
Big Bus Tours shuttle service
RTA public bus (slowest but cheapest)
Tour from Dubai to Abu Dhabi
So my first recommendation would be to do a tour, if you're visiting Dubai as a tourist, as it takes all of the hard work out for you. It also gives you someone knowledgeable to show you around Abu Dhabi.
The reason I advise a tour is because Sheikh Zayed Grand Mosque is far away from the main centre of Abu Dhabi so you'll most likely need to get a taxi from the bus stop or station which is already half the cost of doing the tour and doesn't include visiting other attractions. So the tour is not only easy but will also likely save you money.
The one downside is that it means you can't explore in your own time and you'll have less freedom to explore nearby. However tours are perfect for those who want to see a lot in a small amount of time.
Here are some great options below:
However, if you're planning to spend more than one day in Abu Dhabi from Dubai or if you're on a really tight budget, then I'll go through the other options below!
Which is the cheapest transport from Dubai to Abu Dhabi?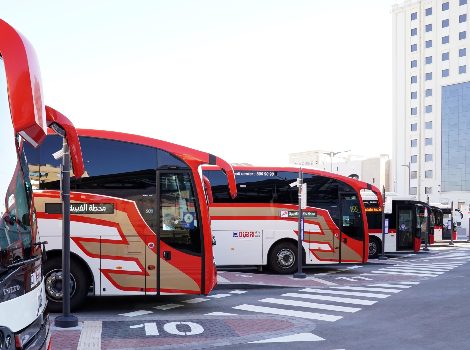 The public bus is the cheapest way and costs only 25 AED each way on all 3 routes. It is operated by RTA (which is a government-owned transport company). While it is the cheapest, it is also the longest. As the buses have to travel at a slower speed compared with cars.
Dubai to Abu Dhabi Buses:
E100 – Ghubaiba Bus Station to Abu Dhabi Central Bus Station – 2 hours 20 minutes
E101 – Ibn Battuta Mall to Abu Dhabi Central Bus Station – 1 hour 45 minutes
E102 – Ibn Battuta Mall to Mussafah Shabiya Bus Station via Abu Dhabi Airport – 1 hour 55 minutes
The buses are the same number is both directions
You will see the numbers clearly on the digital displays on the front of the bus, for instance E100. The times are approximate and from my experience they typically take longer than stated.
How much is the bus from Dubai to Abu Dhabi?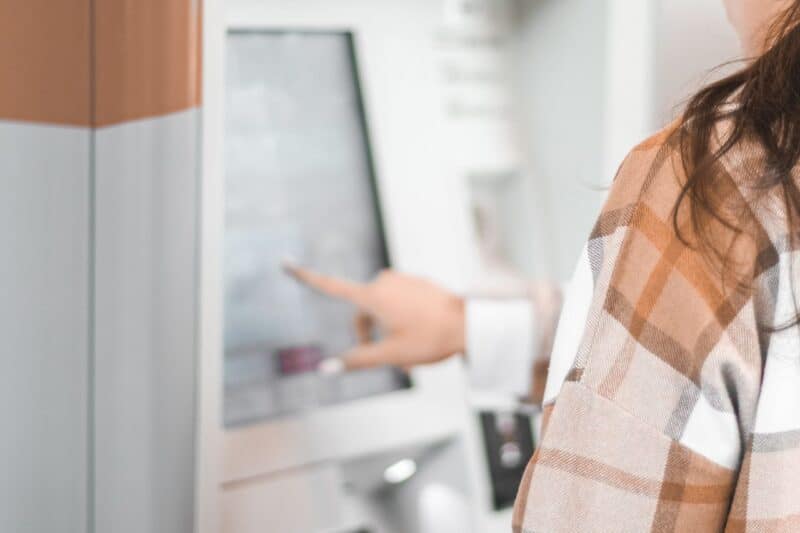 All routes are 25 AED one way or 50 AED for a return. You can use what is called a NOL card to pay for the fare both ways. The NOL card can also be used across the Dubai public transport system. You can add funds to the card on dedicated machines
which works for the metro and the Dubai to Abu Dhabi bus. This is like an Oyster Card for those who have been to London. It's a plastic card which you top up to use for transport, using the machines at the metro stations. It also can be used to pay for entry to some of the parks in Dubai.
On the Dubai side, there is a small little booth to buy and top up the NOL card. You can buy it inside Ibn Battuta Metro station and top up which however much money you want on it. You can pay by cash or card. However, on your return trip, you can't top up your NOL card so you'll need to make sure you have enough for the return if you plan to pay using the NOL. You can buy a ticket over the counter if your NOL card balance is low.
The NOL card cannot be used for Abu Dhabi public transport, only in Dubai. If you plan to use public buses in Abu Dhabi, then you'll need a Hafialt card.
For the Abu Dhabi side you have the Hafilat card. More details here.
How often do the buses run?
The buses run every 30 minutes Monday to Thursday increasing to every 20 minutes during peak times on weekends after midday Friday to Sunday. The E102 runs every 40 minutes in the day. For the full timetables:
E100 Timetable
E101 Timetable
E102 Timetable

Buses start from Dubai at 4:20 am and the last bus leaving Dubai is 11:20 pm for the E100 and Midnight for the E101.
From Abu Dhabi they start at 4:32 am and the last bus back to Dubai is usually at 2am or just before 2am, though on a Sunday there is an even later one at 2:30 am.
The E102 starts later at 6:20am and the last bus from Dubai is 9:40 pm. Abu Dhabi to Dubai starts at 6:20 am and last back is 9:40 pm arriving in Dubai at 11:40 pm.
Times are subject to change so make sure to check the RTA website before you travel.
What are the buses like?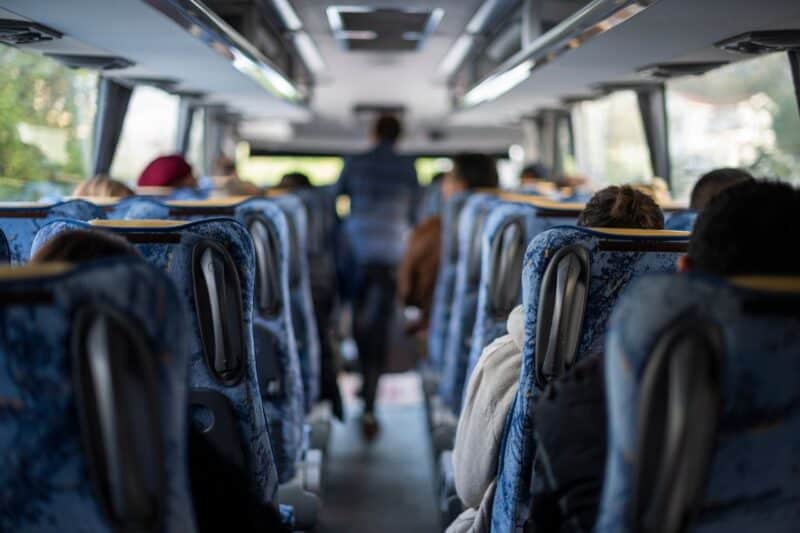 So you might have a certain image of buses in your head and think no way am I getting a bus! Actually, they're larger coaches with quite comfortable leather seats and air-conditioning. They have space underneath for your luggage and even wifi. Also, they designate a small section of seats to be used only by women as well. (Something which many of us women love about the Middle East.)
How long does the bus from Dubai to Abu Dhabi take?
The bus takes between 1 hour 45 minutes to 2 hours 20 minutes (depending on where you board and which bus route you take) however it can be longer with traffic. On top of this, during busy times there can be quite a large queue waiting to get on the bus, especially at Ibn Battuta. So you may have to wait for a couple of buses until you are able to board. So make sure you plan that extra time just in case.
Where do I catch the Dubai to Abu Dhabi bus from?
You can start in Dubai from Ghubaiba Bus Station in Bur Dubai (E100) or Ibn Battuta Mall in Jebel Ali (E101 or E102). I would recommend to get the metro to Ibn Battuta and get the bus from there unless you live close to Ghubaiba Bus Station. It makes the journey quicker and Jebel Ali is closer to Abu Dhabi. Also, the best part about Ibn Battuta is there are also alternatives available if there's a huge queue for the bus.
Where do I arrive in Abu Dhabi from Dubai via bus?
There are two bus stations in Abu Dhabi, if you get the E100 or E101, you will arrive at Al Wahda Abu Dhabi Central Bus Station and if you take the E102 you'll arrive at Mussafah Shabiya Bus Station which is closer to Abu Dhabi Corniche but further away from Sheikh Zayed Mosque.
The final stop is Al Wahda, Abu Dhabi Central Bus Station which is close to central Abu Dhabi. If you're planning to go to the corniche, you can either get the E102 or get a taxi or local bus from the bus station.
There are other stops before the bus station. If you tell the bus driver where you want to go (Airport or Sheikh Zayed Mosque for example) they'll tell you the best place to get off. The E102 does stop at Abu Dhabi airport.
Since Sheikh Zayed Mosque is further out from the centre. Most of the stop on routes from Dubai to Abu Dhabi, you'll need to either get a taxi or a local bus to your final destination. They're not walkable.
Big Bus Tours Shuttle from Dubai to Abu Dhabi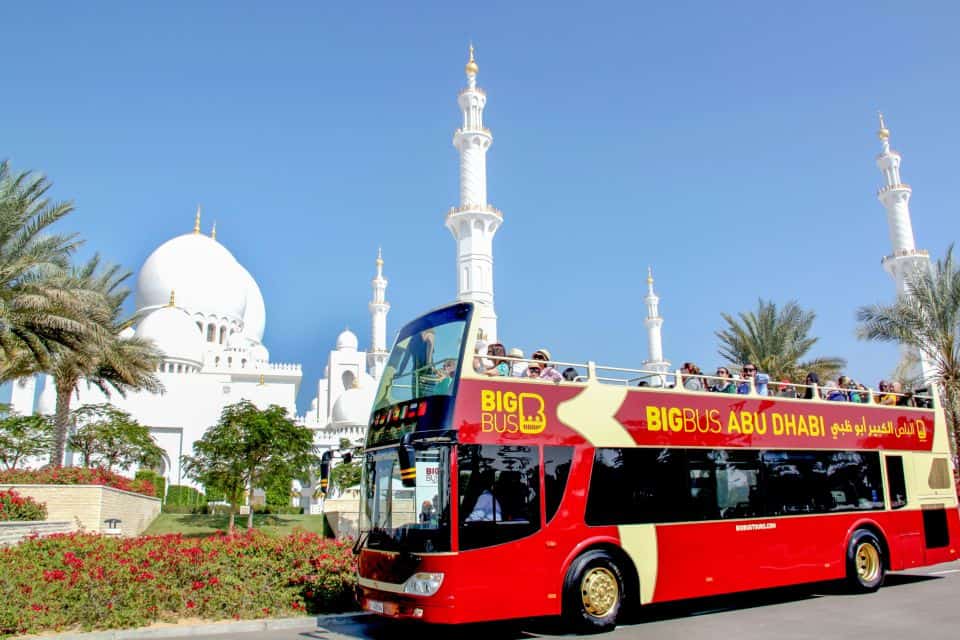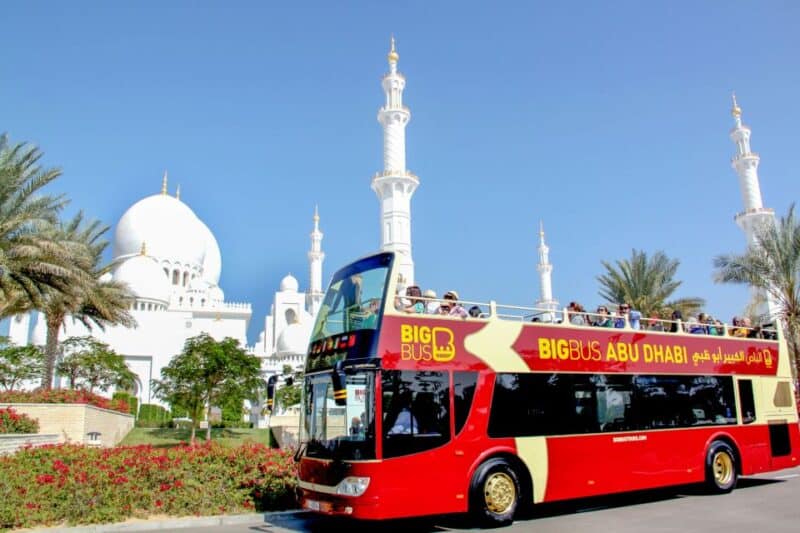 If you buy the Dubai and Abu Dhabi Tour Package, then it also includes a free shuttle between the two cities. The pros of this are, of course, it's free and you can use the bus tickets to explore many parts of both cities. If you were already planning to buy these, works out extremely cost-effective! It also includes audio.
The cons are the buses can be a bit slow and the shuttle service between the cities only runs Tuesday, Thursday and Sunday. Departing from Dubai Mall at 8:15 am and leaving Abu Dhabi Mall at 4 pm on those days.
You will definitely need two days in Abu Dhabi if you want to try and do most of the stops.
Sharing a taxi
If the queue for the bus is long, which it can be during the mornings and early evening commuter hours! Then definitely it can be worth sharing a taxi instead. If you walk past the buses at Ibn Battuta, you'll see a line of taxi drivers. Usually, there is one outside of his RTA taxi shouting "Abu Dhabi" and people sat waiting inside the taxi or stood by the taxis waiting.
Things to note:
– The taxi still has set stops and doesn't go to different destinations
– This costs more than the bus but it is quicker
– I've paid around 35 AED for this (quite a long while ago) and prices are now 40 – 60 AED depending on if you get a 4 seater or 6 seater taxi.
– The journey from Abu Dhabi to Dubai is typically a minivan (not a taxi) and can be a little bit cramped at times!
Hiring a private taxi or driver
You have a choice of using an RTA taxi which is the cheapest. Uber or Careem (Careem is similar to Uber but more popular in the Middle East). Both are available in Dubai and Abu Dhabi.
Prices for an RTA taxi are 250 AED from Ibn Battuta Mall to Abu Dhabi Central Station. Uber or Careem are around 350 to 500 AED depending on the size and type of vehicle, excluding a surcharge due to increased demand.
Another cool thing you can do via the Careem app is hire a personal driver for 5 to 10 hours, ranging from 580 AED to 805 AED. This way you can see all the sights you wish to see at your own conveinence.
How far is Abu Dhabi from Dubai?
Sometimes people ask are Abu Dhabi and Dubai different countries? The answer is no and they're actually not far to travel from Dubai to Abu Dhabi. It's only 140km! From central Dubai to central Abu Dhabi. In fact, it's pretty much one straight road all the way! So it's super easy to travel between the two. The Sheikh Zayed Road or E11, which is the road connecting the two, is the longest road in the UAE.
Can I enter Abu Dhabi with my visa from Dubai?
Yes! You can visit Abu Dhabi with the same visa you get at Dubai airport. Although Abu Dhabi and Dubai are different emirates. They're part of the same country so you won't need a different visa or to worry about needing to pay extra to enter Abu Dhabi.
Hiring a sharable car or hiring a car per hour
This is a rather new method available for those both visiting the UAE. This service is offered by UDrive however you do have to pay an intercity fee for dropping the car off in another Emirate. The great thing about these cars is you only pay for the time you actually use the car. So if you don't need a car all day, just for a few trips. they're ideal. You can also hire their cars on a daily rate too.
This service is available for both residents and tourists. Check their website for all the details.
If you're travelling as a family, this would be my most recommended way to visit Abu Dhabi as it'll be the quickest and easiest option. It also give you the freedom to explore Abu Dhabi at your own pace and freedom.
As a family it is likely to work out cheaper than buying individual bus tickets and then getting taxis between the attractions. Especially since Sheikh Zayed Mosque is far away from other attractions in Abu Dhabi. So getting taxis around Abu Dhabi can be expensive and the public transport system isn't as developed as Dubai.
📷 Check rates for hiring a car in Dubai📷
If you're planning to visit all the attractions in Abu Dhabi, what is the best way?
If you're planning to visit quite a few different attractions in Abu Dhabi then I would definitely recommend hiring a car for the day or taking a private tour. Likely it will work at cheaper than getting buses and taxis everywhere. Especially if there is two or more of you. Petrol is cheap in all the gulf countries and you can hire a small car for as little as 60 AED per day.
The only other extra charge is Salik, a form of road tolls. Abu Dhabi have recently introduced toll gates too (but they're not yet working) so it is likely in the future you will have to pay a charge for driving around the city.
Another thing to note, in more central places in Abu Dhabi, the machines to pay for parking only accept coins. You can, however, set up SMS parking for your rental car which will definitely make life easier if you're planning to go to The Corniche or Sheikh Zayed Memorial. If not, save all your dirham coins as it can be difficult finding shops who will have enough change!
---
Have some more questions about Abu Dhabi or Dubai? Check out our other articles:
How to spend 48 hours in Abu Dhabi; the best itinerary
What is the UAE famous for? Everything you need to know about United Arab Emirates
The best lakes in Dubai; a guide to visiting the different lakes in Dubai
What plug type in Dubai and the UAE do I need? Plus voltages and travel tips
---
📷 Book a tour to Abu Dhabi from Dubai📷
Conclusion
I've included as much information as possible on all the potential journeys and what I've learnt from doing the journeys myself over the years. So I hope this guide helped with your journey. My most recommended way would be to take a tour from Dubai to Abu Dhabi especially if you're a solo traveller as it includes all the main sites.
My second most recommending option would be to hire a car in Dubai so you have the freedom to explore Abu Dhabi. Especially if you are a family, having a car will make like a lot easier! The cost to hire a car for the day is likely to work out cheaper than buying 4 or more return bus tickets plus your taxis.
Enjoyed this article? Give it a share!