Located in the heart of Dubai, Mall of the Emirates is a luxurious mall offering an unparalleled shopping experience. With over 500 stores ranging from high-end luxury brands to popular high-street stores, it's easy to get lost! Don't worry, this long-time resident and serial shopper at MOE, as we locals call it, will help guide you around. So whether you want to do some serious shopping or enjoy one of the many attractions inside Mall of Emirates. Let this helpful guide show you the way, so that you'll be exploring the mall like a local in no time! Along with helpful advice and tips along the way.
It's no wonder this mall has become one of Dubai's most visited attractions. You'll find designer boutiques, department stores to affordable clothing brands. There's something for every type of shopper. Mall of the Emirates is not only a place for shopping, but also a destination for entertainment. With the world-renowned Ski Dubai indoor ski resort and Magic Planet family entertainment centre, Mall of the Emirates has a little bit of everything
Mall of Emirates is actually one of my favourite malls in Dubai, it's the perfect size. It's got a large amount of shops and restaurants but isn't so huge that you feel like it's difficult to get from one end to the other. It's also easier with a pram or wheelchair since there are large lifts at the multiple entrances
It is totally possible to spend the entire day here or even a few days. The only downside is that it does get quite busy and traffic around the surrounding area can be bad at peak times which I'll explain more about below.
Stores in Mall of the Emirates
This popular Dubai Mall has something to offer everyone when it comes to the selection of shops. From luxury designer labels such as Dior or Louis Vuitton to high street fashion such as H&M or Zara and even different department stores such as the affordable centerpoint or the luxury Harvey Nichols. There is something for every taste and budget. Whether you're looking for the latest trends, or a special treat, Mall of the Emirates has it all with over 630 brands.
Some of the most unique stores or stores you'll only find in Mall of Emirates are:
Harry Potter
As the name suggests, this store is dedicated to the world of Harry Potter and all its wonders. Here you'll find everything from Hogwarts robes and wands to Hogwarts house scarves and Funko Pop figurines.
Harvey Nichols
Harvey Nichols is a high-end department store that offers fashion, beauty and lifestyle products. It is the only branch of this famous British brand in the whole of Dubai. Its Mall of Emirates branch features exclusive collections from top designer labels like Christian Louboutin, Dior and Givenchy.
Customers can also enjoy complimentary styling services as well as personal shopping assistance for an exceptional shopping experience. Aside from its vast selection of fashion and accessories, Harvey Nichols also offers delicious food options at its in-house cafe such as salads and desserts to treat your taste buds after a day of indulging!
ftNFT
ftNFT is an innovative concept that has opened NFT shops in two of Dubai's most popular shopping malls: Mall of the Emirates and the Dubai Mall. Giving art lovers the opportunity to physical purchase digital art. Showcasing the work of some of the most innovative and creative NFT artists worldwide.
Visitors can browse through a wide selection of art, which are augmented with digital interactive features. They can also create 3D avatars of themselves through a professional 3D scanner.
ftNFT's mission is to give art lovers the opportunity to physical way to purchase digital art, and
Go Sports Mega Store
Their flagship store, not only does it have everything a sports enthusiast needs, from branded apparel to state-of-the-art gym equipment. Though this store isn't just for shopping, you'll find a basketball trial zone, 12 meter high volcano themed climbing wall and sports related digital applications.
Apple Store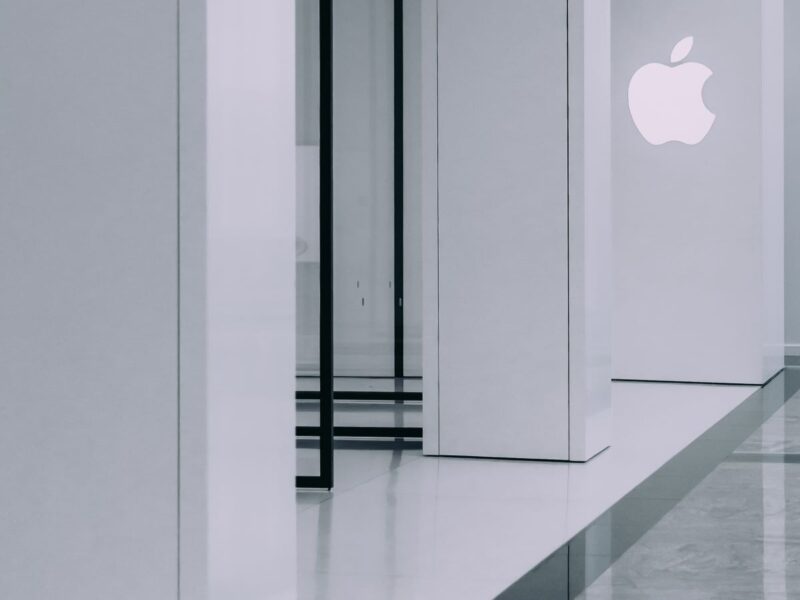 Despite a large amount of iPhone users in the Gulf, Apple were slow to open their first official store in the region. The Mall of Emirates branch was the very first to be opened in the Middle East.
Store of the future
Supermarkets
Are you looking for supermarkets in Mall of the Emirates? If so, you're in luck! This mall has a very large supermarket with a wide selection of products available. Everything from groceries to household items, including an array of fresh produce, organic foods, imported international foods and speciality items
Carrefour
The original French supermarket giant is their largest branch in Dubai is located within Mall of Emirates and even includes a sushi counter and cafe. Carrefour stocks a huge range of food goods along with electronics and appliances.
Marks & Spencers
The shop does have a small supermarket towards the back of the store. Offering a variety of British delicacies, if you're a Brit missing home comforts like crumpets or rhubarb and custard sweets. Marks & Spencers has them all! They also have a very good gluten free range.
Jones The Grocer
Jones The Grocer offers a wide variety of fresh produce and signature dishes prepared in-house. They also have home delivery services. It is pricey but you'll find lots of speciality imported gourmet foods here.
MMI Mall of Emirates
For your alcoholic beverage needs, the mall has MMI. They offer an extensive range of beers, wines and spirits from around the world. Plus, their knowledgeable staff can help you find the perfect match for your palette.
For more information, about alcohol in Dubai
Other food shops
You can also find luxury chocolatiers, specialist fruit and nut shops, honey sellers, sweet (candy for my American audience) sellers and high-end patisseries.
Activities in Mall of the Emirates
Ski Dubai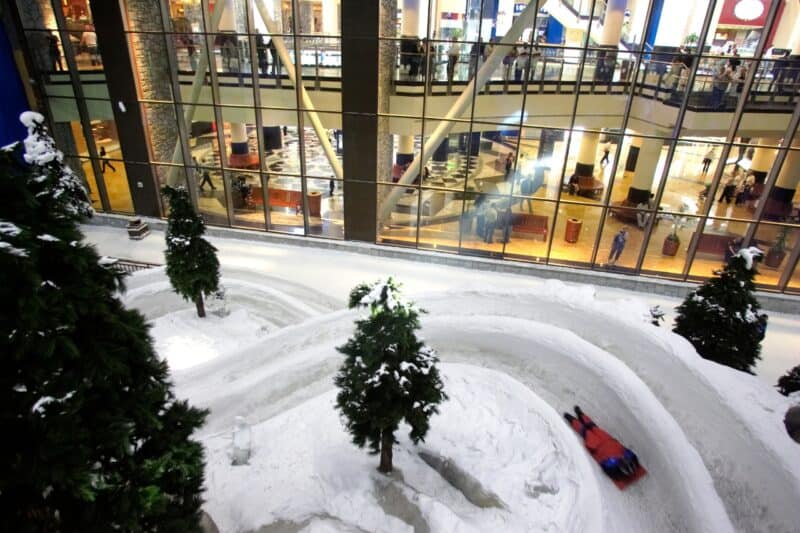 There is a lot to do in Ski Dubai apart from just skiing! It is literally a skiing resort inside a mall! There are snow shows, Alpine style cafe and adventurous rides.
Enjoy a hot chocolate in the ski lodge-style cafe
The Ski Dubai cafe is a perfect spot for those looking to relax and warm up after an exhilarating day of skiing. The cafe serves up freshly brewed hot chocolate and a variety of snacks. It also offers lovely views of the slopes and is equipped with its own wifi connection.
Watch a film in the snow cinema
The Snow Cinema, located in Ski Dubai is definitely worth a visit. The cinema offers reclining chairs and all-inclusive packages which include your ticket, popcorn and a hot beverage of your choice. It's a unique experience that movie buffs won't forget!
Enjoy thrilling rides down the slopes
Ski Dubai offers a variety of snow park rides to choose from and for various ages. From zorbing to tube slides, to simply enjoying the view from the chairlift, there's something for everyone. Equipment is provided with the ticket price.
Ski or snowboard
If you're looking to brush up on your skiing and snowboarding skills, Ski Dubai offers group and private lessons for all ages. Professional instructors will help you learn the basics or challenge you with more advanced tricks. If you're an already experienced skier or snowboarder, you can just go for a leisurely ride down the slopes.
VOX Cinema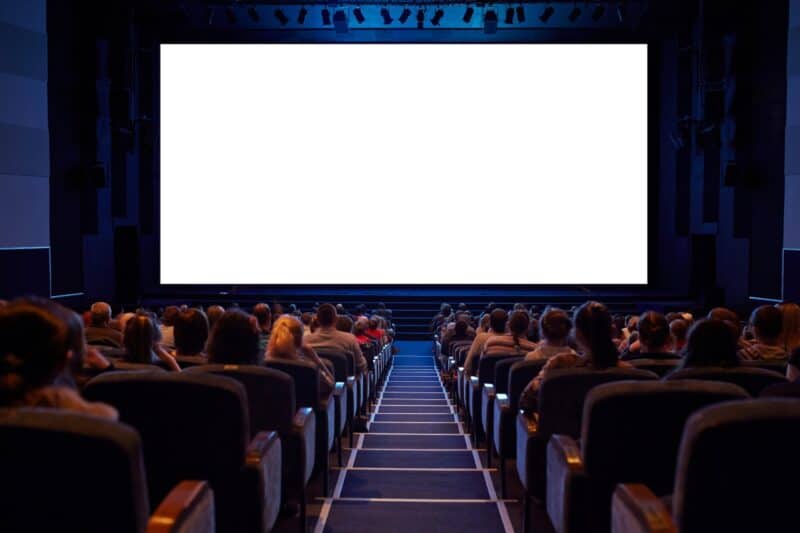 Offering various experiences, movies and the latest releases, VOX Cinema is located at the Mall of Emirates. It offers guests luxury seating, 3D movie experiences and an IMAX theatre. It also has a wide range of snacks and beverages to choose from along with some unique cinema experiences!
Imax Cinema
IMAX cinemas provide movie-goers with an extraordinary viewing experience that is unlike any other. With their larger-than-life, curved screens, crystal clear images and surround sound you feel like you're right in the middle of the action.
Theatre Cinema
Theatre cinemas take movie-going to a whole new level with their enormous auditoriums, comfy recliners and gourmet concession stands. Kick back and relax with the best seats in the house, while you watch your favourite films on their state-of-the art projection systems.
So how does it work? You'll be given a menu to pre-select what food you would like to be served during the film at different intervals and includes a drink. It is a little bit pricey but it's definitely a cool experience.
Magic Planet
Step into a world of fun and adventure at Magic Planet! This indoor theme park is packed full of thrilling rides, exciting games, interactive activities and so much more. With its larger-than-life attractions, magical décor and friendly staff, Magic Planet is guaranteed to keep both kids and adults entertained for hours.
Dreamscape
Experience a totally new dimension of entertainment at Dreamscape. Here you can find an array of virtual reality and augmented reality experiences that will leave your jaw on the floor. With its advanced interactive technology, all-encompassing visuals and immersive soundtracks, Dreamscape is truly something to behold!
Art for All Dubai
is a platform through which art lovers, aficionados, and connoisseurs can explore the vibrant world of visual arts in Dubai. We bring together both established and emerging talent so that everyone has access to a wide range of artistic experiences. Our events include workshops, exhibitions, talks, performances and more!
The Theatre at The Mall of Emirates
is one of the premier spaces for artistic performances in Dubai. This elegant theatre offers a full range of events throughout the year, from music and dance concerts to comedy shows and plays. Whether you're looking for an intimate night out with friends or a cultural experience with your family, The Theatre at Mall of Emirates has something for everyone!
Yalla! Bowling
Part of Magic planet, Yalla! Bowling is the perfect spot for some relaxed fun. With twelve lanes and funky lights, it provides an exciting atmosphere that's great for parties and team building activities. The bowling alley also features a bar and lounge area where you can grab snacks or have a quick bite to eat after your game. So if you're looking for something different in your free time, head over to Yalla! Bowling for a good time!
Spa & Beauty Treatments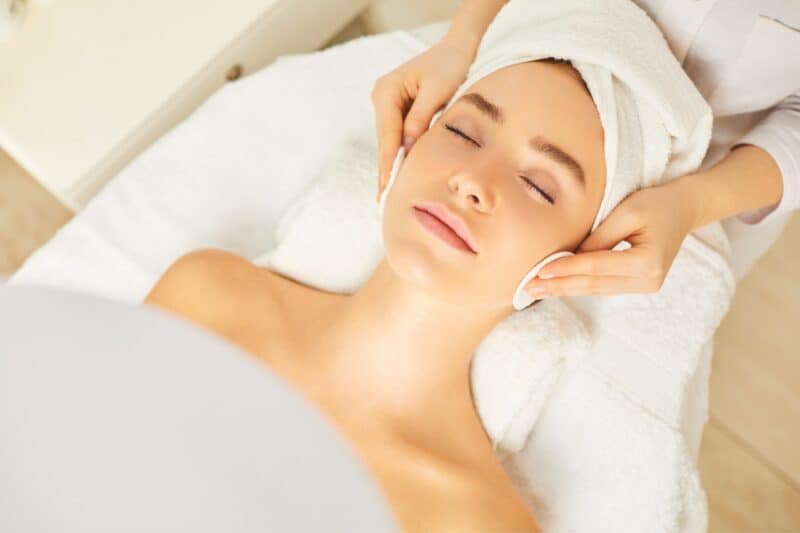 There are several salons and spas inside Mall of Emirates that provide a wide range of services. From haircuts to massages, facial treatments to waxing, you can find everything you need for your beauty needs. Also who doesn't want to pamper themselves with a relaxing treatment after a long shopping spree?
1. TNS (The Nail Salon): This salon offers an extensive range of nail treatments, from manicures and pedicures to waxing and gel nails. They also have a number of packages that are perfect for special occasions like weddings or parties.
2. Sensasia Stories Spa: This is the perfect place to unwind and relax, with a range of massages, body treatments, and facials on offer. The skilled therapists will make sure you leave feeling refreshed and rejuvenated. Inside Kempinski hotel.
3. The Loft 5th Avenue: This hairdressers offers a range of services, from haircuts to eyebrow threading and facial treatments. For those who want to look glam in no time, this is the place to go! I've used various branches of The Loft and always had a positive experience.
Cafes & Restaurants
There are plenty of cafes, restaurants and fast-food outlets to choose from. Whether you're looking for a quick bite or a leisurely meal, there are many different cuisines to choose from.
There are many places to choose from however here are a few of my personal favourites:
More Cafe
This classic of Dubai cafe serves up hearty all-day breakfasts and delicious cakes. The atmosphere is casual yet cozy, ideal for a leisurely brunch or light lunch.
The lamb and lentil soup is one of their best dishes and meant for sharing.
Arabica
If you want just good strong coffee, Arabica is the spot. Not only do they have a range of coffees for bean aficionados, they also offer freshly made sandwiches and pastries.
Shopping
Of course the main attraction, here you can immerse yourself in luxury while browsing through top fashion labels like Louis Vuitton and Gucci or explore more affordable options such as Zara and H&M.
Events
Besides all the shopping and leisure activities, Mall of Emirates also hosts a range of events throughout the year. From fashion shows to art exhibitions and kids shows, there's something for the whole family.
What time does Mall of Emirates open and close?
Monday to Wednesday: 10am to 10pm
Thursday to Saturday: 10am to 12 midnight
Sundays and public holidays: 10am to 11pm.
Cinema:
10am to 12 midnight daily.
Best time to visit
If you want to avoid the crowds, early mornings till mid-afternoon are the best times to visit malls in Dubai. This is when most people are at work or school, though even on weekends the Arabic late night culture means these times are quieter but not as quiet as in the week. This applies to all malls in Dubai and not just Mall of Emirates.
Where is Mall of Emirates located & how do I get there?
The Mall of Emirates is located in the Al Barsha district and can easily be accessed by several modes of transportation.
Metro
The nearest metro station is Mall of the Emirates, a stop on the Red Line. It takes about 10 minutes to get here from Downtown Dubai.
Cost: A single journey ticket costs around 3 AED.
Bus
There are several buses that run to and from the Mall of Emirates, including bus routes C7, E201 and X28.
Cost: The single fare for buses is only 2 AED.
Taxi
Taxis are readily available throughout Dubai and are one of the most convenient ways to get around.
Cost: The cost for a taxi from Downtown Dubai to Mall of Emirates is approximately 30 AED.
Car
Parking is free for the first four hours. After that, you'll be charged:
AED 20 for 5-6 hours
AED 40 for 6-7 hours
AED 60 for 7-8 hours
AED 100 for 8 hours
AED 150 for more than 8 hours
AED 350 for overnight parking
You can however get extra time if you are visiting the cinema but you will need to get your ticket validated.
Other useful information for MOE
Phone Charging
You are able to borrow a power bank while you walk around the mall, simply visit the customer service help desks located through out the mall and ask for a power bank. They will ask for a form of ID which they will keep until you return the power bank. They also have available cables for both iPhone and Android. You may need your own if you have a c type cable.
Porter Services
If you're carrying a lot of shopping bags, you can make use of the porter services available in Mall of Emirates. Porter services are free of charge and will take your bags from one point to another within the mall.
Prayer Rooms
The mall also has dedicated prayer rooms in both the upper and lower levels. The prayer rooms are located near the customer service help desks and are open 24/7.
Wifi
Free wifi is available throughout the entire mall, simply search for 'MOEwifi' in your mobile settings and follow the instructions.
ATMs
ATMs are located near major entrances and exits at Mall of Emirates. You will also find ATMs inside select banks throughout the mall.
Baby Care Facilities
If you're travelling with a baby, Mall of Emirates has dedicated baby-care rooms located on the upper level near Zara. The room is equipped with changing tables, microwaves and private feeding areas.
Mall of Emirates Hotels
there are two hotels connected to the mall; The Sheraton Mall of Emirates and the Novotel Dubai Al Barsha. Both offer world-class accommodation and are great for those looking to stay close to the mall.
There are two hotels connected to the Mall of Emirates, the Sheraton Mall of Emirates and the Novotel Dubai Al Barsha. Both hotels offer world-class accommodation and are great for those looking to stay close to the mall.
Sheraton Mall of Emirates
The Sheraton Mall of Emirates is a luxurious hotel located in the Al Barsha district, connected to the Mall of Emirates. It offers world-class accommodation with modern rooms and suites, along with amenities such as free Wi-Fi, 24-hour room service and complimentary use of the fitness centre. Additionally, it boasts stunning views of Dubai's skyline and is just a few minutes away from the city's main attractions, such as The Dubai Mall and Burj Khalifa.
Kempinski Mall of Emirates
Kempinski Mall of Emirates is a luxury five-star hotel conveniently located at the Mall of Emirates in Dubai. It features an array of modern amenities and services designed to meet the needs of both business and leisure travelers alike. The hotel has 254 guest rooms and suites, all fully equipped with contemporary furnishings, latest technology and modern conveniences.
FAQs
How big is Mall of the Emirates?
Is Emirates mall bigger or Dubai Mall?
Dubai Mall is larger than Mall of the Emirates, and has more than 1,200 stores. Dubai Mall is the largest shopping mall in the world and is located at the foot of the world's tallest building, Burj Khalifa. It also houses one of the largest indoor theme parks, KidZania, as well as an Olympic-sized ice rink.
Is Mall of the Emirates cheaper than Dubai Mall?
No, both have similar pricing however Mall of Emirates has more frequent sales, offers and discounts.
Is luxury brands cheaper in Dubai?
Depending where you are coming from luxury goods can cheaper in Dubai due to the lack of tax and international pricing of brands. Therefore tourists and visitors can enjoy discounted prices on items such as designer clothing, jewellery and electronics. Additionally, the city is home to some of the world's most luxurious shopping malls where shoppers can find international brands at reduced prices.
However compared to UK or Europe, most designer items will be more expensive and is similar prices to the United States.
What is the size of Mall of the Emirates?
Mall of the Emirates is one of the largest shopping malls in Dubai, measuring over 2 million square feet and containing more than 500 stores. The mall features an array of world-famous luxury brands, along with a variety of restaurants, cafes and entertainment venues. Additionally, it houses Ski Dubai, the first indoor ski resort in the Middle East.
What is the dress code at Mall of the Emirates?
Mall of the Emirates is a family-friendly mall and visitors should dress appropriately. Generally, casual wear such as shorts, jeans, t-shirts and skirts are acceptable.
However, it is recommended that clothing covering shoulders and knees be worn but these dress code rules are rarely enforced these days. Beachwear isn't allowed except at beaches, men can't walk around topless.
For more about Dubai's dress code for tourists, read my previous article.
Conclusion
I've tried to cover absolutely everything possible in this guide and what I've learnt over the years from my many many visits to the Mall of Emirates. So now you should have all the information necessary for planning your visit. Whether you want to enjoy the luxurious Kempinski Mall of Emirates and having a spa day or buying affordable outfits for your little ones. Mall of Emirates have much to offer for both your shopping and entertainment needs. It's easy to spend an entire day with all the good eateries and restaurants in the mall. Plus with its convenient location and modern facilities. It's definitely one of the best malls in Dubai.
---
*This article contains affiliate links, as an Amazon Associate and a member of other affiliate programs, I may earn a commission on purchases. Clicking the link doesn't cost you anything extra but it does help me to keep writing these awesome articles for you!