Dubai and Qatar are two of the most popular destinations in the world for expats. Dubai vs Qatar? Doha v Dubai? Both offer a wealth of opportunities, from job prospects to luxury lifestyle options. Or perhaps you're deciding which one to go to for a holiday or vacation, but which destination is right for you? In this article, we will compare the cost of living in Dubai and Qatar, so that you can decide which destination would be the best fit for you.
After Qatar hosted the world cup in 2022, we can definitely see Doha becoming a more popular tourist destination and following in the footsteps of Dubai! So let's cover some basic facts about Dubai and Qatar first!
Where is Dubai?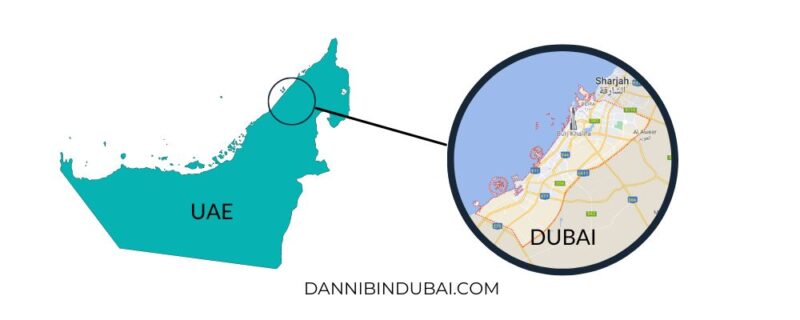 Dubai is located in the United Arab Emirates, on the Persian Gulf. It is one of the seven emirates that make up the UAE and has quickly become one of the world's most desirable tourist destinations.
Where is Doha?
Doha is the capital city of Qatar and is located on the Persian Gulf coast connected to Saudi Arabia. It is a major hub for business, culture and entertainment in the Middle East and has earned the nickname "Pearl of the Gulf".
Doha v Dubai
| | | |
| --- | --- | --- |
| | Doha | Dubai City |
| Population | 2.99 million (2022) | 3.5 million (2022) |
| Time zone | GMT + 3 | GMT + 4 |
| Area | 132 km² | 35 km² |
| Official religion | Islam | Islam |
| Official language | Arabic (English widely used) | Arabic (English widely used) |
| Political structure | Semi-constitutional monarchy | Constitutional monarchy |
| Ruling family | Al Thani | Maktoum |
| Tourists per year | 2.14 million (2019) | 16.73 million (2019) |
| Country GDP | $274 billion (2021) | $640 billion (2021) |
*GDP is taken from World Economics
Comparing the Cost of Living
When it comes to the cost of living, Dubai is more slightly more expensive than Qatar. Bills on the other hand Dubai is around one-third more than that of Qatar for utilities. The cost of food and entertainment is also higher. However, there are some advantages to choosing Dubai – the city is massively adapted towards expats and offers a much more cosmopolitan lifestyle than Qatar.
Additionally, when it comes to salaries, Qatar has the edge over Dubai. Salaries in Qatar tend to be higher than those in Dubai and have increased significantly since 2018.
To sum up, both destinations offer expats a wealth of opportunities. Whether you are looking for an exciting lifestyle or a quieter pace of life, both Dubai and Qatar have something to offer. Ultimately, the decision comes down to personal preference and budget. Whichever destination you choose, we're sure you'll enjoy living in the region.
For more detailed information on the living costs of Dubai, check out my previous article
Should you go to Doha or Dubai for a vacation?
When it comes to tourist attractions, Dubai has some unique offerings. From its iconic skyscrapers like the Burj Khalifa to its luxurious shopping malls, there's something for everyone. And of course, there are plenty of beaches and desert safaris to enjoy too!
Qatar is less well-known as a tourist destination but still has plenty to offer. The country boasts some beautiful nature spots, including Khor al Adaid (a unique beach with large sand dunes all in the same area), as well as numerous museums and cultural attractions. Qatar also has Souq Waqif which is home to some of the best street food eateries in the region.
Depending on your background, one key factor will be the conservative nature of Qatar. Dubai's Dress code rules have greatly been relaxed compared to Qatar where women are expected to dress modest in public places.
If you're looking to visit Dubai, make sure to start from here so you can plan the perfect visit
Key points when choosing between Dubai and Qatar
Dubai is an established popular tourist destination
Doha in Qatar is a more conservative country so you will need to be aware of the law
Both are located in the Middle East on the Persian Gulf
Both experience year-round sunny weather and have a desert climate
Hotels are similar in price however Dubai has a wider range to choose from
Dubai also has higher taxes on goods and services than Qatar
Both have excellent public transportation and offer lower taxes than Western countries for those wanting to move to the region
Dubai is easier for tourist and resident visas for many countries though Qatar is also improving
So, if you're looking for sightseeing opportunities, Dubai may be the better choice; but if you want a more low-key holiday experience, Qatar could be the perfect option.
Dubai main tourist attractions:
Burj Khalifa
Dubai Mall
Atlantis
The Dubai Fountain
Desert Safaris
Jumeirah Beach
Qatar main tourist attractions:
Khor Al Adaid
Souq Waqif
Museum of Islamic Art
Katara Cultural Village
Al Zubarah Fort
Conclusion
When looking at dubai vs doha as a destination for expats, both offer plenty of attractive features. However, Dubai is more expensive when it comes to cost of living and rent, while Qatar offers higher salaries and a range of cultural attractions. In terms of holidays or vacations, you will probably spend a similar amount to visit both destinations. Ultimately, the decision about which destination would be best for you comes down to personal preference and job offer. For vacations, it's whether you want something a little different to where everyone else goes or somewhere built especially for tourists. Whichever destination you choose, you're sure to enjoy your stay!