So by now, you've definitely heard of Dubai and you've probably seen it on TV or seen influencers showing off their luxury holiday in Dubai. Maybe you even want to go to Dubai! But before you go, let's get some basic questions about Dubai answered!
As someone who has lived in the UAE for nearly a decade and is now classed as an "old timer" in Dubai years, I've spoken to many people about Dubai from all over the world! Yet when travelling I still get asked many of the same questions all the time!
Over the years, I've seen reactions go from "Dubai, where is that?" to "Oh wow, you live in Dubai!" But despite this, there are still some common misconceptions which I'll answer below!
What country is Dubai in?
Dubai is part of a country called the United Arab Emirates or UAE for short. The UAE was founded on the 2nd of December 1971, so it is a relatively new country! Before it was under the rule of the British Empire.
The Dubai map above shows where Dubai is located in the UAE and allows you to zoom in closer to see different parts of Dubai or the United Arab Emirates.
For more about the history of the UAE, learn more here!
Dubai is which continent?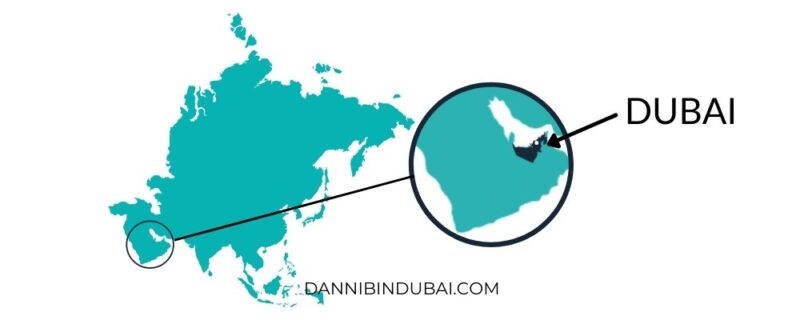 Dubai is in the continent of Asia. Since Asia is a very diverse continent, it is often classed in its sub-continent as the Middle East. The Middle East is divided into two key areas, called the "Sham" or Levant in English and Arabian Peninsula. Dubai is located in the Arabian Gulf
Outside of the Gulf, this is often referred to as the Persian Gulf due to the historical Ottoman Empire. However, if you are in Dubai or anywhere in the Arabian Peninsula they call it the Arabian Gulf. The Arabian Gulf consists of UAE, Saudi Arabia, Oman, Qatar, Bahrain & Kuwait.
The Middle East also includes Afghanistan, Iraq, Syria, Lebanon, Yemen, Palestine, Jordan, Israel and Iran. Commonly North Africa is included as part of the region, Libya, Algeria, Egypt and Tunisia. Often shortened to MENA, Middle East and North Africa.
Where is Dubai located?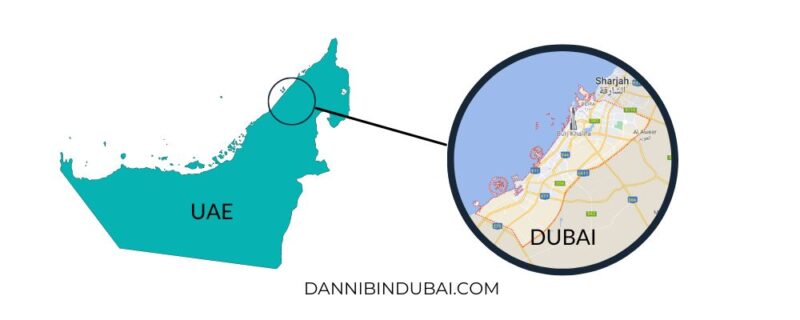 Dubai is located in the northwest region of the country United Arab Emirates on the Arabian Peninsula. The main city of Dubai has the Gulf Sea running along the west of the city. It borders both Oman and Saudi Arabia in the Middle East.
For more commonly asked questions about the UAE, check out my article with awesome facts about the UAE here
Is Dubai a country or a city?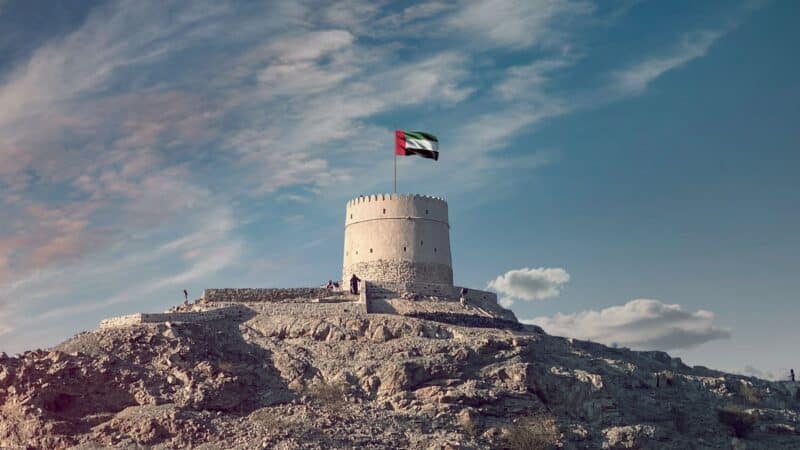 Dubai is a city in UAE (United Arab Emirates) that has become famous for its skyscrapers, shopping malls, and luxury hotels. It is also home to many expats and an exciting popular tourist destination.
Despite Dubai's fame, this is still an extremely common question! Is Dubai a country? Another very common question is, is Dubai a country or a capital city? The answer is neither!
It is a city but it is not a capital city. The capital of the country is actually Abu Dhabi and the country is United Arab Emirates. Though don't go just yet, learn some more about Dubai & the UAE below!
Is Dubai a capital city?
Dubai is not a capital city but it is the largest city in terms of population in the United Arab Emirates. Dubai is also an Emirate, similar to a state in the US, and attracts just under 16 million tourists per year.
This is likely why people think it's the capital!
What is the capital city of the United Arab Emirates?
The capital city of the UAE is Abu Dhabi but Dubai is located 115 km (71 miles) away in the more northern part of the city. Abu Dhabi is both the capital city's name and also the name of the Emirate in which Abu Dhabi is located.
So Dubai is a city within the emirate of Dubai and Abu Dhabi is a city within the very large emirate of Abu Dhabi. Abu Dhabi is larger as an Emirate but since they aren't separate countries they aren't both classed as capital cities. Though before the unification of the UAE, you would have classed Dubai city as the capital of Dubai.
If you want to get from Dubai to Abu Dhabi, check out my guide.
Does Dubai have a capital city?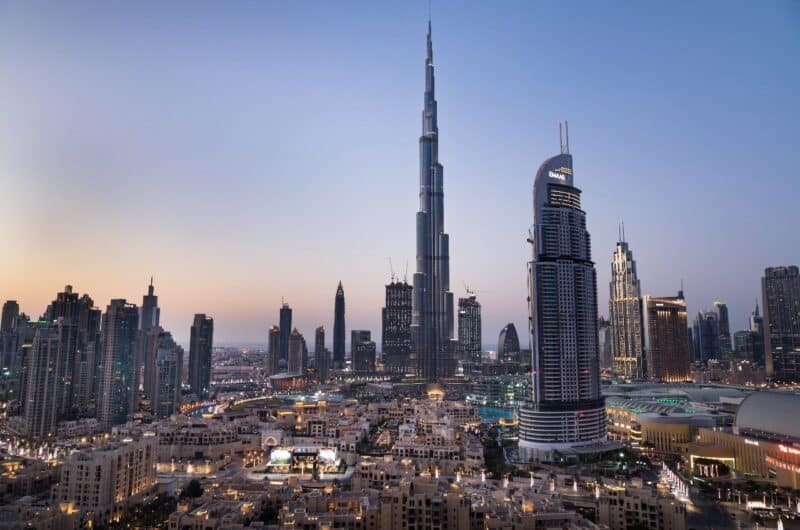 Yes, Dubai city is the capital city of the Emirate of Dubai, which is one of 7 emirates that make up the country of the United Arab Emirates. In the centre of Dubai City is the Burj Khalifa, Dubai Mall, Dubai Fountain and other popular tourist attractions.
Two other towns which are part of Dubai as an Emirate are Hatta and Jebel Ali. Jebal Ali has one of the largest ports in the Middle East.
Hatta is a stunning town full of natural beauty, located close to the border of Oman. It has a beautiful lake and mountain range. So it's definitely somewhere you should check out to see the other side of Dubai! (We're not only 5 star hotels you know!)
For more places to travel to close to Dubai, read my article.
Why isn't Dubai the capital of the UAE?
Before the UAE was formed, each of the royal families existed as tribes and they didn't always get along. Sheikh Zayed Bin Sultan Al Nahyan was the ruler of the Abu Dhabi emirate, who unified the 7 Emirates together. Abu Dhabi was also the larger Emirate and would have had a larger population back when the UAE was formed.
Also for many years until the modernisation of Dubai, people who lived in Dubai used to travel to Abu Dhabi when they wanted to go out because there wasn't very much to do in Dubai. Most of what is Dubai today has been built since the early 2000s. Burj Al Arab was completed in December 1999 and Burj Khalifa in January 2010.
How big is Dubai?
Another common question is, is Dubai a large country? So now you know Dubai is a city, not a country! Which is still a common misconception. We'll answer is Dubai a large city instead along with is UAE a large country.
In terms of land mass, the UAE is a small country at 83,600 square kilometres (32,278 square miles). Dubai as an Emirate is large in terms of km² compared with other cities at 4,114 square kilometres (1588 square miles).
Compared to London which is 1,572 km² (607 miles²) or Paris which is 105.4 km² (41 miles²)
What is the population of Dubai?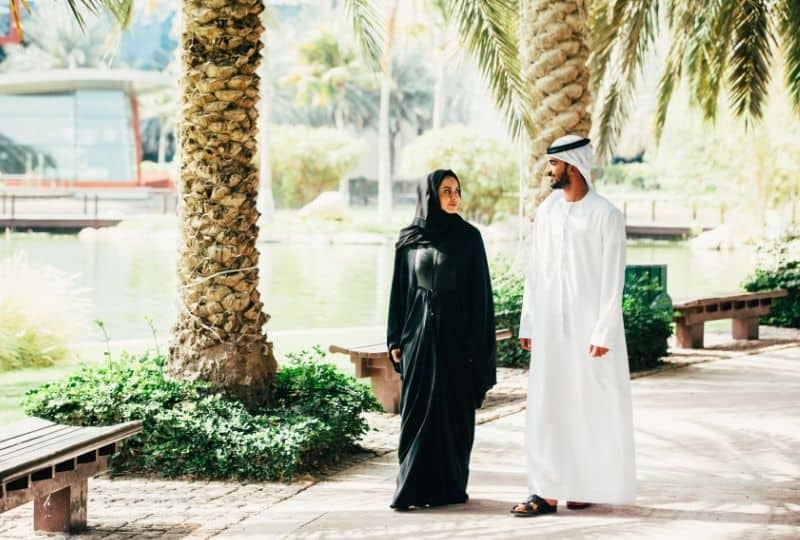 Dubai's population has increased in the last couple of years, with its 2023 estimate currently being 3 million. The overall population of the UAE is 10.2 million.
Compared to London, London has a population of nearly 9.6 million so it's a very densely populated city compared to Dubai.
Can you visit Dubai?
Yes!! Dubai is one of the most tourist friendly countries in the world since they offer a free visa on entry for lots of different countries. You can check if your country is one of those here on Emirates!
Dubai's airport is also one of the busiest as the world, since it's ideal connection to the rest of Asia and places like Australia. So even if you're planning to visit another city, Dubai is the perfect place for a layover. So make the most of it and take a tour of the city.
This awesome tour from GetYourGuide takes you to see all the main tourist attractions across Dubai in 8 hours! Perfect for those who are only here for one weekend but still want to see as much as possible of Dubai!
You can also check out more of our full guide to visiting Dubai here
Is Dubai a communist country?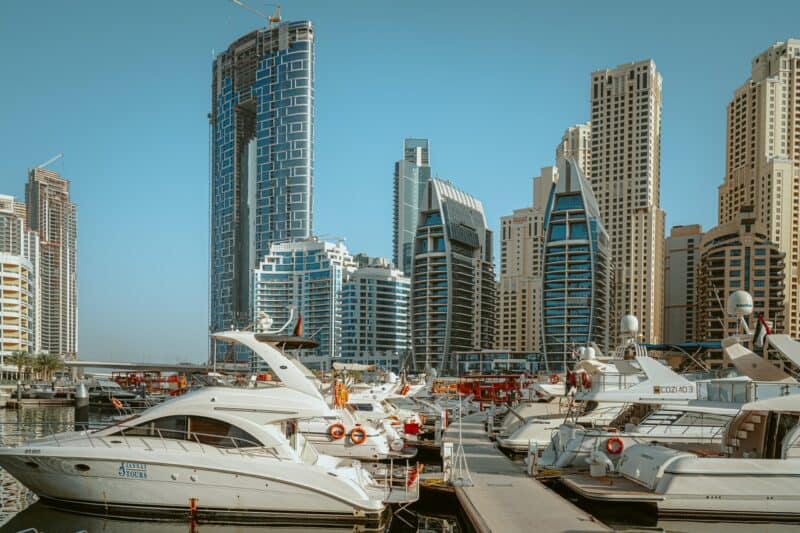 Another common one along with this is, is Dubai communist or a capitalist country?
Dubai is unique since it has an absolute ruling monarchy however the country isn't communist and is one of the most capitalist cities in the world. Anyone can go to Dubai to set up a business and many economic zones called free zones where international economic law is adopted.
Previously you needed a local partner to operate in the mainland but these laws have changed in recent years.
However, the country does have great social programs for its citizens (not residents, sorry!), such as giving land and housing to those who get married. Along with financial aid for the wedding. Education in state schools is also free for citizens or "locals" as they're called in Dubai. They also get discounted utility bills and other reduced costs for being Emirati.
The vast majority of Emirati citizens are employed by the government however with the Emiratisation of the private sector, the UAE is looking to change that.
What is an Emirate?
An Emirate is a piece of land ruled by an Emir, however in the UAE they don't use the title Emir. They use the word Sheikh or Ruler. The word Emir is defined as a male Islamic leader. Emir in Arabic comes from the word commander or prince.
Is Dubai in Saudi Arabia?
No, Saudi Arabia is a separate country with a different ruling family and different laws. Dubai is in the country called United Arab Emirates and Saudi Arabia is located to the south of the United Arab Emirates.
If you drive to the south of the Emirate of Abu Dhabi there is a border crossing that connects to Saudi Arabia. Driving from Dubai to the Saudi border would take around 4 and a half hours.
I'm not sure why Dubai gets confused with Saudi Arabia all the time! They're pretty different countries, people will often ask "can women drive in Dubai?" when it was Saudi Arabia who used to ban women from driving but I guess to the West they're both very rich Arab countries with similar cultures.
Here are some distances from Dubai to other places in the UAE and Gulf:
| | | | |
| --- | --- | --- | --- |
| Distance from Dubai | Kilometres (Miles) | Driving distance | Driving time |
| Dubai to Abu Dhabi | 115 km (71 miles) | 139 km (86 miles) | 1 hr 19 mins |
| Dubai to Sharjah | 31 km (19 miles) | 38 km (24 miles) | 24 mins |
| Dubai to Ras Al Khaimah (RAK) | 112 km (69 miles) | 113 km (70 miles) | 1 hr 15 mins |
| Dubai to Ajman | 33 km (21 miles) | 53 km (33 miles) | 39 mins |
| Dubai to Umm Al Quwain | 57 km (35 miles) | 72 km (45 miles) | 49 mins |
| Dubai to Fujairah | 101 km (63 miles) | 123 km (76 miles) | 1 hr 21 mins |
| Dubai to Muscat in Oman | 380 km (236 miles) | 453 km (281 miles) | 4 hrs 30 mins |
| Dubai to Riyadh in Saudi Arabia | 853 km (530 miles) | 998 km (620 miles) | 10 hrs 31 mins |
| Dubai to Doha in Qatar | 378 km (236 miles) | 654 km (406 miles) | 6 hrs 19 mins |
| Dubai to Manama in Bahrain | 483 km (300 miles) | 841 km (523 miles) | 8 hrs 29 mins |
*All driving times are approximate and will change depending on traffic conditions
What is the Dubai country code?
The country code for Dubai, Abu Dhabi and all the other emirates that are part of the United Arab Emirates is +971. So if you get a call from this country or need to call a UAE number, make sure to add 00971 or +971.
Conclusion
I hope this answers some of the basic questions you have about Dubai! For more questions and more information on Dubai, make sure to check out our Dubai Guides page and if you'd like to know more about UAE, check out our UAE article here!
---
*This article contains affiliate links, as an Amazon Associate and a member of other affiliate programs, I may earn a commission on purchases. Clicking the link doesn't cost you anything extra but it does help me to keep writing these awesome articles for you!