Dubai Fountain is one of the most popular tourist attractions in Dubai. Located at the base of the Burj Khalifa, the tallest building in the world. The fountain is a stunning display of water, light, and music that is sure to leave you mesmerized with its jets of water shooting up high in the air.
It's truly a sight to behold and one not to miss in Dubai. As someone who lived in Downtown Dubai, just 5 minutes away from the Dubai Fountains, I'll share with you all the best tips I learnt for seeing the Dubai Fountains almost every day.
The Dubai fountain show times, what times are the busiest and the insider tips that only Downtown Dubai residents know! So make sure you read all the way to the bottom!
Despite living by the Dubai Fountain for many years, I can tell you that I never got bored of seeing the stunning lit-up Dubai Fountain. It's one of those views where I look and always think how incredible Dubai is. It is one of the most impressive fountains in the world.
The fountain has been designed to be both beautiful and functional, with a complex system of pumps and nozzles that create an intricate dance of water and light. The fountain is also incredibly energy-efficient, using only a fraction of the energy that other fountains of its size require.
Dubai Fountain Show Times Summary:
The evening show starts every day at 6 pm and is every 30 minutes until 11 pm
There are additional lunch shows at 1 pm and 1:30 pm on weekdays
On Fridays, the additional lunch shows are 1:30 pm and 2 pm
What time does Dubai Fountains start?
The Dubai Fountains starts in the evening at 6 pm. There is an additional show at lunch time in the day at 1pm and 1:30pm on Fridats however the show is a much more enjoyable when the lights of the fountain are fully visible at night.
How often does the Dubai Fountain go off?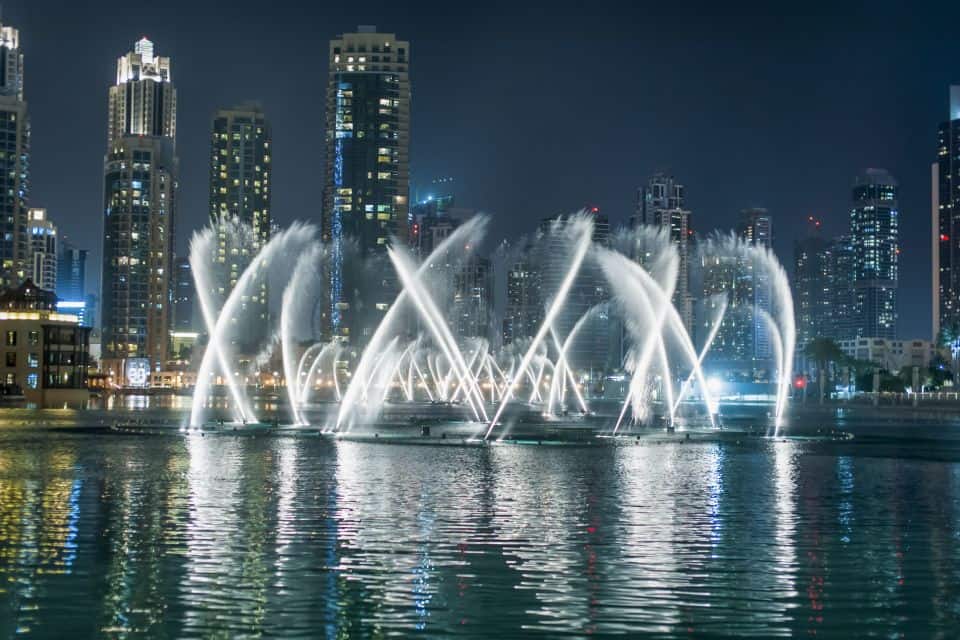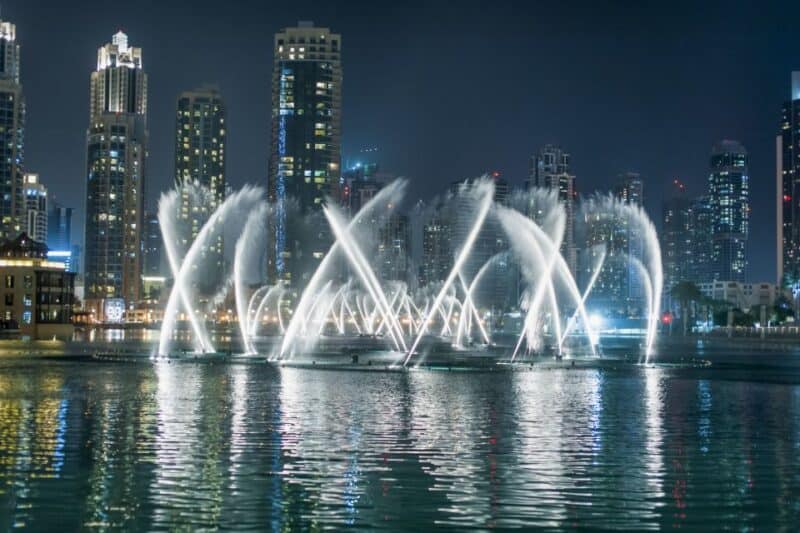 The Dubai Fountain goes off every 30 minutes after 6 pm, there are also two shows at lunchtime at 1 pm and 1:30 pm. You can also enjoy the Burj Khalifa light show in between, this goes off every 30 minutes at quarter past and quarter to. So you only have to wait 15 minutes between shows.
Expert tip – Just before the show is about the start, the Fountain Lights and Burj Khalifa smaller lights start to turn on and off, creating a beautiful twinkling star-like effect in anticipation. So you know when the show is about to start.
What time does Dubai Fountain close?
The last performance of the Dubai Fountain is at 11 pm however the area stays open 24/7 and many of the restaurants, especially on weekends are open till Midnight or 2 am depending on the venue. So you can still wander around the area even after Dubai Fountain has stopped its dancing water shows.
Dubai Fountains Show Times
Here is a complete list of show times:
| | |
| --- | --- |
| Sat to Thurs | |
| 1:00 pm | 1:30 pm |
| 6:00 pm | 6:30 pm |
| 7:00 pm | 7:30 pm |
| 8:00 pm | 8:30 pm |
| 9:00 pm | 9:30 pm |
| 10:00 pm | 10:30 pm |
| 11:00 pm | |
| Friday | |
| 1:30 pm | 2:00 pm |
| 6:00 pm | 6:30 pm |
| 7:00 pm | 7:30 pm |
| 8:00 pm | 8:30 pm |
| 9:00 pm | 9:30 pm |
| 10:00 pm | 10:30 pm |
| 11:00 pm | |
How long does the Dubai Fountain show last?
Each show lasts a full song so this ranges from around 3 to 5 minutes. 10 minutes before the Dubai Fountain show starts, the lights in the fountain and on the Burj Khalifa start to sparkle also.
Where to watch Dubai Fountain show?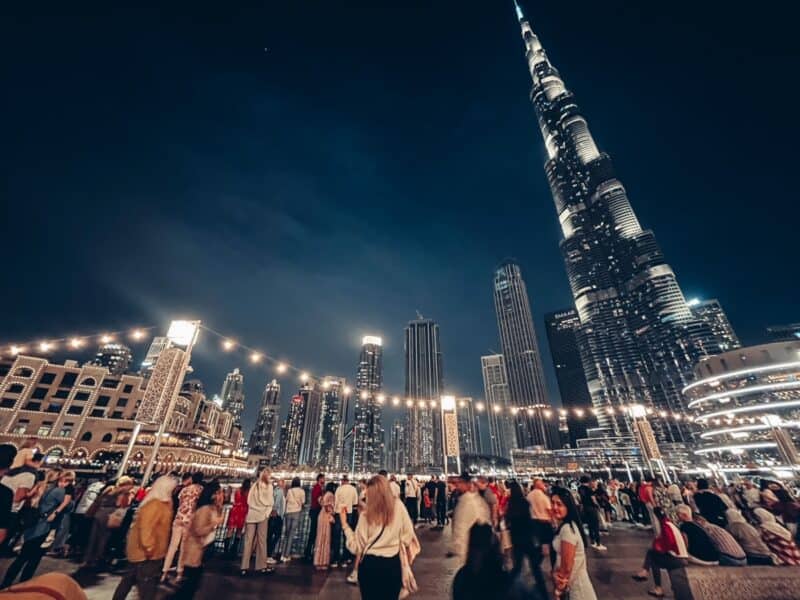 The most popular spot to watch the Dubai Fountain show is the Dubai Mall Waterfront Promenade and Souk Al Bahar Bridge. Souk Al Bahar Bridge is slightly raised so offers a great view of the fountains, also if you head past Burj Khalifa along the Waterfront Promenade towards Burj Park. This spot is usually less busy and both spots are completely free.
Souk Al Bahar Bridge offers a great view of both the Dubai Fountain and the Burj Khalifa. The back of the Waterfront Promenade close to Fashion Avenue offers a great view of the Dubai Fountain but is a limited view for the Burj Khalifa Light Show. Though you can easily walk back around the lake for the laser show.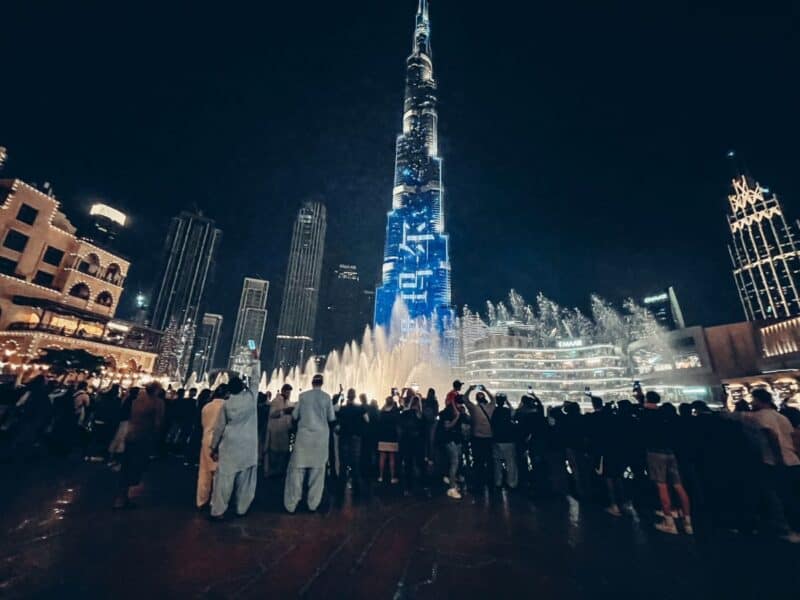 Aside from the most popular, there are many options available to watch the Dubai Fountain show for every possible budget. Here are some of the options:
Souk Al Bahar Bridge – Free
Dubai Mall Waterfront Promenade – Free
Souk Al Bahar Walkways – Free
Dubai Fountain Boardwalk – 25 AED ($7 USD)
Dubai Fountain Lake Ride – 68.25 AED ($19 USD)
Apple Store Balcony – Free
Waterfront Promenade Restaurants – Cost of the meal or minimum spend
Souk Al Bahar Restaurants – Cost of the meal or minimum spend
Fashion Avenue Restaurants – Cost of the meal or minimum spend
Burj Khalifa Viewing Deck – Free for residents
Burj Khaifa Restaurants – Cost of the meal or minimum spend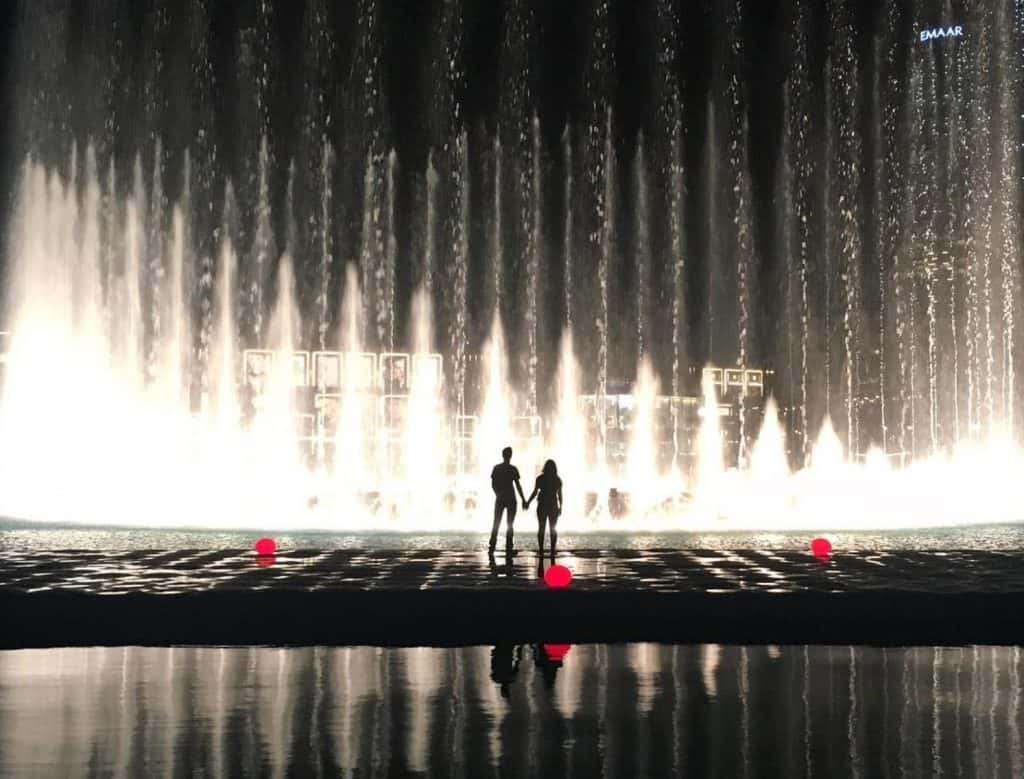 If you don't mind spending a little bit of money, I highly recommend either Dubai Fountain Boardwalk or if you have children or want something special for you and your partner, then the Dubai Fountain Lake Ride is a magical experience. It's also one of the most unique ways to watch the Fountain's really up close.
For a guide to all the restaurants with the best view of the Dubai Fountain and Burj Khalifa light show, check out my previous article.
You can also choose to dine in the Burj Khalifa however be aware that while this is an amazing panoramic view of the Dubai Fountains from slightly further away, it can be more difficult to hear the music from this location. As the music is an integral part of the performance. Also you are very up close to the Burj Khalifa, so if you don't mind really craning you neck for the light show then you might still enjoy it but for me, I prefer to be further back at the Souk Al Bahar bridge.
Where are the Dubai Fountains?
The Dubai Fountain is located in the centre of Dubai called Downtown Dubai, here you'll also find Dubai Mall, Dubai Waterfall, Burj Khalifa, Dubai Ice Rink, Dubai VR Park, Kidzania, Dubai Aquarium and Underwater Zoo plus other Dubai attractions.
How to get to Dubai Fountain
There are multiple modes of transport to get to the Dubai Fountain, you can choose by car, taxi, metro or bus.
Car
Both Dubai Mall and Souk Al Bahar offer free parking however with Souk Al Bahar it is time limited with a parking token system. To get longer than 2 hours, you will need to validate your parking token. The Souk Al Bahar parking does have the advantage that it is close to the Dubai Fountain.
Dubai Mall, I recommend either parking in Fashion Parking or Cinema Parking. I personally like to park in Cinema Parking on the lower ground floor close to Waitrose. You will see signs for Waitrose. Then you can walk into Dubai Mall, past Waitrose and turn left. Follow the signs for Dubai Fountain and head straight out the big rotating doors, past Five Guys. This takes you right to The Dubai Fountain and Souk Al Bahar Bridge.
You can also choose to use the valet for an additional cost. There is a Dubai Fountain Valet parking or you can also use Fashion Avenue valet parking as this is also quite close to the Dubai Fountain.
Taxi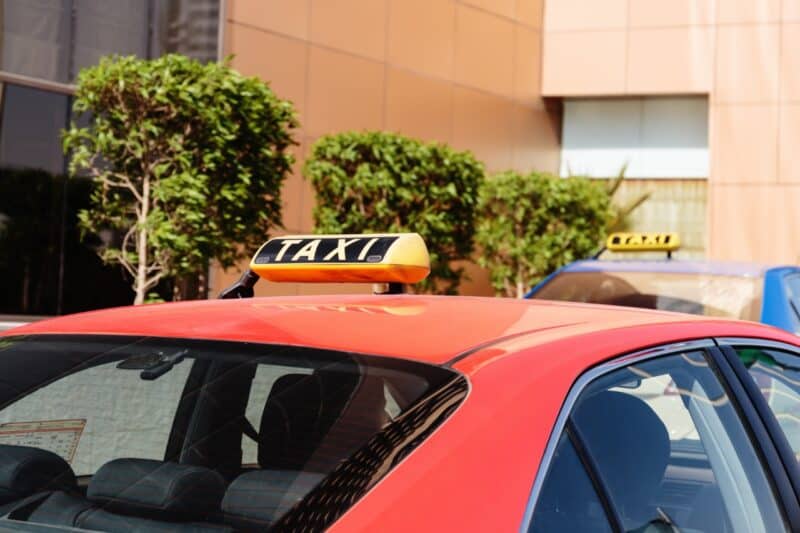 You can use any of the taxi app services in Dubai to get a taxi from wherever you are stay and be dropped very close to the Dubai Fountain. If you tell the taxi driver you want to go to Dubai Fountain, they will drop you off at the valet roundabout that is very close to the Salt restaurant. Be aware, this area is drop off only so you can't get a taxi from here.
Metro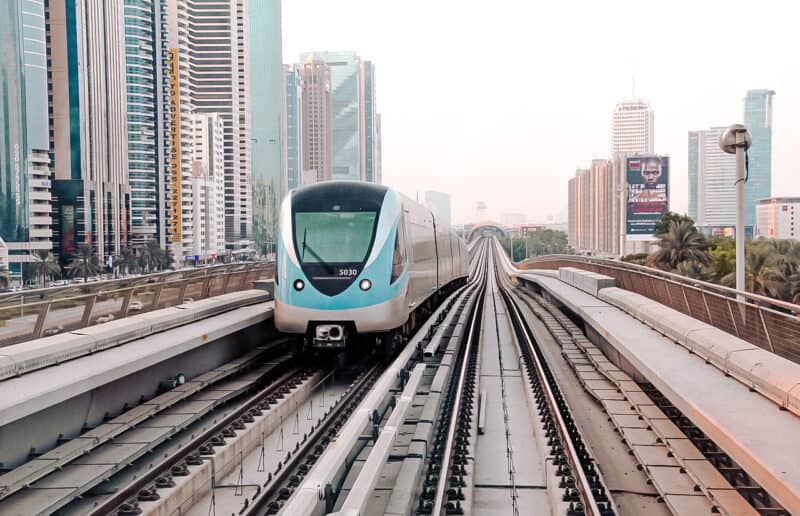 The Dubai Metro is a convenient way to get to Dubai Mall as you'll avoid all the traffic and try to find a parking space on the many floors of Dubai Mall car park. You also don't have to worry about losing your car in the giant car park!
The only downside of the metro is that it is quite a long walk from the station to the Mall. It is an air-conditioned walk way with travelators but it still takes around 10 to 15 minutes to walk. You'll then need to take the escalators down to the lower ground level and follow the signs to Dubai Fountain.
Bus
If you're using one of the Hop on and Hop Off Dubai Bus Tours, then you can easily just jump off at the Dubai Mall stop which is available on both routes from both providers.
If you're planning to use a Dubai RTA bus, then there is the F13, F41, 50, 27, 28 & 29. All of these stop close to Grand Parking which is by Galleries Lafayette and Bloomingdales. So it is at the opposite end of Dubai Mall from the fountains.
If it's too far to walk, you can get an indoor EZ Taxi which is a long golf buggy that drives through the mall dropping people off. It is 20 AED or 30 AED for a return from one end to the other end and can fit 3 adults with 2 children. You'll find EZ taxis across Dubai.
Are the Dubai fountains free?
Yes, the Dubai Fountains are free to watch unless you decide to opt for one of the closer paid options or if you decide to eat in one of the restaurants with a Dubai Fountain view. You can watch from the Water Promendade or Souk Al Bahar bridge for free along with the Apple Shop Balcony.
Also make sure to charge your devices so you can take awesome footage and photos of the Dubai Fountain. You'll need a G type plug in Dubai or an adapter. You'll also find charging banks available for free at Dubai Mall's information desks. You'll need to give a form of ID and during busy periods, there may not be any available. So make sure to take a plug just in case!
Burj Khalifa light show and general information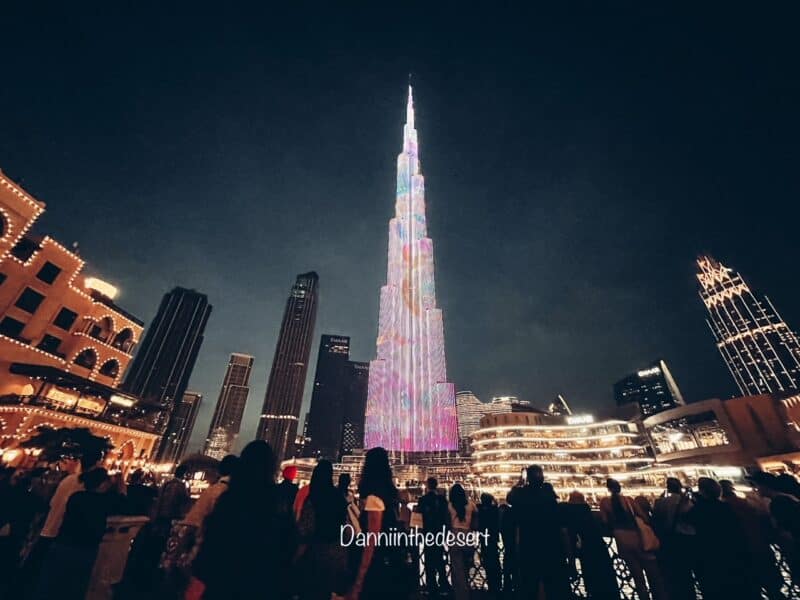 Another option to see while you are in the area is the Burj Khalifa light show, which can be enjoyed in between the times you are waiting for the Dubai Fountain show. My favourite place to watch in Souk Al Bahar Bridge.
Some information about the Burj Khalifa light and laser show:
Starting from 6:15 pm till around 11:15 pm
The light show lasts around 5 minutes
The show features the world's largest LED screen, lasers and music
The show is free to watch and is best viewed from Burj Khalifa Lake at Dubai Mall
Themes of the show change throughout the year depending on events, holidays and other occasions.
Dubai Fountain Information & Facts
The Dubai Fountain is a choreographed fountain system set on a 30 acre lake called Burj Khalifa Lake. It is one of the most popular tourist attractions in Dubai and the whole area does get extremely busy on weekends.
The songs change for each show ranging from Lionel Richie to Classical Arabic songs.
The Dubai Fountain was designed by WET Design, a California based company who also designed the fountains for The Bellagio Hotel in Las Vegas.
The best place to Watch Dubai Fountains and Burj Khalifa Light Show
If you head up a little bit further to the end of the Souk Al Bahar Bridge, which is closer to Souk Al Bahar, here tends to be less crowded than the Waterfront Promenade (as you can see in the photo below). The bridge is raised which makes it easier to see the lake even if you aren't right at the front.
I was here with a pram, so I'll give a few tips. Firstly, this exit close to Souk Al Bahar does get busy but usually the side doors on either side of the revolving doors are easier to get in and out of. They also operate a one way system, so to exit to the Dubai Fountain area you'll take the door on the right.
Once you come out Souk Al Bahar is straight ahead. To the right of the bridge steps, there is a flat bridge for wheelchairs and prams (strollers). There is a ramp at the end which will take you to the higher level of Souk Al Bahar. It does get busy in this area but it is still possible to get here even with a pram.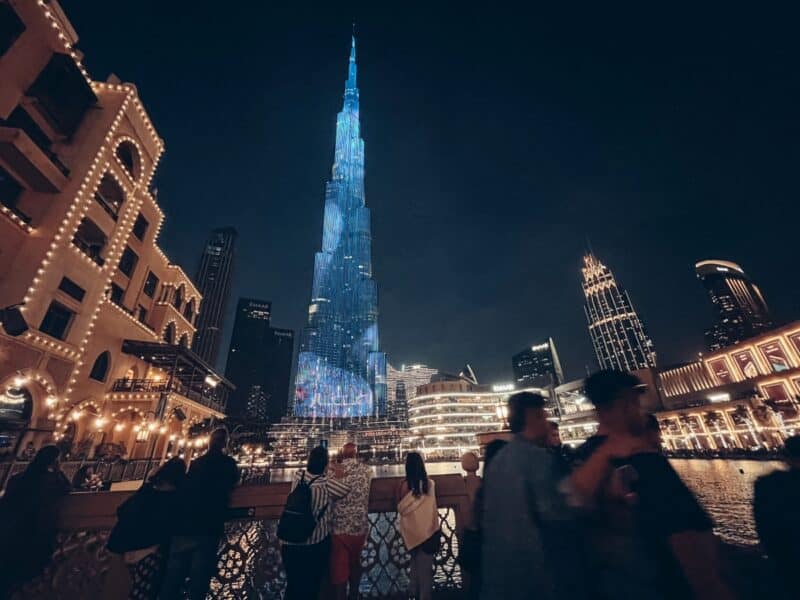 When was the Dubai Fountain built?
The Dubai Fountain was officially inaugurated on May 8th, 2009 along with the official opening ceremony of The Dubai Mall.
How high does the Dubai Fountain reach?
The Dubai Fountain has powerful water nozzles that shoot water up to impressive heights. The fountain jets up to 22,000 gallons of water as high as 140 m (459 ft) in the air at any one time. It cost $218 million to build
---
Before you go, check out some of my other helpful Dubai articles:
The best hotels with views of the Burj Khalifa for your perfect stay in Dubai
Restaurants with a Burj Khalifa view and Dubai Fountains to watch the show
The best view restaurants in Dubai to enjoy a meal in every location
Facts about Burj Al Arab and how to see Burj Al Arab without dining there
Dine inside the Burj Khalifa with these 9 restaurants for a unique experience
Visit the Burj Khalifa and alternatives to At The Top viewing deck
---
Final thoughts
Dubai Fountain is one of the best free things to do in Dubai and it is certainly not an attraction to be missed. The Dubai Fountain can be quite crowded at peak times, so try to plan your visit accordingly and get in place early if you can. The top of the Souk Al Bahar bridge and the back of Burj Khalifa lake towards Burj Park, tend to be less crowded than other spots. You can also choose to enjoy the fountain by enjoying a meal in the Souk Al Bahar or Dubai Mall. I hope this information has helped you plan your visit to Dubai Fountains. Now go enjoy the spectacular show!
---
*This article contains affiliate links, as an Amazon Associate and a member of other affiliate programs, I earn a commission when you click a link and a qualifying purchase is made.