A comprehensive guide to the currency used in Dubai and provides all the information that a tourist or newcomer needs to feel comfortable with exchanging their money in Dubai. We'll explain what type of currency in Dubai is used, as well as discuss topics such as exchange rates, international transfers and banking regulations.
You will also learn about where to find the best deals on foreign currencies when visiting or residing in Dubai. So if you have any questions or concerns regarding managing finances while living in or visiting this amazing city. Or regardless of whether you are new to Dubai or been here for a while but are still unsure of how the currency and exchanges work. This article is for you.
Dubai is a major financial hub in the Middle East, and one of the most important cities for business, finance, and commerce. It has become a global player when it comes to banking and investments. With international banks having branches in Dubai, people from all over the world are able to access their funds easily through electronic transfers or exchange them at banks or exchange houses.
With so many exchange rates and banking regulations it can be hard to know where to start or where to get the best deal or just simply be confused by the amount of options!
Which currency Dubai uses
The United Arab Emirates Dirham (AED) is the official currency in Dubai, and it is often denoted with the abbreviation 'AED' or the symbol 'د.إ'. It has been used in Dubai since 1973, when it replaced the Qatar and Dubai Riyal. One dirham is made up of 100 fils.
Cash notes and money denominations in Dubai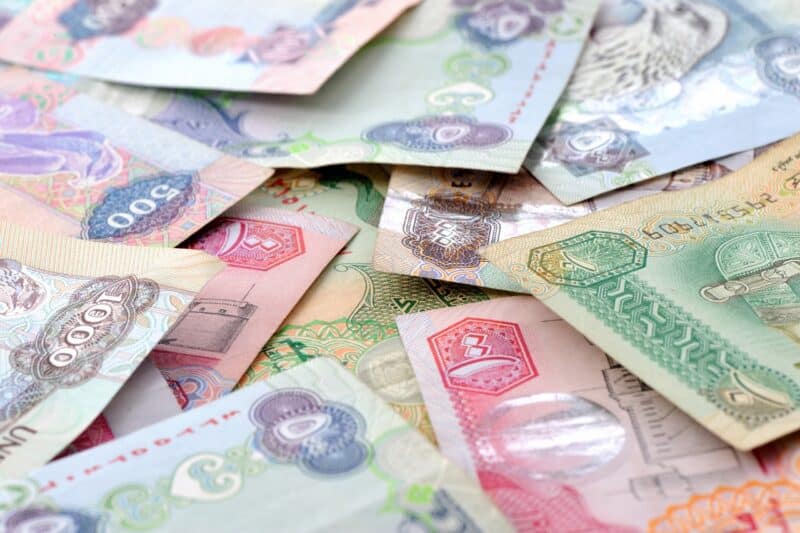 Cash notes in Dubai are widely accepted and can be found in denominations of 5, 10, 20, 50, 100, 200, 500 and 1000 AED. Though it is rarer to see 1000 AED notes. Even 500 AED notes, sometimes shops and taxis are not happy to take these larger notes and will often ask if you have a smaller bill.
Coins are also available in denominations of 1 dirham plus 1, 5, 10, 25 and 50 fils. Though you will frequently find that stores despite prices having fil denominations, it's rare for them to give you the smaller fils as change.
One example of this is that the majority of places tend to put their prices in whole dirhams, however, supermarkets in Dubai do tend to use pricing such as .95 but it seems to be rare they have the 1, 5 or 10 fil coins. You will much more commonly see the 25 and 50 fil coins, So they'll round your shopping up to the nearest dirham or .50 fils typically if you pay cash.
Where to Exchange money in Dubai and exchange rates for foreign currencies
When exchanging money in Dubai, there are a few methods available: banks, online and exchange houses. Many of these offer competitive rates on foreign currencies including the United States dollar (USD), British pound (GBP), Indian Rupee (INR) and European Euro (EUR).
If you wish to go somewhere physically to exchange money, then my favourite places are actually the malls of Dubai. I've personally exchanged money many times at Dubai Mall and Emirates Mall. These exchanges are open for long hours like the malls, so perfect to visit after work or a day out exploring. Times do vary based on the mall but typically from 9 am or 10 am till 11 pm or 12 am, with some even later on weekends. They also offer great rates which may be surprising compared to other countries.
If you decide to go to the bank to transfer to a bank account outside of the UAE, you'll typically get a good exchange rate but they charge an additional fee for the transfer. A lot of the branch operating hours vary based on where they are located, so they can be anything from 8 am till 2 pm or 8 am till 8 pm. ATMs or Cash Machines are typically accessible 24/7 but the counters needed to do transfers are closed after these hours.
All of the banks and most of the exchanges are trustworthy in Dubai and it's extremely rare for there to be any issues if you use these services in Dubai. Fake currency is extremely low and it's extremely rare to get scammed from a legally operating business. Though it is always best to count carefully your cash before accepting the exchange.
Insider tip – Whenever you are dealing with a currency exchange always ask if that is the best rate they are able to do. Typically the exchange will ask how much you want to exchange and then give you a better price than is on the display board. So it is always worth asking before you exchange your money.
Popular exchanges in Dubai:
I personally like to use Wise.com to transfer money back home as they offer really good exchange rates and much lower fees than traditional banks. It also means I don't have to worry about carrying cash on me when flying back home.
How much is $1 US in Dubai?
The United Arab Emirates Dirham (AED) is tied to the US Dollar. This means that 1 AED is equivalent to $0.27 USD.
Exchange rates can vary, however, so it's best to check the rate you are being given before exchanging your money in Dubai.
Dubai currency rate for popular currencies
United Arab Emirates Dirham (AED) to Indian Rupee (INR)
United Arab Emirates Dirham (AED) to Pakistan Rupee (PKR)
Currency data courtesy
coinmill.com
Paying with card in Dubai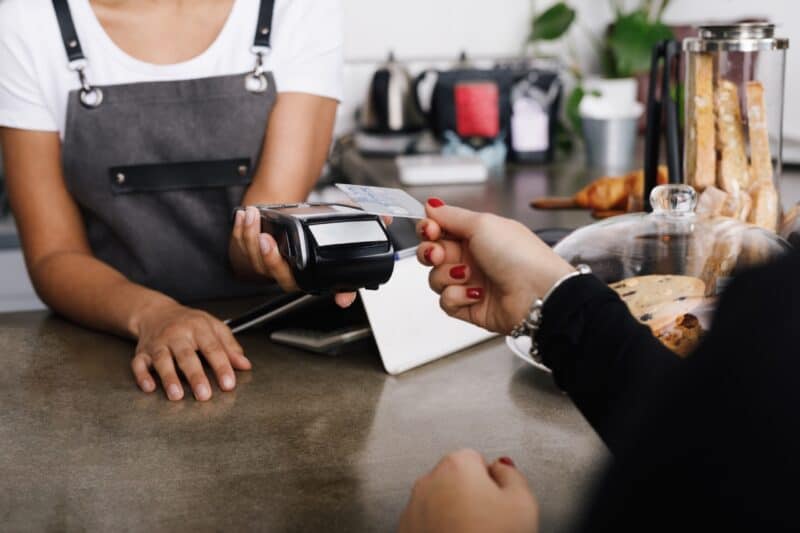 Paying with a card in Dubai is an easy and convenient way to make payments. Credit and debit cards are widely accepted at most stores, restaurants, and services throughout the city. Even small places will typically accept cards and even when it's a small amount purchase.
Using your credit or debit card in Dubai will allow you to take advantage of the exchange rate for foreign currencies, as well as avoid any potential currency conversion fees if you managed to get a good travel credit card.
Additionally, some cards may even offer additional reward points or cashback bonuses when used abroad. Though make sure to check what fees your bank or credit card charges for using the card abroad as these can be quite hefty, especially for cards that offer airline miles or points.
International transfers into and out of Dubai
International transfers into and out of Dubai are highly facilitated by the banking system in the Emirate. Foreign currencies can be exchanged at any bank or exchange house in Dubai, with competitive rates and no hidden fees or charges.
Dubai is actually a lot cheaper to exchange money and I get much better rates than my home country of the United Kingdom where it's rare to get a good exchange rate outside of London. Along with worrying who might be watching you when you do exchange money. Unlike Dubai!
Another great option is to use Wise, they offer a great rate for sending money back home and low fees. I've even seen them come out the same price as me taking cash back home!
Dubai's banking system overall is modern and has modern features such as receiving text (SMS) messages when money is transferred into your account or when you are charged or make a payment. Money transfers are sent quickly with UAE banks offering almost instant transactions between each other.
Transferring to other Gulf Countries is also very fast with many banks able to do next-day transfers but make sure to check with your provider. International transfers typically take a couple of days but sometimes it can be slower on the other side for them to confirm and release the transfer.
Additionally, payment methods such as wire transfers, money orders, and electronic funds transfers (EFTs) are all accepted.
Banking regulations in Dubai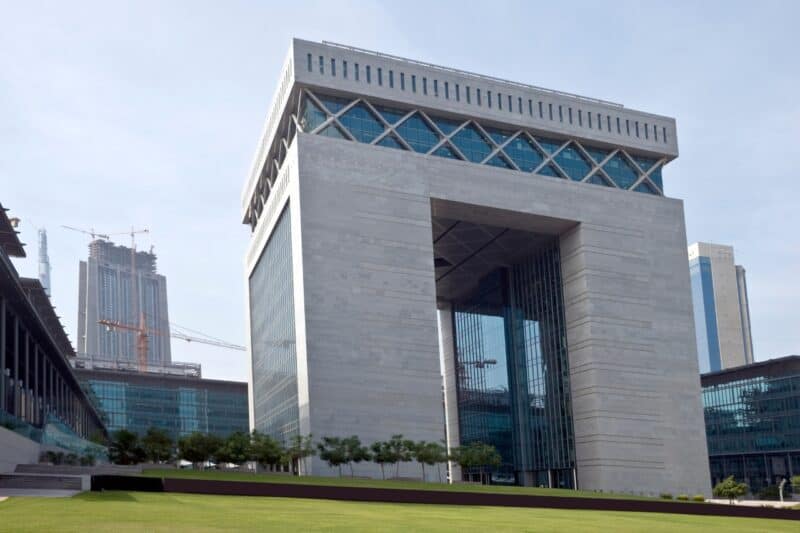 Banking regulations in Dubai are strict and ensure that financial transactions are secure however compared to the UK or Europe, Dubai is less developed. It's impossible to expect a country that has existed for just over half a century to have the same level of regulations compared to countries with banking sectors existing for hundreds of years.
So it is something to keep in mind that savings and investments may not have the same level of protection offered by the government as compared to your home country. The UAE has promised to protect people's money in the event of a collapse but it is not fully in law and more of a public promise. However, the majority of the banks in the UAE are partly owned by the government which means there is more responsibility there in the event of financial trouble.
In addition, banks in the Emirate must adhere to various laws and regulations set by the UAE Central Bank, which include capital requirements, lending restrictions, licensing and disclosure requirements.
In addition to these regulations, banks must also comply with anti-money laundering (AML) and know-your-customer (KYC) requirements. This involves verifying the identity of customers before any transactions can be made. Overall, these regulations make banking in Dubai a safe and reliable experience.
VAT and other taxes in Dubai
VAT (Value Added Tax) is one of the main taxes in Dubai, and it is currently at a rate of 5% on most items. This applies to both residents and visitors alike, though certain items such as groceries, healthcare services and educational fees are VAT exempt.
In addition to VAT, there are other taxes that must be taken into consideration when in Dubai. If you are planning to live in Dubai, then you will pay what are called "fees" which are typically added onto government services and even things like dining out. Dubai restaurants actually include a tourism fee within the menu price and tips for the staff working there. However places like DIFC and Abu Dhabi, these fees are added to your bill after.
Also if you stay in a hotel, you will have to pay a tourism fee at the end of your stay. Taxis when using the Sheikh Zayed Road go through toll gates called Salik. So while they aren't called taxes, they are a form of taxi in reality.
Also, corporate taxes are being introduced to Dubai from 1st June 2023. So if you're planning to set up a company in the mainland of Dubai or operate within the mainland of Dubai. Then you will need to pay corporation tax.
As a tourist, you are able to claim VAT back when leaving at the airport. So if you've done a large amount of shopping in Dubai, it may be worth claiming back the 5% VAT back. However, you do have to pay a fee of 4.80 AED per receipt at a registered tax free shop.
Conclusion
Dubai is a vibrant and exciting city with its own unique currency. Though it may be daunting for newcomers to navigate the financial system in place, understanding what the United Arab Emirates Dirham (AED) is and where you can best exchange your money isn't as difficult as it seems.
As with any travel, you need to be aware of credit or debit card fees when using your card abroad along with the various taxes such as VAT applicable in Dubai. When transferring money into or out of Dubai, international transfers are facilitated by banking regulations in place that ensure secure transactions as well as meeting KYC/AML requirements.
So overall, Dubai is a safe place for banking and exchanging money. So there you go! You now have all the information needed to help manage your finances while visiting or living in this beautiful Emirate. Additionally, credit and debit cards are widely accepted throughout the city for payments. Dubai is definitely one of the easiest places to spend money in the world!
---
*This article contains affiliate links, as an Amazon Associate and a member of other affiliate programs, I may earn a commission on purchases. Clicking the link doesn't cost you anything extra but it does help me to keep writing these awesome articles for you!