Eating out with your little ones can be a recipe for stress! Not to fret, we've got the ultimate list of family-friendly and kid-friendly restaurants in Dubai that will put a smile on everyone's face. Say goodbye to tantrums and hello to good times that will stay with you long after you leave.
I've lived in Dubai for many years and I've recently had a baby. I didn't realise how difficult it can be to find places to eat in Dubai with children until I had my little one. So many places are over 21s or over the age of 5 or 8! Also anywhere with a shisha terrace, means you can't sit outside with those under 18. Making eating out in Dubai a bit of a minefield!
Though not to worry, I'm here with all the places I take myself and my daughter to in Dubai and I've included places that have play areas or activities for the children. So you can enjoy your meal while they play with something new and exciting!
*Prices are correct at the time of writing but are subject to change, so please check before you go!
Insider tip – Groupon.ae has lots of great offers at various restaurants for dining out in Dubai. So it's definitely worth checking if there's any offers for any of these restaurants before you head out!
1. Black Tap – Dubai Mall, Mall of Emirates & JBR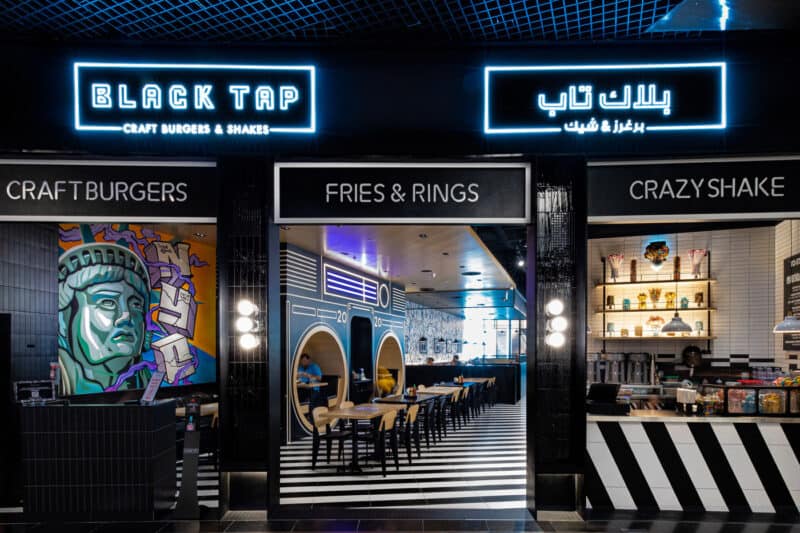 Calling all burger lovers, have you tried Black Tap yet? Originating in the city that never sleeps, New York City, it's the go-to for over-the-top burgers and milkshakes. With some locations serving breakfast too, Black Tap will have your taste buds dancing for joy! Be warned, it's a pretty popular spot, so you might need to queue for a table.
This restaurant is kid-friendly with a kids' menu and also offers birthday packages for those wanting to celebrate here. Their giant milkshakes are loved by adults and kids alike! They're huge, so make sure you get one to share unless you're really really hungry.
You'll find branches across Dubai so no matter what area you live in, there's a Black Tap not too far away! Including a branch in Dubai Mall with an awesome view of the Burj Khalifa and Dubai Fountains.
Their JBR branch is perfect for having a wander around after you've finished with nearby entertainment for the kids and the Mall of Emirates has Magic Planet plus other entertainment options. So you can really make a day of it.
Key information
Style: American fast-food burgers
Kids' meals start from 35 AED ($9.50 USD)

Website
Reservations: +971 04 399 9076
2. Wavehouse – Palm Jumeirah
Wavehouse is a one-of-a-kind entertainment complex located in the iconic Atlantis resort on Palm Jumeirah, promising non-stop fun for all ages! With an exciting array of activities on offer including bowling, arcade games, a wave rider plus there's a restaurant and bar. The restaurant serves up a variety of mostly American cuisine and the bar has a wide selection of drinks.
It's a popular destination for families and groups looking for a fun, exciting night out. In addition, there's a soft play area for smaller ones too. The venue is pretty huge and covers two floors.
Though you may be asking, why is it called Wavehouse? Because it features a wave machine. Though you don't need to surf if you don't want to, you can still enjoy the none water-based activities and food if you wish or just watch from the terrace the other people surfing.
Birthday parties are also available here.
Key information
Style: International
Kids meals start from 25 AED ($7 USD)

Website
Reservations: +971 04 426 2626
3. Rainforest Cafe – Festival City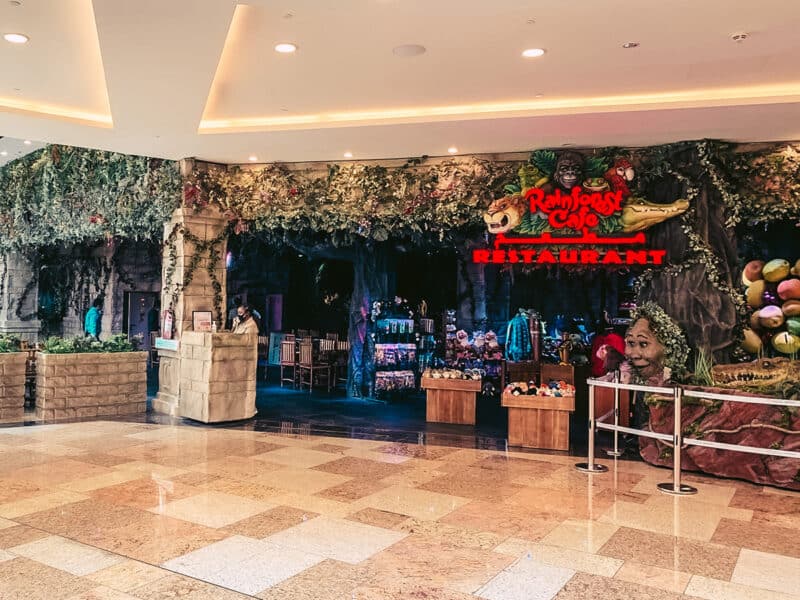 Be prepared to enter the jungle! This rainforest-themed cafe is located in Dubai Festival City and is ideal for families with kids wanting to eat out in Dubai! Children can wander around and experience animatronic animals to learn as they go.
The restaurant features a wide range of food from Arabic to burgers to European style. So you should find something to suit any fussy eaters in your family.
This is also one of the most affordable places to eat since the kids' menu includes a drink, side and dessert all for 45 AED ($12 USD)
Key information
Style: Various international & Middle Eastern dishes
Kids meal include a side, drink and dessert for 45 AED ($12 USD)

Website
Reservations: +971 04 236 2727
4. Masha and The Bear – JBR
Masha and the Bear Dubai is an interactive entertainment experience based on the popular children's television show. The experience offers a variety of activities for children of all ages, including a live show, a play area, a photo booth and a gift shop.
Based on the Russian cartoon of a little girl and her adventures with a bear who saves her from danger. So of course the food matches the cartoon's origins with Russian dishes being served. It also features a multi level play area.
They also are able to host birthday parties along with workshops and events. Also on Mondays, you can get a free dessert when you order a coffee.
Key information
Style: Russian, Middle Eastern & International
Kids meals start from 25 AED ($7 USD)
Website
Reservations: 800 62742 (800 MASHA)
5. Origins – Emirates Hills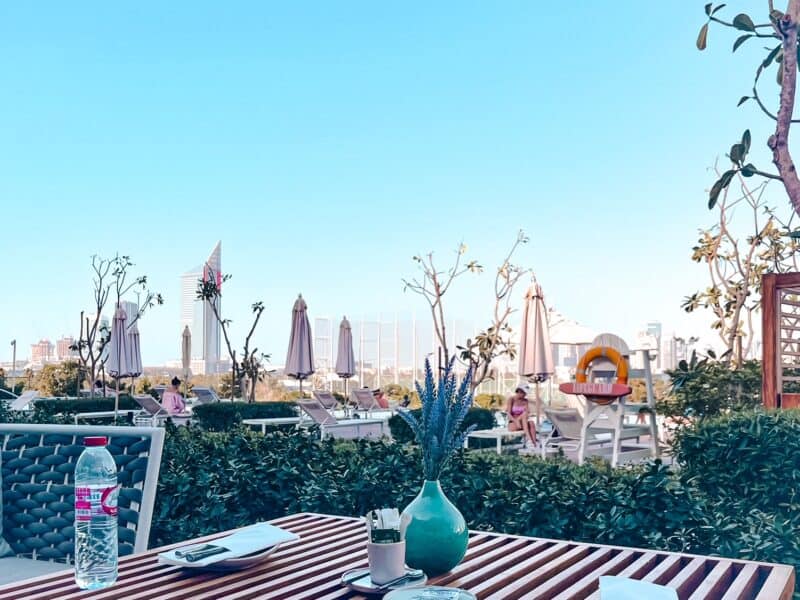 Located inside Vida Hotel this wholesome healthy restaurant has an outdoor play area, perfect for keeping the kids entertained either before or after your meal. The restaurant is even pet friendly too with a doggy park so you really can take every member of your family out if you desire!
I did find the adult portions a little bit small for the price and I would expect higher quality due to the hotel venue but prices are in line with the rest of Dubai. The view and location are really nice to make up for it!
Also, the play area is a little bit far away from where you sit to eat but is on the same floor. So depending on the age of your children, you might need to supervise either before or after your meal. There are also board games available too to keep them entertained at the table.
Key information
Style: Healthy European
Kids meals start from 35 AED ($9.50 USD)

Website
Reservations: +971 04 872 8888
6. Phileas Fogg – Emirates Hills
A restaurant based on a fictional character? How about one based on the explorer Phileas Fogg himself! Located in the stunning Emirates Hills, this British pub-style venue gives off serious globe-trotting vibes. With travel-themed decor adorning every corner and a giant air balloon beckoning you from outside, it's an adventure you won't want to miss!
There's an outdoor play area for the little ones and a good selection of kids' dishes on the menu. They also have fun nights out for the whole family such as Quiz night, music nights and kids' entertainment shows every week.
Key information
Style: British, Asian & International
Kids meals start from 15 AED ($4 USD)
Website
Reservations: +971 (0) 4 572 4477
7. Baker's Kitchen – Dubai Marina
This is hands down one of my favourite places to go in Dubai because it was opened by a truly passionate baker from Germany who flies many of his ingredients from back home to Dubai. He really makes a lot of effort to make you feel welcome and I always take my friends here whenever I get the chance!
On top of supporting a locally grown business, you'll find an awesome kids corner and even classes for kids to attend where they can learn the art of baking or even making sushi.
They also have some really good coffee which is of course is very important as a parent. One of the best hidden gems of Dubai! Plus has views over Dubai Marina! What more could you want?
Key information
Style: Healthy European
Kids meals starting from 17 AED ($5 USD)
Website
Reservations: +971 56 824 0790
8. Carluccio's – Dubai Mall, Dubai Marina & Arabian Ranches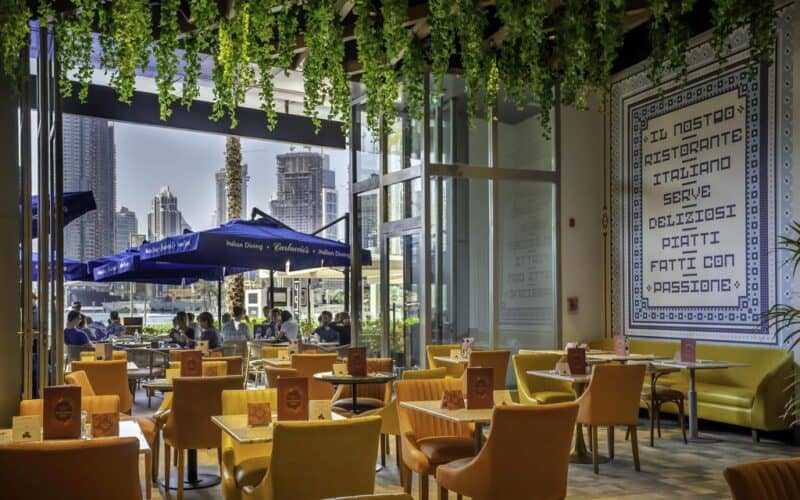 This restaurant is not your typical child-friendly option! It's perfect for families who crave grown-up vibes but still want to keep their little ones entertained with crayons and an activity book. And let's not forget the yummy Italian food that both you and the kids will enjoy!
The Marina branch is close to the Marina, located inside Dubai Marina Mall, so you can enjoy a leisurely walk afterwards or have enjoy some shopping. The Dubai Mall branch is within reach of the Burj Khalifa and Dubai Mall. Make sure to enjoy a Dubai Fountain Show after or even while you enjoy your meal.
Check out my 24 hour itinerary for Dubai if you want some ideas on other things to do in Downtown Dubai!
Key information
Style: Italian
Kids meals starting from 20 AED ($5.50 USD)
Website
Reservations: Branch Contact Numbers
9. The Scene – Dubai Marina
One of my favourite places for a classic British Sunday roast. The Scene is located in the beautiful Pier 7 at Dubai Marina with stunning views across the marina. You'll see luxury yachts casually floating by as you dine. So make sure to book in advance to get the best seats on the terrace.
If the Dubai marina view from the restaurant isn't enough to amuse the children, their brunch on Saturdays are the perfect family day out with kids under 6 eating free!
Key information
Style: British & Mixed International
Family Bruch
Every Saturday: 12:30pm till 3:30pm
Under 6s eat free
Ages 7-12 49 AED ($13 USD)
Website
Reservations: +971 4 422 2328
10. Reform Social & Grill – The Lakes
Yet another British gastropub that caters to families! If you're wanting somewhere with a large outdoor area for the kids to play, this spot is ideal! After all, kids can end up spending so much time inside in Dubai that it's great to find somewhere they can get a bit of fresh air! It's also a nice view for the adults right by the water
Reform Social also does different events throughout the year and I've been here before for an outdoor BBQ which was really tasty! They also offer a family-friendly brunch so you can watch the kids play while you enjoy your food on their outdoor wooden benches.
Key information
Style: British & European
Saturdays
Every Saturday – 3pm till 7pm
Kids eat free and free activities
*Booking requiring
Kids meals start from 35 AED ($9.50 USD)
Website
Reservations: +971 4 454 2638
11. Eat Well – Zabeel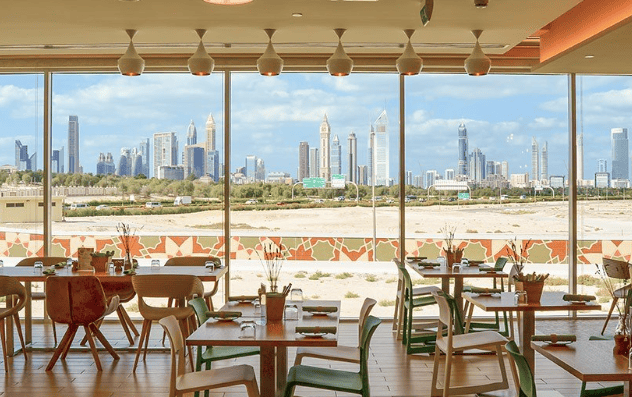 Eat Well is an impeccable healthy restaurant situated in Dubai, enticing patrons with a plethora of sumptuous dishes including gluten-free, vegan, and sugar-free options. Whether you are looking for breakfast, lunch, or dinner options, the menu offers variety and flavour.

You can also indulge in a scrumptious range of desserts and snacks. The staff are knowledgeable about the menu and the restaurant is welcoming to children with a bespoke menu having kid-friendly options.
The food is also health focused so if you're wanting something different from the typical kids meals menus featuring burgers and fries, perfect for the health-conscious parent!
This casual lunch spot is a hidden gem in Dubai and features an incredible view of the Dubai skyline if you journey to the 1st floor. It has activity corners for children to keep themselves entertained and kids menus.
Key information
Style: Healthy International
Kids meal including a drink and dessert for 40 AED ($6 USD)
Website
Reservations: +971 54 476 6326
12. The Barn – Satwa
Discover a hidden gem in Dubai's Al Safa Park – The Barn Cafe! This unique coffee shop offers a variety of coffee drinks, pastries, and snacks in a relaxed atmosphere with friendly staff. It's the perfect spot for anyone looking for a peaceful getaway and a delicious cup of coffee. And the best part? It's a located in a park waiting for you to explore!
Established in 2015 by two friends who wanted a nice space to unwind and savour specialty coffee. The cafe is characterized by rustic decor and a large area of outdoor seating, so you can let the kids run around while you enjoy a catch up with friends.
Key information
Style: Light bites & pastries
Pastries start from 20 AED ($5.50 USD)
13. Lime Tree Cafe – Various Locations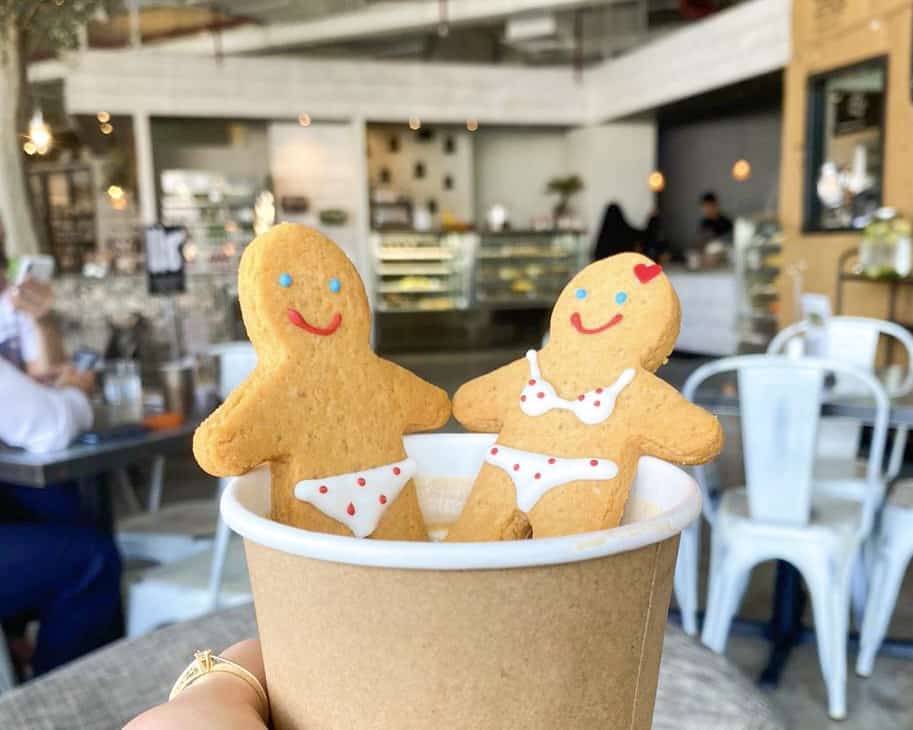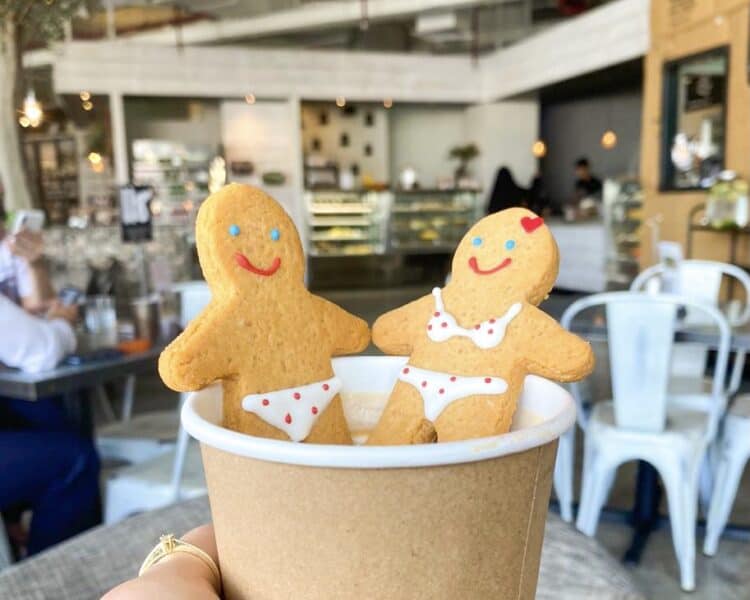 Lime Tree Cafe is a great place to go with kids in Dubai at their various locations across Dubai. Depending on the branch you visit, some have a large outdoor seating area and many have little libraries or book corners to keep kids entertained.
They have a kid-friendly menu and I always find the staff to be friendly and a great overall relaxed atmosphere. Plus their desserts are incredible! In fact, all of their food is good and they have some great gluten-free plus vegan options too.
Key information
Style: Healthy International
Kids meals start from 28 AED ($8 USD)
14. Pulcinella – Sports City
Looking a spot to take the family for a scrumptious Italian meal? Look no further! This family-owned restaurant serves up authentic, mouth-watering delights that'll satisfy even the fussiest eaters.
The best part? There's loads of outdoor seating, plus a playground for the kiddos to blow off some steam while you enjoy a steaming bowl of pasta. Perfect for a weekend outing.
The menu features the typical pizzas, pastas, and salads you'd expect to find in Italy along with a decent selection of seafood. Calamari fritti anyone? Yum yum and yum.
It's also possible to have a birthday party here with a party package.
Key information
Style: Classic Italian
15. Arrows & Sparrows – The Greens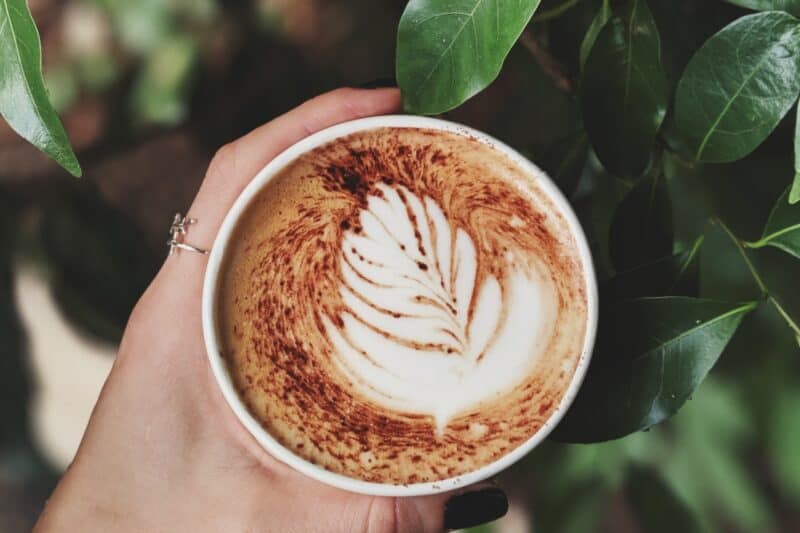 If you're looking for a good breakfast spot that is also kid friendly, Arrows and Sparrows is highly commended. This casual dining restaurant located in the lovely The Greens area and founded by the co-founders of Friends' Avenue Cafe in Dubai.
The cafe's mission is to inspire and energize you with their excellent food and coffee in a relaxed environment packed with good vibes! They serve up dishes that are casual yet made with the finest ingredients. The friendly staff go the extra mile to ensure each customer feels at home and they love to create memories for everyone who walks through the door.
Key information
Style: Healthy International
Kids meals start from 15 AED ($4 USD)
16. Jamie Oliver's Pizzeria – JLT
The famous British chef Jamie Oliver opened this restaurant as part of his global chain that is just focused on Pizza however it does serve up pasta and other Italian dishes. The restaurant is known for its fresh ingredients and its commitment to using sustainable practices.
The restaurant has casual vibes and is perfect for the whole family. Outdoor seating is available and they have your typical kids style menu with the usual options that kids just love to eat. Also make sure to try the garlic bread, it's really really good! Gluten free options are also available as well as vegan.
They've also just launched a new offer where kids eat free on Tuesdays!
Key information
Style: Contemporary Italian
Kids meal including a drink and a salad for 39 AED ($11 USD)
17. Angel Cakes – Dubai Mall & Blue Waters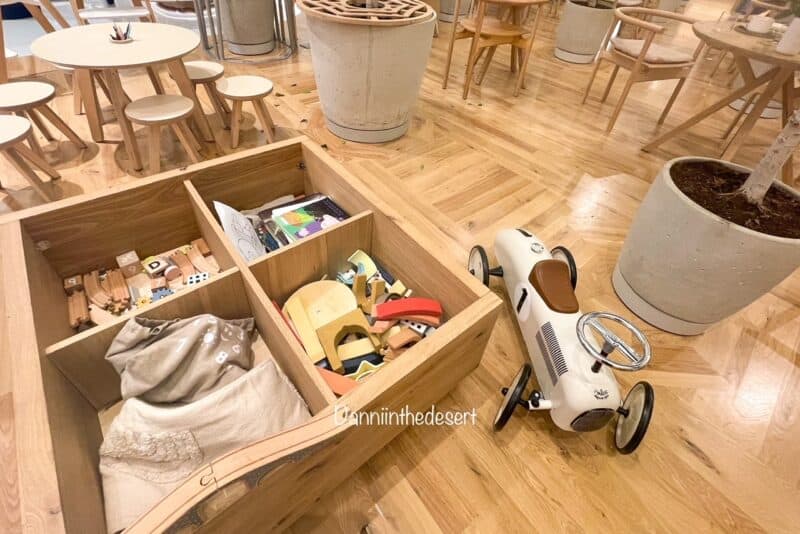 A newer one onto the Dubai scene, this 100% gluten free cafe is one you'll need to taste to believe! Their cakes are hugely popular and by the evening you may find that several have sold out. So best to get there earlier so you can enjoy all the best flavours.
For children there are a good amount of toys with a play area at the back of the dining space, with a focus on wooden toys including a fancy looking wooden racer car. The toys even match the aesthetic of the cafe!
Key information
Style: Healthy brunch & desserts
Conclusion
All of the above are great options for having a nice meal with the kids and while Dubai is often seen as an adults play ground, it can equally be very family friendly. If you're looking more for a family restaurant in Dubai, I recommend Eat Well or Bakers Kitchen. If you're wanting somewhere to be more of a family friendly day out then I highly recommend Reform Social & Grill on a Saturday or The Scene's Saturday Brunch. Make sure to check for some good deals from Cobone.com before you go!
---
*This article contains affiliate links, as an Amazon Associate and a member of other affiliate programs, I earn a commission when you click a link and a qualifying purchase is made.