Dining at the Burj Al Arab is an experience like no other. Located in Dubai, this iconic hotel has become a symbol of luxury and opulence. Offering guests world-class hospitality, fine dining and breathtaking views. While it may seem out of reach for some, there are actually ways to enjoy the Burj Al Arab without breaking your budget. In this article, we'll explore how you can dine at the Burj Al Arab and what you can expect to spend. So that you too can experience the exquisite cuisine and unparalleled service that this legendary hotel offers.
So what makes the Burj Al Arab so unique? It's located on its own artificial island which requires a reservation or booking just to access it. The iconic structure offers breathtaking panoramic views of the beautiful Arabian Gulf Sea. Boasting some of the world's finest cuisine, Burj Al Arab is renowned for its impeccable service and ambience that's perfect for a special occasion or an extra special romantic date night.
All restaurants and bars inside Burj Al Arab
The restaurants range from modern, contemporary settings to traditional Middle Eastern cuisine. From delectable seafood dishes and sumptuous steaks to mouthwatering Oriental delights, you'll find something to tantalize your taste buds.
Enjoy unparalleled service at some of the most luxurious restaurants in the world! The attentive staff are highly trained and can make your visit truly special. The service is impeccable and the ambience sets the perfect stage for an unforgettable evening. Plus read more below for our recommendations for lunch and dinner.
I've also included ones that have since closed down as they are both listed as temporarily closed, however, it seems unlike they will open again as both closed down in 2020.
Al Mahara: Their famous fine dining seafood restaurant with a large indoor aquarium.
Sal: Mediterranean dining on the Burj Al Arab outdoor terrace by the pool.
Scape Restaurant (Closed): Mediterranean cuisine on the ground floor overlooking the sea.
Al Iwan: Arabic restaurant served in a more casual style and family-friendly.
Al Muntaha: Burj Al Arab's only Michelin-starred French and Italian fine dining restaurant.
Bab Al Yam: Breakfast restaurant serving European cuisine for guests only.
Junsui (Closed): Asian food restaurant and bar decorated with 29,000 Swarovski crystals.
Gilt (Previously Gold on 27): Cocktail bar with fine details of gold and bar snacks.
Sahn Eddar: Lounge and café located in the lobby, serving afternoon tea, light bites and a small selection of mains.
Skyview Lounge: 200 meters above sea level, this cocktail bar offers a view of the Burj Khalifa Dubai skyline.
UMA lounge: The newly opened outdoor terrace area offers casual dining
Al Iwan
Serving levant style Arabic food, this is one of the more affordable options inside the Burj Al Arab with meals ranging from 55 AED to 380 AED. They also have options for children too.
This restaurant does an iftar buffet during Ramadan.
Floor: 1st
View: Back sea view
Open times: 6:30 pm till 10 pm
Dress code: Smart casual
Bab Al Yam
This restaurant is exclusively for breakfast for Burj Al Arab guests and can only be visited if you are staying at the Burj Al Arab as a hotel guest. It is also family friendly and serves European-style breakfast.
Floor: Ground
View: Back sea view & pool
Open times: 6:30 pm till 10 pm
Dress code: Casual
Sahn Eddar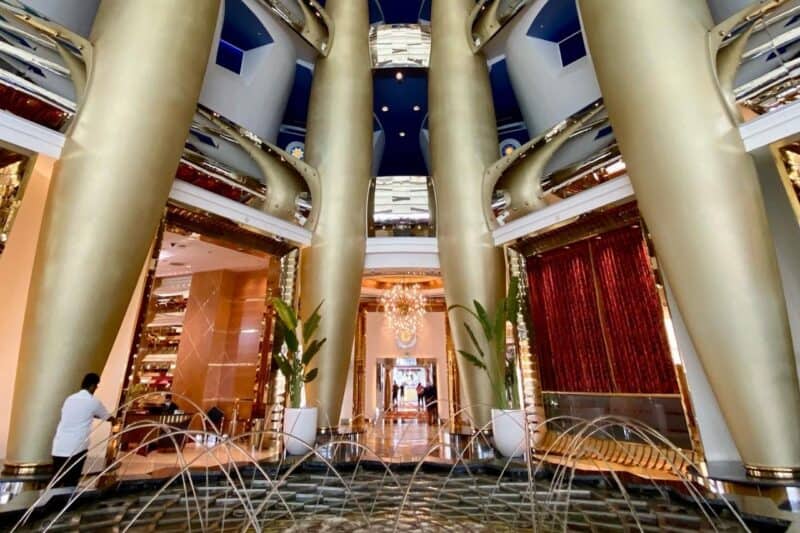 Here you can enjoy the famous Burj Al Arab Afternoon Tea along with a selection of soups, sandwiches and desserts. They do have some main options but it is a very small selection of 4 dishes. Mostly serving Italin dishes with a few European and Middle Eastern options. They are also family friendly with a children's menu available.
Most restaurants in Burj Al Arab have a 200 AED minimum spend per person, so while you can get a coffee for 40 AED and enjoy the stunning lobby of Burj Al Arab you will still need to meet the minimum spend.
Floor: 1st
View: Front bridge & sea view
Open times: 10 am till 11 pm, food is served at 12 pm
Dress code: Casual
Skyview Lounge
This cocktail bar is mostly focused on beverages, however, they do serve aperitivo during sunset. This offers a selection of nibbles prepared by a Michelin star chef with two alcoholic beverages for 490 AED per person. Many cocktails are 150 AED, so it's very easy to spend the minimum spend of 200 AED here if you'd rather enjoy the Burj Al Arab without food or only nibbles.
Previously the Burj Al Arab afternoon tea was served here but now it's served in the hotel lobby Sahn Eddar.
Must be 16 years or older to visit the Skyview Lounge.
Floor: 27th
View: Sea & Dubai Skyline with Burj Khalifa
Open times: 4 pm till 11:30 pm
Dress code: Smart elegant
Gilt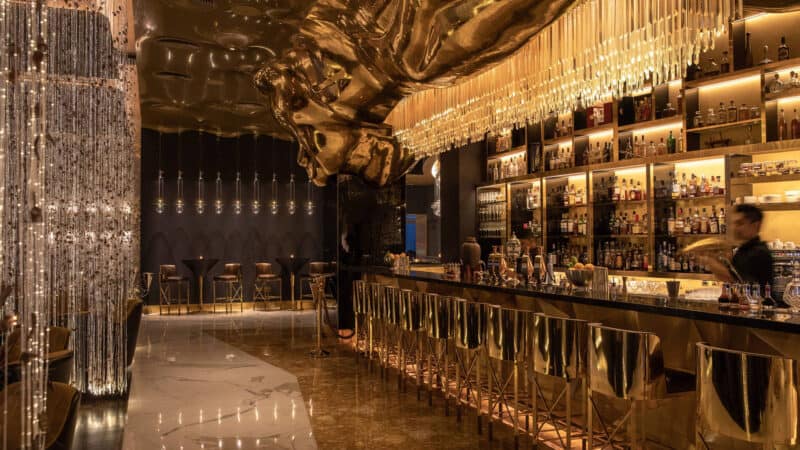 Its name gives away its theme and was previously named Gold on 27, with its iconic gold bar has stayed despite the name change. It's definitely the blingiest bar in Dubai! Mostly focused on cocktails led by an expert mixologist, they offer a small selection of bar snacks. It has a beautiful Dubai skyline view.
Over 21 years old only. A minimum spend of 200 AED applies however if you've been elsewhere in Burj Al Arab, they will usually wave the minimum spend if you're wanting to enjoy a post-dinner cocktail. Cocktails are 90 AED each.
I did visit when it was previously when it was Gold on 27 and I must admit that my guest's cocktail was lovely however, I'd gone for a slightly more unusual option which was not enjoyable at all.
Floor: 27th
View: City view
Open times: 6 pm till 1 am or 2 am on Fridays & Saturdays.
Dress code: Smart elegant
Sal
Located at the back of the Burj Al Arab on the terrace, this outdoor restaurant serves Mediterranean food with a focus on seafood. Shisha is also available here.
You can also choose to pay for a pool day here with sun loungers starting at 800 AED on a weekday and 1000 AED on the weekend. 50% of the amount is redeemable on food, The pool menu is a selection from the main menu and the addition of sandwiches.
The minimum spend is 250 AED per person and all guests need to be over 12 years of age.
Floor: Ground
View: Back sea view
Open times: 12:30 pm till 10:30 pm (Weekdays no food service between 5:30 pm and 7 pm)
Dress code: Casual
Al Muntaha
Burj Al Arab's only Michelin-star restaurant prepares only the finest Italian and French food. Priding themselves on top-quality ingredients and fully attentive, high-end service. This type of dining is not for everyone, as some find the attentiveness too much while others prefer the special feeling of being waited on.
You can choose from various set menus for lunch or dinner or à la carte. The mains cost between 380 AED to 530 AED. Dining guests must be 8 years or older.
I very much enjoyed a meal here when I first moved to Dubai and I must say the service was impeccable.
Floor: 27th
View: Back sea view
Open times: 12:30 pm till 4 pm and 7 pm till 10 pm
Dress code: Smart elegant
Al Mahara
Meaning oyster shell in Arabic, the name gives a hint to its theme. Currently hosting a pop up of 'Ristorante L'Olivo' at Al Mahara by two Michelin star Chef Andrea Migliaccio, from the Italian island of Capri. The menu features predominantly seafood.
Meals range from 350 AED to 550 AED and tasting menus are also available starting from 1000 AED. Minimum age for dining guests is 8 years old.
Floor: Ground
View: Back sea view
Open times: 6:30 pm till 10 pm
Dress code: Smart elegant
Lunch at the Burj Al Arab
The Burj Al Arab also has a range of gastronomic experiences available at its luxurious restaurants and bars, ensuring that you can enjoy the highest standards of cuisine in breathtaking surroundings.
These are the ones we most recommend for lunch:
How much is lunch at Burj Al Arab?
If you're wanting a good deal, then this Burj Al Arab tour with food at UMA Lounge is the best at 249 AED per person. The tour lasts around 1 and a half hours before you'll be escorted to the lounge for your meal, overlooking the Arabian sea.
Other restaurants for lunch include Sal and Sahn Eddar, both with a minimum spend, Sahn Eddar located in the Burj Al Arab lobby is 200 AED ($54 USD) per person while Sal has a minimum spend of 250 AED ($68 USD). So depending on which restaurant you choose and dish, this will roughly get you 1 dish and 1 drink.
Sal has a higher minimum spend but the dishes tend to be slightly cheaper here, if value is what you're after. Al Muntaha is the Burj Al Arab's fine dining lunch option and main meals start from 380 AED ($103 USD), for a lunch with a starter, main and a drink you'll likely be looking at around 650 AED ($177 USD) per person but you can easily spend a lot more if you choose.
Afternoon Tea at the Burj Al Arab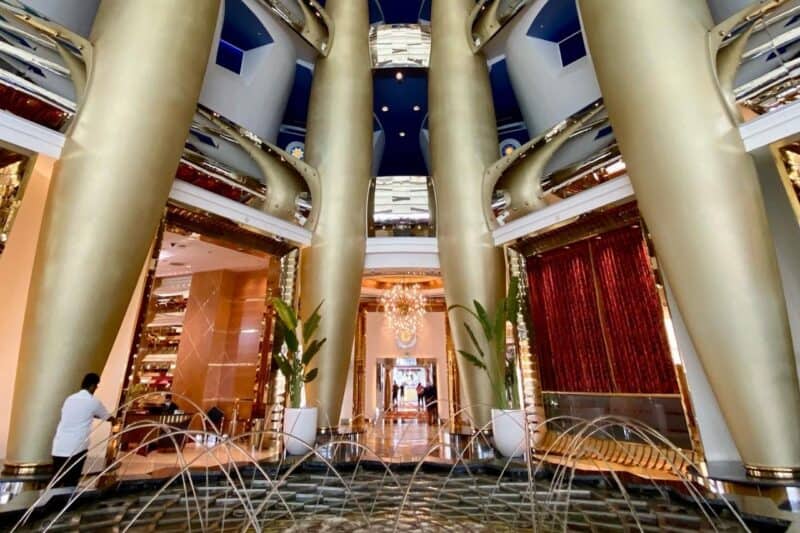 One of the most popular experiences at Burj Al Arab is its afternoon tea. With a selection of freshly made pastries, finger sandwiches and a variety of tea, coffee and hot drinks. It's an ideal way to relax and enjoy the opulent lobby.
For an extra special experience, why not indulge in the high-tea menu which includes a glass of champagne. The cost for a regular afternoon tea is 490 AED while with champagne is 590 AED per person.
The afternoon tea was previously served in the Skyview Lounge however has since been moved to Sahn Eddar at the lobby and overlooks the entrance to the Burj Al Arab.
How to book afternoon tea at Burj Al Arab
You will need to contact the Burj Al Arab directly, you can do this via their website or alternatively, why not take a tour which includes a gold cappuccino at UMA lounge at Burj Al Arab.
The benefit of the Burj Al Arab tour is that you get to see the whole of the Burj Al Arab hotel, including their two floor suites where as with the afternoon tea you will only see the lobby area where you sit to eat and the bathrooms.
Dinner at the Burj Al Arab
Soak up the opulence and enjoy a romantic, luxurious evening. Burj Al Arab's range of restaurants offers something for everyone – whether you're looking for a fine dining experience or something more laid-back.
Here are our top picks for dinner:
If you're with younger children (below 8 years) then your best option is Al Iwan
For an exquisite fine dining experience Al Mahara or Al Muntaha are for you
Visit the Burj Al Arab
The exquisite architecture, the grandeur of the interior, and the spectacular views from its terraces make dining at Burj Al Arab an unforgettable experience. Whether you're looking for a romantic dinner for two or an extravagant family evening out, there is something for everyone here.
However, you can only visit the Burj Al Arab if you have a booking, whether that is a tour, a restaurant or a hotel reservation.
Tour of the Burj Al Arab
If you want to explore the grandeur of Burj Al Arab, consider taking a tour of its interior. You'll get to witness some of the most stunning rooms and suites, marvel at the glittering Swarovski crystal walls and be amazed by the intricate craftsmanship that has gone into creating this iconic building.
Unlike a dining reservation, you'll get to see more of the hotel and learn about its construction. The tour also includes access to the 'Tower of Arab,' with an area dedicated to showcasing the tradition and culture of the United Arab Emirates.
You can also relax in the UMA lounge after your tour where food and drinks are served on a beautiful outdoor terrace overlooking the Arabian Gulf Sea.
Drinks at the Burj Al Arab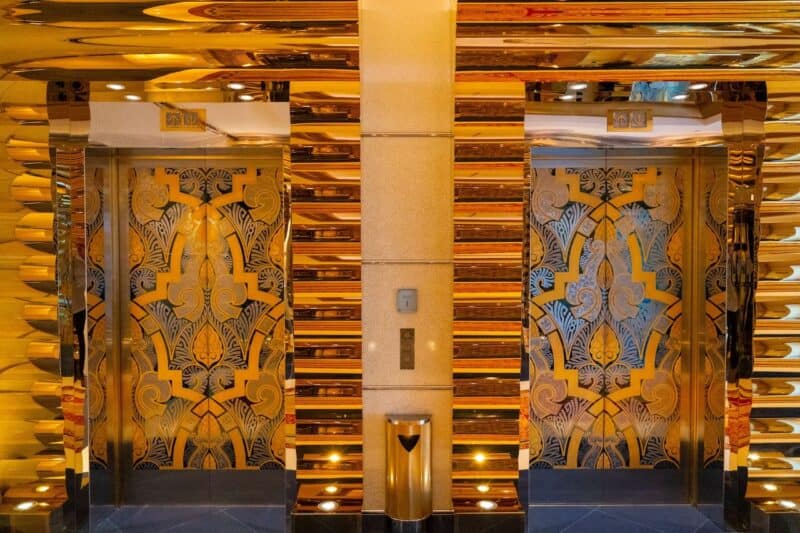 If you want to experience the glamour and luxury of the Burj Al Arab, then a visit to their bar, named Gilt, on the 27th floor is a must. With views stretching across the gulf sea and various elements of the decor made with 24 karat gold, it's a unique and wonderful experience.
Be aware however that restaurants within Burj Al Arab do have a minimum spend, so even if you plan to only have a drink. You will still need to meet the minimum spend which is typically around 200 AED per person.
Previously called Gold on 27th, now Gilt. Most cocktails are 90 AED mark, so around two drinks will typically cover the minimum charge. If you've had dinner elsewhere within Burj Al Arab, they'll usually waive the minimum charge for you. So it's a nice way to see a bit more of the Burj Al Arab if you visited for dinner!
Getting to the Burj Al Arab
Although there is a bus that runs along Jumeirah Beach Road and you can get close to the gated entrance to the Burj Al Arab, the long driveway doesn't make it ideal for pedestrians. Jumeirah Group do offer a buggy service but it would be unusual for someone to turn up without a car.
Taxi
If you haven't hired a car for your Dubai trip, then my first recommendation for getting to Burj Al Arab is via taxi. I'd spend a little more and use Careem or Uber to have a Lexus drop you off rather than a Dubai red roofed RTA taxi. You are going to the Burj Al Arab after all, so why not upgrade your journey?
If you're planning to take a tour, you'll need to head to Jumeirah Beach Hotel first. Where the Burj Al Arab tours start from.
Bus
The closest bus stop to the Burj Al Arab is Jumeirah Beach Road / Second December Street. You can take the RTA 31, 32, 88, or X28 buses which run along Jumeirah Beach Road and will drop you off right in front of the entrance to the Burj Al Arab.
If you're planning to take the tour of Burj Al Arab, the bus stop is right outside the Jumeirah Beach Hotel so it's perfect for getting to the tour ticket office.
Metro
The metro is pretty far from Burj Al Arab and you will need to either get a bus or taxi the rest of the way. If you're trying to save money because you want to spend it all at Burj Al Arab then getting the metro and then a taxi will certainly save you some money on the taxi fare!
---
Before you go, check out some of these other articles you might be interested in:
13 of the most common questions answered about the Burj Al Arab
Guide to all 9 restaurants in the Burj Khalifa and how much they cost
See the Burj Al Arab from the sea by doing a Jet Ski tour in Dubai
Stay in luxury with the best hotels on Palm Jumeirah
---
Conclusion
The Burj Al Arab is a must-see destination for any traveller or local in Dubai. Dining or staying at the Burj Al Arab is a bucket list item for many residents in Dubai, even if it's just for a couple of cocktails. For an extra special experience, why not take a Burj Al Arab tour including a beverage and get to explore even more of the hotel's stunning architecture and history? With its breathtaking views, opulent decor and luxurious atmosphere, dining at the Burj Al Arab is an unforgettable experience. We hope this article has helped answer some questions about getting to and dining at the Burj Al Arab so you can start planning your visit today!