Are you a gym bunny? Trying to lose some weight? Or perhaps just wanting to eat healthier in general. These are the best healthy eat restaurants in Dubai. Tried and tested by me! I've included some vegan options too and which offer the tastiest healthy food in Dubai! *Updated June 2020
In Dubai, we tend to fit into onto of two categories. Either we're the super healthy, going to the beach and always in the gym crowd. Or we tend to be the foodie or party type, at Brunch on a Friday and feeling slightly sorry for ourselves on a Saturday. Dubai has so much to offer for either side of these camps! If you've somehow ended up on the latter side, like me, then it's very easy to gain a few pounds! So whether you're in the healthy food crowd and just always looking for somewhere new in Dubai to eat! Or you're like me and try to be a bit healthier. Then this is your list!
Also, this list is made up of actual health food restaurants! These are healthy restaurants who use less oil, grill items instead of frying and have lower calories. I've noticed some restaurant websites, they have quite a few restaurants listed as healthy when they only really offer salads or side salads. Making it sometimes hard to find out which restaurants are the actual healthy restaurants in Dubai. So put down your shawarma menu and let's get a smoothie!
The best healthy restaurants in Dubai and the dishes I personally recommend
Circle Cafe – Various locations including Business Bay, Mirdif & Media City
This is one of my regular places to eat and I really enjoy their whole menu. Full of healthy wholesome food that tastes really good! They have various locations across Dubai and they do all you can eat with a tea or coffee for only 55 AED on Fridays and Saturdays between 8am and 5pm. This was before the lockdown but the offer is still on their website! They also do their food to go and available for delivery. The staff are super friendly and I've always had a positive experience every time I've visited! (circle-cafe.com)
Recommended dish: Super Bowl – 51 AED
Price range: 30 AED to 80 AED
HEAT Healthy Eats and Treats – Umm Suqeim, Al Barsha & DIFC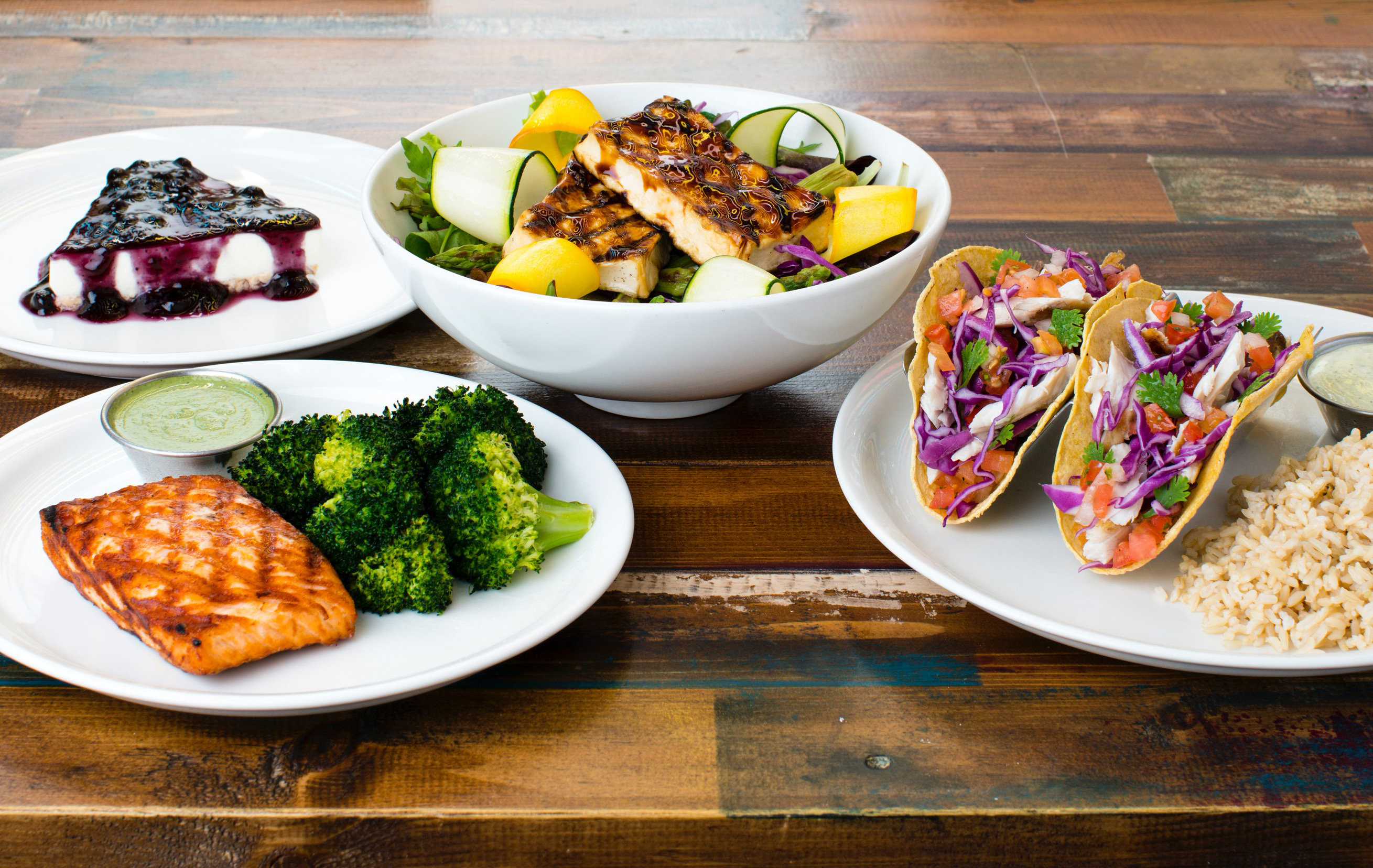 Every time I go to this restaurant, there ar at least two people sat eating in gym gear. It's a real favourite with the healthy crowd of Dubai. They offer lots of low carb options including cauliflower rice, pizza bases made from vegetables and low carb noodles! This restaurant is now a popular choice for healthy restaurants in Dubai and go to place for healthy food. They also have quite a few vegan options and is a good mid range restaurant in terms of price. They're also available for delivery. For more information and their online menu (heatcafe.ae)
Recommended dish: Teriyaki Salad – 35 AED with tofu or 55 with salmon (Teriyaki is one of my favourites and they do a lower calorie version here!)
Price range: 17 AED to 65 AED
Freshii – DIFC, Business Bay, Media City & Healthcare City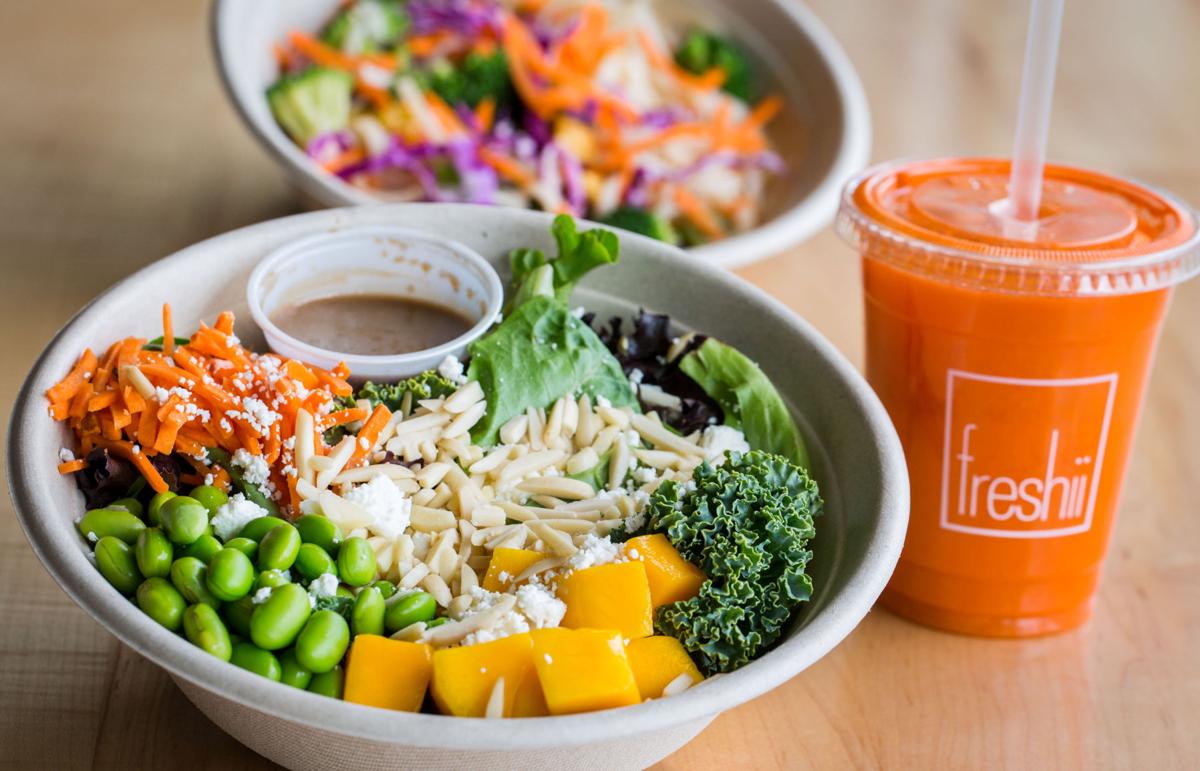 The best thing about Freshii is they have a wide choice of options and prepare everything very quickly. Freshii is like the Subway of salads, you can completely customise your own salad. It's also super quick since all the toppings are laid out. You can go in, pick what you want, pay and you're done. Making it an ideal quick lunch spot.
If you're not sure what you want, there's plenty of different menu options for you to choose from. Aside from the bowls, they also do wraps, soup and smoothies. I love their vegetable bowls. They're happy to customise things to make them vegan such as replacing the dairy yoghurt in their smoothies with coconut milk. If you're wanting to take the stress out of preparing healthy food at home, they also offer meal plans. There are various options for either losing weight, eating clean or bulk up. (freshiiuae.com)
*For some reason the Business Bay branch is missing from the website but it's located in Bay Square, Building No 2 – Update 2020, it's still not there!
Recommended dish: Buddha's Satay
Price range: 14 AED to 50 AED
CALI-POKE – Jumeriah Lake Towers, Business Bay & Al Barari
This is very much a no-frills healthy restaurant when you look at the interiors but the food is really good. It's a typical Poke bowl concept where you can order your base and then choose all your own toppings. It's a great low carb option and they also have vegan options too. It's another one that's easy in a rush as everything is already set up for you to select from. Lovely and fresh plus high-quality ingredients make it a great healthy restaurant option. They also have other healthy sides, sashimi and smoothies. (calipoke.com)
Recommended Meal: Build your own
Price Range: 55 AED to 75 AED
Rose Leaf Cafe – Al Quoz
Set inside a garden centre, this cafe is unique and a beautiful lunch spot. It is definitely one of my favourite healthy restaurants in Dubai. They have lots of healthy and hearty options available but aren't exclusively a healthy food place. They're more a cafe with a nice rustic wholesome kitchen. Just don't be tempted by the cakes that are also there!  This is a great weekend chilled hang out with the girls and is a popular spot for breakfast or lunch in the day (organicfoodsandcafe.com)
Recommended meal: The leak and feta tart
Price Range: 36 AED
Lifter Life – Jumeirah
This is one of the newer restaurants compared with the others on the list. They offer good value for heathy food compared with many of the other healthy restaurants in Dubai. Where often healthy food tends to be at a premium. The food is really tasty while still being healthy! Another one which is popular with gym-goers. They also do low carb options such as broccoli pizza and I actually prefer their version of this over HEAT. If you're wanting to achieve a long term goal, they do meal plans for home delivery (lifter-life.ae)
Recommended Meal: Grilled Sea Bass (comes with two sides)
Price Range: 48 AED
So there are my personal recommodatins for healthy food and the best healthy restaurants in Dubai. Let us know if there any good places you think should be on this list! I'll go check them out and add them if they pass the test. Let me know in the comments.
Want to know more about Danni B? Check out my story here!
Enjoyed this article? Give it a share!