Are you a gym bunny? Trying to lose some weight? Or perhaps just enjoy eating healthy in general, it is 2023 after all. These are the best healthy restaurants in Dubai without giving up on taste. Tried and tested by me! I've included some vegan options to give you the ultimate list of which places offer the yummiest healthy food in Dubai!
Insider tip – Cobone.com has lots of great offers at various restaurants in Dubai and every food you can imagine. So it's definitely worth checking if there's any offers for any of these restaurants before you head out!
Groupon.ae is also a good option to check before you head out.
In Dubai, we tend to fit into onto of two categories. Either we're the super healthy, going to the beach and always in the gym crowd. Or we tend to be the foodie or party type, at Brunch on a Friday and feeling slightly sorry for ourselves on a Saturday. Dubai has so much to offer for either sides of these camps! If you've somehow ended up on the latter side, like me, then it's very easy to gain a few pounds! Hello the Dubai stone!
So whether you're in the healthy food crowd and just always looking for somewhere new in Dubai to eat! Or you're like me and try to be a bit healthier. Then this is your list!
Also, this list is made up of actual health food restaurants! These are healthy restaurants who use less oil, grill items instead of frying and have lower calories. I've noticed most of the major restaurant websites, they have quite a few restaurants listed as healthy when they only offer salads or side salads. Making it sometimes hard to find out which restaurants are actual healthy restaurants in Dubai.
So put down your shawarma menu and let's get a smoothie bowl together instead!
The best healthy restaurants in Dubai
I've also included the dishes I personally recommend and really enjoyed myself.
1 . Circle Cafe – Various locations across Dubai including Business Bay, Mirdif & Jumeirah Islands
This is one of my regular places to eat and I really enjoy their whole menu. Full of healthy wholesome food that tastes really good. They have various locations across Dubai and they do all you can eat breakfast with a tea or coffee for only 69 AED on Saturdays and Sundays between 8 am and 4 pm (excluding Kite Beach location). As if it doesn't get any better!
They also do their food to go and are available for delivery via Deliveroo & Talabat. The staff are super friendly and I've always had a positive experience every time I've visited which has been many many times!
Style: Relaxed health focused cafe
Recommended dish: Super Bowl – 56 AED
Price range: 22 AED to 87 AED
Delivery: Order online on their website, Deliveroo & Talabat
Website
2. Maxzi The Good Food Shop – Al Barsha
So I discovered this place by accident one day and I'm so glad that I did. The manager is super friendly and I found the staff helpful overall. Not everything on the menu is healthy but they really focus on fresh high quality ingredients. They make a really good coffee too.
They have great breakfast, lunch and dinner options. Including chocolate fed wagyu steaks if you really want to treat yourself. Once you've finished, there's also fridges lining the cafe. So you can do some grocery shopping after you've finished your meal or take a nice salad home to enjoy later.
Style: International cuisines with high quality ingredients
Dish: Half roasted rotisserie chicken with two sides – 48 AED
Price range: 12 AED to 249 AED (Though most meals are around 50 AED)
Delivery: Deliveroo, Talabat, Careem & Noon
Website
Tel: +971 52 995 1277
3. HEAT Healthy Eats and Treats – Umm Suqeim, Al Barsha & DIFC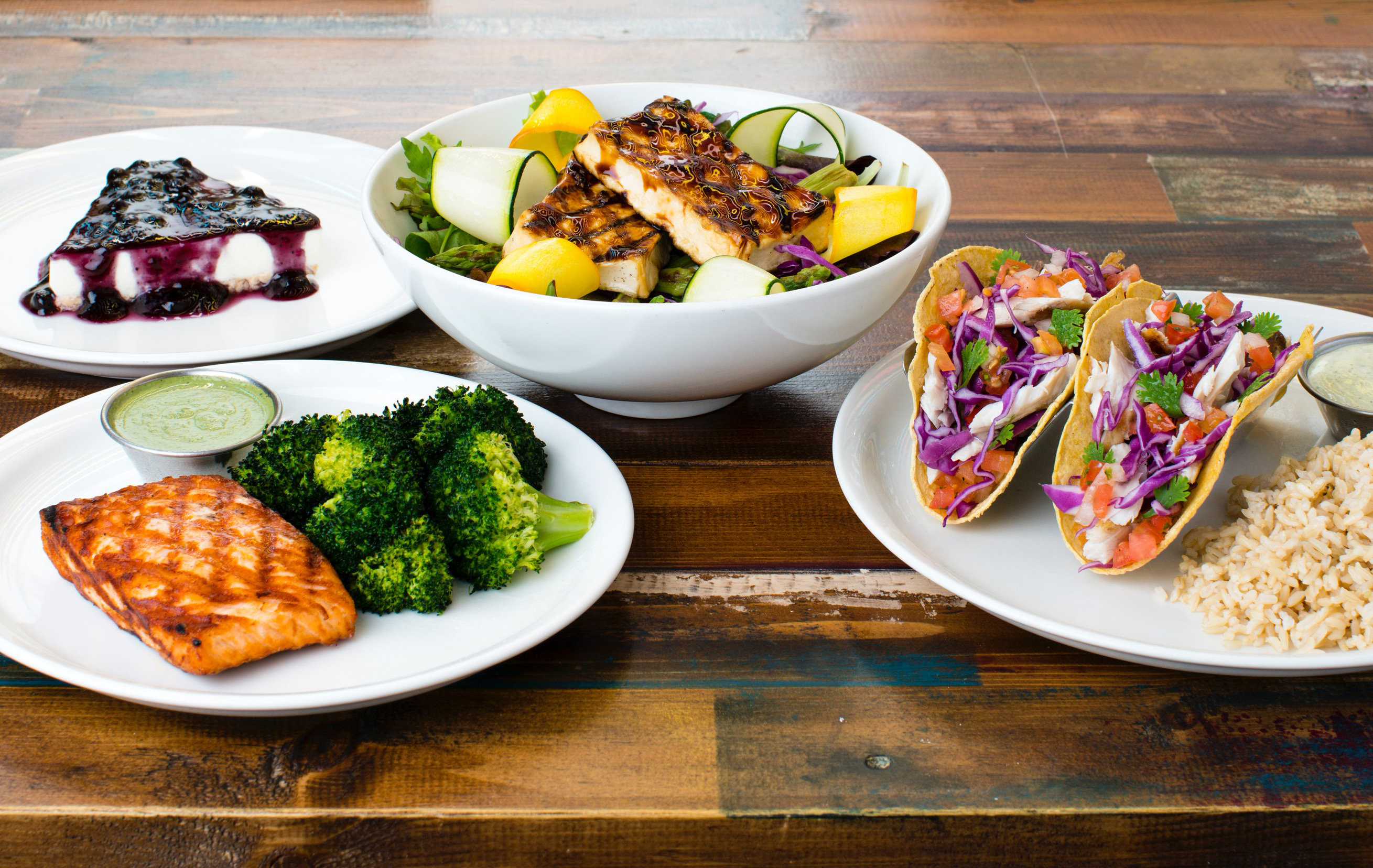 Every time I go to this restaurant, there are at least two people sat eating in gym gear. It's a real favourite with the healthy crowd of Dubai. They offer lots of low carb options including cauliflower rice, pizza bases made from vegetables and low carb noodles!
This restaurant sure is a popular choice for healthy restaurants in Dubai and one of the go to places for healthy food. They also have quite a few vegan options and is a good mid range restaurant in terms of price. They're also available for delivery and do meal plans if you want daily food delivered to your home.
Style: Casual eatery ideal for gym goers
Recommended dish: Teriyaki Salad – 28 AED and add your favourite choice of protein on top
Price range: 19 AED to 79 AED
Delivery: Order online on their website, Deliveroo, Noon, Talabat or Careem
Website
Tel: 800 328
4. Bounty Beets – Dubai Marina North
So not only is the food good here but it's all gluten free and there's really nice outdoor seating to relax in surrounded by greenery. The interiors are also nice and very instagram-able. As if it couldn't get any better, you can also take your pets here to sit in the outdoor area. So it really ticks a lot of boxes.
They do also do a breakfast offer where you can have a choice of a main, small dessert/mini dish and a drink for 89 AED which isn't too bad. From 8 am till 12 pm. Not all dishes are healthy, such as their tasty french toast. The staff are also lovely and it's just a nice atmosphere to relax in while enjoying tasty healthy food.
Style: Girly gluten free cafe
Recommended dish: Elle Woods – 70 AED
Price range: 41 AED to 170 AED
Delivery: Deliveroo
Website
Tel: +971 4 511 7373
5. Freshii – DIFC, Business Bay, Media City, Motor City & Karama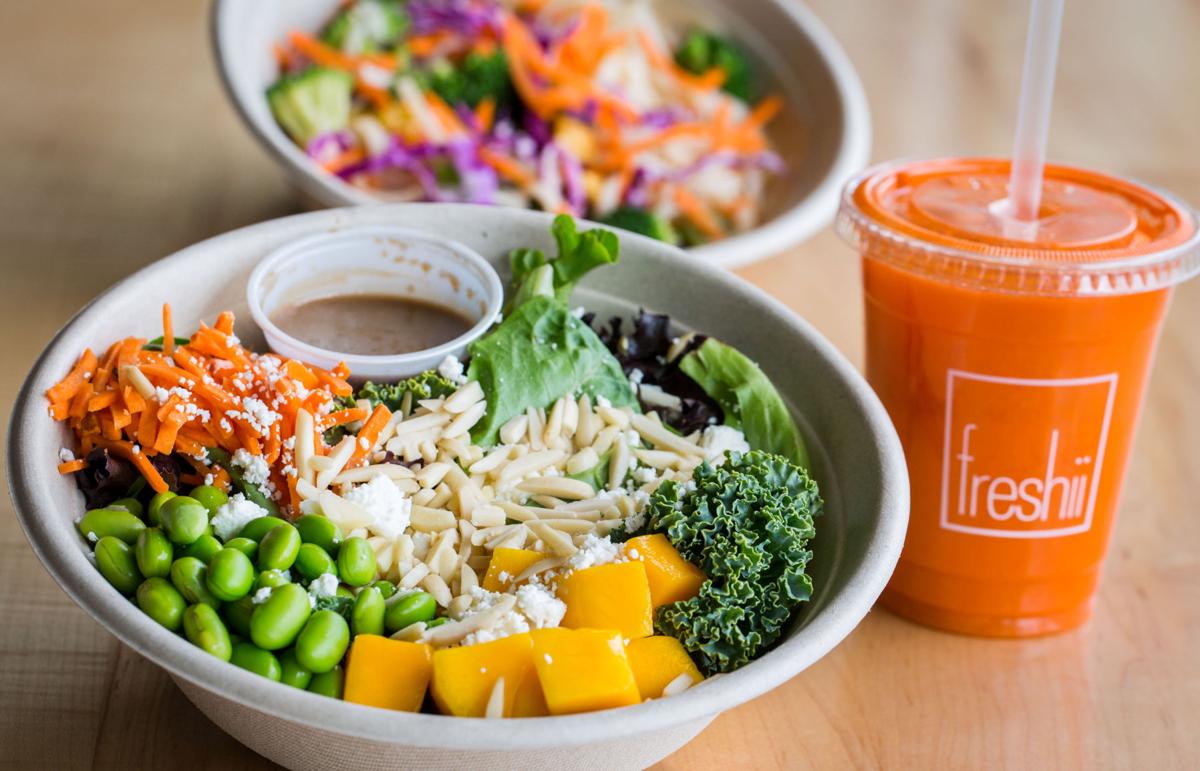 The best thing about Freshii is they have a wide choice of options and prepare everything very quickly. Freshii is like the Subway of salads where you completely customise your own salad. It's also super quick since all the toppings are laid out. You can go in, pick what you want, pay and you're done. Making it an ideal quick lunch spot when at work.
If you're not sure what you want, there's plenty of different menu options for you to choose from. Aside from the bowls, they also do wraps, soup and smoothies. I love their vegetable bowls. They're happy to customise things to make them vegan such as replacing the dairy yoghurt in their smoothies with coconut milk.

If you're wanting to take the stress out of preparing healthy food at home, they also offer meal plans. There are various options for either losing weight, eating clean or bulk up.
Style: Affordable healthy food on the go
Recommended dish: Buddha's Satay – 43 AED
Price range: 14 AED to 50 AED
Delivery: Order online from the website, Deliveroo & Talabat
Website
Tel: 800 373 7444
6. Cycle Bistro – Motor City & Jumeirah
Another option which is also pet friendly is Cycle Bistro. Focused on the Paleo diet, Cycle Bistro is one of only restaurants in Dubai offering Paleo suitable foods. Paleo is focused on our ancestral diet, meaning lean meats, fish, eggs, vegetables, nuts, legumes and seeds.
It's connected to a bicycle shop, hence the name! Their menus are seasonal and they pride themselves on using high quality ingredients. Their menu is also gluten, dairy and sugar free.
Style: Family friendly paleo casual cafe
Recommended dish: Buddha's Satay – 43 AED
Price range: 14 AED to 50 AED
Delivery: Call the Motor City number to order or Deliveroo & Talabat
Website
Tel: +971 4 425 3000 (Motor City) Tel: +971 4 332 2209 (Jumeirah)
7. CALI-POKE – JBR, Palm Jumeirah, JLT, Business Bay, Motor City, Silicon Oasis & Mirdif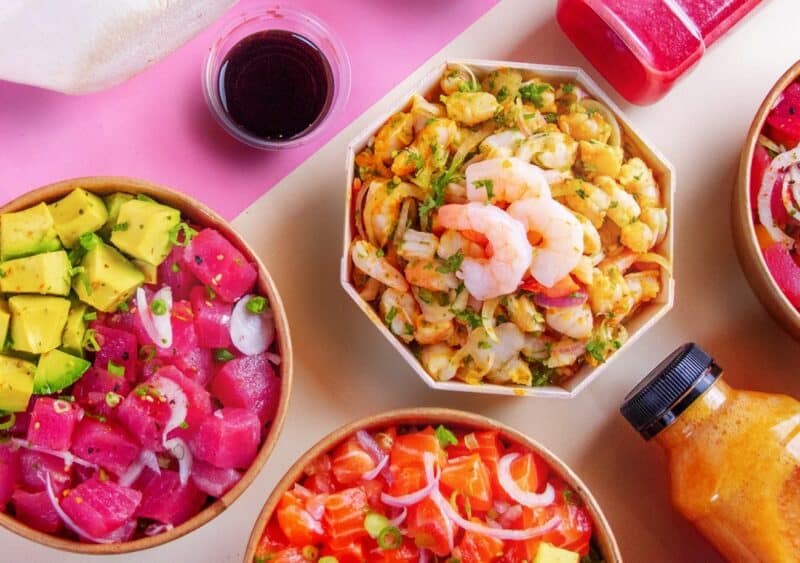 This is very much a no-frills healthy restaurant when you look at the interiors but the food is really good. It's a typical Poke bowl concept where you can order your base and then choose all your own toppings. It's also a great low carb option and they also have vegan options too.
It's another option that's easy in a rush, as everything is already set up for you to select from. Lovely, fresh plus high-quality ingredients that make it a great healthy restaurant in Dubai option. They also have other healthy sides, sashimi and smoothies.
Style: Simple healthy on the go dining
Recommended Meal: Build your own small poke bowl 65 AED
Price Range: 12 AED to 87 AED
Delivery: Order online via their website, Deliveroo & Talabat
Website
Tel: +971 04 331 5912
8. Brambles Cafe – Barsha Heights
Brambles Cafe is a lovely little cafe located in Barsha Heights close to the Internet City Metro stop. It's an incredibly popular lunch spot, with both healthy and slightly indulgent options on their menu. They also have a large selection of vegan and gluten free meals, plus smoothies and cold pressed juices which are all made fresh to order.
Their salads are particularly good and well worth trying. They also do healthy breakfasts such as acai bowls, avocado toast and granola bowls.
Style: Affordable vegan friendly girly cafe
Recommended Meal: Shakshuka Tacos – 34 AED
Price Range: 8 AED to 56 AED
Delivery: Order online via their website, Deliveroo & Talabat
Website
Tel: +971 04 331 5912
9. Rose Leaf Cafe – Al Quoz & Emirates Hills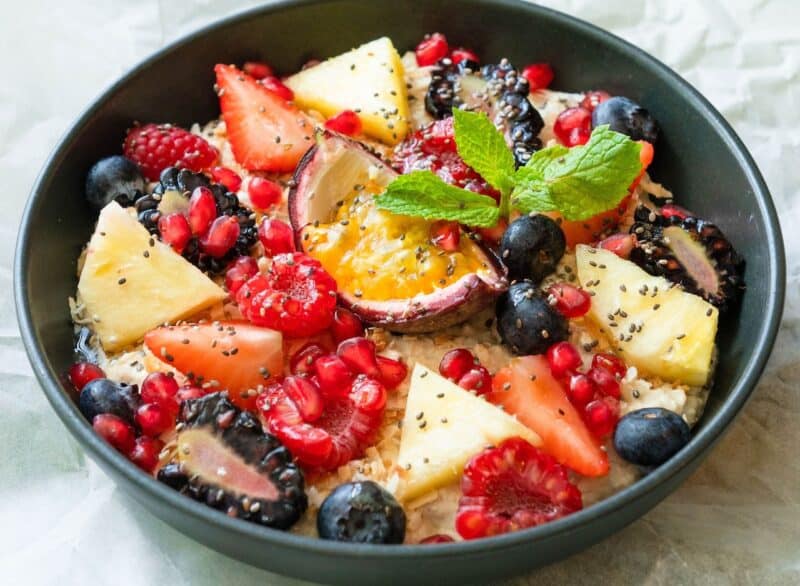 Set inside a garden centre, this cafe is unique and a beautiful lunch spot. It is definitely one of my favourite healthy restaurants in Dubai. They have lots of healthy and hearty options available but aren't exclusively a healthy food place. They're more a cafe with a nice rustic wholesome kitchen. Just don't be tempted by the cakes that are also there!
This is a great chilled weekend hang out and is a popular spot for breakfast or lunch in the day. It's also popular with families or perfect for a lunch with the ladies in Dubai. They also now have a newer location in Emirates Hills Golf Club.
Style: Wholesome rustic cafe
Recommended meal: Confit Salmon – 60 AED
Price Range: 15 AED to 75 AED
Delivery: Order whole cakes only online via their website & Deliveroo for all food
Website
Tel: +971 4 355 5241
10. Healthy Dose – JLT
Healthy Dose is a great spot for healthy food for those in the Jumeriah Lake Towers area. Located in Cluster J, their focus is on clean eating, with many options that are low in calories and high in nutrition. They also have gluten free and keto options. Serving an array of salads, wraps, burgers (vegan and non vegan), pastas, main courses and smoothies.
A relaxed style eatery, where you can enjoy your meal indoors or outdoors. You won't find Dubai fancy interiors here but the food is delicious and a favourite amongst JLT locals. They also offer meal plans for at home.
Style: Affordable keto restaurant
Recommended Dish: Healthy French Toast – 31 AED
Price Range: 7 AED to 77 AED
Delivery: Talabat & Deliveroo
Tel: +971 4 580 5837
11. Lifter Life – Jumeirah 3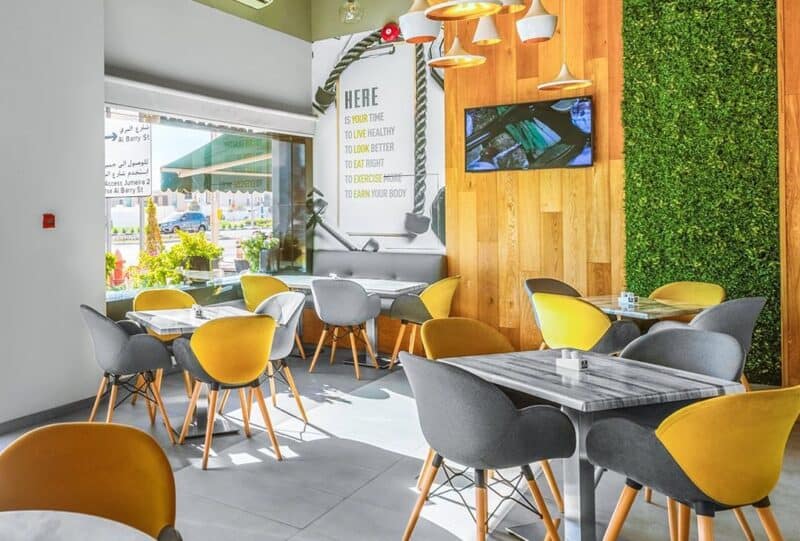 They offer good value for their main healthy meals compared with many other healthy restaurants in Dubai. Which if you're planning to eat regularly from the same restaurant that 10 AED difference per meal can add up. The food is really tasty while still being healthy!
Another one which is popular with gym-goers. They also do low carb options such as broccoli pizza and I actually prefer their version of this over HEAT one personally. If you're wanting to achieve a long term goal such as losing weight or bulking up, they do meal plans for home delivery.
Style: Casual eatery ideal for gym goers
Recommended Meal: White fish fajita – 48 AED
Price Range: 13 AED – 64 AED
Delivery: Order online via their website, Deliveroo & Talabat
Website
Tel: +971 4 395 5775
---
Before you go, check out some of my other helpful Dubai articles:
Need a family friendly restaurant? Here are the best family friendly restaurants in Dubai
Get your caffeine boost with the best cafes in Dubai from a coffee addict
We know how amazing Dubai is, 11 things you can only find in Dubai
Is Dubai dusty and what is the air quality really like?
Can you drink tap water in Dubai and is it safe?
---
Conclusion
So there are my personal recommendations for healthy food and the best healthy restaurants in Dubai. All of them offer something slightly different, if you're looking for the perfect place to meet friends then I recommend Bounty Beets or Maxzi. If you're wanting healthy food only than perfect post workout then Lifter Life or Freshii would be my go to. Let us know if there any good places you think should be on this list! I'll go check them out and add them if they pass the test. Let me know in the comments.
---
*This article contains affiliate links, clicking the link doesn't cost you anything extra but it does help me to keep writing these awesome articles for you!
Enjoyed this article? Give it a share!